AP Fact Check: Trump's take on immigrant crime off mark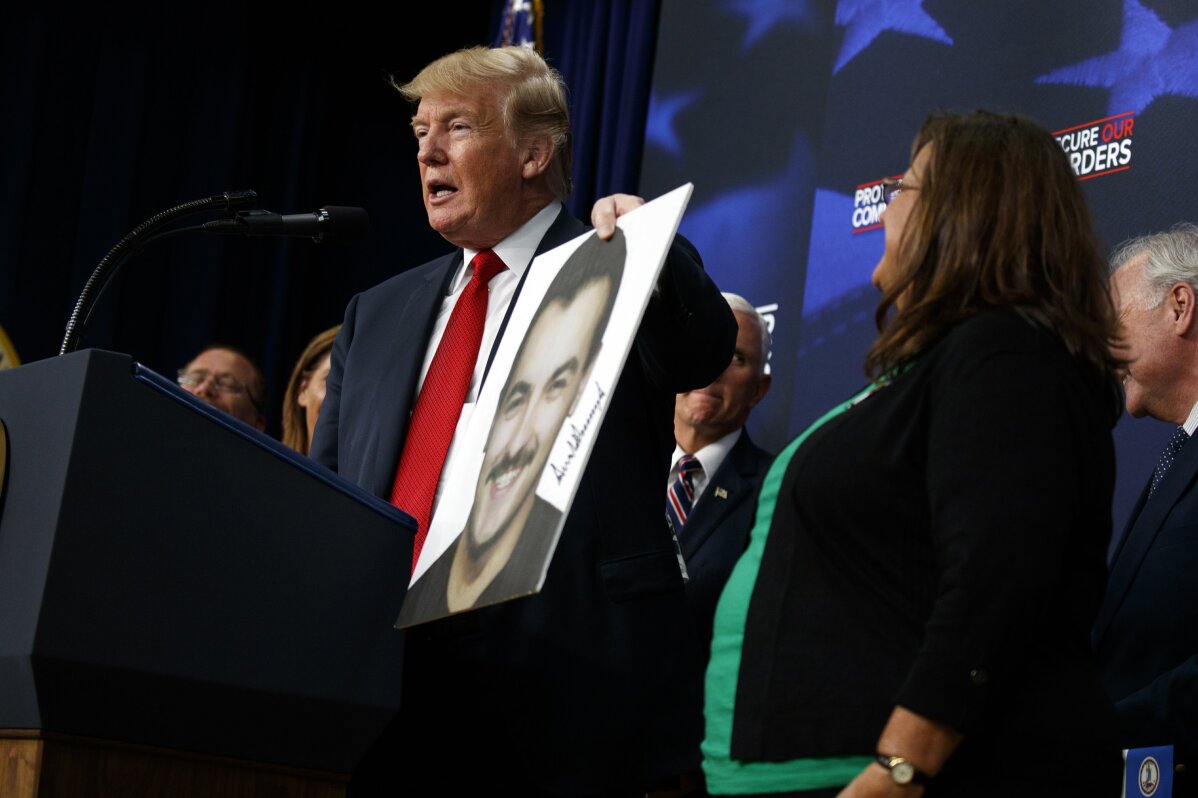 1 of 3

|
President Donald Trump speaks about immigration alongside family members affected by crime committed by undocumented immigrants, at the South Court Auditorium on the White House complex, Friday, June 22, 2018, in Washington. (AP Photo/Evan Vucci)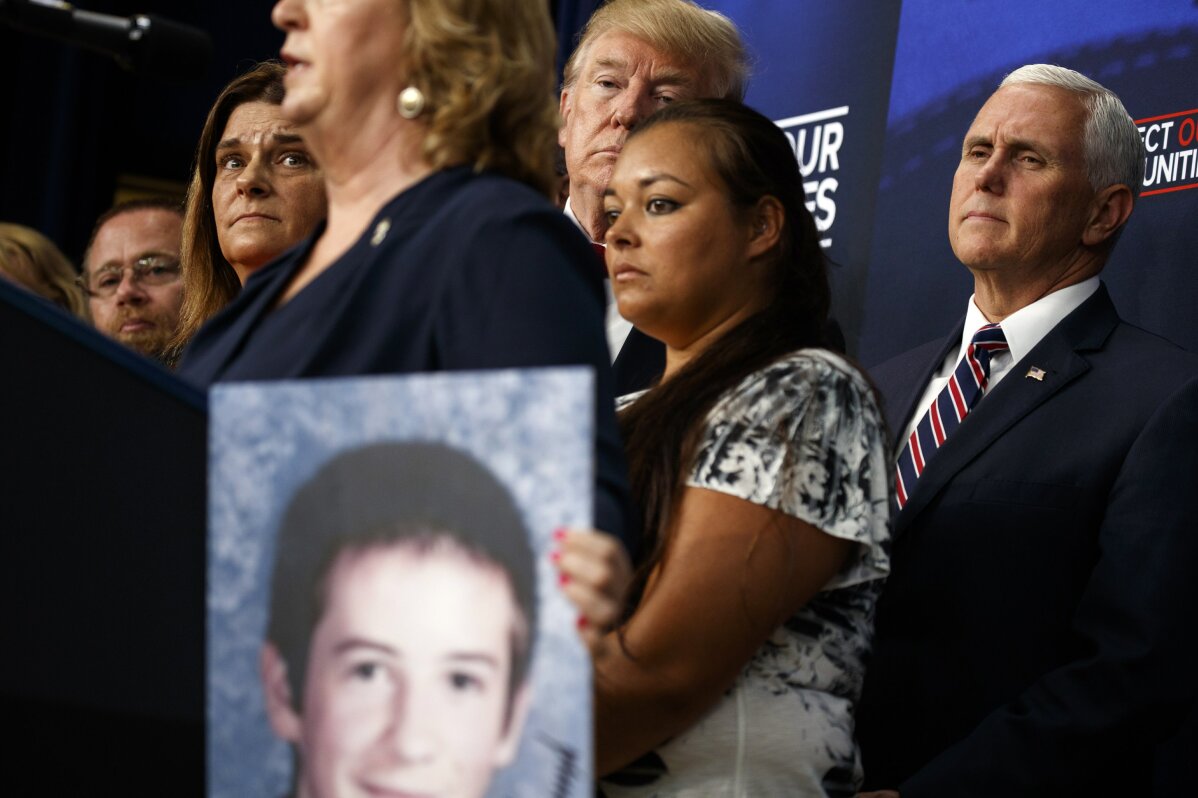 2 of 3

|
President Donald Trump listens during an event on immigration alongside family members affected by crime committed by undocumented immigrants, at the South Court Auditorium on the White House complex, Friday, June 22, 2018, in Washington. (AP Photo/Evan Vucci)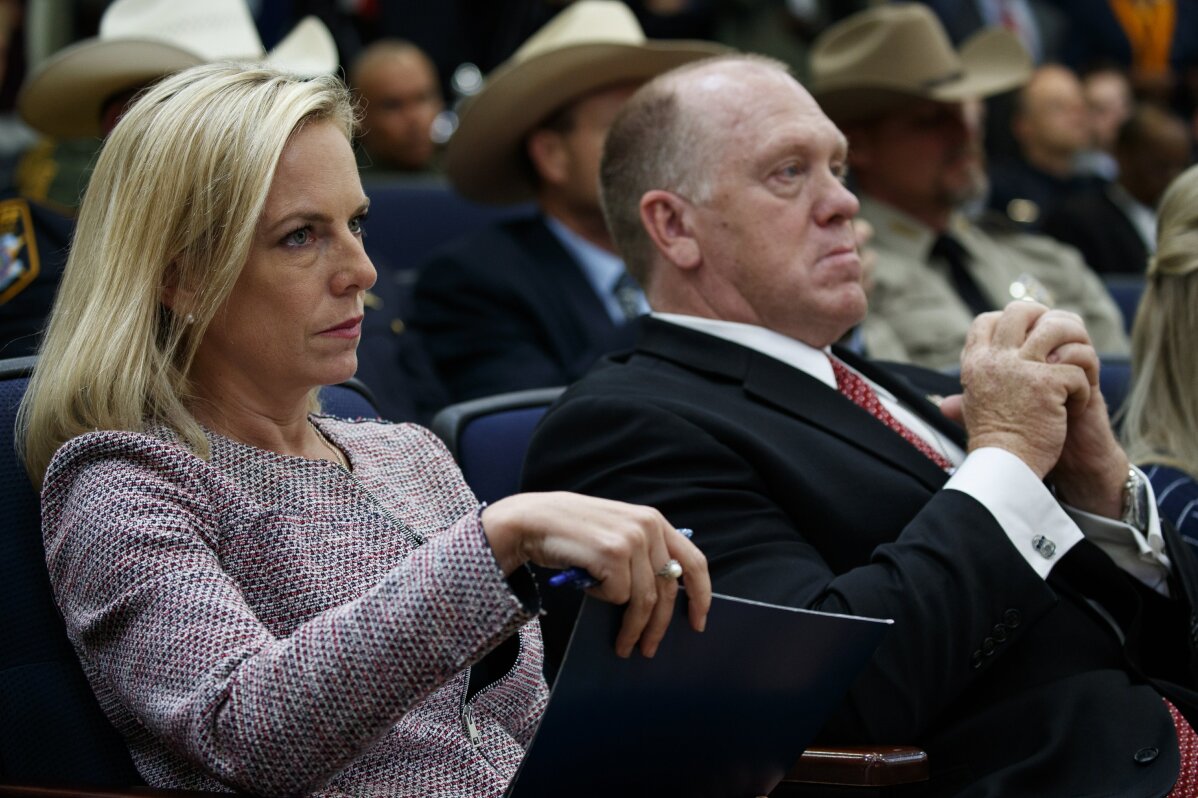 3 of 3

|
Secretary of Homeland Security Kirstjen Nielsen, left, and Immigration and Customs Enforcement acting director Thomas Homan listen as President Donald Trump delivers remarks on immigration alongside family members affected by crime committed by undocumented immigrants, at the South Court Auditorium on the White House complex, Friday, June 22, 2018, in Washington. (AP Photo/Evan Vucci)
AP Fact Check: Trump's take on immigrant crime off mark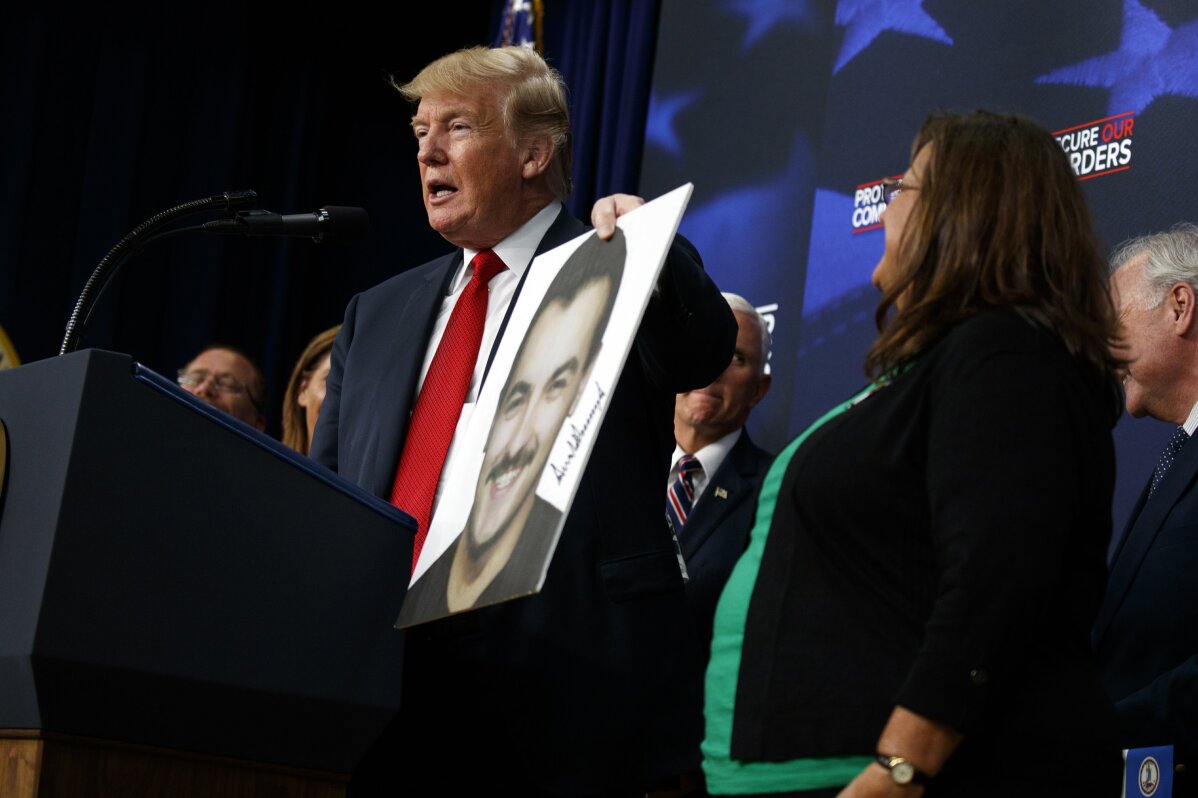 1 of 3

|
President Donald Trump speaks about immigration alongside family members affected by crime committed by undocumented immigrants, at the South Court Auditorium on the White House complex, Friday, June 22, 2018, in Washington. (AP Photo/Evan Vucci)
1 of 3
President Donald Trump speaks about immigration alongside family members affected by crime committed by undocumented immigrants, at the South Court Auditorium on the White House complex, Friday, June 22, 2018, in Washington. (AP Photo/Evan Vucci)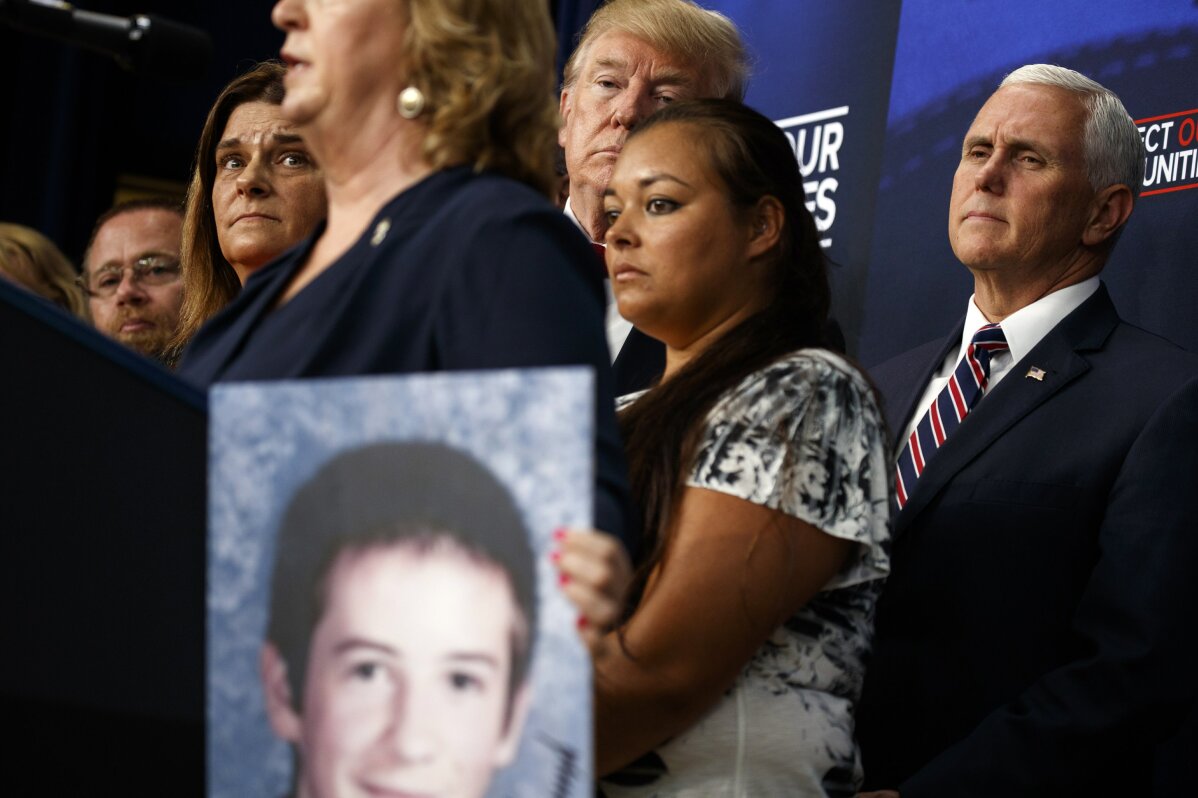 2 of 3

|
President Donald Trump listens during an event on immigration alongside family members affected by crime committed by undocumented immigrants, at the South Court Auditorium on the White House complex, Friday, June 22, 2018, in Washington. (AP Photo/Evan Vucci)
2 of 3
President Donald Trump listens during an event on immigration alongside family members affected by crime committed by undocumented immigrants, at the South Court Auditorium on the White House complex, Friday, June 22, 2018, in Washington. (AP Photo/Evan Vucci)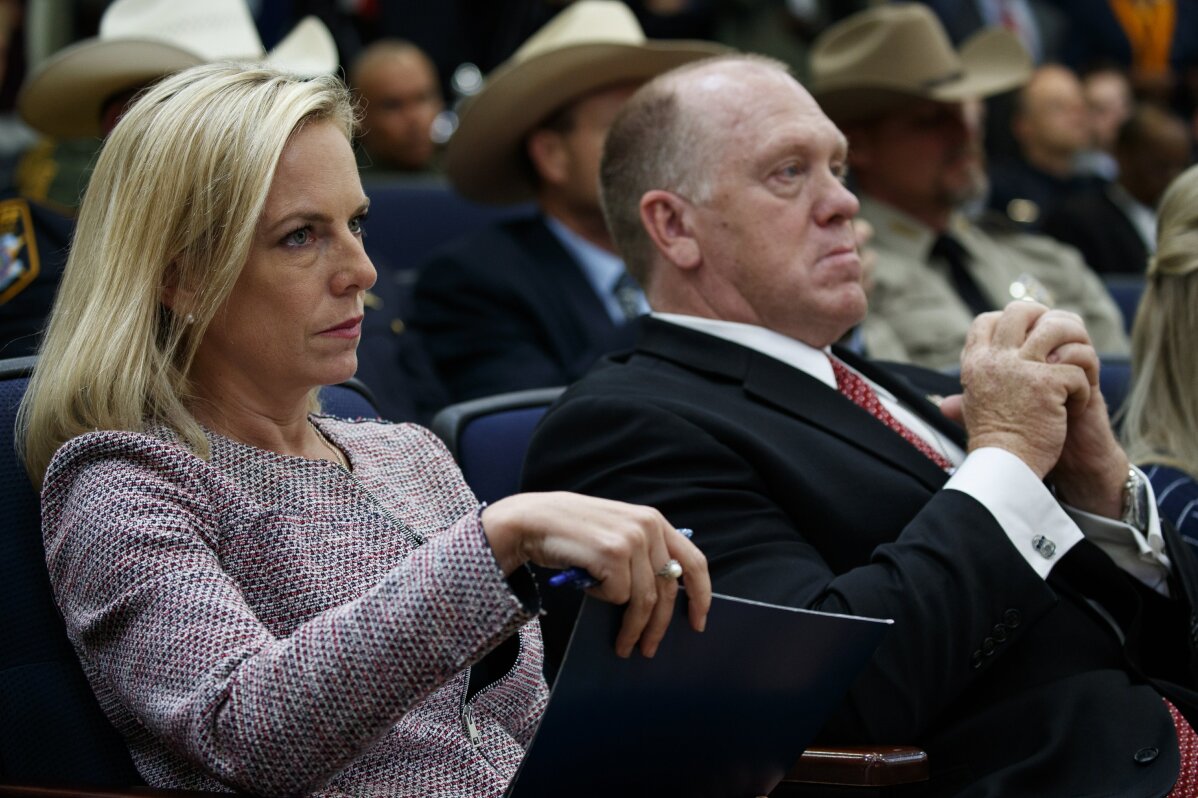 3 of 3

|
Secretary of Homeland Security Kirstjen Nielsen, left, and Immigration and Customs Enforcement acting director Thomas Homan listen as President Donald Trump delivers remarks on immigration alongside family members affected by crime committed by undocumented immigrants, at the South Court Auditorium on the White House complex, Friday, June 22, 2018, in Washington. (AP Photo/Evan Vucci)
3 of 3
Secretary of Homeland Security Kirstjen Nielsen, left, and Immigration and Customs Enforcement acting director Thomas Homan listen as President Donald Trump delivers remarks on immigration alongside family members affected by crime committed by undocumented immigrants, at the South Court Auditorium on the White House complex, Friday, June 22, 2018, in Washington. (AP Photo/Evan Vucci)
WASHINGTON (AP) — President Donald Trump got some crime and immigration statistics right Friday but was off the mark on others in an appearance with those he calls "angel families" — people who lost loved ones at the hands of those living in the country illegally.
A look at how his statements compare with the facts:
TRUMP:
"So here are just a few statistics on the human toll of illegal immigration. According to a 2011 government report, the arrests attached to the criminal alien population included an estimated 25,000 people for homicide, 42,000 for robbery, nearly 70,000 for sex offenses, and nearly 15,000 for kidnapping. In Texas alone, within the last seven years, more than a quarter million criminal aliens have been arrested and charged with over 600,000 criminal offenses. You don't hear that."
THE FACTS:
Trump is likely working from a 2011 U.S. Government Accountability Office report that looked at arrests, costs and incarcerations of immigrants who were in the U.S. illegally. The statistics he cites are accurate. He doesn't note that about half of all of the 3 million arrests of the "criminal alien population" in the study were for immigration (529,859), drugs (504,043) or traffic (404,488) . And some of the immigration arrests were related to civil violations, not criminal charges. The report didn't distinguish between the two.
TRUMP:
"I always hear that, 'Oh, no, the population's safer than the people that live in the country.' You've heard that, fellas, right? You've heard that. I hear it so much, and I say, 'Is that possible?' The answer is it's not true. You hear it's like they're better people than what we have, than our citizens. It's not true."
THE FACTS:
Trump is questioning reports that those living in the country illegally commit fewer crimes than people in the population overall. He shouldn't.
Several studies from social scientists and the libertarian think tank Cato Institute have shown that people here illegally are less likely to commit crime than U.S. citizens, and legal immigrants are even less likely to do so.
A March study by the journal Criminology found "undocumented immigration does not increase violence."
The study, which looked at the years 1990 through 2014, argues that states with bigger shares of such people have lower crime rates.
A study last year by Robert Adelman, a sociology professor at University of Buffalo, analyzed 40 years of crime data in 200 metropolitan areas and found that immigrants helped lower crime. New York City, for example, has the nation's largest population of immigrants living in the country illegally — about 500,000 — and last year had only 292 murders among a total population of 8.5 million people. A city murder rate is often used as a bench mark for overall crime because it's difficult to fudge murder statistics.
And Ruben Rumbaut, a University of California, Irvine sociology professor, co-authored a recent study that noted crime rates fell sharply from 1990 to 2015 at a time when illegal immigration spiked.
___
Associated Press Writer Elliot Spagat contributed to this report from San Diego.
___
Find AP Fact Checks at http://apne.ws/2kbx8bd
Follow @APFactCheck on Twitter: https://twitter.com/APFactCheck