Baseball's new trend: Saying 'NO' to ground balls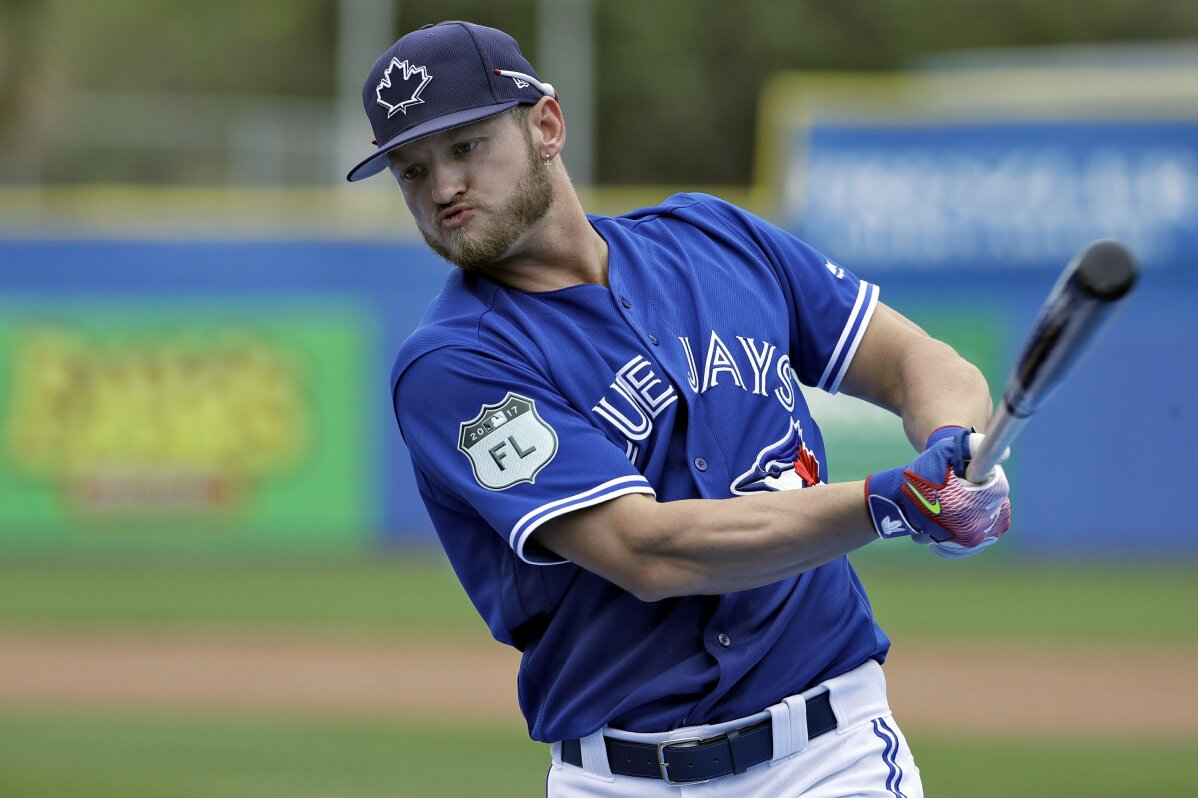 1 of 6

|
FILE - In this March 13, 2017, file photo, Toronto Blue Jays' Josh Donaldson takes practice swings before his turn in the batting cage before a spring training baseball game against the Boston Red Sox, in Dunedin, Fla. Donaldson is an early adopter to a growing big league trend - hitters fixated on producing fly balls. Or, as Donaldson put it recently on Twitter: "Just say NO.... to ground balls." (AP Photo/Chris O'Meara, File)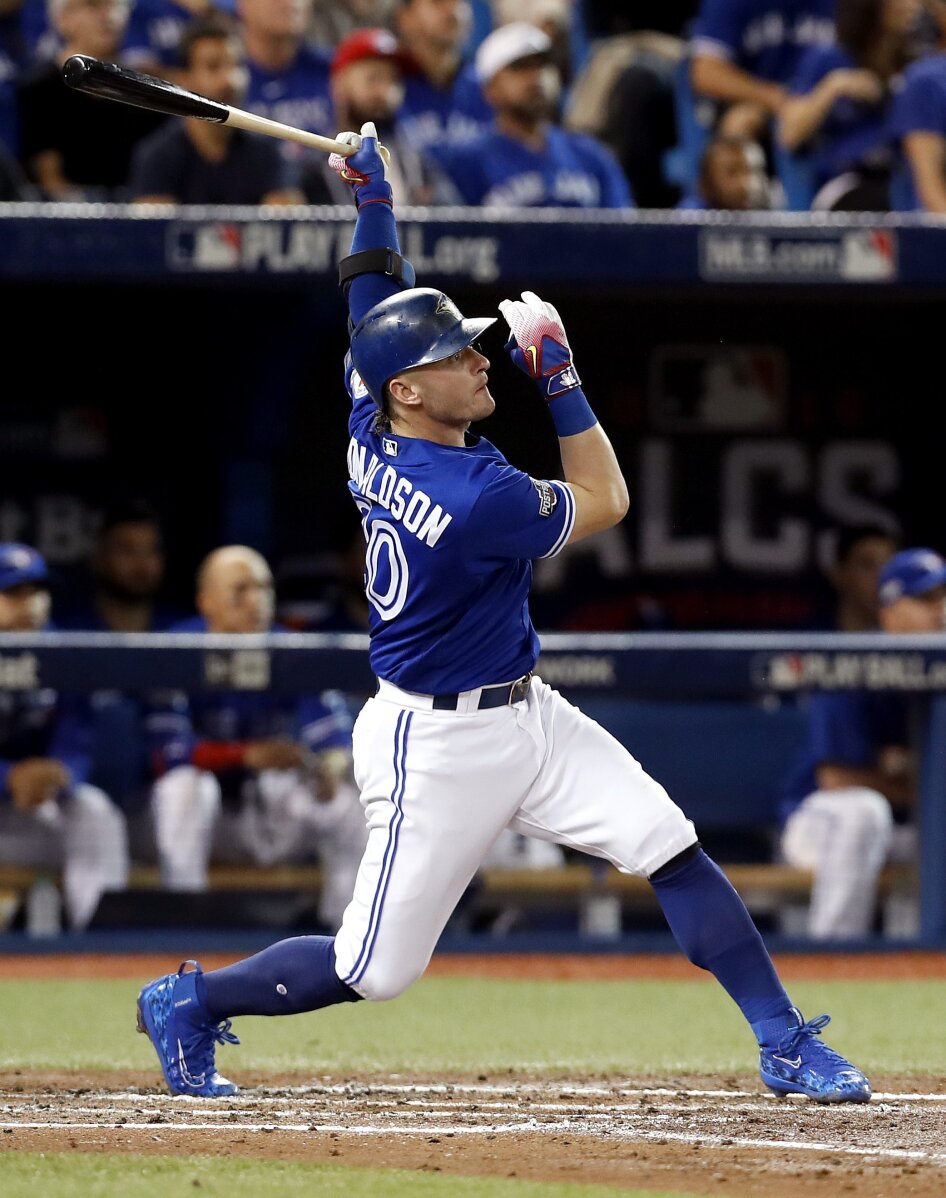 2 of 6

|
FILE - This Oct. 18, 2016 file photo shows Toronto Blue Jays' Josh Donaldson watching his a home run off Cleveland Indians starting pitcher Corey Kluber during the third inning in Game 4 of baseball's American League Championship Series in Toronto. Donaldson is an early adopter to a growing big league trend - hitters fixated on producing fly balls. Or, as Donaldson put it recently on Twitter: "Just say NO.... to ground balls." (Mark Blinch/The Canadian Press via AP, File)
3 of 6

|
FILE - This June 12, 2016, file photo shows New York Yankees Hall of Famer Reggie Jackson stretching before the Yankees annual Old Timers Day baseball game in New York. Terms like launch angle and exit velocity are creeping into the baseball lexicon, and it's not just number crunchers jumping on board. The successes of Josh Donaldson, Bautista and Kris Bryant are changing the way hitters and coaches think about the swing. (AP Photo/Kathy Willens, File)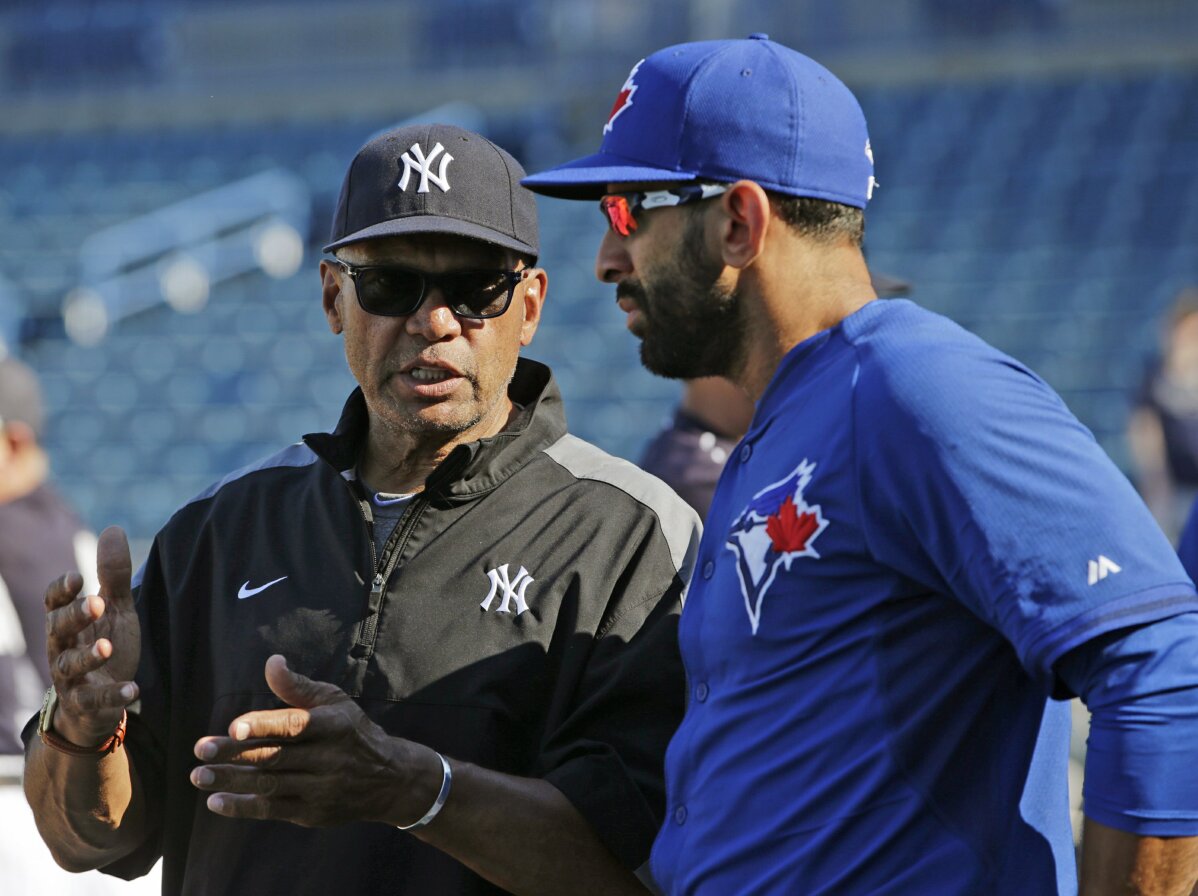 4 of 6

|
FILE - In this March 17, 2015, file photo, New York Yankees special advisor and Hall of Famer Reggie Jackson, left, talks with Toronto Blue Jays Jose Bautista before an exhibition baseball game in Tampa, Fla. Terms like launch angle and exit velocity are creeping into the baseball lexicon, and it's not just number crunchers jumping on board. The successes of Josh Donaldson, Bautista and Kris Bryant are changing the way hitters and coaches think about the swing. (AP Photo/Kathy Willens, File)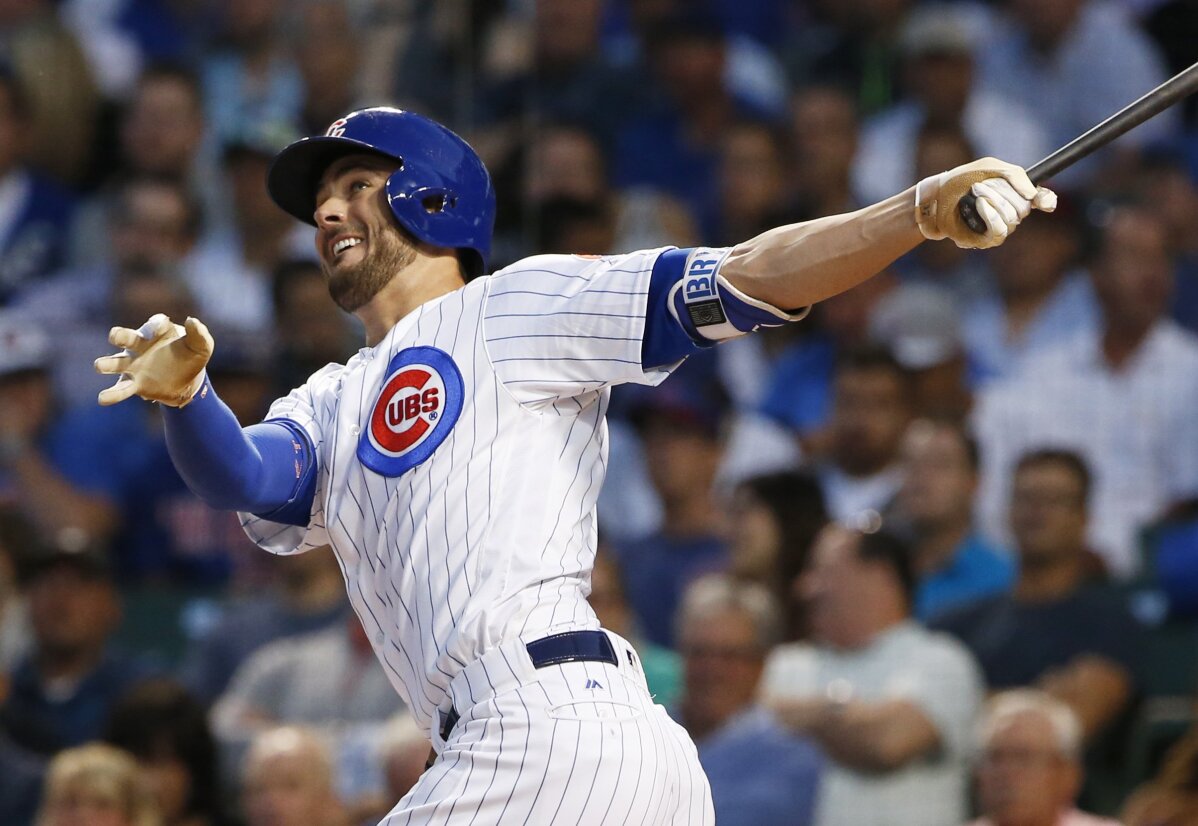 5 of 6

|
FILE - In this Aug. 31, 2016, file photo, Chicago Cubs' Kris Bryant follows through on a solo home run during the first inning of a baseball game against the Pittsburgh Pirates, in Chicago. Terms like launch angle and exit velocity are creeping into the baseball lexicon, and it's not just number crunchers jumping on board. The successes of Josh Donaldson, Jose Bautista and Bryant are changing the way hitters and coaches think about the swing. (AP Photo/Nam Y. Huh, File)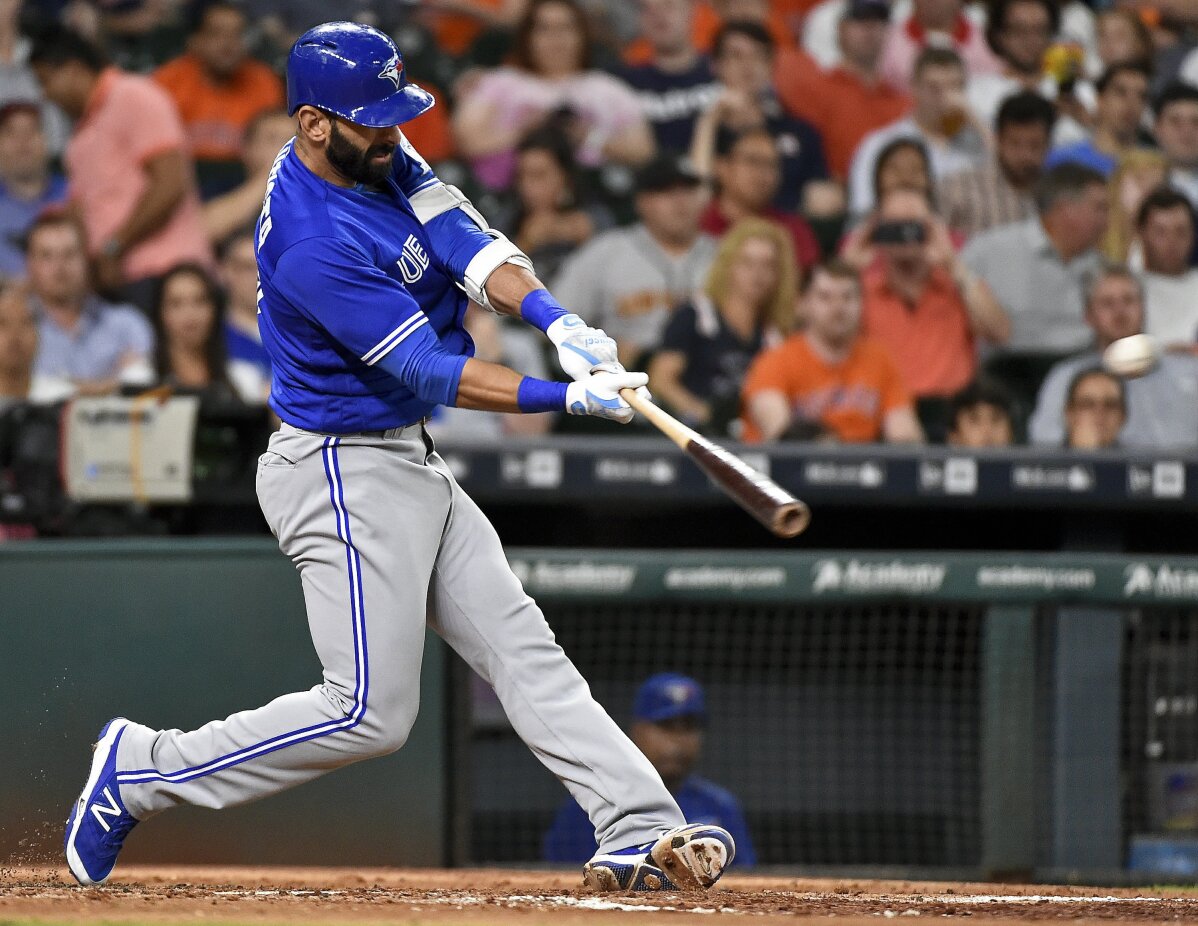 6 of 6

|
FILE - In this Aug. 2, 2016, file photo, Toronto Blue Jays' Jose Bautista hits a solo home run, the 300th home run of his career, career off Houston Astros starting pitcher Lance McCullers in the third inning of a baseball game, in Houston. Terms like launch angle and exit velocity are creeping into the baseball lexicon, and it's not just number crunchers jumping on board. The successes of Josh Donaldson, Bautista and Kris Bryant are changing the way hitters and coaches think about the swing. (AP Photo/Eric Christian Smith, File)
Baseball's new trend: Saying 'NO' to ground balls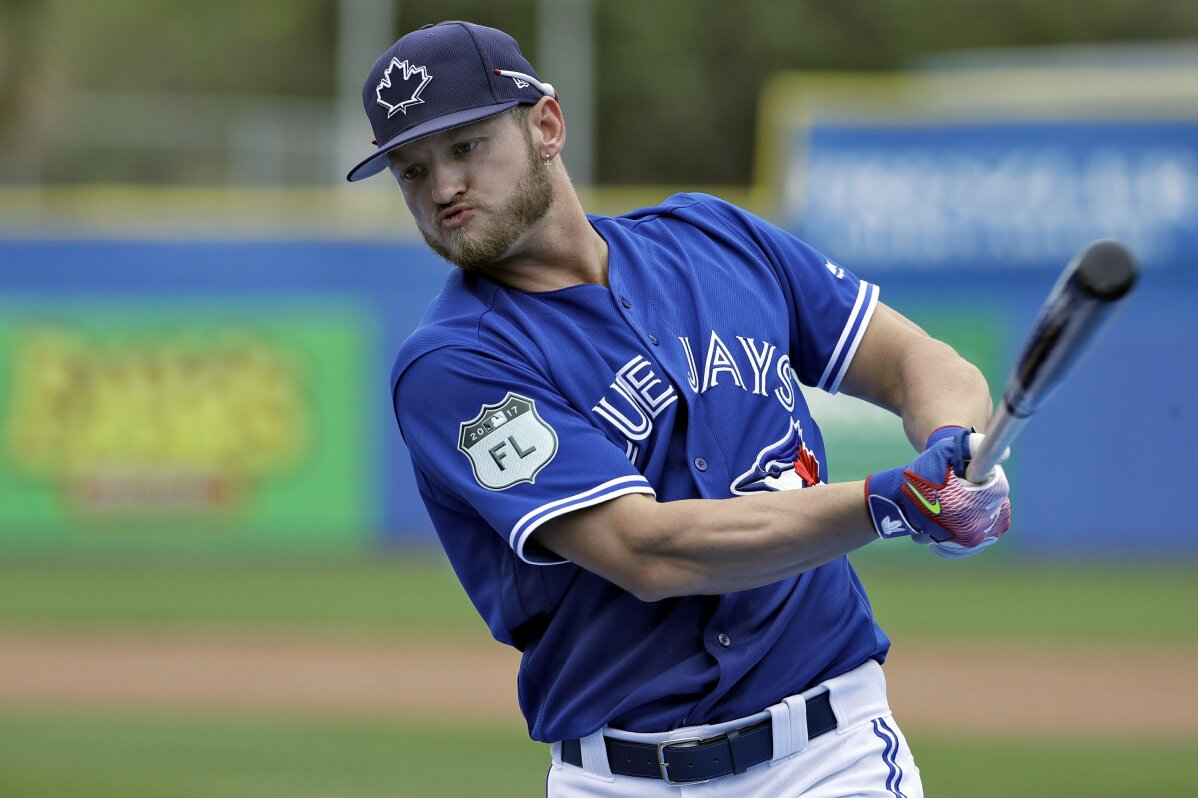 1 of 6

|
FILE - In this March 13, 2017, file photo, Toronto Blue Jays' Josh Donaldson takes practice swings before his turn in the batting cage before a spring training baseball game against the Boston Red Sox, in Dunedin, Fla. Donaldson is an early adopter to a growing big league trend - hitters fixated on producing fly balls. Or, as Donaldson put it recently on Twitter: "Just say NO.... to ground balls." (AP Photo/Chris O'Meara, File)
1 of 6
FILE - In this March 13, 2017, file photo, Toronto Blue Jays' Josh Donaldson takes practice swings before his turn in the batting cage before a spring training baseball game against the Boston Red Sox, in Dunedin, Fla. Donaldson is an early adopter to a growing big league trend - hitters fixated on producing fly balls. Or, as Donaldson put it recently on Twitter: "Just say NO.... to ground balls." (AP Photo/Chris O'Meara, File)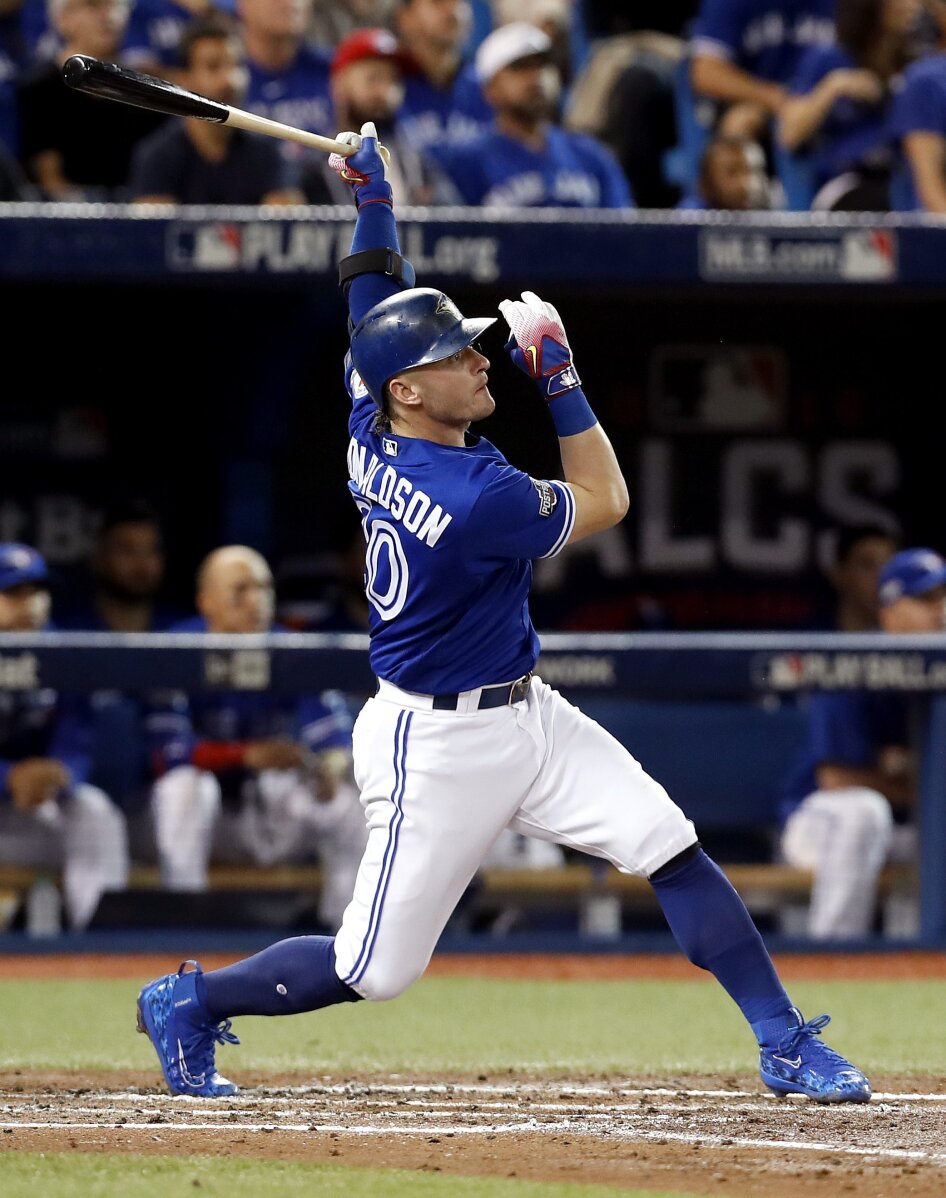 2 of 6

|
FILE - This Oct. 18, 2016 file photo shows Toronto Blue Jays' Josh Donaldson watching his a home run off Cleveland Indians starting pitcher Corey Kluber during the third inning in Game 4 of baseball's American League Championship Series in Toronto. Donaldson is an early adopter to a growing big league trend - hitters fixated on producing fly balls. Or, as Donaldson put it recently on Twitter: "Just say NO.... to ground balls." (Mark Blinch/The Canadian Press via AP, File)
2 of 6
FILE - This Oct. 18, 2016 file photo shows Toronto Blue Jays' Josh Donaldson watching his a home run off Cleveland Indians starting pitcher Corey Kluber during the third inning in Game 4 of baseball's American League Championship Series in Toronto. Donaldson is an early adopter to a growing big league trend - hitters fixated on producing fly balls. Or, as Donaldson put it recently on Twitter: "Just say NO.... to ground balls." (Mark Blinch/The Canadian Press via AP, File)
3 of 6

|
FILE - This June 12, 2016, file photo shows New York Yankees Hall of Famer Reggie Jackson stretching before the Yankees annual Old Timers Day baseball game in New York. Terms like launch angle and exit velocity are creeping into the baseball lexicon, and it's not just number crunchers jumping on board. The successes of Josh Donaldson, Bautista and Kris Bryant are changing the way hitters and coaches think about the swing. (AP Photo/Kathy Willens, File)
3 of 6
FILE - This June 12, 2016, file photo shows New York Yankees Hall of Famer Reggie Jackson stretching before the Yankees annual Old Timers Day baseball game in New York. Terms like launch angle and exit velocity are creeping into the baseball lexicon, and it's not just number crunchers jumping on board. The successes of Josh Donaldson, Bautista and Kris Bryant are changing the way hitters and coaches think about the swing. (AP Photo/Kathy Willens, File)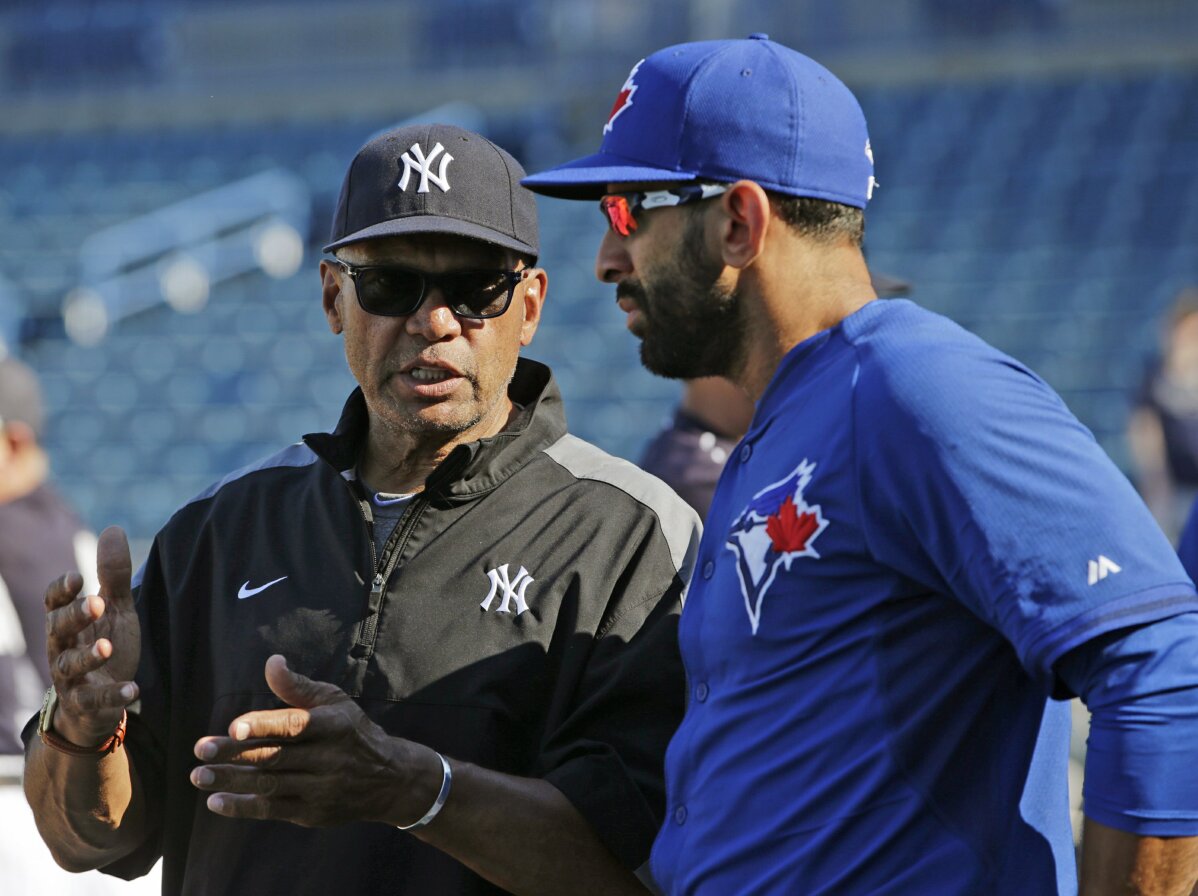 4 of 6

|
FILE - In this March 17, 2015, file photo, New York Yankees special advisor and Hall of Famer Reggie Jackson, left, talks with Toronto Blue Jays Jose Bautista before an exhibition baseball game in Tampa, Fla. Terms like launch angle and exit velocity are creeping into the baseball lexicon, and it's not just number crunchers jumping on board. The successes of Josh Donaldson, Bautista and Kris Bryant are changing the way hitters and coaches think about the swing. (AP Photo/Kathy Willens, File)
4 of 6
FILE - In this March 17, 2015, file photo, New York Yankees special advisor and Hall of Famer Reggie Jackson, left, talks with Toronto Blue Jays Jose Bautista before an exhibition baseball game in Tampa, Fla. Terms like launch angle and exit velocity are creeping into the baseball lexicon, and it's not just number crunchers jumping on board. The successes of Josh Donaldson, Bautista and Kris Bryant are changing the way hitters and coaches think about the swing. (AP Photo/Kathy Willens, File)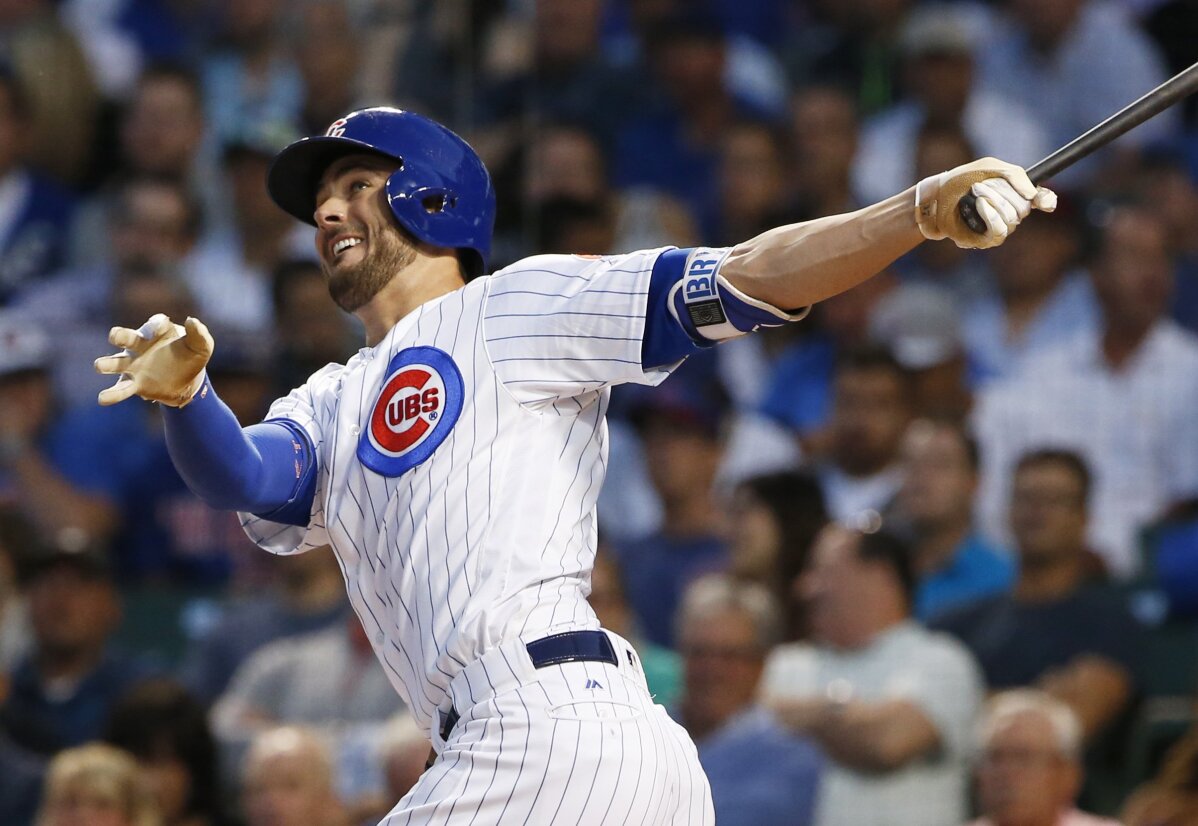 5 of 6

|
FILE - In this Aug. 31, 2016, file photo, Chicago Cubs' Kris Bryant follows through on a solo home run during the first inning of a baseball game against the Pittsburgh Pirates, in Chicago. Terms like launch angle and exit velocity are creeping into the baseball lexicon, and it's not just number crunchers jumping on board. The successes of Josh Donaldson, Jose Bautista and Bryant are changing the way hitters and coaches think about the swing. (AP Photo/Nam Y. Huh, File)
5 of 6
FILE - In this Aug. 31, 2016, file photo, Chicago Cubs' Kris Bryant follows through on a solo home run during the first inning of a baseball game against the Pittsburgh Pirates, in Chicago. Terms like launch angle and exit velocity are creeping into the baseball lexicon, and it's not just number crunchers jumping on board. The successes of Josh Donaldson, Jose Bautista and Bryant are changing the way hitters and coaches think about the swing. (AP Photo/Nam Y. Huh, File)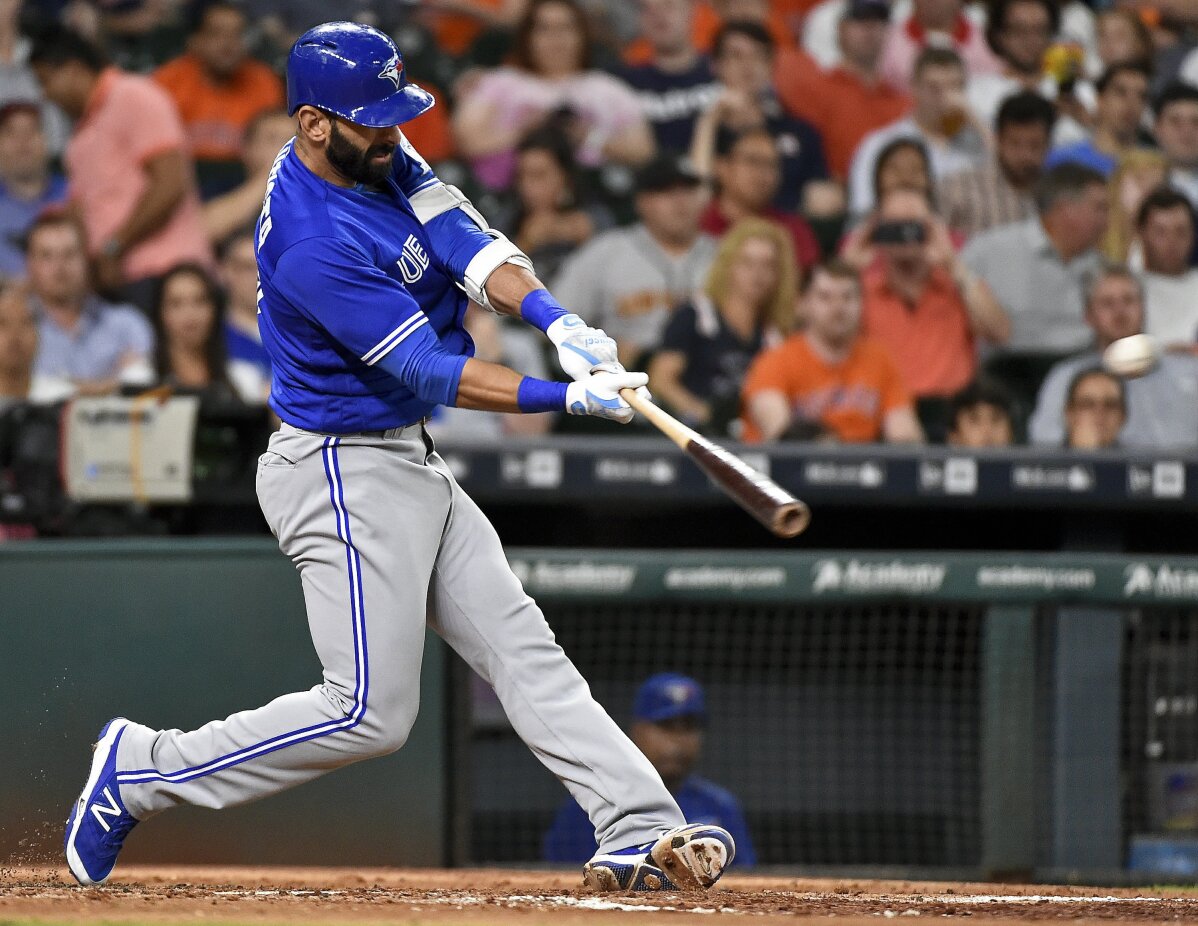 6 of 6

|
FILE - In this Aug. 2, 2016, file photo, Toronto Blue Jays' Jose Bautista hits a solo home run, the 300th home run of his career, career off Houston Astros starting pitcher Lance McCullers in the third inning of a baseball game, in Houston. Terms like launch angle and exit velocity are creeping into the baseball lexicon, and it's not just number crunchers jumping on board. The successes of Josh Donaldson, Bautista and Kris Bryant are changing the way hitters and coaches think about the swing. (AP Photo/Eric Christian Smith, File)
6 of 6
FILE - In this Aug. 2, 2016, file photo, Toronto Blue Jays' Jose Bautista hits a solo home run, the 300th home run of his career, career off Houston Astros starting pitcher Lance McCullers in the third inning of a baseball game, in Houston. Terms like launch angle and exit velocity are creeping into the baseball lexicon, and it's not just number crunchers jumping on board. The successes of Josh Donaldson, Bautista and Kris Bryant are changing the way hitters and coaches think about the swing. (AP Photo/Eric Christian Smith, File)
Josh Donaldson and Reggie Jackson stood off to the third base side of the batting cage, a pair of former American League MVPs discussing their craft in spring training. When the Blue Jays star hopped in to take his swings, Mr. October pulled out his phone to shoot video, a visual aid for his job as a special adviser to the Yankees.
"Josh's swing, it's something new and different," the 70-year-old Jackson said. "I wanted him to interpret it for me."
Donaldson is an early adopter to a growing big league trend — hitters fixated on producing fly balls. Or, as Donaldson put it recently on Twitter:
"Just say NO.... to ground balls."
Donaldson put his career on the upswing by, well, swinging up, and he's not alone. Toronto teammate Jose Bautista achieved stardom by adding some loft, and Chicago Cubs slugger Kris Bryant has prioritized hitting the ball in the air his entire career. Detroit's J.D. Martinez and the Dodgers' Justin Turner have made millions since deciding to shoot for the sky.
It doesn't take an aerospace degree to see why. On ground balls in 2016, big league hitters had a .239 average and .258 slugging percentage. On line drives and fly balls combined, they hit .411 with a .785 slugging percentage.
For those that want to dig deeper, there's never been more to explore. Over the past two seasons, MLB.com posted data provided by Statcast, a tracking system that records the distance, speed and trajectory of batted balls.
The numbers make one thing clear — it's good to hit the ball hard, but it's better to hit it hard and high.
"I've done a lot of research," Donaldson said. "I'm confident in what I do and I believe in it."
Before the 2013 season, Donaldson re-engineered his swing with the help of Bobby Tewksbary, a hitting instructor whose playing career topped out in the independent Can-Am Association. The 33-year-old works out of a facility in Nashua, New Hampshire, and has helped a number of major leaguers, including Chris Colabello, A.J. Pollock and Matt Joyce.
Tewksbary is on a mission to make hitters better by debunking the axiom against swinging up. He felt his own career was hindered by the hitting instruction he got as a young player — he was always told to "swing down" on the ball.
"Johnny Little League coach says to swing down, get on top, and hitters will literally swing down," he said.
Tewksbary thinks the terminology does more harm than good — and he's not nearly the most famous dissenter of that baseball adage.
In his book The Science of Hitting, Ted Williams bemoaned that hitters "always heard that the ideal swing is level or 'down.'" The Hall of Famer advocated a "slight upswing" because it "puts the bat flush in line with the path of the ball for a longer period." That is, if the ball is traveling down from the pitcher's hand to the catcher's glove, the best chance at solid contact is to swing the bat on the same plane — up toward the pitcher's release point.
"For years and years, people have disagreed with the greatest hitter of all-time," Tewksbary said.
He's studied video of Williams, Babe Ruth, Lou Gehrig and Joe DiMaggio, and Albert Pujols was "very influential" in helping him develop his hitting principles.
None of those hitters swung like they were hunting for well-placed ground balls.
Which isn't to say the answer is a full-blown upper cut. The adjustment for players like Donaldson is more subtle than just selling out for air balls.
"I'm going up there to drive the ball, which means get the ball in the air," said hulking Phillies catcher Cameron Rupp, who hit 16 homers in 105 games last season.
"I want to be on plane with the ball as early as I can and stay through it as long as I can," he added. "That creates backspin. That creates the ball getting in the air. That's kind of what I'm looking to do."
For generations, hitters have been instructed to drive the knob of the bat toward the ball. Instead, Donaldson keeps his hands close to his back shoulder longer, letting his barrel first tip slightly toward the catcher. That allows him to get the bat on plane with the pitch sooner and swing through the ball on a slight upward trajectory.
The science can get technical, and that's a concern when taking information from the lab to the diamond.
"To start to get into angles and lift and launch, I mean, we've got some smart guys," Boston manager John Farrell said, "but they might not be going to Harvard."
The fact is that not all players think they'd benefit from more information. Plus, hitters aren't keen on reconstructing their swings after they've already reached the majors.
"The more technical I get, the bigger hole I dig," Boston slugger Mitch Moreland said. "I try to keep it as simple as I can."
"You don't launch at this angle, this and that," added Red Sox outfielder Jackie Bradley Jr. "Whether it's down or up, hard always has more of a chance of being a hit than soft."
But results from hitters like Donaldson and Bryant aren't going unnoticed. On a near-daily basis, players hear talk of launch angles and exit velocities on TV in the clubhouse. They know the information is out there, if they want it.
"There's too much data to ignore the value of hitting the ball in the air," Tewksbary said, adding that the approach is "not new, but the understanding we have is new."
And so is the appreciation. The success stories are piling up — last year, Washington's Daniel Murphy, Texas' Jonathan Lucroy and Detroit's Nicholas Castellanos improved their performance after significantly cutting their ground ball rates.
It's not just the number crunchers taking notice anymore.
"Google me, it will tell you that I understand the swing, too," said Jackson, a Hall of Famer with 563 career home runs. "But I have a job to do for the Yankees, to help the new players, to help this organization win. So I take the time to hear and understand the new vernacular."
Jackson found in his cage-side chat that Donaldson hasn't reinvented the wheel so much as he's taken it back to its roots.
"From Ty Cobb to Miguel Cabrera," Jackson said, "when you get to the baseball, whether it's Cobb, Ruth or Gehrig, or Donaldson and Bautista, the impact (of the bat on ball) travels in the same spot.
"Josh Donaldson does what I did," Jackson added. "He's different getting there, but in the pay zone, he is taking the same groceries home that I did."
___
AP stringer Mark Didtler contributed to this story from Tampa, Florida.
___
Follow Jake Seiner on Twitter at https://twitter.com/jake_seiner
___
More AP baseball: https://apnews.com/tag/MLBbaseball