Tiaras, gowns, power suits: Princess Diana's fashion moments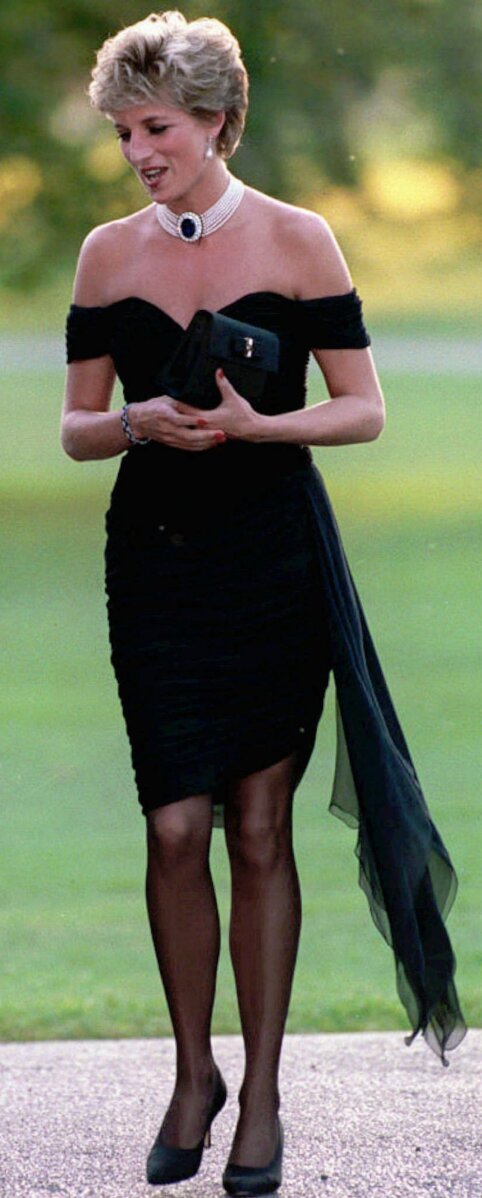 1 of 2

|
CAPTION CORRECTS DATE PHOTO WAS TAKEN TO 1994 FILE - In this 1994 file photo, Diana, Princess of Wales walks during a party given at the Serpentine Gallery in London. The same day that Charles admitted he was unfaithful to Diana during a TV interview, Diana appeared at the Serpentine Gallery in what was dubbed her revenge dress, a figure-hugging, low cut, off-the-shoulder little black outfit. (AP Photo/File)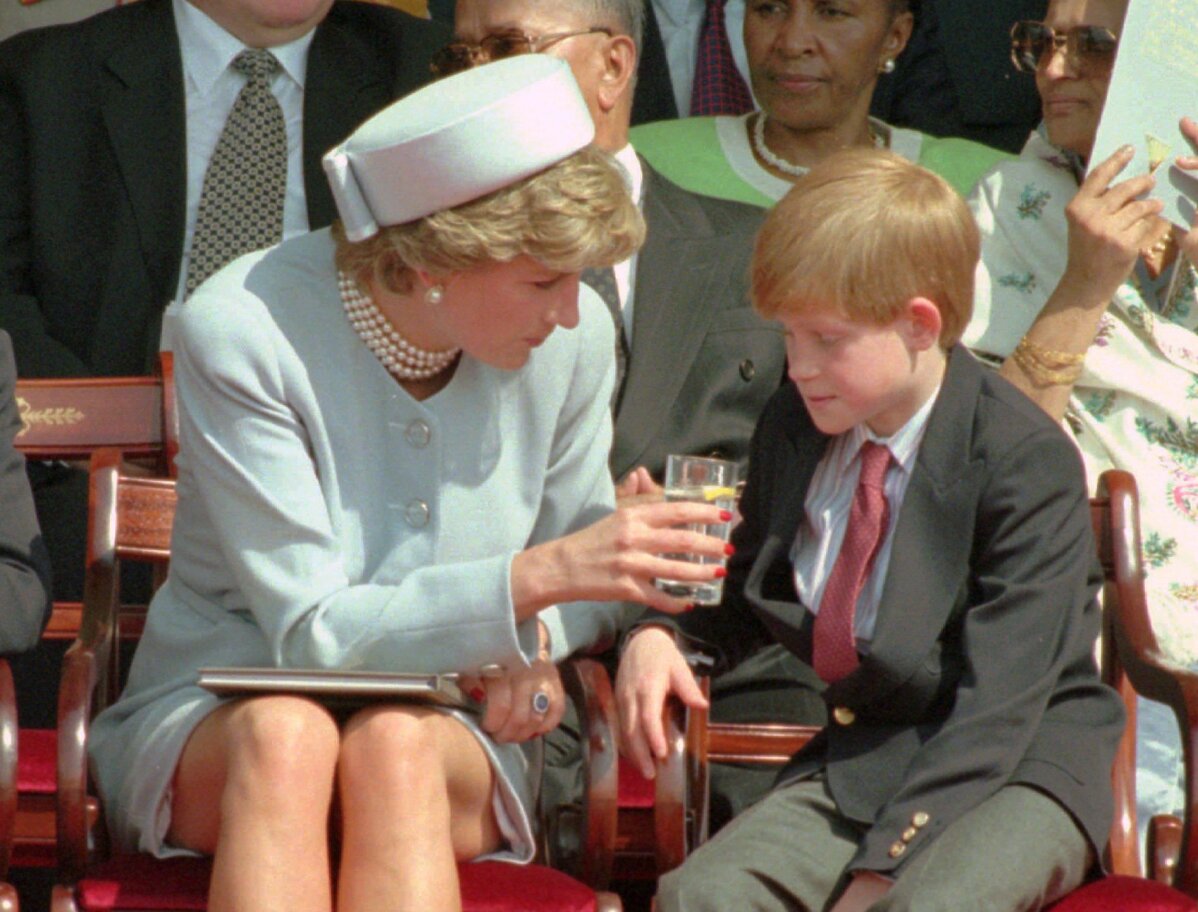 2 of 2

|
FILE - In this file photo dated Sunday May 7 1995, Princess Diana offers her son Prince Harry a drink of water during a open air ceremony to mark the 50th anniversary of VE Day, the end of World War II in Europe, in Hyde Park, London. Diana channeled Jackie Kennedy Onassis's style for an appearance on VE Day in 1995, appearing in a pale blue pillbox hat and matching suit. (AP Photo/Jacqueline Arzt, FILE)
Tiaras, gowns, power suits: Princess Diana's fashion moments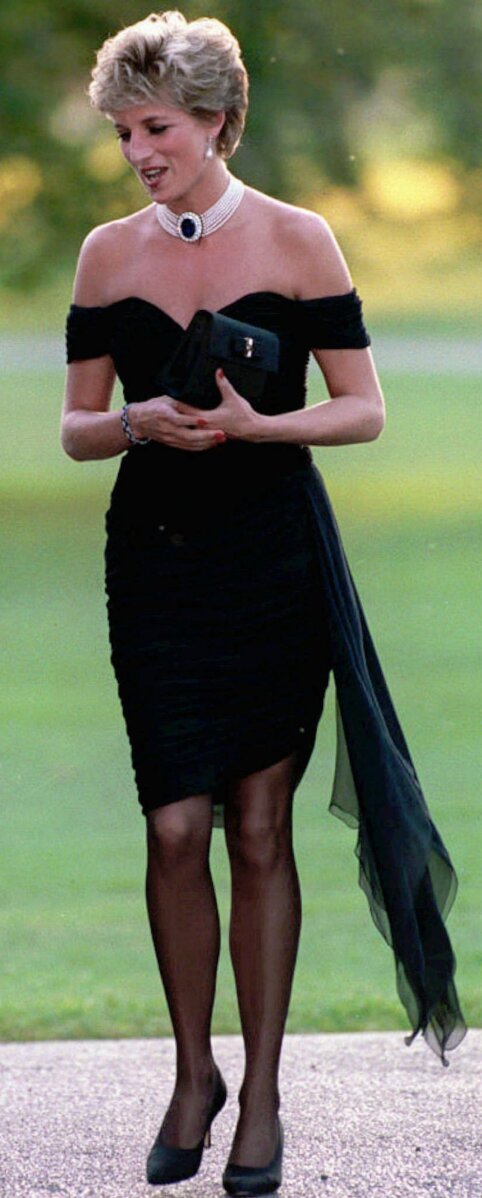 1 of 2

|
CAPTION CORRECTS DATE PHOTO WAS TAKEN TO 1994 FILE - In this 1994 file photo, Diana, Princess of Wales walks during a party given at the Serpentine Gallery in London. The same day that Charles admitted he was unfaithful to Diana during a TV interview, Diana appeared at the Serpentine Gallery in what was dubbed her revenge dress, a figure-hugging, low cut, off-the-shoulder little black outfit. (AP Photo/File)
1 of 2
CAPTION CORRECTS DATE PHOTO WAS TAKEN TO 1994 FILE - In this 1994 file photo, Diana, Princess of Wales walks during a party given at the Serpentine Gallery in London. The same day that Charles admitted he was unfaithful to Diana during a TV interview, Diana appeared at the Serpentine Gallery in what was dubbed her revenge dress, a figure-hugging, low cut, off-the-shoulder little black outfit. (AP Photo/File)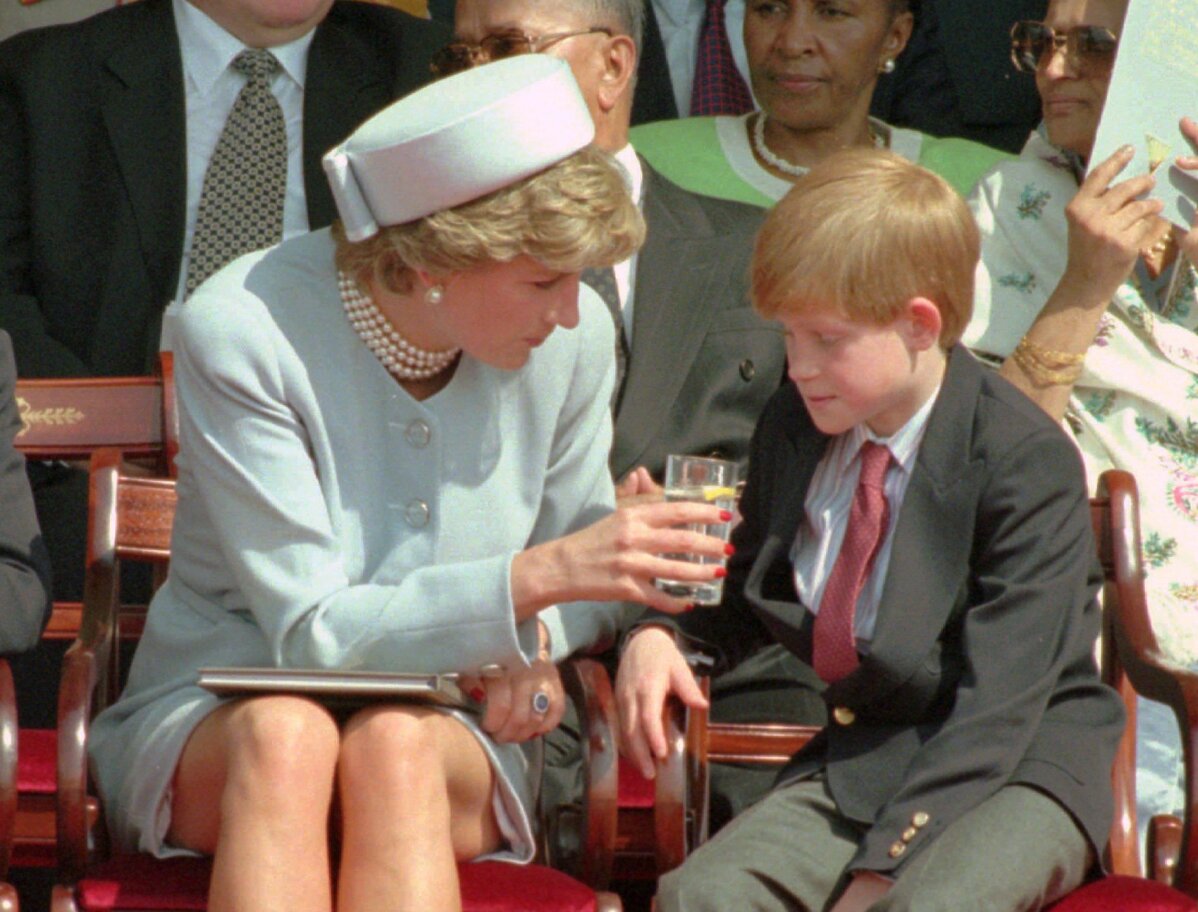 2 of 2

|
FILE - In this file photo dated Sunday May 7 1995, Princess Diana offers her son Prince Harry a drink of water during a open air ceremony to mark the 50th anniversary of VE Day, the end of World War II in Europe, in Hyde Park, London. Diana channeled Jackie Kennedy Onassis's style for an appearance on VE Day in 1995, appearing in a pale blue pillbox hat and matching suit. (AP Photo/Jacqueline Arzt, FILE)
2 of 2
FILE - In this file photo dated Sunday May 7 1995, Princess Diana offers her son Prince Harry a drink of water during a open air ceremony to mark the 50th anniversary of VE Day, the end of World War II in Europe, in Hyde Park, London. Diana channeled Jackie Kennedy Onassis's style for an appearance on VE Day in 1995, appearing in a pale blue pillbox hat and matching suit. (AP Photo/Jacqueline Arzt, FILE)
LONDON (AP) — Tiaras and sequined ball gowns, ruffled bows and shoulder pads — and who can forget that fairytale wedding dress, a fluffy taffeta confection spilling its huge train down the aisle of St. Paul's Cathedral?
From frilly frocks to power suits, much of what Princess Diana wore has become the byword for the lavish extravagance of the '80s. Her style evolved through the years, but for many she embodies what classic "princess style" looks like. Two decades after she died in a 1997 Paris car crash, Diana's clothes are still making headlines: An exhibition of her dresses at London's Kensington Palace this year drew long waiting lines on its opening day.
"She was so stylish, she was really brave with the clothes she wore," said Anne Campion from Dublin, one of those attending the exhibition. "You look at her clothes now and they're so classic ... I think her clothes and her style, you could wear them today."
A look at some of Diana's most memorable fashion moments:
WEDDING DRESS OF THE CENTURY
Diana's 1981 wedding to Prince Charles was watched by hundreds of millions around the world, and she couldn't have worn a more sumptuous dress for the occasion. The silk taffeta gown with a 25-foot (7.6-meter) train by David and Elizabeth Emanuel featured romantic billowing sleeves, bows, lace and 10,000 mother-of-pearl sequins.
___
HONEYMOON TWEED
For a honeymoon photo in Scotland in 1981, Charles wore his kilt while Diana chose a brown tweed woolen dress suit by designer Bill Pashley, a nod to the royal family's traditional country wear.
___
SHARP TUXEDO
In 1984, Diana surprised her fans when she ditched pretty dresses and sported a white dinner jacket, black trousers and a black bow tie for a charity concert by the band Genesis.
___
DYNASTY DI
Many of Diana's looks featured oversized shoulder pads — the de rigueur accessory of the day, in the style of the American soap opera "Dynasty." In 1985 the princess dazzled with a dramatic silver-pleated Bruce Oldfield gown, complete with huge shoulders and a cut-out back.
___
BLUE VELVET AT THE WHITE HOUSE
The off-shoulder, ink blue velvet gown that Diana wore at a 1985 White House state dinner, where she was famously photographed dancing with John Travolta, remains one of her best-known outfits. The dress sold for a whopping 240,000 pounds ($311,000) at auction in 2013.
___
THE ELVIS DRESS
Diana turned to a slimmer, more tailored silhouette toward the late 1980s. For an official visit to Hong Kong in 1989, Catherine Walker, one of Diana's favorite designers, created a white silk strapless dress encrusted with peals and sequins, with a matching bolero jacket. The outfit was dubbed the "Elvis dress" because it reminded many of Elvis Presley.
___
THE REVENGE DRESS
One of Diana's most talked-about outfits had to be the figure-hugging, low-cut little black dress the princess wore to a Serpentine Gallery party in 1994. The press dubbed it her "revenge dress," because it was the same night Charles admitted on television that he was having an affair with Camilla Parker Bowles. Greek fashion designer Christina Stambolian reportedly said Diana initially thought the dress "too daring" and only opted for it at the last minute.
___
CHARITY CASUAL
In the 1990s Diana often appeared in power suits and more casual outfits for her charity work. For trips to Angola and Bosnia, she chose khaki or black capri trousers and simple shirts with rolled-up sleeves to show that she wanted the focus to be on her work rather than her fashion.
___
SLEEK CONFIDENCE
Diana's outfits increasingly exuded confidence in the mid-1990s, with the princess choosing more pared-down, lower cut and shorter styles. In June 1997, on one of her last public engagements, she visited the Royal Albert Hall for a Swan Lake performance dressed in a low-cut ice-blue pencil mini dress by French designer Jacques Azagury.
___
Caroline Spiezio contributed to this report.
Follow Sylvia Hui on Twitter @sylviahui.