Timeline: How the Trump-Kim summit came together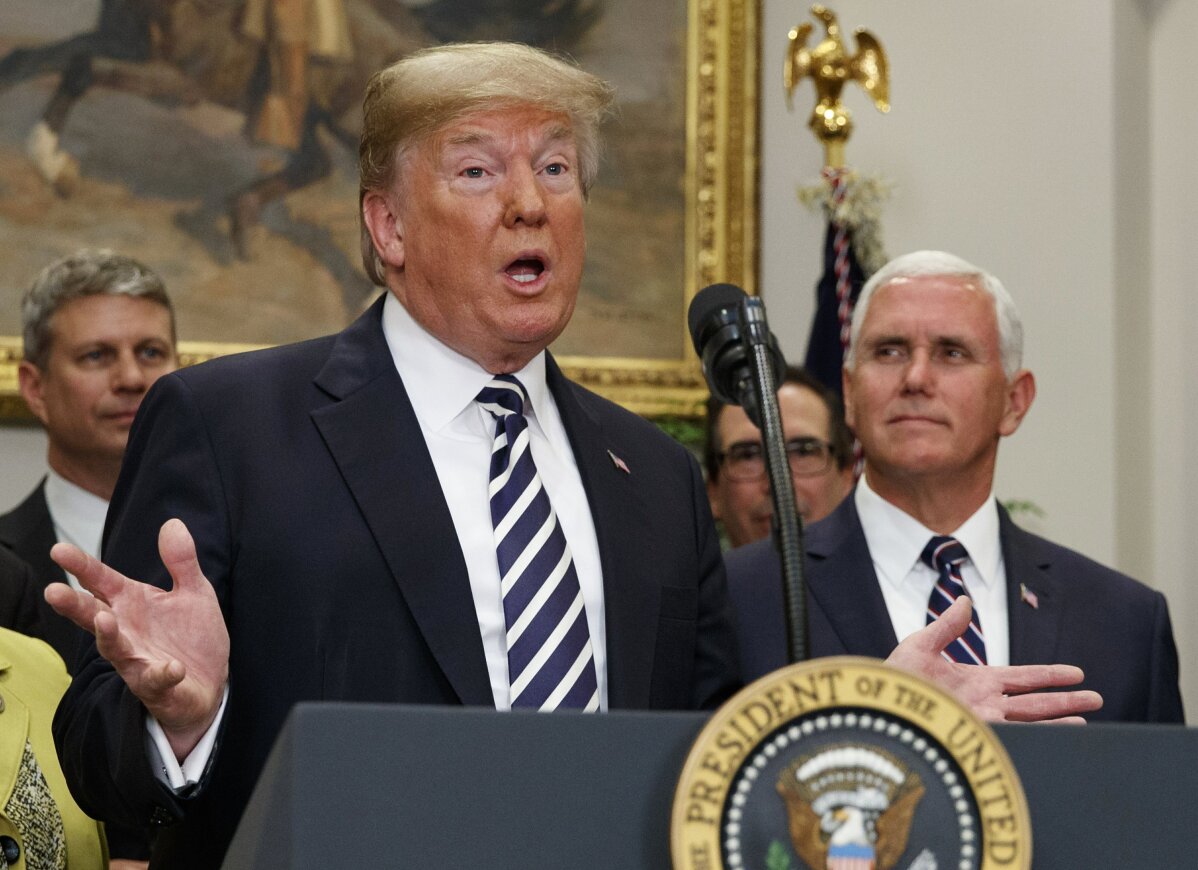 1 of 13

|
FILE - In this May 24, 2018, file photo, U.S. President Donald Trump speaks during a signing ceremony for the "Economic Growth, Regulatory Relief, and Consumer Protection Act," in the Roosevelt Room of the White House,, in Washington, as Vice President Mike Pence, right, looks on in Washington. The upcoming meeting between Trump and North Korean leader Kim Jong Un in Singapore on Tuesday, June 12, 2018, will kick off a potentially lengthy diplomatic process to try to resolve the standoff over Pyongyang's pursuit of nuclear weapons. (AP Photo/Evan Vucci, File)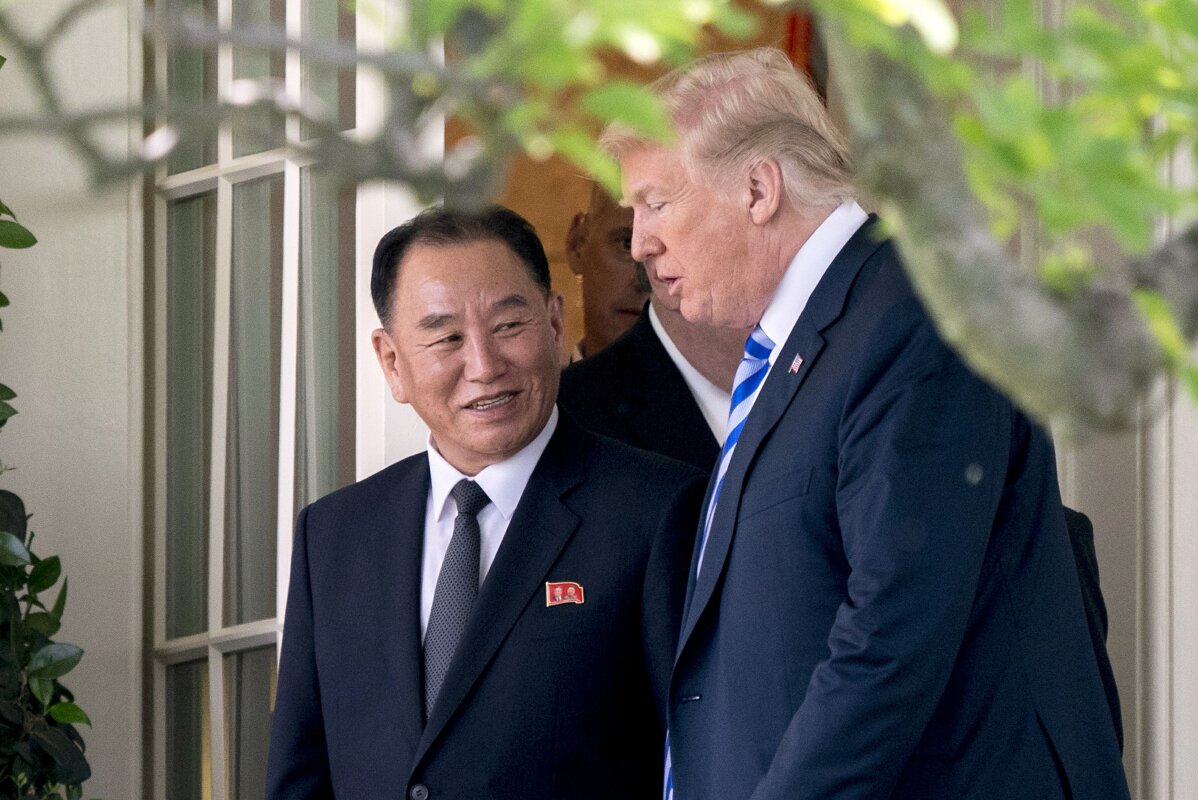 2 of 13

|
FILE - In this June 1, 2018, file photo, U.S. President Donald Trump, right, talks with Kim Yong Chol, former North Korean military intelligence chief and one of leader Kim Jong Un's closest aides, as they walk from their meeting in the Oval Office of the White House in Washington. After meeting Kim Yong Chol at the White House, Trump says his meeting with Kim Jong Un is back on for June 12, 2018. (AP Photo/Andrew Harnik, File)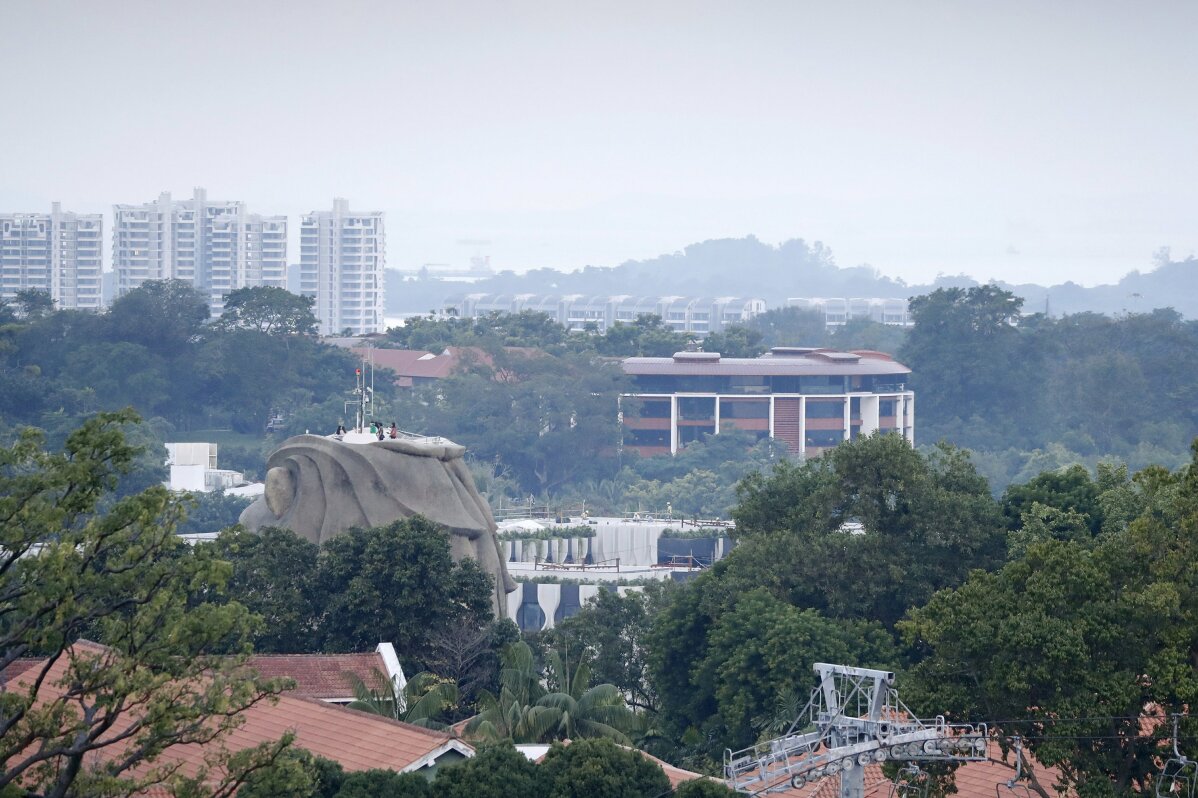 3 of 13

|
FILE - In this June 6, 2018, file photo, part of the facade of Capella Hotel is seen in the center of the photo on Sentosa Island in Singapore. On June 5, 2018, White House Press Secretary Sarah Huckabee Sanders tweets the U.S. President Donald Trump-North Korean leader Kim Jong Un meeting will be held at the hotel. (AP Photo/Wong Maye-E, File)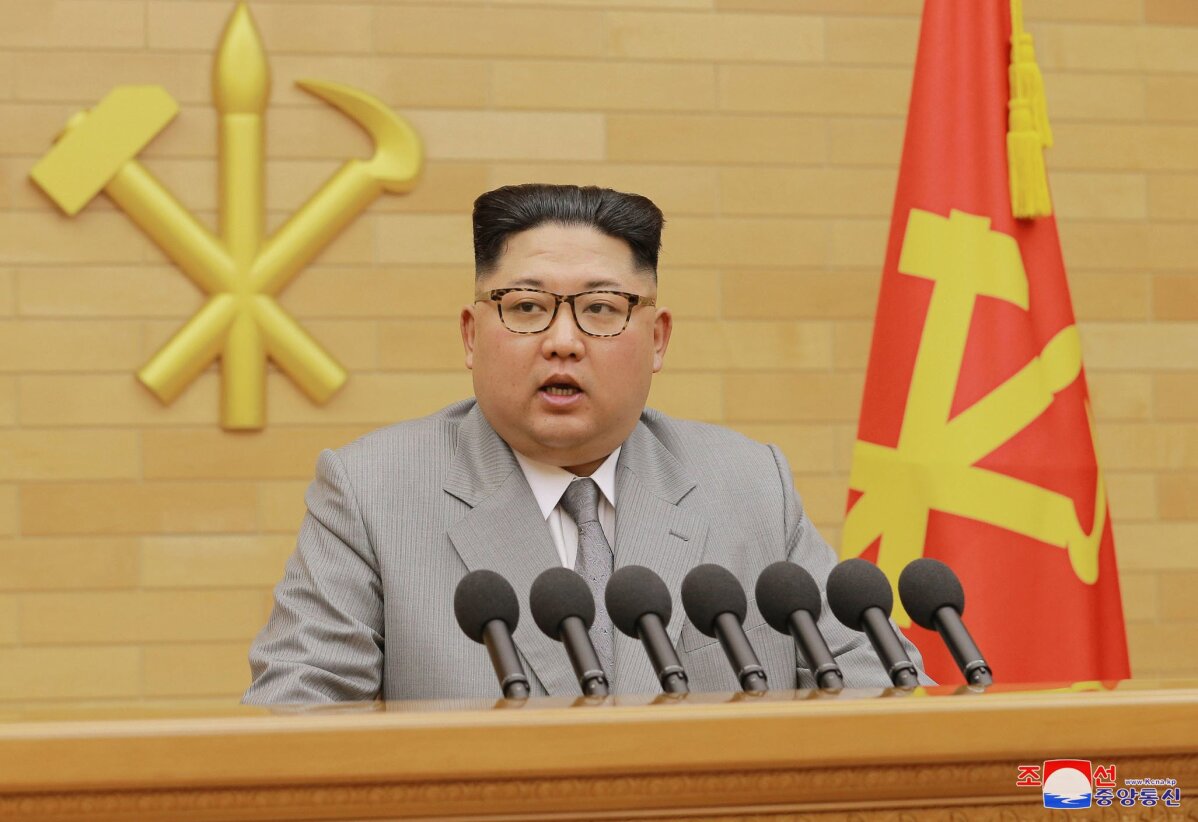 4 of 13

|
FILE - In this Jan. 1, 2018, file photo provided by the North Korean government, North Korean leader Kim Jong Un delivers his New Year's speech at an undisclosed place in North Korea. After an unusually provocative year during which North Korea tests a purported thermonuclear warhead and three intercontinental ballistic missiles, Kim tries to initiate diplomacy in his annual New Year's address. He calls for improved relations and engagement with South Korea, though adds that he has a nuclear button on his desk. Trump responds that he has a bigger and more powerful nuclear button, "and my Button works!" (Korean Central News Agency/Korea News Service via AP, File)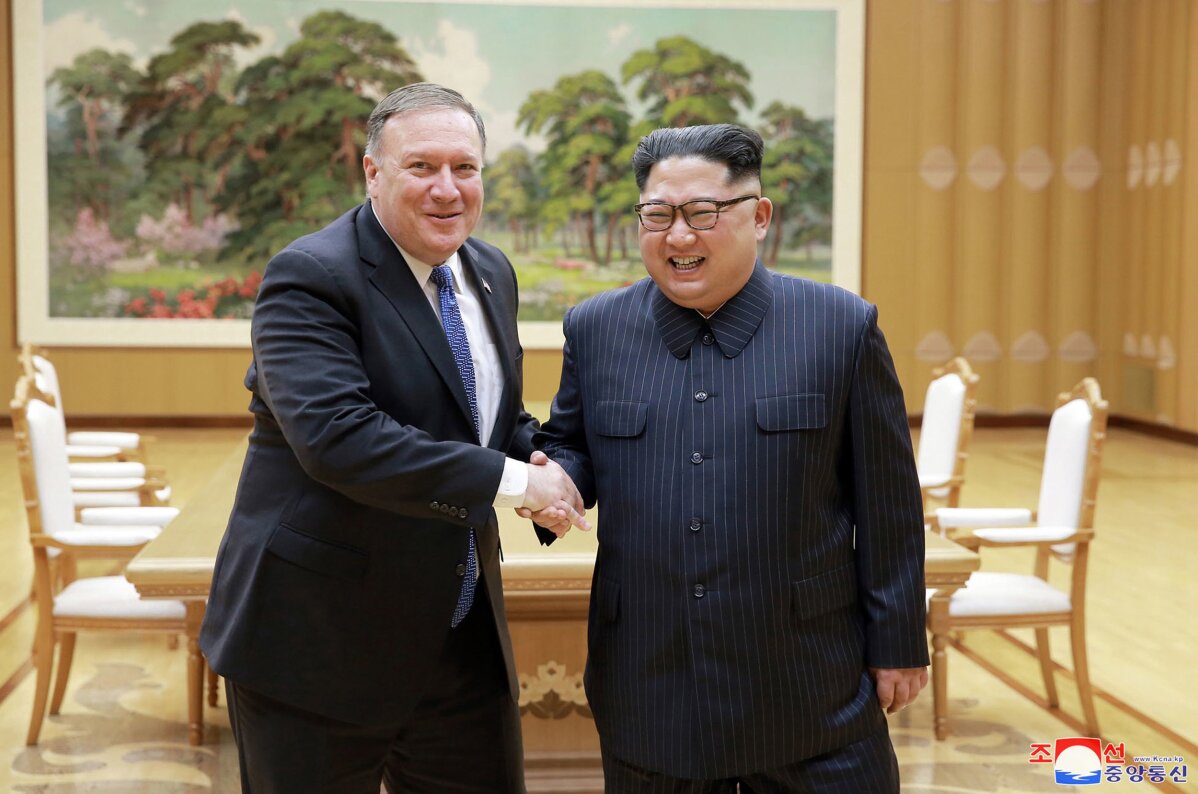 5 of 13

|
FILE - In this May 9, 2018, file photo provided by the North Korean government, U.S. Secretary of State Mike Pompeo, left, poses with North Korean leader Kim Jong Un for a photo during a meeting at Workers' Party of Korea headquarters in Pyongyang, North Korea. Pompeo made another visit to Pyongyang to prepare for the planned U.S. President Donald Trump-Kim summit. North Korea releases three Americans who had been imprisoned. (Korean Central News Agency/Korea News Service via AP, File)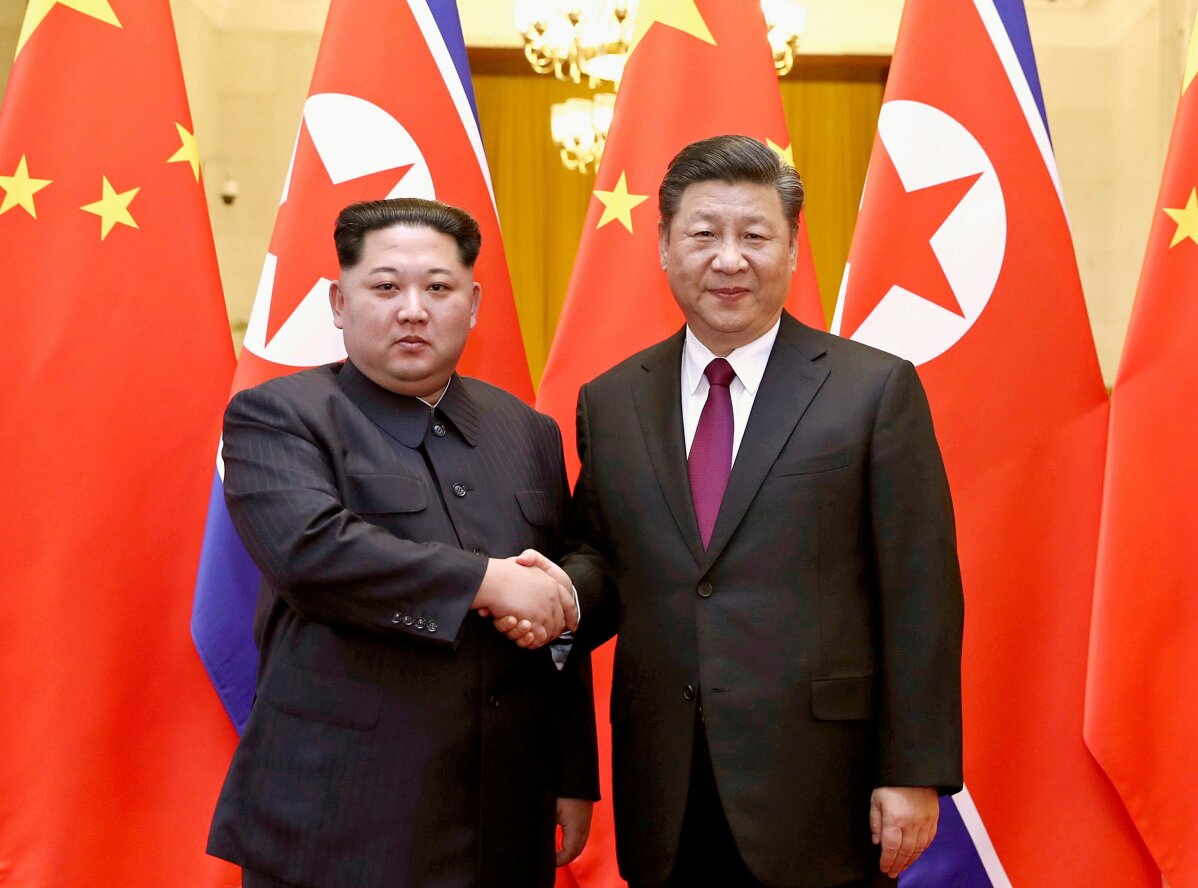 6 of 13

|
FILE - In this March 28, 2018, file photo, released by China's Xinhua News Agency, North Korean leader Kim Jong Un, left, and Chinese President Xi Jinping poses for a photo in Beijing. Kim made a surprise visit to Beijing for a meeting with Xi in an apparent move to strengthen his leverage ahead of any talks with U.S. President Donald Trump. (Ju Peng/Xinhua via AP, File)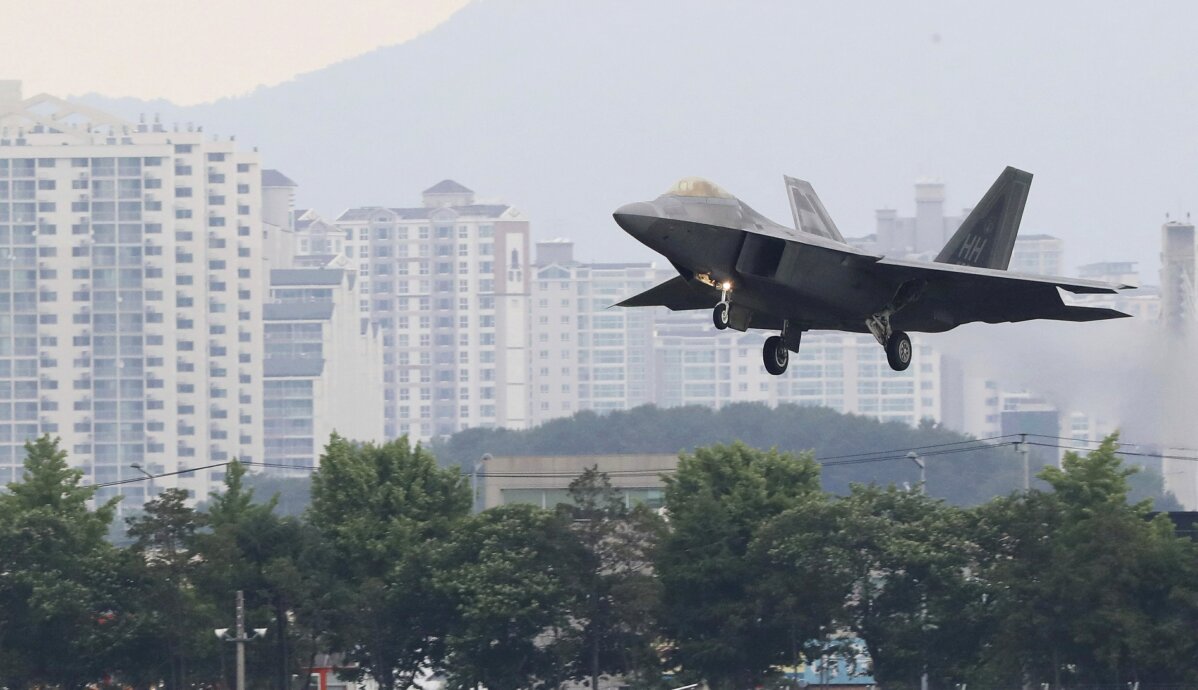 7 of 13

|
FILE- In this May 16, 2018, file photo, a U.S. F-22 Raptor stealth fighter jet lands as South Korea and the United States conduct the Max Thunder joint military exercise at an air base in Gwangju, South Korea. North Korea abruptly canceled a high-level meeting with the South and threatens to cancel the summit with U.S. President Donald Trump too in protest over U.S.-South Korean military exercises and U.S. comments that the North should follow the "Libya model" of denuclearization by eliminating everything upfront. The North says it won't be unilaterally pressured into abandoning its nukes. (Park Chul-hog/Yonhap via AP, File)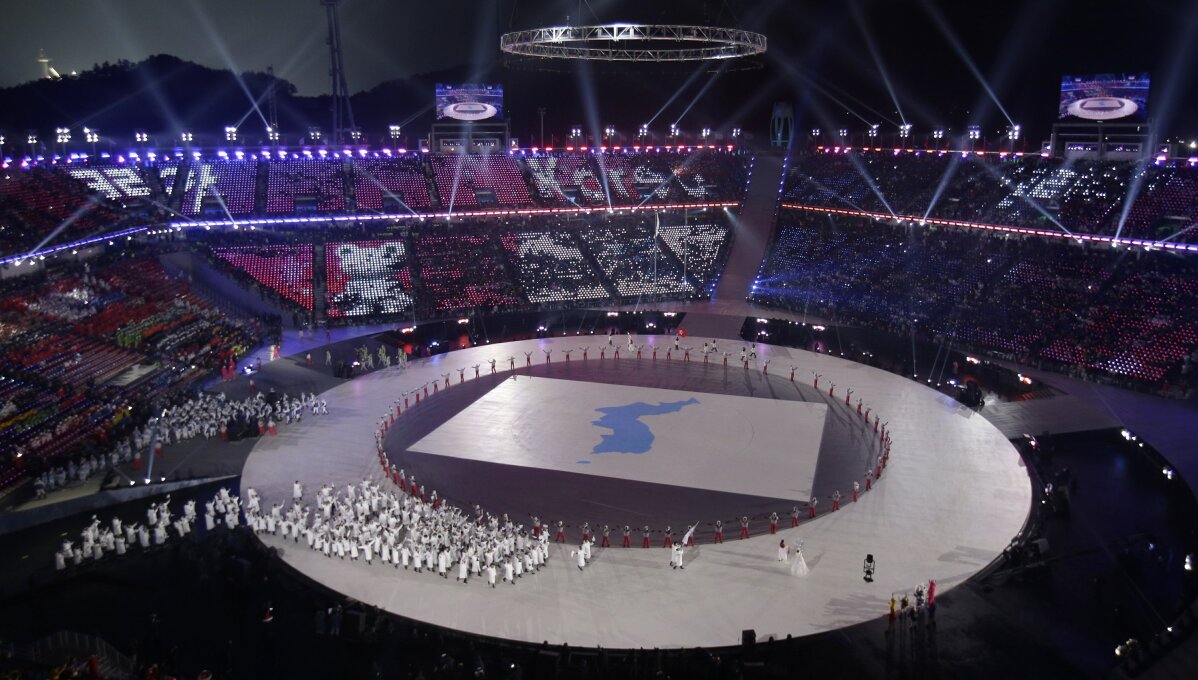 8 of 13

|
FILE - In this Feb. 9, 2018, file photo, athletes from North and South Korea wave Korean unification flags as they walk on stage during the opening ceremony of the 2018 Winter Olympics in Pyeongchang, South Korea. Hundreds of North Koreans go to the Pyeongchang Games in February, including leader Kim Jong Un's sister Kim Yo-Jong, who conveys her brother's desire for an inter-Korean summit with South Korean President Moon Jae-in. (AP Photo/Charlie Riedel, File)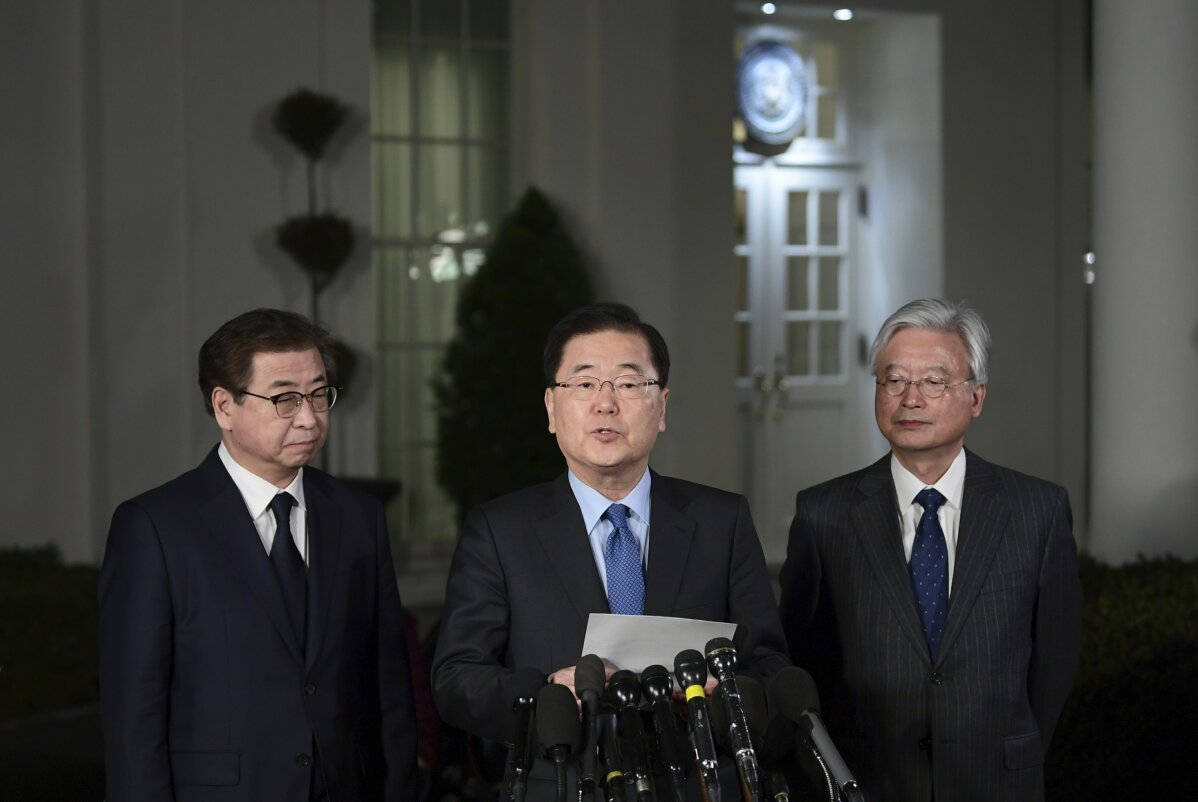 9 of 13

|
FILE - In this March 8, 2018, file photo, South Korean national security director Chung Eui-yong, center, speaks to reporters at the White House in Washington. The upcoming meeting between U.S. President Donald Trump and North Korean leader Kim Jong Un in Singapore on Tuesday, June 12, 2018, will kick off a potentially lengthy diplomatic process to try to resolve the standoff over Pyongyang's pursuit of nuclear weapons. (AP Photo/Susan Walsh, File)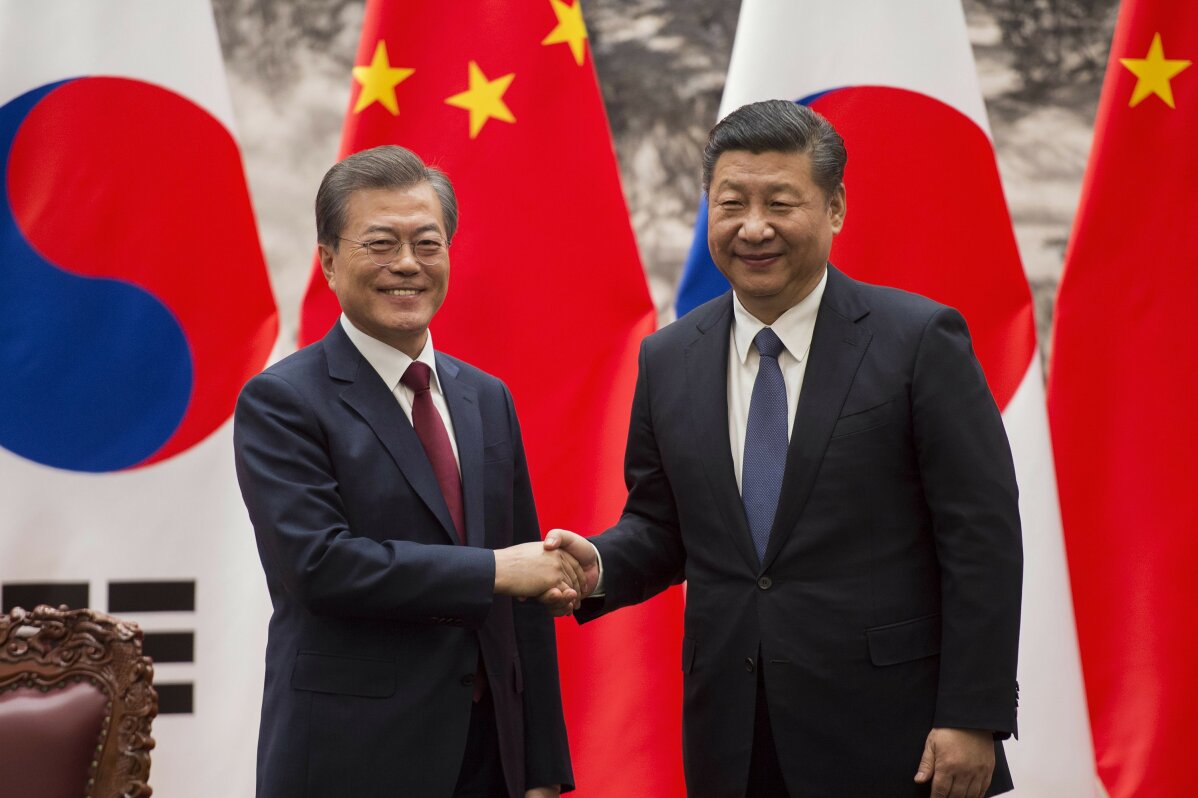 10 of 13

|
FILE - In this Dec. 14, 2017, file photo, South Korean President Moon Jae-in, left, and Chinese President Xi Jinping pose for a photo at the end of a signing ceremony at the Great Hall of the People in Beijing. (Nicolas Asfouri/Pool Photo via AP, File)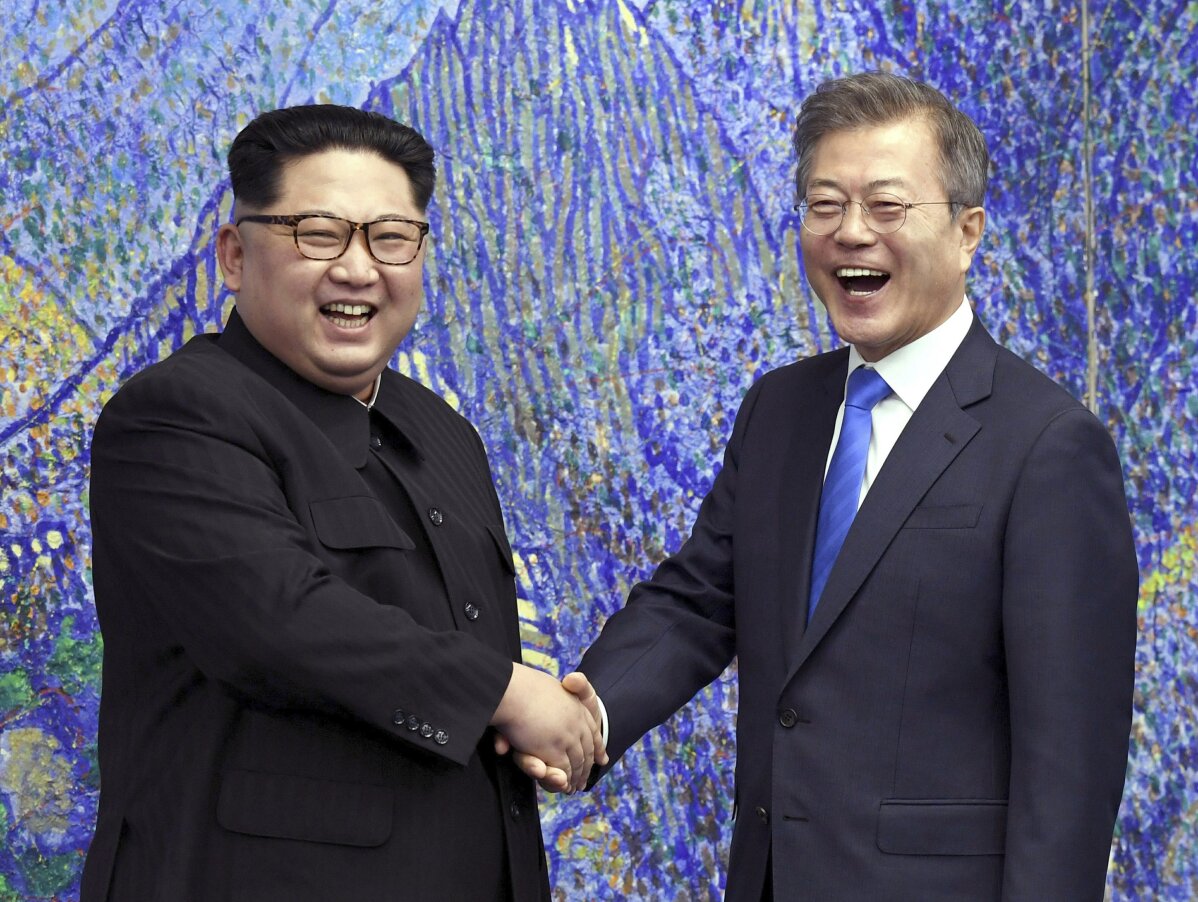 11 of 13

|
FILE - In this April 27, 2018, file photo, North Korean leader Kim Jong Un, left, poses with South Korean President Moon Jae-in for a photo inside the Peace House at the border village of Panmunjom in Demilitarized Zone, South Korea. The leaders announce aspirational goals of a nuclear-free peninsula and permanent peace. (Korea Summit Press Pool via AP. Pool, File)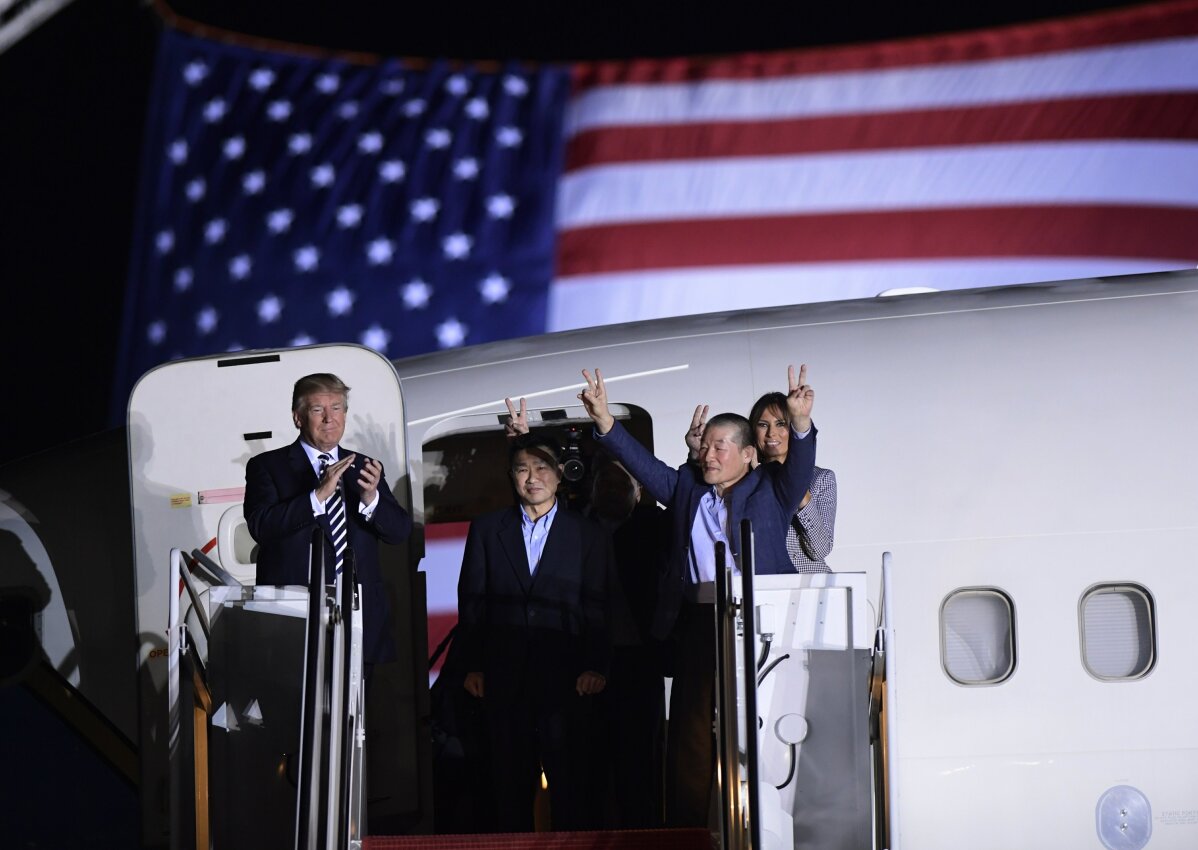 12 of 13

|
FILE - In this May 10, 2018, file photo, U.S. President Donald Trump, from left, greets Tony Kim, Kim Hak Song, seen in the shadow, and Kim Dong Chul, three Americans detained in North Korea for more than a year, as they arrive at Andrews Air Force Base in Md. First lady Melania Trump also greet them at right. On May 9, 2018, U.S. Secretary of State Mike Pompeo made another visit to Pyongyang to prepare for the planned Trump-Kim Jong Un summit. North Korea released the three Americans who had been imprisoned. (AP Photo/Susan Walsh, File)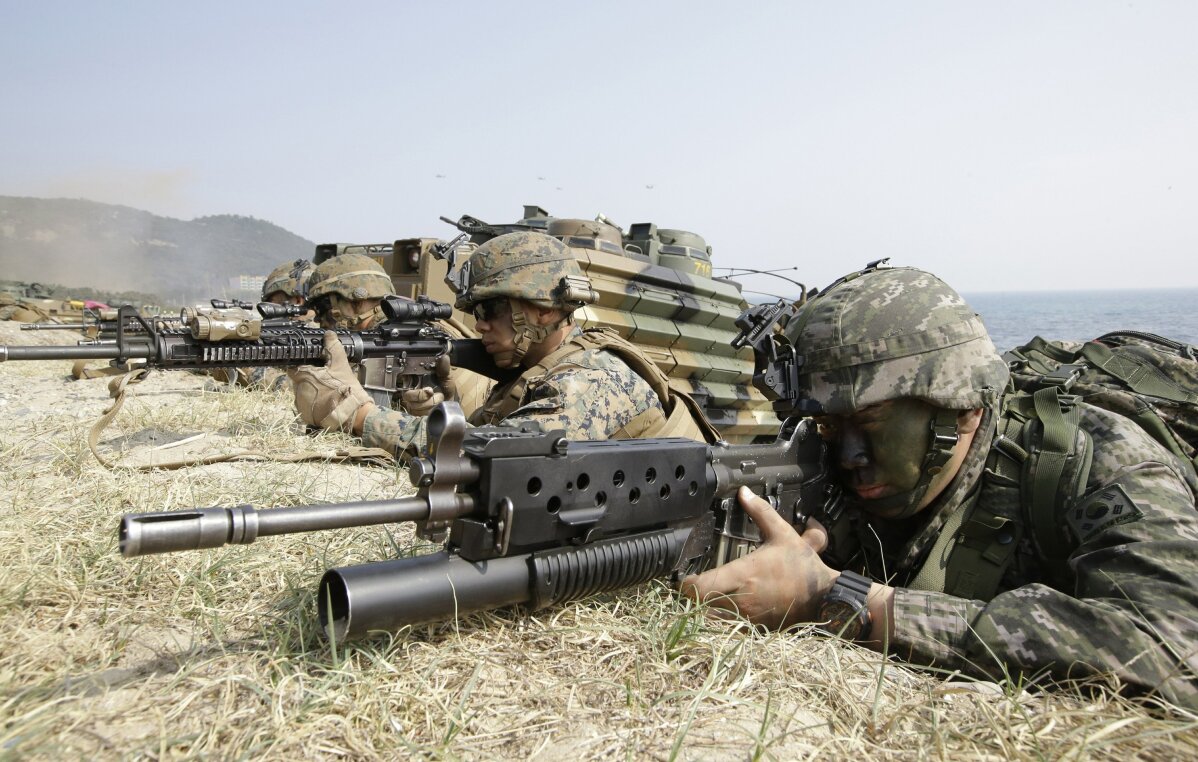 13 of 13

|
FILE - In this March 30, 2015, file photo, marines of South Korea, right, and the U.S aim their weapons near amphibious assault vehicles during the U.S.-South Korea joint landing military exercises as a part of the annual joint military exercise Foal Eagle between the two countries in Pohang, South Korea. On May 16, 2018, North Korea abruptly cancels a high-level meeting with the South and threatens to cancel the summit with U.S. President Donald Trump too in protest over U.S.-South Korean military exercises. (AP Photo/Lee Jin-man, File)
Timeline: How the Trump-Kim summit came together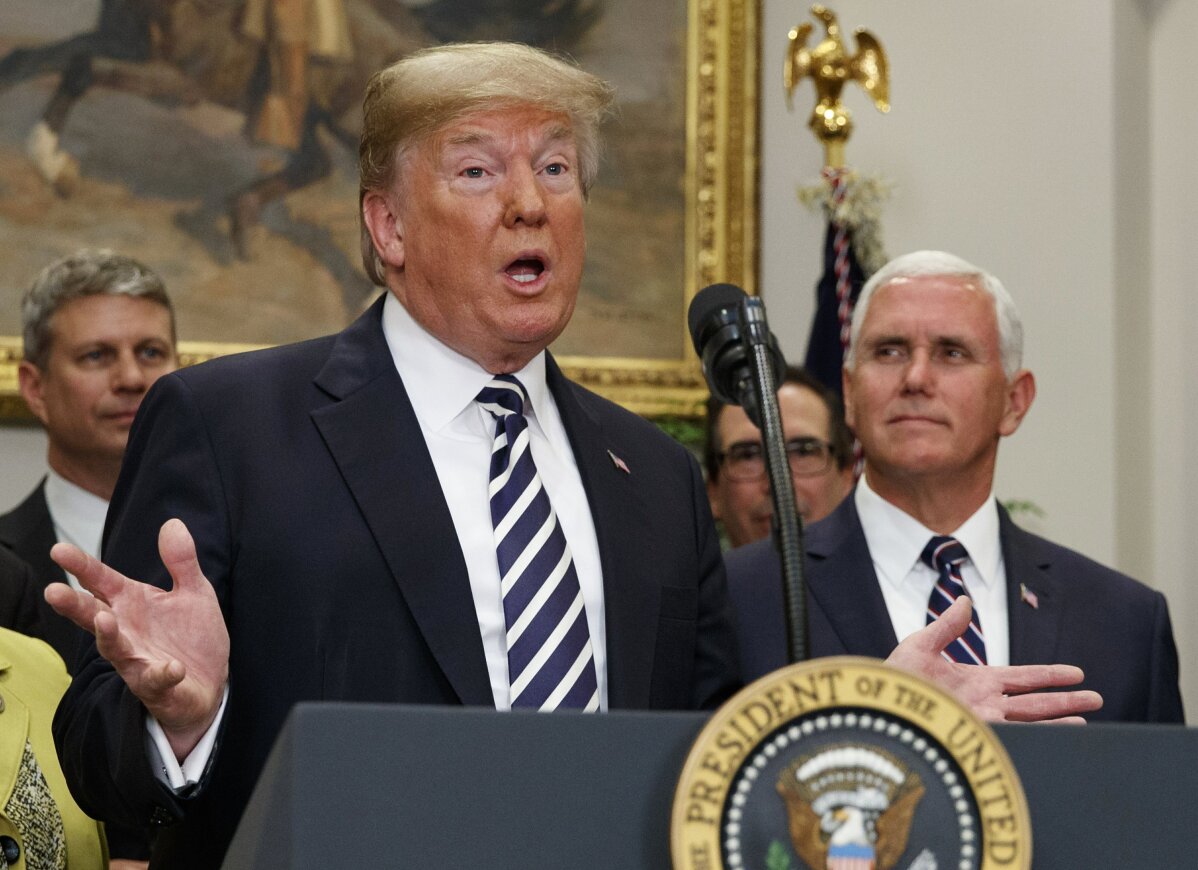 1 of 13

|
FILE - In this May 24, 2018, file photo, U.S. President Donald Trump speaks during a signing ceremony for the "Economic Growth, Regulatory Relief, and Consumer Protection Act," in the Roosevelt Room of the White House,, in Washington, as Vice President Mike Pence, right, looks on in Washington. The upcoming meeting between Trump and North Korean leader Kim Jong Un in Singapore on Tuesday, June 12, 2018, will kick off a potentially lengthy diplomatic process to try to resolve the standoff over Pyongyang's pursuit of nuclear weapons. (AP Photo/Evan Vucci, File)
1 of 13
FILE - In this May 24, 2018, file photo, U.S. President Donald Trump speaks during a signing ceremony for the "Economic Growth, Regulatory Relief, and Consumer Protection Act," in the Roosevelt Room of the White House,, in Washington, as Vice President Mike Pence, right, looks on in Washington. The upcoming meeting between Trump and North Korean leader Kim Jong Un in Singapore on Tuesday, June 12, 2018, will kick off a potentially lengthy diplomatic process to try to resolve the standoff over Pyongyang's pursuit of nuclear weapons. (AP Photo/Evan Vucci, File)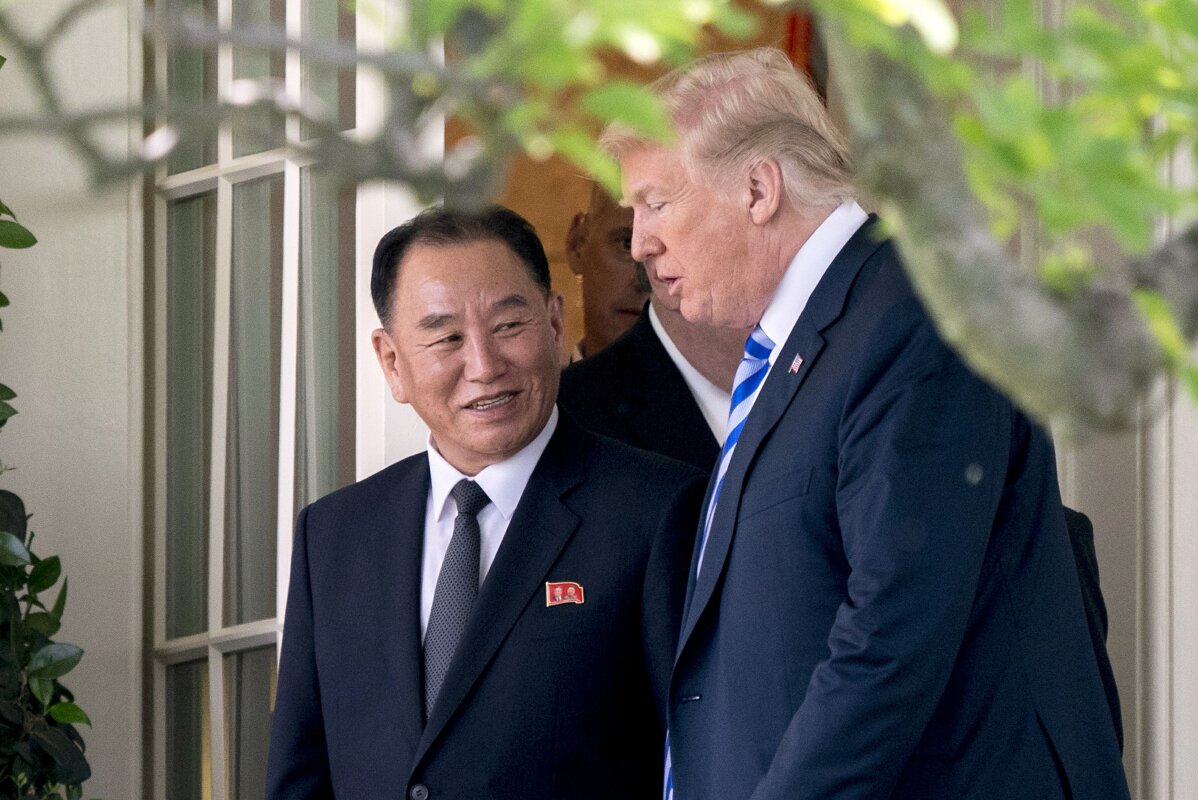 2 of 13

|
FILE - In this June 1, 2018, file photo, U.S. President Donald Trump, right, talks with Kim Yong Chol, former North Korean military intelligence chief and one of leader Kim Jong Un's closest aides, as they walk from their meeting in the Oval Office of the White House in Washington. After meeting Kim Yong Chol at the White House, Trump says his meeting with Kim Jong Un is back on for June 12, 2018. (AP Photo/Andrew Harnik, File)
2 of 13
FILE - In this June 1, 2018, file photo, U.S. President Donald Trump, right, talks with Kim Yong Chol, former North Korean military intelligence chief and one of leader Kim Jong Un's closest aides, as they walk from their meeting in the Oval Office of the White House in Washington. After meeting Kim Yong Chol at the White House, Trump says his meeting with Kim Jong Un is back on for June 12, 2018. (AP Photo/Andrew Harnik, File)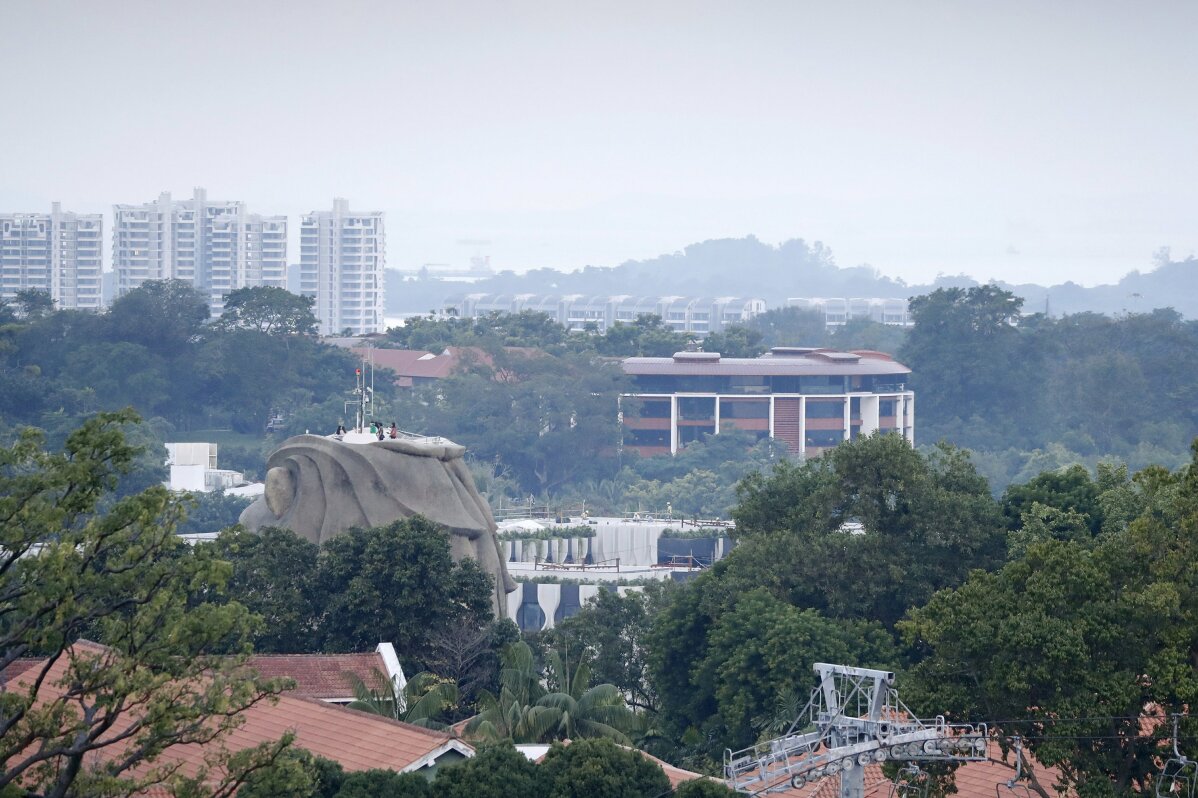 3 of 13

|
FILE - In this June 6, 2018, file photo, part of the facade of Capella Hotel is seen in the center of the photo on Sentosa Island in Singapore. On June 5, 2018, White House Press Secretary Sarah Huckabee Sanders tweets the U.S. President Donald Trump-North Korean leader Kim Jong Un meeting will be held at the hotel. (AP Photo/Wong Maye-E, File)
3 of 13
FILE - In this June 6, 2018, file photo, part of the facade of Capella Hotel is seen in the center of the photo on Sentosa Island in Singapore. On June 5, 2018, White House Press Secretary Sarah Huckabee Sanders tweets the U.S. President Donald Trump-North Korean leader Kim Jong Un meeting will be held at the hotel. (AP Photo/Wong Maye-E, File)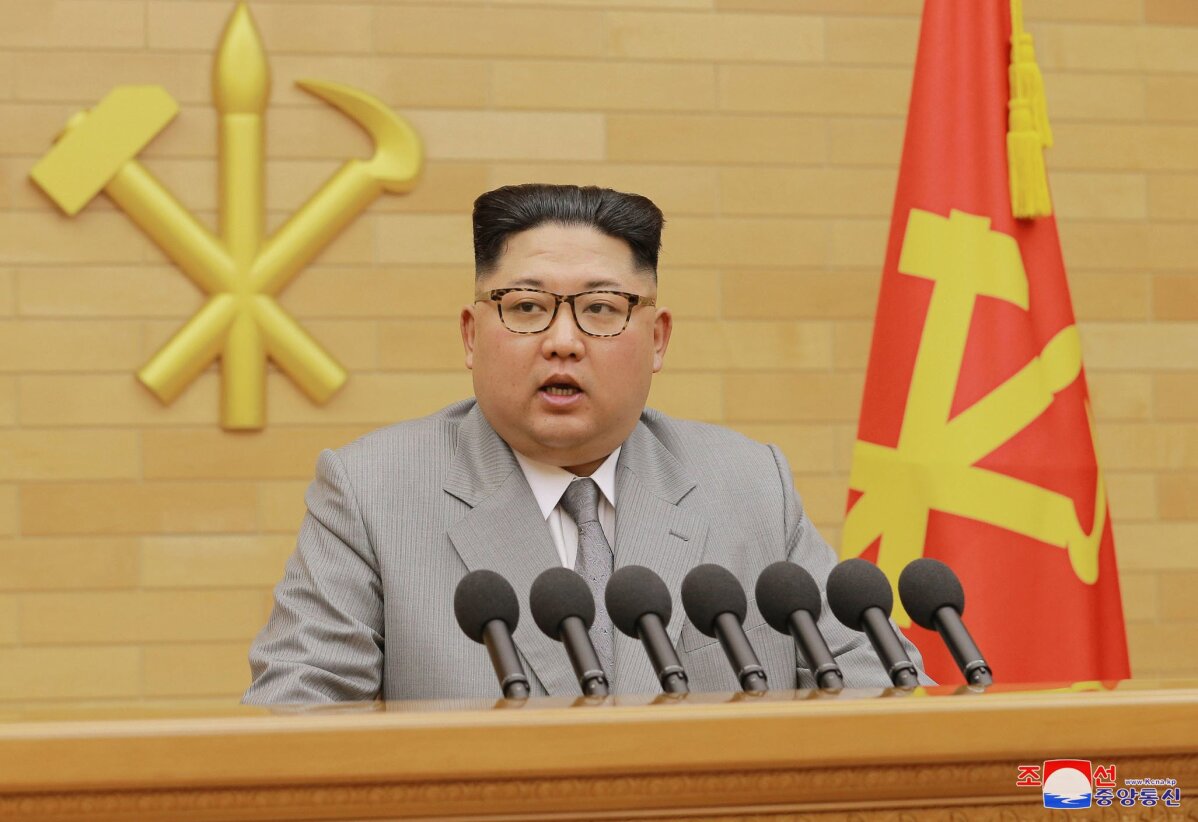 4 of 13

|
FILE - In this Jan. 1, 2018, file photo provided by the North Korean government, North Korean leader Kim Jong Un delivers his New Year's speech at an undisclosed place in North Korea. After an unusually provocative year during which North Korea tests a purported thermonuclear warhead and three intercontinental ballistic missiles, Kim tries to initiate diplomacy in his annual New Year's address. He calls for improved relations and engagement with South Korea, though adds that he has a nuclear button on his desk. Trump responds that he has a bigger and more powerful nuclear button, "and my Button works!" (Korean Central News Agency/Korea News Service via AP, File)
4 of 13
FILE - In this Jan. 1, 2018, file photo provided by the North Korean government, North Korean leader Kim Jong Un delivers his New Year's speech at an undisclosed place in North Korea. After an unusually provocative year during which North Korea tests a purported thermonuclear warhead and three intercontinental ballistic missiles, Kim tries to initiate diplomacy in his annual New Year's address. He calls for improved relations and engagement with South Korea, though adds that he has a nuclear button on his desk. Trump responds that he has a bigger and more powerful nuclear button, "and my Button works!" (Korean Central News Agency/Korea News Service via AP, File)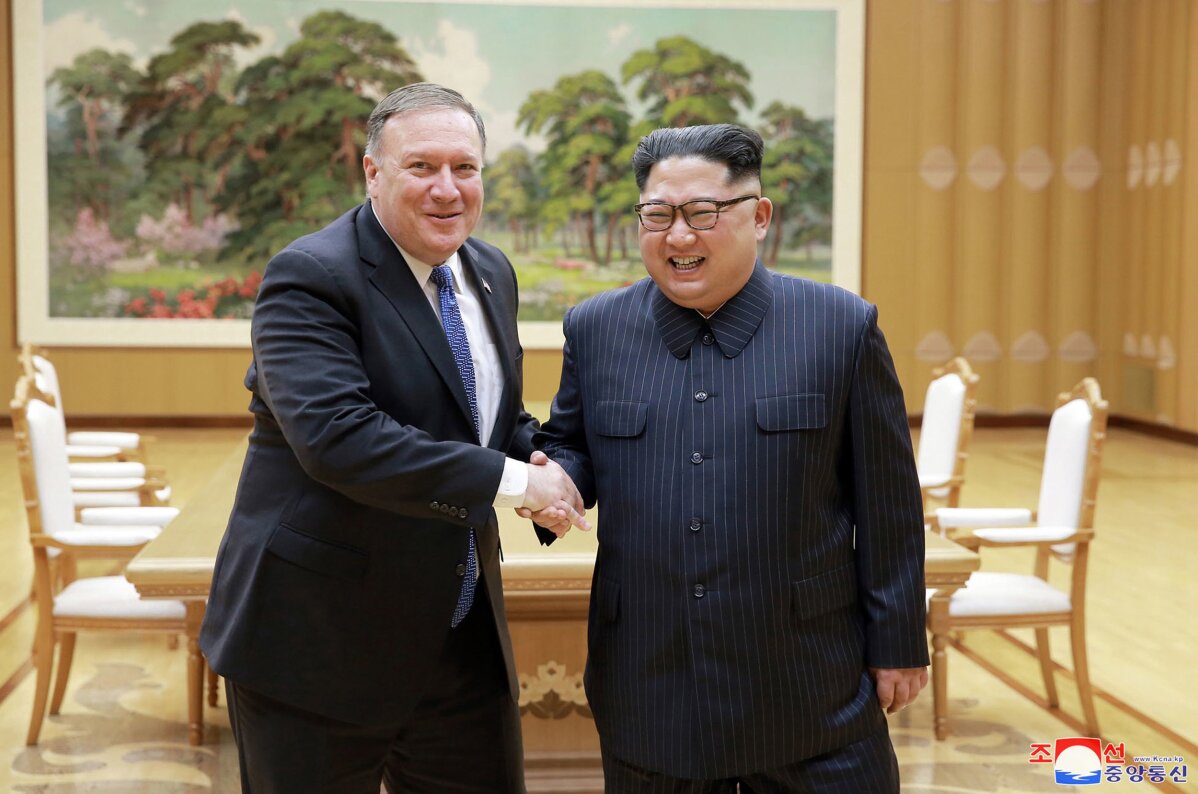 5 of 13

|
FILE - In this May 9, 2018, file photo provided by the North Korean government, U.S. Secretary of State Mike Pompeo, left, poses with North Korean leader Kim Jong Un for a photo during a meeting at Workers' Party of Korea headquarters in Pyongyang, North Korea. Pompeo made another visit to Pyongyang to prepare for the planned U.S. President Donald Trump-Kim summit. North Korea releases three Americans who had been imprisoned. (Korean Central News Agency/Korea News Service via AP, File)
5 of 13
FILE - In this May 9, 2018, file photo provided by the North Korean government, U.S. Secretary of State Mike Pompeo, left, poses with North Korean leader Kim Jong Un for a photo during a meeting at Workers' Party of Korea headquarters in Pyongyang, North Korea. Pompeo made another visit to Pyongyang to prepare for the planned U.S. President Donald Trump-Kim summit. North Korea releases three Americans who had been imprisoned. (Korean Central News Agency/Korea News Service via AP, File)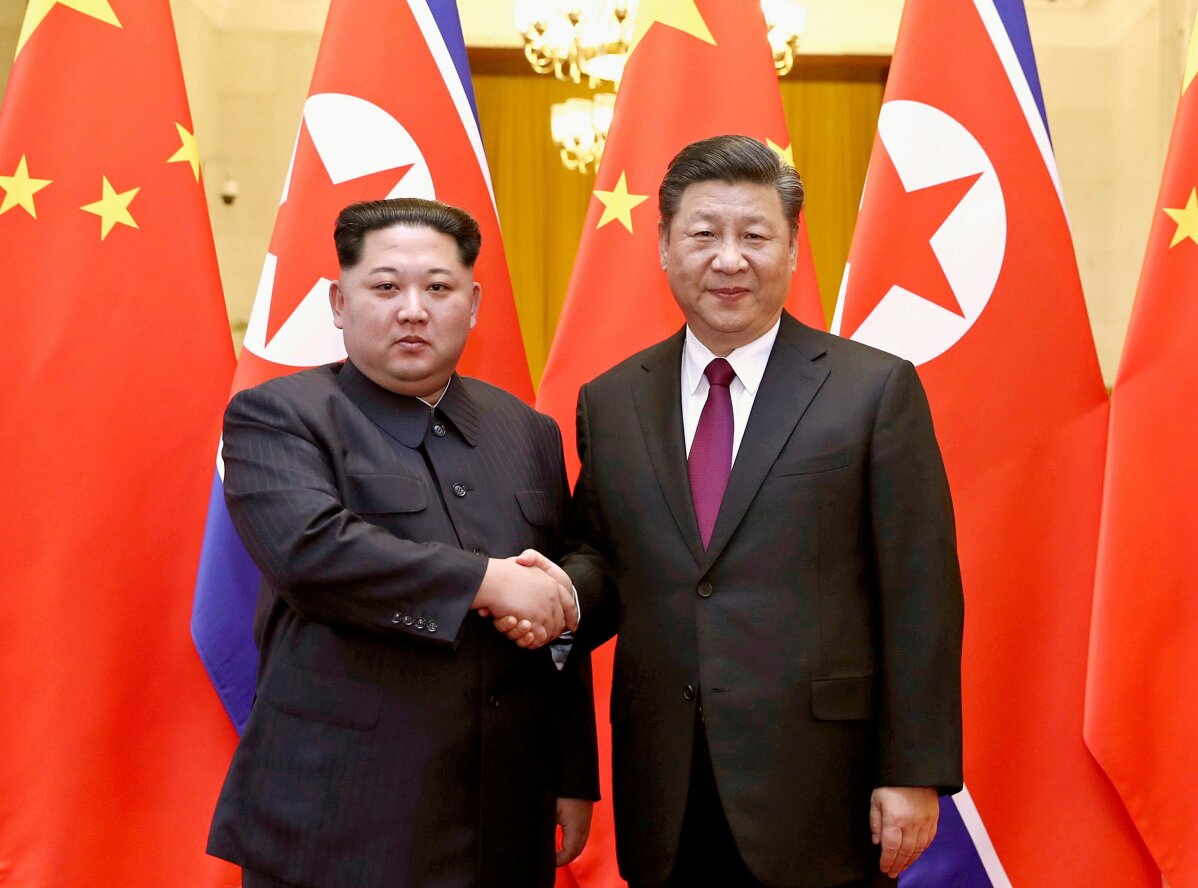 6 of 13

|
FILE - In this March 28, 2018, file photo, released by China's Xinhua News Agency, North Korean leader Kim Jong Un, left, and Chinese President Xi Jinping poses for a photo in Beijing. Kim made a surprise visit to Beijing for a meeting with Xi in an apparent move to strengthen his leverage ahead of any talks with U.S. President Donald Trump. (Ju Peng/Xinhua via AP, File)
6 of 13
FILE - In this March 28, 2018, file photo, released by China's Xinhua News Agency, North Korean leader Kim Jong Un, left, and Chinese President Xi Jinping poses for a photo in Beijing. Kim made a surprise visit to Beijing for a meeting with Xi in an apparent move to strengthen his leverage ahead of any talks with U.S. President Donald Trump. (Ju Peng/Xinhua via AP, File)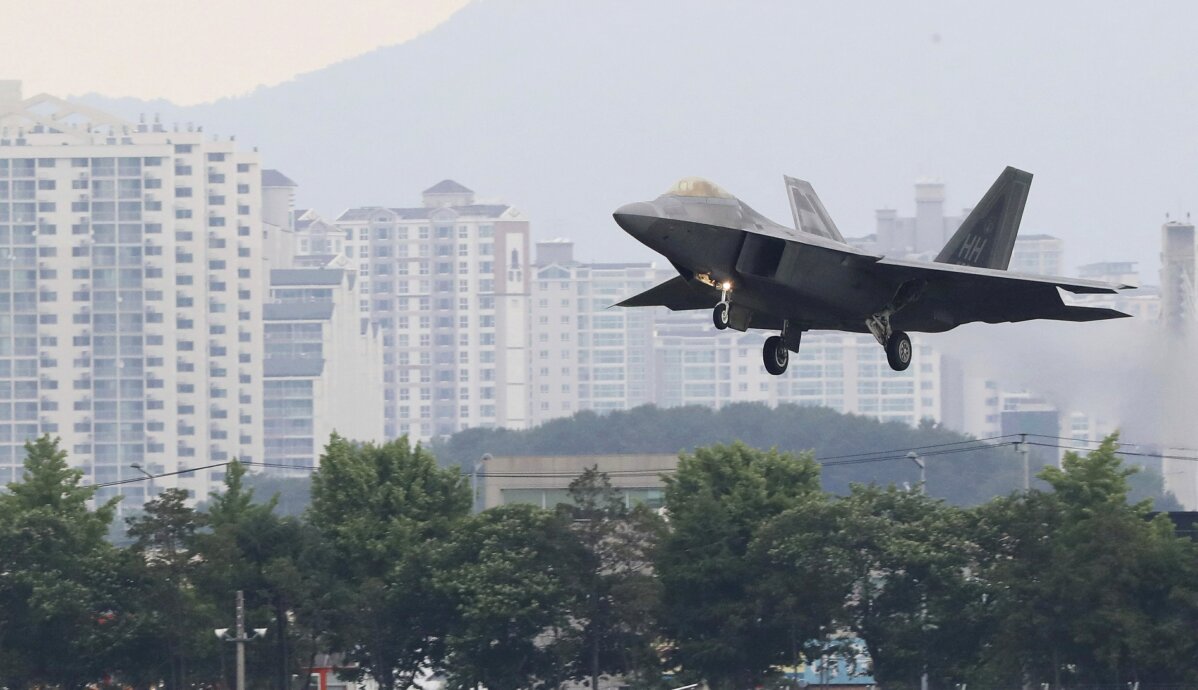 7 of 13

|
FILE- In this May 16, 2018, file photo, a U.S. F-22 Raptor stealth fighter jet lands as South Korea and the United States conduct the Max Thunder joint military exercise at an air base in Gwangju, South Korea. North Korea abruptly canceled a high-level meeting with the South and threatens to cancel the summit with U.S. President Donald Trump too in protest over U.S.-South Korean military exercises and U.S. comments that the North should follow the "Libya model" of denuclearization by eliminating everything upfront. The North says it won't be unilaterally pressured into abandoning its nukes. (Park Chul-hog/Yonhap via AP, File)
7 of 13
FILE- In this May 16, 2018, file photo, a U.S. F-22 Raptor stealth fighter jet lands as South Korea and the United States conduct the Max Thunder joint military exercise at an air base in Gwangju, South Korea. North Korea abruptly canceled a high-level meeting with the South and threatens to cancel the summit with U.S. President Donald Trump too in protest over U.S.-South Korean military exercises and U.S. comments that the North should follow the "Libya model" of denuclearization by eliminating everything upfront. The North says it won't be unilaterally pressured into abandoning its nukes. (Park Chul-hog/Yonhap via AP, File)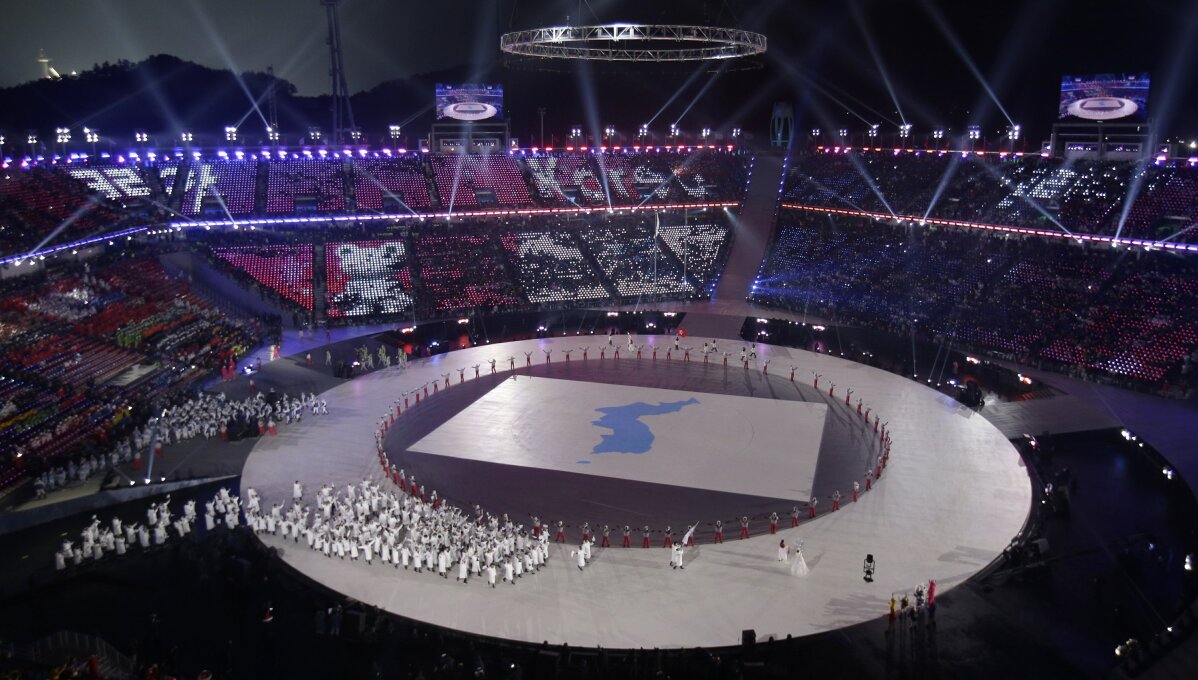 8 of 13

|
FILE - In this Feb. 9, 2018, file photo, athletes from North and South Korea wave Korean unification flags as they walk on stage during the opening ceremony of the 2018 Winter Olympics in Pyeongchang, South Korea. Hundreds of North Koreans go to the Pyeongchang Games in February, including leader Kim Jong Un's sister Kim Yo-Jong, who conveys her brother's desire for an inter-Korean summit with South Korean President Moon Jae-in. (AP Photo/Charlie Riedel, File)
8 of 13
FILE - In this Feb. 9, 2018, file photo, athletes from North and South Korea wave Korean unification flags as they walk on stage during the opening ceremony of the 2018 Winter Olympics in Pyeongchang, South Korea. Hundreds of North Koreans go to the Pyeongchang Games in February, including leader Kim Jong Un's sister Kim Yo-Jong, who conveys her brother's desire for an inter-Korean summit with South Korean President Moon Jae-in. (AP Photo/Charlie Riedel, File)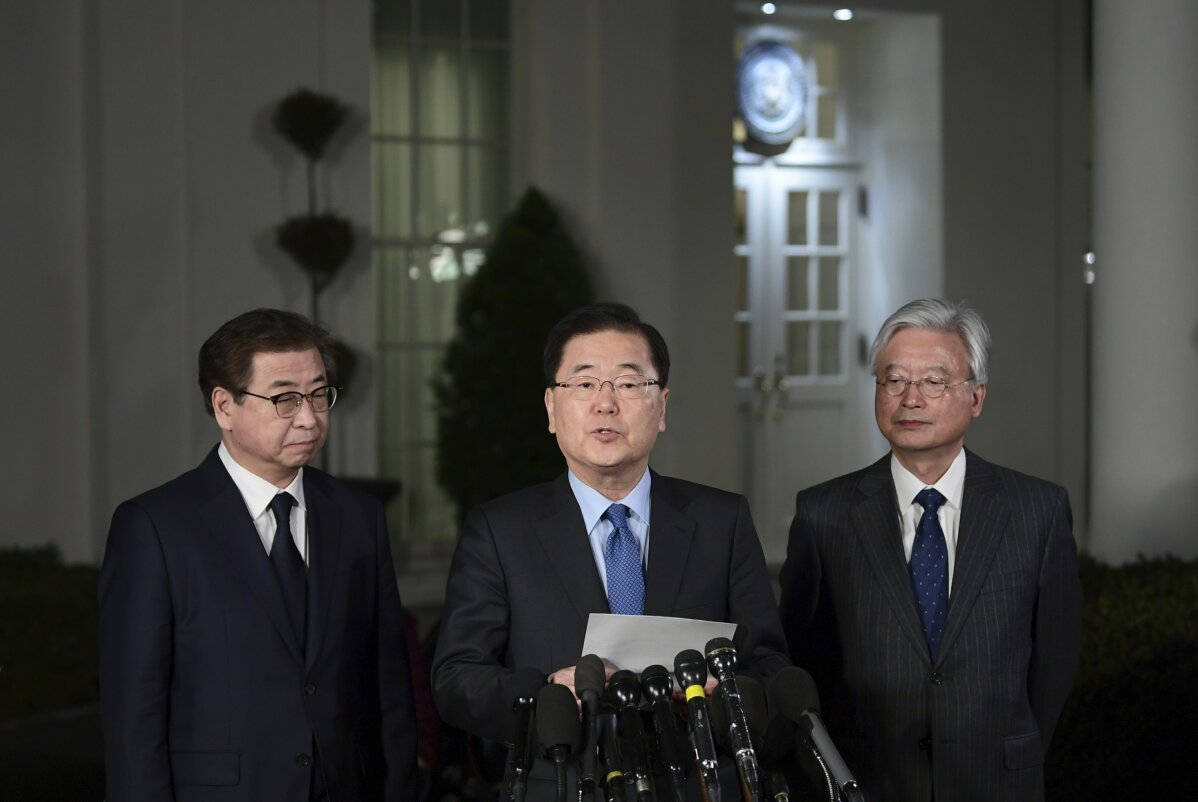 9 of 13

|
FILE - In this March 8, 2018, file photo, South Korean national security director Chung Eui-yong, center, speaks to reporters at the White House in Washington. The upcoming meeting between U.S. President Donald Trump and North Korean leader Kim Jong Un in Singapore on Tuesday, June 12, 2018, will kick off a potentially lengthy diplomatic process to try to resolve the standoff over Pyongyang's pursuit of nuclear weapons. (AP Photo/Susan Walsh, File)
9 of 13
FILE - In this March 8, 2018, file photo, South Korean national security director Chung Eui-yong, center, speaks to reporters at the White House in Washington. The upcoming meeting between U.S. President Donald Trump and North Korean leader Kim Jong Un in Singapore on Tuesday, June 12, 2018, will kick off a potentially lengthy diplomatic process to try to resolve the standoff over Pyongyang's pursuit of nuclear weapons. (AP Photo/Susan Walsh, File)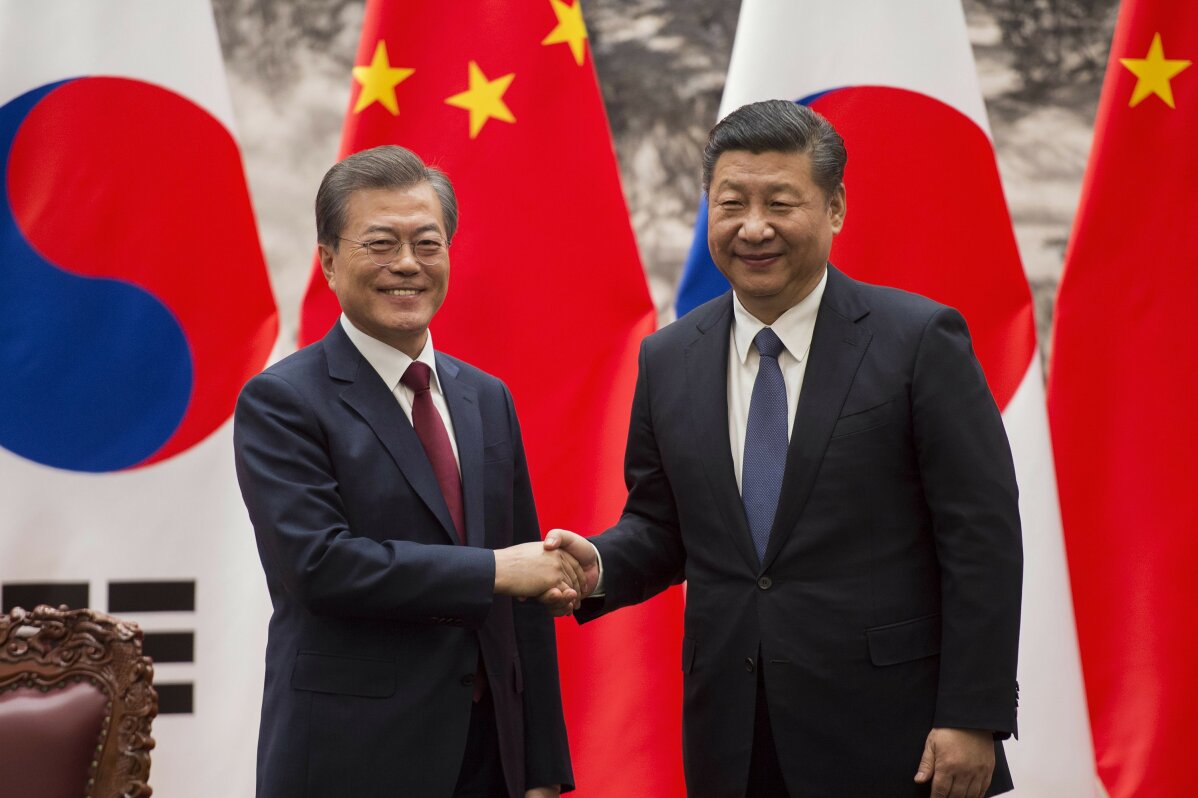 10 of 13

|
FILE - In this Dec. 14, 2017, file photo, South Korean President Moon Jae-in, left, and Chinese President Xi Jinping pose for a photo at the end of a signing ceremony at the Great Hall of the People in Beijing. (Nicolas Asfouri/Pool Photo via AP, File)
10 of 13
FILE - In this Dec. 14, 2017, file photo, South Korean President Moon Jae-in, left, and Chinese President Xi Jinping pose for a photo at the end of a signing ceremony at the Great Hall of the People in Beijing. (Nicolas Asfouri/Pool Photo via AP, File)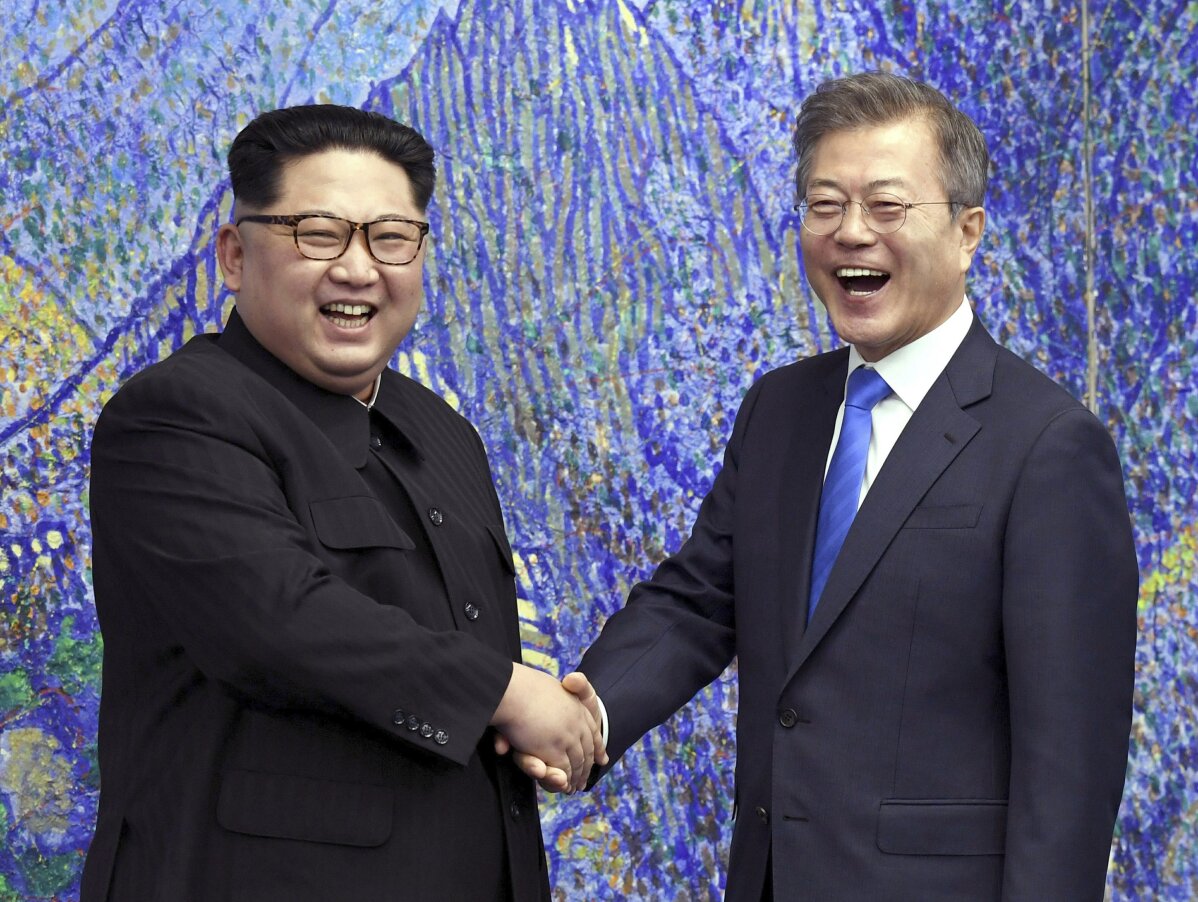 11 of 13

|
FILE - In this April 27, 2018, file photo, North Korean leader Kim Jong Un, left, poses with South Korean President Moon Jae-in for a photo inside the Peace House at the border village of Panmunjom in Demilitarized Zone, South Korea. The leaders announce aspirational goals of a nuclear-free peninsula and permanent peace. (Korea Summit Press Pool via AP. Pool, File)
11 of 13
FILE - In this April 27, 2018, file photo, North Korean leader Kim Jong Un, left, poses with South Korean President Moon Jae-in for a photo inside the Peace House at the border village of Panmunjom in Demilitarized Zone, South Korea. The leaders announce aspirational goals of a nuclear-free peninsula and permanent peace. (Korea Summit Press Pool via AP. Pool, File)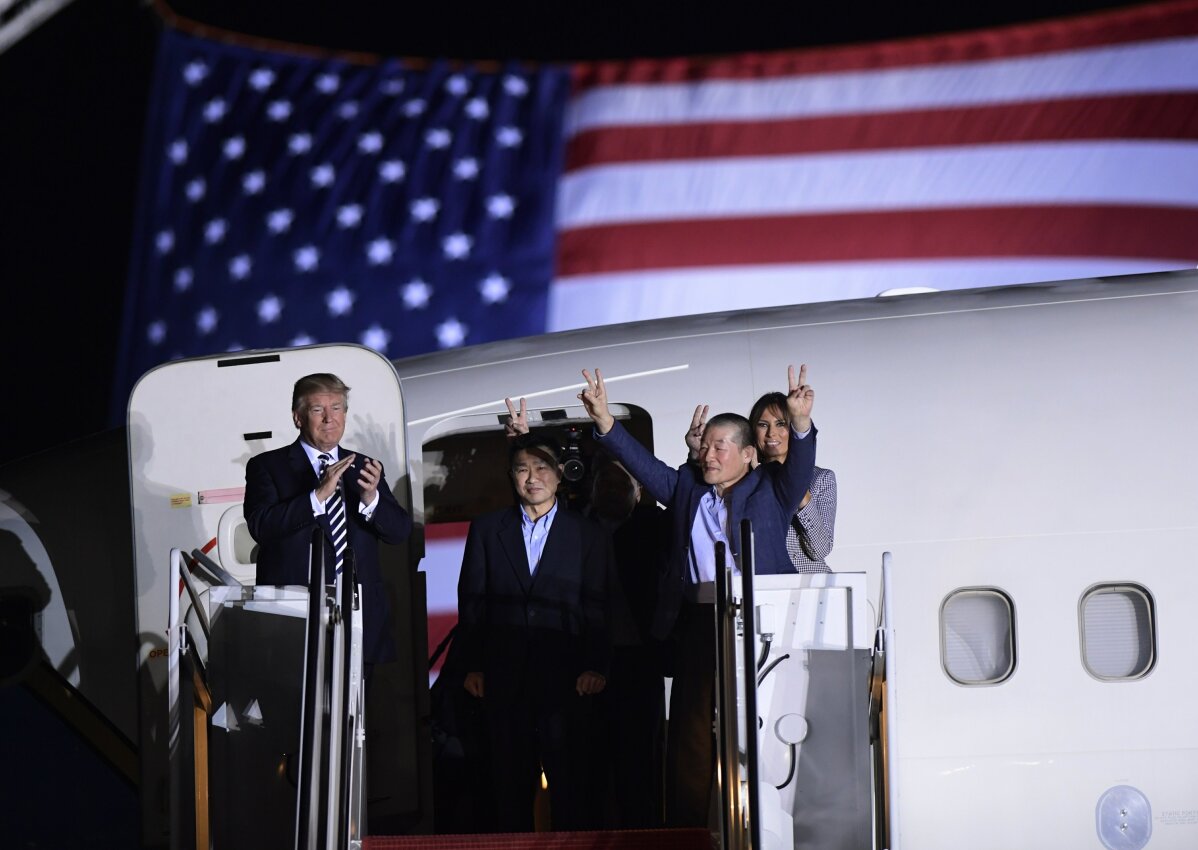 12 of 13

|
FILE - In this May 10, 2018, file photo, U.S. President Donald Trump, from left, greets Tony Kim, Kim Hak Song, seen in the shadow, and Kim Dong Chul, three Americans detained in North Korea for more than a year, as they arrive at Andrews Air Force Base in Md. First lady Melania Trump also greet them at right. On May 9, 2018, U.S. Secretary of State Mike Pompeo made another visit to Pyongyang to prepare for the planned Trump-Kim Jong Un summit. North Korea released the three Americans who had been imprisoned. (AP Photo/Susan Walsh, File)
12 of 13
FILE - In this May 10, 2018, file photo, U.S. President Donald Trump, from left, greets Tony Kim, Kim Hak Song, seen in the shadow, and Kim Dong Chul, three Americans detained in North Korea for more than a year, as they arrive at Andrews Air Force Base in Md. First lady Melania Trump also greet them at right. On May 9, 2018, U.S. Secretary of State Mike Pompeo made another visit to Pyongyang to prepare for the planned Trump-Kim Jong Un summit. North Korea released the three Americans who had been imprisoned. (AP Photo/Susan Walsh, File)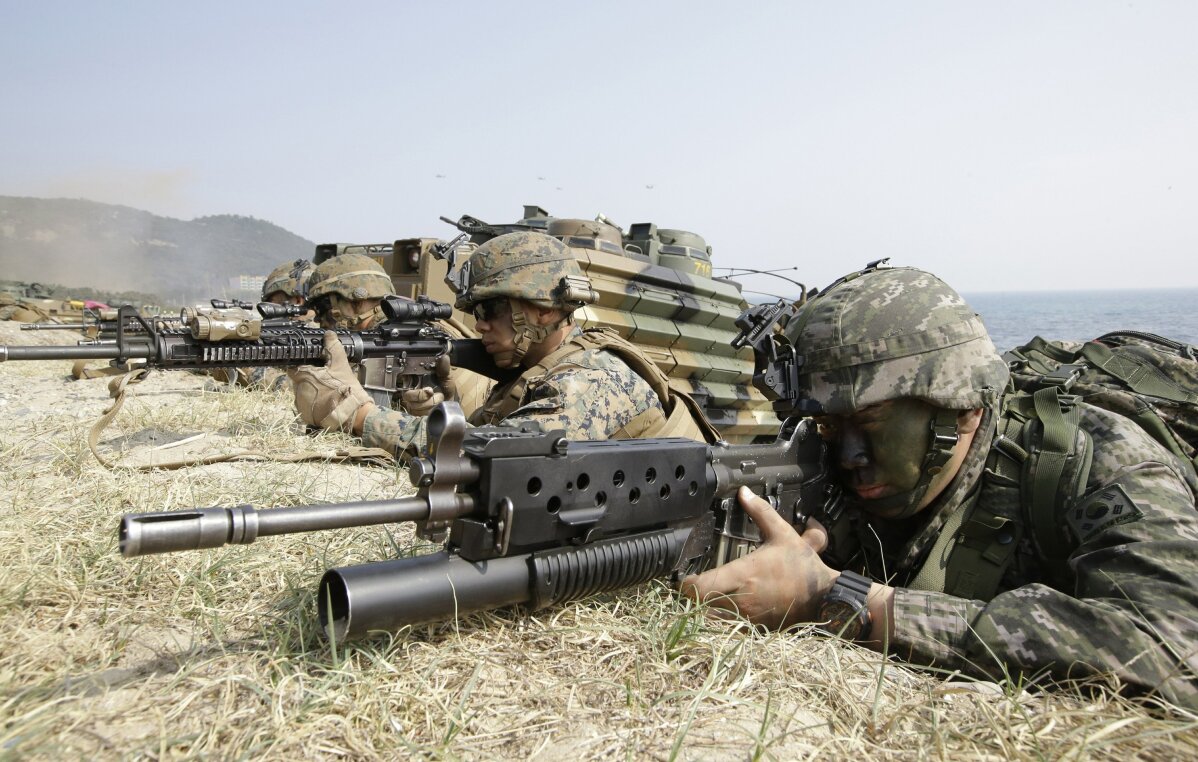 13 of 13

|
FILE - In this March 30, 2015, file photo, marines of South Korea, right, and the U.S aim their weapons near amphibious assault vehicles during the U.S.-South Korea joint landing military exercises as a part of the annual joint military exercise Foal Eagle between the two countries in Pohang, South Korea. On May 16, 2018, North Korea abruptly cancels a high-level meeting with the South and threatens to cancel the summit with U.S. President Donald Trump too in protest over U.S.-South Korean military exercises. (AP Photo/Lee Jin-man, File)
13 of 13
FILE - In this March 30, 2015, file photo, marines of South Korea, right, and the U.S aim their weapons near amphibious assault vehicles during the U.S.-South Korea joint landing military exercises as a part of the annual joint military exercise Foal Eagle between the two countries in Pohang, South Korea. On May 16, 2018, North Korea abruptly cancels a high-level meeting with the South and threatens to cancel the summit with U.S. President Donald Trump too in protest over U.S.-South Korean military exercises. (AP Photo/Lee Jin-man, File)
SEOUL, South Korea (AP) — The upcoming meeting between President Donald Trump and North Korean leader Kim Jong Un in Singapore on Tuesday will kick off a potentially lengthy diplomatic process to try to resolve the standoff over Pyongyang's pursuit of nuclear weapons. A look at how diplomacy took shape this year:
Jan. 1: After an unusually provocative 2017 during which North Korea tested a purported thermonuclear warhead and three intercontinental ballistic missiles, Kim tries to initiate diplomacy in his annual New Year's address. He calls for improved relations and engagement with South Korea, though adds that he has a nuclear button on his desk. Trump responds on Twitter that he has a bigger and more powerful nuclear button, adding "and my Button works!"
Jan. 9: North and South Korean officials meet at a border village and agree on North Korea sending athletes and delegates to the Winter Olympics in the South. Hundreds of North Koreans go to the Pyeongchang Games in February, including Kim's sister, who conveys her brother's desire for an inter-Korean summit with South Korea's president.
March 5-6: South Korea's presidential national security director Chung Eui-yong visits Kim in Pyongyang and reports that Kim is willing to discuss the fate of his nuclear arsenal with the United States.
March 8: South Korean envoys meet Trump in Washington and deliver an invitation from Kim to meet; Trump accepts.
March 27: Kim makes a surprise visit to Beijing for a meeting with Chinese President Xi Jinping in an apparent move to strengthen his leverage ahead of any talks with Trump.
April 18: Trump confirms that Mike Pompeo, then the CIA chief, had met Kim secretly in North Korea and said "a good relationship was formed" heading into the anticipated summit.
April 21: North Korea says it has suspended nuclear and ICBM tests and plans to close its nuclear test site as part of a shift in its national focus to developing its economy. Trump tweets: "This is very good news for North Korea and the World."
April 27: Kim holds a summit with South Korean President Moon Jae-in. The leaders announce aspirational goals of a nuclear-free Korean Peninsula and permanent peace.
May 7: Kim meets Xi again in China and calls for stronger strategic cooperation between the traditional allies.
May 9: Pompeo, now U.S. secretary of state, makes another visit to Pyongyang to prepare for the planned Trump-Kim summit. North Korea releases three Americans who had been imprisoned.
May 10: Trump announces he will meet with Kim in Singapore on June 12. He tweets: "We will both try to make it a very special moment for World Peace!"
May 12: North Korea says it will hold a ceremony to dismantle its nuclear test site between May 23-25.
May 16: North Korea abruptly cancels a high-level meeting with the South and threatens to cancel the summit with Trump too in protest over U.S.-South Korean military exercises and U.S. comments that the North should follow the "Libya model" of denuclearization by eliminating everything upfront. The North says it won't be unilaterally pressured into abandoning its nukes.
May 22: Trump and Moon meet at the White House to discuss the Trump-Kim talks. The South Korean president says the "fate and the future of the Korean Peninsula hinge" on the meeting in Singapore.
May 24: A senior North Korean diplomat calls U.S. Vice President Mike Pence a "political dummy" for his comments on the North and says it is up to the Americans whether they "meet us at a meeting room or encounter us at (a) nuclear-to-nuclear showdown." North Korea dismantles its nuclear testing ground in front of foreign journalists, but Trump announces hours later that he's pulling out of the summit, citing the North's "tremendous anger and open hostility."
May 25: North Korea attempts damage control, saying it is still willing to hold talks with the United States "at any time, (in) any format." Moon calls Trump's move to cancel the summit "very perplexing" and says Washington and Pyongyang should get the talks back on track.
May 26: Kim and Moon meet at a border village in an effort to revive the summit with Trump. Moon says Kim reaffirmed his commitment to denuclearize their peninsula but also said he was unsure whether he could trust the United States to provide a credible security guarantee in return.
May 30: North Korean envoy Kim Yong Chol, the most senior North Korean official to visit the United States in 18 years, arrives in New York for pre-summit negotiations with Pompeo.
June 1: After meeting Kim Yong Chol at the White House, Trump says his meeting with Kim Jong Un is back on for June 12.
June 5: White House Press Secretary Sarah Huckabee Sanders tweets the Trump-Kim meeting will be held at Singapore's Capella Hotel.