Israel official doubted Palestinian protest icon, her family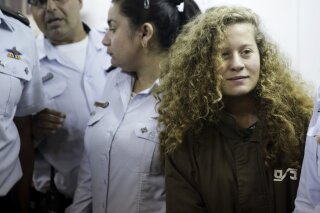 JERUSALEM (AP) — A senior Israeli official on Wednesday said he led a secret investigation into 16-year-old Palestinian protest icon Ahed Tamimi and her family, in part because their appearance — including "blond-haired, freckled" children in "Western clothes" — made them seem less like "real" Palestinians.
The stunning comments by Michael Oren, a deputy minister and former ambassador to the United States, promptly drew accusations of racism from the family — the latest twist in a case that has turned into a public relations headache for Israel.
The case revolves around Israel's handling of Ahed Tamimi, who was arrested on Dec. 19 for slapping two Israeli soldiers outside her West Bank home four days earlier.
Video of the scuffle quickly spread, giving Ahed worldwide attention. The girl, noticeable for her long blond curls, and her mother are now being held in jail. Ahed faces charges that carry up to 14 years in prison.
Oren told The Associated Press that he had led a classified parliamentary investigation into the Tamimis two years ago in which Israeli security agencies and diplomats participated.
The family has a long history of leading protests against Israeli policies in the West Bank that often turn into clashes with soldiers in their village of Nabi Saleh and Ahed has been involved in highly publicized scuffles with soldiers in the past.
Oren said his investigation looked into whether the protests were genuine or whether the family members were provocateurs, paid to send children to clash with soldiers.
Derisively calling the skirmishes caught on tape "Pallywood," Oren claimed that "someone" was funding the unrest to harm Israel's image, without providing evidence.
"The Tamimi family and those claiming to be part of the Tamimi family have been provoking Israeli soldiers for many, many years now," he said. "The children were chosen on the basis of their external look, to look Western, freckled, and blond-haired."
"They were dressed as Westerners," he added. "They don't dress the way children dress in the West Bank, for a very specific purpose: to get soldiers to react violently to them, to take pictures of this violence and to spread it around the world in order to delegitimize, discredit the state of Israel."
He called it a "very sophisticated operation" that has succeeded in manipulating the Western press.
In an interview with Israeli Channel 10 TV, Oren claimed one boy appeared in different videos with a cast on one arm at one protest, and on his other arm at another protest, before disappearing from demonstrations altogether.
In a statement from his office, Oren said: "In discussions held in the committee, the issue of the family's credibility was raised and if it really is a real family."
Ahed's father, Bassem Tamimi, called Oren's investigation "silly and stupid" and said the investigation was racist.
"We, the Tamimi family, were here in Palestine before the creation of Israel, and we will stay," he said. "Denying that Palestinians could be blond reflects racism in the Israeli society."
Ahed has been celebrated by Palestinians as a national hero, and Israel's treatment of her has drawn the attention of international activists, human rights groups and U.N. officials.
In the Dec. 15 video, she is seen approaching two soldiers standing outside her home. She yells at them, tells them to leave, then kicks and slaps them as they stand silently.
The family says the girl was upset because a young cousin had been shot in the head and seriously wounded with a rubber bullet fired by Israeli troops. But the altercation drew outrage in Israel over what some had seen as a humiliation of the military.
In a reflection of the tensions, Israel's defense minister, Avigdor Lieberman, ordered the popular Army Radio station to ban any songs composed by Yehonatan Geffen, a leading journalist and songwriter, because of a poem he published that praised Ahed. Israel's attorney general ruled that Lieberman has no authority over the station's programming.
Opposition lawmaker Nachman Shai, a former chief military spokesman who is often critical of the government, acknowledged that the incident has become part of the war for the "hearts and minds" of people around the world.
But he said Israel had no choice in how to handle the case.
"She does not deserve to return home as if nothing happened," he said. "You cannot ignore it, because that will cause other Palestinians to follow her."
Tamimi was arrested in an overnight raid on Dec. 19, and her mother was arrested when she visited her daughter at a police station.
An Israeli military court has ordered they both be held for the duration of their trial — a process that is expected to take months. Ahed has been charged with 12 counts of attacking soldiers in five incidents going back to April 2016, while her mother has been charged with incitement. A cousin arrested with Ahed has been released on bail.
The family lawyer, Gaby Lasky, said the trial is scheduled to begin on Jan. 31, Ahed's 17th birthday. She said she was hopeful the prosecutors would not seek the maximum 14-year sentence for the girl and would agree to a reduced sentence of several months.
Ahed is currently being held in a special prison wing for minors, where her conditions have improved, Lasky said. For the first week while she was interrogated, she said Ahed was not provided with a change of clothes or a coat, and threatened with the arrests of other family members if she didn't talk.
Asked about Oren's investigation, she said she was "ashamed" to hear a parliamentary committee was dealing with "wild conspiracy theories."
___
Associated Press writers Moshe Edri in Jerusalem and Mohammed Daraghmeh in Ramallah, West Bank, contributed to this report.