Kucinich to return $20K to pro-Syrian government group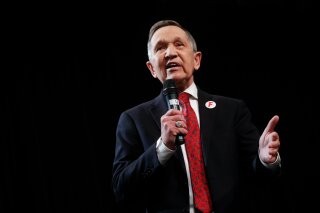 COLUMBUS, Ohio (AP) — Former U.S. Rep. Dennis Kucinich, a Democratic candidate for Ohio governor, said he plans to return a $20,000 speaking fee he received last year from a group sympathetic to Syrian President Bashar Assad.
The former congressman announced his decision in a letter sent Thursday to The Plain Dealer of Cleveland, which was placed in a tough spot by the payment after having endorsed Kucinich for governor.
Kucinich had come under mounting political pressure after news reports revealed that the Association for Investment in Popular Action Committees that paid for the speech was the parent organization to the pro-Assad Syrian Solidarity Movement.
Kucinich said that he was unaware of the connection when he took money from an umbrella group, which he initially defended as "a civil rights advocacy group."
"The organization did not identify itself as having any interest other than human rights and never specifically mentioned to me their interest in or position regarding the Syrian regime," he wrote. "If they had, I would have declined their offer, because anyone who stands for peace must be able to remain above the appearance of influence."
Kucinich had initially omitted the speaking fee from his required financial disclosure filing. He wrote that was "unintentional" and said he promptly fixed the error when asked by the Ohio Ethics Commission.
Cordray's campaign spokesman, Mike Gwin, said Kucinich's behavior "doesn't add up."
"Kucinich concealed a payment from this despicable pro-Assad group on his ethics form that he was legally required to disclose," Gwin said. "Once the omission was brought to light, Kucinich defended the group and the payment, but now he claims he didn't know anything about the organization or its offensive ideology."
In his letter, Kucinich reiterated that the speech he delivered at the European Centre for the Study of Extremism in London last year was "on the topic of resolving the conflict in Syria."
The U.S. and its allies attacked Syrian government chemical weapons stores earlier this month that intelligence agencies say have been used on Assad's own people.
Kucinich also previously went to Syria for what he has described as peace missions during which he met with Assad.
Kucinich said those meetings, along with an interview he conducted on Fox News, have all been aimed at advancing peace in the region.
"I am not nor have I ever been an apologist for anyone," he wrote. "In a lifetime as a public servant I have never carried water for any interest, foreign or domestic. A look at the interview I conducted on Fox News with President Assad should dispel that notion."