No. 3 Ohio State holds off persistent Minnesota 30-14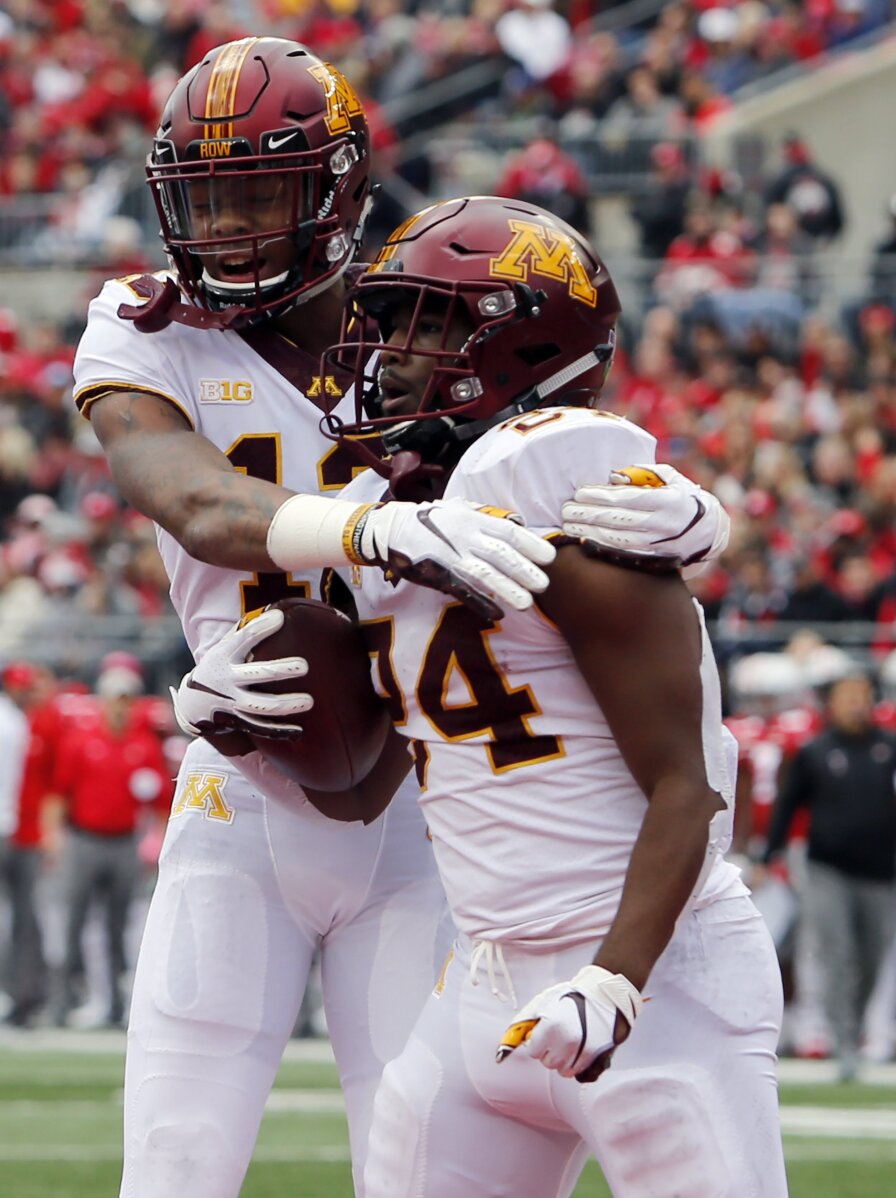 1 of 12

|
Minnesota running back Mohamed Ibrahim, right, celebrates his touchdown against Ohio State with teammate Rashod Bateman during the first half of an NCAA college football game Saturday, Oct. 13, 2018, in Columbus, Ohio. (AP Photo/Jay LaPrete)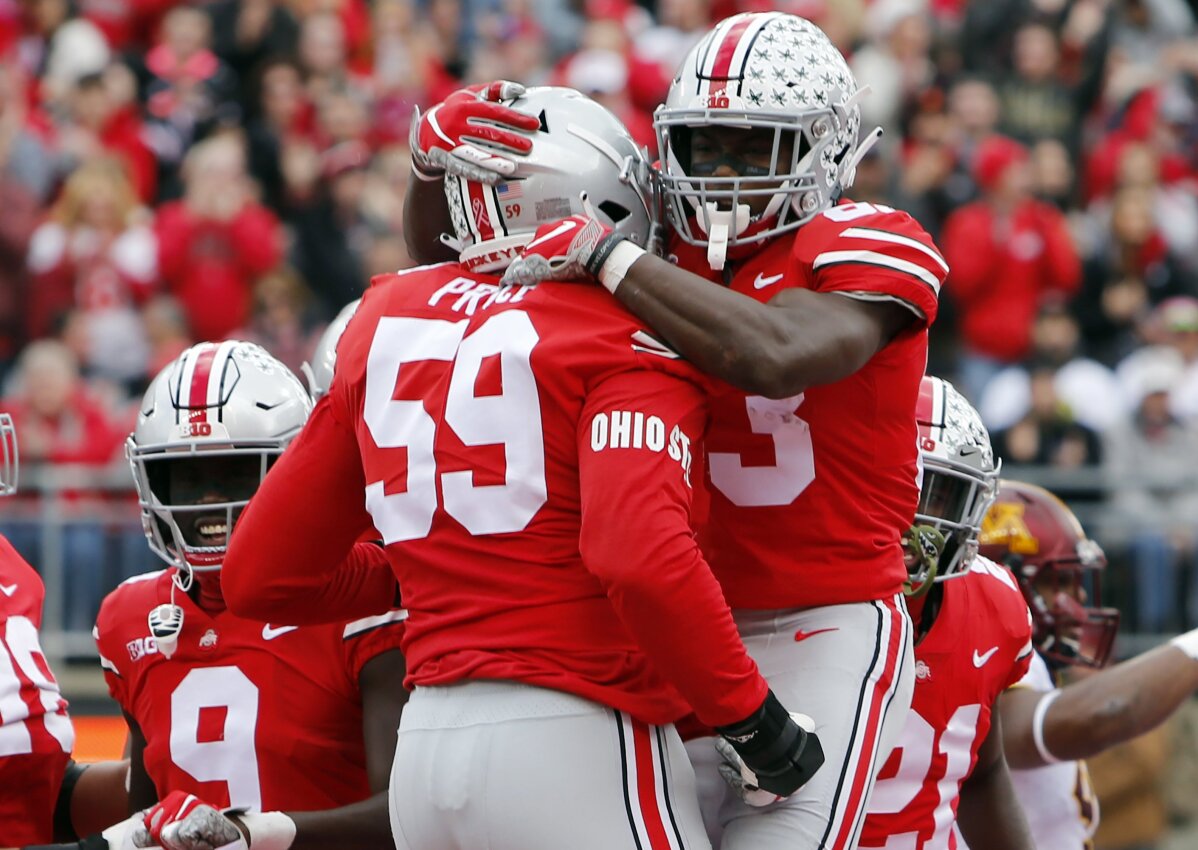 2 of 12

|
Ohio State receiver Terry McLaurin, right, celebrates his touchdown against Minnesota with teammate Isaiah Prince during the first half of an NCAA college football game Saturday, Oct. 13, 2018, in Columbus, Ohio. (AP Photo/Jay LaPrete)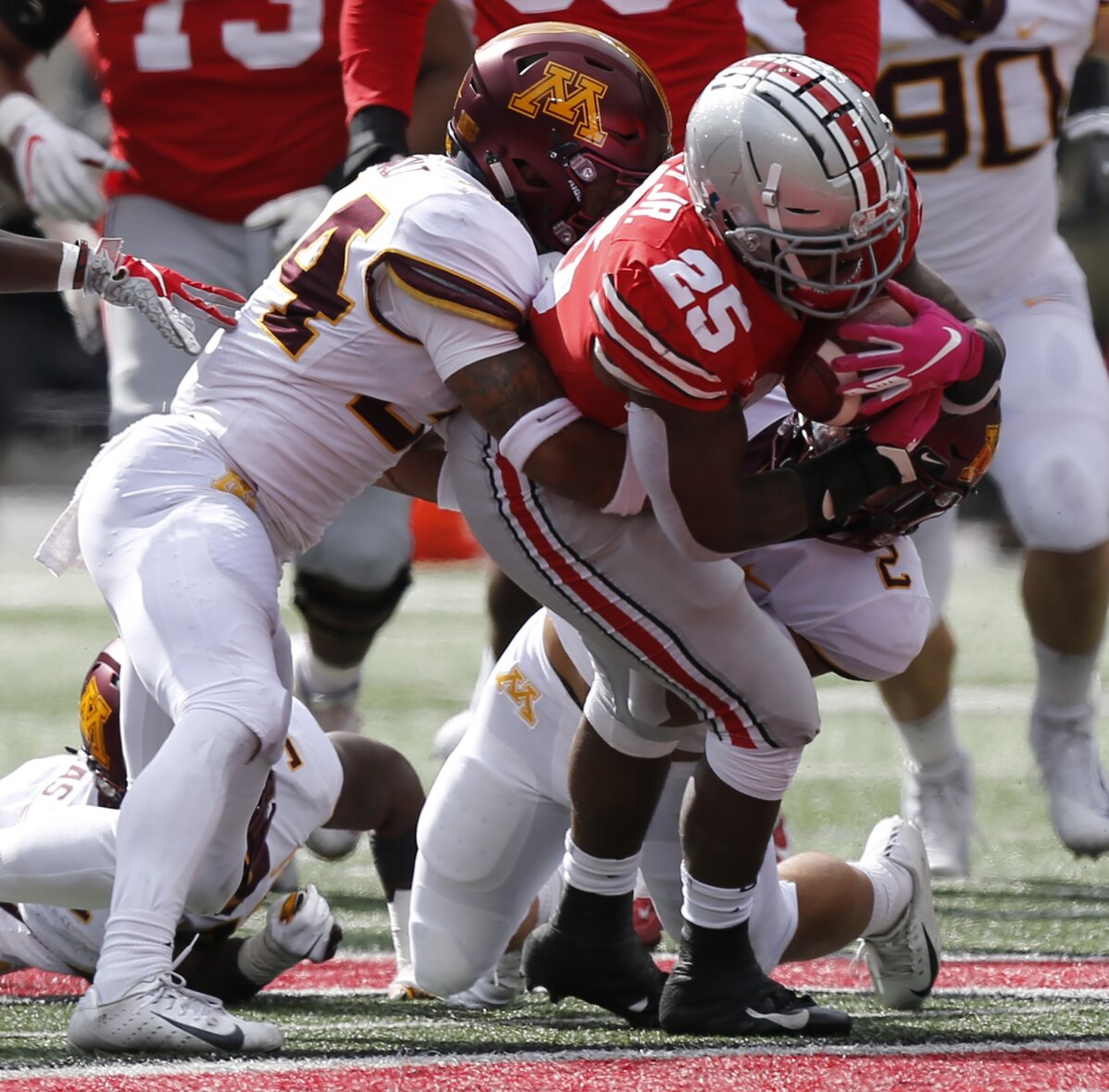 3 of 12

|
Ohio State running back Mike Weber (25) is tackled by Minnesota defensive backs Antonio Shenault, left, and Jacob Huff during the first half of an NCAA college football game Saturday, Oct. 13, 2018, in Columbus, Ohio. (AP Photo/Jay LaPrete)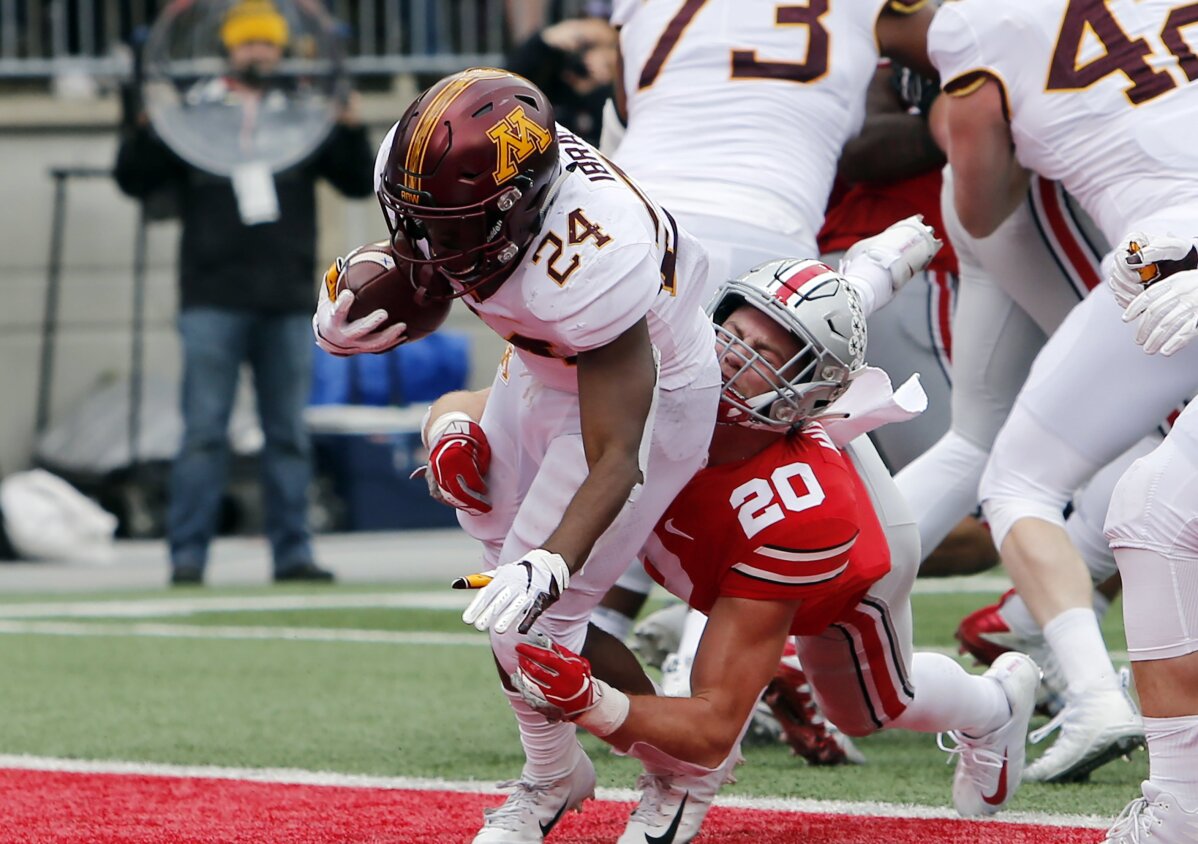 4 of 12

|
Minnesota running back Mohamed Ibrahim, left, drags Ohio State linebacker Pete Werner into the end zone for a touchdown during the first half of an NCAA college football game Saturday, Oct. 13, 2018, in Columbus, Ohio. (AP Photo/Jay LaPrete)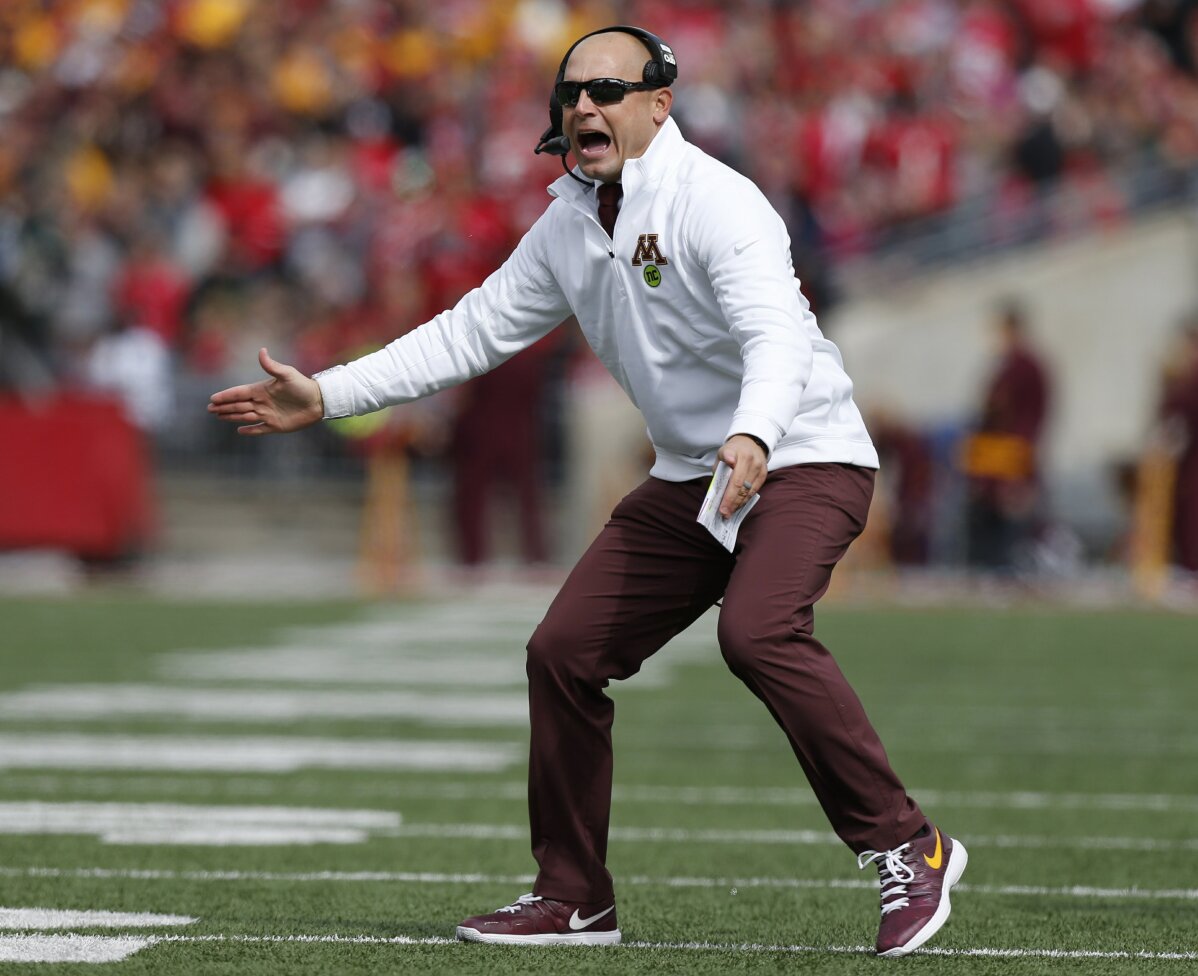 5 of 12

|
Minnesota head coach P.J. Fleck shouts to his team during the first half of an NCAA college football game against Ohio State, Saturday, Oct. 13, 2018, in Columbus, Ohio. (AP Photo/Jay LaPrete)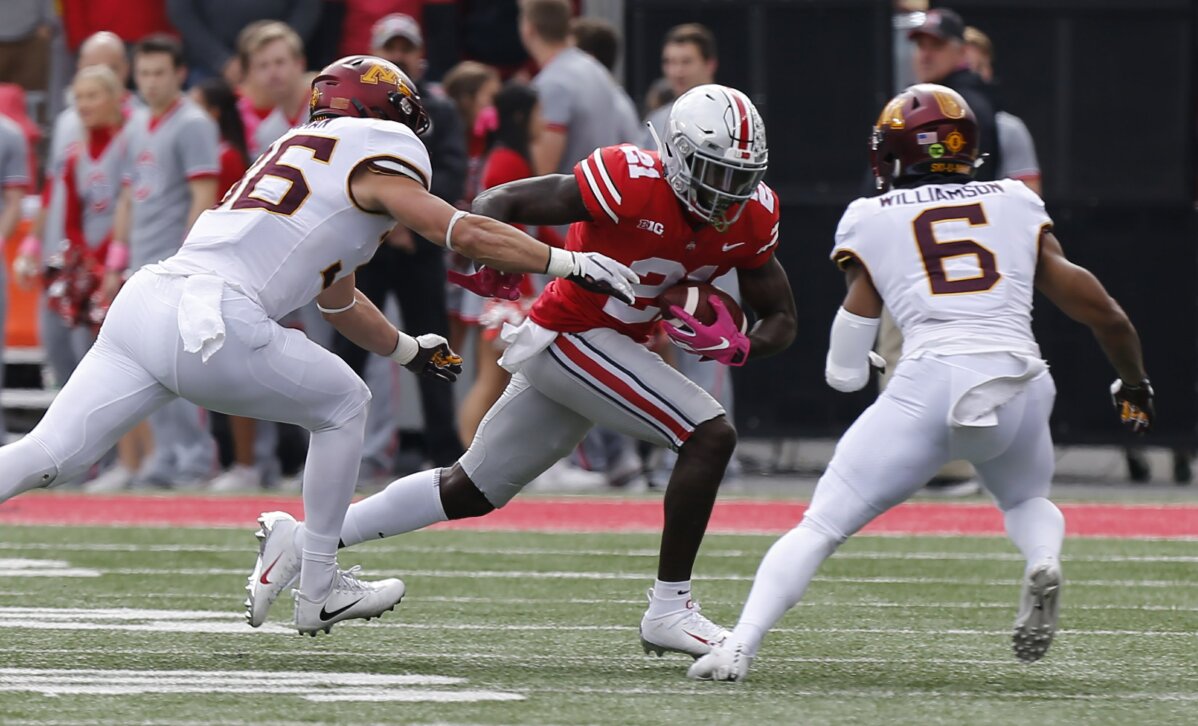 6 of 12

|
Ohio State receiver Parris Campbell, center, looks for an opening between Minnesota linebacker Blake Cashman, left, and defensive back Chris Williamson during the first half of an NCAA college football game Saturday, Oct. 13, 2018, in Columbus, Ohio. (AP Photo/Jay LaPrete)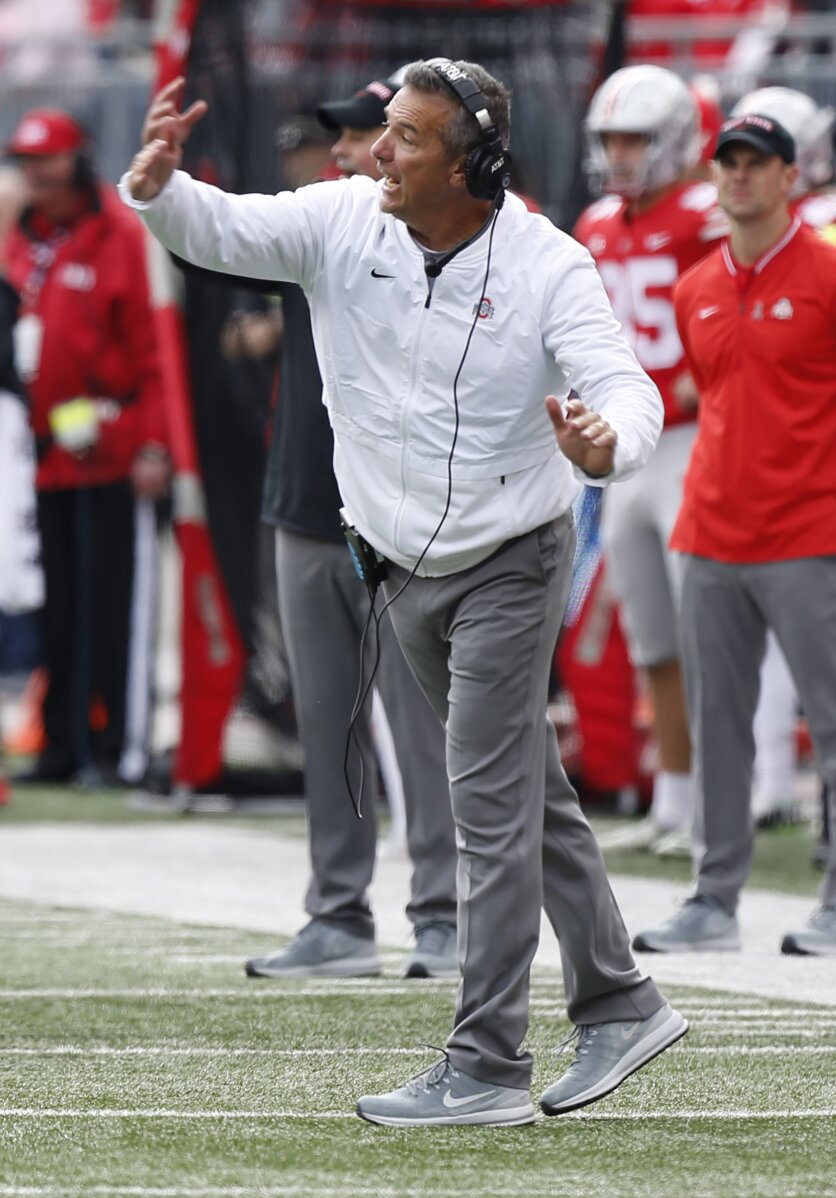 7 of 12

|
Ohio State head coach Urban Meyer shouts to his team during the first half of an NCAA college football game against Minnesota, Saturday, Oct. 13, 2018, in Columbus, Ohio. (AP Photo/Jay LaPrete)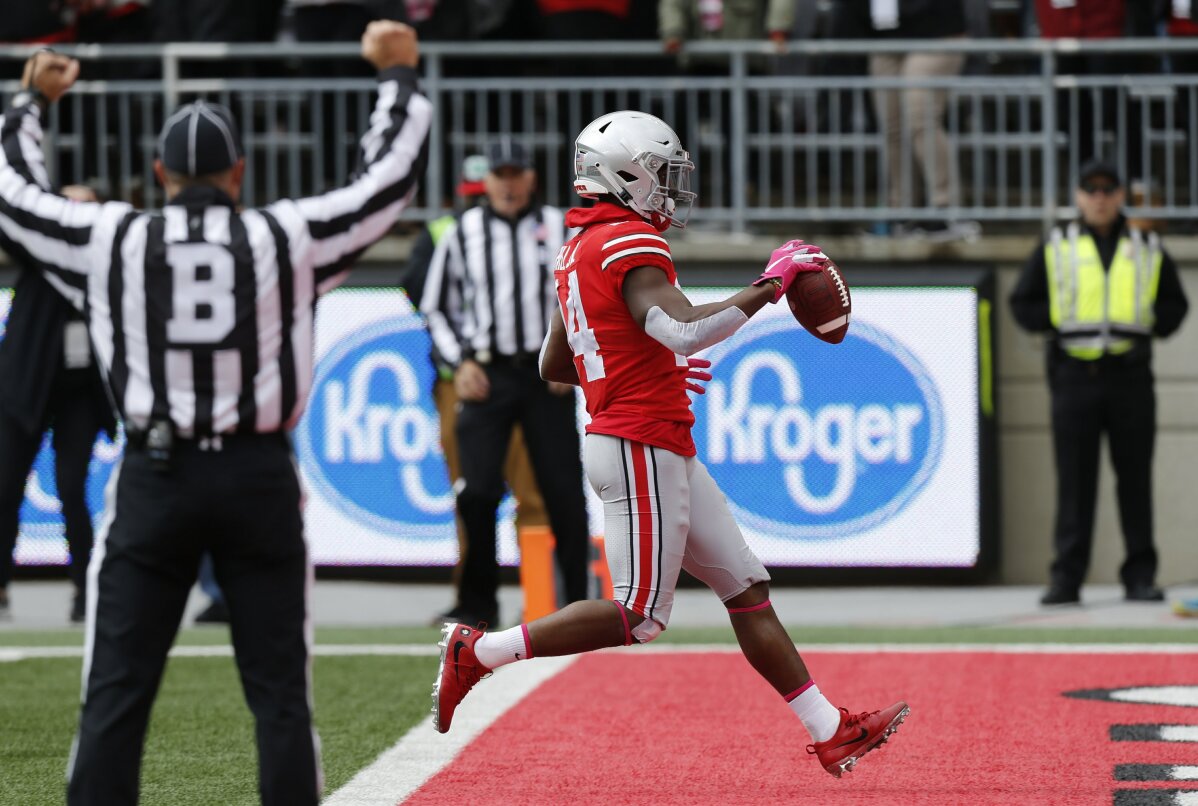 8 of 12

|
Ohio State receiver K.J. Hill scores a touchdown against Minnesota during the first half of an NCAA college football game Saturday, Oct. 13, 2018, in Columbus, Ohio. (AP Photo/Jay LaPrete)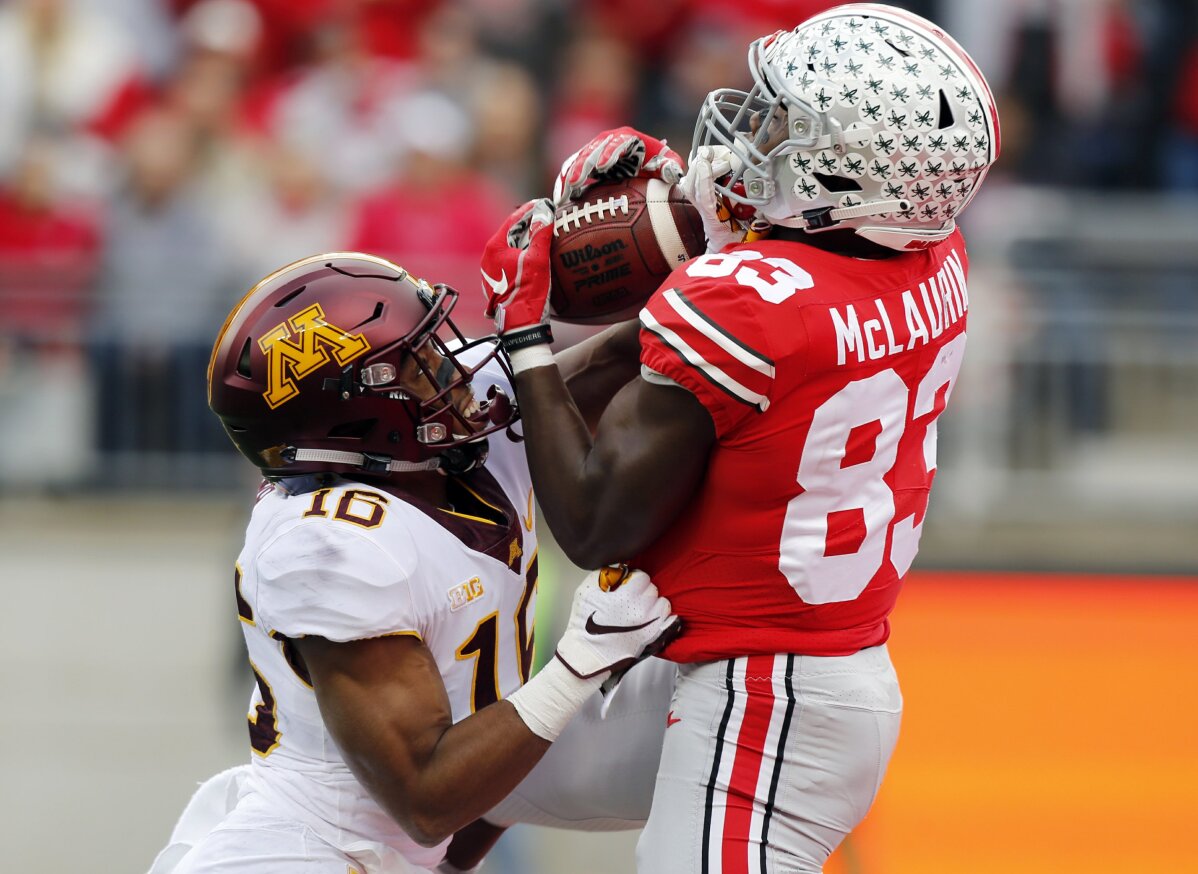 9 of 12

|
Ohio State receiver Terry McLaurin, right, catches a touchdown pass over Minnesota defensive back Coney Durr during the first half of an NCAA college football game Saturday, Oct. 13, 2018, in Columbus, Ohio. (AP Photo/Jay LaPrete)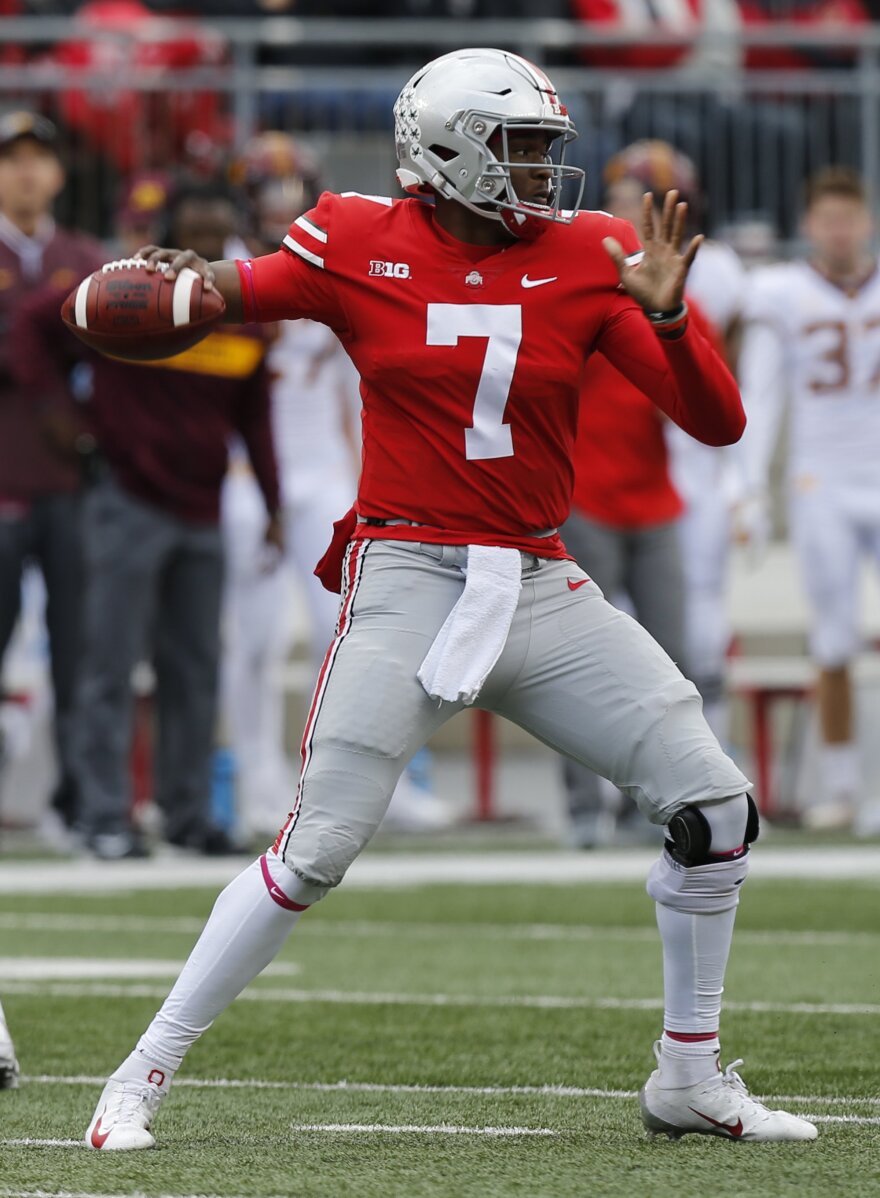 10 of 12

|
Ohio State quarterback Dwayne Haskins throws a pass against Minnesota during the first half of an NCAA college football game Saturday, Oct. 13, 2018, in Columbus, Ohio. (AP Photo/Jay LaPrete)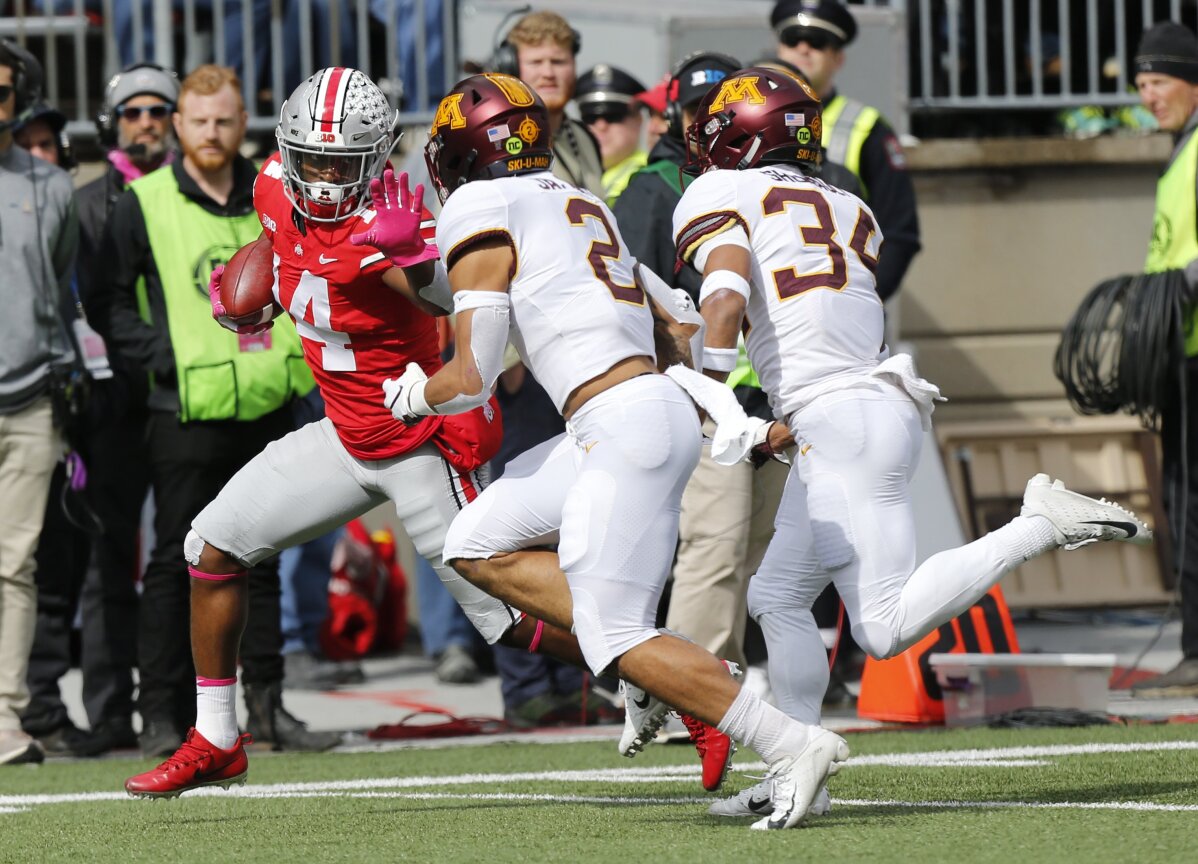 11 of 12

|
Ohio State receiver K.J. Hill, left, turns upfield against Minnesota defensive backs Jacob Huff, center, and Antonio Shenault during the first half of an NCAA college football game Saturday, Oct. 13, 2018, in Columbus, Ohio. (AP Photo/Jay LaPrete)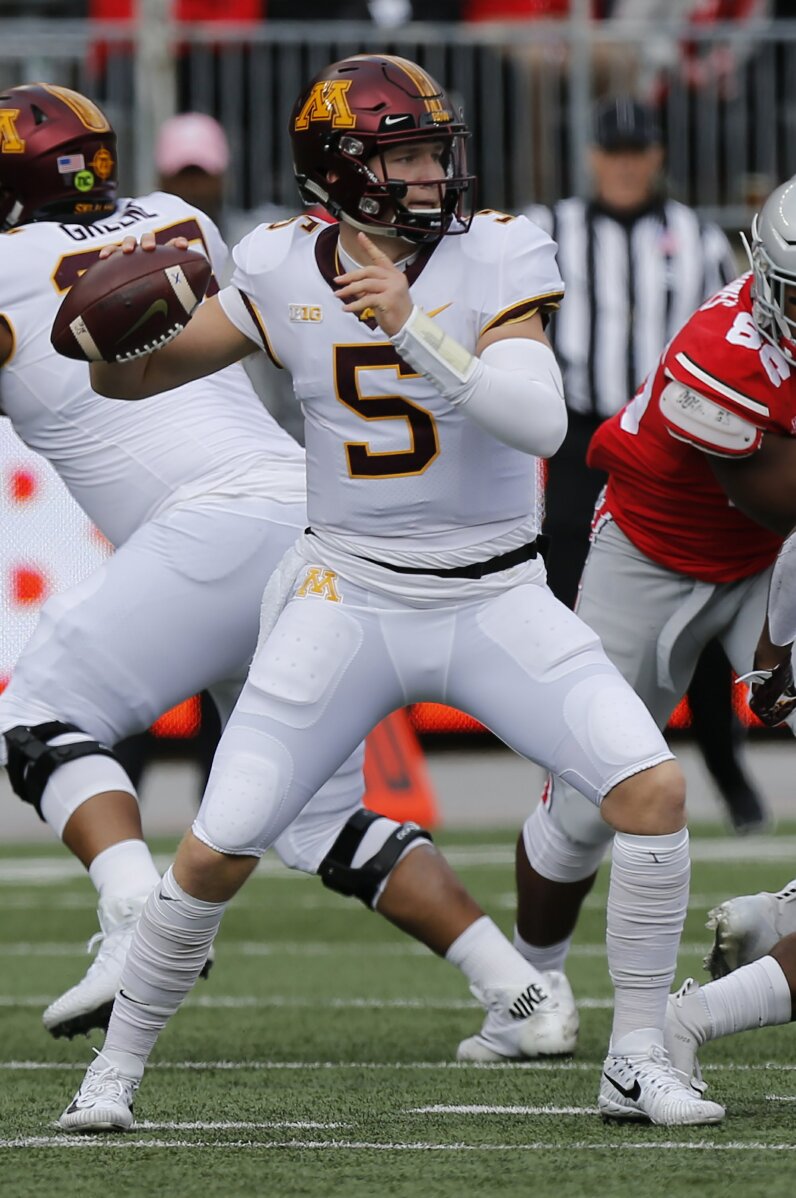 12 of 12

|
Minnesota quarterback Zack Annexstad drops back top pass against Ohio State during the first half of an NCAA college football game Saturday, Oct. 13, 2018, in Columbus, Ohio. (AP Photo/Jay LaPrete)
No. 3 Ohio State holds off persistent Minnesota 30-14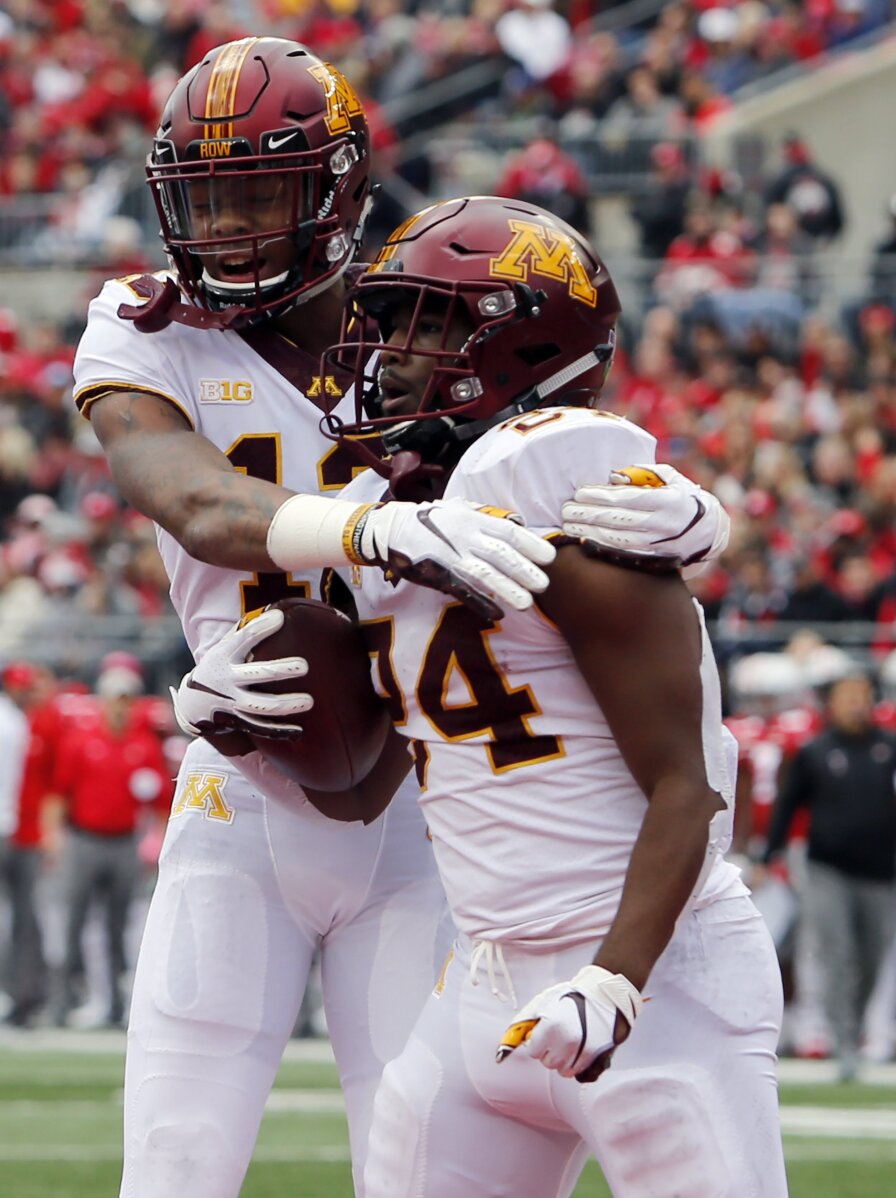 1 of 12

|
Minnesota running back Mohamed Ibrahim, right, celebrates his touchdown against Ohio State with teammate Rashod Bateman during the first half of an NCAA college football game Saturday, Oct. 13, 2018, in Columbus, Ohio. (AP Photo/Jay LaPrete)
1 of 12
Minnesota running back Mohamed Ibrahim, right, celebrates his touchdown against Ohio State with teammate Rashod Bateman during the first half of an NCAA college football game Saturday, Oct. 13, 2018, in Columbus, Ohio. (AP Photo/Jay LaPrete)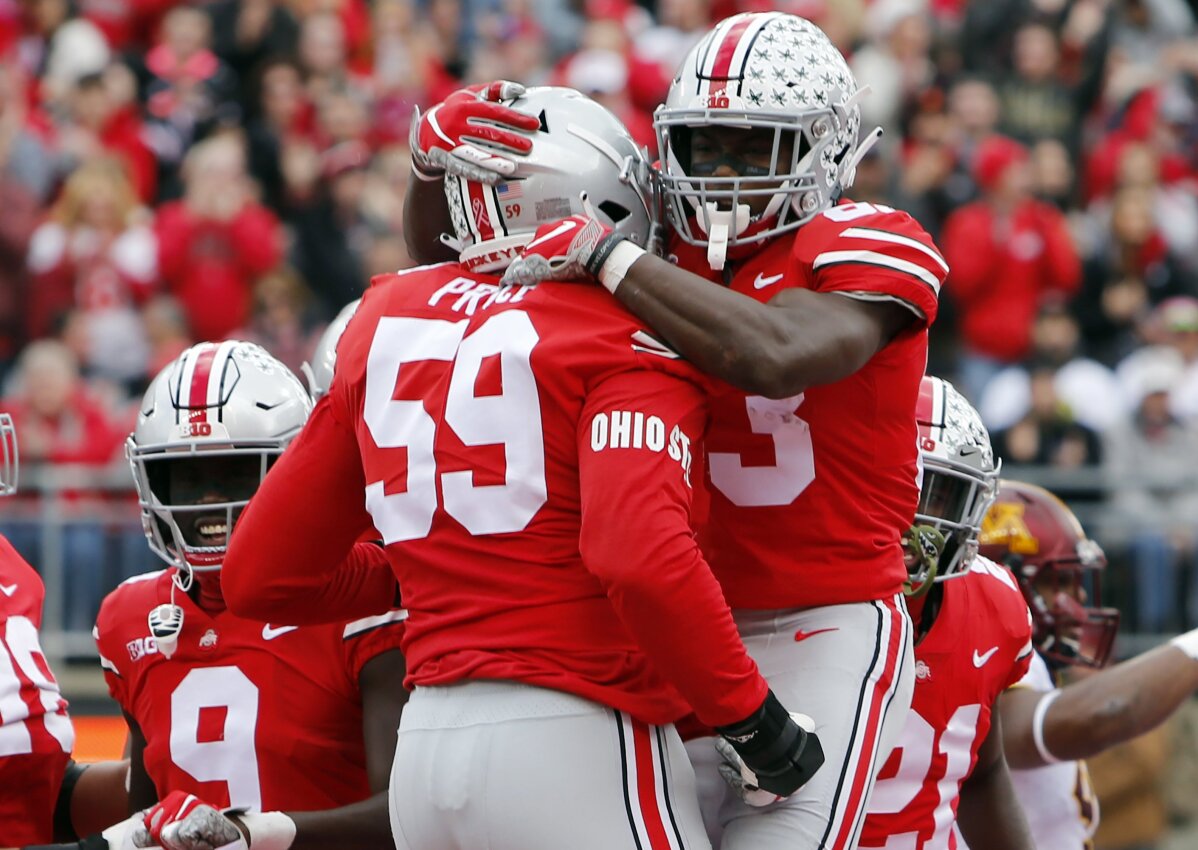 2 of 12

|
Ohio State receiver Terry McLaurin, right, celebrates his touchdown against Minnesota with teammate Isaiah Prince during the first half of an NCAA college football game Saturday, Oct. 13, 2018, in Columbus, Ohio. (AP Photo/Jay LaPrete)
2 of 12
Ohio State receiver Terry McLaurin, right, celebrates his touchdown against Minnesota with teammate Isaiah Prince during the first half of an NCAA college football game Saturday, Oct. 13, 2018, in Columbus, Ohio. (AP Photo/Jay LaPrete)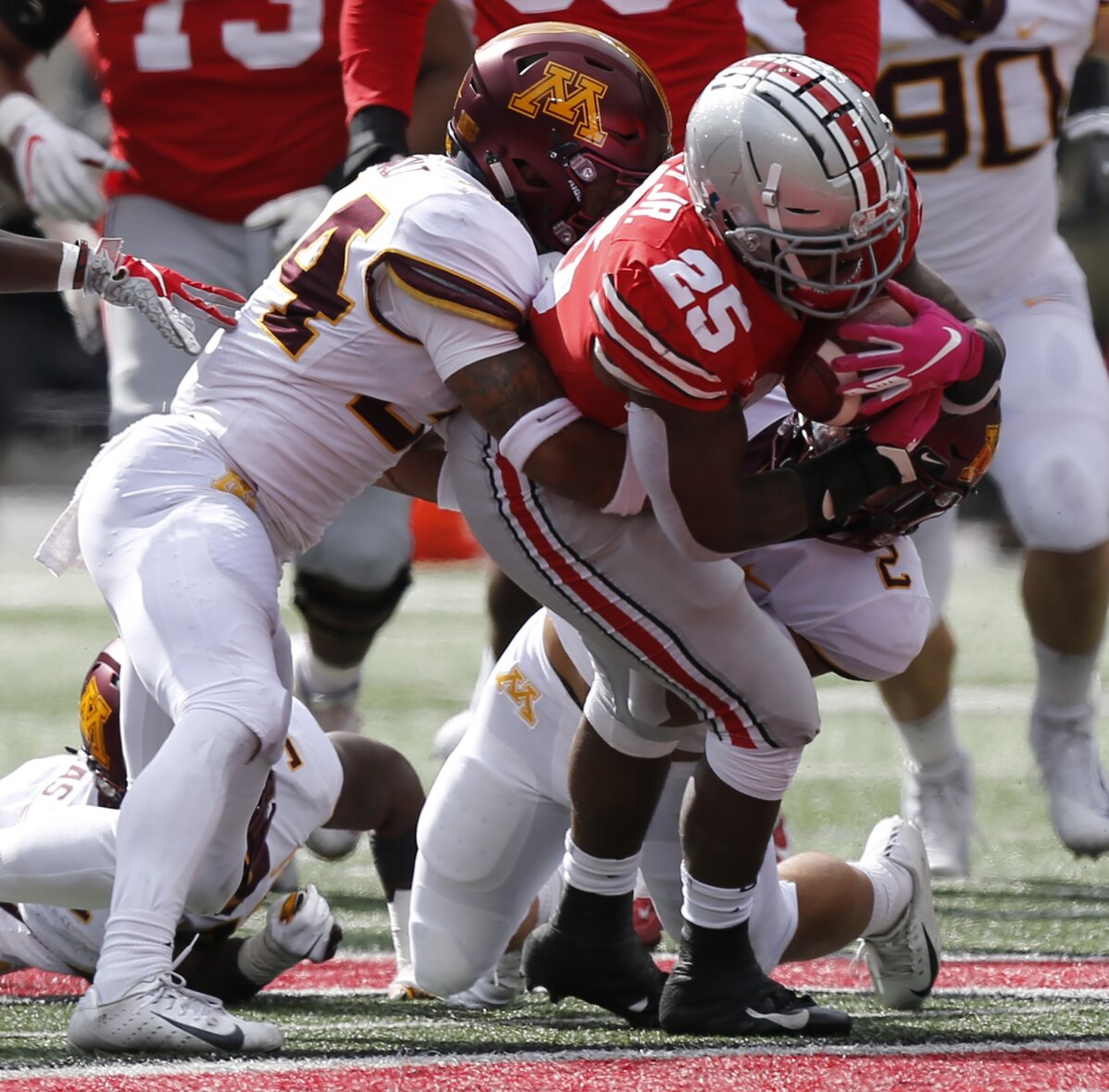 3 of 12

|
Ohio State running back Mike Weber (25) is tackled by Minnesota defensive backs Antonio Shenault, left, and Jacob Huff during the first half of an NCAA college football game Saturday, Oct. 13, 2018, in Columbus, Ohio. (AP Photo/Jay LaPrete)
3 of 12
Ohio State running back Mike Weber (25) is tackled by Minnesota defensive backs Antonio Shenault, left, and Jacob Huff during the first half of an NCAA college football game Saturday, Oct. 13, 2018, in Columbus, Ohio. (AP Photo/Jay LaPrete)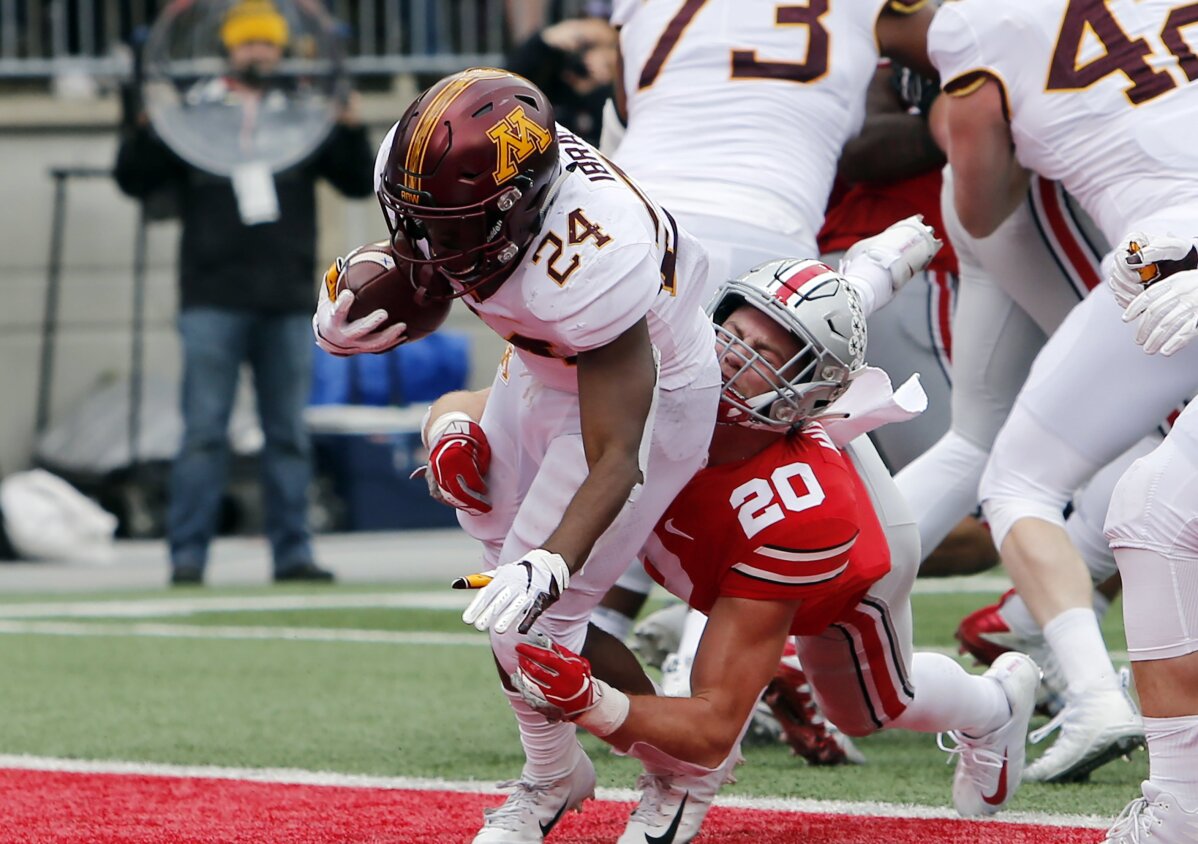 4 of 12

|
Minnesota running back Mohamed Ibrahim, left, drags Ohio State linebacker Pete Werner into the end zone for a touchdown during the first half of an NCAA college football game Saturday, Oct. 13, 2018, in Columbus, Ohio. (AP Photo/Jay LaPrete)
4 of 12
Minnesota running back Mohamed Ibrahim, left, drags Ohio State linebacker Pete Werner into the end zone for a touchdown during the first half of an NCAA college football game Saturday, Oct. 13, 2018, in Columbus, Ohio. (AP Photo/Jay LaPrete)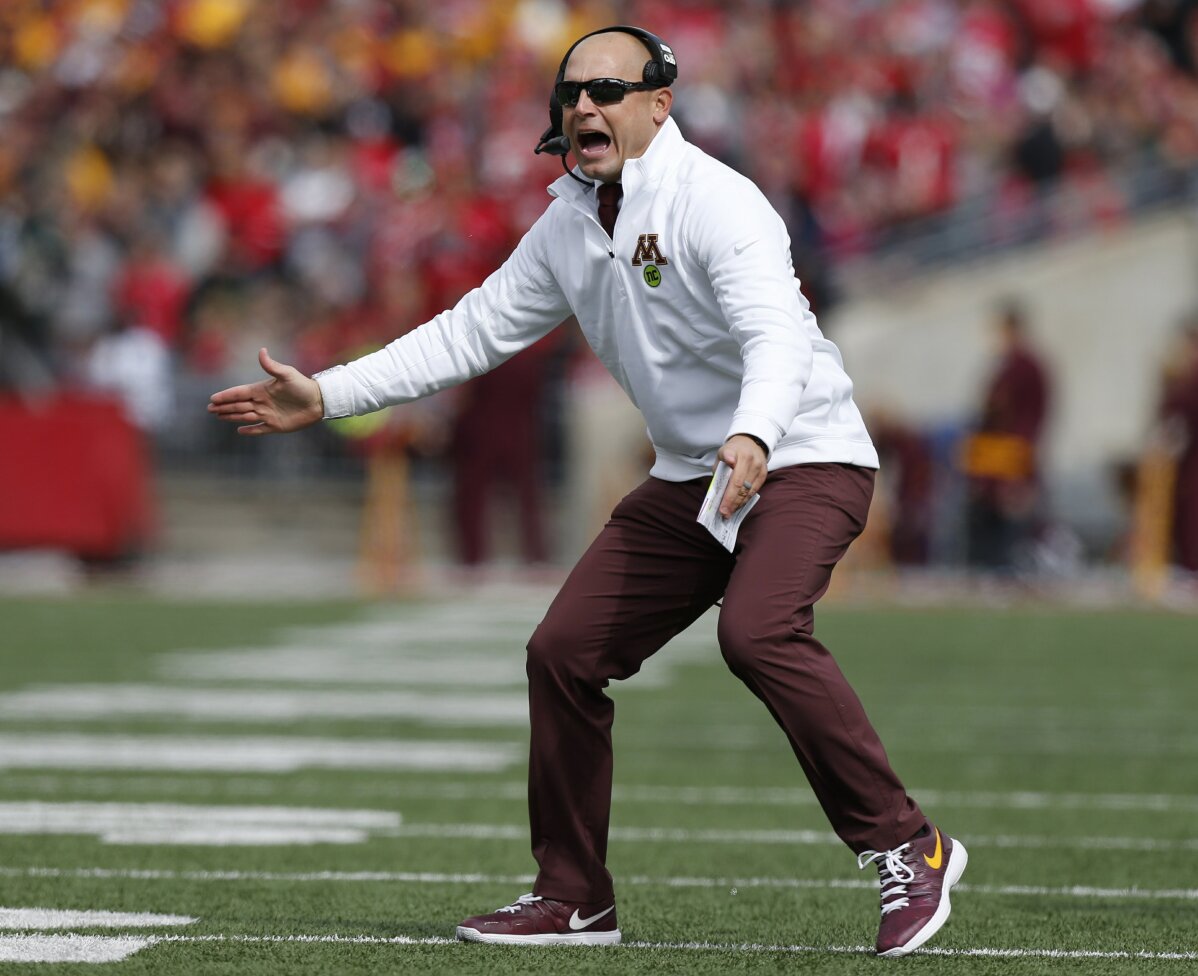 5 of 12

|
Minnesota head coach P.J. Fleck shouts to his team during the first half of an NCAA college football game against Ohio State, Saturday, Oct. 13, 2018, in Columbus, Ohio. (AP Photo/Jay LaPrete)
5 of 12
Minnesota head coach P.J. Fleck shouts to his team during the first half of an NCAA college football game against Ohio State, Saturday, Oct. 13, 2018, in Columbus, Ohio. (AP Photo/Jay LaPrete)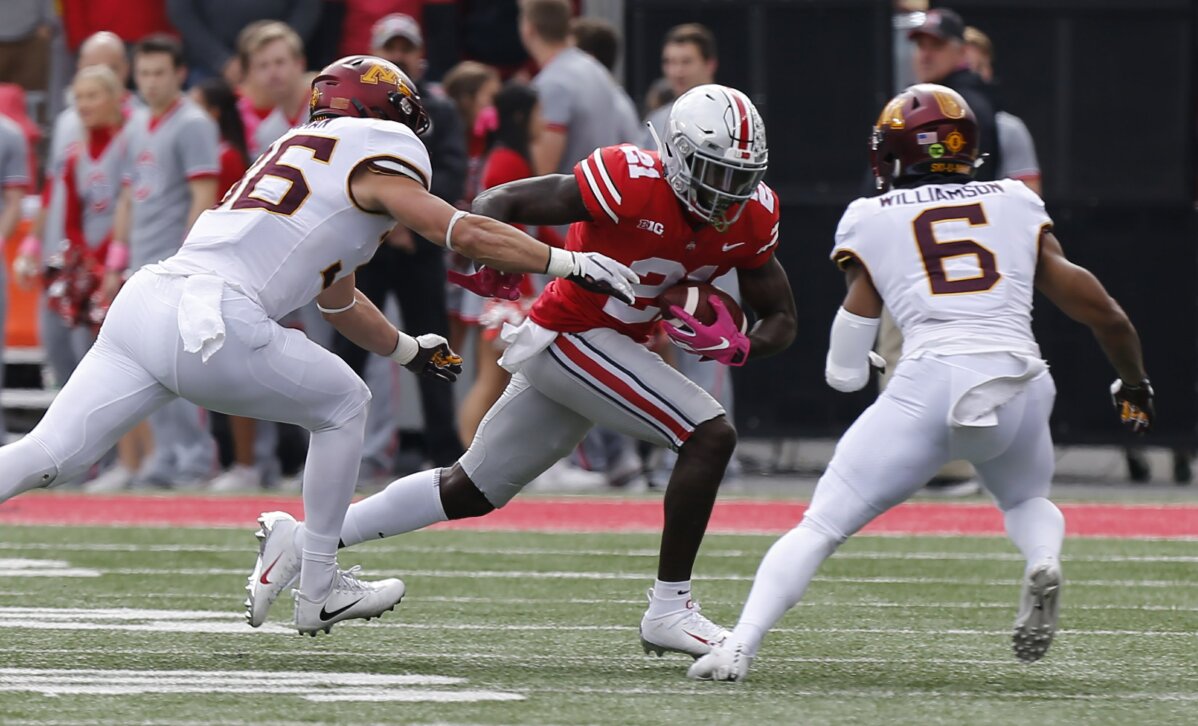 6 of 12

|
Ohio State receiver Parris Campbell, center, looks for an opening between Minnesota linebacker Blake Cashman, left, and defensive back Chris Williamson during the first half of an NCAA college football game Saturday, Oct. 13, 2018, in Columbus, Ohio. (AP Photo/Jay LaPrete)
6 of 12
Ohio State receiver Parris Campbell, center, looks for an opening between Minnesota linebacker Blake Cashman, left, and defensive back Chris Williamson during the first half of an NCAA college football game Saturday, Oct. 13, 2018, in Columbus, Ohio. (AP Photo/Jay LaPrete)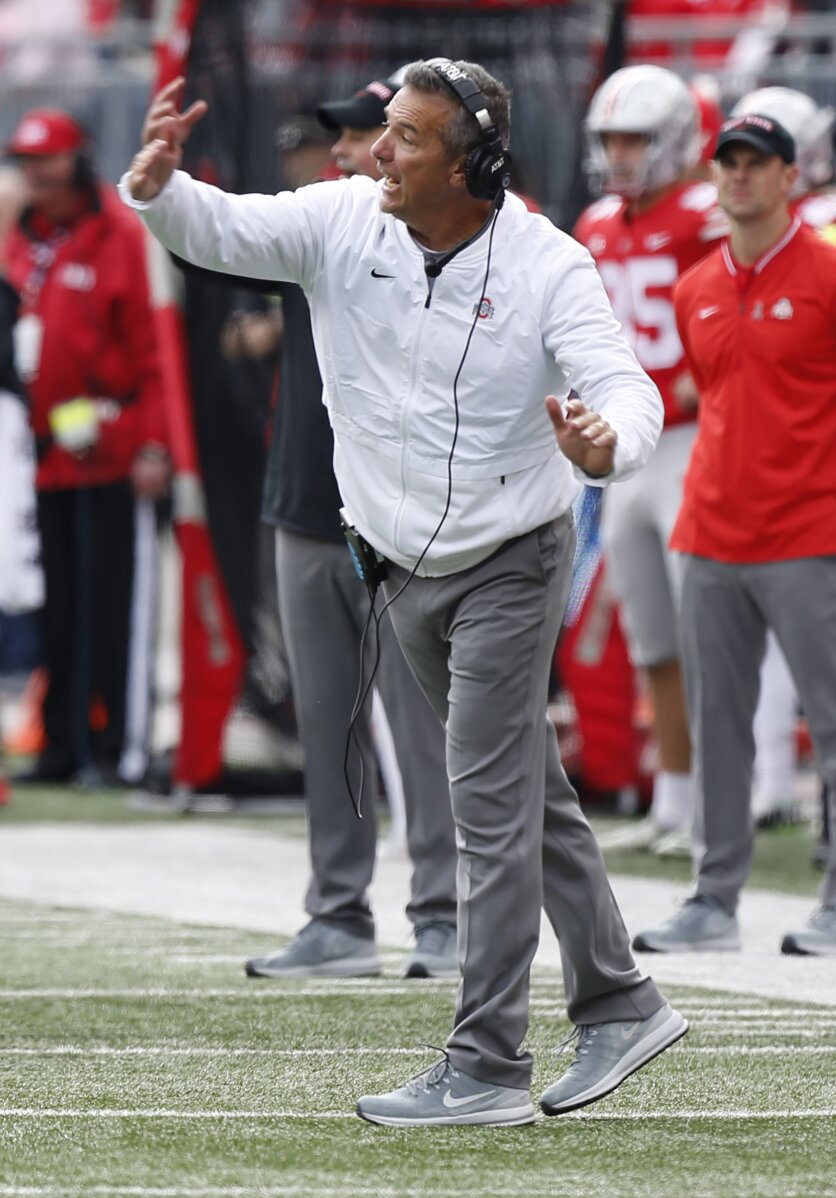 7 of 12

|
Ohio State head coach Urban Meyer shouts to his team during the first half of an NCAA college football game against Minnesota, Saturday, Oct. 13, 2018, in Columbus, Ohio. (AP Photo/Jay LaPrete)
7 of 12
Ohio State head coach Urban Meyer shouts to his team during the first half of an NCAA college football game against Minnesota, Saturday, Oct. 13, 2018, in Columbus, Ohio. (AP Photo/Jay LaPrete)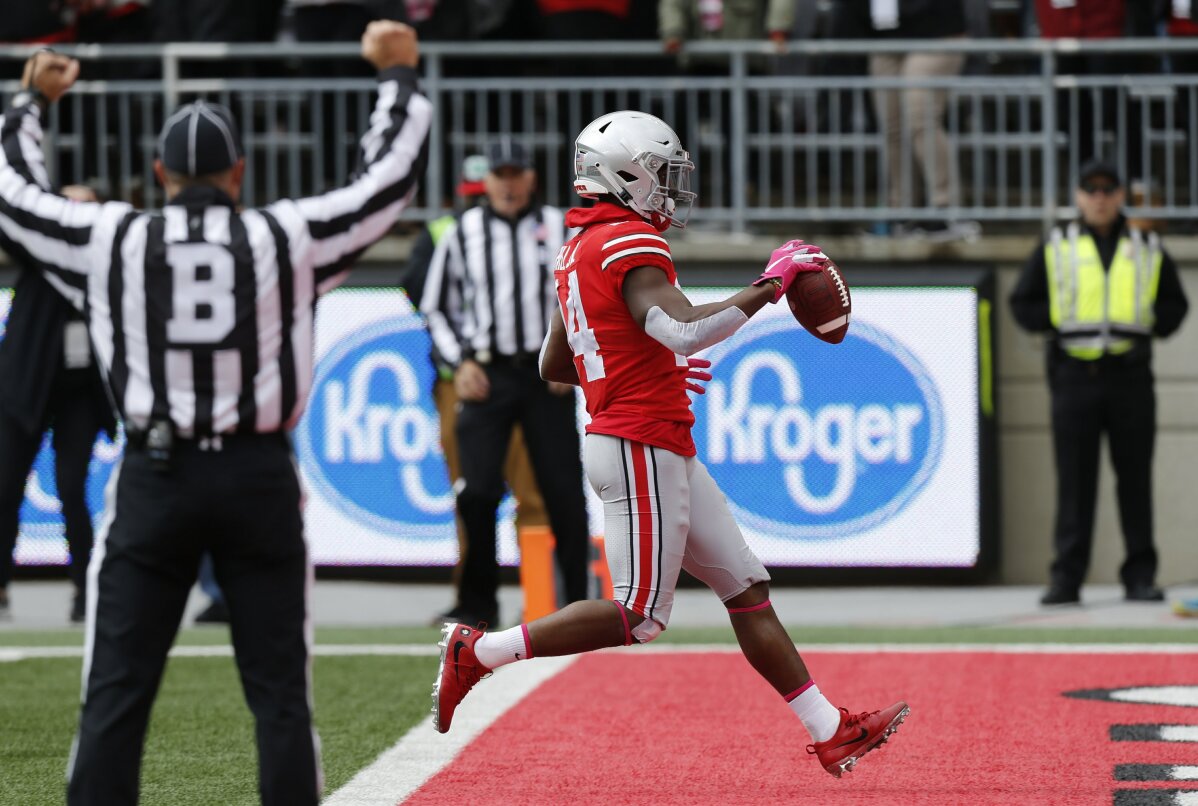 8 of 12

|
Ohio State receiver K.J. Hill scores a touchdown against Minnesota during the first half of an NCAA college football game Saturday, Oct. 13, 2018, in Columbus, Ohio. (AP Photo/Jay LaPrete)
8 of 12
Ohio State receiver K.J. Hill scores a touchdown against Minnesota during the first half of an NCAA college football game Saturday, Oct. 13, 2018, in Columbus, Ohio. (AP Photo/Jay LaPrete)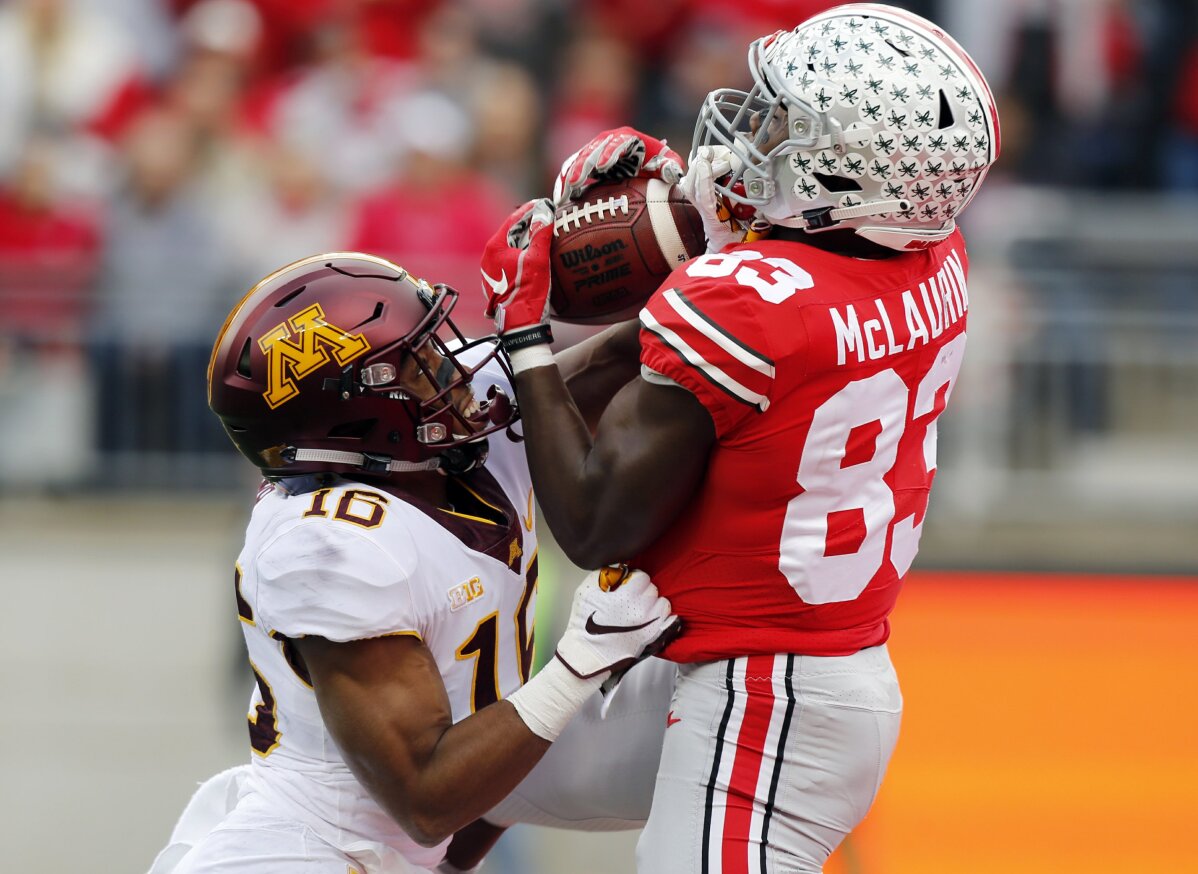 9 of 12

|
Ohio State receiver Terry McLaurin, right, catches a touchdown pass over Minnesota defensive back Coney Durr during the first half of an NCAA college football game Saturday, Oct. 13, 2018, in Columbus, Ohio. (AP Photo/Jay LaPrete)
9 of 12
Ohio State receiver Terry McLaurin, right, catches a touchdown pass over Minnesota defensive back Coney Durr during the first half of an NCAA college football game Saturday, Oct. 13, 2018, in Columbus, Ohio. (AP Photo/Jay LaPrete)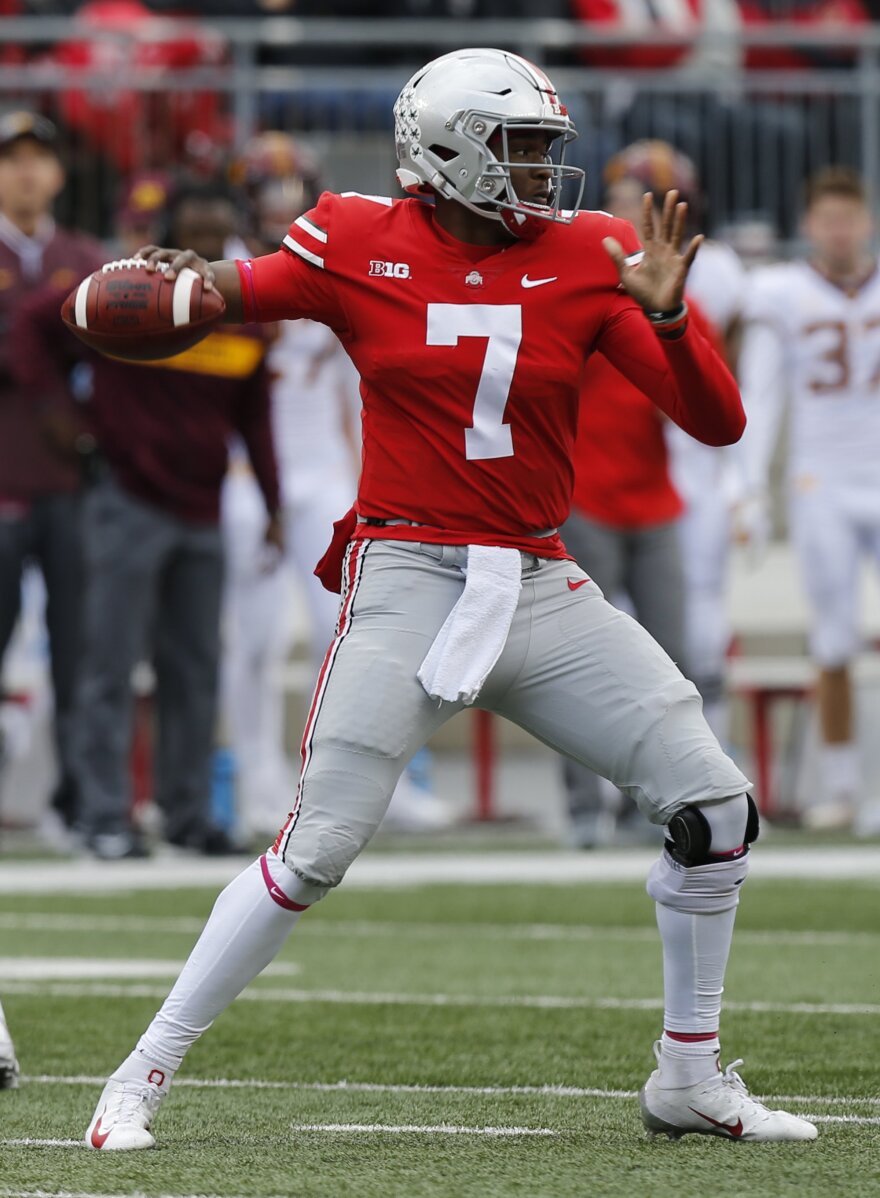 10 of 12

|
Ohio State quarterback Dwayne Haskins throws a pass against Minnesota during the first half of an NCAA college football game Saturday, Oct. 13, 2018, in Columbus, Ohio. (AP Photo/Jay LaPrete)
10 of 12
Ohio State quarterback Dwayne Haskins throws a pass against Minnesota during the first half of an NCAA college football game Saturday, Oct. 13, 2018, in Columbus, Ohio. (AP Photo/Jay LaPrete)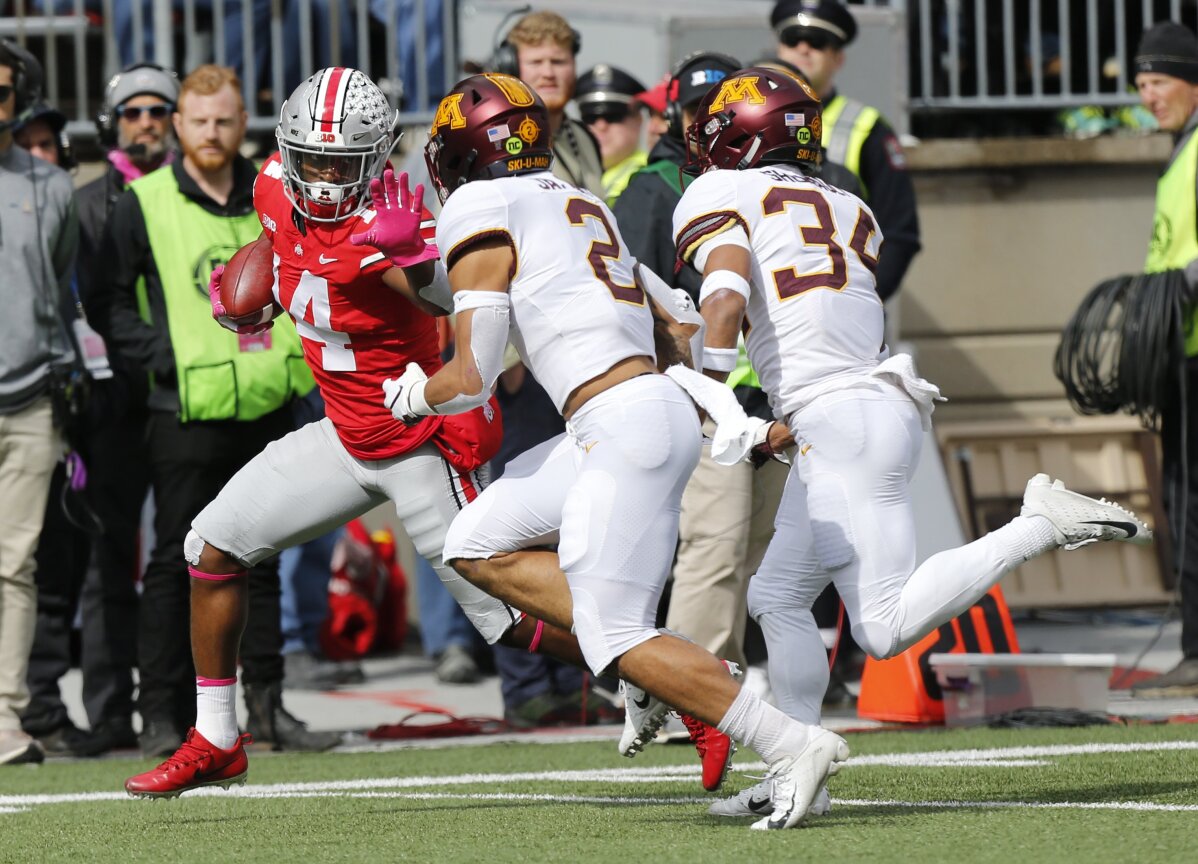 11 of 12

|
Ohio State receiver K.J. Hill, left, turns upfield against Minnesota defensive backs Jacob Huff, center, and Antonio Shenault during the first half of an NCAA college football game Saturday, Oct. 13, 2018, in Columbus, Ohio. (AP Photo/Jay LaPrete)
11 of 12
Ohio State receiver K.J. Hill, left, turns upfield against Minnesota defensive backs Jacob Huff, center, and Antonio Shenault during the first half of an NCAA college football game Saturday, Oct. 13, 2018, in Columbus, Ohio. (AP Photo/Jay LaPrete)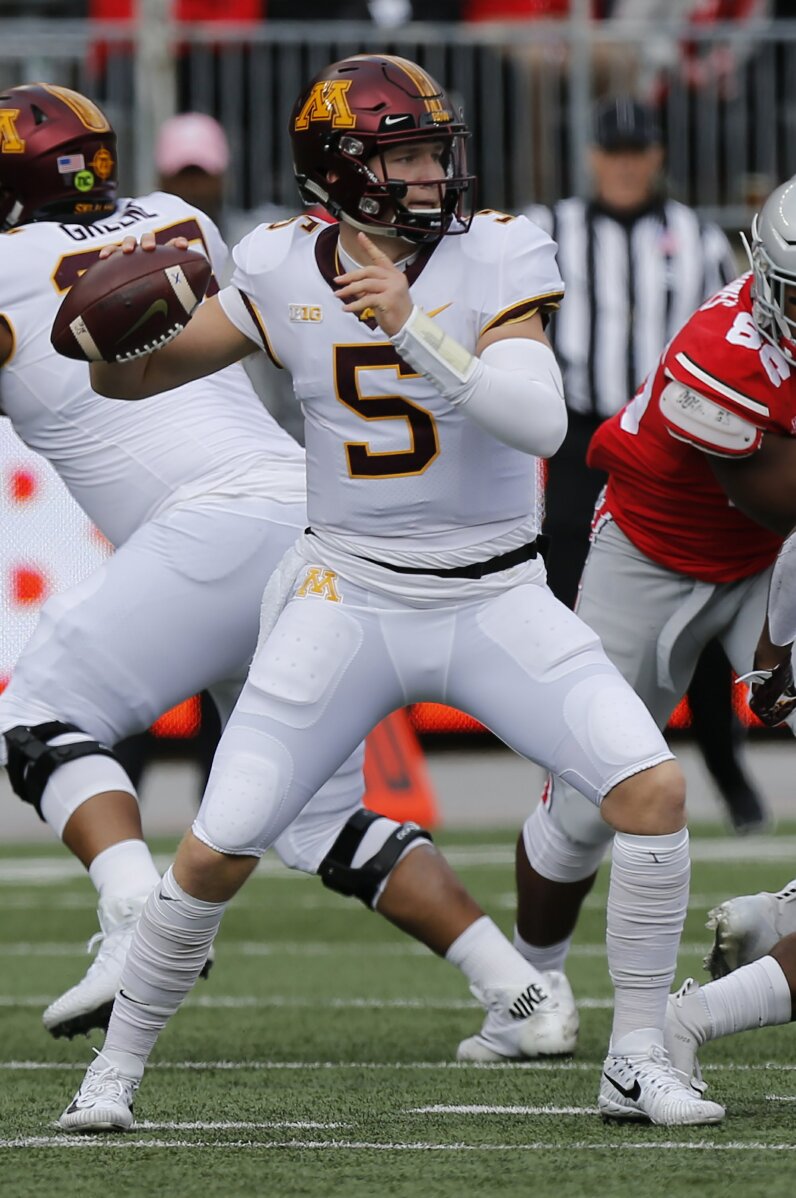 12 of 12

|
Minnesota quarterback Zack Annexstad drops back top pass against Ohio State during the first half of an NCAA college football game Saturday, Oct. 13, 2018, in Columbus, Ohio. (AP Photo/Jay LaPrete)
12 of 12
Minnesota quarterback Zack Annexstad drops back top pass against Ohio State during the first half of an NCAA college football game Saturday, Oct. 13, 2018, in Columbus, Ohio. (AP Photo/Jay LaPrete)
COLUMBUS, Ohio (AP) — All of No. 3 Ohio State's strengths and weaknesses were on full display in a win over persistent Minnesota.
Dwayne Haskins and the passing game continue to be tip-top. Ohio State's receivers get open and vacuum in anything thrown near them. K.J. Hill's grab and run for a touchdown in the first half was the best catch of the season, so far.
Hill caught another TD pass in the fourth quarter to seal the 30-14 win over Minnesota (3-3, 0-3 Big Ten) on Saturday.
The bad news for the Buckeyes (7-0, 4-0) is that for another week they couldn't get either of their two elite running backs loose. J.K. Dobbins and Mike Weber combined for 3.7 yards per carry after managing just 3.2 last week against Indiana. Neither had a single carry over 11 yards.
And the Ohio State defense is still giving up chunks of yardage against heavy underdogs. Mohamed Ibrahim broke runs of 25 and 34 yards in the first half on his way to a career-high 157 yards and two touchdowns.
The passing game is one of the only things working consistently for the Buckeyes right now, and they had to ride it again.
"We're going to have to get some things fixed," Ohio State coach Meyer said.
ABOUT THAT CATCH
Hill caught a career-high nine passes for 187 yards and two touchdowns. But everyone will be talking about the turn-around, one-handed catch he made in the second quarter with Minnesota leading 14-10.
Hill's celebration afterward included him acting as if his hand was so sticky that he couldn't pry the ball loose.
"He made a crazy play," Haskins said. "Of course, K.J. is a little character. He was pretty hyped up. He had a career day today."
Hill said he and fellow receiver Johnnie Dixon watched the catch on a phone at halftime.
"Definitely a 10," Hill said. "On the biggest stage in front of the home crowd and just hearing the crowd excited, it was amazing."
MORE HYPE FOR HASKINS
Heisman chatter around Haskins will continue as he passed for 412 yards, his second consecutive 400-yard game. He completed 33 of 44 attempts. His 28 touchdown passes on the season lead the nation, and he has just four interceptions.
"He's probably the front-runner for the Heisman Trophy," Minnesota coach P.J. Fleck said.
THE TAKEAWAY:
Minnesota: The Gophers hurt themselves with three turnovers, two of which led to 10 points for the Buckeyes, and two missed field goals. True freshman walk-on quarterback Zack Annexstad threw two interceptions, but also flashed some potential.
The Golden Gophers piled up 396 yards and bested Ohio State in yards per pass completion (16.8 to 12.5) and yards per play (7.1 to 6.6)
"I love coaching that team," Fleck said. "I'm proud of how hard they played."
Ohio State: The Buckeyes stay unbeaten despite making plenty of mistakes and Minnesota staying in the game until almost the end. Problems persist with running the ball and the defense allowing big plays.
"We have higher expectations for ourselves that what we do sometimes on the field," Haskins said. "Today was just figuring out what worked and then going out an executing."
TRAINER'S ROOM
Ohio State's Blake Haubeil was 3 for 3 on field goals and converted three extra-points subbing for an injured Sean Nuernberger. ... Starting left tackle Thayer Munford left the game with a leg injury in the third quarter, but Meyer said he should be OK. ... Linebacker Malik Harrison and defensive end Jonathan Cooper didn't play after undergoing concussion protocol after last week's game.
UP NEXT
Minnesota: At Nebraska on Saturday.
Ohio State: At Purdue on Saturday.
___
More AP college football: https://apnews.com/tag/Collegefootball and https://twitter.com/AP_Top25
___
Follow Mitch Stacy at http://twitter.com/mitchstacy