Yankees slugger Aaron Judge sparks controversy with glance at bench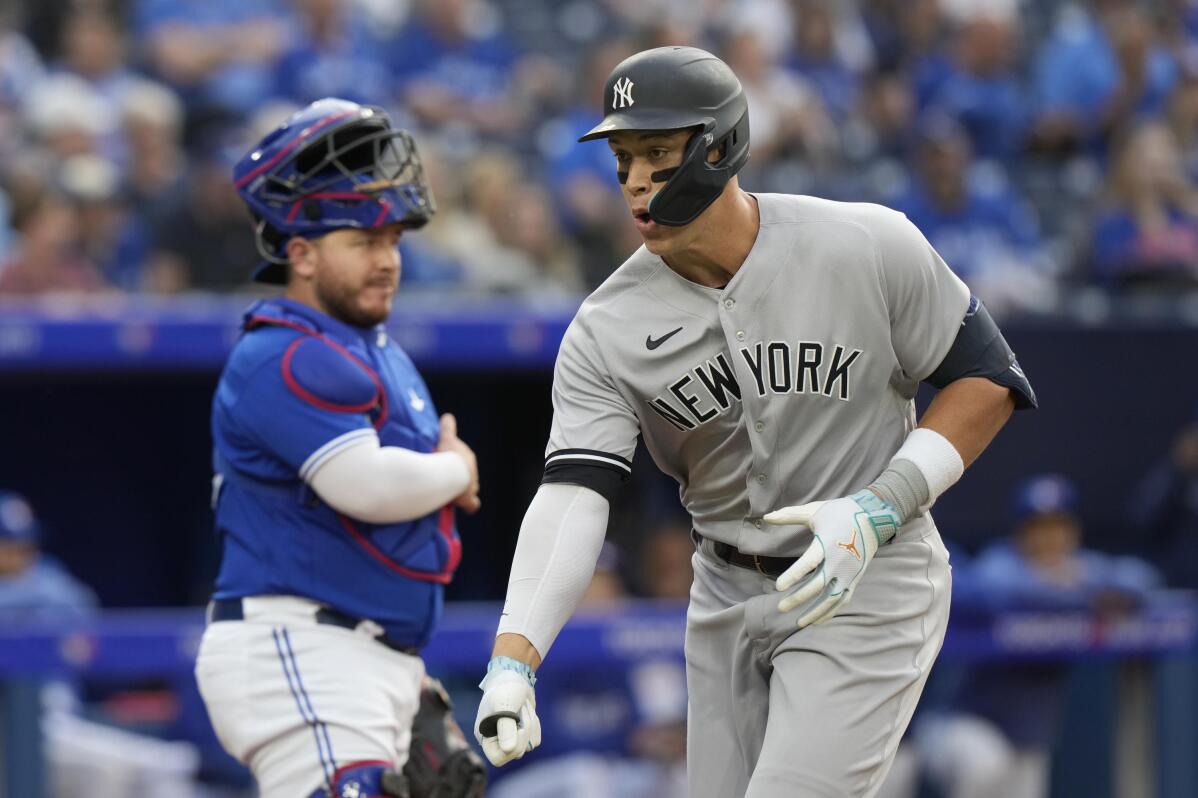 1 of 5

|
New York Yankees' Aaron Judge, right, celebrates after his opposite-field home run against Toronto Blue Jays starting pitcher Alek Manoah (not shown) during first-inning baseball game action in Toronto, Ontario, Monday, May 15, 2023. (Frank Gunn/The Canadian Press via AP)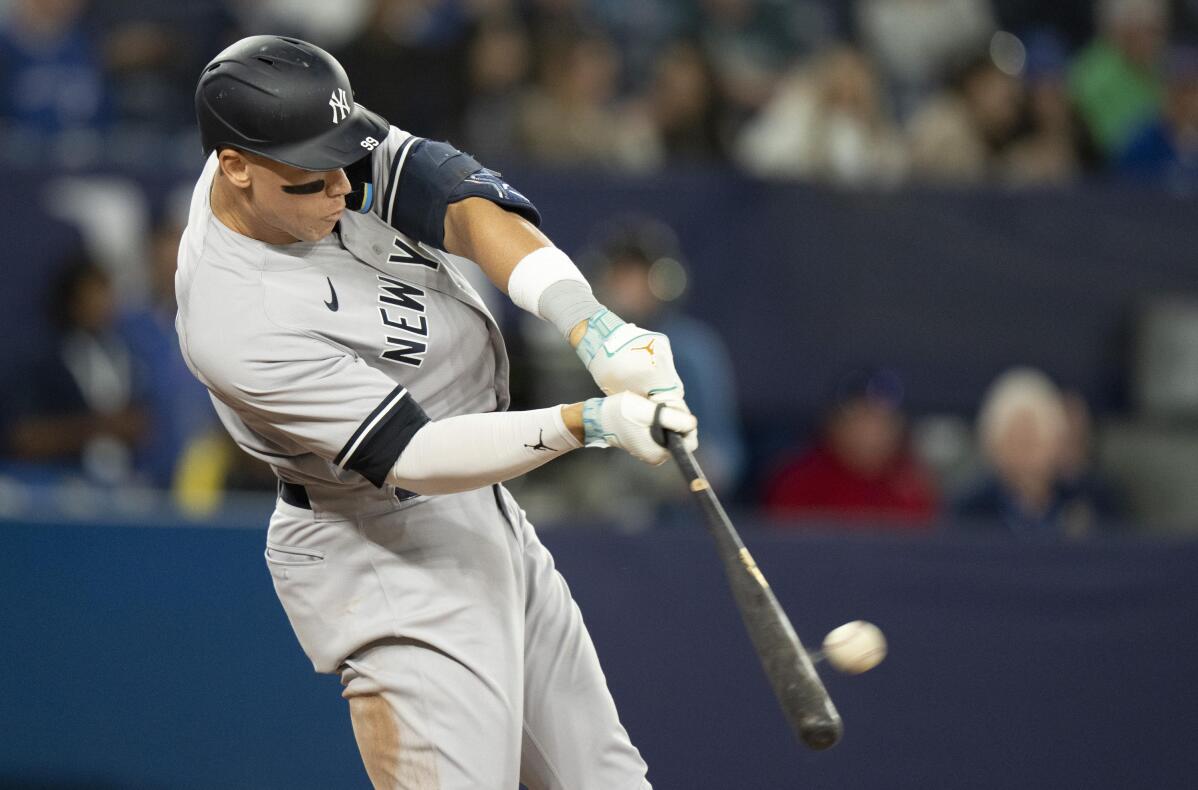 2 of 5

|
New York Yankees' Aaron Judge hits his second home run of a baseball game during eighth-inning action against the Toronto Blue Jays in Toronto, Ontario, Monday, May 15, 2023. (Frank Gunn/The Canadian Press via AP)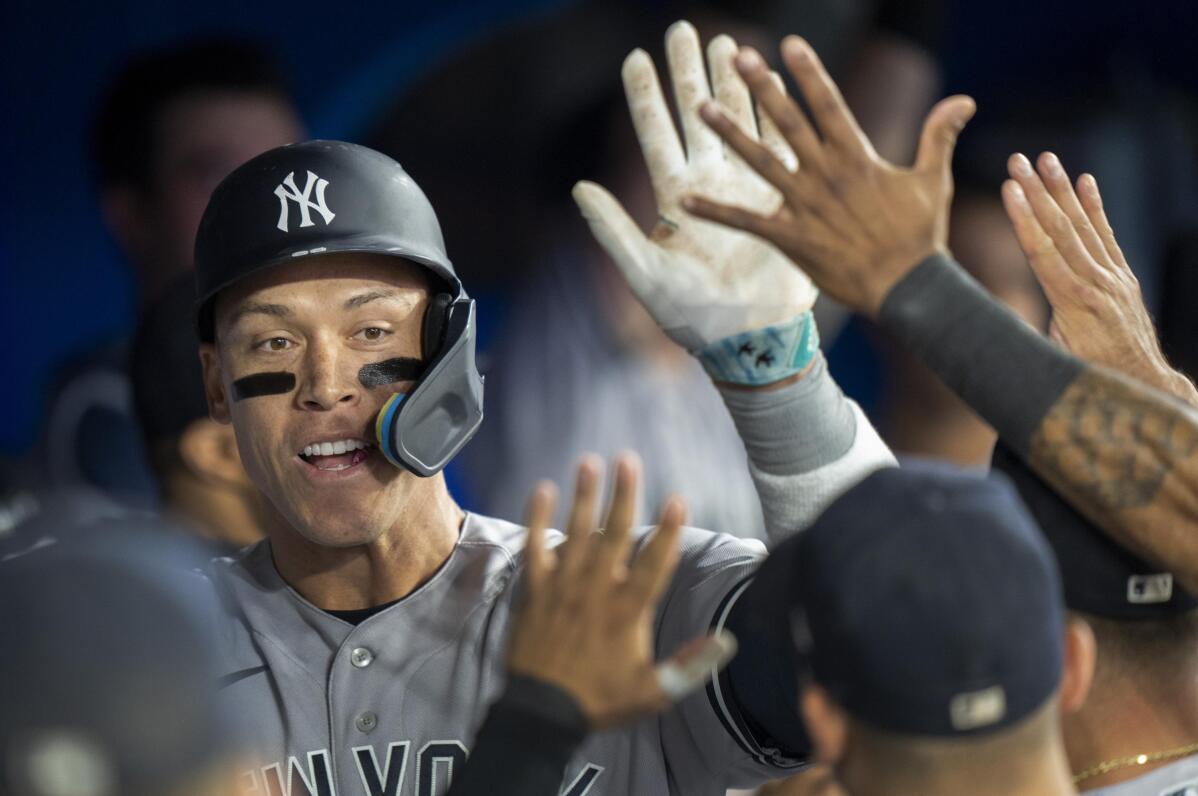 3 of 5

|
New York Yankees' Aaron Judge is congratulated by teammates after hitting his second home run of a baseball game, during eighth-inning action against the Toronto Blue Jays in Toronto, Ontario, Monday, May 15, 2023. (Frank Gunn/The Canadian Press via AP)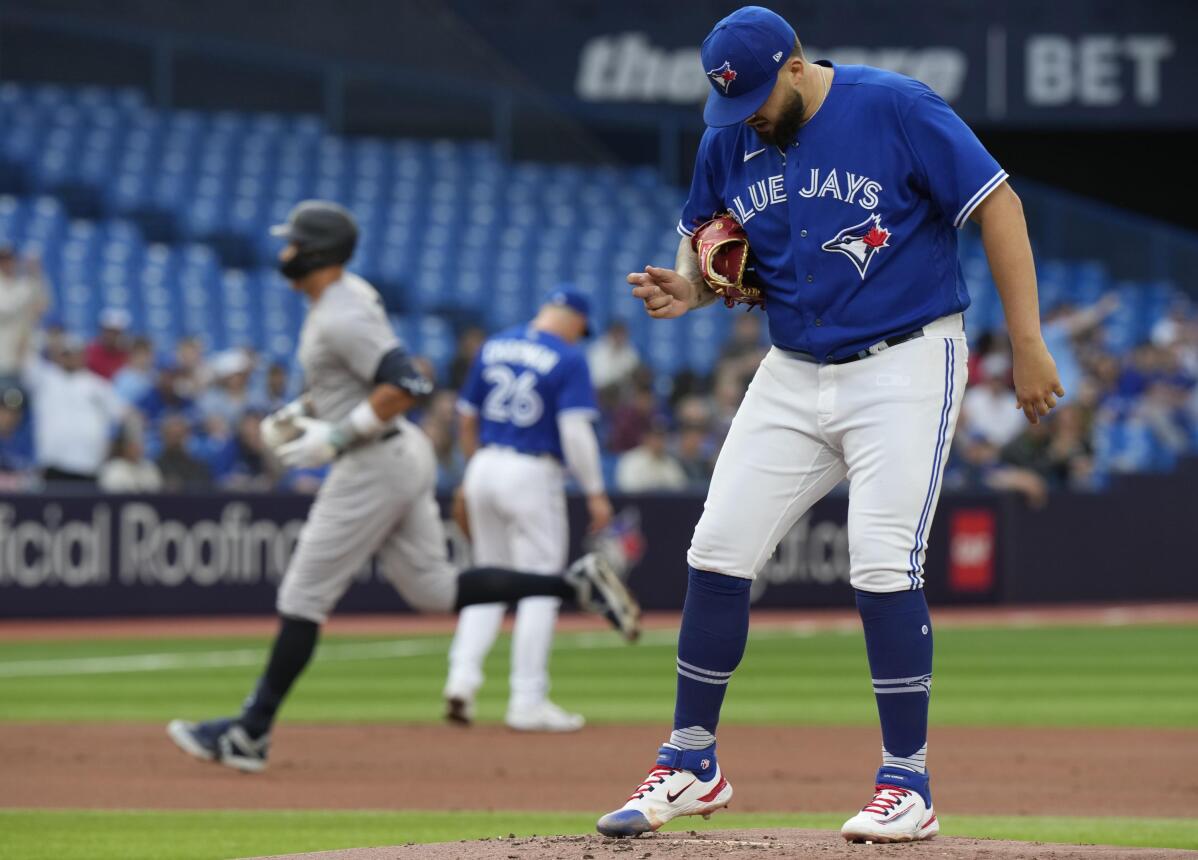 4 of 5

|
New York Yankees' Aaron Judge, left, rounds the bases after hitting an opposite-field home run as Toronto Blue Jays starting pitcher Alek Manoah, right, reacts during first-inning baseball game action in Toronto, Ontario, Monday, May 15, 2023. (Frank Gunn/The Canadian Press via AP)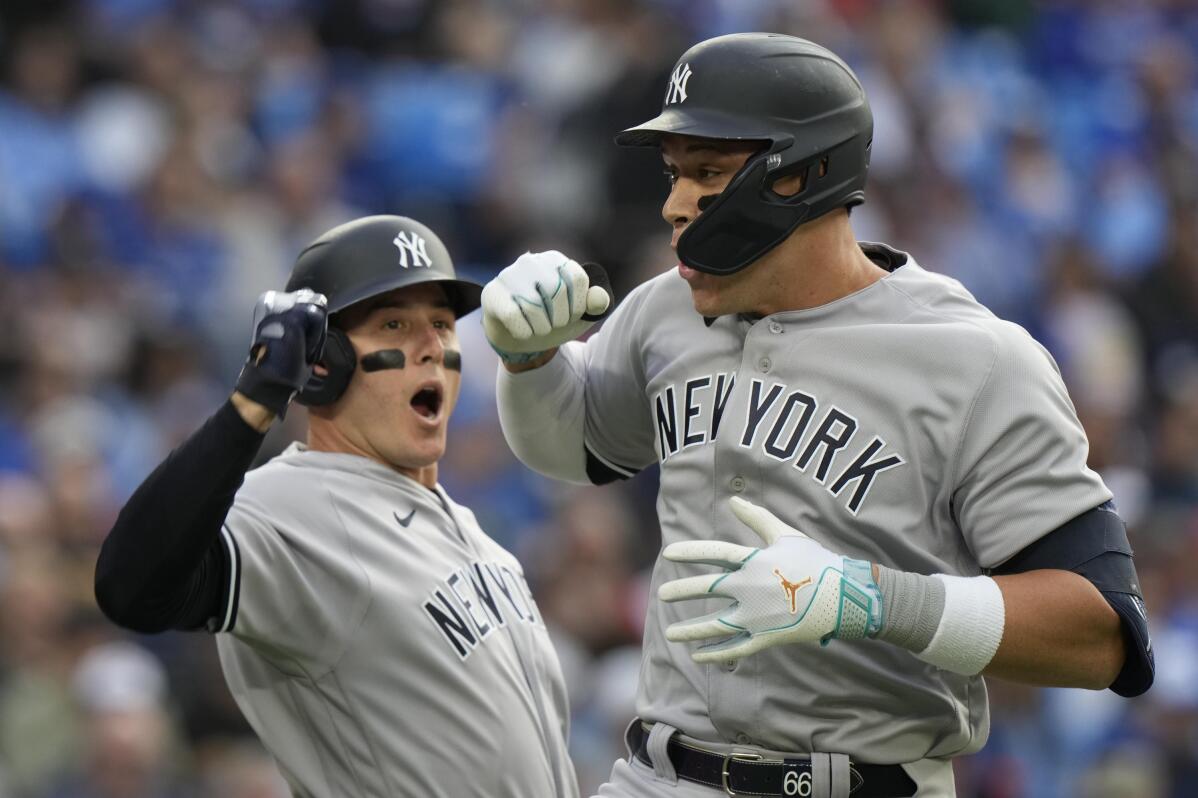 5 of 5

|
New York Yankees' Aaron Judge, right, celebrates with teammate Anthony Rizzo, left, after hitting an opposite-field home run against Toronto Blue Jays starting pitcher Alek Manoah during first-inning baseball game action in Toronto, Ontario, Monday, May 15, 2023. (Frank Gunn/The Canadian Press via AP)
Yankees slugger Aaron Judge sparks controversy with glance at bench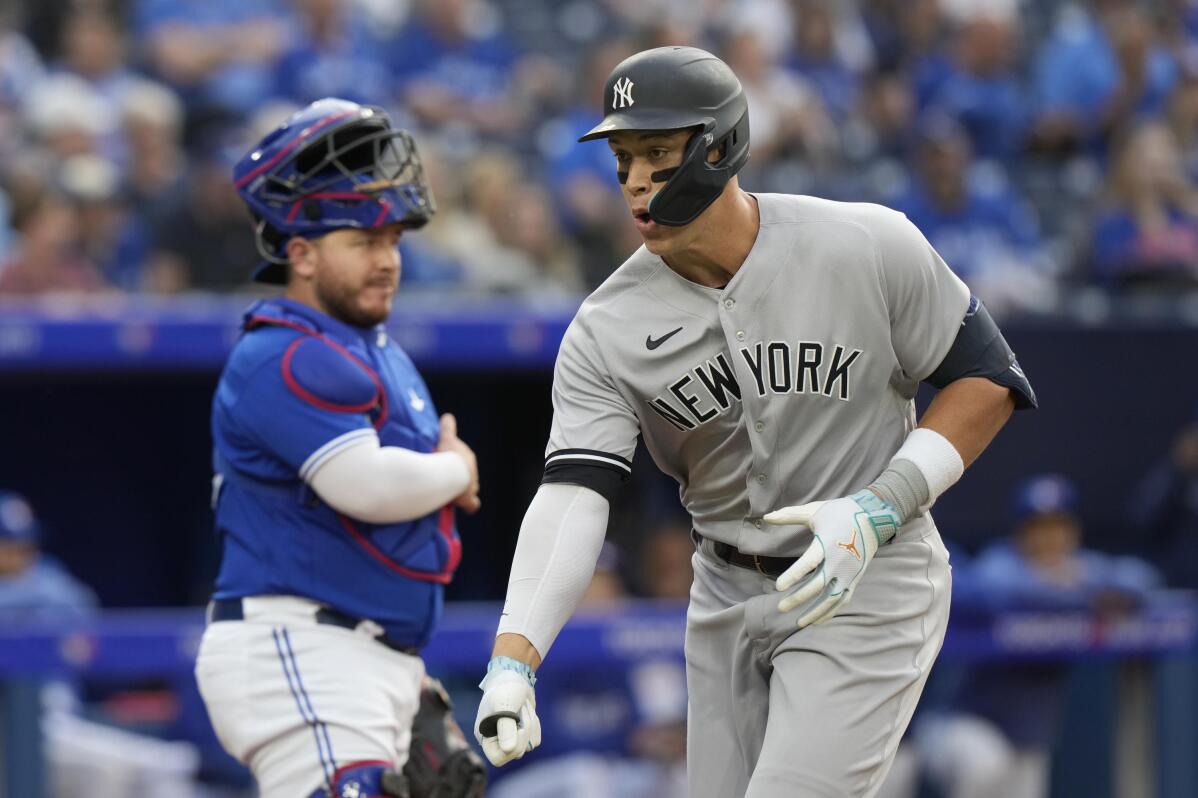 1 of 5

|
New York Yankees' Aaron Judge, right, celebrates after his opposite-field home run against Toronto Blue Jays starting pitcher Alek Manoah (not shown) during first-inning baseball game action in Toronto, Ontario, Monday, May 15, 2023. (Frank Gunn/The Canadian Press via AP)
1 of 5
New York Yankees' Aaron Judge, right, celebrates after his opposite-field home run against Toronto Blue Jays starting pitcher Alek Manoah (not shown) during first-inning baseball game action in Toronto, Ontario, Monday, May 15, 2023. (Frank Gunn/The Canadian Press via AP)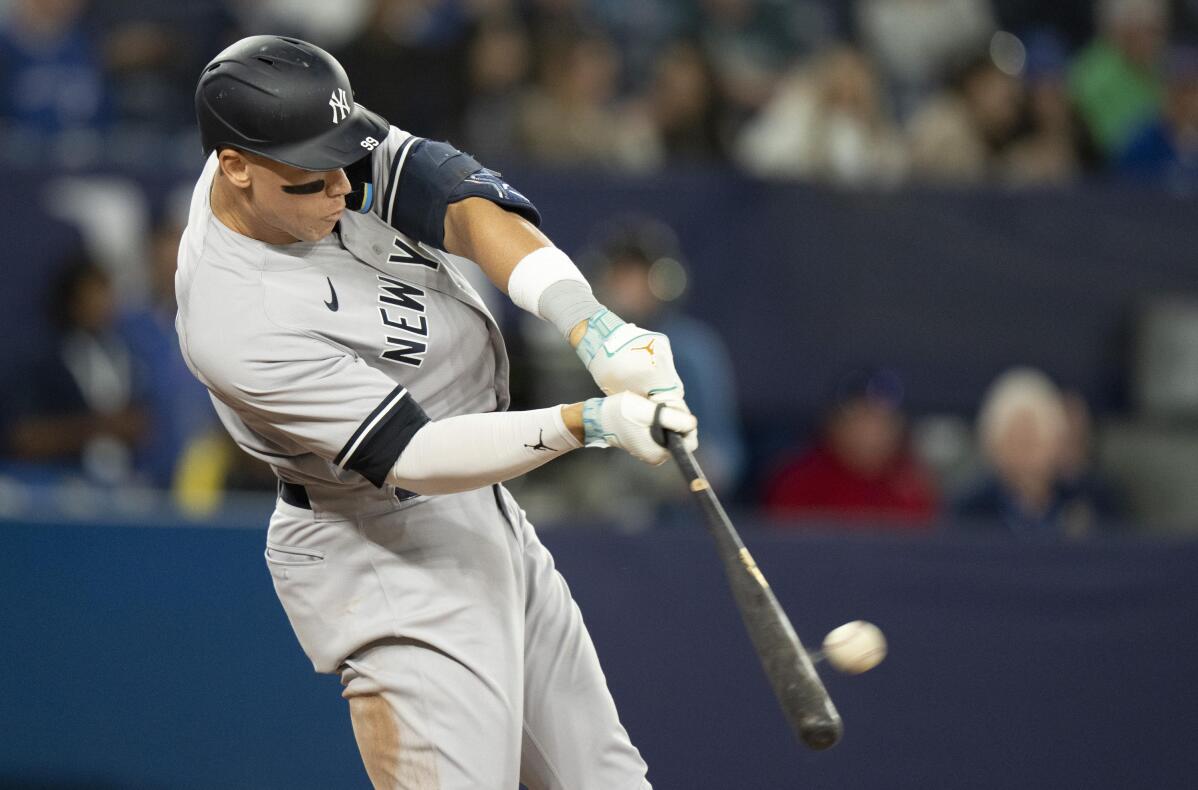 2 of 5

|
New York Yankees' Aaron Judge hits his second home run of a baseball game during eighth-inning action against the Toronto Blue Jays in Toronto, Ontario, Monday, May 15, 2023. (Frank Gunn/The Canadian Press via AP)
2 of 5
New York Yankees' Aaron Judge hits his second home run of a baseball game during eighth-inning action against the Toronto Blue Jays in Toronto, Ontario, Monday, May 15, 2023. (Frank Gunn/The Canadian Press via AP)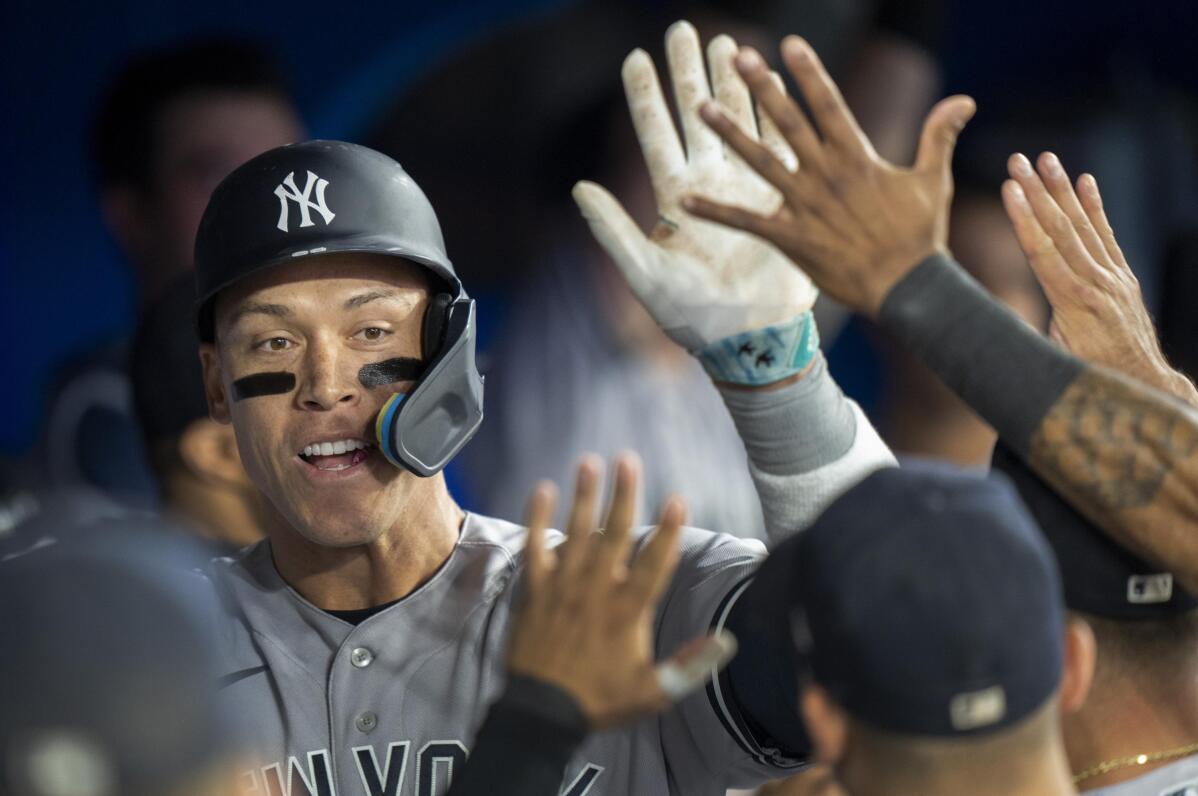 3 of 5

|
New York Yankees' Aaron Judge is congratulated by teammates after hitting his second home run of a baseball game, during eighth-inning action against the Toronto Blue Jays in Toronto, Ontario, Monday, May 15, 2023. (Frank Gunn/The Canadian Press via AP)
3 of 5
New York Yankees' Aaron Judge is congratulated by teammates after hitting his second home run of a baseball game, during eighth-inning action against the Toronto Blue Jays in Toronto, Ontario, Monday, May 15, 2023. (Frank Gunn/The Canadian Press via AP)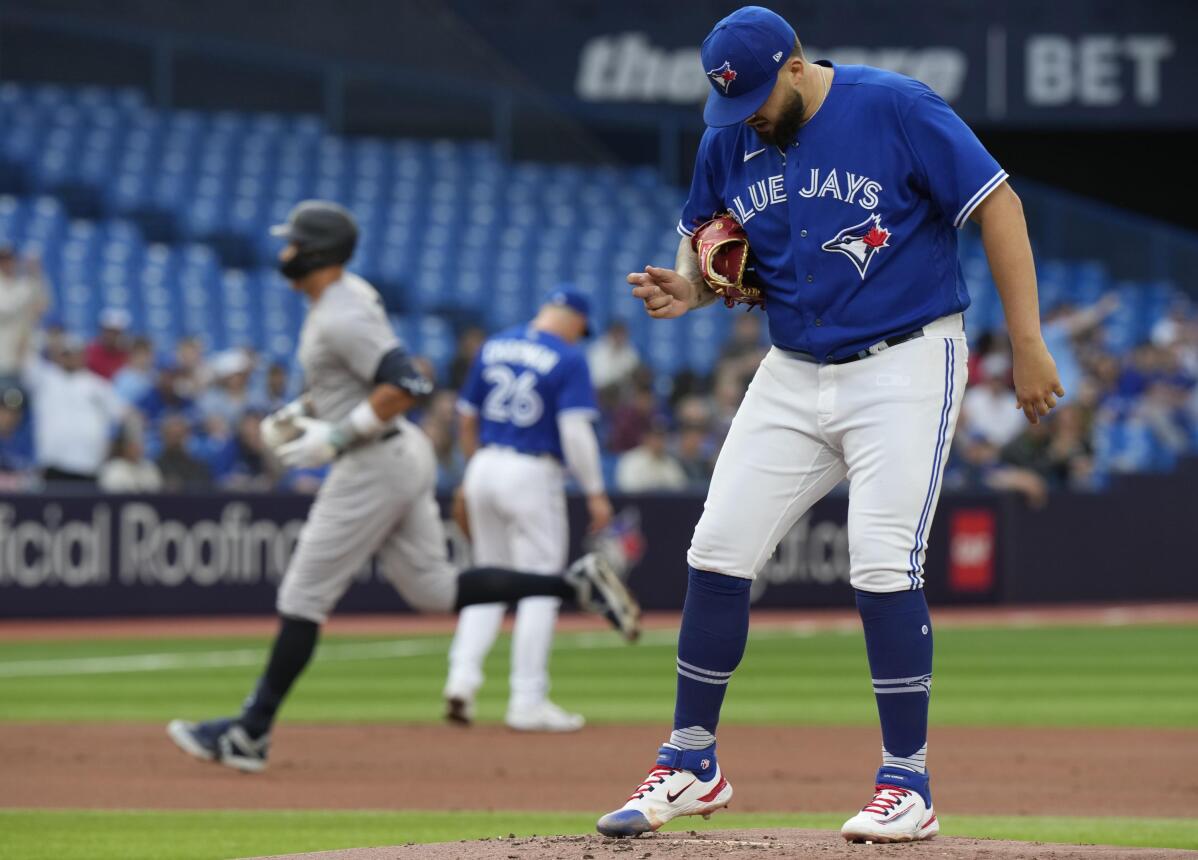 4 of 5

|
New York Yankees' Aaron Judge, left, rounds the bases after hitting an opposite-field home run as Toronto Blue Jays starting pitcher Alek Manoah, right, reacts during first-inning baseball game action in Toronto, Ontario, Monday, May 15, 2023. (Frank Gunn/The Canadian Press via AP)
4 of 5
New York Yankees' Aaron Judge, left, rounds the bases after hitting an opposite-field home run as Toronto Blue Jays starting pitcher Alek Manoah, right, reacts during first-inning baseball game action in Toronto, Ontario, Monday, May 15, 2023. (Frank Gunn/The Canadian Press via AP)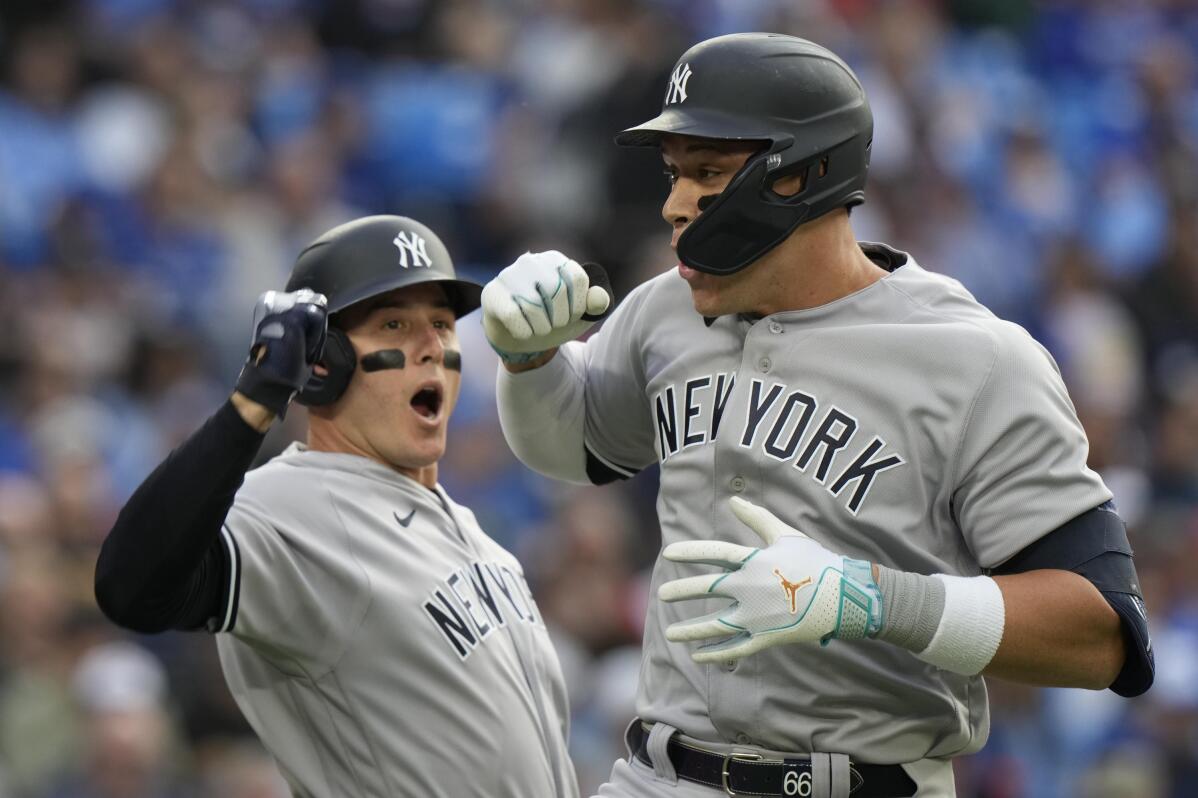 5 of 5

|
New York Yankees' Aaron Judge, right, celebrates with teammate Anthony Rizzo, left, after hitting an opposite-field home run against Toronto Blue Jays starting pitcher Alek Manoah during first-inning baseball game action in Toronto, Ontario, Monday, May 15, 2023. (Frank Gunn/The Canadian Press via AP)
5 of 5
New York Yankees' Aaron Judge, right, celebrates with teammate Anthony Rizzo, left, after hitting an opposite-field home run against Toronto Blue Jays starting pitcher Alek Manoah during first-inning baseball game action in Toronto, Ontario, Monday, May 15, 2023. (Frank Gunn/The Canadian Press via AP)
TORONTO (AP) — Aaron Judge said he was trying to identify which of his Yankees teammates was yelling at plate umpire Clint Vondrak when he peeked into his own dugout before hitting a 462-foot home run in Toronto on Monday night.
The Yankees slugger looked sideways for a moment before driving a 114.9 mph scorcher off right-hander Jay Jackson.
"There was kind of a lot of chirping from our dugout, which I really didn't like in the situation," Judge said. New York led 6-0 at the time.
Three pitches earlier, Vondrak ejected New York manager Aaron Boone for arguing a low strike call to Judge. Boone came out of the dugout to vent at Vondrak and crew chief James Hoye.
Toronto's broadcasters noticed Judge peeking into his own dugout before his homer and speculated he was looking for some kind of signal.
"It's kind of odd that a hitter would be looking in that direction," Blue Jays manager John Schneider said.
Judge said some of his teammates were still voicing their displeasure as his at-bat continued.
"I feel like after the manager does his thing it's like, "Fellas, our pitcher has still got to go out there and make some pitches. We've got the lead, let's just go to work here,'" Judge said. "I said a couple of things to some guys in the dugout and especially after the game. Hopefully it won't happen again."
Boone said he understood Judge's frustration with the dugout distraction.
"Judgie was kind of looking over like, 'I'm hitting here,'" Boone said.
Judge hit two solo homers Monday, his ninth and 10th of the season. It was his third multihomer game this year and the 30th of his career.
Judge has 30 home runs against Toronto, his second-highest total against an opponent behind 35 times vs. Baltimore.
___
AP MLB: https://apnews.com/hub/mlb and https://twitter.com/AP_Sports