Obstetrician appeals decision over Arizona abortion law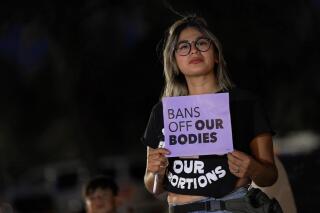 PHOENIX (AP) — The medical director of anti-abortion pregnancy centers in metro Phoenix has asked the Arizona Supreme Court to review a lower court's decision that concluded abortion doctors couldn't be prosecuted under a pre-statehood law that bans the procedure in nearly all cases.
In an appeal filed Wednesday, Dr. Eric Hazelrigg seeks to reverse an Arizona Court of Appeals ruling that said doctors couldn't be charged for performing abortions in the first 15 weeks of pregnancy because other Arizona laws passed over the years allow them to perform the procedure.
Abortions are currently allowed in Arizona in the first 15 weeks of pregnancy under a 2022 law.
The 1864 law that Hazelrigg wants the court to uphold imposes a near total ban on abortions, providing no exceptions for rape or incest and allowing abortions only if a mother's life is in danger.
In late December, the Arizona Court of Appeals said it wasn't viewing the pre-statehood law in isolation of other statutes and concluded the state's laws make it clear doctors are permitted to perform abortions.
It said the 1864 law can coexist with the law that allows the procedure through the 15th week of pregnancy. Non-doctors would still be subject to prosecution under the old law, the appeals court said.
A court blocked enforcement of the law shortly after the U.S. Supreme Court issued the 1973 Roe v. Wade decision guaranteeing a constitutional right to an abortion.
After the Supreme Court overturned the landmark decision in June, then-Republican Attorney General Mark Brnovich succeeded in getting a state judge in Tucson to lift a court order blocking its enforcement.
In Hazelrigg's appeal, lawyers for the obstetrician said the court incorrectly concluded that the law doesn't apply to doctors. They argued Arizona's laws don't expressly allow abortion but rather forbid it. They are asking the state Supreme Court to lift the injunction that blocks enforcement of the pre-statehood law.
Lawyers for the Alliance Defending Freedom, a conservative advocacy group defending Hazelrigg, said the appeals court rewrote the law and did "with a pen what abortion proponents could not do with a vote."
Brittany Fonteno, president and chief executive officer of Planned Parenthood Arizona, characterized Hazelrigg's appeal as a last-ditch effort.
"In December 2022, the Arizona Court of Appeals correctly harmonized all of the state legislature's laws, and under that interpretation, abortion has been and continues to remain legal in Arizona," Fonteno said. "As we have said time and time again, this archaic abortion ban the intervener (Hazelrigg) is trying to revive is cruel, harmful, and unpopular with the majority of Arizonans."
Abortion providers in Arizona halted all care in the state after Roe was struck down, restarted in mid-July after a "personhood" law giving legal rights to unborn children was blocked by a court, and stopped them again when the Tucson judge lifted an injunction on the 1864 law. Planned Parenthood restarted abortion care across the state after receiving a stay in their case and continued providing care after Brnovich's office agreed in another abortion lawsuit not to enforce the old law until litigation is resolved.
Democratic Attorney General Kris Mayes, who succeeded Brnovich, did not appeal the appeals court decision. ____ This story has been corrected to say Hazelrigg is seeking to uphold the law, not challenge it.