Harris applauds Nevada abortion rights effort at Reno forum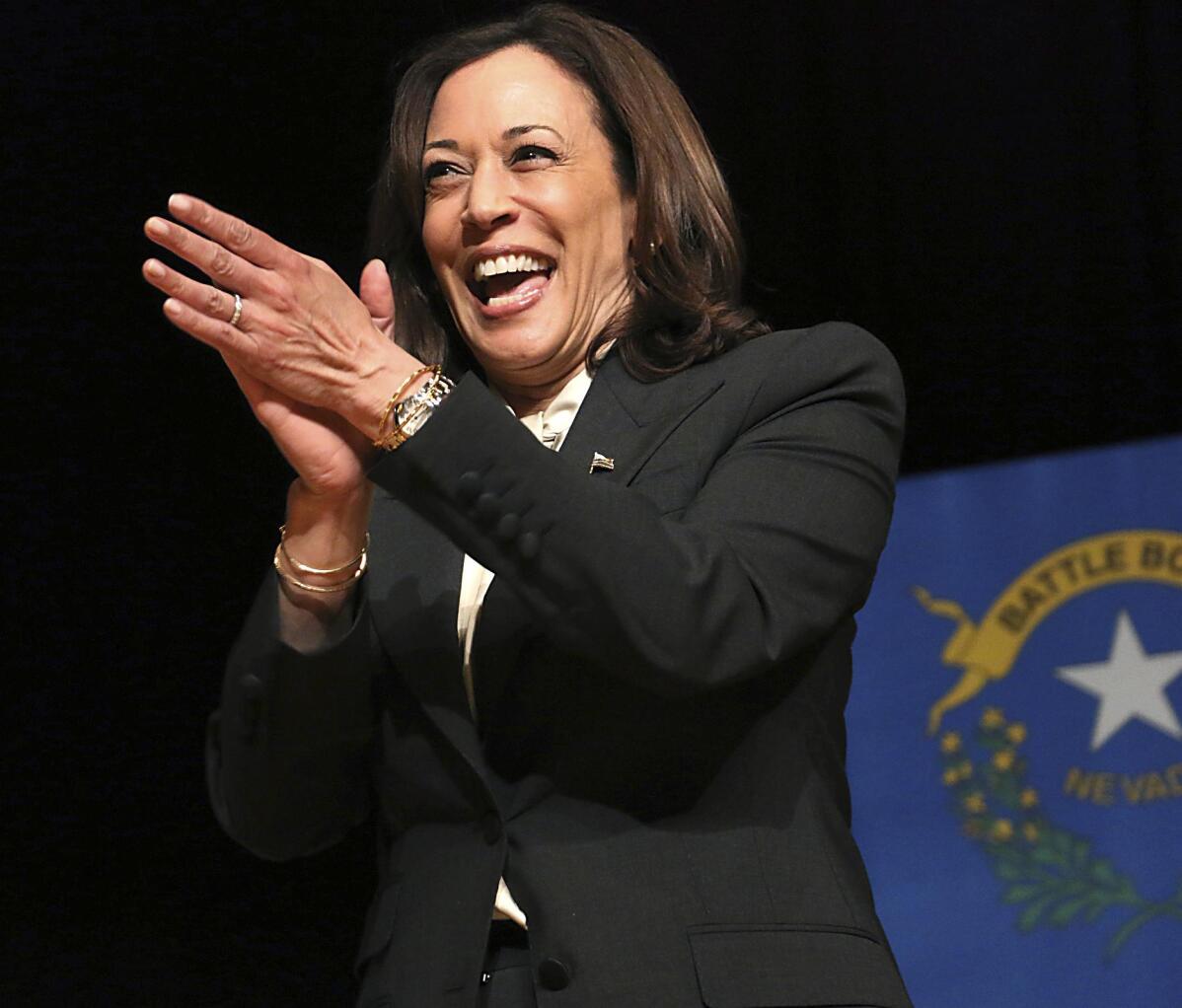 1 of 3

|
Vice President Kamala Harris greets the audience gathered to hear her speak about abortion and reproductive rights on the campus of the University of Nevada, Reno on Tuesday, April 18, 2023, in Reno, Nev. (Jason Bean/The Reno Gazette-Journal via AP)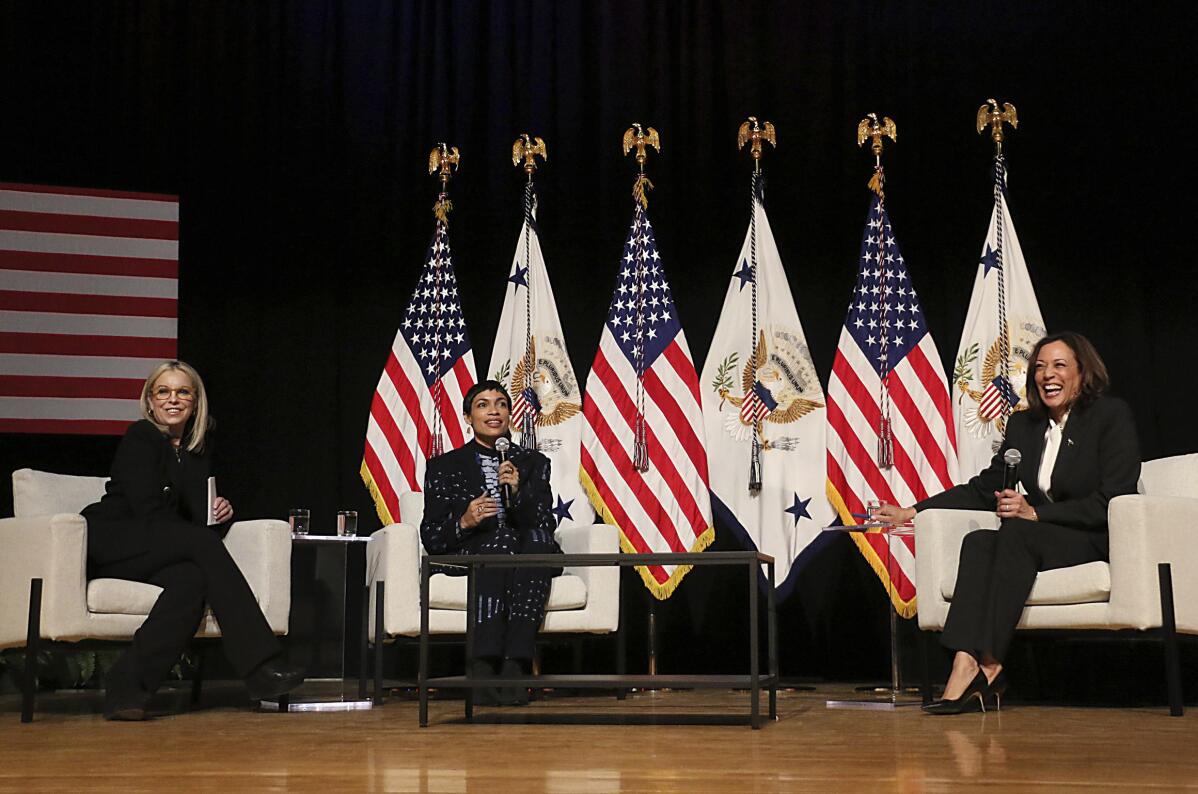 2 of 3

|
Vice President Kamala Harris, right, activist Rosario Dawson, middle, and Reno Mayor Hilary Schieve engage in a discussion about abortion and reproductive rights on the campus of the University of Nevada, Reno, on Tuesday, April 18, 2023, in Reno, Nev. (Jason Bean/The Reno Gazette-Journal via AP)
3 of 3

|
Vice President Kamala Harris takes part in a discussion about abortion and reproductive rights on the campus of the University of Nevada, Reno, on April 18, 2023. (Jason Bean/The Reno Gazette-Journal via AP)
Harris applauds Nevada abortion rights effort at Reno forum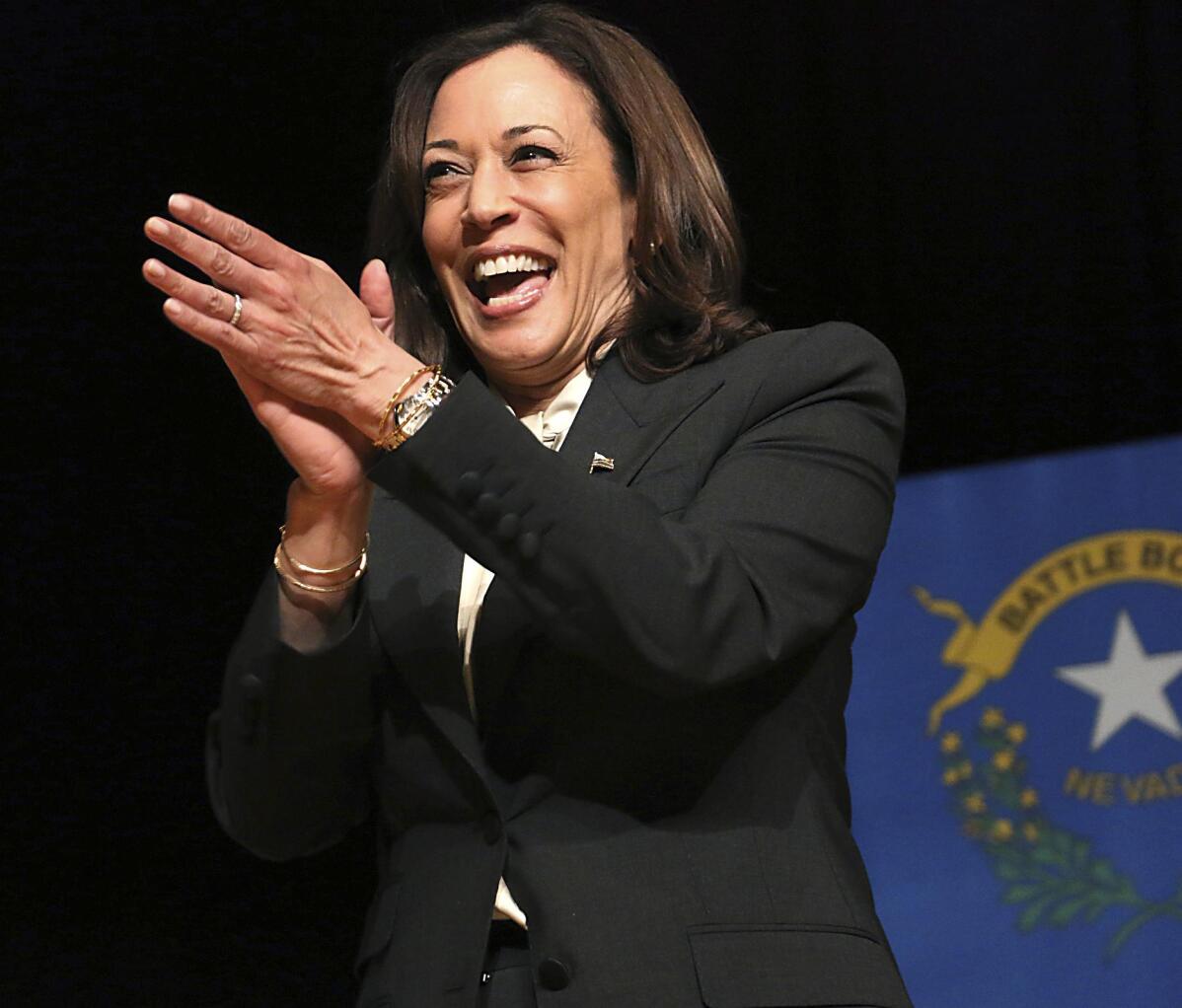 1 of 3

|
Vice President Kamala Harris greets the audience gathered to hear her speak about abortion and reproductive rights on the campus of the University of Nevada, Reno on Tuesday, April 18, 2023, in Reno, Nev. (Jason Bean/The Reno Gazette-Journal via AP)
1 of 3
Vice President Kamala Harris greets the audience gathered to hear her speak about abortion and reproductive rights on the campus of the University of Nevada, Reno on Tuesday, April 18, 2023, in Reno, Nev. (Jason Bean/The Reno Gazette-Journal via AP)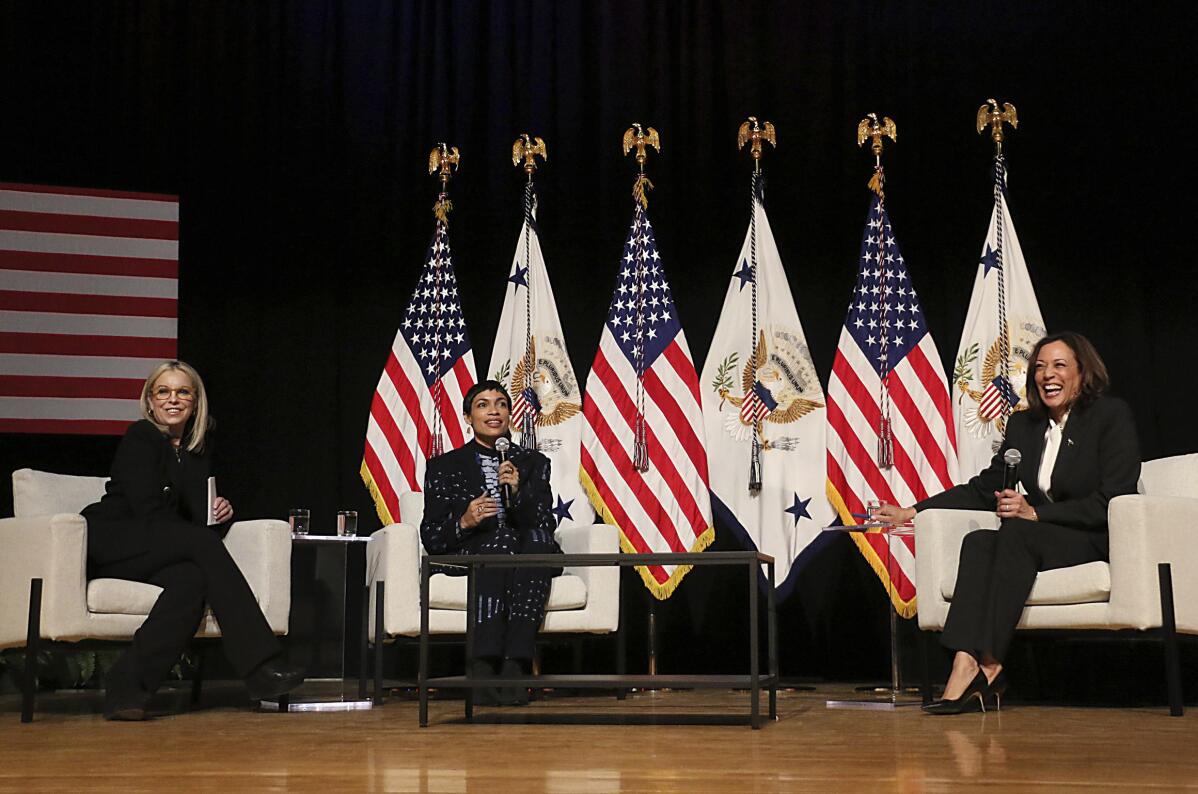 2 of 3

|
Vice President Kamala Harris, right, activist Rosario Dawson, middle, and Reno Mayor Hilary Schieve engage in a discussion about abortion and reproductive rights on the campus of the University of Nevada, Reno, on Tuesday, April 18, 2023, in Reno, Nev. (Jason Bean/The Reno Gazette-Journal via AP)
2 of 3
Vice President Kamala Harris, right, activist Rosario Dawson, middle, and Reno Mayor Hilary Schieve engage in a discussion about abortion and reproductive rights on the campus of the University of Nevada, Reno, on Tuesday, April 18, 2023, in Reno, Nev. (Jason Bean/The Reno Gazette-Journal via AP)
3 of 3

|
Vice President Kamala Harris takes part in a discussion about abortion and reproductive rights on the campus of the University of Nevada, Reno, on April 18, 2023. (Jason Bean/The Reno Gazette-Journal via AP)
3 of 3
Vice President Kamala Harris takes part in a discussion about abortion and reproductive rights on the campus of the University of Nevada, Reno, on April 18, 2023. (Jason Bean/The Reno Gazette-Journal via AP)
RENO, Nev. (AP) — Vice President Kamala Harris on Tuesday applauded efforts under way in Nevada to enshrine abortion rights in the state constitution, saying the move stands in stark contrast to other states where such rights are under assault.
"What you are doing at the statewide level is so important," she said during a forum on the University of Nevada, Reno, campus.
Harris said she met Tuesday with several state lawmakers who supported a resolution in the state Senate this week to amend Nevada's constitution to include abortion rights up to 24 weeks.
Abortion rights up to 24 weeks already are codified into state law through a 1990 ballot measure. That could only be changed through another referendum vote.
The standards are higher for amending the constitution, the highest level of state protection that takes years to accomplish. If the resolution also passes the Nevada Assembly, the constitutional question could eventually be put in front of voters on the 2026 ballot.
"Nevada is showing the way," Harris said Tuesday in Reno.
"It's important because it is not only about the protection of the rights of the people of this state, but it is an example that these things can be done and it's the right thing to do," she said.
Since last year's reversal of Roe v. Wade, the 1973 U.S. Supreme Court decision that legalized the right to an abortion, more than a dozen states have effectively outlawed abortion and others have moved to further tighten abortion laws.
Harris was in Los Angeles on Sunday at a rally with several hundred demonstrators where she called the attack on abortion rights a further incursion by conservatives into myriad "fundamental rights" many Americans thought they had.
On Tuesday, Harris was joined by Reno Mayor Hillary Schieve and actress Rosario Dawson on a theater stage, urging the audience to help protect abortion rights.
"You did good here in Nevada," Harris told a crowd of mostly students. "And I just left California, my home. You know — we're good there."
"Even though it's not in our backyard here in Nevada or in California, please lead in this movement and build up the energy and momentum to stand for our democracy and our foundational principles and the rights for people to make decisions about their own lives and not their government," Harris said.
The Nevada state Senate voted 13-8 along party lines Monday to send the resolution to the Assembly that would enshrine reproductive rights including not only abortion, but also other reproductive procedures including postpartum and prenatal care. That continued the more than three-year process to offer the highest level of state protection on the 2026 ballot.
There are two routes to amend the state constitution that could take more than three years: either approval from two legislative sessions before it appears as a ballot question the following year, or two consecutive elections with a simple majority vote.
This resolution would have to pass both legislative chambers in 2023 and 2025 before appearing on the ballot the following year.
Party-line debate on the Senate floor turned emotional with discussions over language of the resolution as well as who gets to decide reproductive medical decisions. Statements from lawmakers included personal experiences with decisions about abortion that they or their loved ones faced.
"There has to be be one guiding principle in this. And that is that politicians should not be interfering in personal decisions between patients and their doctors when it comes to reproductive care," said Democratic Sen. Majority Leader Nicole Cannizzaro on the Senate floor Monday in Carson City.
"I'm exceptionally worried that the people that are most impacted, the unborn children, have no say in this matter," said Republican Sen. Ira Hansen.
____
Stern, who reported from Carson City, is a corps member for the Associated Press/Report for America Statehouse News Initiative. Report for America is a nonprofit national service program that places journalists in local newsrooms.