Luka Jović seals 2-1 Fiorentina win over Milan in Serie A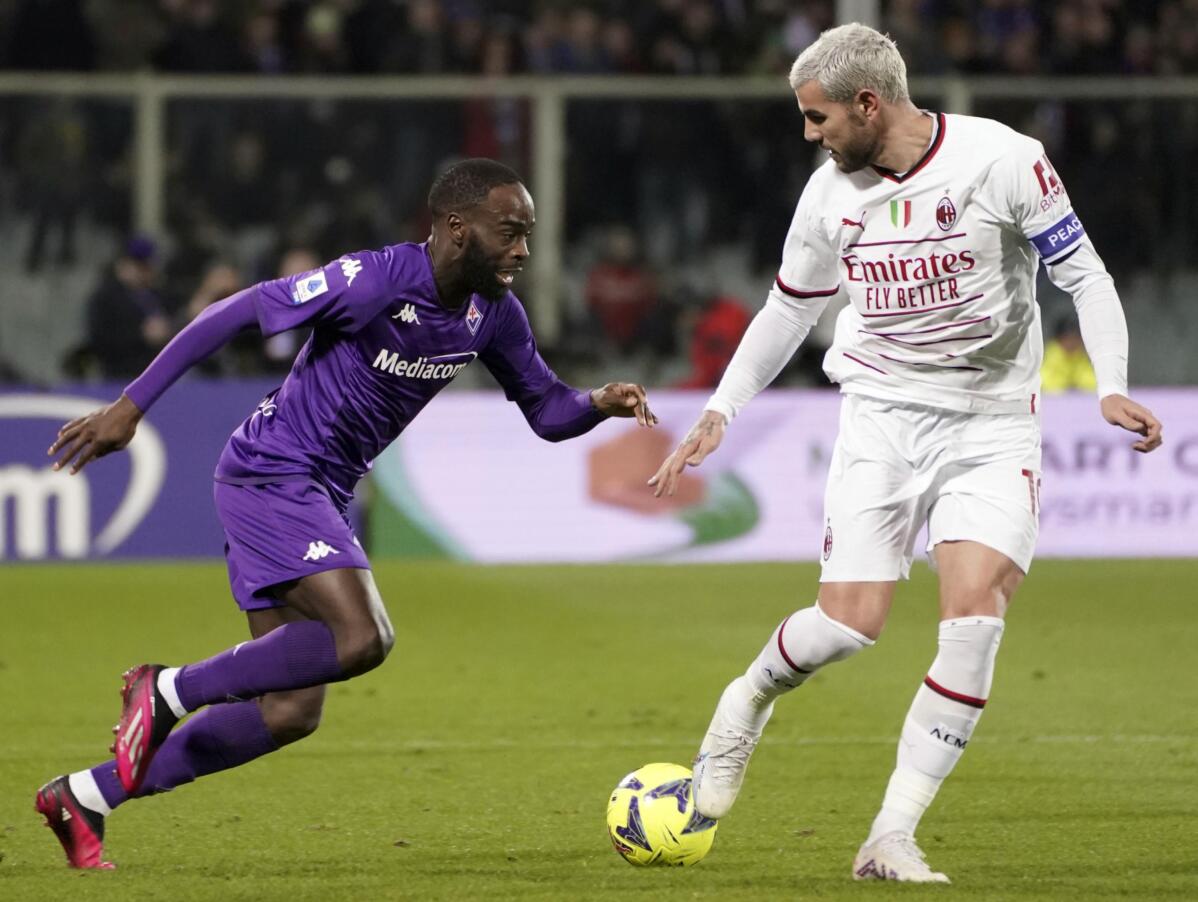 1 of 7

|
Fiorentina's Jonathan Ikone challenges AC Milan's Theo Hernandez, right, during the Serie A soccer match between Fiorentina and AC Milan at the Artemio Franchi stadium in Florence, Italy, Saturday, March 4, 2023. (Marco Bucco/LaPresse via AP)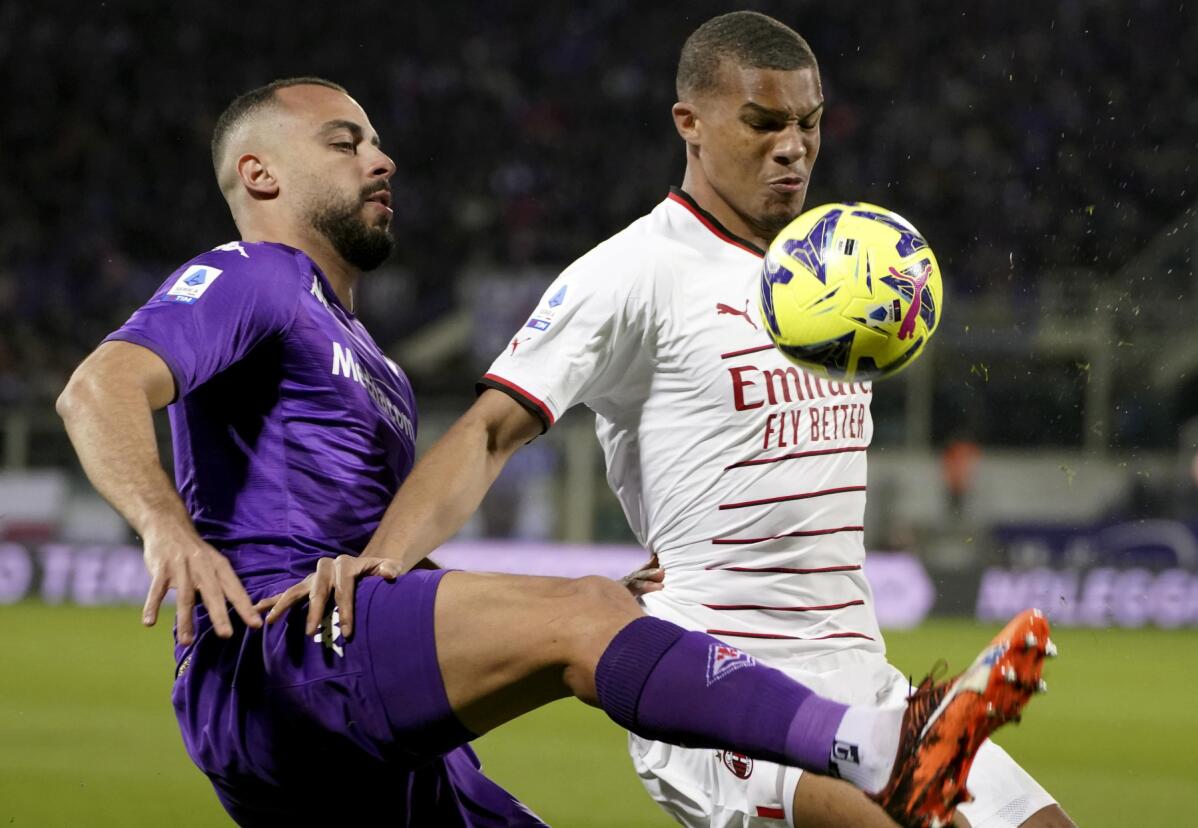 2 of 7

|
Fiorentina's Arthur Cabral, left, challenges AC Milan's Malick Thiaw during the Serie A soccer match between Fiorentina and AC Milan at the Artemio Franchi stadium in Florence, Italy, Saturday, March 4, 2023. (Marco Bucco/LaPresse via AP)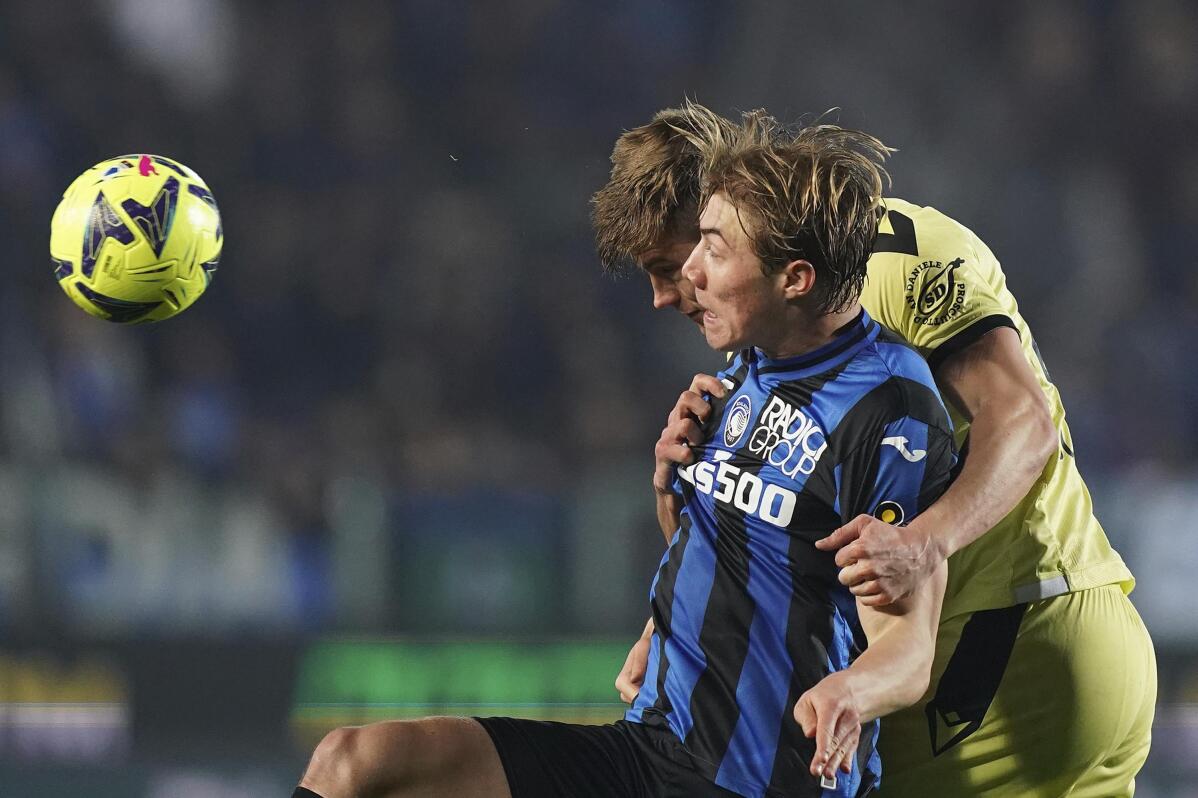 3 of 7

|
Atalanta's Rasmus Hojlund goes for the ball during the Serie A soccer match between Atalanta and Udinese at the Gewiss stadium in Bergamo, Italy, Saturday, March 4, 2023. (Spada/LaPresse via AP)
4 of 7

|
Atalanta's Merih Demiral, right, Ederson, left, and Udinese's Beto vie for the ball during the Serie A soccer match between Atalanta and Udinese at the Gewiss stadium in Bergamo, Italy, Saturday, March 4, 2023. (Spada/LaPresse via AP)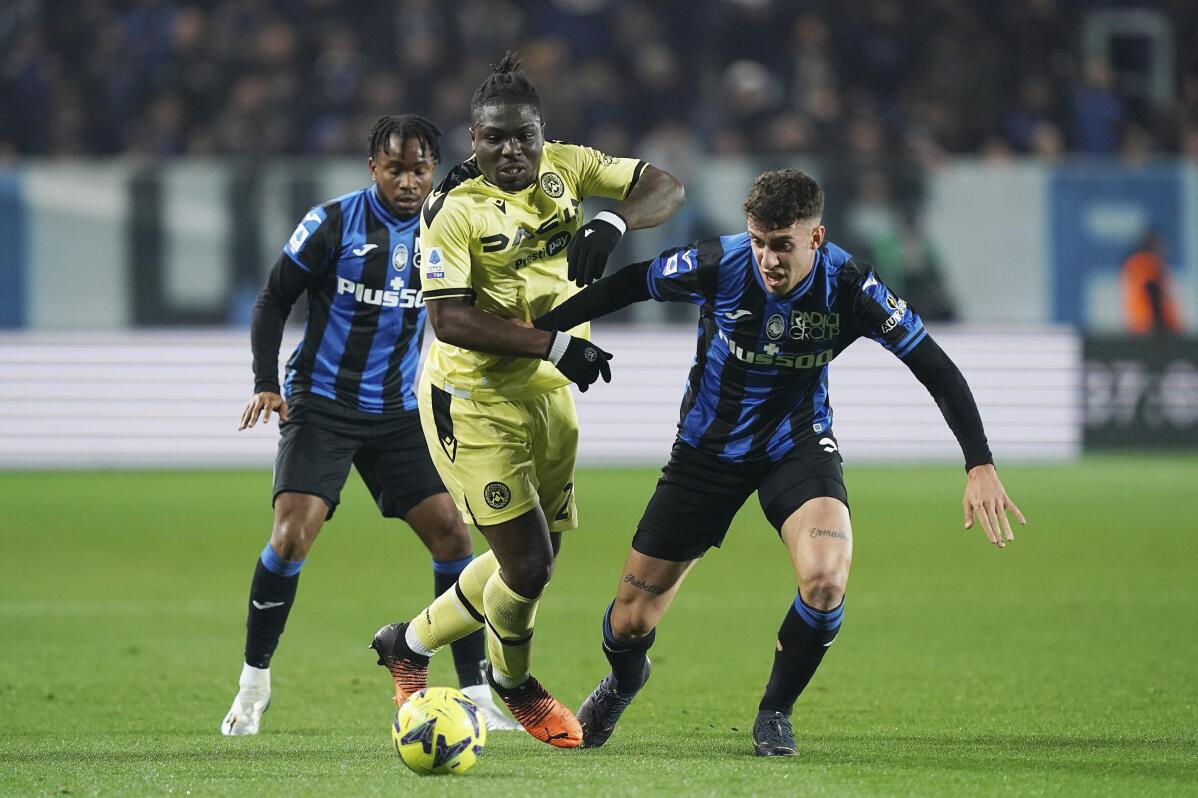 5 of 7

|
Atalanta's Matteo Ruggeri, right, and Udinese's Festy Ebosele vie for the ball during the Serie A soccer match between Atalanta and Udinese at the Gewiss stadium in Bergamo, Italy, Saturday, March 4, 2023. (Spada/LaPresse via AP)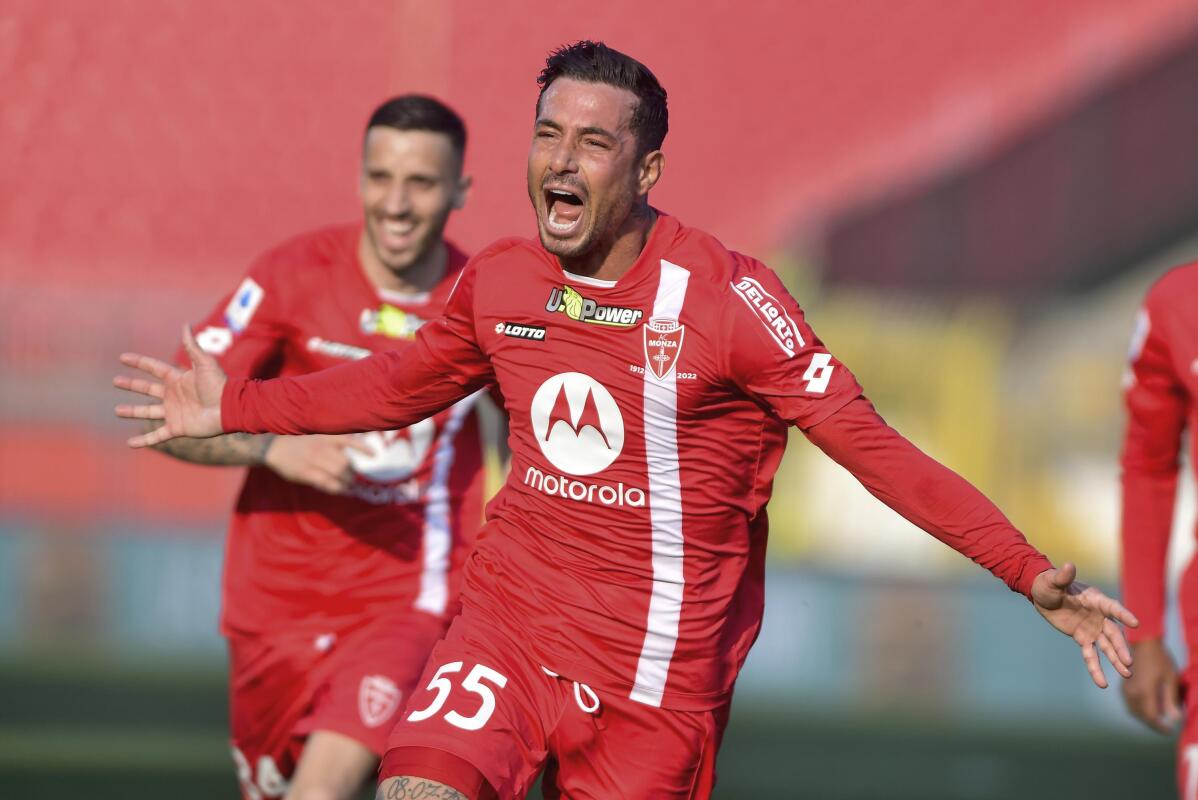 6 of 7

|
Monza's Armando Izzo celebrates scoring his side's second goal during the Serie A soccer match between Monza and Empoli at the Monza Brianteo stadium, Italy, Saturday, March 4, 2023. (Claudio Grassi/LaPresse via AP)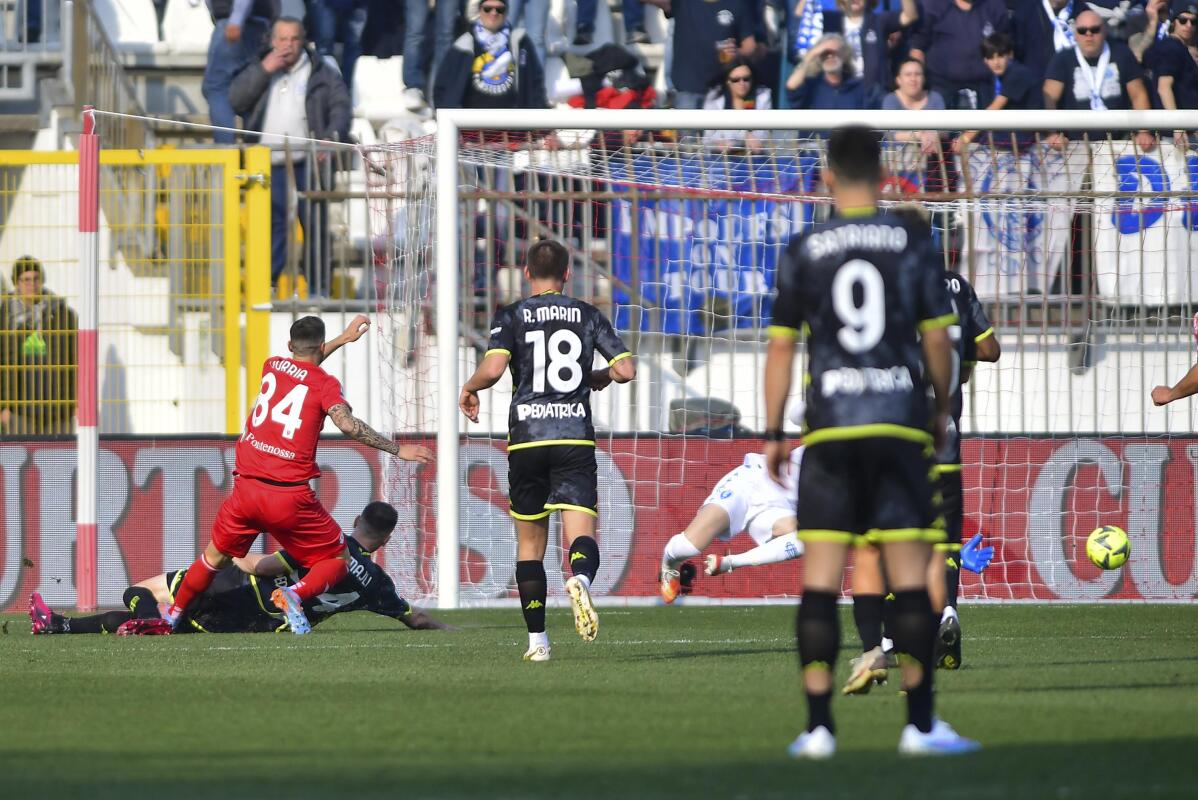 7 of 7

|
Monza's Patrick Ciurria, left, scores his side's opening gaol during the Serie A soccer match between Monza and Empoli at the Monza Brianteo stadium, Italy, Saturday, March 4, 2023. (Claudio Grassi/LaPresse via AP)
Luka Jović seals 2-1 Fiorentina win over Milan in Serie A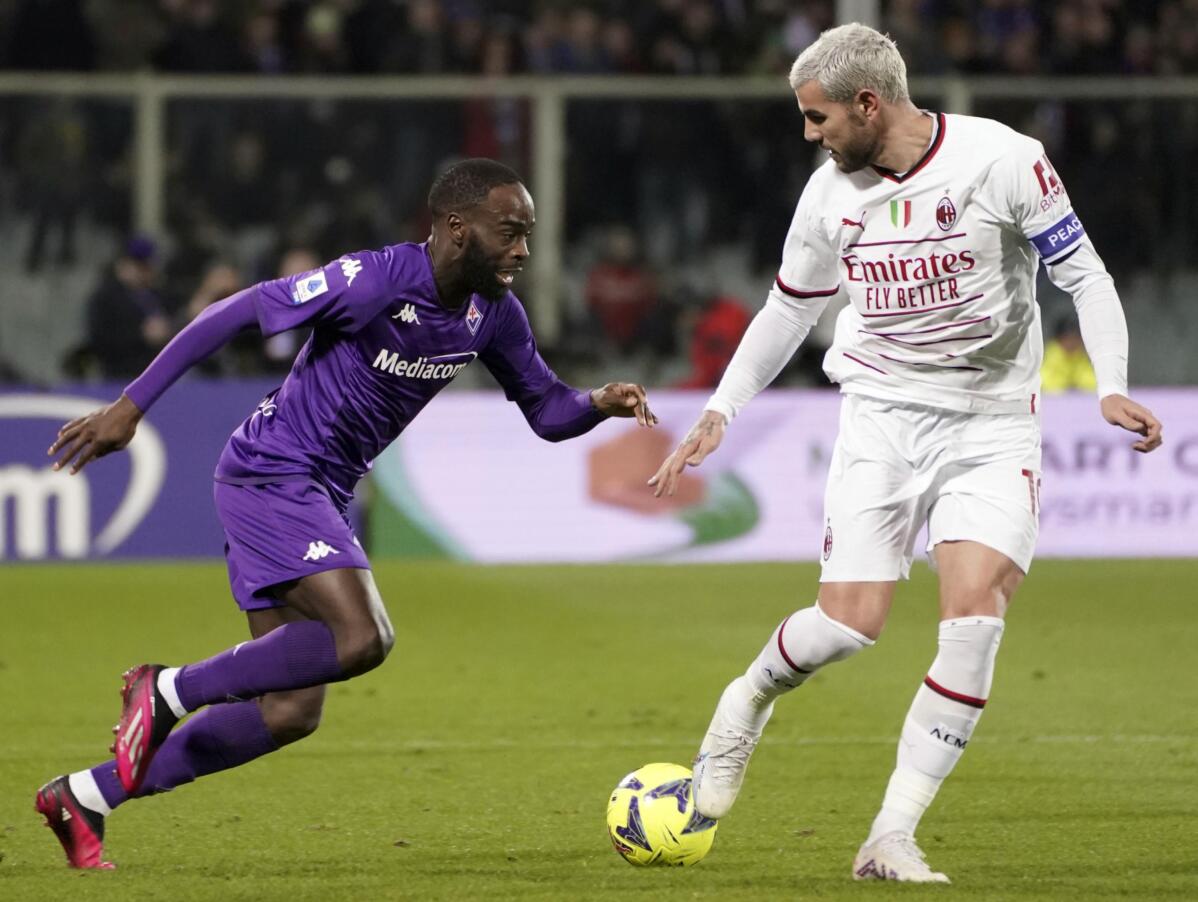 1 of 7

|
Fiorentina's Jonathan Ikone challenges AC Milan's Theo Hernandez, right, during the Serie A soccer match between Fiorentina and AC Milan at the Artemio Franchi stadium in Florence, Italy, Saturday, March 4, 2023. (Marco Bucco/LaPresse via AP)
1 of 7
Fiorentina's Jonathan Ikone challenges AC Milan's Theo Hernandez, right, during the Serie A soccer match between Fiorentina and AC Milan at the Artemio Franchi stadium in Florence, Italy, Saturday, March 4, 2023. (Marco Bucco/LaPresse via AP)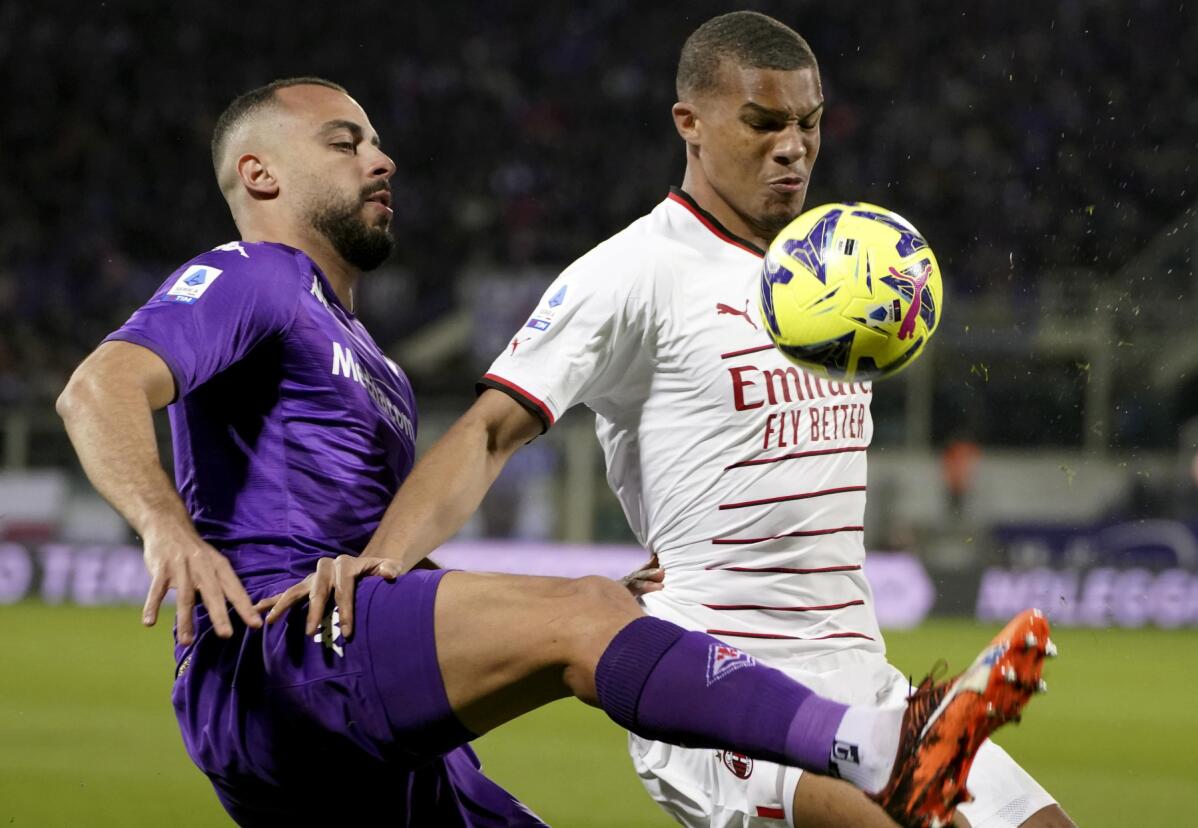 2 of 7

|
Fiorentina's Arthur Cabral, left, challenges AC Milan's Malick Thiaw during the Serie A soccer match between Fiorentina and AC Milan at the Artemio Franchi stadium in Florence, Italy, Saturday, March 4, 2023. (Marco Bucco/LaPresse via AP)
2 of 7
Fiorentina's Arthur Cabral, left, challenges AC Milan's Malick Thiaw during the Serie A soccer match between Fiorentina and AC Milan at the Artemio Franchi stadium in Florence, Italy, Saturday, March 4, 2023. (Marco Bucco/LaPresse via AP)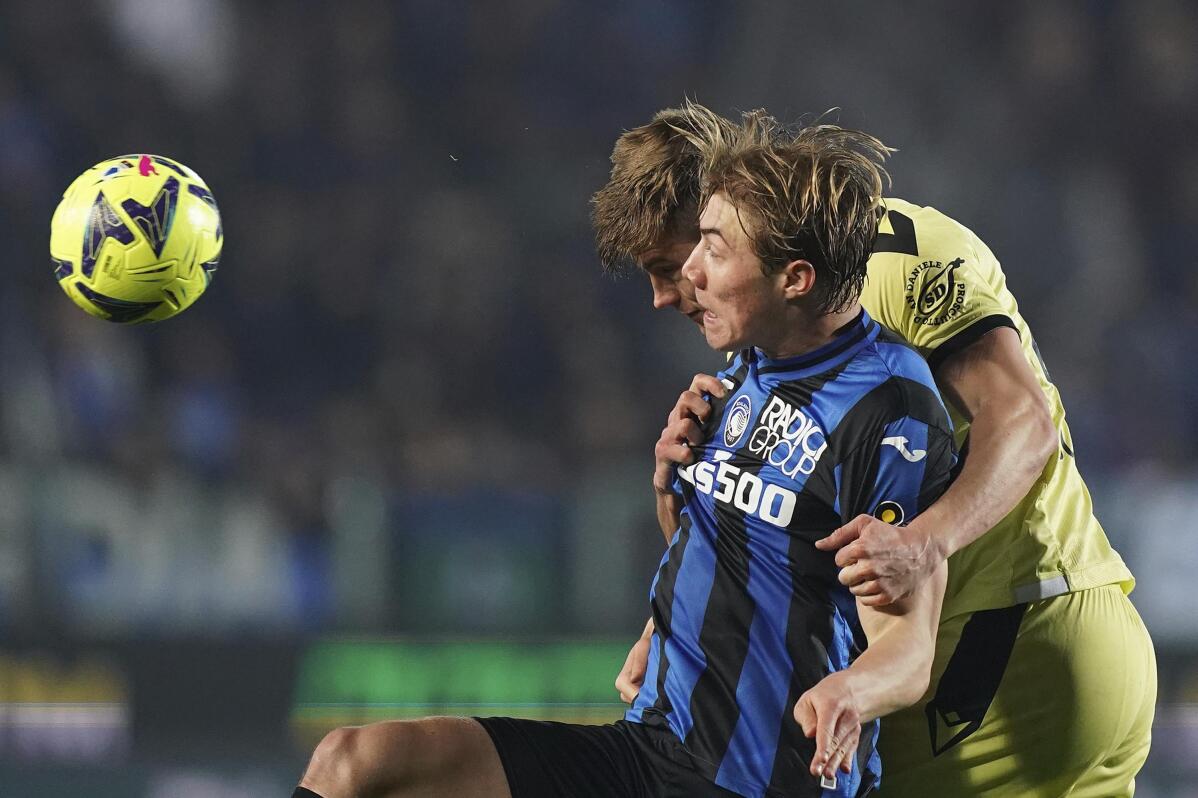 3 of 7

|
Atalanta's Rasmus Hojlund goes for the ball during the Serie A soccer match between Atalanta and Udinese at the Gewiss stadium in Bergamo, Italy, Saturday, March 4, 2023. (Spada/LaPresse via AP)
3 of 7
Atalanta's Rasmus Hojlund goes for the ball during the Serie A soccer match between Atalanta and Udinese at the Gewiss stadium in Bergamo, Italy, Saturday, March 4, 2023. (Spada/LaPresse via AP)
4 of 7

|
Atalanta's Merih Demiral, right, Ederson, left, and Udinese's Beto vie for the ball during the Serie A soccer match between Atalanta and Udinese at the Gewiss stadium in Bergamo, Italy, Saturday, March 4, 2023. (Spada/LaPresse via AP)
4 of 7
Atalanta's Merih Demiral, right, Ederson, left, and Udinese's Beto vie for the ball during the Serie A soccer match between Atalanta and Udinese at the Gewiss stadium in Bergamo, Italy, Saturday, March 4, 2023. (Spada/LaPresse via AP)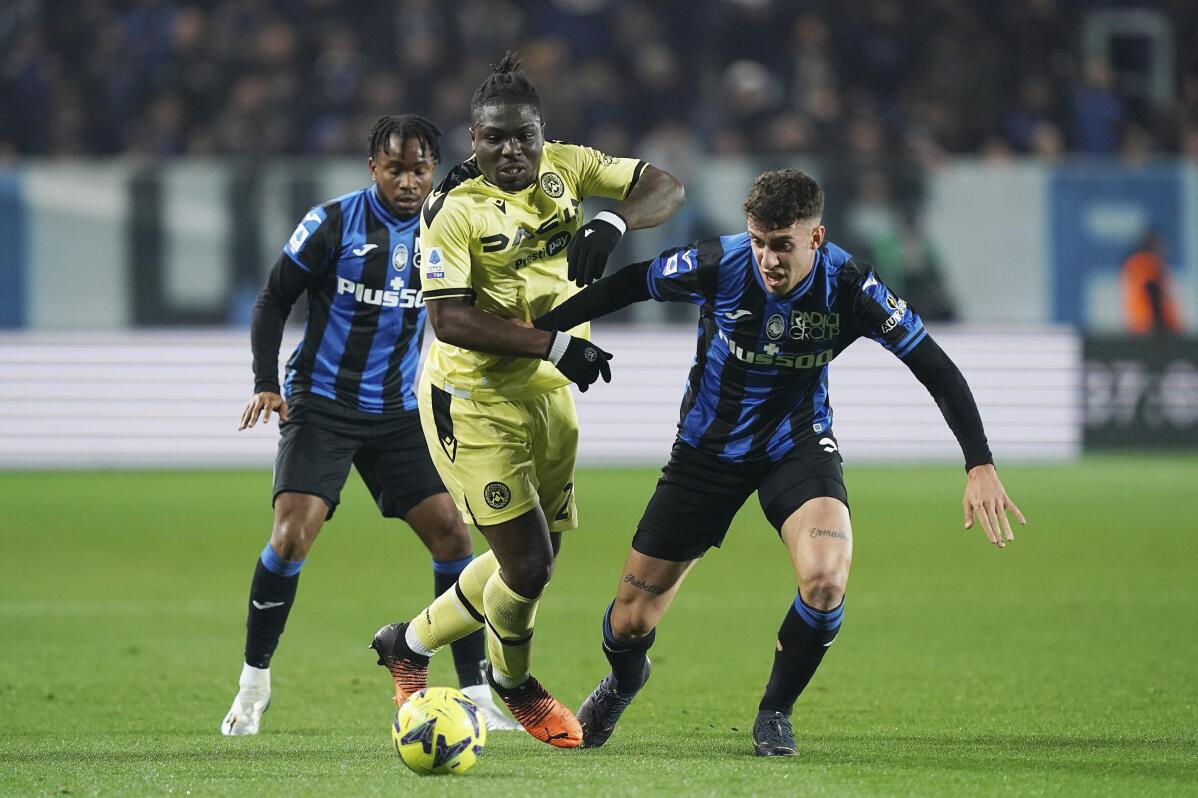 5 of 7

|
Atalanta's Matteo Ruggeri, right, and Udinese's Festy Ebosele vie for the ball during the Serie A soccer match between Atalanta and Udinese at the Gewiss stadium in Bergamo, Italy, Saturday, March 4, 2023. (Spada/LaPresse via AP)
5 of 7
Atalanta's Matteo Ruggeri, right, and Udinese's Festy Ebosele vie for the ball during the Serie A soccer match between Atalanta and Udinese at the Gewiss stadium in Bergamo, Italy, Saturday, March 4, 2023. (Spada/LaPresse via AP)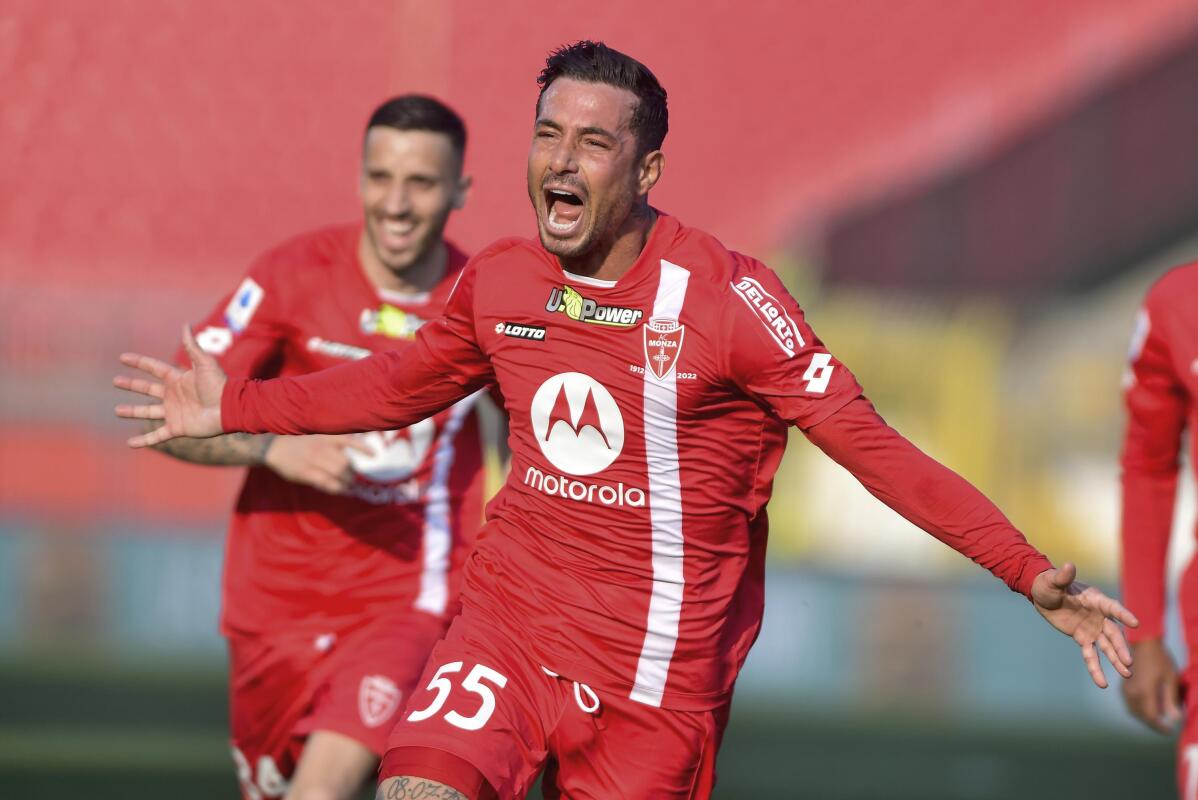 6 of 7

|
Monza's Armando Izzo celebrates scoring his side's second goal during the Serie A soccer match between Monza and Empoli at the Monza Brianteo stadium, Italy, Saturday, March 4, 2023. (Claudio Grassi/LaPresse via AP)
6 of 7
Monza's Armando Izzo celebrates scoring his side's second goal during the Serie A soccer match between Monza and Empoli at the Monza Brianteo stadium, Italy, Saturday, March 4, 2023. (Claudio Grassi/LaPresse via AP)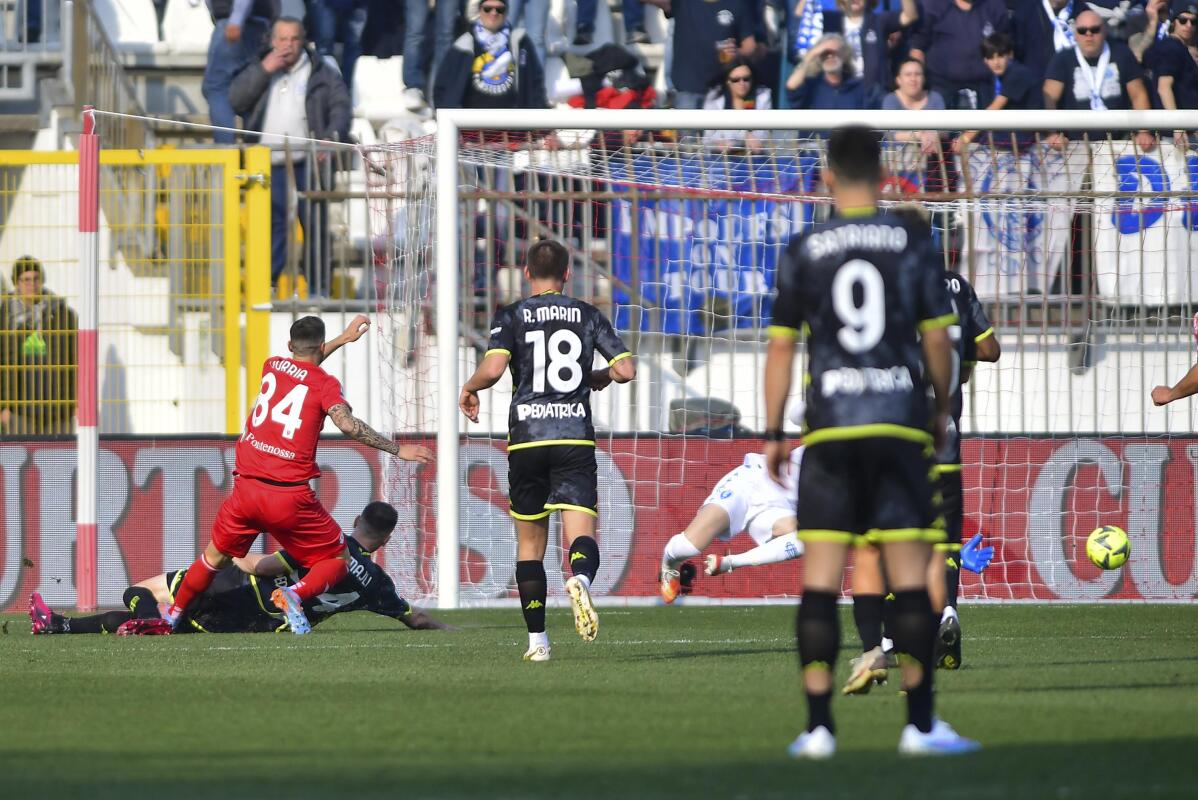 7 of 7

|
Monza's Patrick Ciurria, left, scores his side's opening gaol during the Serie A soccer match between Monza and Empoli at the Monza Brianteo stadium, Italy, Saturday, March 4, 2023. (Claudio Grassi/LaPresse via AP)
7 of 7
Monza's Patrick Ciurria, left, scores his side's opening gaol during the Serie A soccer match between Monza and Empoli at the Monza Brianteo stadium, Italy, Saturday, March 4, 2023. (Claudio Grassi/LaPresse via AP)
MILAN (AP) — Fiorentina substitute Luka Jović scored late to seal a 2-1 win over AC Milan in Serie A, ending the defending champion's four-game winning run on Saturday.
Nicolás González, who broke the deadlock with a penalty in the 49th minute, floated in a perfect cross for the in-flying Jović to head the winner in the 87th.
Milan left back Théo Hernandez rifled the visitors' consolation inside the left post in injury time.
The penalty was awarded after Jonathan Ikoné surged past Fikayo Tomori and was brought down by the Milan defender.
Milan pushed hard for a response and coach Stefano Pioli made three changes at once in the 66th, sending on Zlatan Ibrahimovic for the Swedish star's second league appearance since his operation on his left knee last May.
It was another substitute who grabbed the plaudits.
Milan visits Tottenham on Wednesday with a 1-0 lead from the first leg of their Champions League round-of-16 tie.
ANOTHER ATALANTA BLOW
Atalanta hopes of qualifying for the Champions League took another blow after drawing with Udinese at home 0-0.
Atalanta has won only one of its past five matches in all competitions — losing the other four — and its latest disappointment left it sixth in Serie A, five points behind fourth-placed Milan.
Atalanta faces runaway league leader Napoli next weekend and will almost certainly be without midfielder Teun Koopmeiners after he went off shortly before halftime with what looked like a hamstring injury.
The home side improved after the break and pressured Udinese but there was a dearth of clear goal-scoring opportunities.
However, Udinese goalkeeper Marco Silvestri was made to pull off a stunning stop in the final minute to deny Rafael Tolói.
FIRST WIN
Monza recorded its first home win of the year by 2-1 over Empoli. Monza moved to 10th, four points ahead of Empoli.
___
More AP soccer: https://apnews.com/hub/soccer and https://twitter.com/AP_Sports