Quakes cut power, topple homes on Indonesia island; 3 dead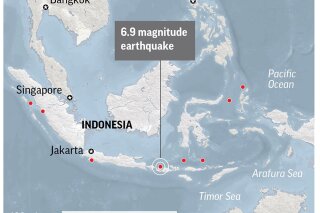 SEMBALUN, Indonesia (AP) — Multiple strong earthquakes cut power across the Indonesian island of Lombok, toppled buildings and killed at least three people as the tourist hotspot was trying to recover from a temblor earlier this month that killed hundreds of people.
A shallow magnitude 6.9 quake that hit about 10 p.m. was one of several powerful earthquakes Sunday in the northeast of the island that also caused landslides. The nighttime quake was followed by strong aftershocks.
Two people died when their homes collapsed on Lombok and neighboring Sumbawa island, National Disaster Mitigation Agency spokesman Sutopo Purwo Nugroho tweeted Monday morning. Another person died earlier Sunday during a magnitude 6.3 quake.
The swarm of quakes caused panic in Sembalun subdistrict on Lombok in the shadow of Mount Rinjani, but many people were already staying in tents following the deadly jolt in early August and its hundreds of aftershocks. On Sumbawa, a neighborhood was engulfed by a fire that started in a collapsed house.
"People panicked and scattered," Nugroho said. "Some people are hysterical because they feel earthquake aftershocks that are harder than before. They heard a roar that probably came from landslides in the hills and Mount Rinjani."
Many homes were damaged or destroyed, he said.
Dwikorita Karnawatim, who heads Indonesia's Meteorology and Geophysics Agency, said buildings that haven't collapsed so far have suffered repeated stress, and authorities have urged people to avoid both the mountain's slopes and weakened buildings.
Sunday night's tremor occurred on a different fault and was not an aftershock of the magnitude 7.0 quake on Aug. 5 that killed 460 people, damaged tens of thousands of homes and displaced several hundred thousand people.
The quake lasting five to 10 seconds also was felt in the neighboring island of Bali and as far away as East Java and Makassar in Sulawesi.
Quakes earlier Sunday caused landslides on Rinjani, an active volcano. Video shot by the Indonesian Red Cross showed huge clouds of dust billowing from the mountain's slopes.
Rinjani has been closed to visitors following a July earthquake that killed 16 people, triggered landslides and stranded hundreds of tourists on the mountain.
Indonesia, a sprawling archipelago that straddles the Pacific "Ring of Fire," is prone to earthquakes and volcanic eruptions.