Adnan Syed asks court to reconsider backing victim's family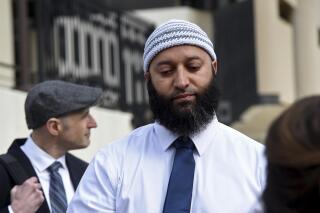 BALTIMORE (AP) — Attorneys for Adnan Syed filed a motion Wednesday asking a Maryland appellate court to reconsider its recent decision to reinstate his decadesold murder conviction and life sentence, a ruling that upheld arguments from the victim's family claiming a lower court violated their rights.
Syed, whose protracted legal odyssey gained international attention from the hit podcast "Serial," regained his freedom last year after Baltimore prosecutors moved to vacate his conviction, saying they reviewed the case and found alternative suspects and unreliable evidence used at trial.
But the victim's family said they received insufficient notice to attend the September vacatur hearing in person, which violated their right to be "treated with dignity and respect," and the Maryland Appellate Court last month agreed. In a 2-1 decision that was stayed for 60 days, the judges reinstated Syed's conviction and ordered a redo of the hearing in question.
Wednesday's motion asks the judges to reconsider the ruling, which prompted celebration within the crime victims rights movement and criticism from criminal justice reform advocates who warned of a potential chilling effect on existing efforts to fight wrongful convictions and excessive sentences.
Syed's attorneys claim the appellate judges broke from the court's own precedent by failing to require the victim's family to prove the outcome of the September hearing would have been different if they had received more notice and attended in person. The motion also questions whether the court intends to award crime victims and their representatives "special treatment not even available to criminal defendants."
Syed was 17 when his high school ex-girlfriend and classmate, Hae Min Lee, was found strangled to death and buried in a makeshift grave in 1999. He was arrested weeks later and ultimately convicted of murder. He received life in prison, plus 30 years.
Despite the ongoing litigation, Syed remains free for the time being. His many supporters have expressed alarm at the possibility he could be taken back into custody, depending on how the case plays out.
Maryland law says victims should receive prior notice of conviction vacatur hearings, and that right was violated in the case of Lee's brother, the appellate court ruled last month.
Young Lee was notified on a Friday afternoon that the hearing would take place the following Monday, which didn't give him enough time to make travel arrangements from his home in California. However, he attended the hearing via video conference and spoke during the proceeding about how the case has impacted his family.
Syed's attorneys have argued Lee's ability to participate remotely satisfied the crime victims' rights requirements. In the motion for reconsideration, they also argue Lee should have to prove that his in-person attendance would have changed the hearing's outcome; otherwise, the lower court's error should be considered "harmless." They quoted an earlier ruling by the Appellate Court of Maryland that says "it is the policy of this Court not to reverse for harmless error."
David Sanford, an attorney for the Lee family, said he believes the judges will not waver in their commitment to victims' rights.
"The Maryland Constitution and the collective wisdom of the Maryland State Legislature recognize victims' rights as being an essential part of the legal fabric of Maryland," he said in a statement Wednesday. "We have confidence that the Appellate Court will uphold those rights again."
While the appellate judges found Lee's rights were violated because of the timeline, they also found he had no explicit "right to be heard" during the hearing. His attorneys had requested the opportunity to present evidence and interrogate witnesses, which the judges said would "result in a huge shift in practice."
In a dissenting opinion that largely refuted findings of the two majority judges, Judge Stuart Berger said Maryland legislators should develop more specific victims' rights requirements — including how much notice they should receive for conviction vacatur hearings — instead of leaving it to the courts to interpret a patchwork of existing statutes that don't directly address the issue.