Adrift in the Atlantic, a boat of death and lost dreams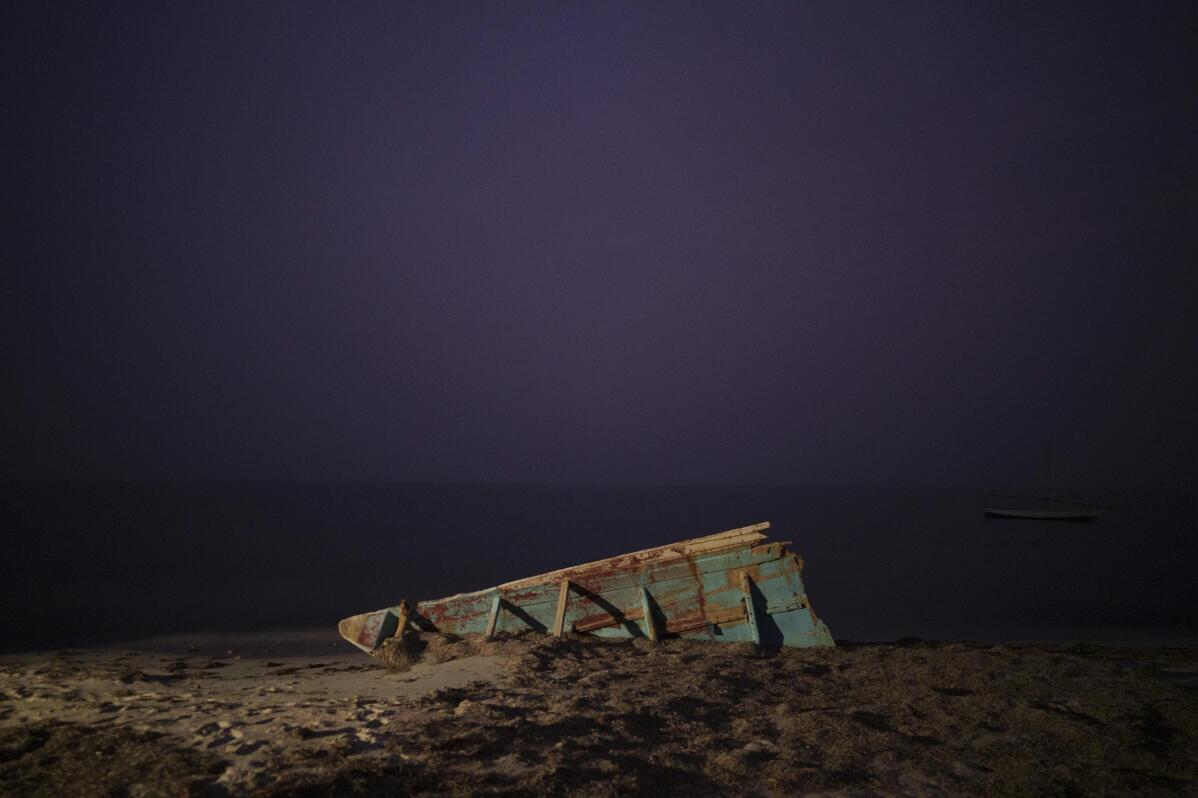 1 of 40

|
The wreck of a traditional Mauritanian fishing boat, known as a pirogue, also used by migrants to reach Spain's Canary Islands, sits on a beach near Nouadhibou, Mauritania, Thursday, Dec. 2, 2021. In 2021, at least seven boats appearing to be from Northwest Africa washed up in the Caribbean and in Brazil. All carried dead bodies. (AP Photo/Felipe Dana)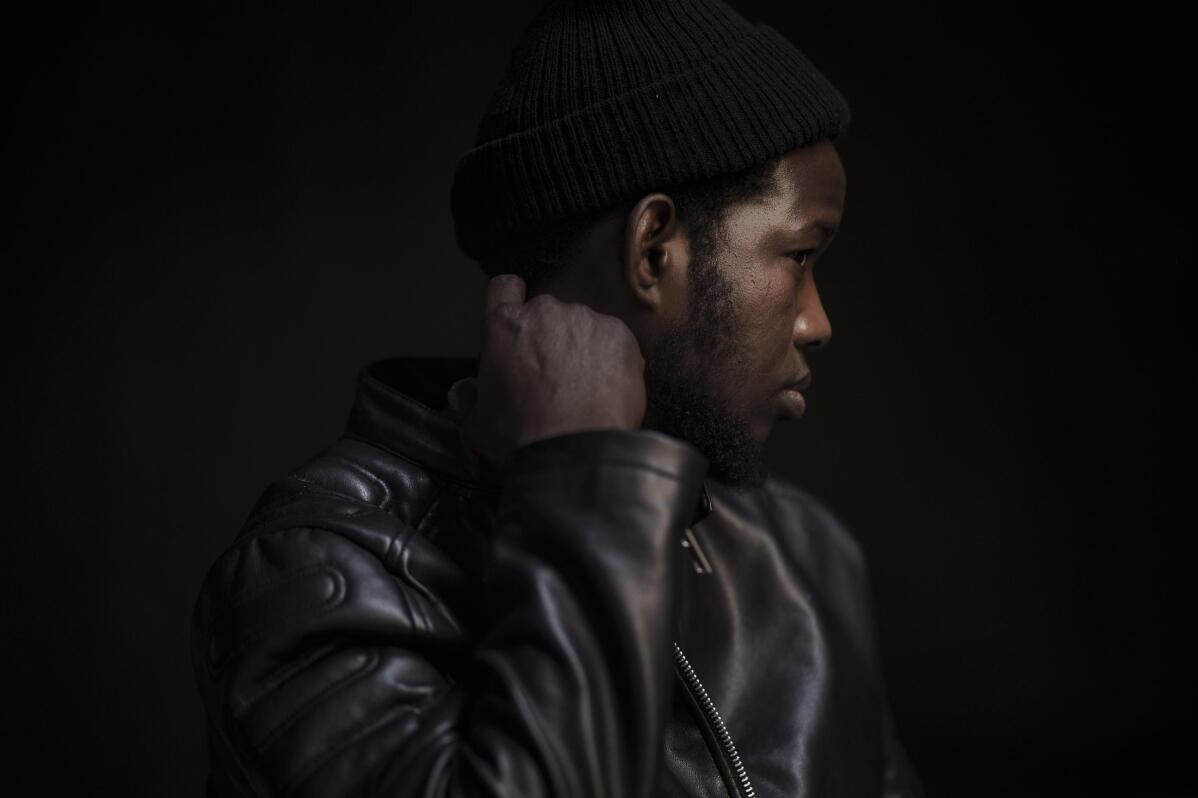 2 of 40

|
Moussa Sako, an asylum-seeker from Mali who survived 22 days aboard a Mauritanian boat drifting in the Atlantic Ocean, sits for an interview in Guadalajara, Spain, Sunday, Nov. 14, 2021. Sako was rescued by the Spanish Air Force on April 26, 2021. His boat was spotted by chance more than 310 miles (500 km) from the Spanish island of El Hierro — "in the middle of nowhere," as one of the rescuers described it. They had set off 22 days earlier from Nouakchott, the capital of Mauritania. Only three of 63 people who boarded survived. (AP Photo/Felipe Dana)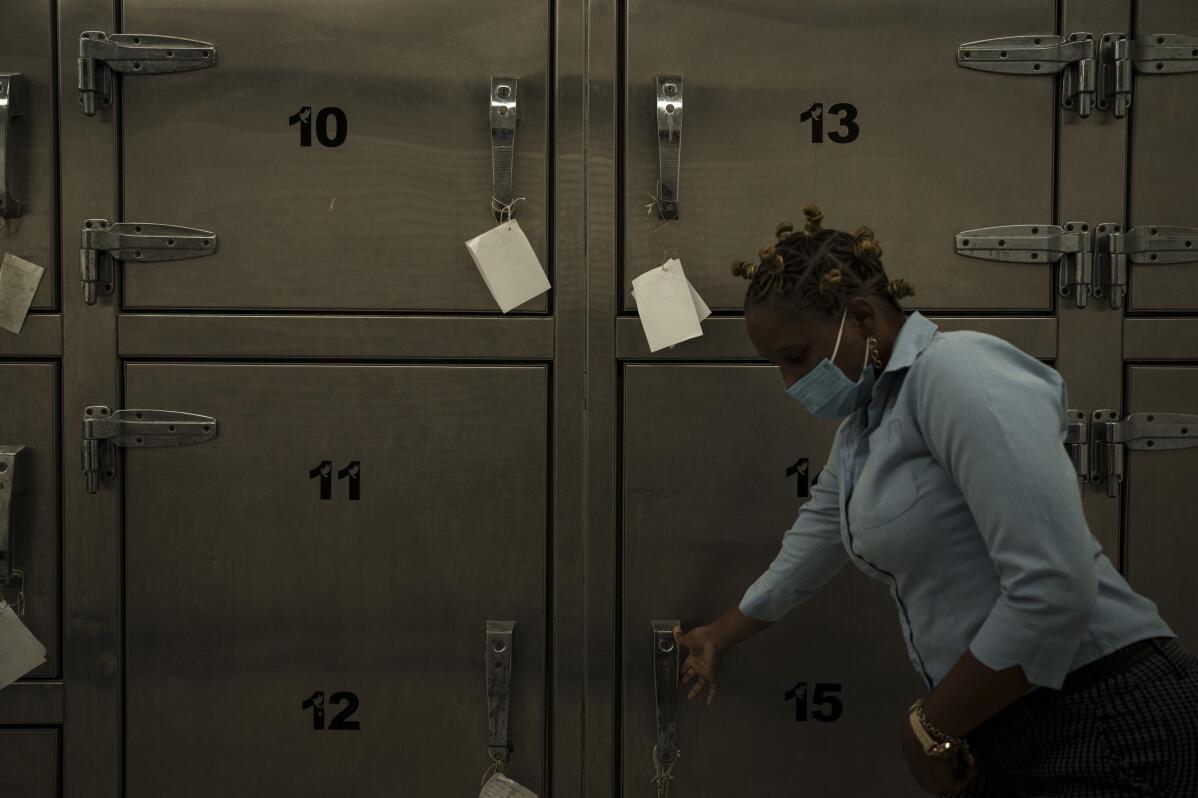 3 of 40

|
A mortuary technician opens the door of a refrigerator used to store the remains of migrants recovered from a Mauritanian boat that appeared drifting near the island of Tobago, in Scarborough, Trinidad and Tobago, Tuesday, Jan. 25, 2022. (AP Photo/Felipe Dana)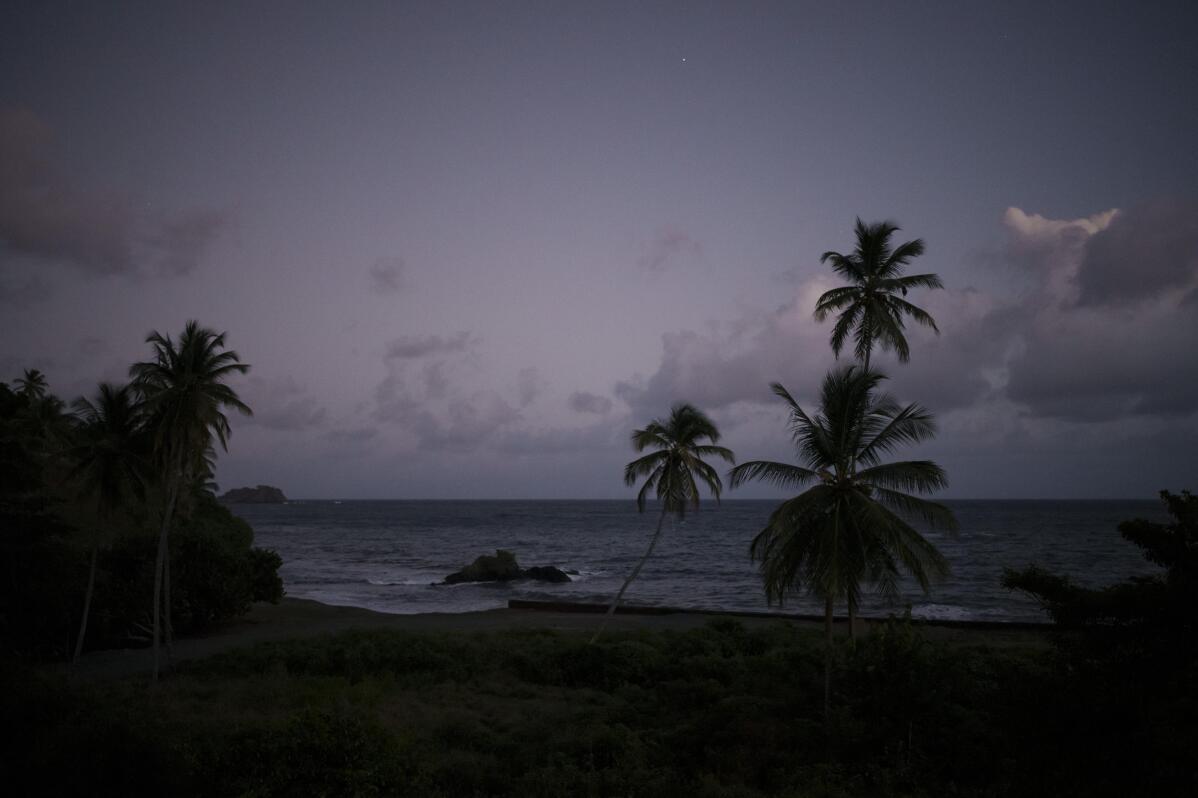 4 of 40

|
Palm trees line the beach on the Caribbean island of Tobago, Trinidad and Tobago, Friday, Jan. 21, 2022. (AP Photo/Felipe Dana)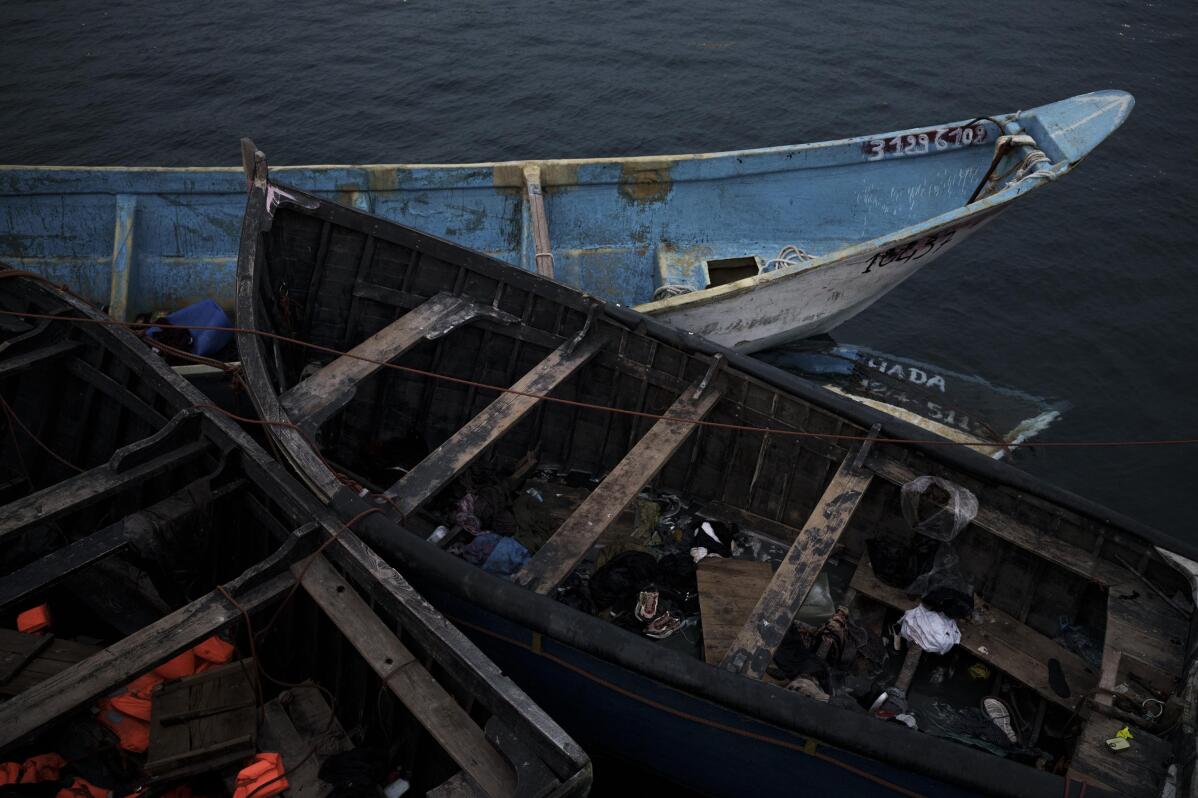 5 of 40

|
Empty boats used by migrants are moored at the port of Arguineguin in the Canary island of Gran Canaria, Spain, Sunday, Nov. 21, 2021. (AP Photo/Felipe Dana)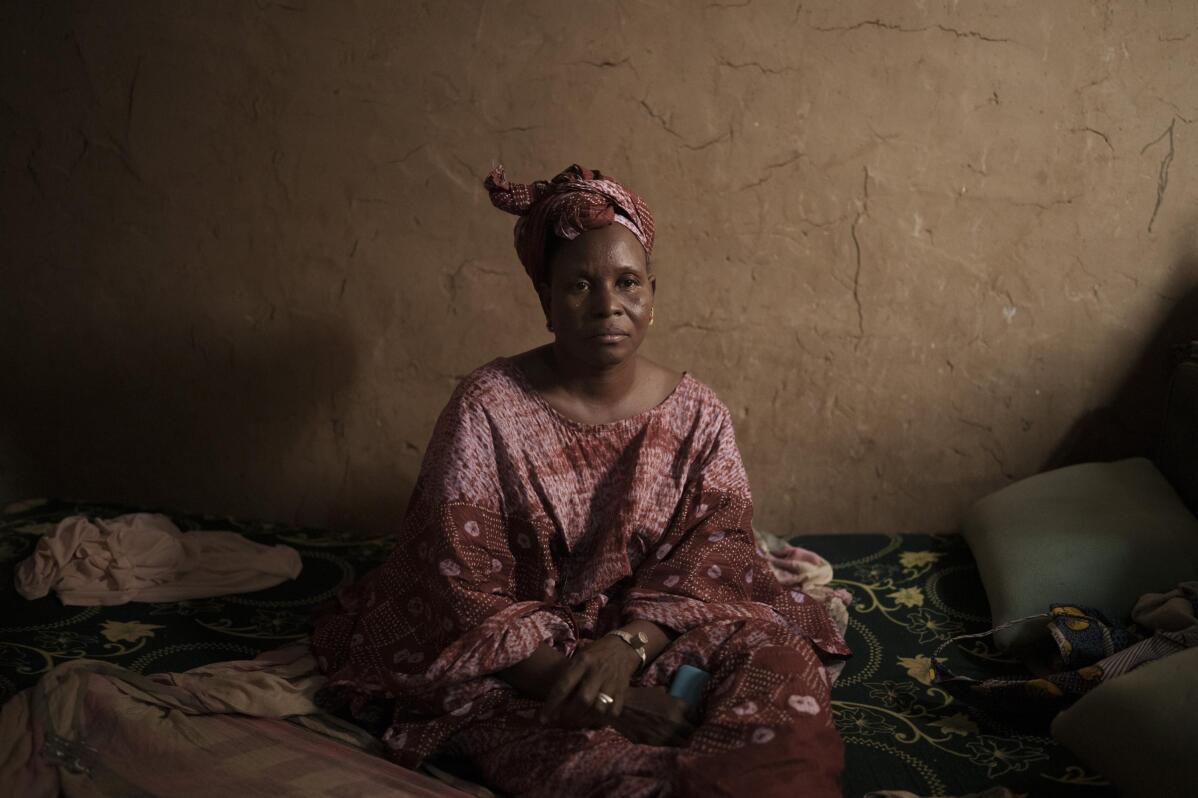 6 of 40

|
Adama Sarre, whose son, Cheikh Dioum, went missing as he tried to reach Spain's Canary Islands by boat, sits during an interview in her room in Selibaby, Mauritania, Monday, Dec. 6, 2021. An AP investigation has found that Cheikh Dioum was among 43 people to have boarded the boat that was found in Tobago on May 28, 2021, more than four months after its departure from Mauritania. (AP Photo/Felipe Dana)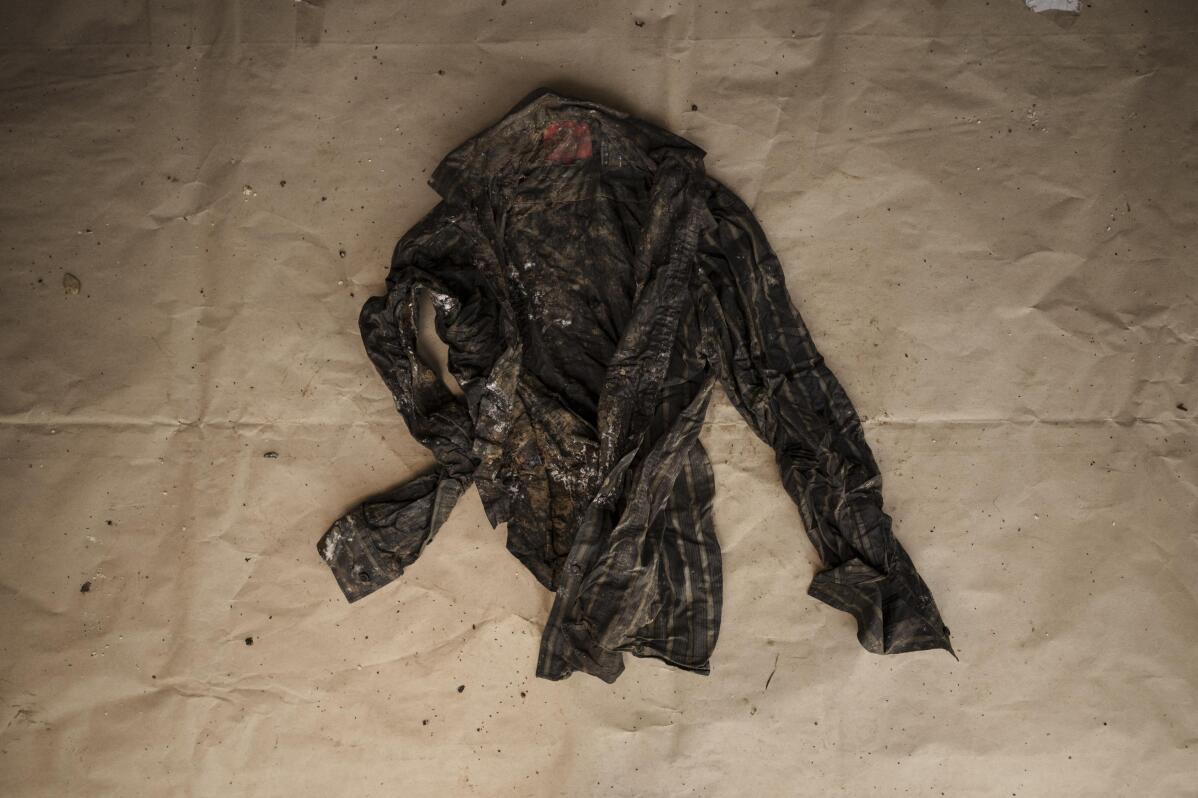 7 of 40

|
A button-down shirt found on a deceased migrant, whose remains were recovered from a Mauritanian boat on May 28, 2021, is laid out at the Scarborough police station on the island of Tobago, Trinidad and Tobago, Friday, Jan. 21, 2022. May Sow, in France, recognized the black striped button-down shirt. She went back to photos of her nephew, Alassane Sow, from shortly before he disappeared. There it was — the same black striped shirt. He wore it on special occasions. (AP Photo/Felipe Dana)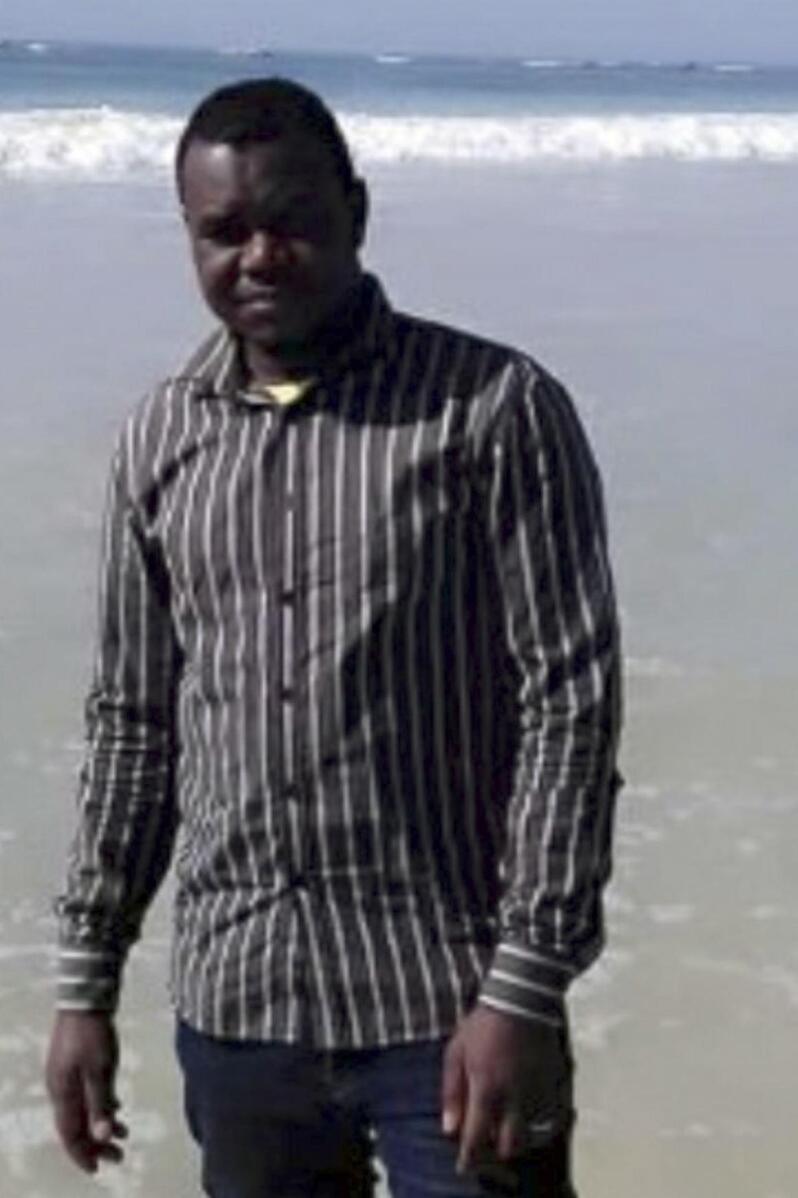 8 of 40

|
This undated photo provided by his family shows Alassane Sow on the beach in Nouakchott, Mauritania. Sow went missing on the night of Jan. 12, 2021, after boarding a boat from Mauritania in an attempt to reach Europe's Canary Islands. His body was found more than four months later near Trinidad and Tobago, after his boat drifted across the Atlantic. (Family photo via AP)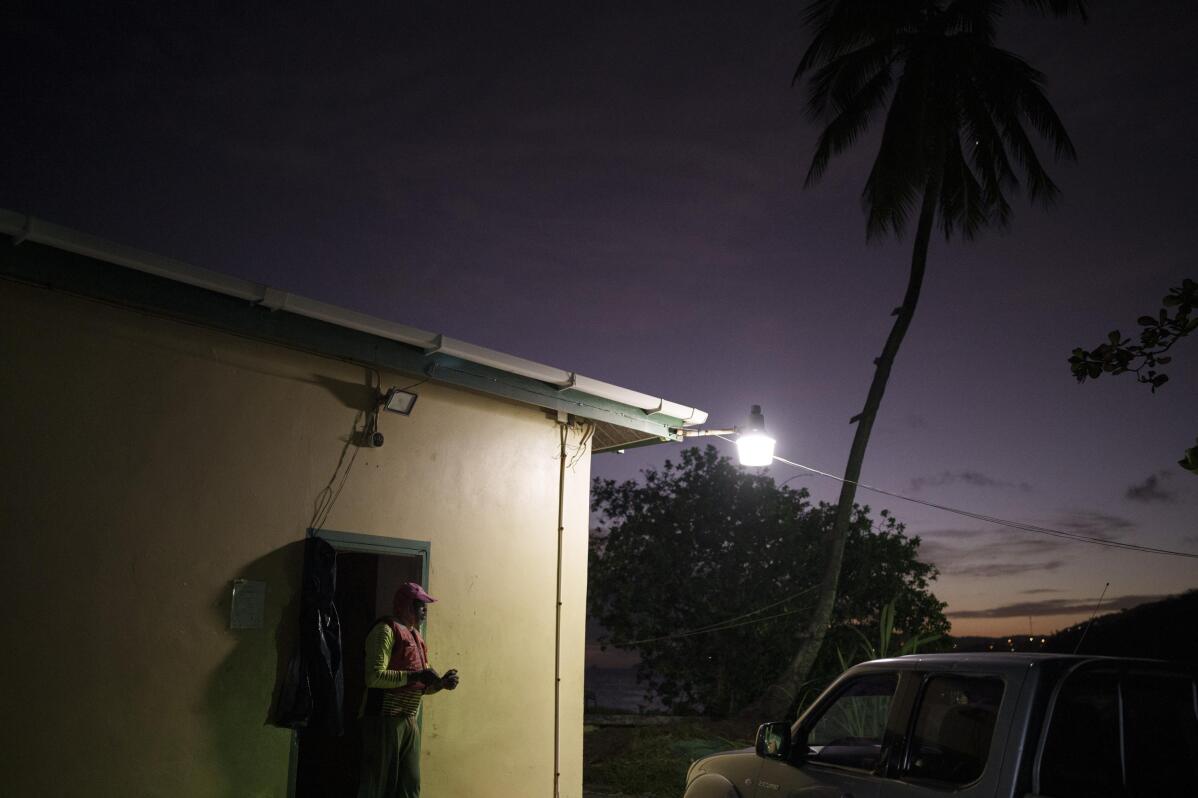 9 of 40

|
Lance Biggart, a local fisherman, stands after a day of work in the village of Belle Garden on the Caribbean island of Tobago, Trinidad and Tobago, Thursday, Jan. 20, 2022. Biggart and a colleague towed a Mauritanian boat back to shore after it was found on May 28, 2021. Biggart remembers being puzzled by how the boat could have survived Atlantic swells. "A wave came, and the boat rocked so, so badly," he recalls. (AP Photo/Felipe Dana)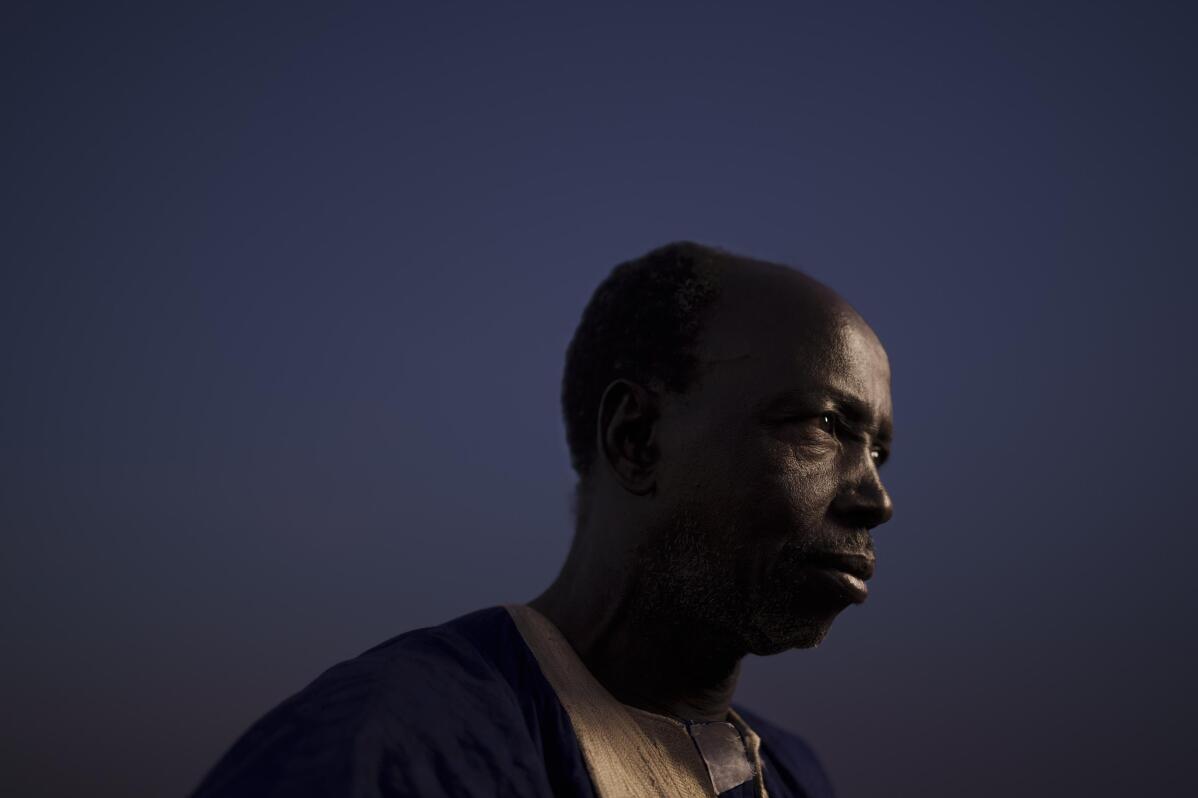 10 of 40

|
Oumar Koume, whose son Djibi Koume went missing as he tried to reach Spain's Canary Islands by boat, poses for a portrait in the village of Moudji, near Selibaby, Mauritania, Tuesday, Dec. 7, 2021. An AP investigation has found that the younger Koume was among 43 people to have boarded the boat that was found in Tobago on May 28, 2021 more than four months after its departure from Mauritania. (AP Photo/Felipe Dana)
11 of 40

|
Fishermen returning from the ocean, unload their catch at the port of Nouadhibou, Mauritania, Saturday, Nov. 27, 2021. (AP Photo/Felipe Dana)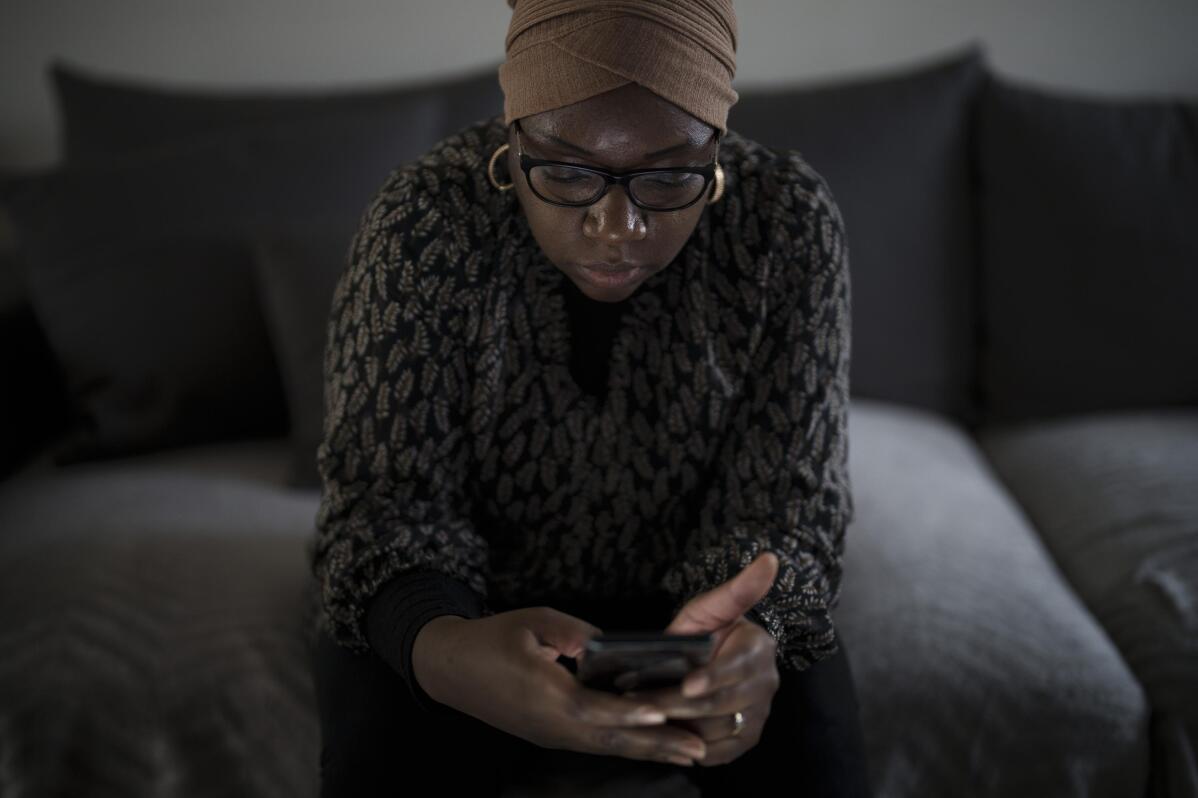 12 of 40

|
May Sow, whose nephew, Alassane Sow, went missing after boarding a boat from Mauritania in an attempt to reach Europe, looks at her phone at her home in Orleans, France, Tuesday, Nov. 22, 2022. On Oct. 4, 2022, she received DNA results confirming Alassane's body was among those recovered on a boat that was found in the Caribbean. "I regret to inform that the DNA sample result is a positive match," an e-mail "At least, for my nephew, we have proof that it is him," she said. "We can pray for him and believe that he is in a good place." (AP Photo/Felipe Dana)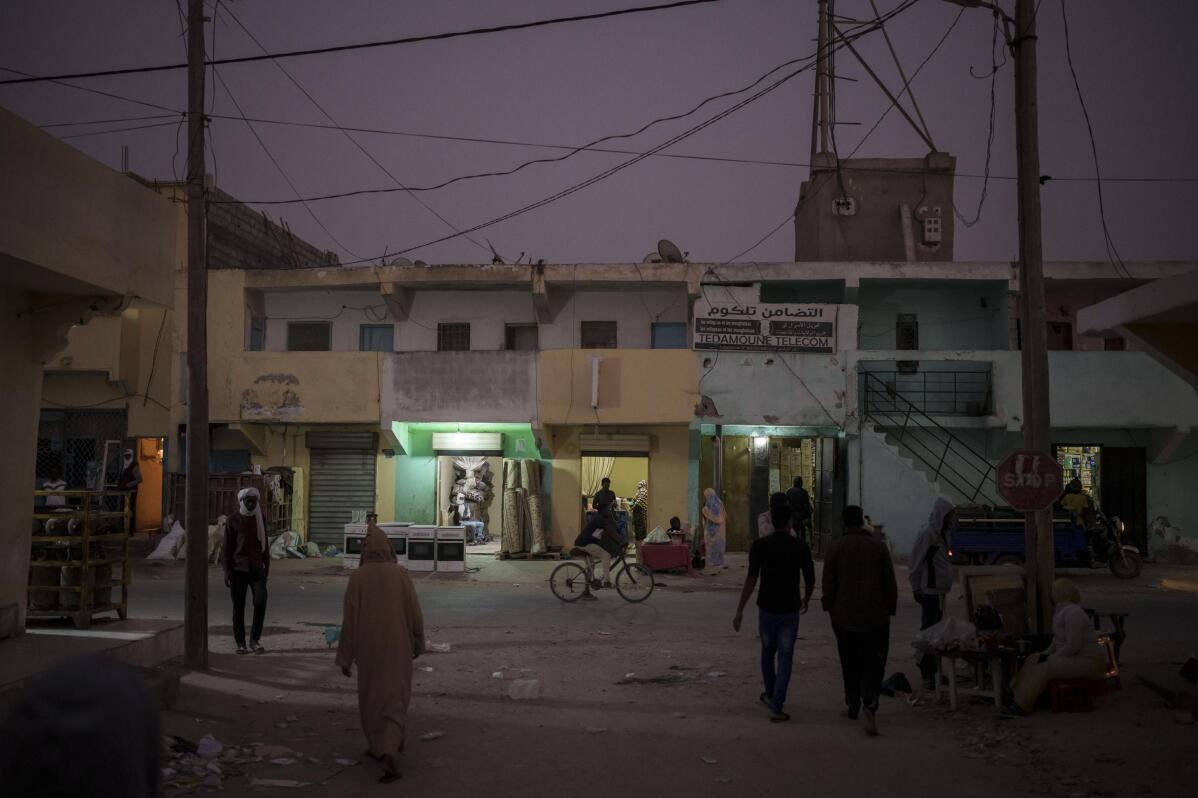 13 of 40

|
People walk in the streets at dusk in Nouadhibou, Mauritania, Tuesday, Nov. 30, 2021. (AP Photo/Felipe Dana)
14 of 40

|
Fishermen chat as the sun sets in the village of Belle Garden on the island of Tobago, Trinidad and Tobago, Friday, Jan. 21, 2022. (AP Photo/Felipe Dana)
15 of 40

|
A rainbow is seen in the sky above the village of Belle Garden where the Mauritania boat remained parked for months after it was found drifting near Tobago, in Trinidad and Tobago, Wednesday, Jan. 19, 2022. (AP Photo/Felipe Dana)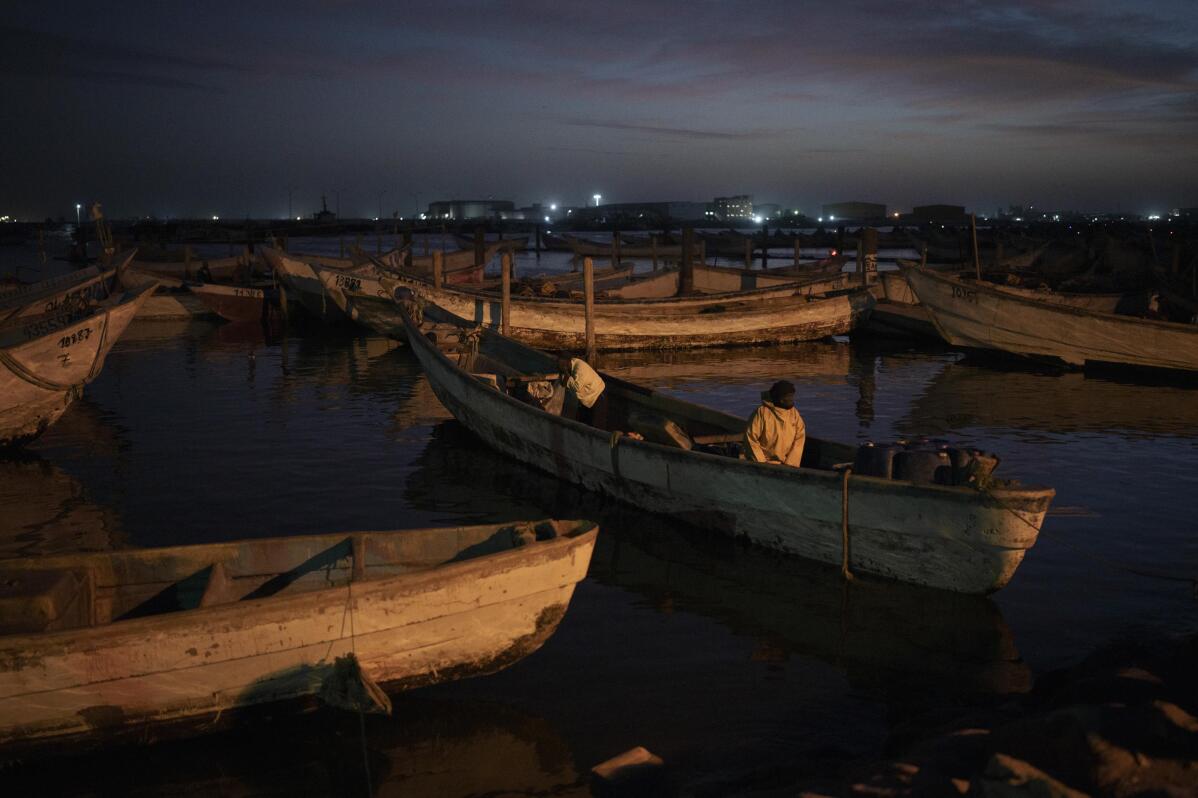 16 of 40

|
Fishermen aboard a traditional Mauritanian fishing boat, or pirogue, return after a day of work to the port of Nouadhibou, Mauritania, Saturday, Nov. 27, 2021. Every year, hundreds if not thousands of West African migrants disappear trying to reach the Canary Islands and, they believed, better lives in Europe. The real death toll is unknown, and so many people and boats are never seen again. (AP Photo/Felipe Dana)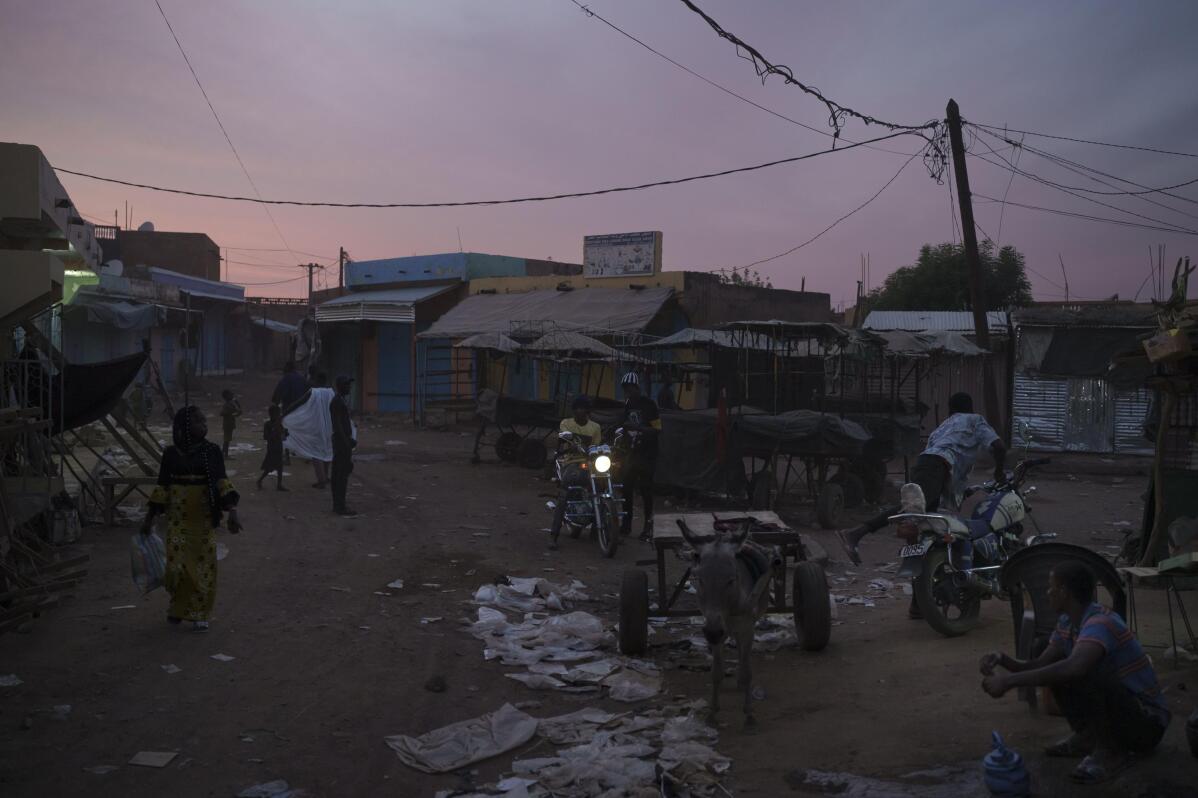 17 of 40

|
Residents walk around the central market area in Selibaby, Mauritania, Wednesday, Dec. 8, 2021. (AP Photo/Felipe Dana)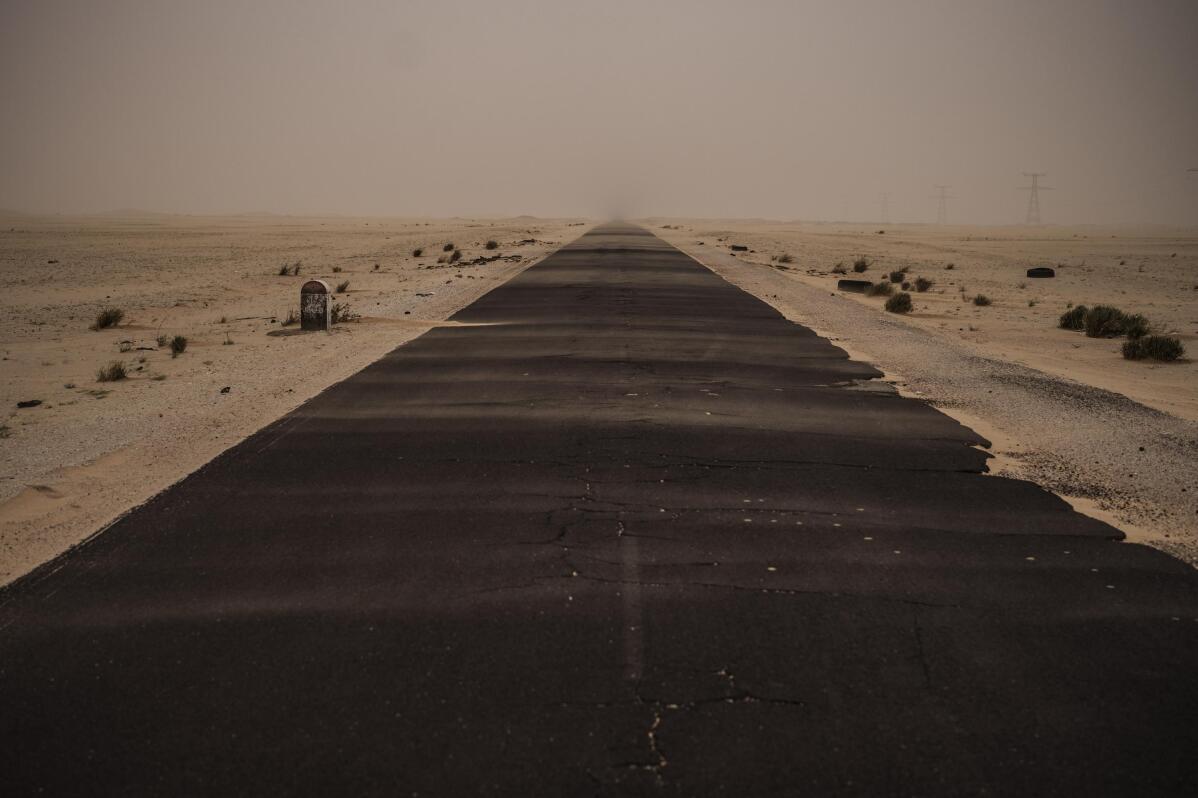 18 of 40

|
A strip of tarmac leading to the capital is partly covered by sand near Nouadhibou, Mauritania, Thursday, Dec. 2, 2021. (AP Photo/Felipe Dana)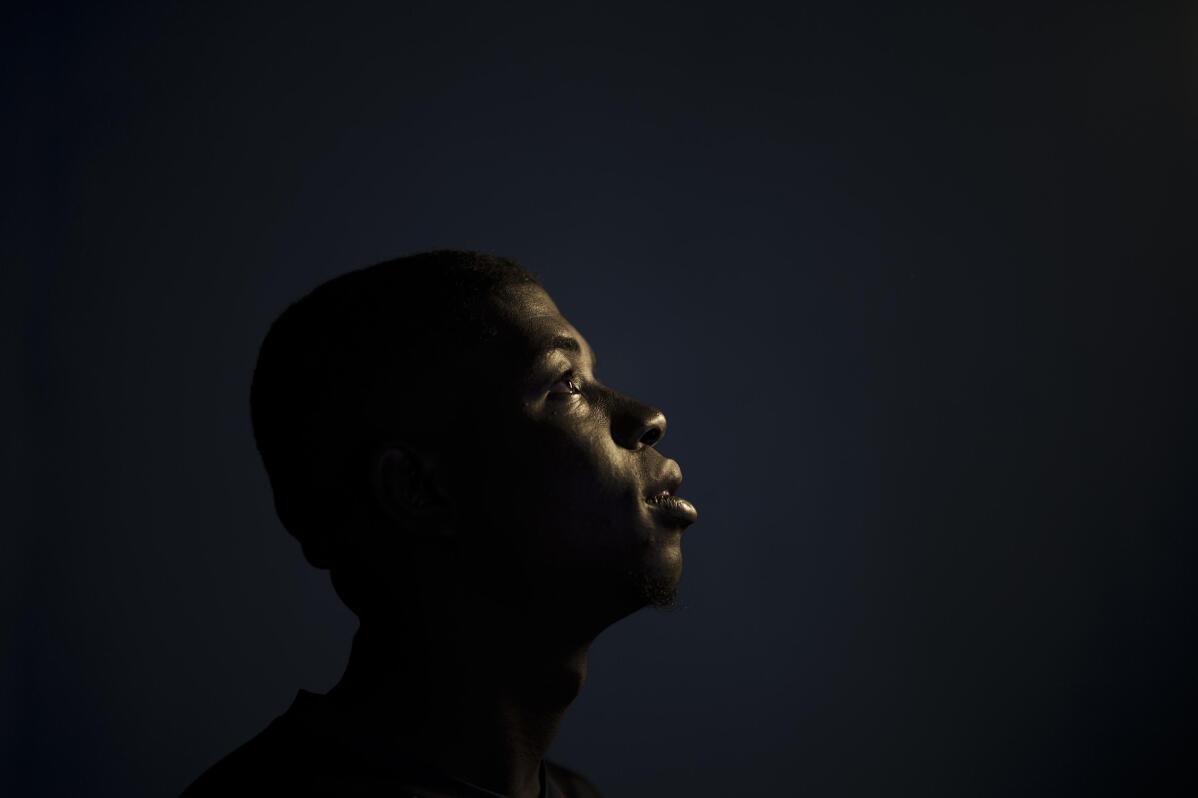 19 of 40

|
Soulayman Sangare of Mali, poses for a portrait in Nouadhibou, Mauritania, Wednesday, Dec. 1, 2021. Sangare has tried and failed to reach Spain's Canary Islands by boat. Despite being aware of the dangers of such ocean voyages and the fact he can't swim, Sangare said he was determined to try again. (AP Photo/Felipe Dana)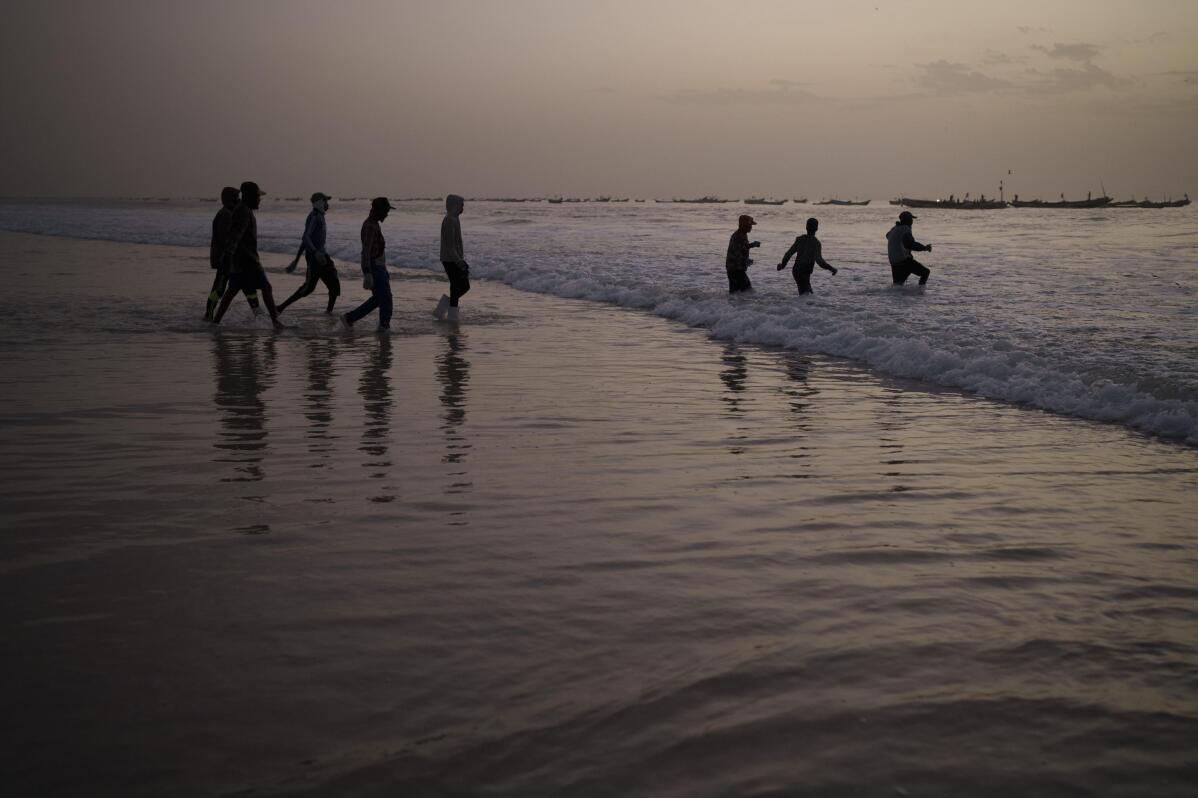 20 of 40

|
Young fishermen walk into the ocean to board an artisanal fishing boat in Nouakchott, Mauritania, Friday, Dec. 10, 2021. (AP Photo/Felipe Dana)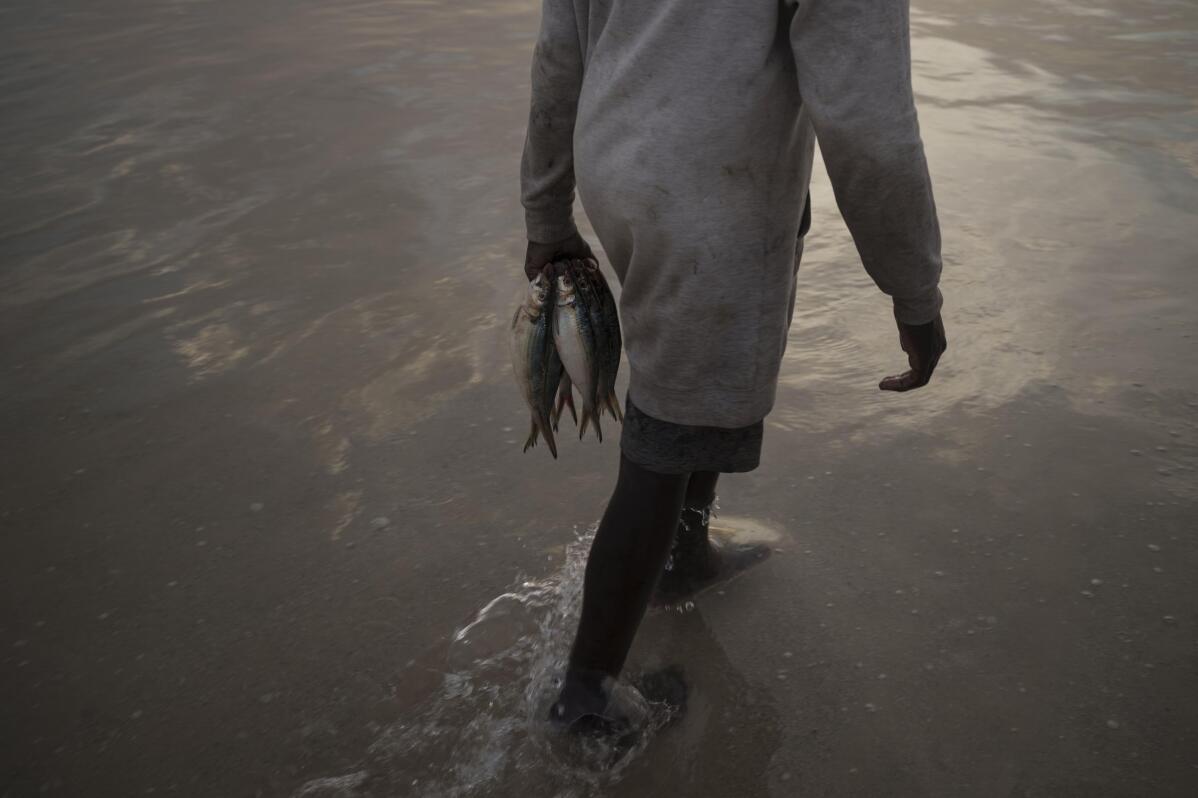 21 of 40

|
A man holds fish as he walks on the beach in Nouakchott, Mauritania, Friday, Dec. 10, 2021. (AP Photo/Felipe Dana)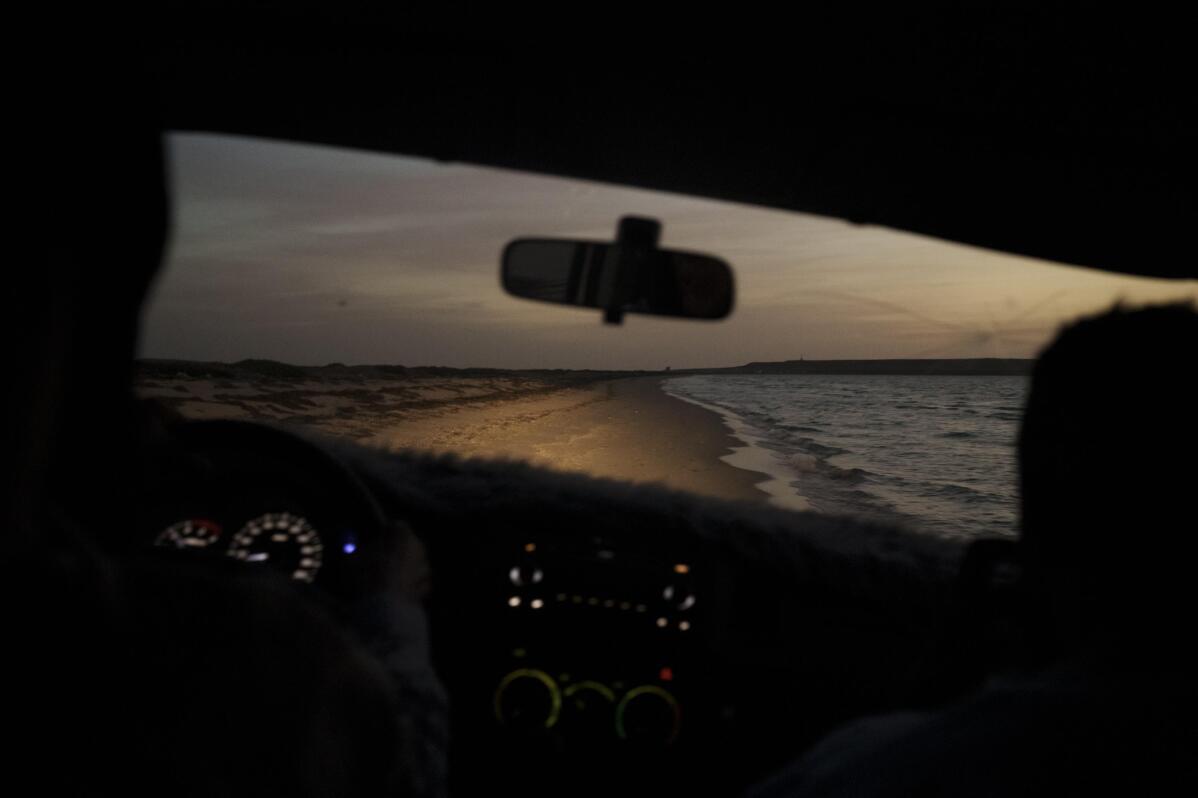 22 of 40

|
A beach is illuminated by a car's headlights at dusk near Nouadhibou, Mauritania, Thursday, Nov. 25, 2021. (AP Photo/Felipe Dana)
23 of 40

|
Adama Barra, right, and a relative, sit in his living room in Selibaby, Mauritania, Wednesday, Dec. 8, 2021. Barra, a local teacher, knew many of the young men who went missing after boarding a boat in Nouadhibou hoping to reach Spain's Canary Islands. (AP Photo/Felipe Dana)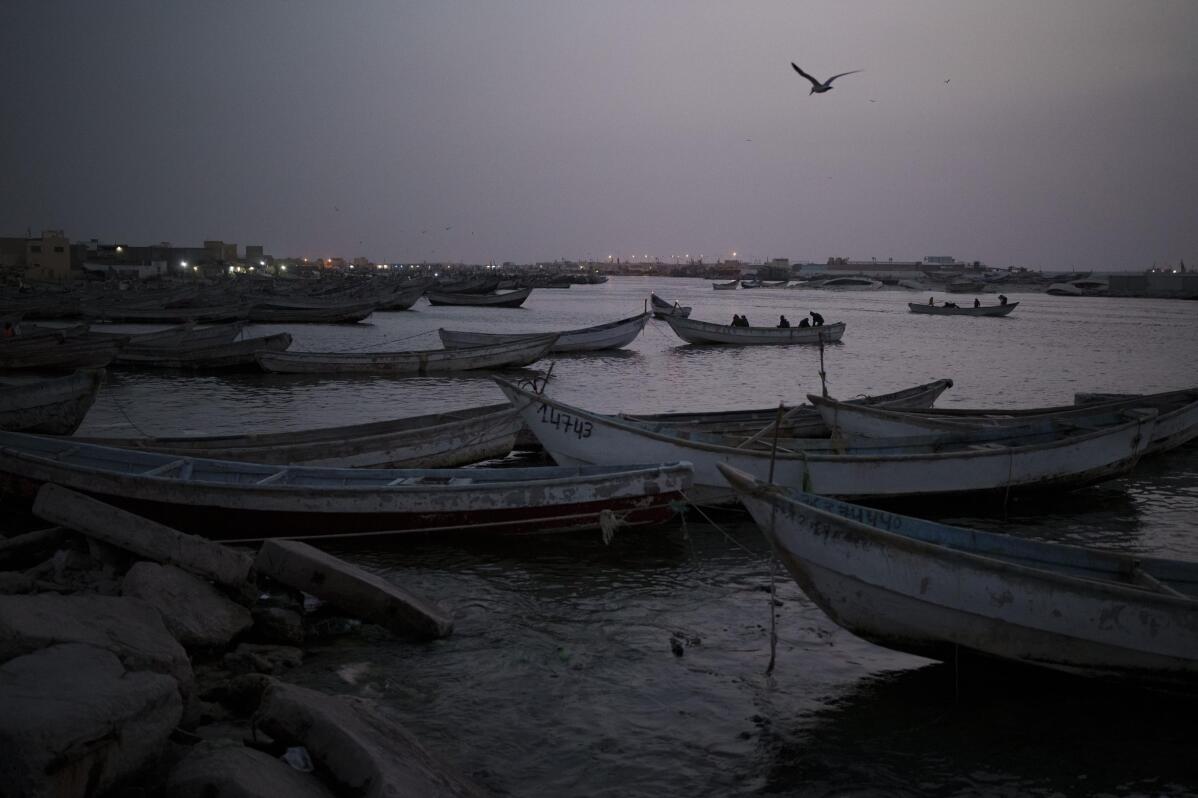 24 of 40

|
Traditional Mauritanian fishing boats known as pirogues are moored at the port in Nouadhibou, Mauritania, Wednesday, Dec. 1, 2021. (AP Photo/Felipe Dana)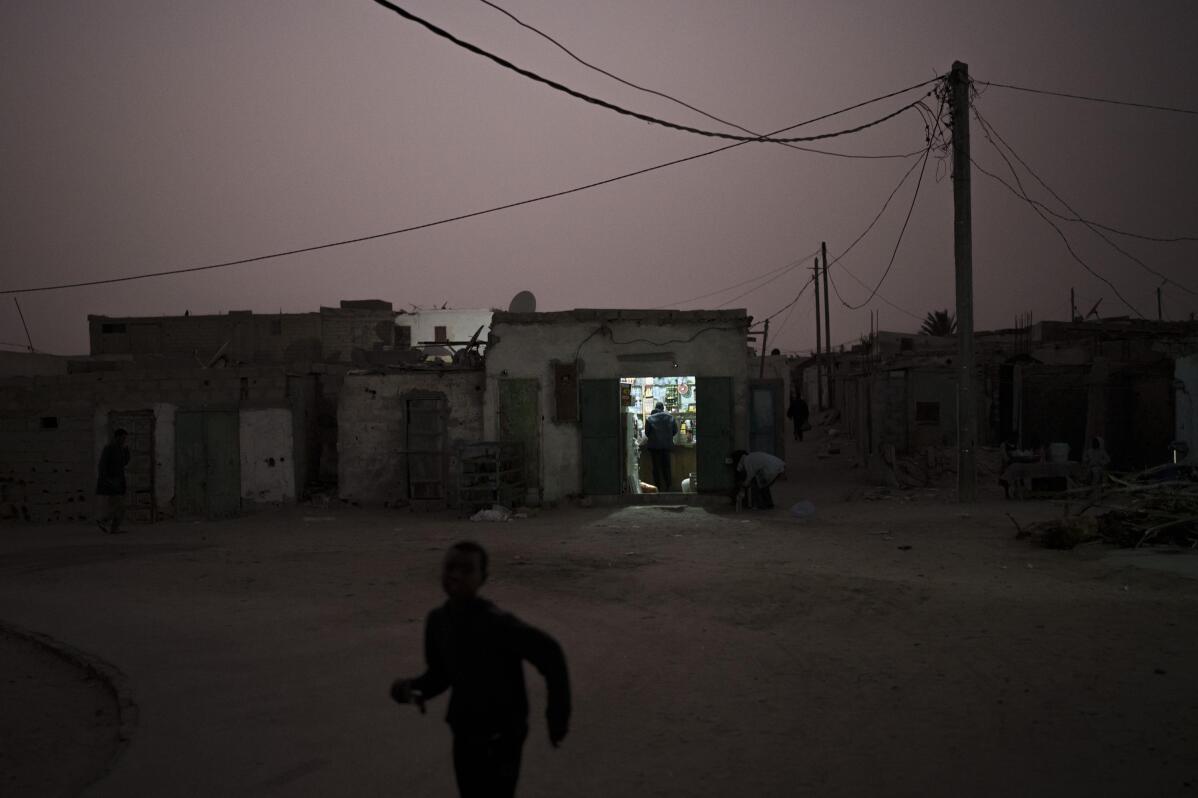 25 of 40

|
A boy runs in the street at dusk in Nouadhibou, Mauritania, Tuesday, Nov. 30, 2021. (AP Photo/Felipe Dana)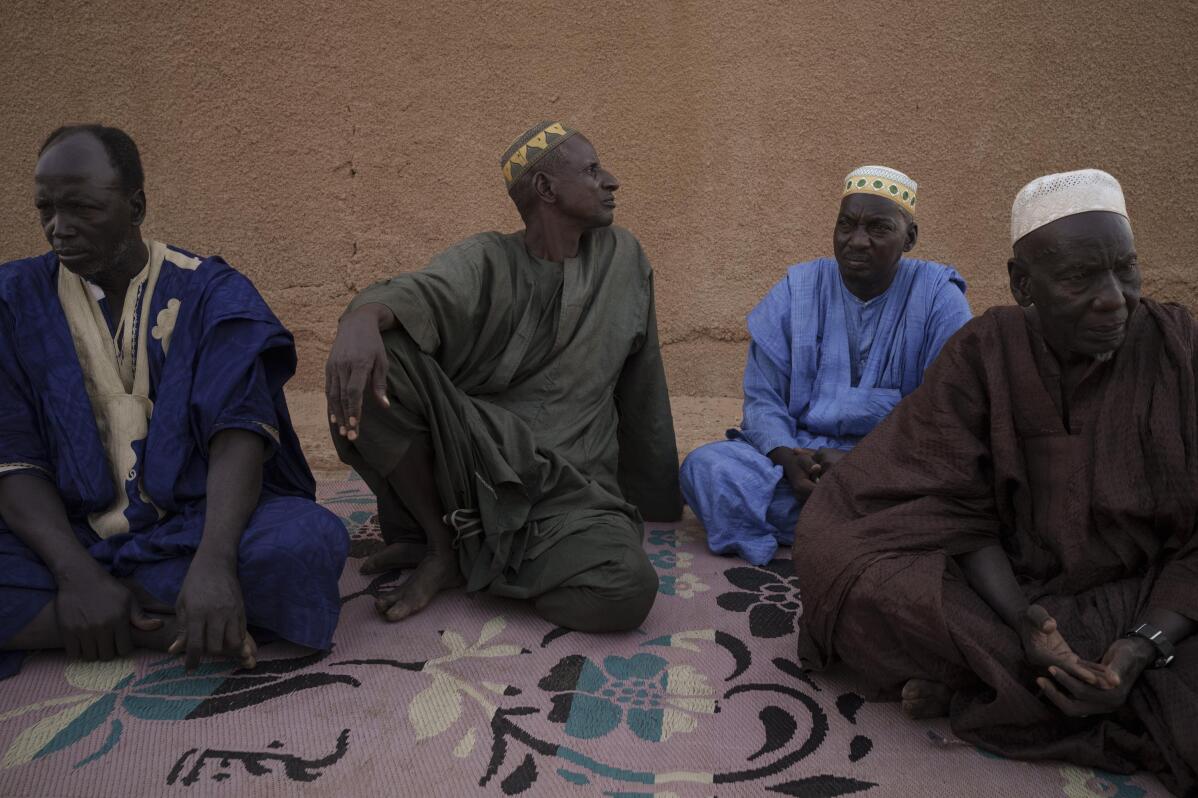 26 of 40

|
Oumar Koume, left, sits with other relatives during an interview in Selibaby, Mauritania, Tuesday, Dec. 7, 2021. Koume's son, Djibi Koume, was among 43 people to have boarded the boat that was found in Tobago on May 28, 2021, more than four months after its departure from Mauritania in an attempt to reach Spain's Canary Islands. (AP Photo/Felipe Dana)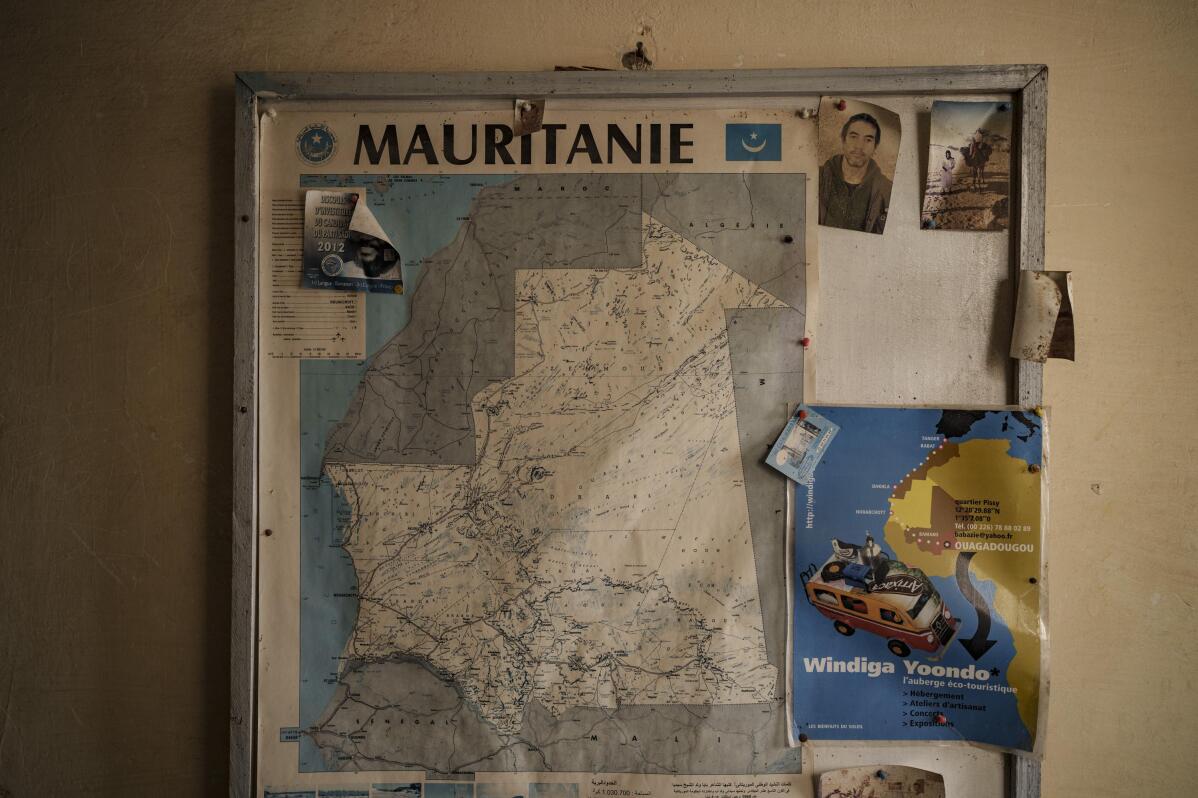 27 of 40

|
An old map of Mauritania is displayed in a hostel in Nouadhibou, Mauritania, Tuesday, Nov. 30, 2021. (AP Photo/Felipe Dana)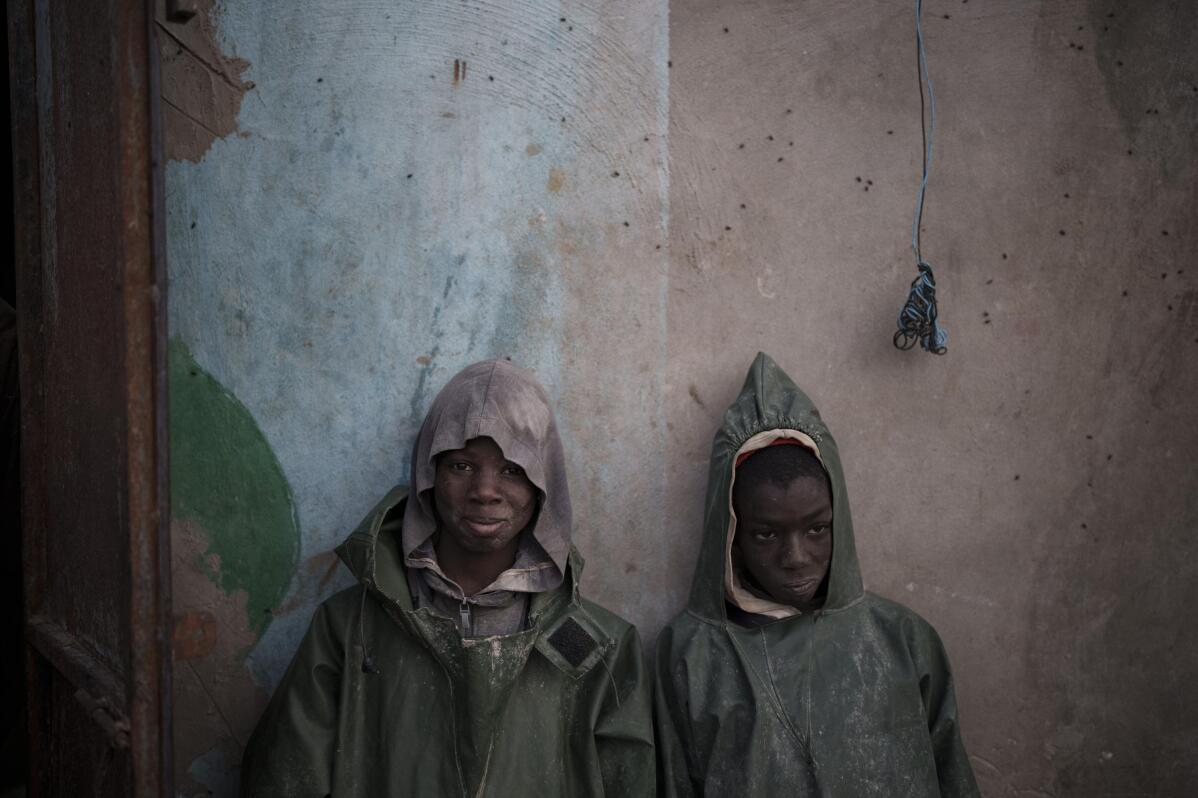 28 of 40

|
Two young fishermen from Senegal lean on a wall after returning from a fishing expedition in Nouadhibou, Mauritania, Wednesday, Dec. 1, 2021. (AP Photo/Felipe Dana)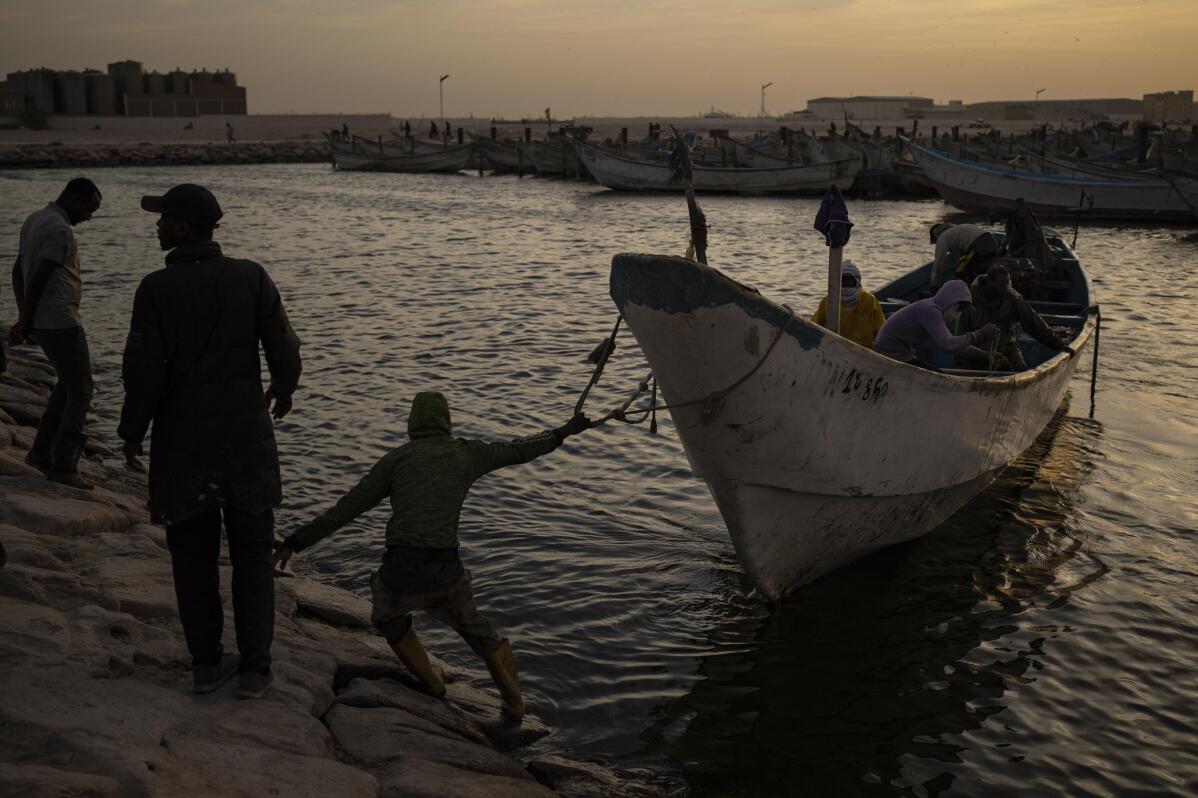 29 of 40

|
Men prepare to dock a fishing boat, known as pirogue, at the port in Nouadhibou, Mauritania, Saturday, Nov. 27, 2021. (AP Photo/Felipe Dana)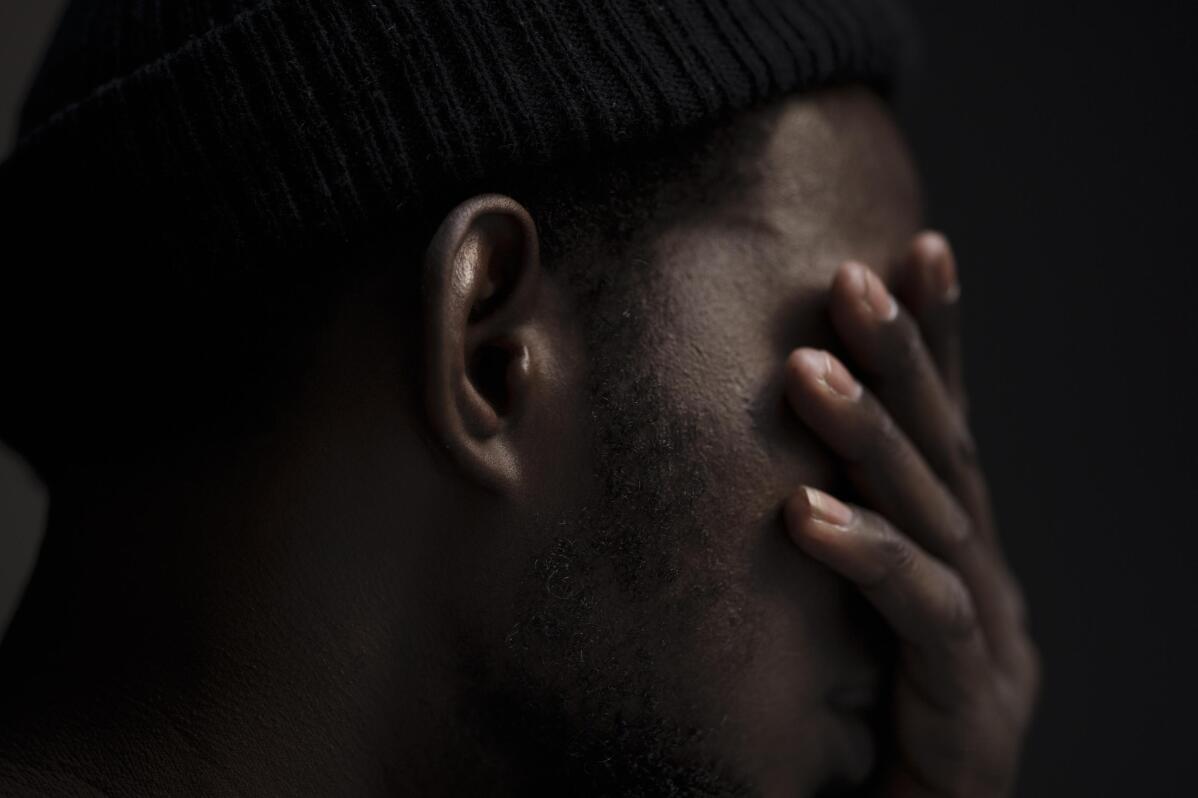 30 of 40

|
Moussa Sako, an asylum-seeker from Mali who survived 22 days aboard a Mauritanian boat drifting in the Atlantic Ocean, covers his face during an interview in Guadalajara, Spain, Sunday, Nov. 14, 2021. Sako was rescued by the Spanish Air Force on April 26, 2021. His boat was spotted by chance more than 310 miles (500 km) from the Spanish island of El Hierro — "in the middle of nowhere," as one of the rescuers described it. They had set off 22 days earlier from Nouakchott, the capital of Mauritania. Only three of 63 people who boarded survived. (AP Photo/Felipe Dana)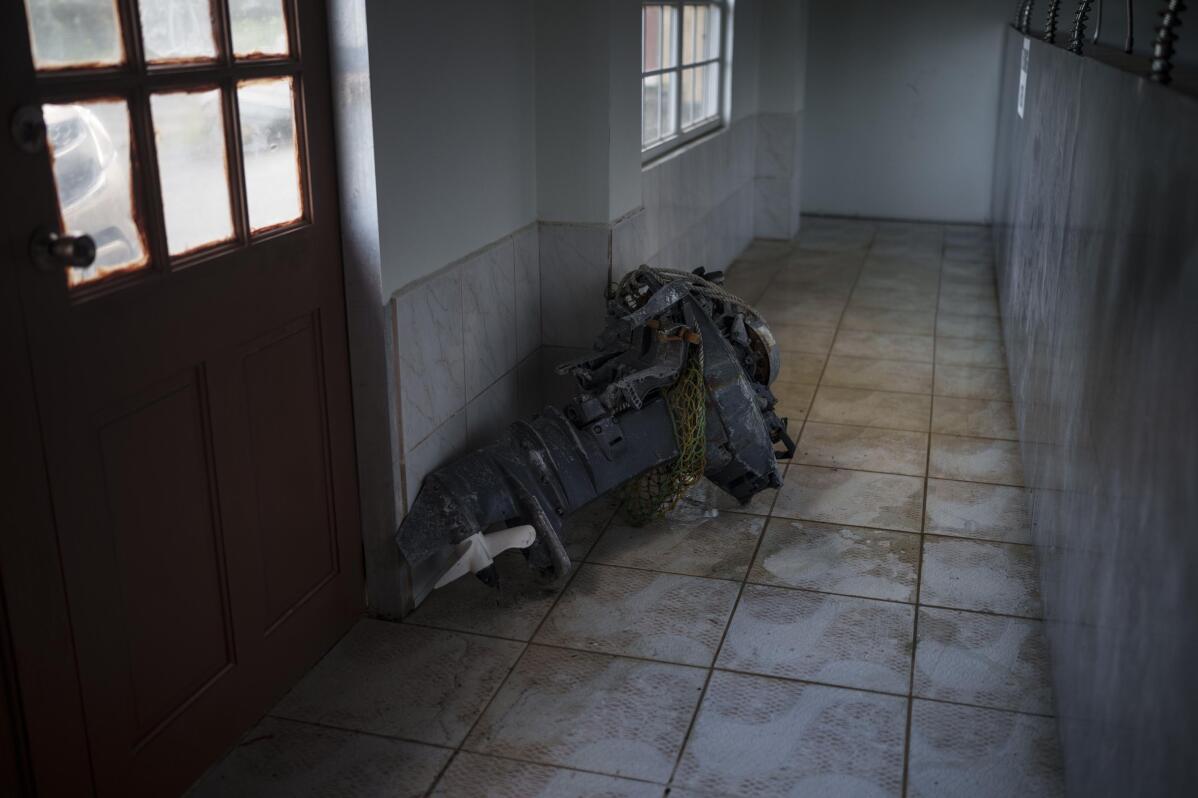 31 of 40

|
The engine found on the Mauritania boat that appeared drifting near Tobago lies in on a floor in the village of Belle Garden, Trinidad and Tobago, Wednesday, Jan. 19, 2022. (AP Photo/Felipe Dana)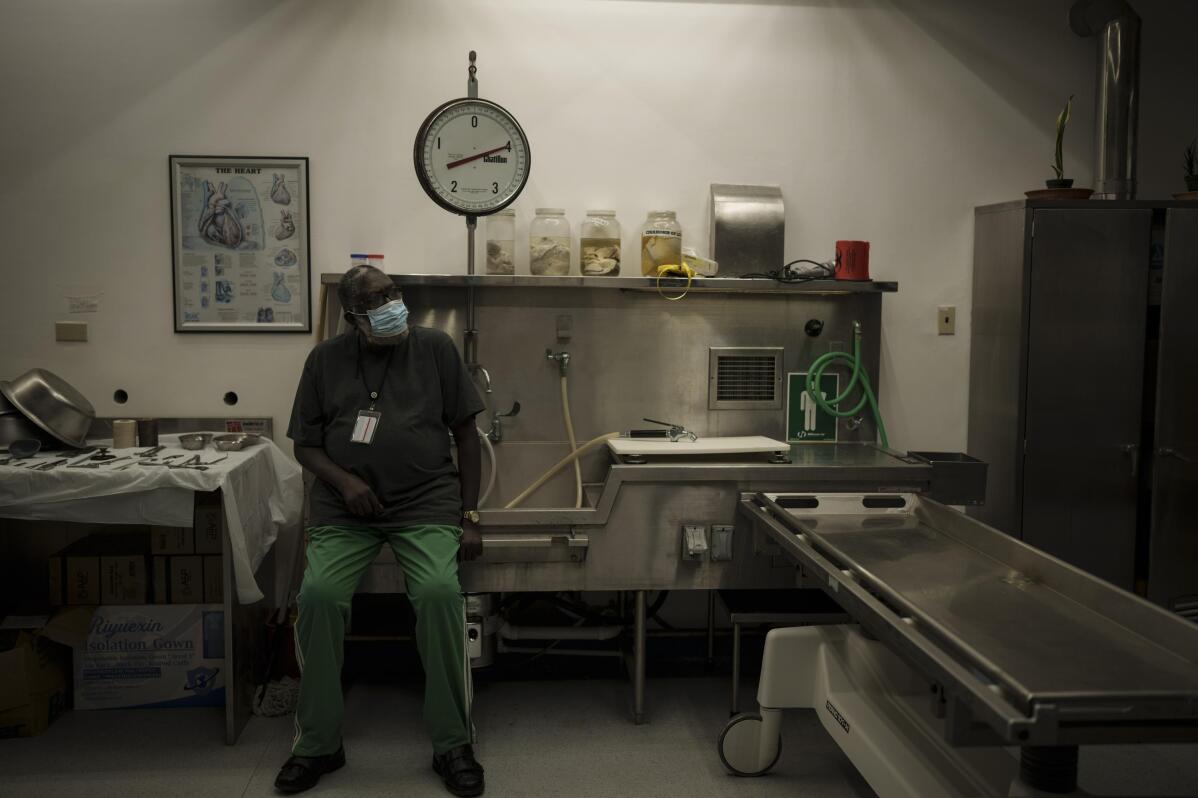 32 of 40

|
Mortuary technician Thomas Philips sits inside the morgue at the Scarborough hospital on the island of Tobago, Trinidad and Tobago, Tuesday, Jan. 25, 2022. (AP Photo/Felipe Dana)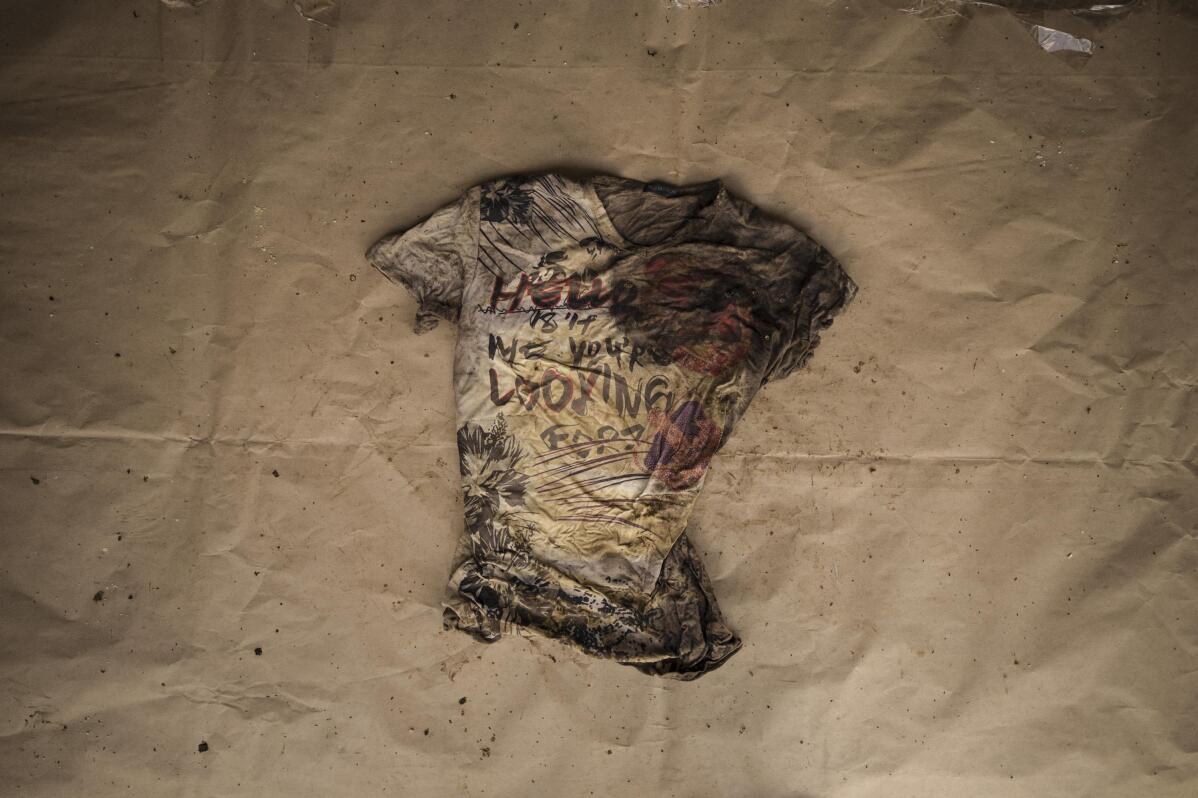 33 of 40

|
A printed T-shirt that reads "Hello, is it me you're looking for?" found on a deceased migrant whose remains were recovered from a Mauritania boat on May 28, 2021, is laid out at the Scarborough police station on the island of Tobago, Trinidad and Tobago, Friday, Jan. 21, 2022. (AP Photo/Felipe Dana)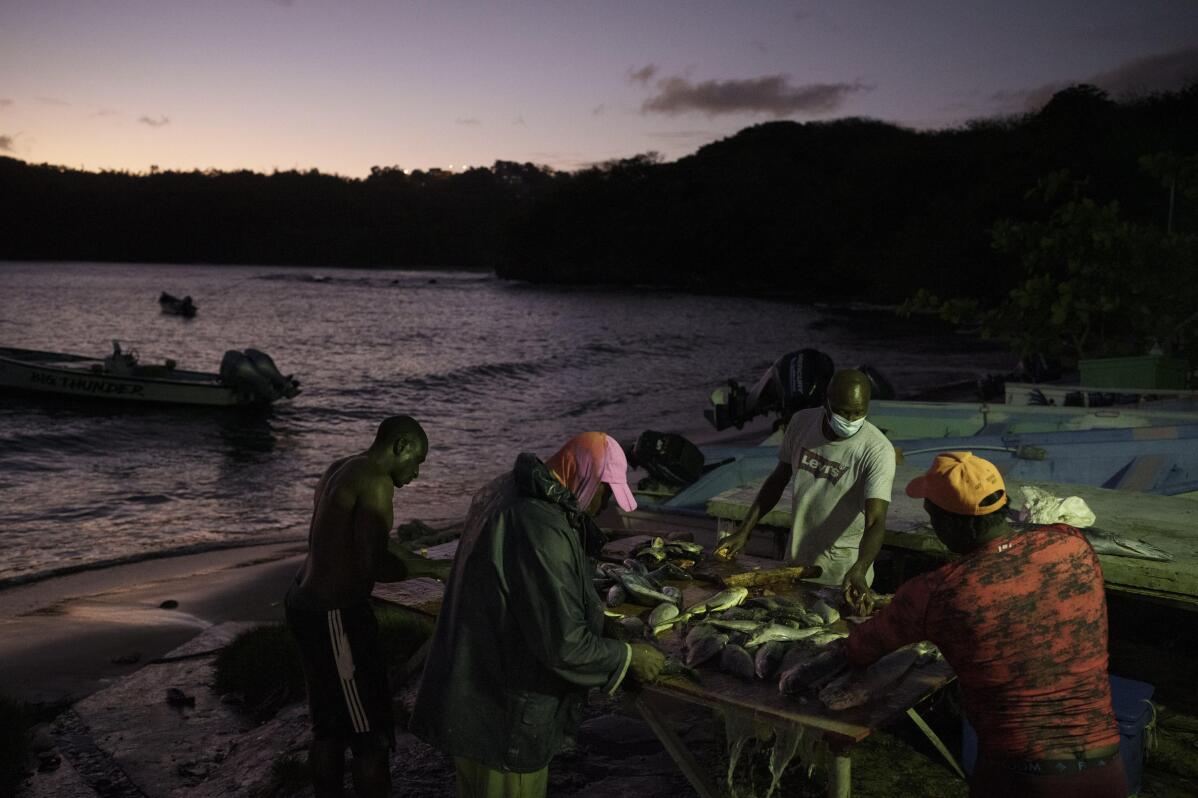 34 of 40

|
Fishermen clean and cut their catch in the village of Belle Garden on the Caribbean island of Tobago, Trinidad and Tobago, Thursday, Jan. 20, 2022. (AP Photo/Felipe Dana)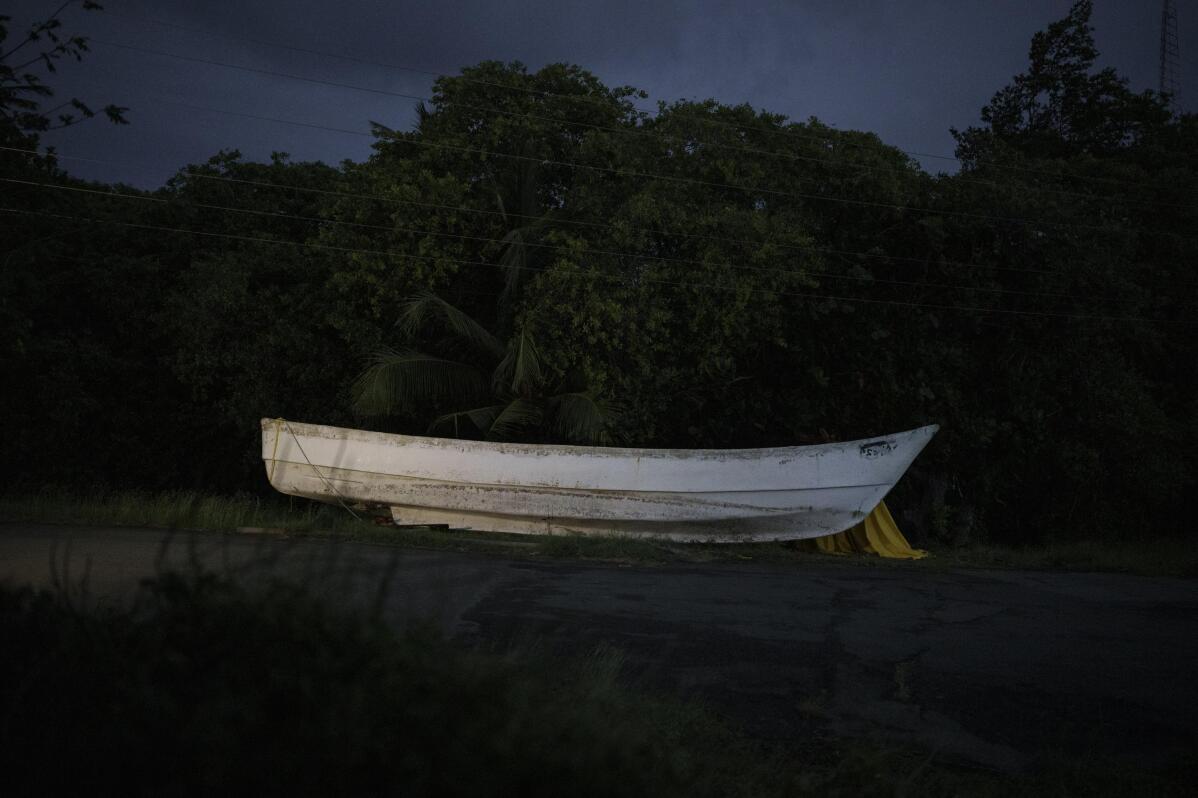 35 of 40

|
A traditional boat from Mauritania known as a pirogue sits by the side of the road in the village of Belle Garden in the island of Tobago, Trinidad and Tobago, Tuesday, Jan. 18, 2022. The boat was found by local fishermen drifting nearby on May 28, 2021 with 14 bodies and other skeletal remains inside. An AP investigation has found that the boat had departed the port town of Nouadhibou in Mauritania, Africa more than four months earlier with 43 migrants. (AP Photo/Felipe Dana)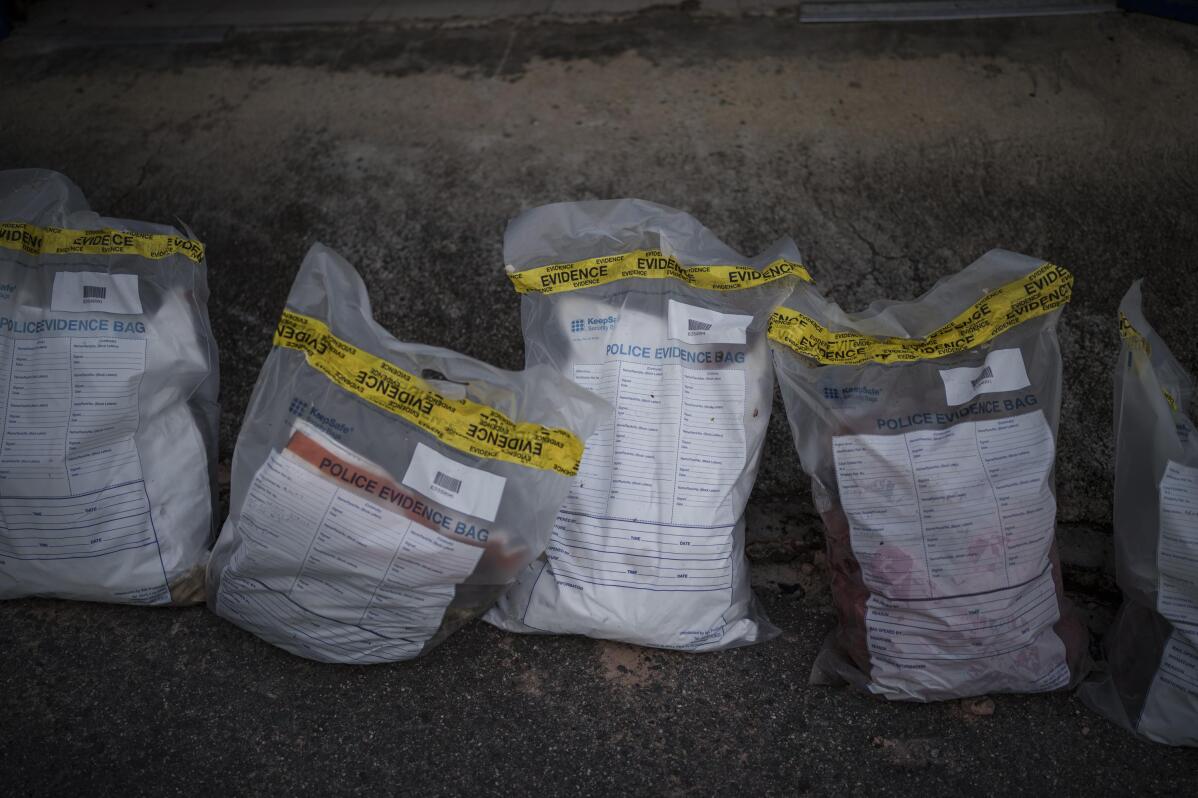 36 of 40

|
Police evidence bags containing clothing and other items found on a Mauritanian boat are laid out at the Scarborough police station in Tobago, Trinidad and Tobago, Friday, Jan. 21, 2022. The boat was found by local fishermen drifting nearby on May 28, 2021 with 14 bodies and other skeletal remains inside. An AP investigation has found that the boat had departed the port town of Nouadhibou in Mauritania, Africa more than four months earlier with 43 migrants. (AP Photo/Felipe Dana)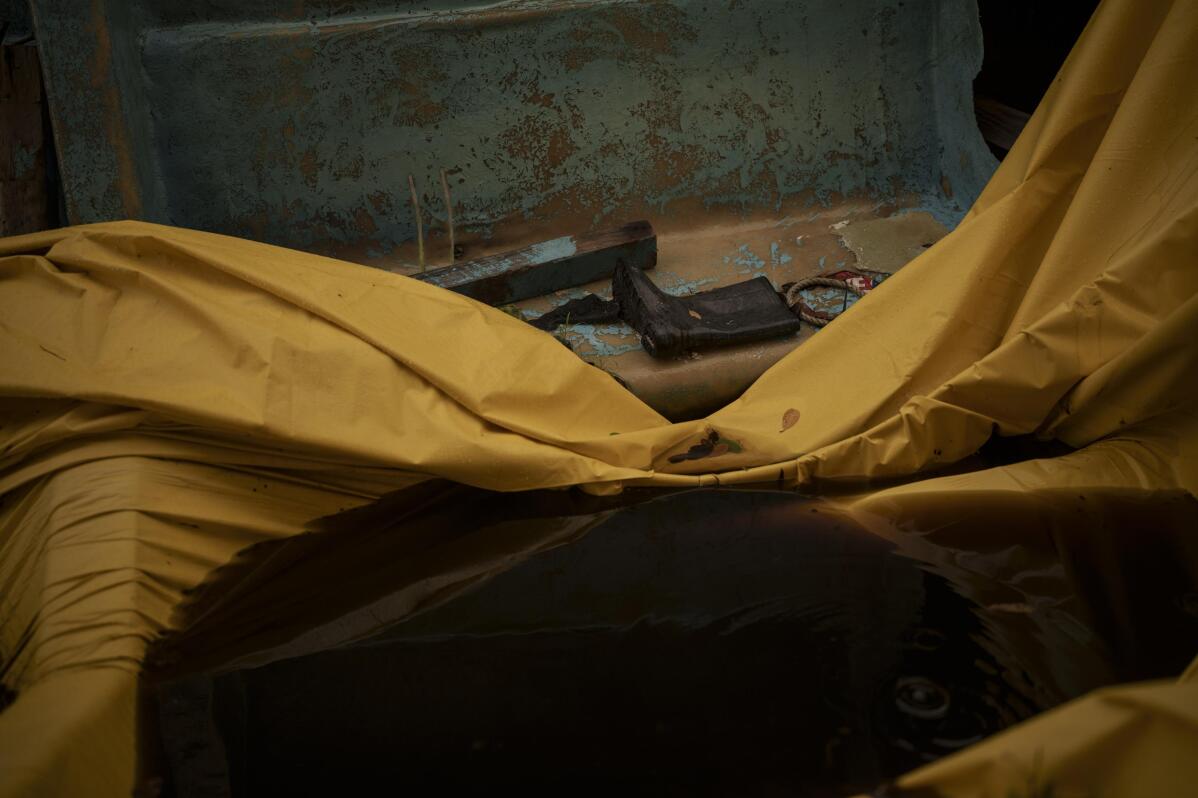 37 of 40

|
A boot is seen inside a Mauritanian boat that drifted to Tobago with 14 bodies and other skeletal remains, in Belle Garden, Trinidad and Tobago, Wednesday, Jan. 19, 2022. The boat was found by local fishermen drifting nearby on May 28, 2021 with 14 bodies and other skeletal remains inside. An AP investigation has found that the boat had departed the port town of Nouadhibou in Mauritania, Africa more than four months earlier with 43 migrants. (AP Photo/Felipe Dana)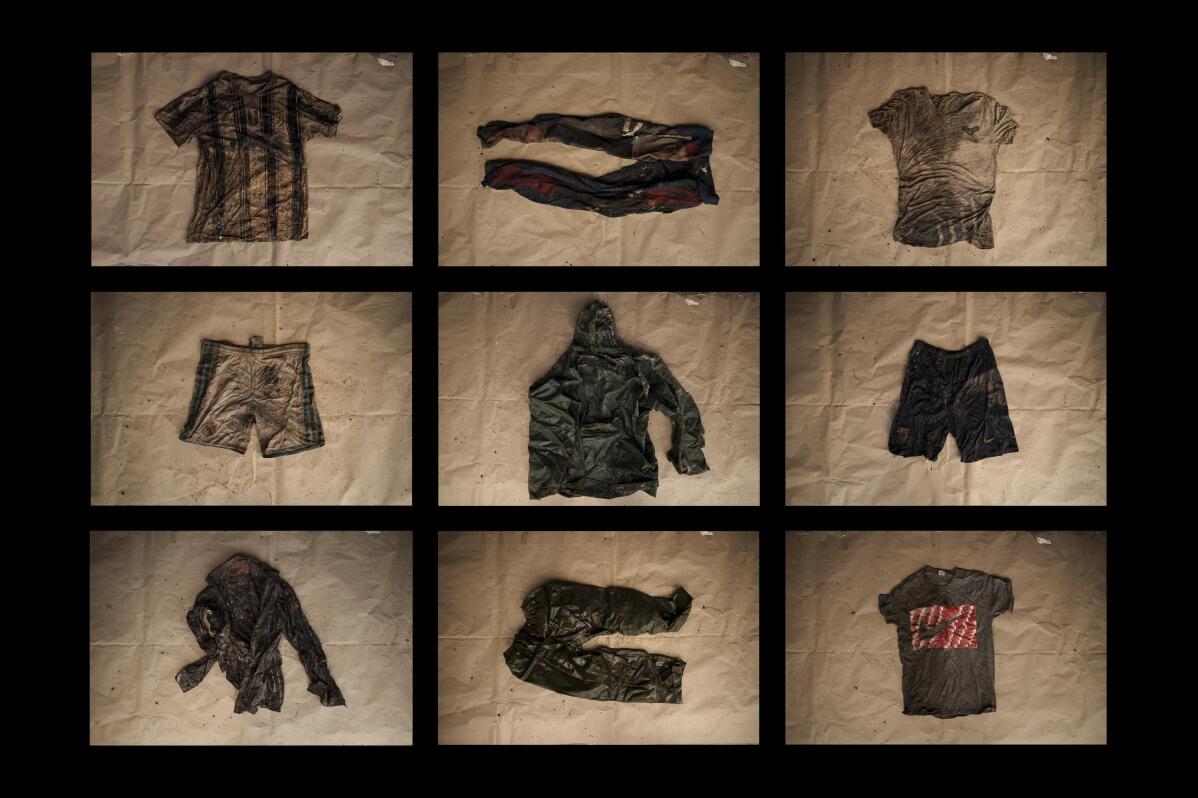 38 of 40

|
In this combination of photos, clothing found on deceased migrants whose remains were recovered from a Mauritanian boat on May 28, 2021, are laid out at the Scarborough police station on the island of Tobago, Trinidad and Tobago, Friday, Jan. 21, 2022. The boat was found by local fishermen drifting nearby on May 28, 2021 with 14 bodies and other skeletal remains inside. An AP investigation has found that the boat had departed the port town of Nouadhibou in Mauritania, Africa more than four months earlier with 43 migrants. (AP Photo/Felipe Dana)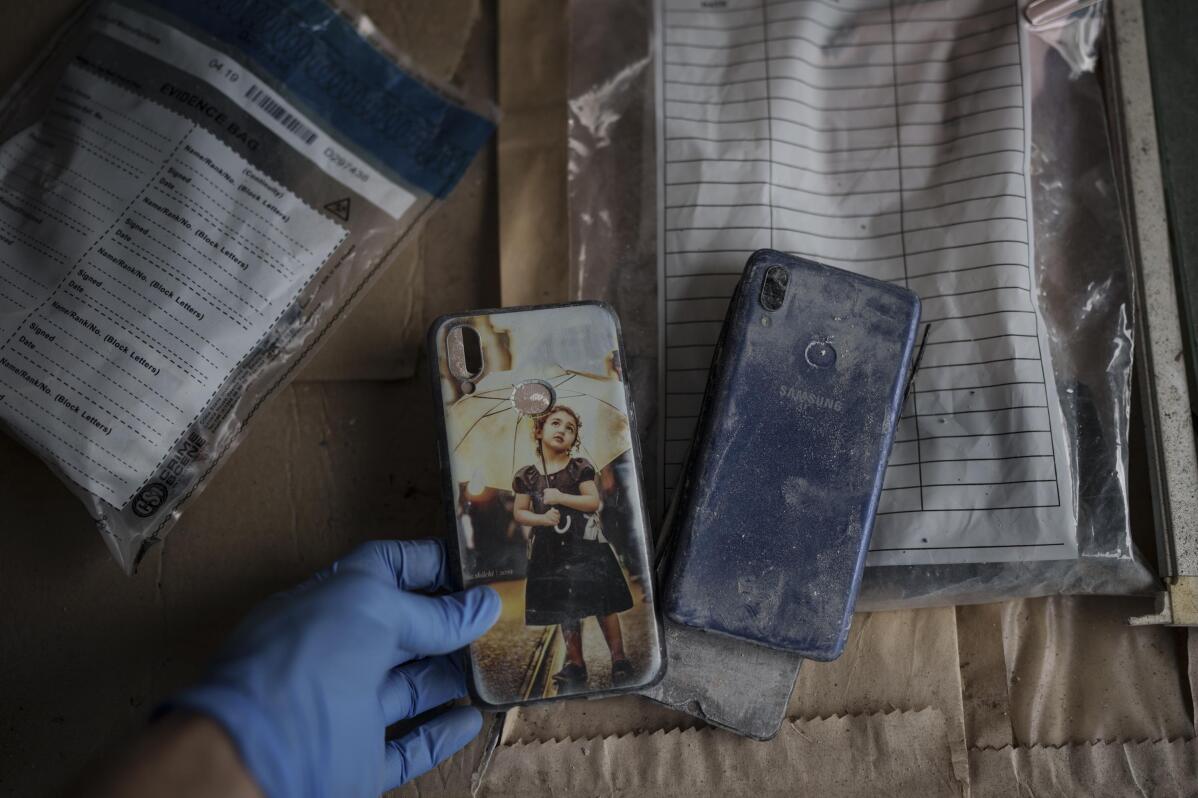 39 of 40

|
A police officer shows one of the phones found inside a Mauritanian boat at the Scarborough police station in Trinidad and Tobago, Friday, Jan. 21, 2022. (AP Photo/Felipe Dana)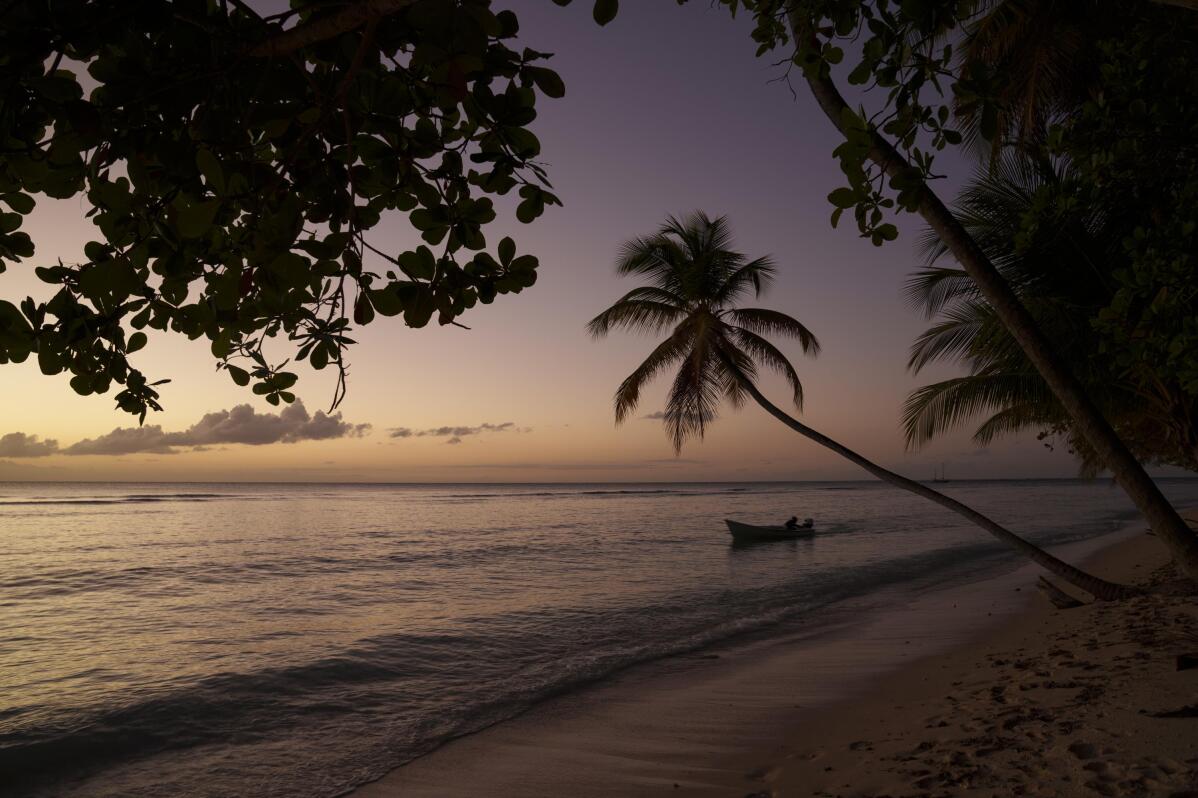 40 of 40

|
A boat navigates the shore of the island of Tobago, Trinidad and Tobago, at sunset on Sunday, Jan. 23, 2022. (AP Photo/Felipe Dana)
Adrift in the Atlantic, a boat of death and lost dreams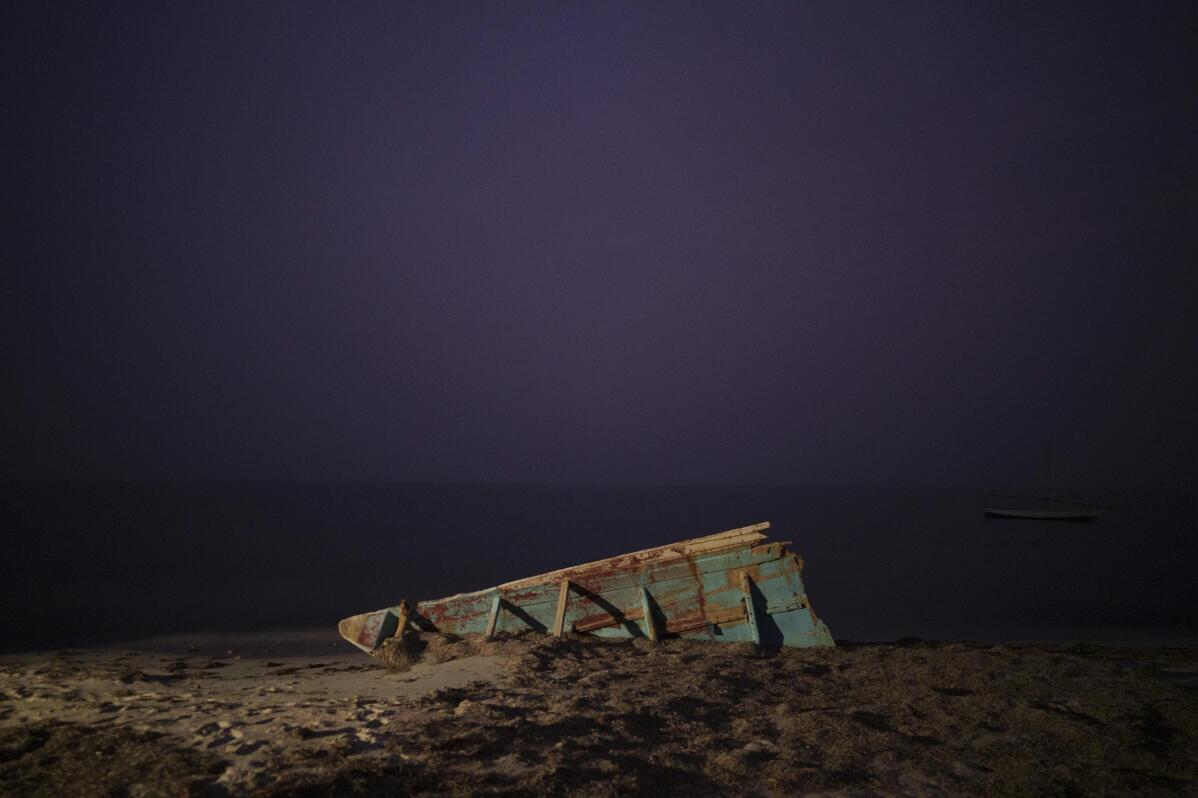 1 of 40

|
The wreck of a traditional Mauritanian fishing boat, known as a pirogue, also used by migrants to reach Spain's Canary Islands, sits on a beach near Nouadhibou, Mauritania, Thursday, Dec. 2, 2021. In 2021, at least seven boats appearing to be from Northwest Africa washed up in the Caribbean and in Brazil. All carried dead bodies. (AP Photo/Felipe Dana)
1 of 40
The wreck of a traditional Mauritanian fishing boat, known as a pirogue, also used by migrants to reach Spain's Canary Islands, sits on a beach near Nouadhibou, Mauritania, Thursday, Dec. 2, 2021. In 2021, at least seven boats appearing to be from Northwest Africa washed up in the Caribbean and in Brazil. All carried dead bodies. (AP Photo/Felipe Dana)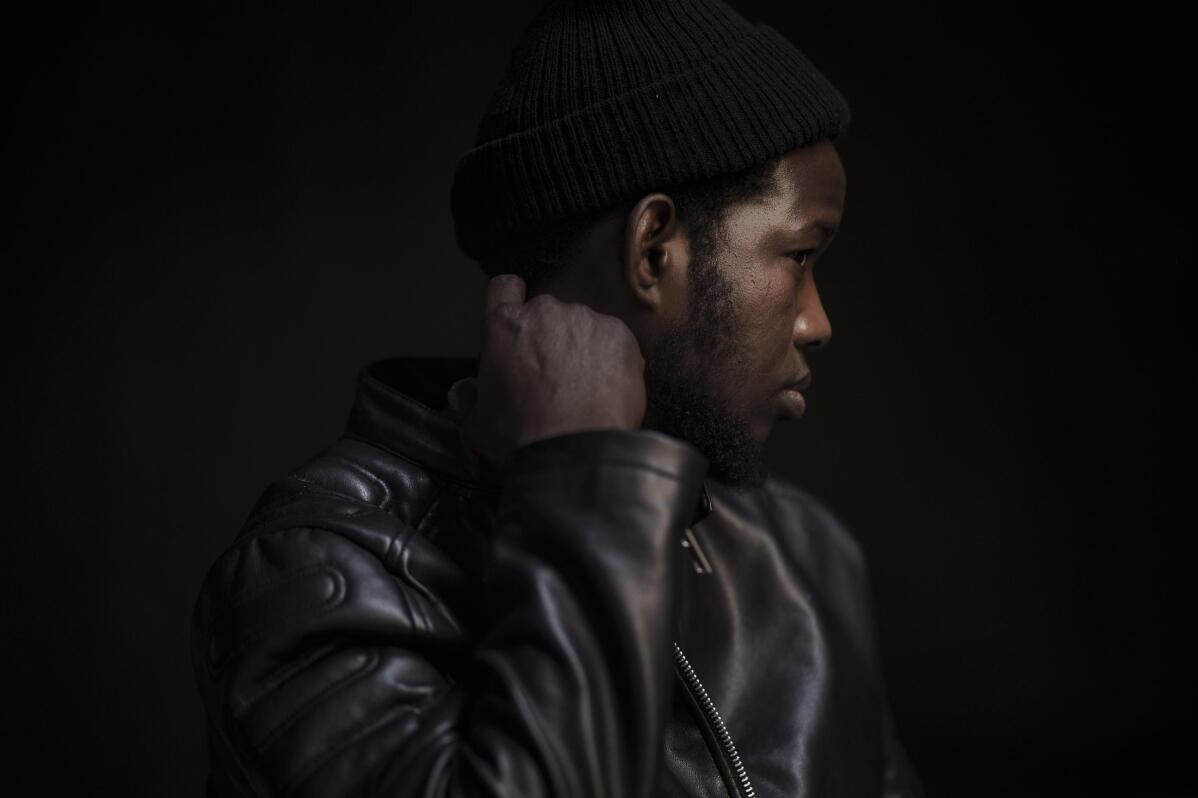 2 of 40

|
Moussa Sako, an asylum-seeker from Mali who survived 22 days aboard a Mauritanian boat drifting in the Atlantic Ocean, sits for an interview in Guadalajara, Spain, Sunday, Nov. 14, 2021. Sako was rescued by the Spanish Air Force on April 26, 2021. His boat was spotted by chance more than 310 miles (500 km) from the Spanish island of El Hierro — "in the middle of nowhere," as one of the rescuers described it. They had set off 22 days earlier from Nouakchott, the capital of Mauritania. Only three of 63 people who boarded survived. (AP Photo/Felipe Dana)
2 of 40
Moussa Sako, an asylum-seeker from Mali who survived 22 days aboard a Mauritanian boat drifting in the Atlantic Ocean, sits for an interview in Guadalajara, Spain, Sunday, Nov. 14, 2021. Sako was rescued by the Spanish Air Force on April 26, 2021. His boat was spotted by chance more than 310 miles (500 km) from the Spanish island of El Hierro — "in the middle of nowhere," as one of the rescuers described it. They had set off 22 days earlier from Nouakchott, the capital of Mauritania. Only three of 63 people who boarded survived. (AP Photo/Felipe Dana)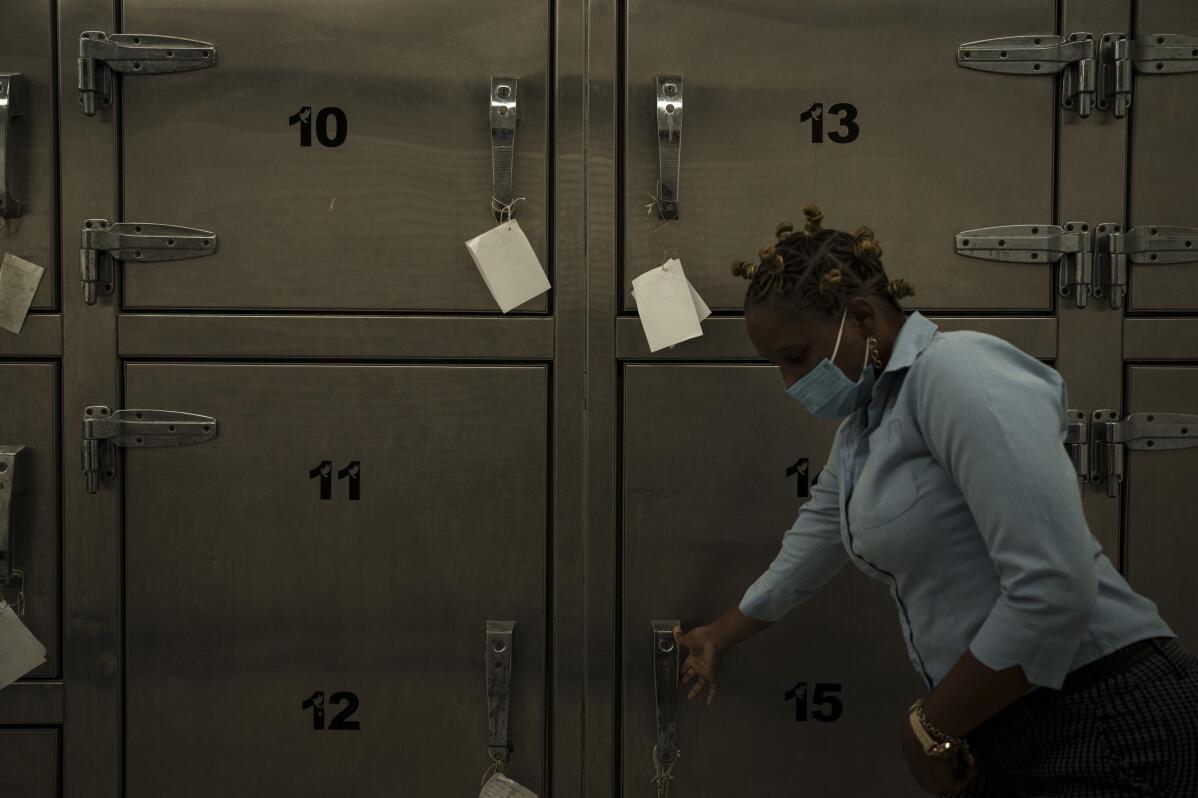 3 of 40

|
A mortuary technician opens the door of a refrigerator used to store the remains of migrants recovered from a Mauritanian boat that appeared drifting near the island of Tobago, in Scarborough, Trinidad and Tobago, Tuesday, Jan. 25, 2022. (AP Photo/Felipe Dana)
3 of 40
A mortuary technician opens the door of a refrigerator used to store the remains of migrants recovered from a Mauritanian boat that appeared drifting near the island of Tobago, in Scarborough, Trinidad and Tobago, Tuesday, Jan. 25, 2022. (AP Photo/Felipe Dana)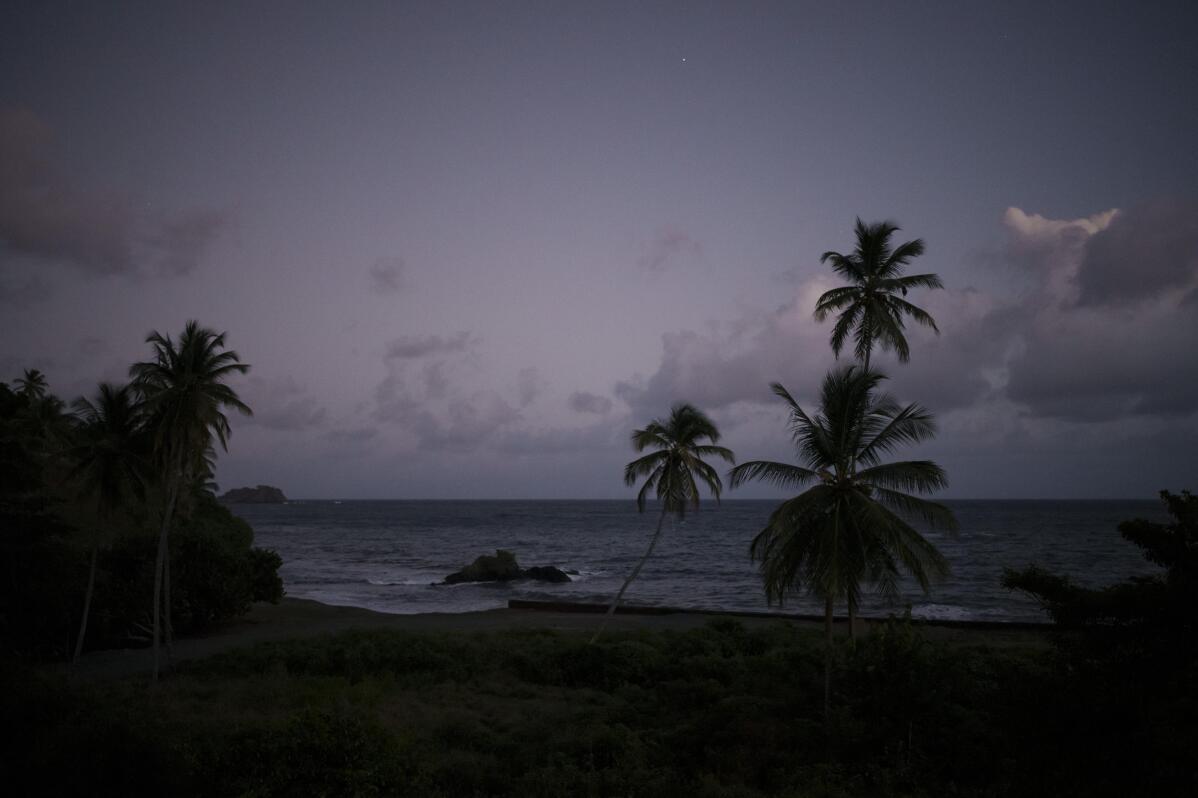 4 of 40

|
Palm trees line the beach on the Caribbean island of Tobago, Trinidad and Tobago, Friday, Jan. 21, 2022. (AP Photo/Felipe Dana)
4 of 40
Palm trees line the beach on the Caribbean island of Tobago, Trinidad and Tobago, Friday, Jan. 21, 2022. (AP Photo/Felipe Dana)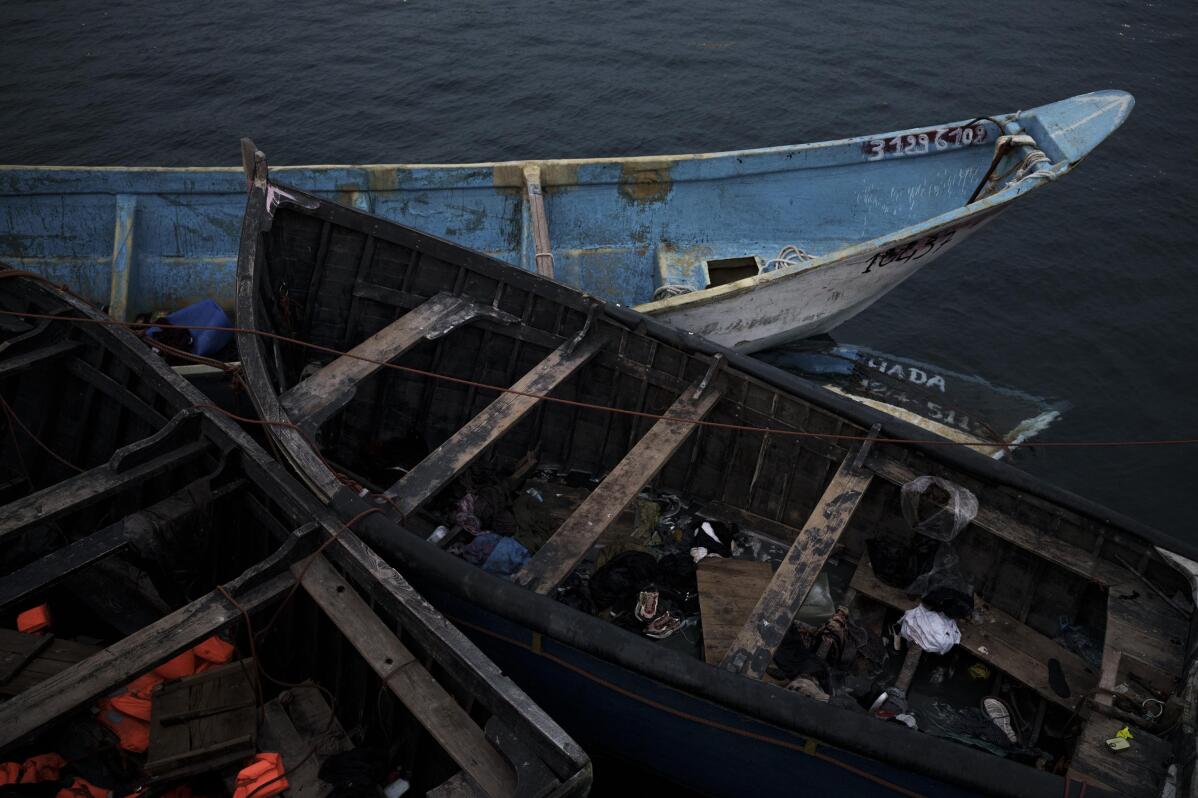 5 of 40

|
Empty boats used by migrants are moored at the port of Arguineguin in the Canary island of Gran Canaria, Spain, Sunday, Nov. 21, 2021. (AP Photo/Felipe Dana)
5 of 40
Empty boats used by migrants are moored at the port of Arguineguin in the Canary island of Gran Canaria, Spain, Sunday, Nov. 21, 2021. (AP Photo/Felipe Dana)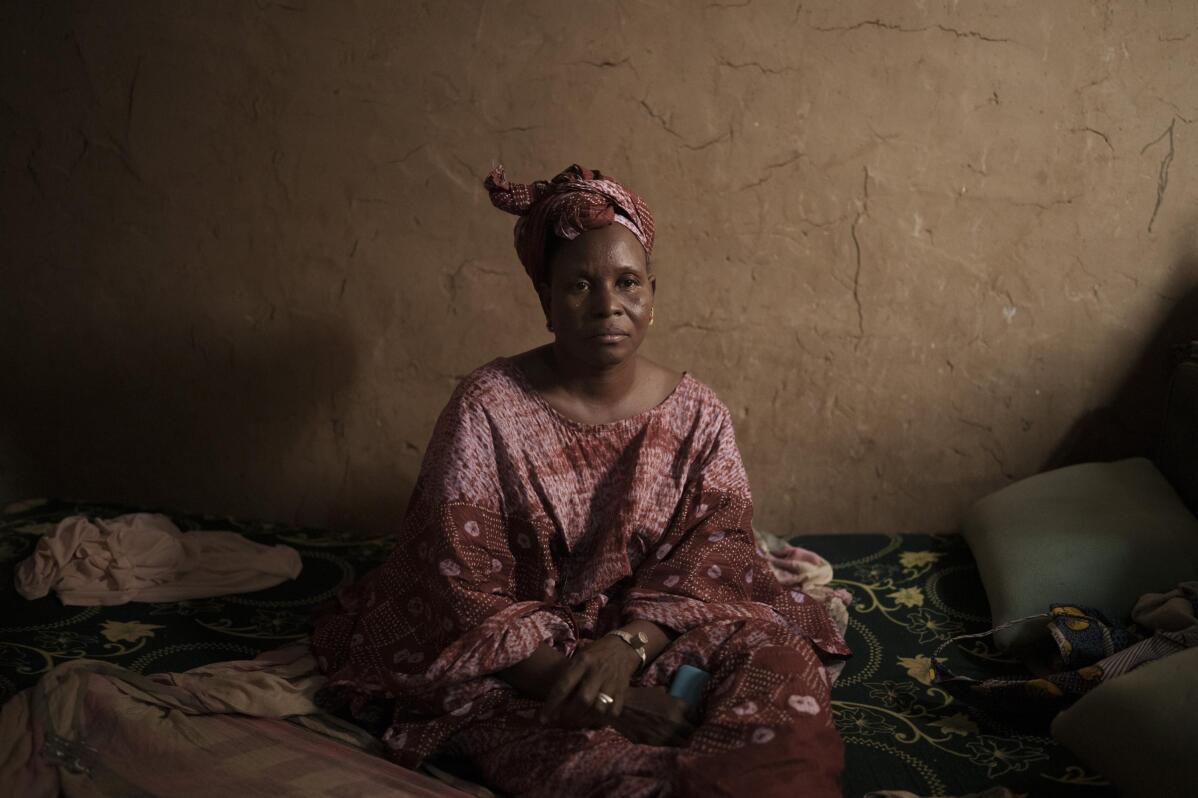 6 of 40

|
Adama Sarre, whose son, Cheikh Dioum, went missing as he tried to reach Spain's Canary Islands by boat, sits during an interview in her room in Selibaby, Mauritania, Monday, Dec. 6, 2021. An AP investigation has found that Cheikh Dioum was among 43 people to have boarded the boat that was found in Tobago on May 28, 2021, more than four months after its departure from Mauritania. (AP Photo/Felipe Dana)
6 of 40
Adama Sarre, whose son, Cheikh Dioum, went missing as he tried to reach Spain's Canary Islands by boat, sits during an interview in her room in Selibaby, Mauritania, Monday, Dec. 6, 2021. An AP investigation has found that Cheikh Dioum was among 43 people to have boarded the boat that was found in Tobago on May 28, 2021, more than four months after its departure from Mauritania. (AP Photo/Felipe Dana)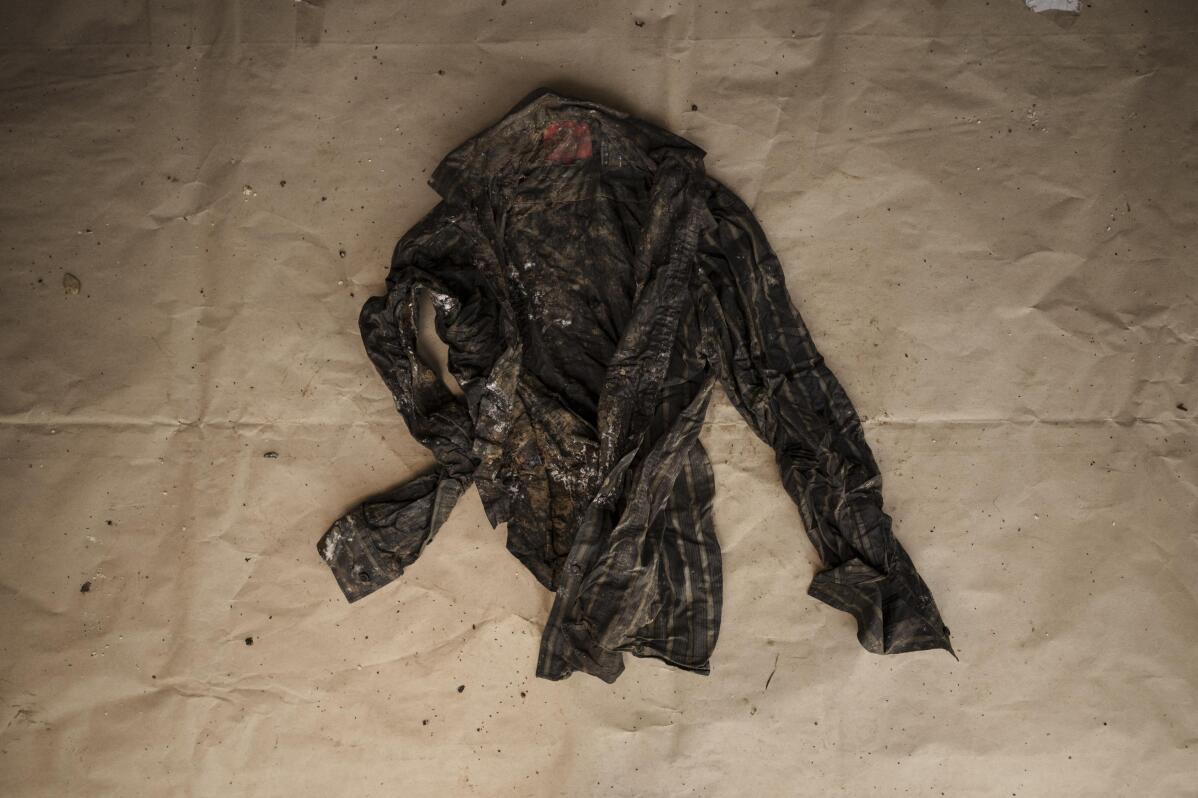 7 of 40

|
A button-down shirt found on a deceased migrant, whose remains were recovered from a Mauritanian boat on May 28, 2021, is laid out at the Scarborough police station on the island of Tobago, Trinidad and Tobago, Friday, Jan. 21, 2022. May Sow, in France, recognized the black striped button-down shirt. She went back to photos of her nephew, Alassane Sow, from shortly before he disappeared. There it was — the same black striped shirt. He wore it on special occasions. (AP Photo/Felipe Dana)
7 of 40
A button-down shirt found on a deceased migrant, whose remains were recovered from a Mauritanian boat on May 28, 2021, is laid out at the Scarborough police station on the island of Tobago, Trinidad and Tobago, Friday, Jan. 21, 2022. May Sow, in France, recognized the black striped button-down shirt. She went back to photos of her nephew, Alassane Sow, from shortly before he disappeared. There it was — the same black striped shirt. He wore it on special occasions. (AP Photo/Felipe Dana)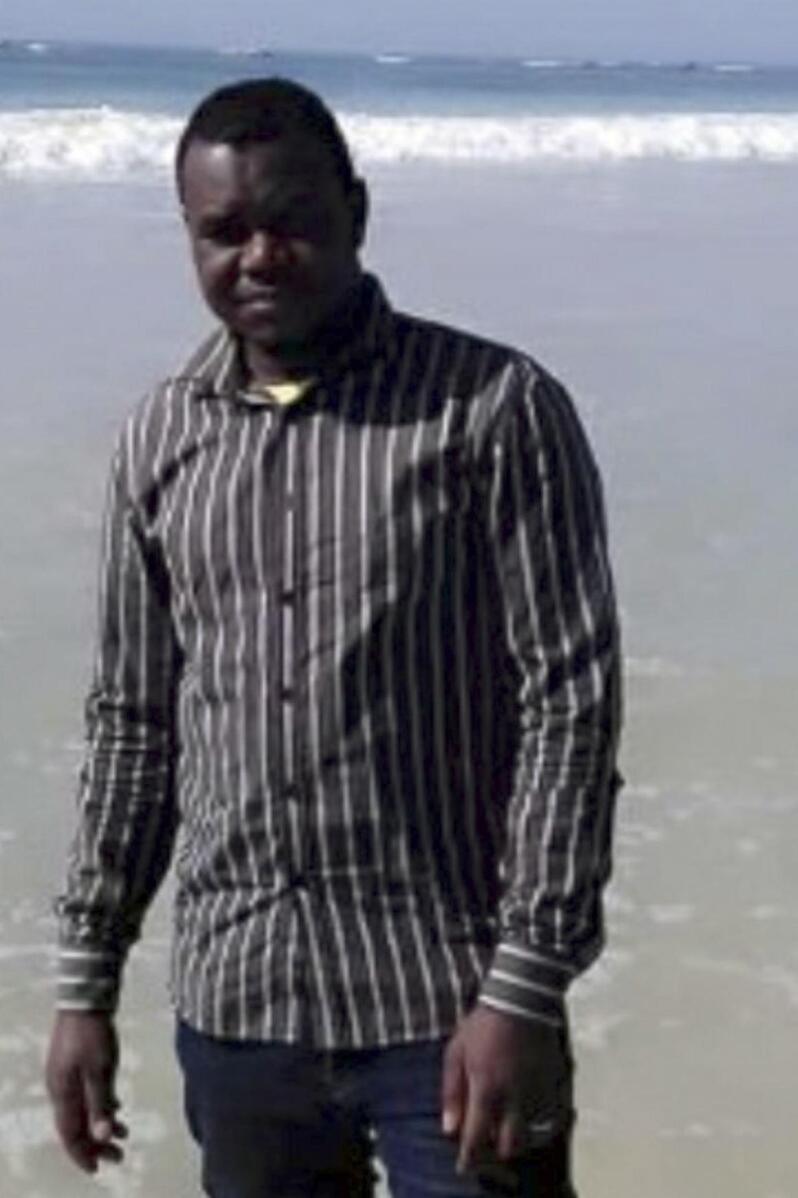 8 of 40

|
This undated photo provided by his family shows Alassane Sow on the beach in Nouakchott, Mauritania. Sow went missing on the night of Jan. 12, 2021, after boarding a boat from Mauritania in an attempt to reach Europe's Canary Islands. His body was found more than four months later near Trinidad and Tobago, after his boat drifted across the Atlantic. (Family photo via AP)
8 of 40
This undated photo provided by his family shows Alassane Sow on the beach in Nouakchott, Mauritania. Sow went missing on the night of Jan. 12, 2021, after boarding a boat from Mauritania in an attempt to reach Europe's Canary Islands. His body was found more than four months later near Trinidad and Tobago, after his boat drifted across the Atlantic. (Family photo via AP)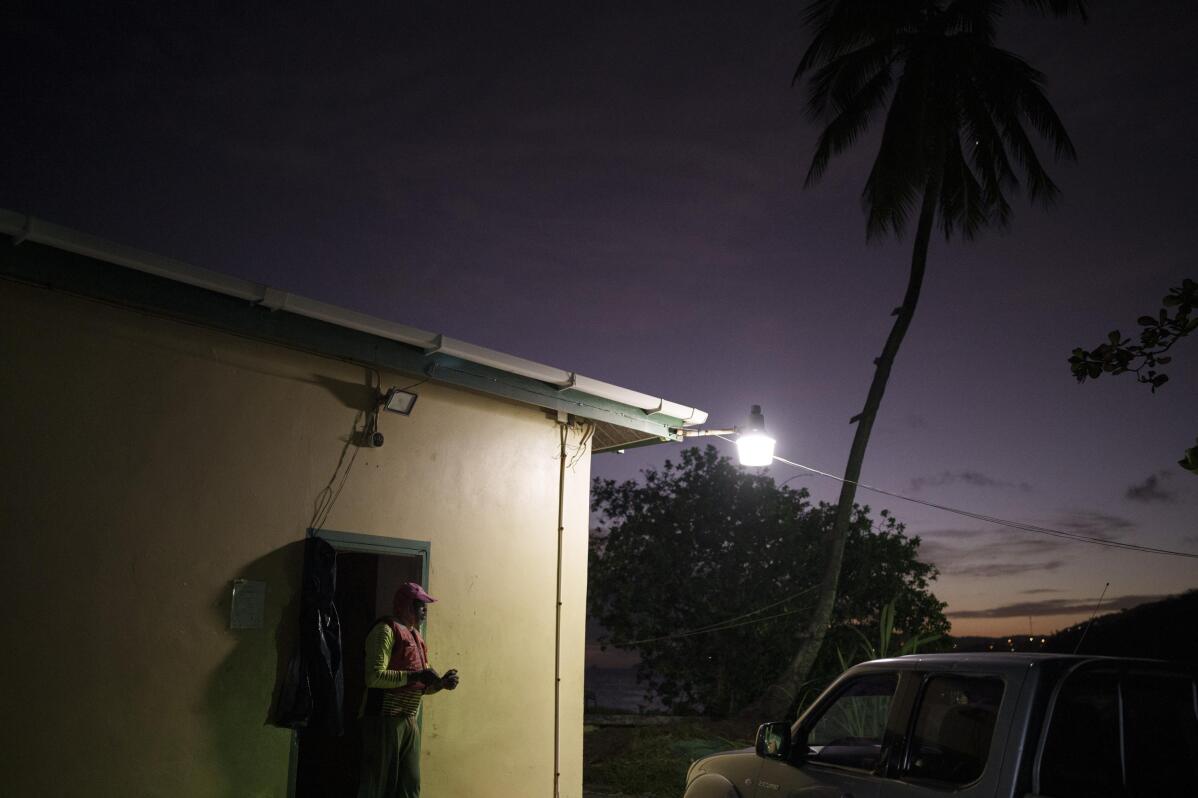 9 of 40

|
Lance Biggart, a local fisherman, stands after a day of work in the village of Belle Garden on the Caribbean island of Tobago, Trinidad and Tobago, Thursday, Jan. 20, 2022. Biggart and a colleague towed a Mauritanian boat back to shore after it was found on May 28, 2021. Biggart remembers being puzzled by how the boat could have survived Atlantic swells. "A wave came, and the boat rocked so, so badly," he recalls. (AP Photo/Felipe Dana)
9 of 40
Lance Biggart, a local fisherman, stands after a day of work in the village of Belle Garden on the Caribbean island of Tobago, Trinidad and Tobago, Thursday, Jan. 20, 2022. Biggart and a colleague towed a Mauritanian boat back to shore after it was found on May 28, 2021. Biggart remembers being puzzled by how the boat could have survived Atlantic swells. "A wave came, and the boat rocked so, so badly," he recalls. (AP Photo/Felipe Dana)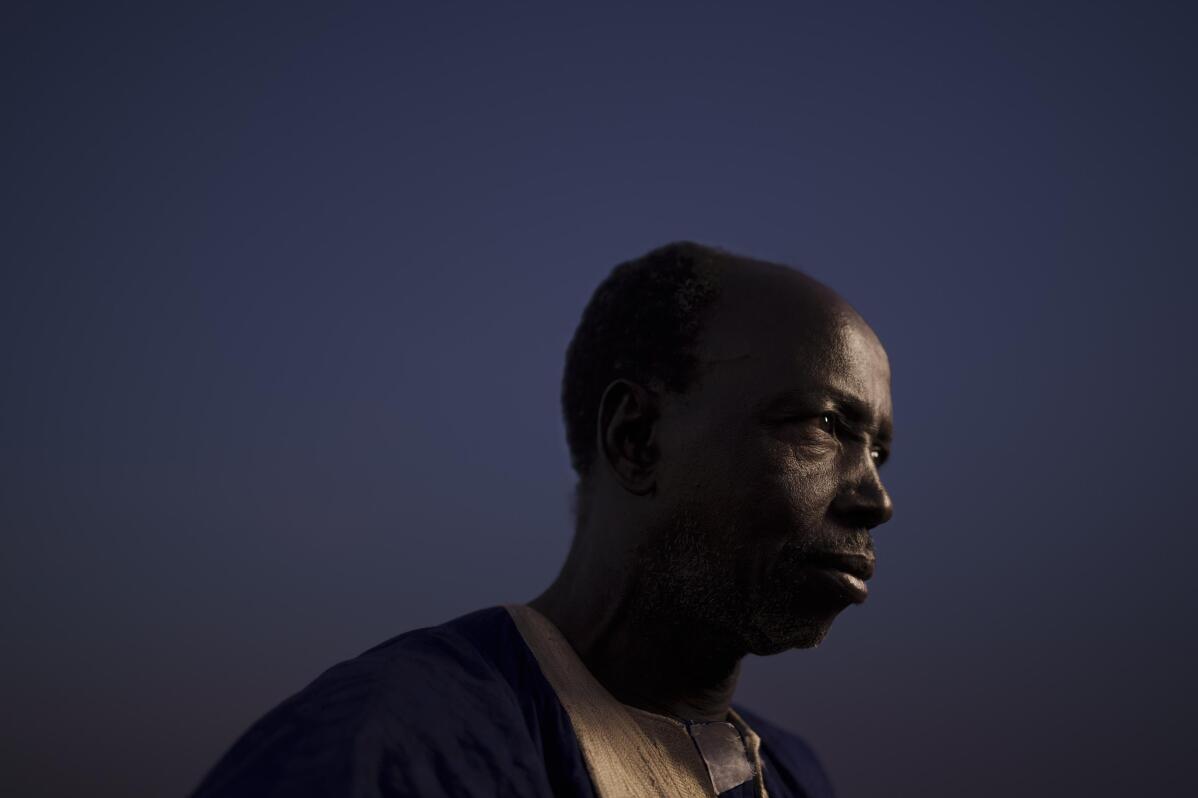 10 of 40

|
Oumar Koume, whose son Djibi Koume went missing as he tried to reach Spain's Canary Islands by boat, poses for a portrait in the village of Moudji, near Selibaby, Mauritania, Tuesday, Dec. 7, 2021. An AP investigation has found that the younger Koume was among 43 people to have boarded the boat that was found in Tobago on May 28, 2021 more than four months after its departure from Mauritania. (AP Photo/Felipe Dana)
10 of 40
Oumar Koume, whose son Djibi Koume went missing as he tried to reach Spain's Canary Islands by boat, poses for a portrait in the village of Moudji, near Selibaby, Mauritania, Tuesday, Dec. 7, 2021. An AP investigation has found that the younger Koume was among 43 people to have boarded the boat that was found in Tobago on May 28, 2021 more than four months after its departure from Mauritania. (AP Photo/Felipe Dana)
11 of 40

|
Fishermen returning from the ocean, unload their catch at the port of Nouadhibou, Mauritania, Saturday, Nov. 27, 2021. (AP Photo/Felipe Dana)
11 of 40
Fishermen returning from the ocean, unload their catch at the port of Nouadhibou, Mauritania, Saturday, Nov. 27, 2021. (AP Photo/Felipe Dana)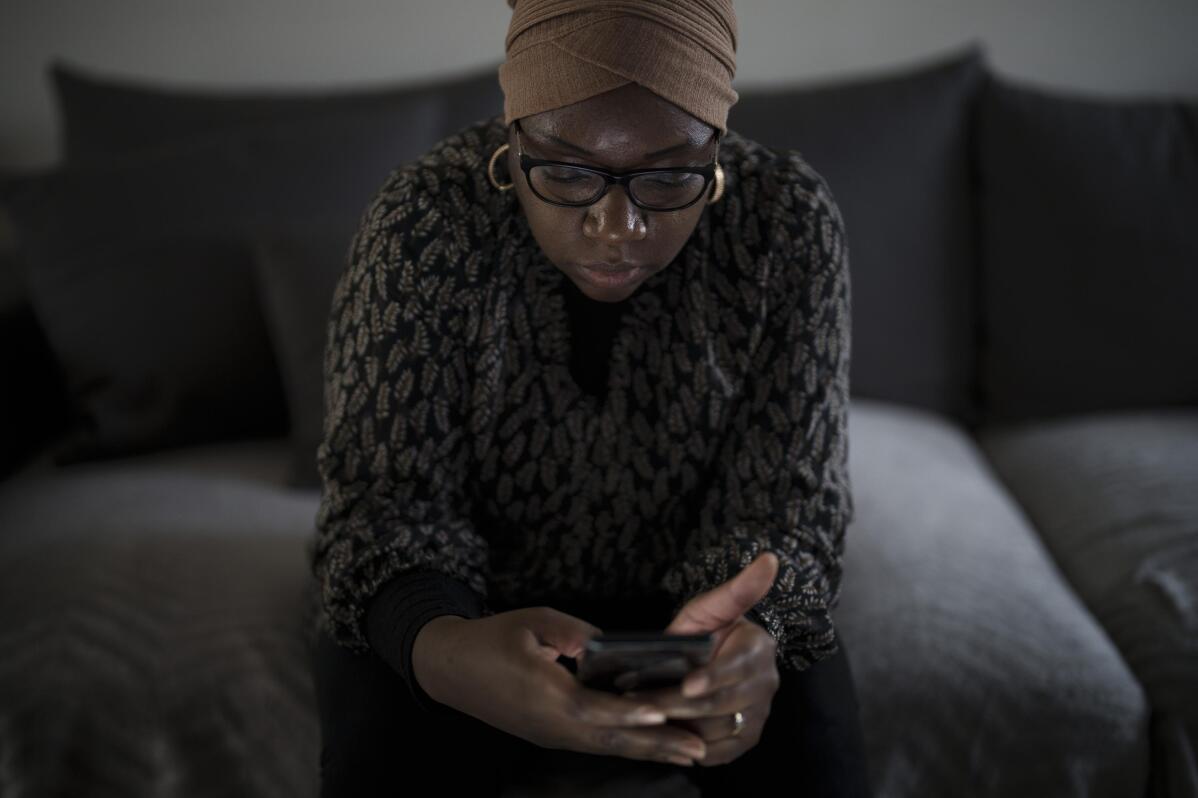 12 of 40

|
May Sow, whose nephew, Alassane Sow, went missing after boarding a boat from Mauritania in an attempt to reach Europe, looks at her phone at her home in Orleans, France, Tuesday, Nov. 22, 2022. On Oct. 4, 2022, she received DNA results confirming Alassane's body was among those recovered on a boat that was found in the Caribbean. "I regret to inform that the DNA sample result is a positive match," an e-mail "At least, for my nephew, we have proof that it is him," she said. "We can pray for him and believe that he is in a good place." (AP Photo/Felipe Dana)
12 of 40
May Sow, whose nephew, Alassane Sow, went missing after boarding a boat from Mauritania in an attempt to reach Europe, looks at her phone at her home in Orleans, France, Tuesday, Nov. 22, 2022. On Oct. 4, 2022, she received DNA results confirming Alassane's body was among those recovered on a boat that was found in the Caribbean. "I regret to inform that the DNA sample result is a positive match," an e-mail "At least, for my nephew, we have proof that it is him," she said. "We can pray for him and believe that he is in a good place." (AP Photo/Felipe Dana)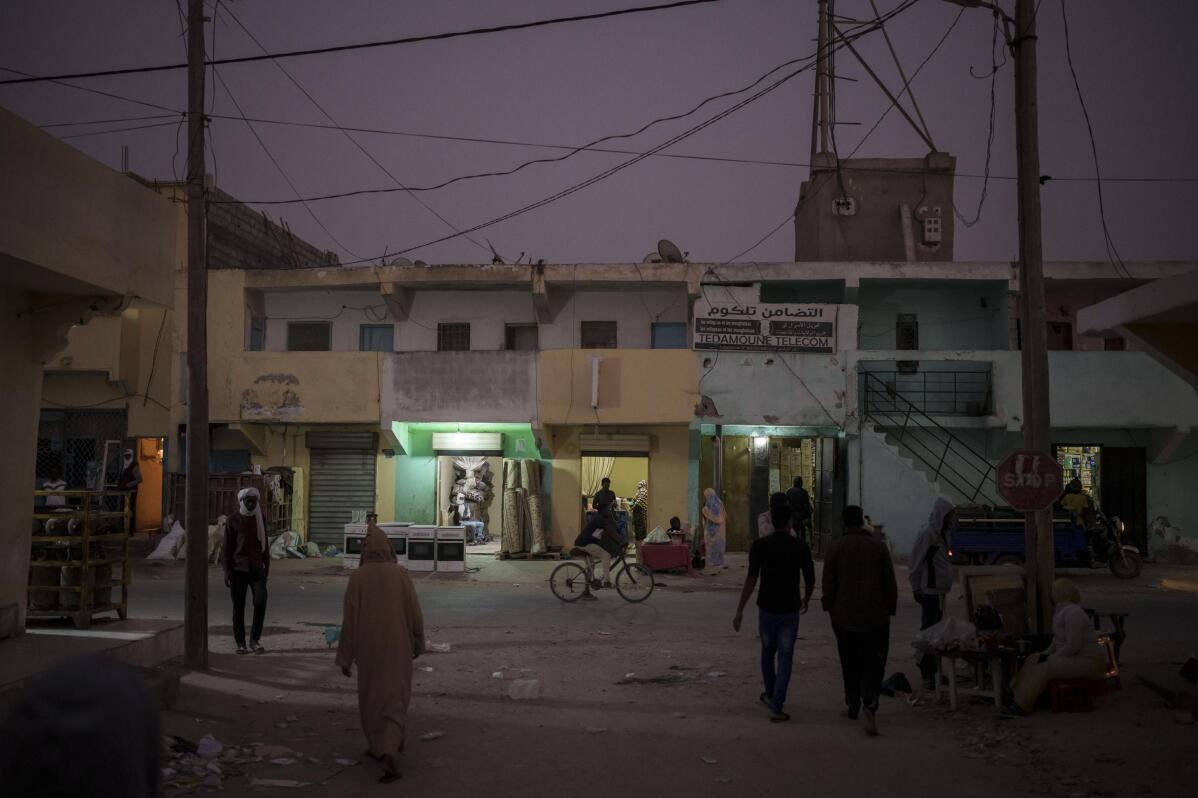 13 of 40

|
People walk in the streets at dusk in Nouadhibou, Mauritania, Tuesday, Nov. 30, 2021. (AP Photo/Felipe Dana)
13 of 40
People walk in the streets at dusk in Nouadhibou, Mauritania, Tuesday, Nov. 30, 2021. (AP Photo/Felipe Dana)
14 of 40

|
Fishermen chat as the sun sets in the village of Belle Garden on the island of Tobago, Trinidad and Tobago, Friday, Jan. 21, 2022. (AP Photo/Felipe Dana)
14 of 40
Fishermen chat as the sun sets in the village of Belle Garden on the island of Tobago, Trinidad and Tobago, Friday, Jan. 21, 2022. (AP Photo/Felipe Dana)
15 of 40

|
A rainbow is seen in the sky above the village of Belle Garden where the Mauritania boat remained parked for months after it was found drifting near Tobago, in Trinidad and Tobago, Wednesday, Jan. 19, 2022. (AP Photo/Felipe Dana)
15 of 40
A rainbow is seen in the sky above the village of Belle Garden where the Mauritania boat remained parked for months after it was found drifting near Tobago, in Trinidad and Tobago, Wednesday, Jan. 19, 2022. (AP Photo/Felipe Dana)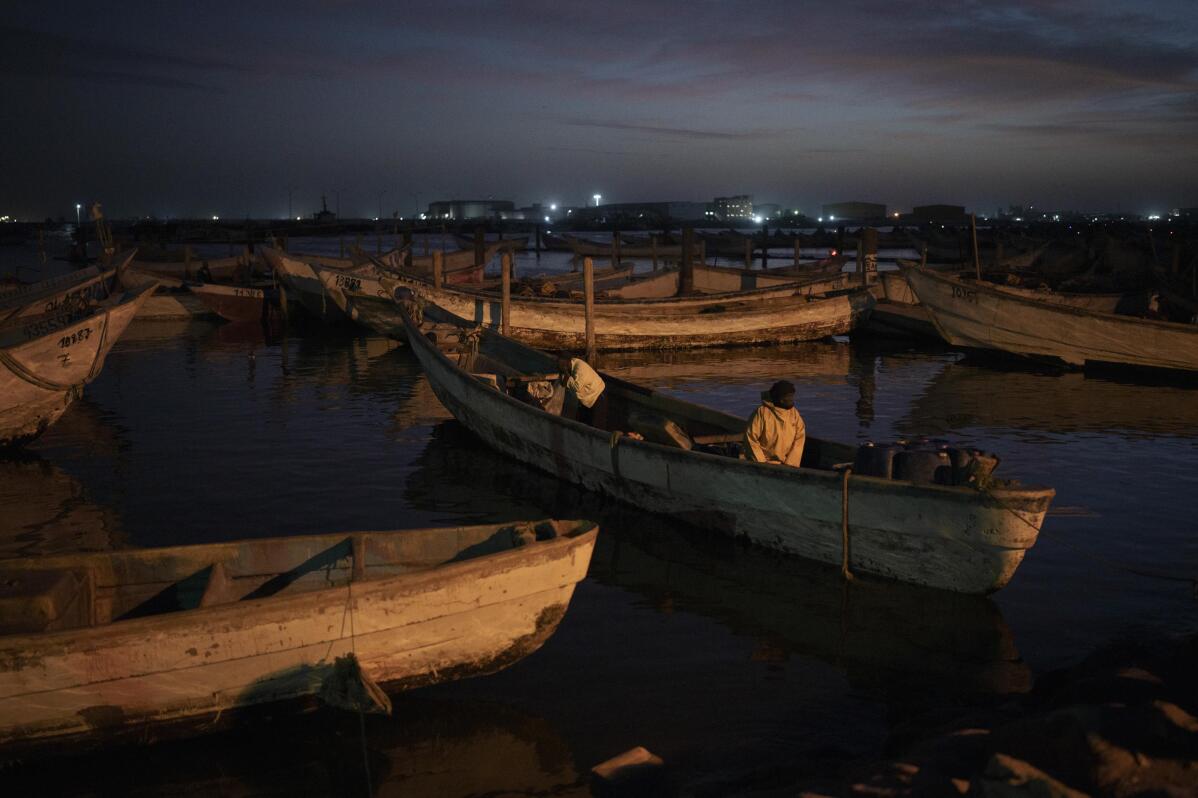 16 of 40

|
Fishermen aboard a traditional Mauritanian fishing boat, or pirogue, return after a day of work to the port of Nouadhibou, Mauritania, Saturday, Nov. 27, 2021. Every year, hundreds if not thousands of West African migrants disappear trying to reach the Canary Islands and, they believed, better lives in Europe. The real death toll is unknown, and so many people and boats are never seen again. (AP Photo/Felipe Dana)
16 of 40
Fishermen aboard a traditional Mauritanian fishing boat, or pirogue, return after a day of work to the port of Nouadhibou, Mauritania, Saturday, Nov. 27, 2021. Every year, hundreds if not thousands of West African migrants disappear trying to reach the Canary Islands and, they believed, better lives in Europe. The real death toll is unknown, and so many people and boats are never seen again. (AP Photo/Felipe Dana)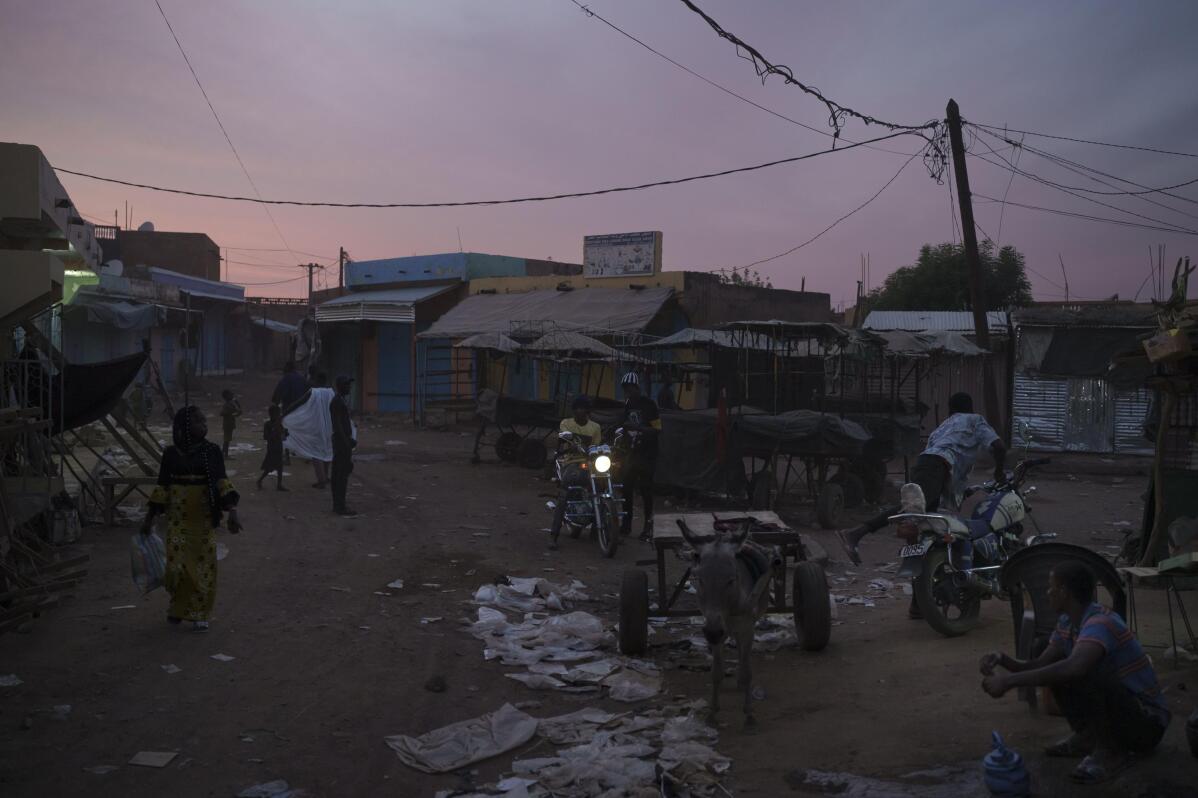 17 of 40

|
Residents walk around the central market area in Selibaby, Mauritania, Wednesday, Dec. 8, 2021. (AP Photo/Felipe Dana)
17 of 40
Residents walk around the central market area in Selibaby, Mauritania, Wednesday, Dec. 8, 2021. (AP Photo/Felipe Dana)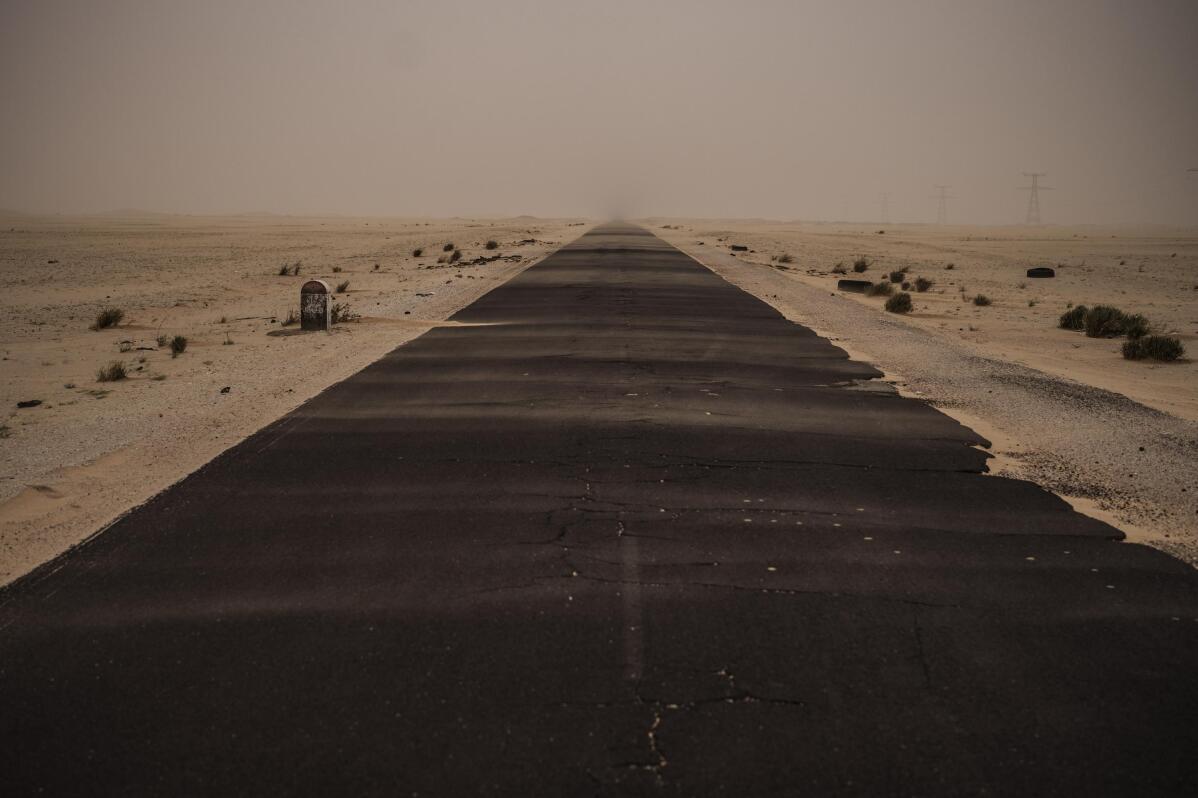 18 of 40

|
A strip of tarmac leading to the capital is partly covered by sand near Nouadhibou, Mauritania, Thursday, Dec. 2, 2021. (AP Photo/Felipe Dana)
18 of 40
A strip of tarmac leading to the capital is partly covered by sand near Nouadhibou, Mauritania, Thursday, Dec. 2, 2021. (AP Photo/Felipe Dana)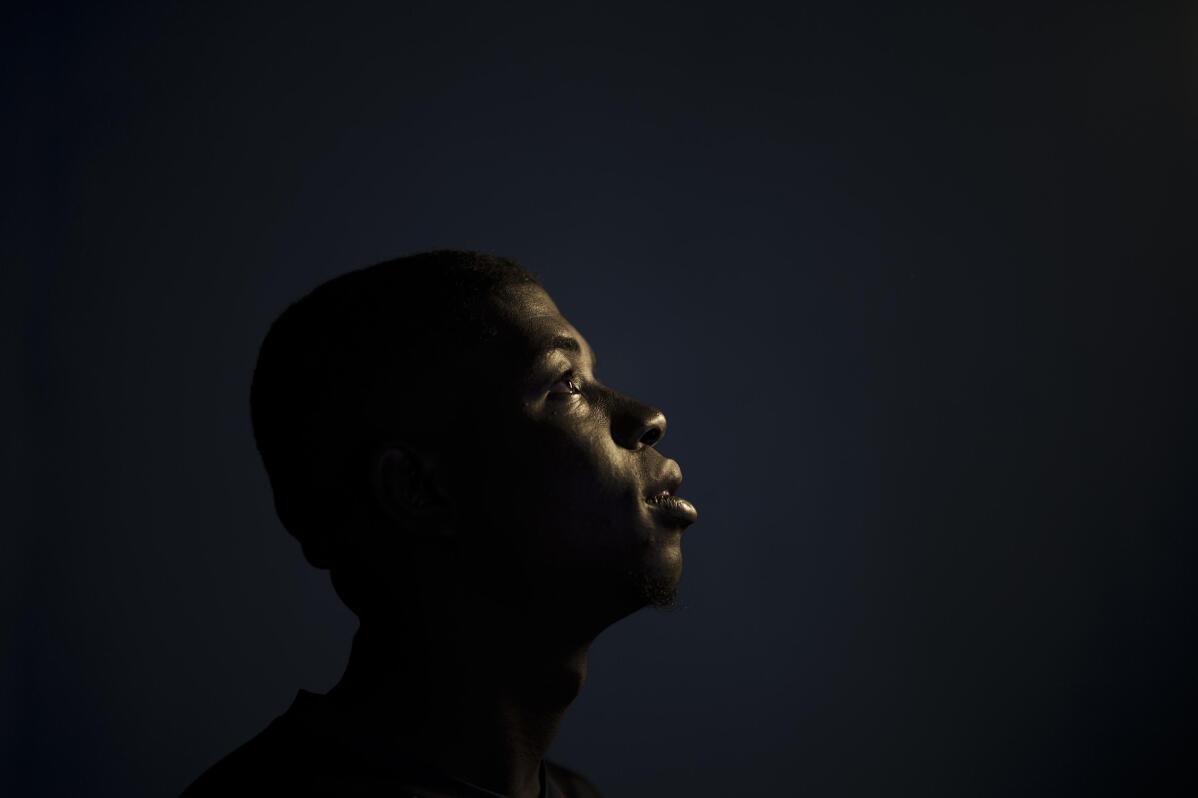 19 of 40

|
Soulayman Sangare of Mali, poses for a portrait in Nouadhibou, Mauritania, Wednesday, Dec. 1, 2021. Sangare has tried and failed to reach Spain's Canary Islands by boat. Despite being aware of the dangers of such ocean voyages and the fact he can't swim, Sangare said he was determined to try again. (AP Photo/Felipe Dana)
19 of 40
Soulayman Sangare of Mali, poses for a portrait in Nouadhibou, Mauritania, Wednesday, Dec. 1, 2021. Sangare has tried and failed to reach Spain's Canary Islands by boat. Despite being aware of the dangers of such ocean voyages and the fact he can't swim, Sangare said he was determined to try again. (AP Photo/Felipe Dana)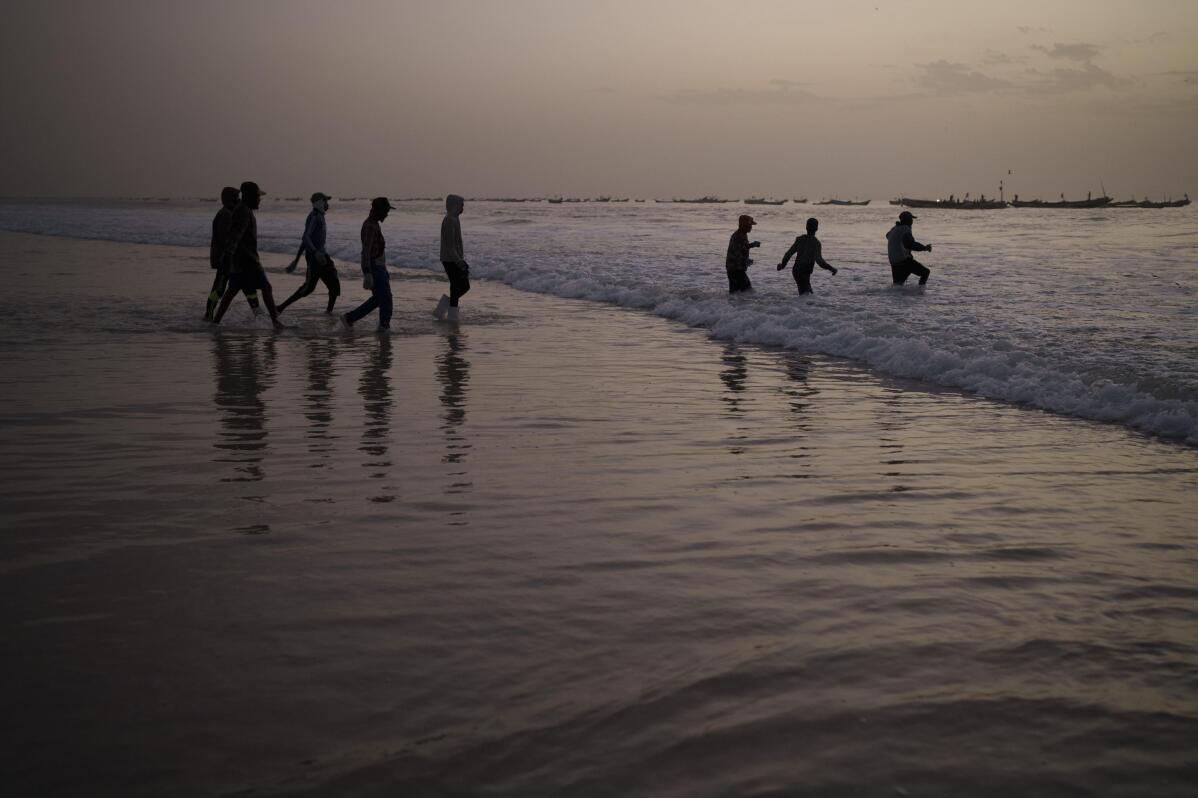 20 of 40

|
Young fishermen walk into the ocean to board an artisanal fishing boat in Nouakchott, Mauritania, Friday, Dec. 10, 2021. (AP Photo/Felipe Dana)
20 of 40
Young fishermen walk into the ocean to board an artisanal fishing boat in Nouakchott, Mauritania, Friday, Dec. 10, 2021. (AP Photo/Felipe Dana)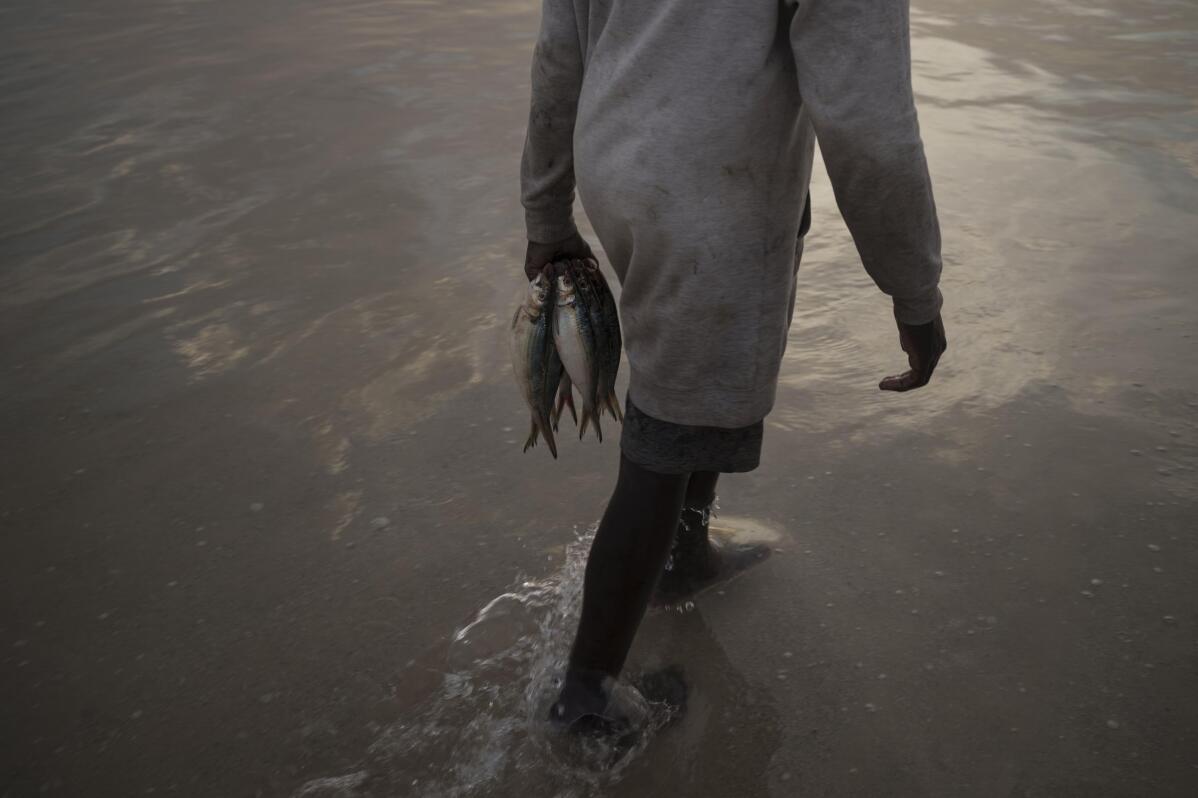 21 of 40

|
A man holds fish as he walks on the beach in Nouakchott, Mauritania, Friday, Dec. 10, 2021. (AP Photo/Felipe Dana)
21 of 40
A man holds fish as he walks on the beach in Nouakchott, Mauritania, Friday, Dec. 10, 2021. (AP Photo/Felipe Dana)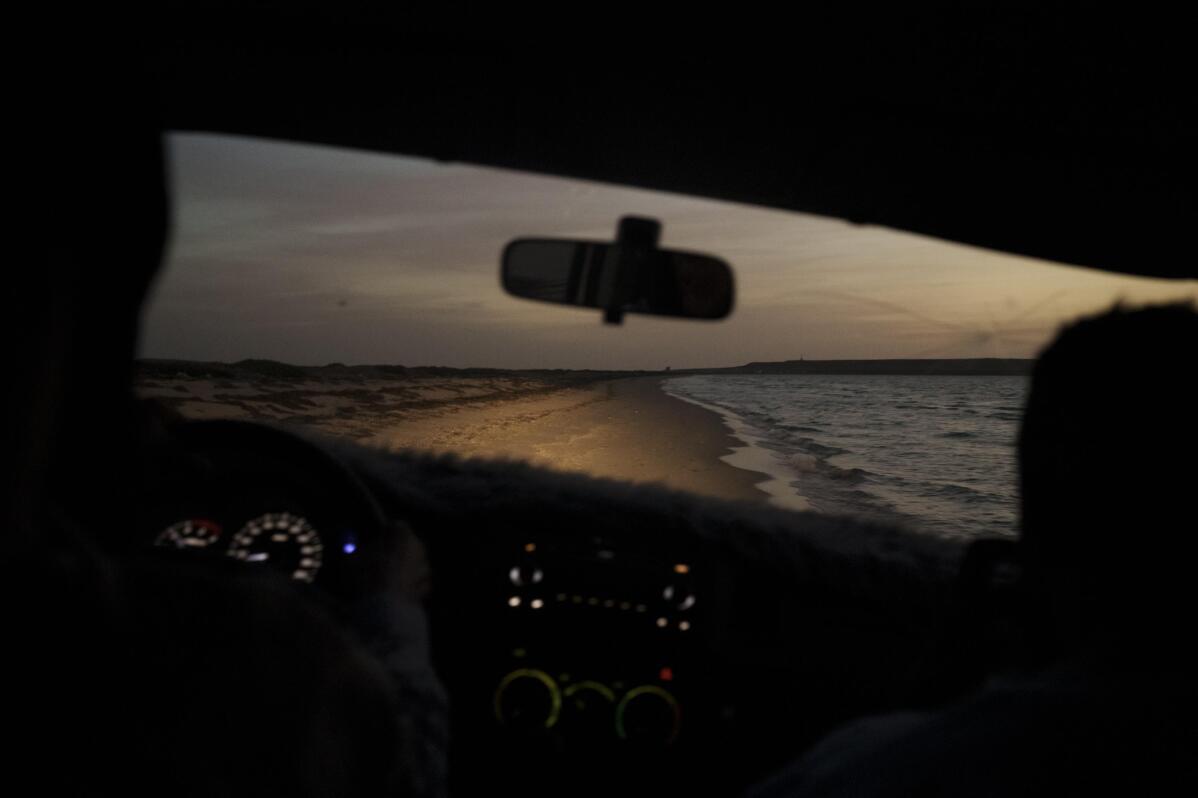 22 of 40

|
A beach is illuminated by a car's headlights at dusk near Nouadhibou, Mauritania, Thursday, Nov. 25, 2021. (AP Photo/Felipe Dana)
22 of 40
A beach is illuminated by a car's headlights at dusk near Nouadhibou, Mauritania, Thursday, Nov. 25, 2021. (AP Photo/Felipe Dana)
23 of 40

|
Adama Barra, right, and a relative, sit in his living room in Selibaby, Mauritania, Wednesday, Dec. 8, 2021. Barra, a local teacher, knew many of the young men who went missing after boarding a boat in Nouadhibou hoping to reach Spain's Canary Islands. (AP Photo/Felipe Dana)
23 of 40
Adama Barra, right, and a relative, sit in his living room in Selibaby, Mauritania, Wednesday, Dec. 8, 2021. Barra, a local teacher, knew many of the young men who went missing after boarding a boat in Nouadhibou hoping to reach Spain's Canary Islands. (AP Photo/Felipe Dana)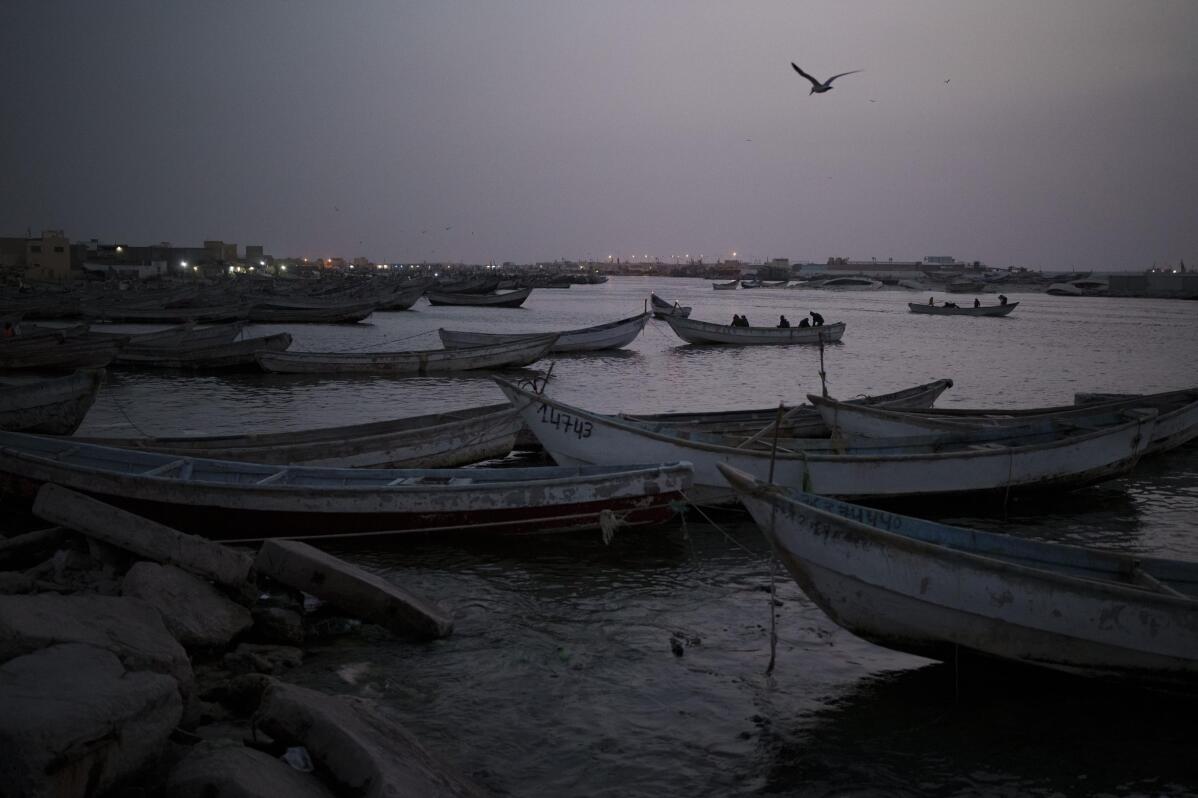 24 of 40

|
Traditional Mauritanian fishing boats known as pirogues are moored at the port in Nouadhibou, Mauritania, Wednesday, Dec. 1, 2021. (AP Photo/Felipe Dana)
24 of 40
Traditional Mauritanian fishing boats known as pirogues are moored at the port in Nouadhibou, Mauritania, Wednesday, Dec. 1, 2021. (AP Photo/Felipe Dana)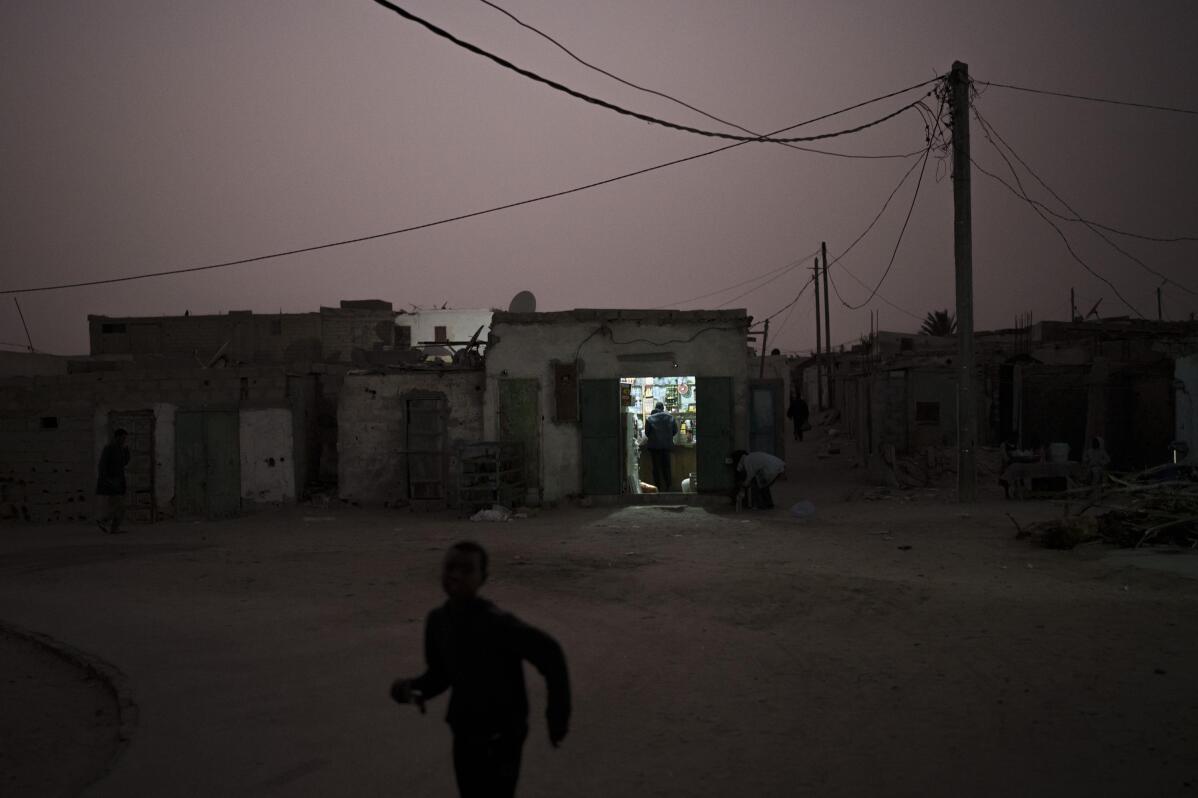 25 of 40

|
A boy runs in the street at dusk in Nouadhibou, Mauritania, Tuesday, Nov. 30, 2021. (AP Photo/Felipe Dana)
25 of 40
A boy runs in the street at dusk in Nouadhibou, Mauritania, Tuesday, Nov. 30, 2021. (AP Photo/Felipe Dana)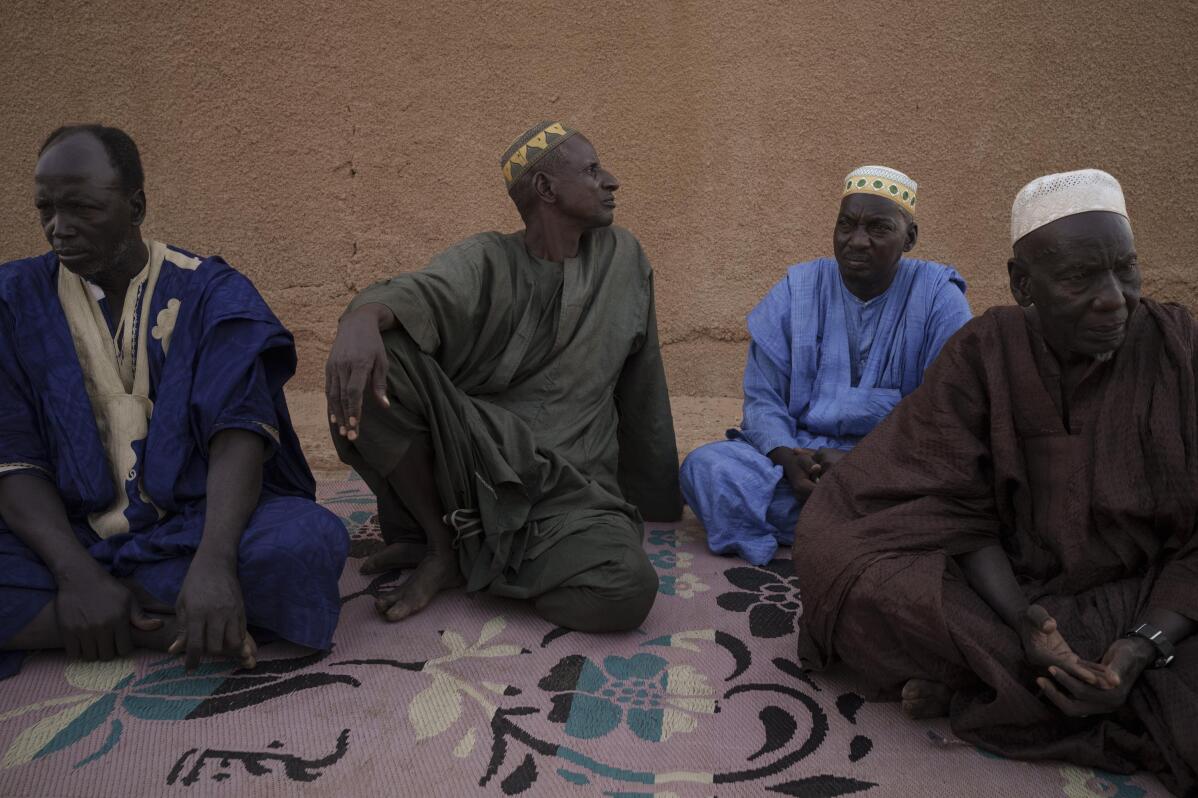 26 of 40

|
Oumar Koume, left, sits with other relatives during an interview in Selibaby, Mauritania, Tuesday, Dec. 7, 2021. Koume's son, Djibi Koume, was among 43 people to have boarded the boat that was found in Tobago on May 28, 2021, more than four months after its departure from Mauritania in an attempt to reach Spain's Canary Islands. (AP Photo/Felipe Dana)
26 of 40
Oumar Koume, left, sits with other relatives during an interview in Selibaby, Mauritania, Tuesday, Dec. 7, 2021. Koume's son, Djibi Koume, was among 43 people to have boarded the boat that was found in Tobago on May 28, 2021, more than four months after its departure from Mauritania in an attempt to reach Spain's Canary Islands. (AP Photo/Felipe Dana)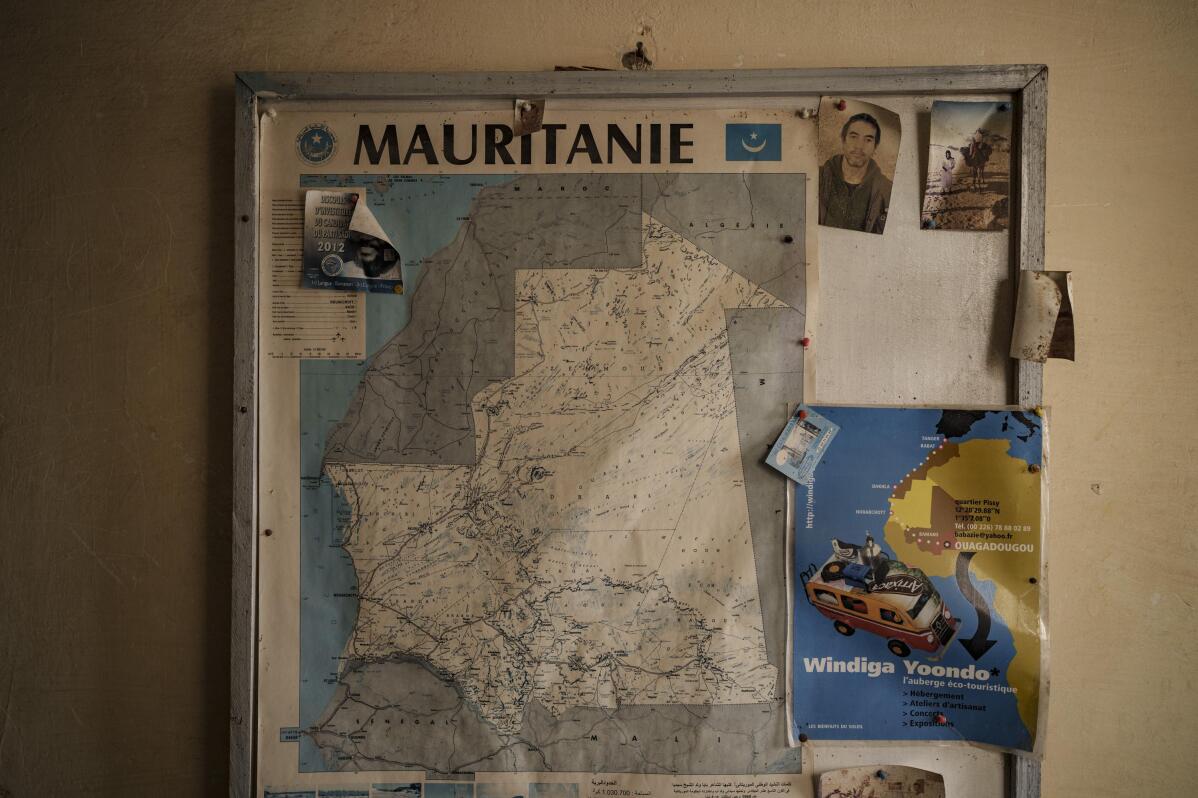 27 of 40

|
An old map of Mauritania is displayed in a hostel in Nouadhibou, Mauritania, Tuesday, Nov. 30, 2021. (AP Photo/Felipe Dana)
27 of 40
An old map of Mauritania is displayed in a hostel in Nouadhibou, Mauritania, Tuesday, Nov. 30, 2021. (AP Photo/Felipe Dana)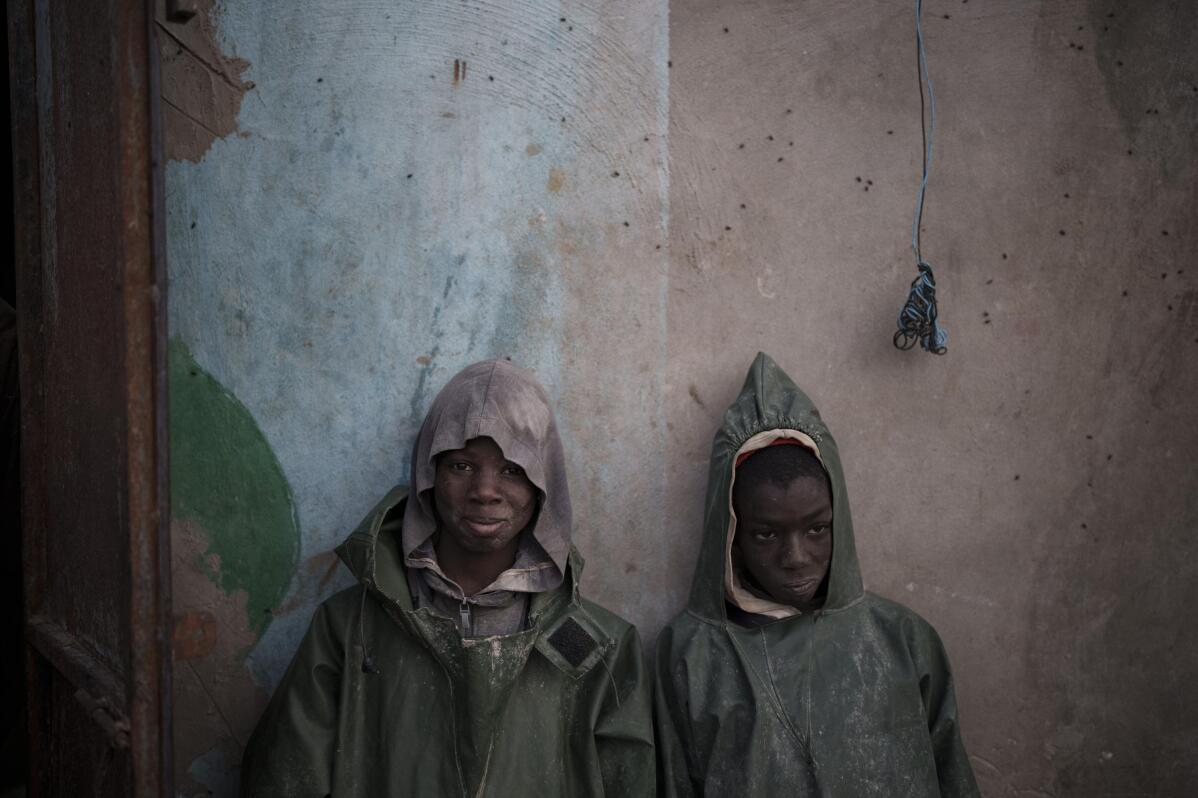 28 of 40

|
Two young fishermen from Senegal lean on a wall after returning from a fishing expedition in Nouadhibou, Mauritania, Wednesday, Dec. 1, 2021. (AP Photo/Felipe Dana)
28 of 40
Two young fishermen from Senegal lean on a wall after returning from a fishing expedition in Nouadhibou, Mauritania, Wednesday, Dec. 1, 2021. (AP Photo/Felipe Dana)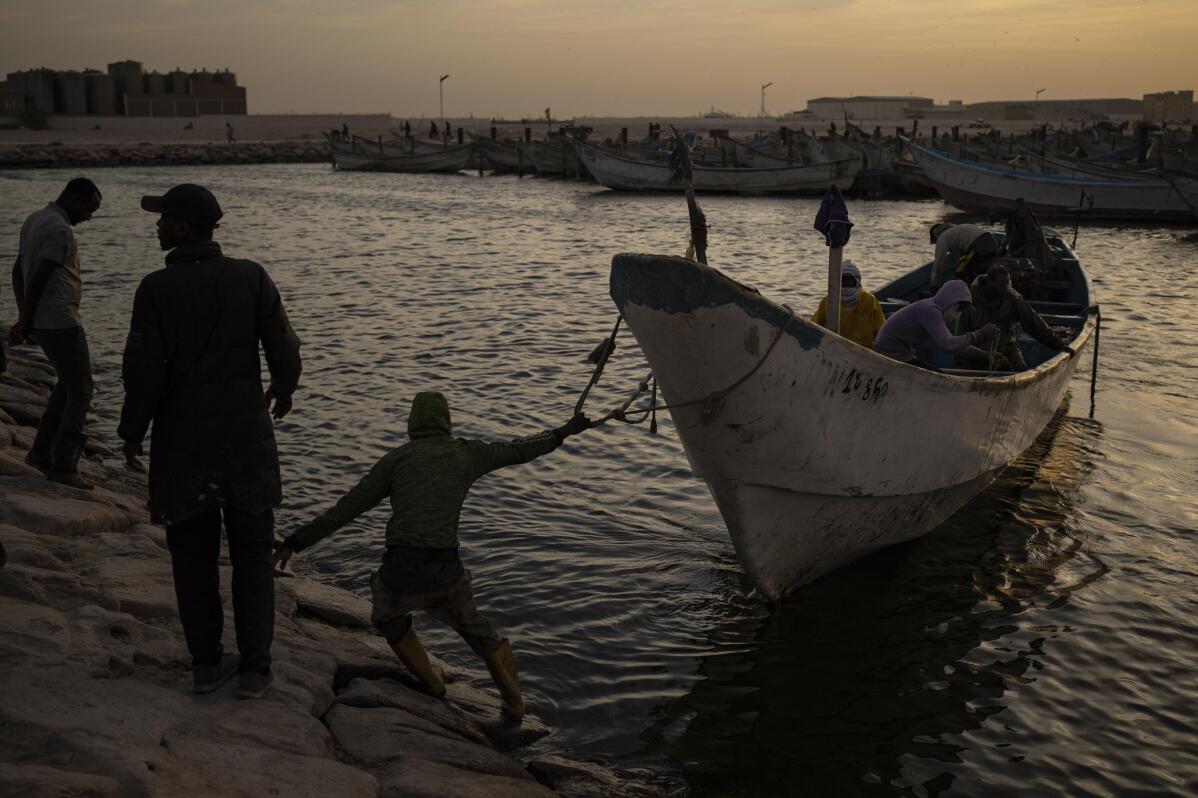 29 of 40

|
Men prepare to dock a fishing boat, known as pirogue, at the port in Nouadhibou, Mauritania, Saturday, Nov. 27, 2021. (AP Photo/Felipe Dana)
29 of 40
Men prepare to dock a fishing boat, known as pirogue, at the port in Nouadhibou, Mauritania, Saturday, Nov. 27, 2021. (AP Photo/Felipe Dana)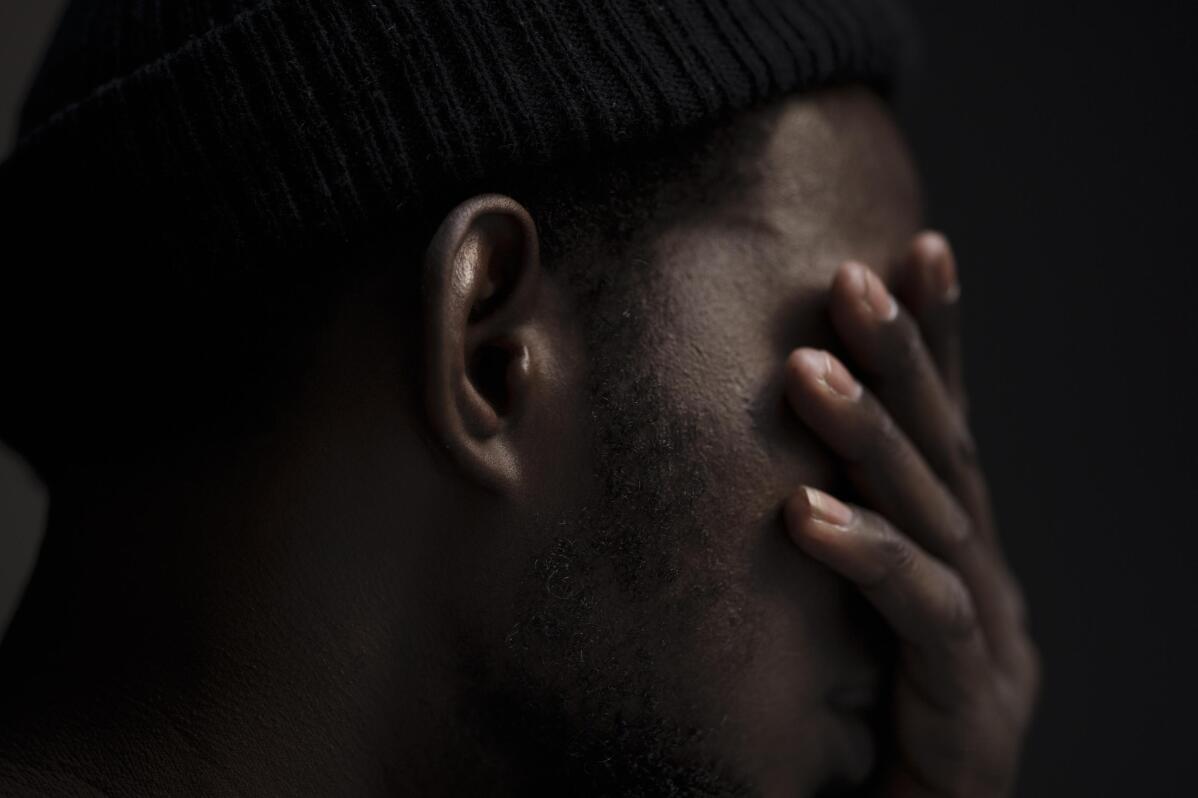 30 of 40

|
Moussa Sako, an asylum-seeker from Mali who survived 22 days aboard a Mauritanian boat drifting in the Atlantic Ocean, covers his face during an interview in Guadalajara, Spain, Sunday, Nov. 14, 2021. Sako was rescued by the Spanish Air Force on April 26, 2021. His boat was spotted by chance more than 310 miles (500 km) from the Spanish island of El Hierro — "in the middle of nowhere," as one of the rescuers described it. They had set off 22 days earlier from Nouakchott, the capital of Mauritania. Only three of 63 people who boarded survived. (AP Photo/Felipe Dana)
30 of 40
Moussa Sako, an asylum-seeker from Mali who survived 22 days aboard a Mauritanian boat drifting in the Atlantic Ocean, covers his face during an interview in Guadalajara, Spain, Sunday, Nov. 14, 2021. Sako was rescued by the Spanish Air Force on April 26, 2021. His boat was spotted by chance more than 310 miles (500 km) from the Spanish island of El Hierro — "in the middle of nowhere," as one of the rescuers described it. They had set off 22 days earlier from Nouakchott, the capital of Mauritania. Only three of 63 people who boarded survived. (AP Photo/Felipe Dana)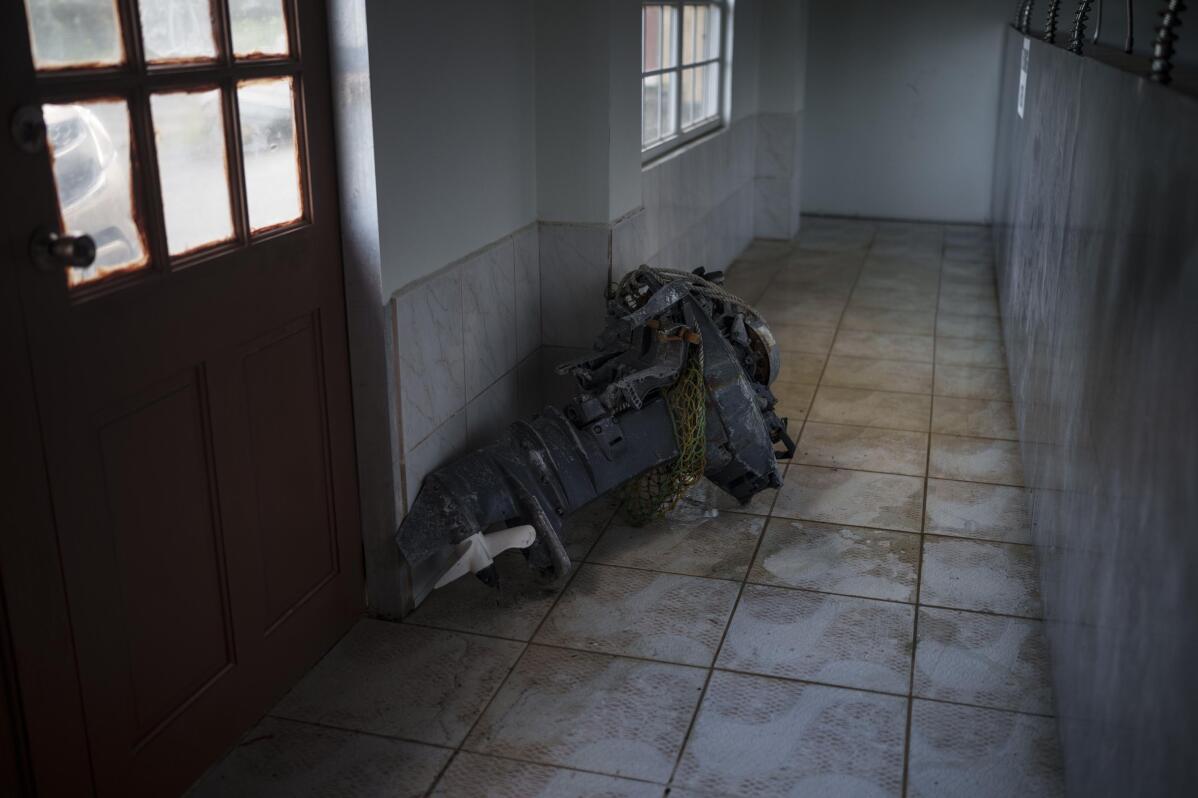 31 of 40

|
The engine found on the Mauritania boat that appeared drifting near Tobago lies in on a floor in the village of Belle Garden, Trinidad and Tobago, Wednesday, Jan. 19, 2022. (AP Photo/Felipe Dana)
31 of 40
The engine found on the Mauritania boat that appeared drifting near Tobago lies in on a floor in the village of Belle Garden, Trinidad and Tobago, Wednesday, Jan. 19, 2022. (AP Photo/Felipe Dana)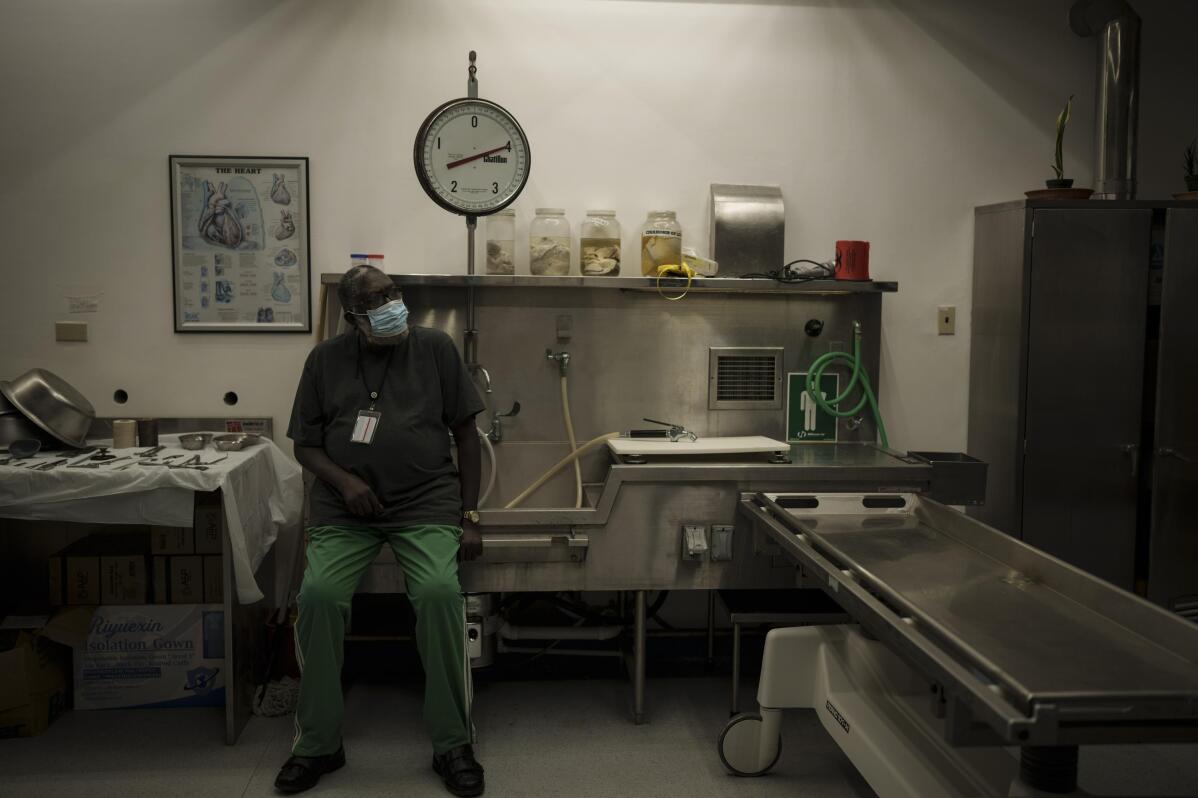 32 of 40

|
Mortuary technician Thomas Philips sits inside the morgue at the Scarborough hospital on the island of Tobago, Trinidad and Tobago, Tuesday, Jan. 25, 2022. (AP Photo/Felipe Dana)
32 of 40
Mortuary technician Thomas Philips sits inside the morgue at the Scarborough hospital on the island of Tobago, Trinidad and Tobago, Tuesday, Jan. 25, 2022. (AP Photo/Felipe Dana)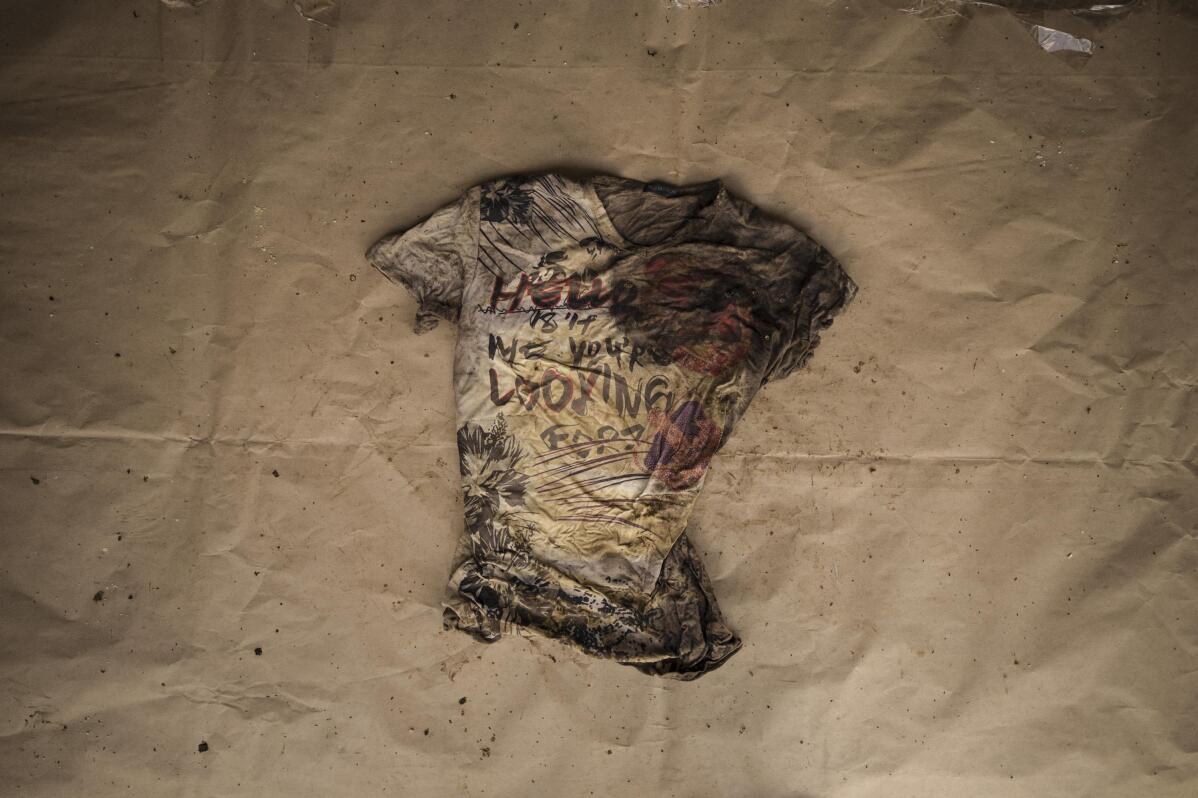 33 of 40

|
A printed T-shirt that reads "Hello, is it me you're looking for?" found on a deceased migrant whose remains were recovered from a Mauritania boat on May 28, 2021, is laid out at the Scarborough police station on the island of Tobago, Trinidad and Tobago, Friday, Jan. 21, 2022. (AP Photo/Felipe Dana)
33 of 40
A printed T-shirt that reads "Hello, is it me you're looking for?" found on a deceased migrant whose remains were recovered from a Mauritania boat on May 28, 2021, is laid out at the Scarborough police station on the island of Tobago, Trinidad and Tobago, Friday, Jan. 21, 2022. (AP Photo/Felipe Dana)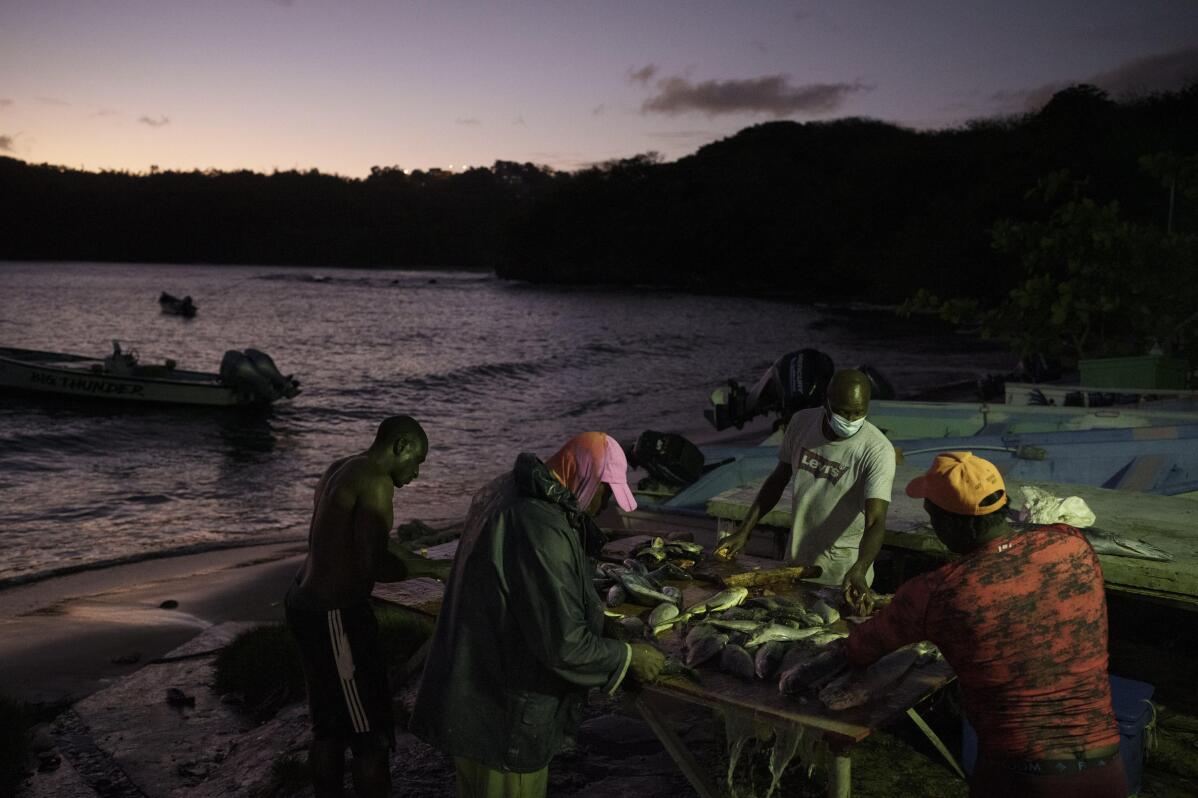 34 of 40

|
Fishermen clean and cut their catch in the village of Belle Garden on the Caribbean island of Tobago, Trinidad and Tobago, Thursday, Jan. 20, 2022. (AP Photo/Felipe Dana)
34 of 40
Fishermen clean and cut their catch in the village of Belle Garden on the Caribbean island of Tobago, Trinidad and Tobago, Thursday, Jan. 20, 2022. (AP Photo/Felipe Dana)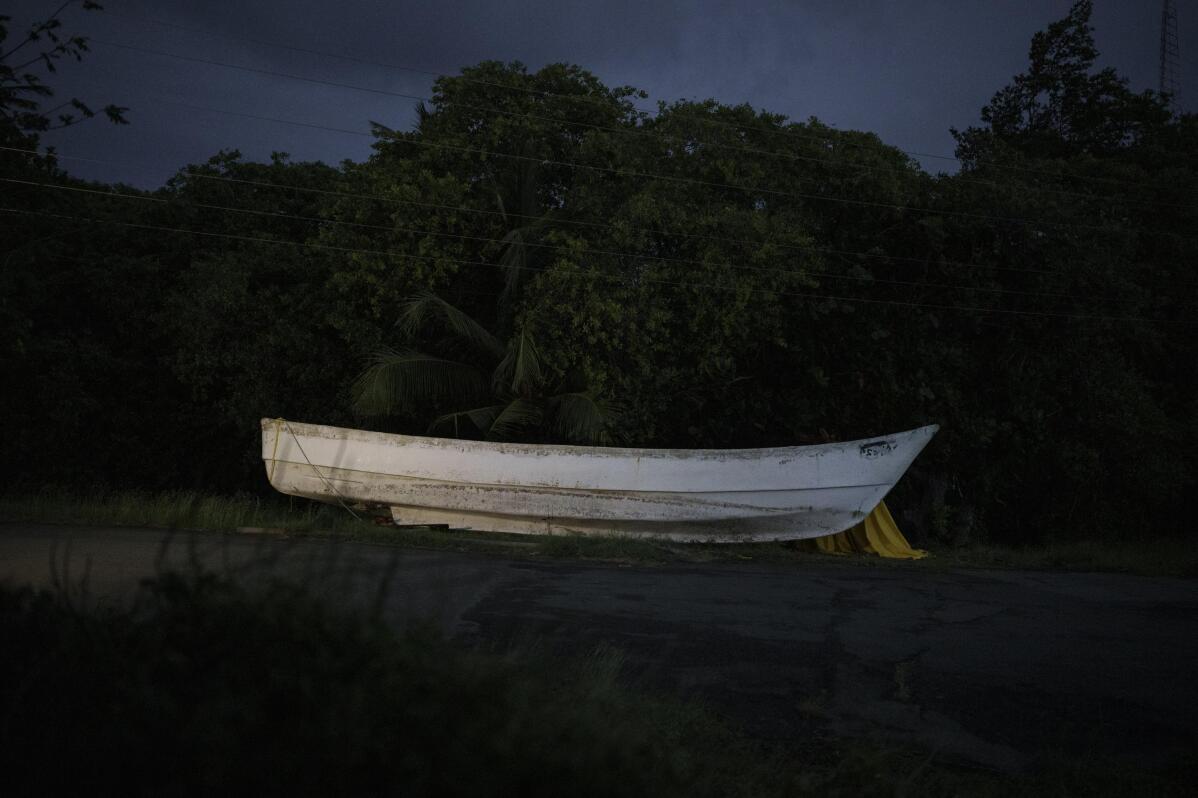 35 of 40

|
A traditional boat from Mauritania known as a pirogue sits by the side of the road in the village of Belle Garden in the island of Tobago, Trinidad and Tobago, Tuesday, Jan. 18, 2022. The boat was found by local fishermen drifting nearby on May 28, 2021 with 14 bodies and other skeletal remains inside. An AP investigation has found that the boat had departed the port town of Nouadhibou in Mauritania, Africa more than four months earlier with 43 migrants. (AP Photo/Felipe Dana)
35 of 40
A traditional boat from Mauritania known as a pirogue sits by the side of the road in the village of Belle Garden in the island of Tobago, Trinidad and Tobago, Tuesday, Jan. 18, 2022. The boat was found by local fishermen drifting nearby on May 28, 2021 with 14 bodies and other skeletal remains inside. An AP investigation has found that the boat had departed the port town of Nouadhibou in Mauritania, Africa more than four months earlier with 43 migrants. (AP Photo/Felipe Dana)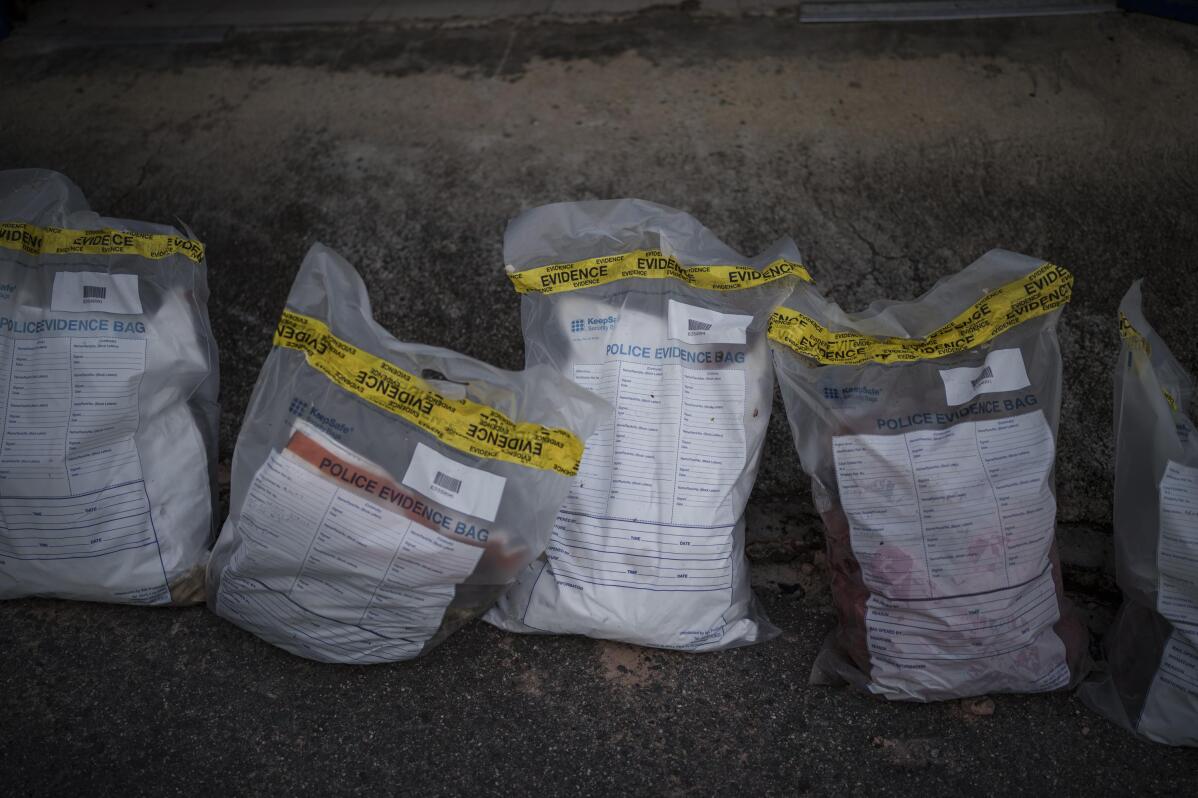 36 of 40

|
Police evidence bags containing clothing and other items found on a Mauritanian boat are laid out at the Scarborough police station in Tobago, Trinidad and Tobago, Friday, Jan. 21, 2022. The boat was found by local fishermen drifting nearby on May 28, 2021 with 14 bodies and other skeletal remains inside. An AP investigation has found that the boat had departed the port town of Nouadhibou in Mauritania, Africa more than four months earlier with 43 migrants. (AP Photo/Felipe Dana)
36 of 40
Police evidence bags containing clothing and other items found on a Mauritanian boat are laid out at the Scarborough police station in Tobago, Trinidad and Tobago, Friday, Jan. 21, 2022. The boat was found by local fishermen drifting nearby on May 28, 2021 with 14 bodies and other skeletal remains inside. An AP investigation has found that the boat had departed the port town of Nouadhibou in Mauritania, Africa more than four months earlier with 43 migrants. (AP Photo/Felipe Dana)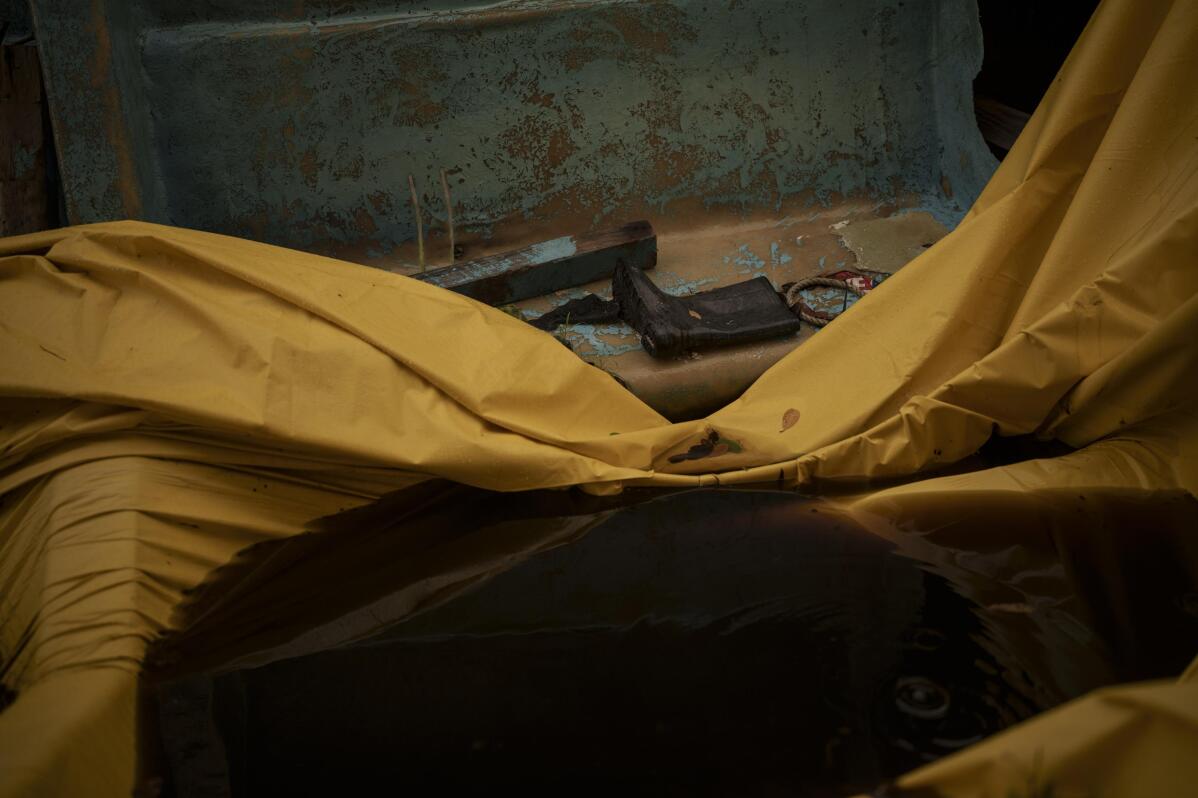 37 of 40

|
A boot is seen inside a Mauritanian boat that drifted to Tobago with 14 bodies and other skeletal remains, in Belle Garden, Trinidad and Tobago, Wednesday, Jan. 19, 2022. The boat was found by local fishermen drifting nearby on May 28, 2021 with 14 bodies and other skeletal remains inside. An AP investigation has found that the boat had departed the port town of Nouadhibou in Mauritania, Africa more than four months earlier with 43 migrants. (AP Photo/Felipe Dana)
37 of 40
A boot is seen inside a Mauritanian boat that drifted to Tobago with 14 bodies and other skeletal remains, in Belle Garden, Trinidad and Tobago, Wednesday, Jan. 19, 2022. The boat was found by local fishermen drifting nearby on May 28, 2021 with 14 bodies and other skeletal remains inside. An AP investigation has found that the boat had departed the port town of Nouadhibou in Mauritania, Africa more than four months earlier with 43 migrants. (AP Photo/Felipe Dana)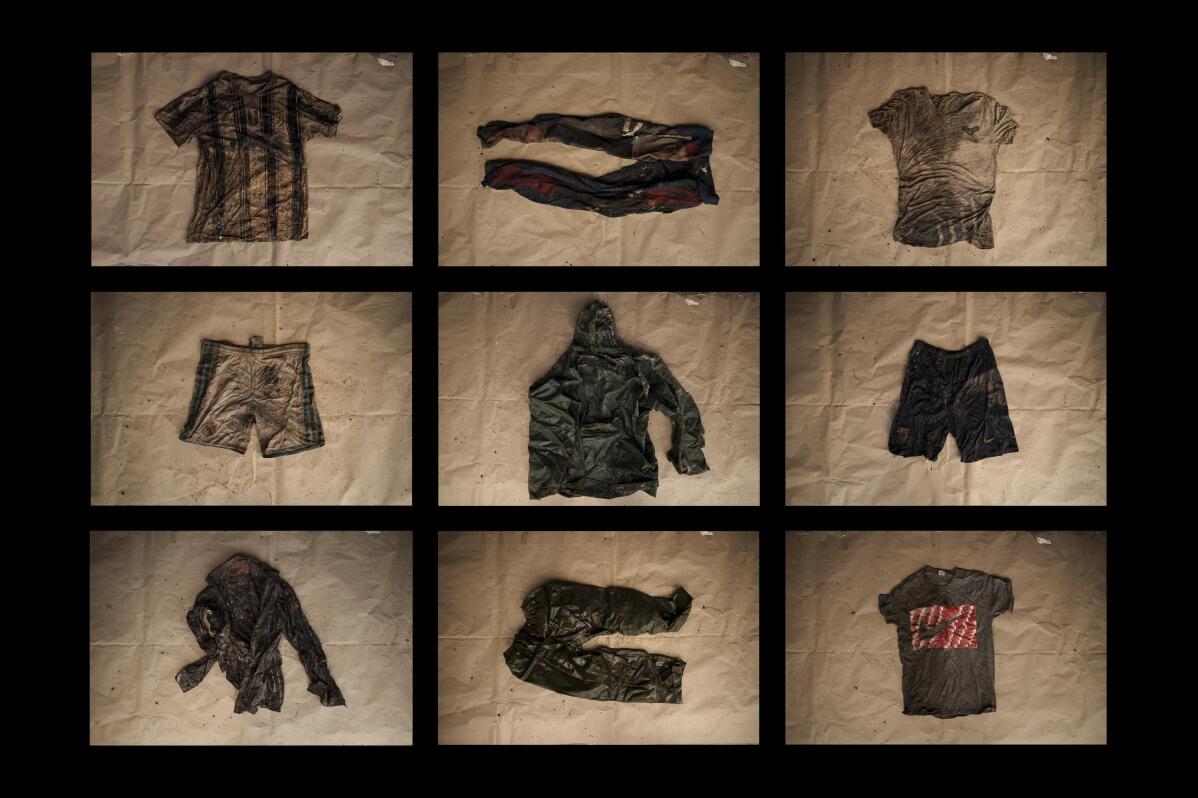 38 of 40

|
In this combination of photos, clothing found on deceased migrants whose remains were recovered from a Mauritanian boat on May 28, 2021, are laid out at the Scarborough police station on the island of Tobago, Trinidad and Tobago, Friday, Jan. 21, 2022. The boat was found by local fishermen drifting nearby on May 28, 2021 with 14 bodies and other skeletal remains inside. An AP investigation has found that the boat had departed the port town of Nouadhibou in Mauritania, Africa more than four months earlier with 43 migrants. (AP Photo/Felipe Dana)
38 of 40
In this combination of photos, clothing found on deceased migrants whose remains were recovered from a Mauritanian boat on May 28, 2021, are laid out at the Scarborough police station on the island of Tobago, Trinidad and Tobago, Friday, Jan. 21, 2022. The boat was found by local fishermen drifting nearby on May 28, 2021 with 14 bodies and other skeletal remains inside. An AP investigation has found that the boat had departed the port town of Nouadhibou in Mauritania, Africa more than four months earlier with 43 migrants. (AP Photo/Felipe Dana)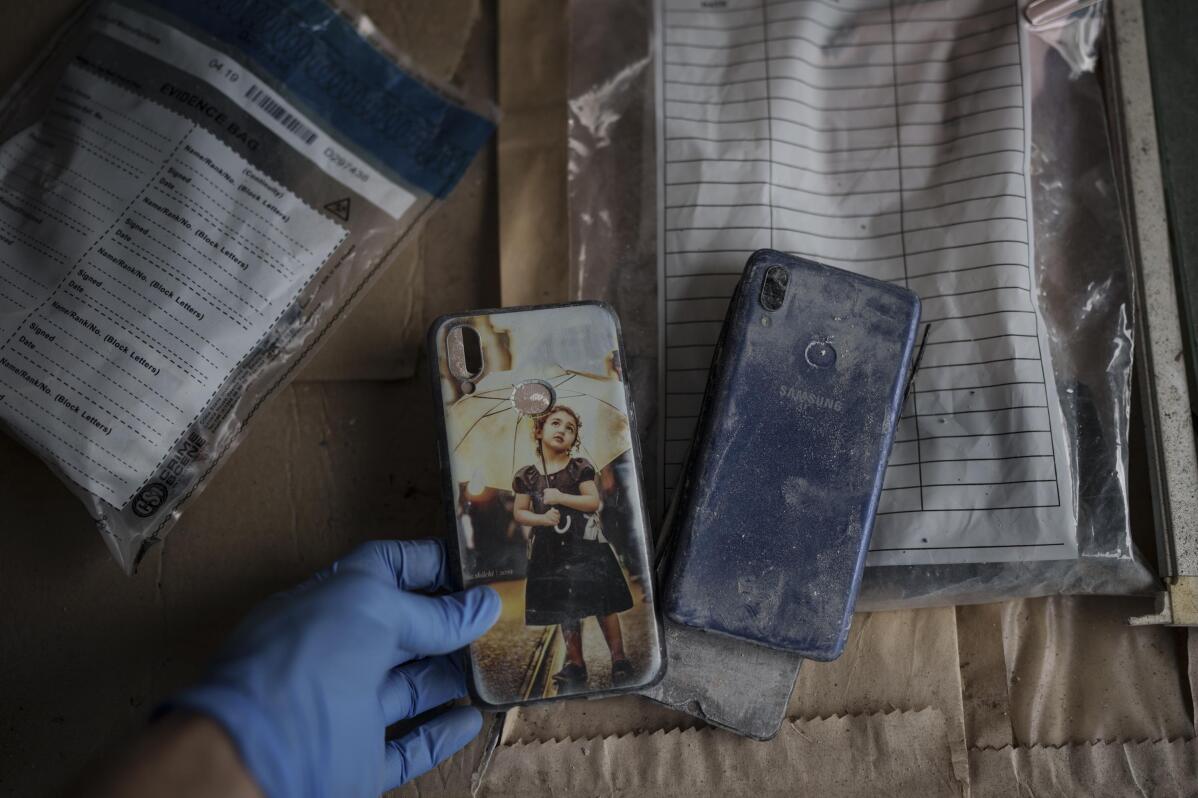 39 of 40

|
A police officer shows one of the phones found inside a Mauritanian boat at the Scarborough police station in Trinidad and Tobago, Friday, Jan. 21, 2022. (AP Photo/Felipe Dana)
39 of 40
A police officer shows one of the phones found inside a Mauritanian boat at the Scarborough police station in Trinidad and Tobago, Friday, Jan. 21, 2022. (AP Photo/Felipe Dana)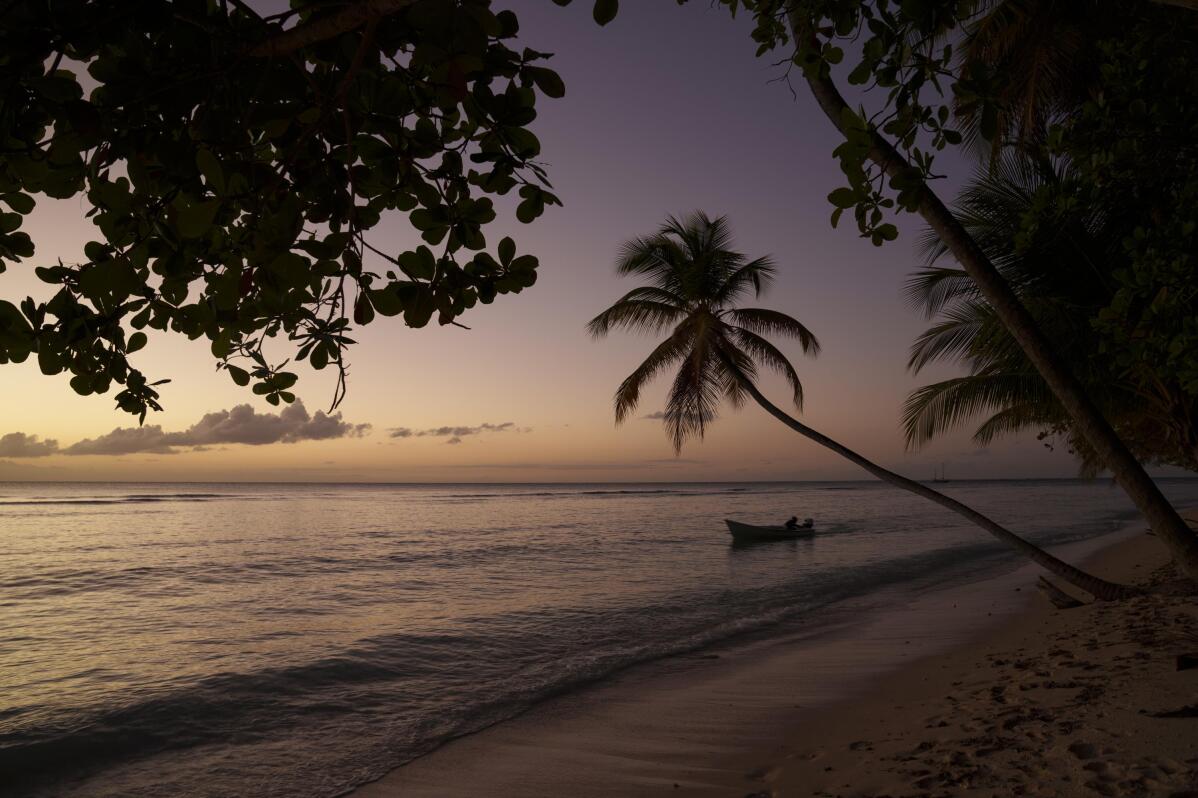 40 of 40

|
A boat navigates the shore of the island of Tobago, Trinidad and Tobago, at sunset on Sunday, Jan. 23, 2022. (AP Photo/Felipe Dana)
40 of 40
A boat navigates the shore of the island of Tobago, Trinidad and Tobago, at sunset on Sunday, Jan. 23, 2022. (AP Photo/Felipe Dana)
BELLE GARDEN, Tobago (AP) — Around 6:30 a.m. on May 28, 2021, off the beach near the Caribbean island of Tobago, a narrow white-and-blue boat drifted onto the horizon.
From a distance, it seemed no one was aboard. But as fishermen approached, they smelled death. Then they saw the decomposing bodies of more than a dozen Black men.
What is clear now, but was not then, is this: 135 days earlier, 43 people were believed to have left a port city across the ocean in Mauritania. They were trying to reach Spain's Canary Islands.
Instead, they ended up here, on the other side of the Atlantic.
At least seven boats carrying dead bodies appearing to be from Northwest Africa washed up in the Caribbean and in Brazil in 2021. These "ghost boats" — and likely many others that have vanished — are in part an unintended result of years of efforts and billions of dollars spent by Europe to stop crossings on the Mediterranean Sea.
That crackdown helped push migrants to return to the far longer, more obscure and more dangerous Atlantic route to Europe via the Canaries instead. Arrivals on that route jumped eightfold from 2019 to more than 22,000 in 2021, with conservative estimates for the dead and missing that year ranging from 1,109 to more than 4,000.
These migrants are as invisible in death as they were in life. But even ghosts have families.
The AP spent two years putting together puzzle pieces, including dozens of interviews, documents and DNA testing, to identify 33 of the migrants on the Mauritanian boat by name. This is the story of one.
After the boat was towed to shore, workers retrieved 14 bodies, three skulls and other large bones, clothing, 1,000 West African CFA francs (under $2) and scattered euros, and half a dozen corroded cell phones with SIM cards from Mali and Mauritania.
In 20 years as a forensic pathologist, Dr. Eslyn McDonald-Burris had never seen so many bodies arrive at the local mortuary in Tobago at once. Their apparent African descent reminded her of her enslaved ancestors.
"It's kind of emotional for me, because I'm thinking why? What is happening here?" asked the soft-spoken Burris, who has since retired. "It's the same currents that they used when they brought us here."
As Burris pulled back the layers of clothing, she found soccer jerseys and shorts with insignia from Europe and Mauritania. One man was dressed more formally, wearing a black button-down shirt with thin white stripes.
Thousands of miles away, in the French city of Orléans, May Sow had all but given up hope of finding her nephew alive.
It was mid-January 2021, and Alassane Sow, 30, wasn't answering his phone, leaving his family in both Mali and France desperate. A few days earlier, Alassane had told her over the phone that he was thinking of boarding a boat to Spain and, ultimately, to France to work. Smugglers charged 1,500 euros, and he had saved some money working as a security guard in Mauritania.
"It's suicide," she warned him. Even if he made it, she told him, he wouldn't be allowed to work legally in France.
Alassane wouldn't hear of it. After all, his French family had a good life with stable careers that allowed them to send money back to Mali to support his mother.
On the night between Jan. 12 and 13, 2021, he boarded a pirogue in Nouadhibou, Mauritania, headed to Spain's Canary Islands, his family learned later.
After the initial silence came rumors, including one that his boat had been stopped in Morocco and the migrants sent to prison. May contacted a Malian community representative in Morocco to check prisons and morgues. No trace of Alassane.
She reached out to a page on Facebook called "Protect Migrants not Borders," used by families of missing migrants to exchange information. That was when May realized her nephew was one of thousands disappearing each year en route to Europe.
Every day people posted about a missing person. Few were ever found. Any tips she obtained were by word of mouth. There was no official information. She felt helpless.
Alassane's mother, grandmother and wife held onto hope that he was alive, probably in prison somewhere, and couldn't call. May was growing increasingly skeptical.
One night, she had a dream. She saw him dead with many people in the water, and she cried out for him. In her nightmare, Alassane eventually opened his eyes but couldn't speak. After that, she was sure they had shipwrecked. But she had no proof.
A few months later, her sister shared a news report about a Mauritanian boat found in Tobago with dead bodies inside. Then an AP reporter contacted her asking about the same. Could her nephew be among those?
The contact list extracted from one of the SIM cards on a phone in the boat by authorities in Tobago contained 137 names. The AP went down the list, and shared photos of the evidence collected in Tobago with families of the missing in Mauritania, Mali, Senegal and France.
May Sow, the aunt in France, stared at the photos on her phone for days. One looked familiar: a black striped button-down shirt. She went back to photos of her nephew from shortly before he disappeared. There it was — the same black striped shirt. He wore it on special occasions.
"I don't think they had the right to bring things with them, so he must have worn his best clothes," she said.
A friend of Alassane's, who had accompanied him on the first part of the journey, confirmed that he had worn the striped shirt underneath a jacket with red pockets. Both were found on one of the bodies.
Sow reached out to the Red Cross in Senegal for help with a DNA test to confirm. But because Alassane's mother was from Mali, they couldn't help. So in late June, the AP got a saliva sample sent from Alassane's mother to the Forensics Science Center in Trinidad and Tobago.
Three months later, on Oct. 4, 2022, an email arrived in May Sow's inbox.
"I regret to inform that the DNA sample result is a positive match."
Alassane was buried after an Islamic funeral on March 3, 2023 at the Chaguanas Public Cemetery in Trinidad and Tobago. His family, unable to travel, held prayers in both his hometown in Mali and in France.
The results of DNA testing by the Red Cross with the possible relatives of the other dead men aren't yet known, and much of their story will likely remain unknown also. But at least May Sow knows one thing now.
"At least, for my nephew, we have proof that it is him," she said. "We can pray for him and believe that he is in a good place."