Van der Sar quits as Ajax director general after club finishes 3rd in Dutch league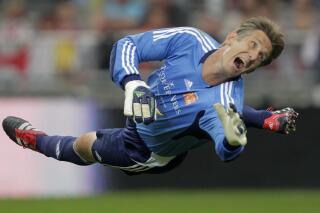 AMSTERDAM (AP) — Edwin van der Sar is stepping down as director general of Ajax after the team finished third in the Dutch league, missing out on a Champions League berth for next season.
Van der Sar, a former goalkeeper for teams including Ajax, Manchester United, and the Netherlands, had been a member of the board of the Amsterdam club since late 2012 and director general since 2016. His contract ran until mid-2025.
"After nearly 11 years on the board, I'm exhausted," Van der Sar said in a statement Tuesday. "It doesn't feel good to have to make imminent decisions about the future of this beautiful club. Hence my decision to stop now."
No successor was named. The club said the supervisory board has asked Van der Sar to continue work until August.
"We wanted Edwin to stay, but he had made his decision. We have to respect that," supervisory board chairman Pier Eringa said. "The last season does not reflect the entire period that he has been in charge of Ajax. The club has seen a lot of success, has seen a lot of growth, and gained international exposure."
Ajax fired coach Alfred Schreuder in January after a disappointing start to the season and appointed former defender John Heitinga to replace him until the end of the season. Schreuder was hired to replace Erik ten Hag, who moved to Manchester United last year after guiding Ajax to Dutch league titles and the Champions League semifinals in 2019.
Van der Sar is expected also to give up his position as vice chairman of the European Club Association, a role close to the heart of soccer politics and Champions League decision-making. He represented teams from mid-ranked countries on its board of directors and typically featured in ECA news briefings supporting its chairman, Nasser al-Khelaifi from Paris Saint-Germain.
Ajax is credited with helping to propose the new format for UEFA club competitions that will take effect in 2024. The traditional four-team groups will be replaced by a single-standings phase ranking 36 teams in one league table.
Two of the ECA's four vice chairmen have left their jobs in recent days and both were world-class goalkeepers: Van der Sar and Olivier Kahn, whose firing as Bayern Munich chief executive was announced on Saturday within hours of the team retaining the German league title.
___
More AP soccer: https://apnews.com/hub/soccer and https://twitter.com/AP_Sports