Heat takes toll as Iditarod mushers trek across Alaska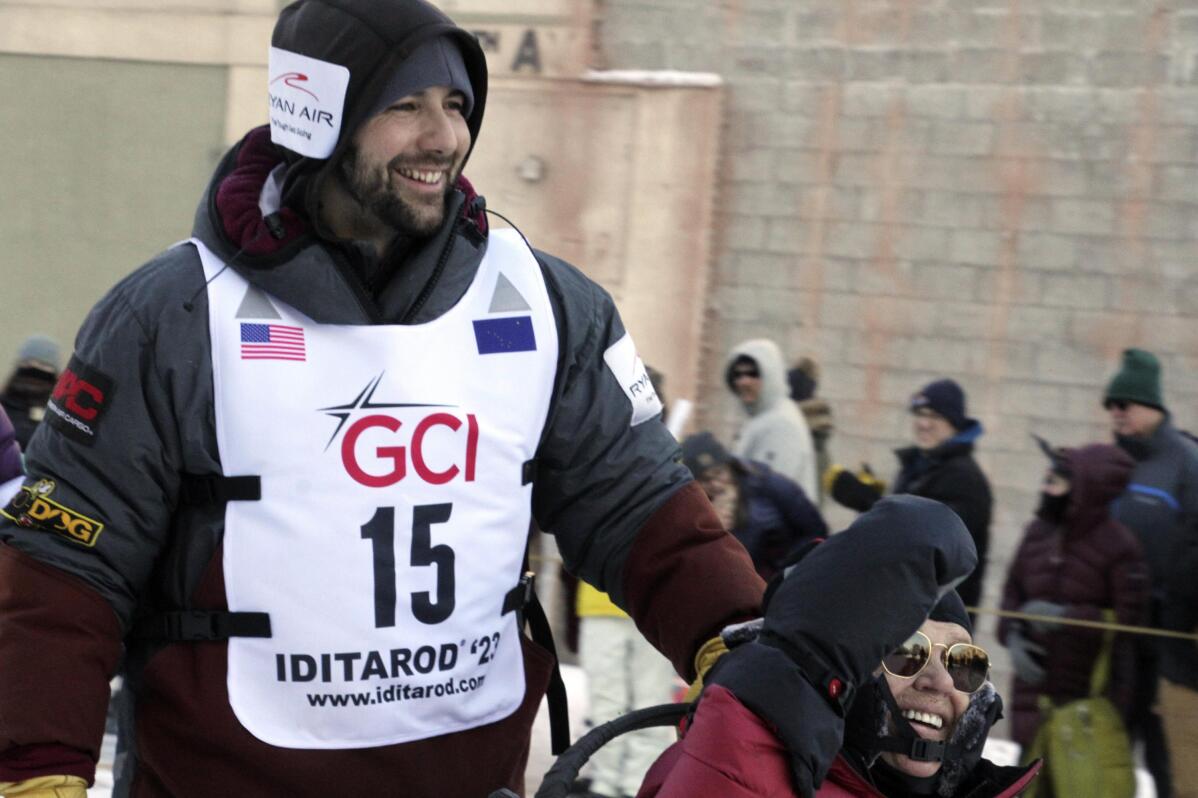 1 of 3

|
Musher Richie Diehl, wearing big No. 15, mushes down Fourth Avenue during the ceremonial start of the Iditarod Trail Sled Dog Race Saturday, March 4, 2023, in Anchorage, Alaska. Warm weather is making it tough sledding for mushers in this year's Iditarod, and Diehl said the conditions could be "soft and punchy." (AP Photo/Mark Thiessen)
2 of 3

|
Musher Richie Diehl takes one of his dogs back to it's his trailer before the ceremonial start of the Iditarod Trail Sled Dog Race Saturday, March 4, 2023, in Anchorage, Alaska. Warm weather is making it tough sledding for mushers in this year's Iditarod, and Diehl said the conditions could be "soft and punchy." (AP Photo/Mark Thiessen)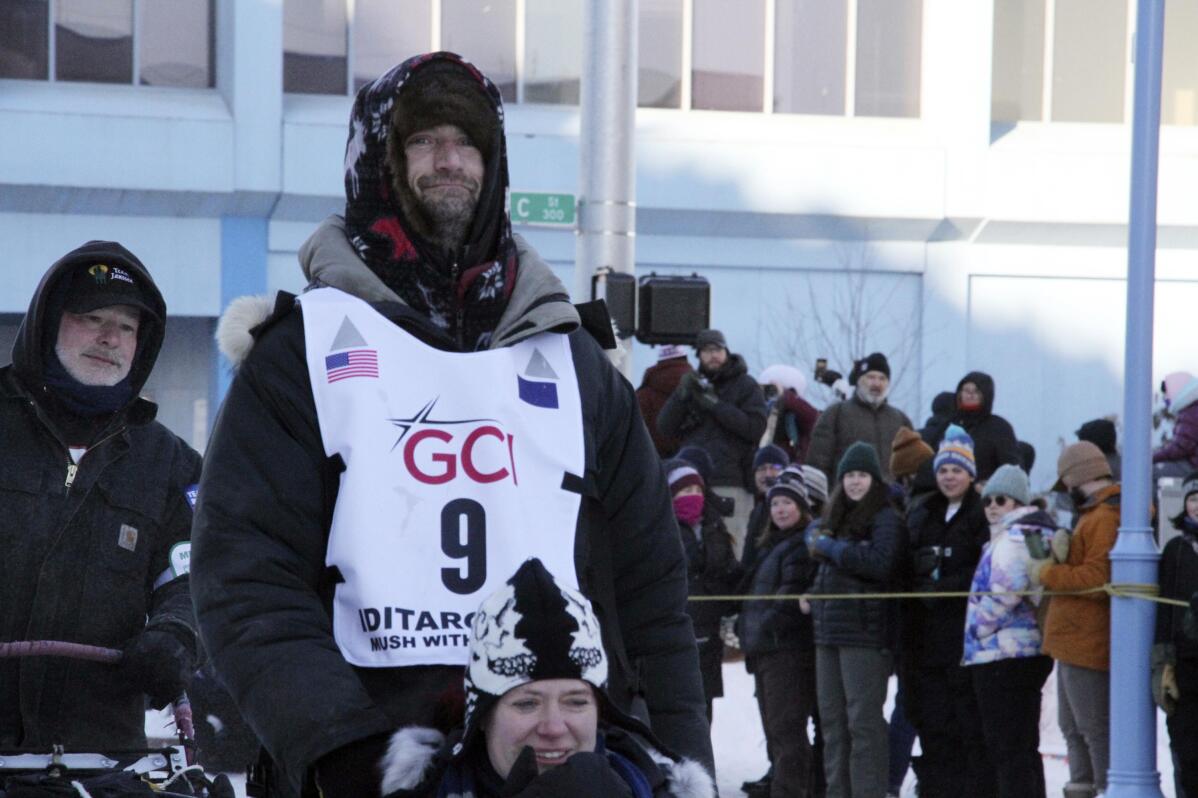 3 of 3

|
Musher Nic Petit, wearing big No. 9, mushes down Fourth Avenue during the ceremonial start of the Iditarod Trail Sled Dog Race Saturday, March 4, 2023, in Anchorage, Alaska. Warm weather is making it tough sledding for mushers in this year's Iditarod, and Petit said he likes "hot dogs, just not my dog as a hot dog." (AP Photo/Mark Thiessen)
Heat takes toll as Iditarod mushers trek across Alaska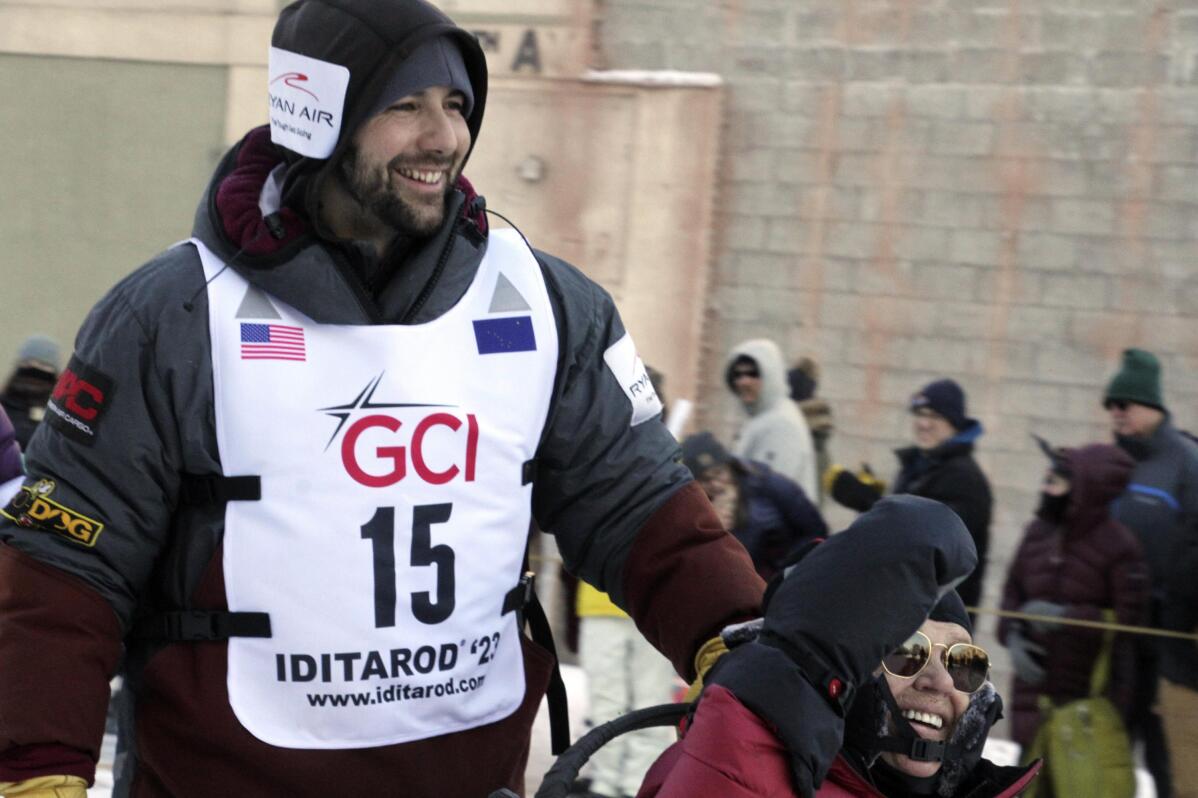 1 of 3

|
Musher Richie Diehl, wearing big No. 15, mushes down Fourth Avenue during the ceremonial start of the Iditarod Trail Sled Dog Race Saturday, March 4, 2023, in Anchorage, Alaska. Warm weather is making it tough sledding for mushers in this year's Iditarod, and Diehl said the conditions could be "soft and punchy." (AP Photo/Mark Thiessen)
1 of 3
Musher Richie Diehl, wearing big No. 15, mushes down Fourth Avenue during the ceremonial start of the Iditarod Trail Sled Dog Race Saturday, March 4, 2023, in Anchorage, Alaska. Warm weather is making it tough sledding for mushers in this year's Iditarod, and Diehl said the conditions could be "soft and punchy." (AP Photo/Mark Thiessen)
2 of 3

|
Musher Richie Diehl takes one of his dogs back to it's his trailer before the ceremonial start of the Iditarod Trail Sled Dog Race Saturday, March 4, 2023, in Anchorage, Alaska. Warm weather is making it tough sledding for mushers in this year's Iditarod, and Diehl said the conditions could be "soft and punchy." (AP Photo/Mark Thiessen)
2 of 3
Musher Richie Diehl takes one of his dogs back to it's his trailer before the ceremonial start of the Iditarod Trail Sled Dog Race Saturday, March 4, 2023, in Anchorage, Alaska. Warm weather is making it tough sledding for mushers in this year's Iditarod, and Diehl said the conditions could be "soft and punchy." (AP Photo/Mark Thiessen)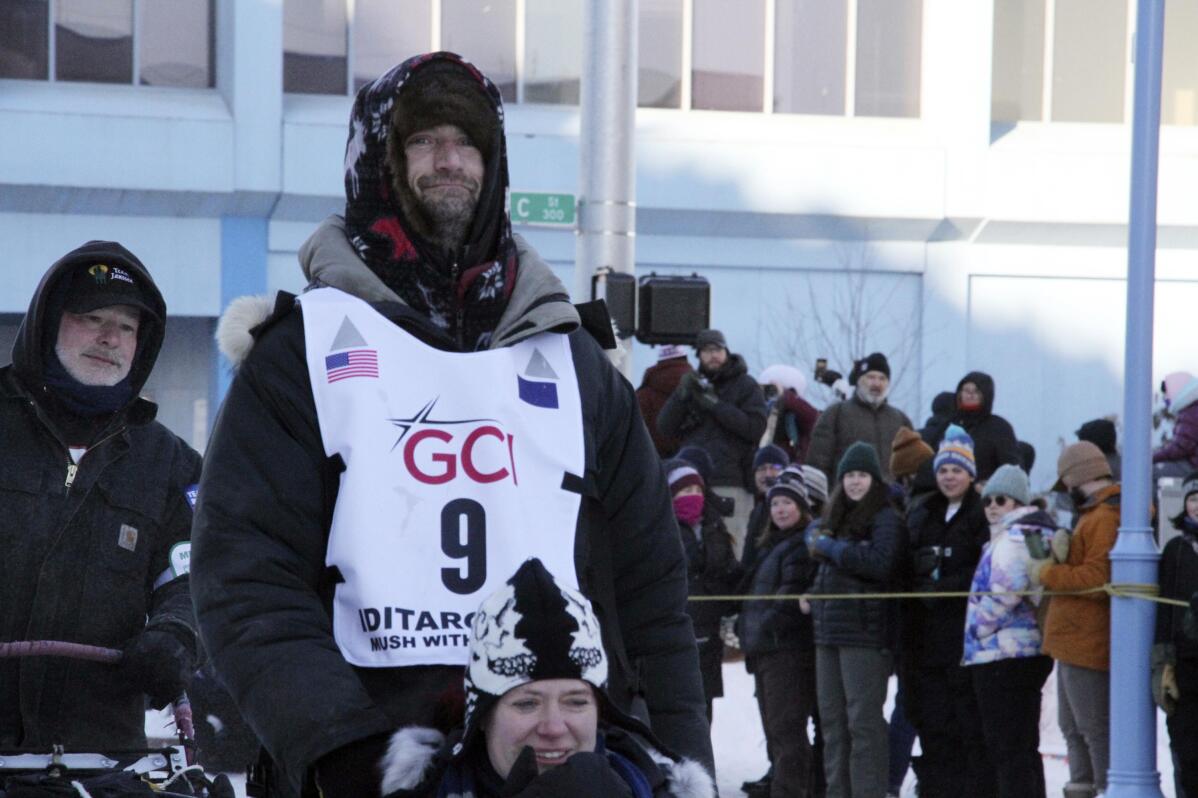 3 of 3

|
Musher Nic Petit, wearing big No. 9, mushes down Fourth Avenue during the ceremonial start of the Iditarod Trail Sled Dog Race Saturday, March 4, 2023, in Anchorage, Alaska. Warm weather is making it tough sledding for mushers in this year's Iditarod, and Petit said he likes "hot dogs, just not my dog as a hot dog." (AP Photo/Mark Thiessen)
3 of 3
Musher Nic Petit, wearing big No. 9, mushes down Fourth Avenue during the ceremonial start of the Iditarod Trail Sled Dog Race Saturday, March 4, 2023, in Anchorage, Alaska. Warm weather is making it tough sledding for mushers in this year's Iditarod, and Petit said he likes "hot dogs, just not my dog as a hot dog." (AP Photo/Mark Thiessen)
ANCHORAGE, Alaska (AP) — Mushers and their dogs in the Iditarod Trail Sled Dog Race face plenty of variables in the Alaska wilderness. An unexpected one this year has been heat that is taking a toll in a sport better suited for temperatures well below zero.
Jason Mackey said a thermometer hanging from the back of his sled hit 80 degrees Fahrenheit (26.67 degree C) at one point this week as he camped alongside the trail while mushers neared the halfway mark of the race. Other racers threw their game plans for the 1,000-mile (1,609-kilometer) race across Alaska out the window to deal with the heat and messy trail conditions.
Although it's warm, it wasn't 80 degrees in interior Alaska, which would probably be a record high in July, said Brian Brettschneider, a climate scientist with the National Weather Service's Alaska Region. Instead, when you leave a thermometer in the sun, it absorbs the solar energy, which is the reason official measurement thermometers are kept in the shade.
But it's still warm and sunny, and it's having noticeable effects on people who are exposed to it, Brettschneider said.
Last weekend, the same area was much cooler than normal, with what appeared to be ideal mushing conditions. The warmer conditions are being driven by an area of high pressure, he said.
Many communities in the nation's largest state hit record highs this week, from Kodiak off Alaska's southern coast to Deadhorse, the supply town for oil companies operating on the state's North Slope, about 1,250 miles (2,012 kilometers) away.
Along the Iditarod race route, the community of McGrath didn't set records but had a high Wednesday of 36 degrees Fahrenheit (2.22 degree C), 14 degrees Fahrenheit (-10 degree C) above normal. More telling was a low temperature of 27 degrees Fahrenheit (-2.78 degrees C).
"Normally it should be below zero (-17.78 degrees C)," Brettschneider said.
That warmth was evident all along the Iditarod trail Wednesday. "There's almost no places that were below freezing along the route," he said.
That was not news to Mackey. "I wish the temperatures would cool down," the musher told a television crew from the Iditarod Insider.
It's just not the heat that was bothersome. He said he looked down at his sled at one point and saw two mosquitoes.
"Yeah, it's spring," Mackey said.
The heat is taking its toll on Mackey's dogs, which he called "big boys" at 80 pounds (36.29 kilograms). He said other teams were moving in the heat of the day, but he wasn't willing to do that. "I mean, it zaps them," he said of the dog team.
Kelly Maixner, a pediatric dentist, said his dogs don't like the heat, and he'd rather it be minus -20 degrees Fahrenheit (-28.89 degrees C).
During the race, mushers must take one 24-hour layover at a checkpoint to rest. Part of where to take that layover plays into the strategy of most every musher.
Nic Petit took his mandatory rest early in the race, at the checkpoint in Nikolai, because the sun was out. "I like hot dogs, just not my dog as a hot dog," said Petit, who was born in France and raised in New Mexico.
The melting was causing issues and concerns for some mushers, especially as they made for the race's halfway point, the ghost village of Iditarod.
"It could be soft and punchy out there, and who knows how the hills are going into Iditarod," Richie Diehl told the TV crew. "It could be big tussocks just like a couple of years ago, and it could be a brutal run, you know, with the rolling hills and possibly barren tundra." Tussocks are clumps of grass.
Rookie musher Bailey Vitello of New Hampshire was near last place Thursday, running his dogs in the rain during the day and having to deal with ice at night.
He would rather not be behind and dealing with ripped-up trails. "The back-of-the-pack is the worst part of the trail," he told the TV crew.
Riley Dyche of Fairbanks took his 24-hour break before reaching Iditarod because he didn't want to run his dogs in the heat of the day. That likely cost him either $3,000 in gold nuggets or a new smart phone, the prize given to the first musher at the halfway point.
"I don't think the little incentive prize — it would have been cool — but I don't think it would have been a benefit to these guys for getting to the finish line," he said, speaking of his dogs.
Instead, that prize went to race leader Wade Marrs, who is originally from Alaska but now living in Wisconsin. He arrived in Iditarod about 1 a.m. Thursday.
The good news for mushers is that as they continue west, temperatures will be more Alaska-like, highs around 10 degrees Fahrenheit (-12 degrees C) and lows below zero, Brettschneider said.
The race started Sunday in Willow, just north of Anchorage. Mushers will take their dog teams over two mountain ranges, the frozen Yukon River and the Bering Sea ice to the finish line in Nome. The winner is expected sometime early next week.