Antonio Conte leaves Tottenham by mutual agreement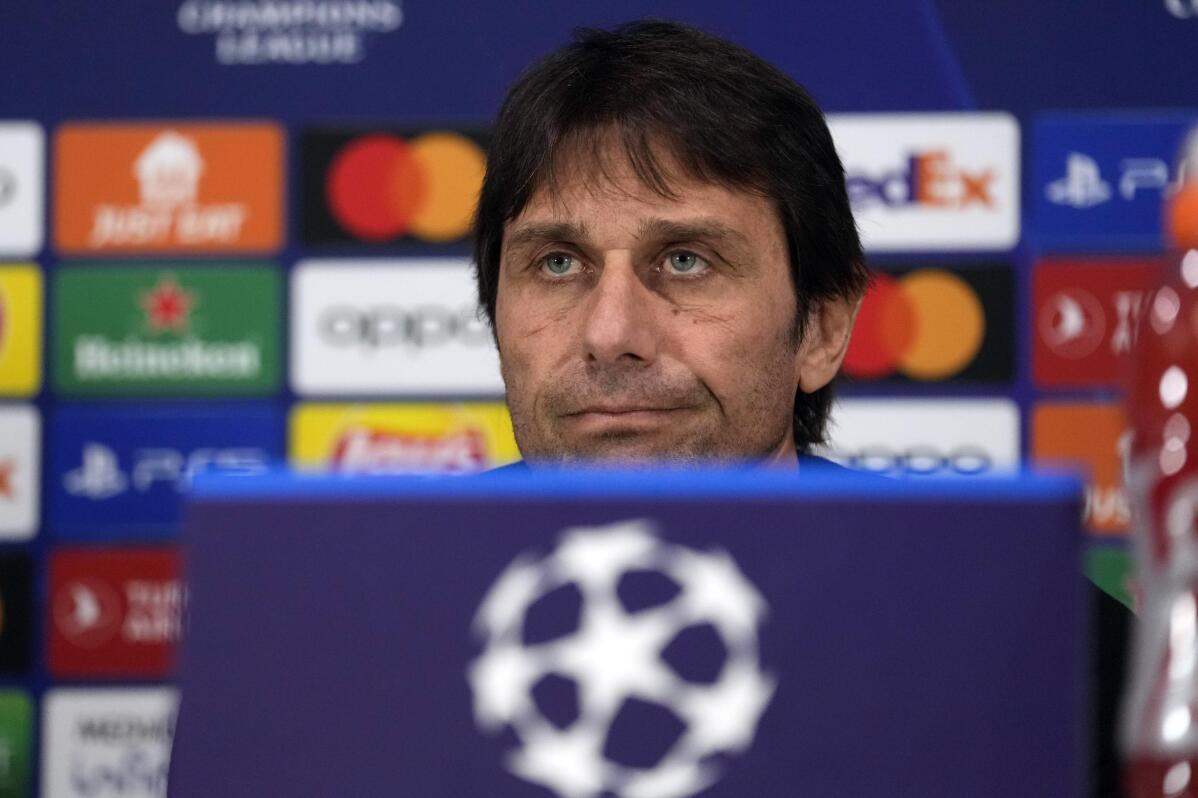 1 of 2

|
FILE - Tottenham's head coach Antonio Conte listens during a news conference ahead of a Champions League, round of 16, first leg soccer match between AC Milan and Tottenham Hotspur at the San Siro stadium in Milan, Italy, Monday, Feb. 13, 2023. Tottenham announced that manager Antonio Conte has left the Premier League club "by mutual agreement." (AP Photo/Luca Bruno, File)
2 of 2

|
FILE - Tottenham's head coach Antonio Conte walks off the field after a English Premier League soccer match against Southampton at St. Mary's Stadium in Southampton, England, Saturday, March 18, 2023. Tottenham announced that manager Antonio Conte has left the Premier League club "by mutual agreement." (AP Photo/David Cliff, File)
Antonio Conte leaves Tottenham by mutual agreement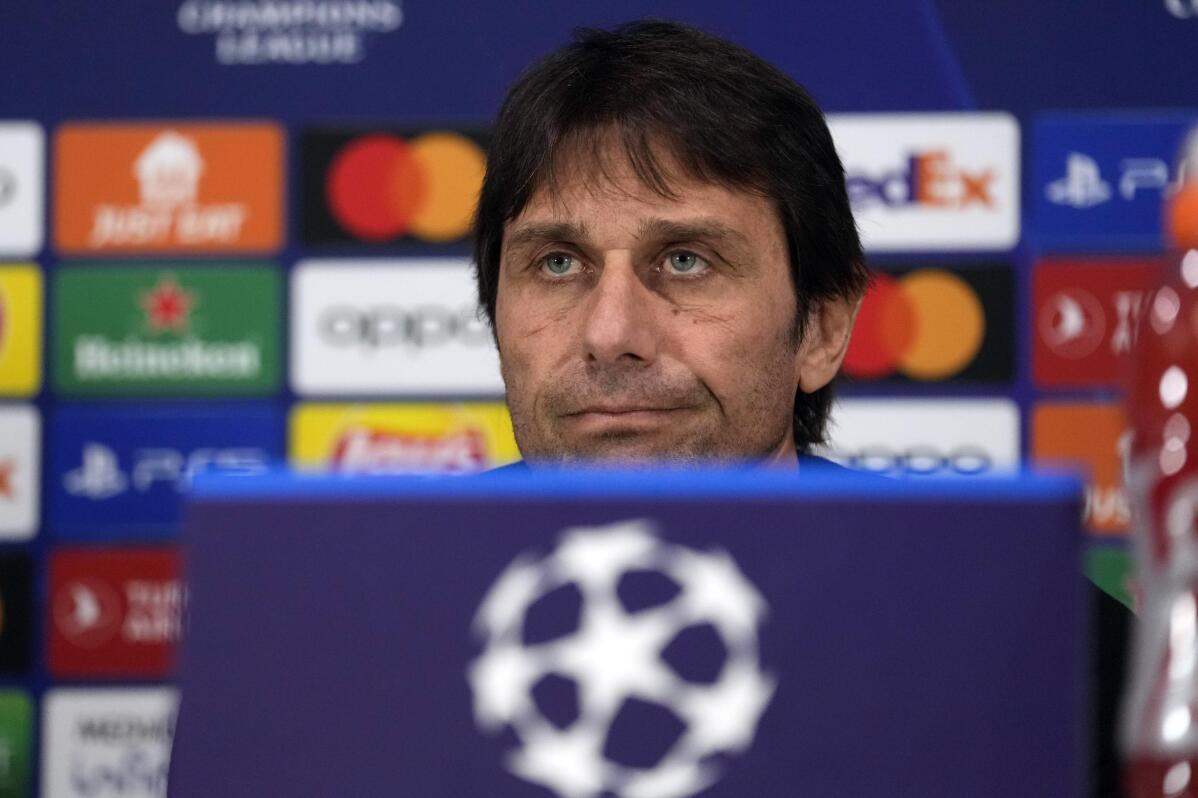 1 of 2

|
FILE - Tottenham's head coach Antonio Conte listens during a news conference ahead of a Champions League, round of 16, first leg soccer match between AC Milan and Tottenham Hotspur at the San Siro stadium in Milan, Italy, Monday, Feb. 13, 2023. Tottenham announced that manager Antonio Conte has left the Premier League club "by mutual agreement." (AP Photo/Luca Bruno, File)
1 of 2
FILE - Tottenham's head coach Antonio Conte listens during a news conference ahead of a Champions League, round of 16, first leg soccer match between AC Milan and Tottenham Hotspur at the San Siro stadium in Milan, Italy, Monday, Feb. 13, 2023. Tottenham announced that manager Antonio Conte has left the Premier League club "by mutual agreement." (AP Photo/Luca Bruno, File)
2 of 2

|
FILE - Tottenham's head coach Antonio Conte walks off the field after a English Premier League soccer match against Southampton at St. Mary's Stadium in Southampton, England, Saturday, March 18, 2023. Tottenham announced that manager Antonio Conte has left the Premier League club "by mutual agreement." (AP Photo/David Cliff, File)
2 of 2
FILE - Tottenham's head coach Antonio Conte walks off the field after a English Premier League soccer match against Southampton at St. Mary's Stadium in Southampton, England, Saturday, March 18, 2023. Tottenham announced that manager Antonio Conte has left the Premier League club "by mutual agreement." (AP Photo/David Cliff, File)
LONDON (AP) — Antonio Conte has left his position as Tottenham manager by mutual agreement, the Premier League club said Sunday.
The Italian's assistant, Cristian Stellini, has been appointed acting head coach for the rest of the season.
The announcement comes just over a week after Conte delivered a post-match rant in which he accused the team's players of being "selfish" and also took aim at the club's ownership.
"We have 10 Premier League games remaining and we have a fight on our hands for a Champions League place," Tottenham chairman Daniel Levy said in a club statement released Sunday night. "We all need to pull together. Everyone has to step up to ensure the highest possible finish for our Club and amazing, loyal supporters."
Conte was in charge of Tottenham for 16 months but was unable to end its trophy drought stretching back to 2008.
His tenure ended in an undignified way, with his outburst after the 3-3 draw at Southampton making his departure almost inevitable. His contract was due to expire at the end of the season.
The 53-year-old Conte tore into his players for what he perceived to be a poor attitude, accusing them of not playing as a team and failing to deal with pressure, before saying: "20 years there is the (same) owner and they never won something."
After days of speculation about his future, Tottenham confirmed his exit.
"We can announce that Head Coach Antonio Conte has left the Club by mutual agreement," the London club said in its statement. "We achieved Champions League qualification in Antonio's first season at the Club. We thank Antonio for his contribution and wish him well for the future."
Conte leaves with Tottenham out of the Champions League and FA Cup, ensuring it will not win any silverware this season. But the team is in fourth place in the league and in contention to qualify for the Champions League again next season.
Tottenham appointed former Chelsea manager Conte as the replacement for Nuno Espirito Santo in November 2021, with the club in eighth place. He succeeded in guiding it to a top-four finish, one of only three Tottenham managers to have done so in the Premier League era.
Mauricio Pochettino achieved Champions League qualification in four consecutive seasons between 2015-16 and 2018-19, while Harry Redknapp did so twice in 2009-10 and 2011-12.
Tottenham spent about $140 million since Conte's arrival, including $73.5 million on Brazil forward Richarlison. The most recent signing was Pedro Porro, a wing back bought because he suits Conte's ideal 3-4-3 formation.
Conte has just returned to the touchline after recovering from gallbladder surgery and also has had to contend with personal trauma following the deaths of three close friends over the past five months — Tottenham fitness coach Gian Piero Ventrone, and former players Sinisa Mihajlovic and Gianluca Vialli.
His outburst after Southampton was surprising even for a manager who has developed a reputation for being fiery.
"They don't want to play under pressure. They don't want to play under stress," he said.
Some interpreted it as evidence he wanted to go.
"Conte wants to be sacked (fired) in this international break," TV commentator Jamie Carragher wrote on Twitter at the time. "Spurs should just put him out of his misery and do it tonight."
Stellini led Tottenham's first team while Conte was recovering from his recent surgery, which included the loss to second-tier Sheffield United in the FA Cup.
Ryan Mason has been appointed as assistant head coach.
___
AP Sports Writer Steve Douglas contributed to this report.
___
More AP soccer: https://apnews.com/hub/soccer and https://twitter.com/AP_Sports