Saudi forum highlights crown prince's shifting fortunes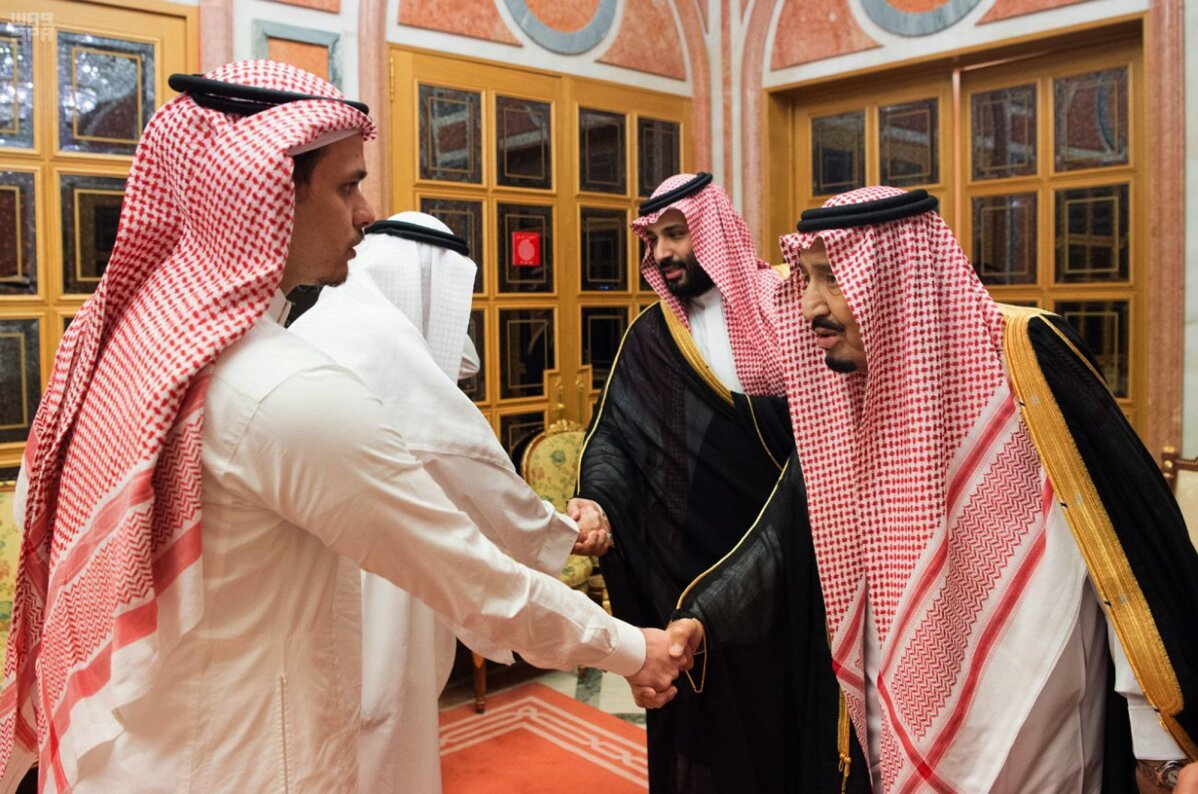 1 of 14

|
In this photo released by Saudi Press Agency, SPA, Saudi King Salman, right, and Crown Prince Mohammed bin Salman, second right, receive Sahel, a family member, and Salah, a son, of Jamal Khashoggi, in Riyadh, Saudi Arabia, Tuesday, Oct. 23, 2018. Saudi Arabia, which for weeks maintained that Jamal Khashoggi had left the Istanbul consulate, on Saturday acknowledged he was killed there in a "fistfight." (Saudi Press Agency via AP)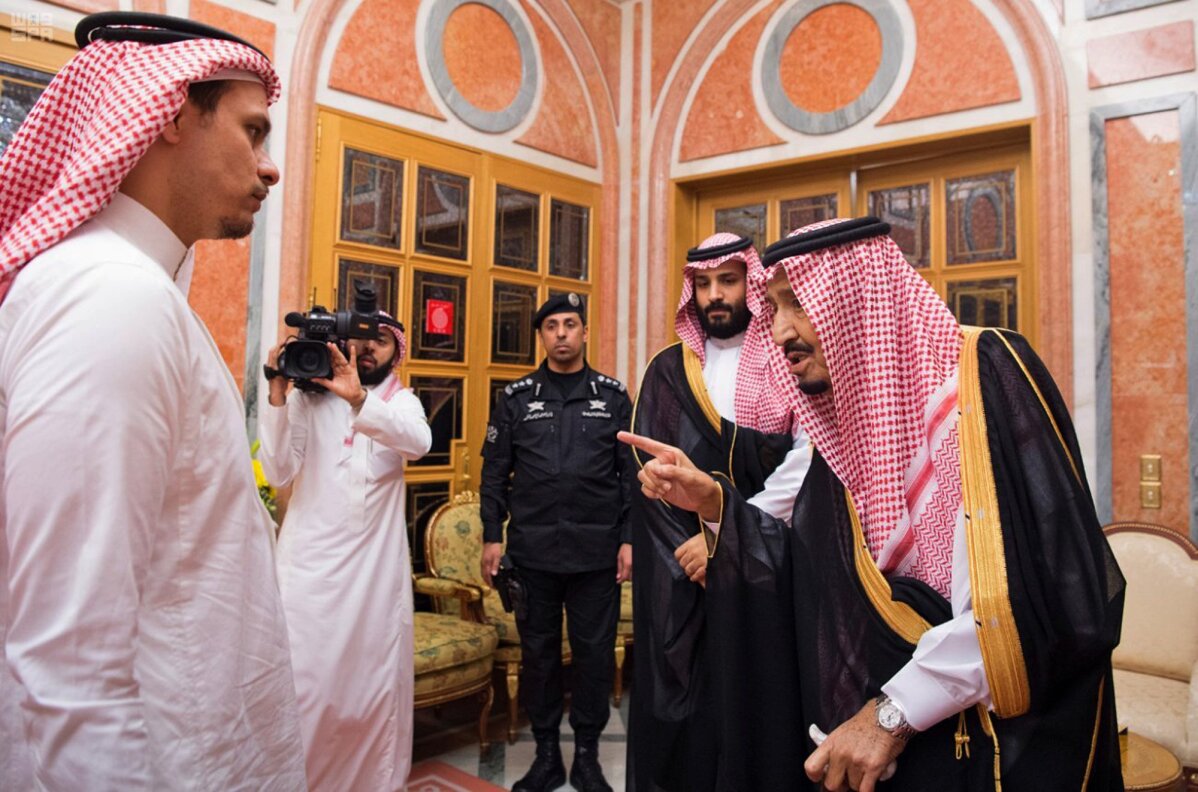 2 of 14

|
In this photo released by Saudi Press Agency, SPA, Saudi King Salman, right, points to Salah, a son, of Jamal Khashoggi as Crown Prince Mohammed bin Salman, second right, looks on, in Riyadh, Saudi Arabia, Tuesday, Oct. 23, 2018. Saudi Arabia, which for weeks maintained that Jamal Khashoggi had left the Istanbul consulate, on Saturday acknowledged he was killed there in a "fistfight." (Saudi Press Agency via AP)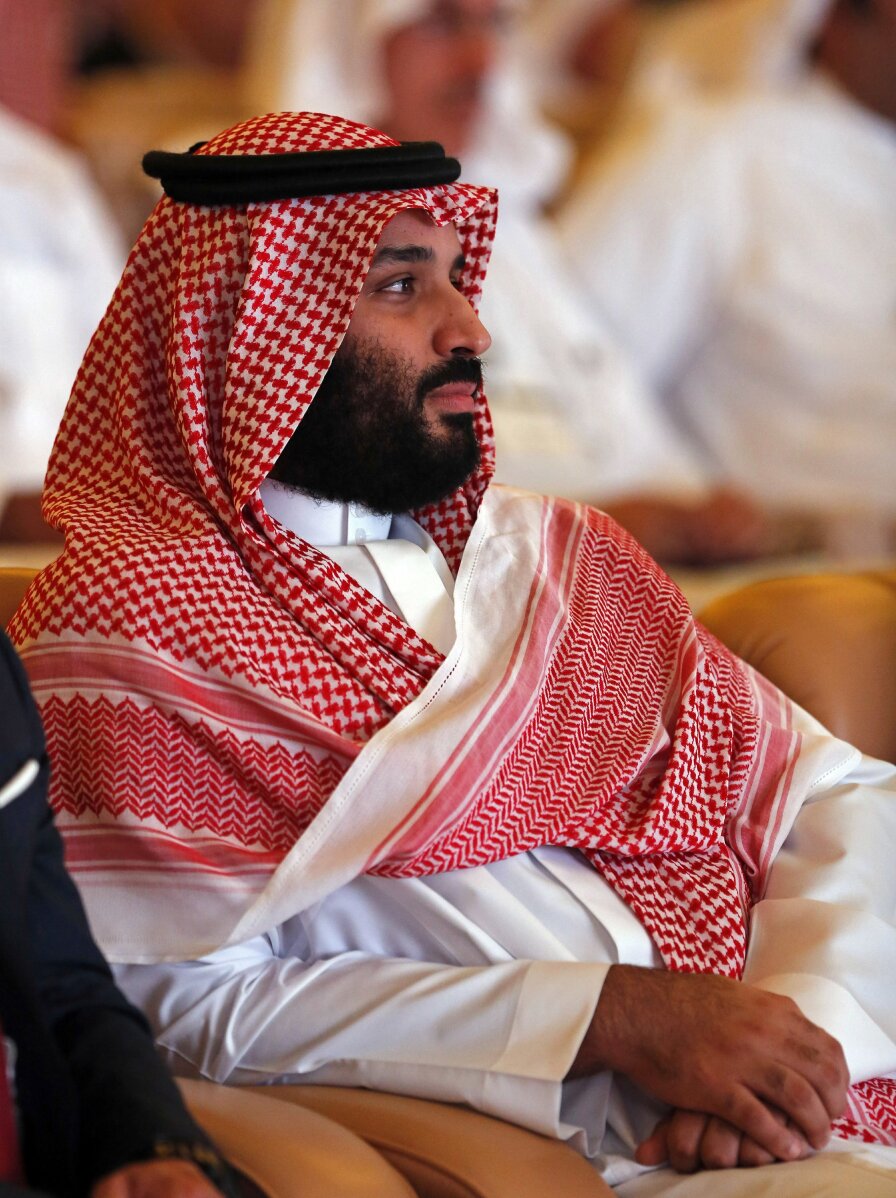 3 of 14

|
Saudi Crown Prince, Mohammed bin Salman attends the Future Investment Initiative conference, in Riyadh, Saudi Arabia, Tuesday, Oct. 23, 2018. The high-profile economic forum is the kingdom's first major event on the world stage since the killing of writer Jamal Khashoggi at the Saudi Consulate in Istanbul earlier this month. (AP Photo/Amr Nabil)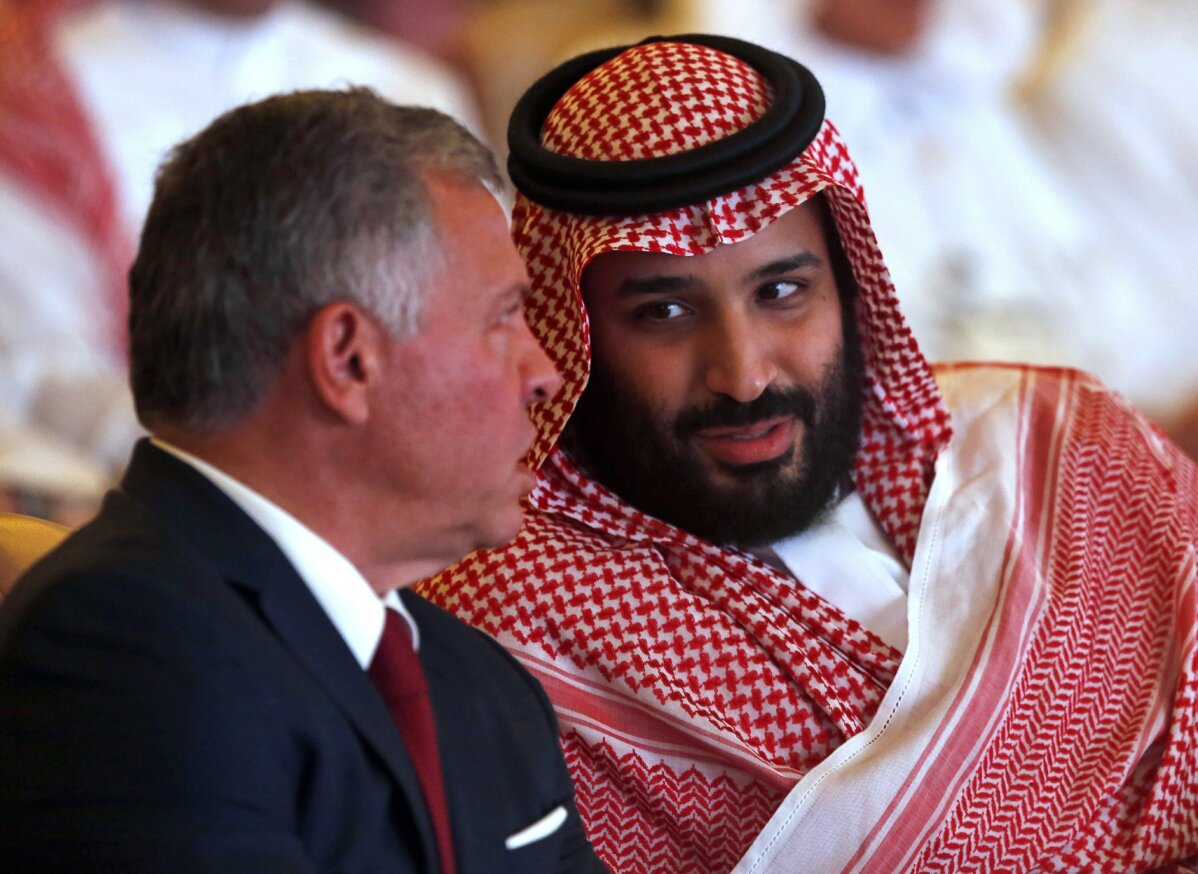 4 of 14

|
Jordan's King Abdullah II, left, listens to Saudi Crown Prince Mohammed bin Salman, at the Future Investment Initiative conference, in Riyadh, Saudi Arabia, Tuesday, Oct. 23, 2018. The high-profile economic forum in Saudi Arabia is the kingdom's first major event on the world stage since the killing of writer Jamal Khashoggi at the Saudi Consulate in Istanbul earlier this month. (AP Photo/Amr Nabil)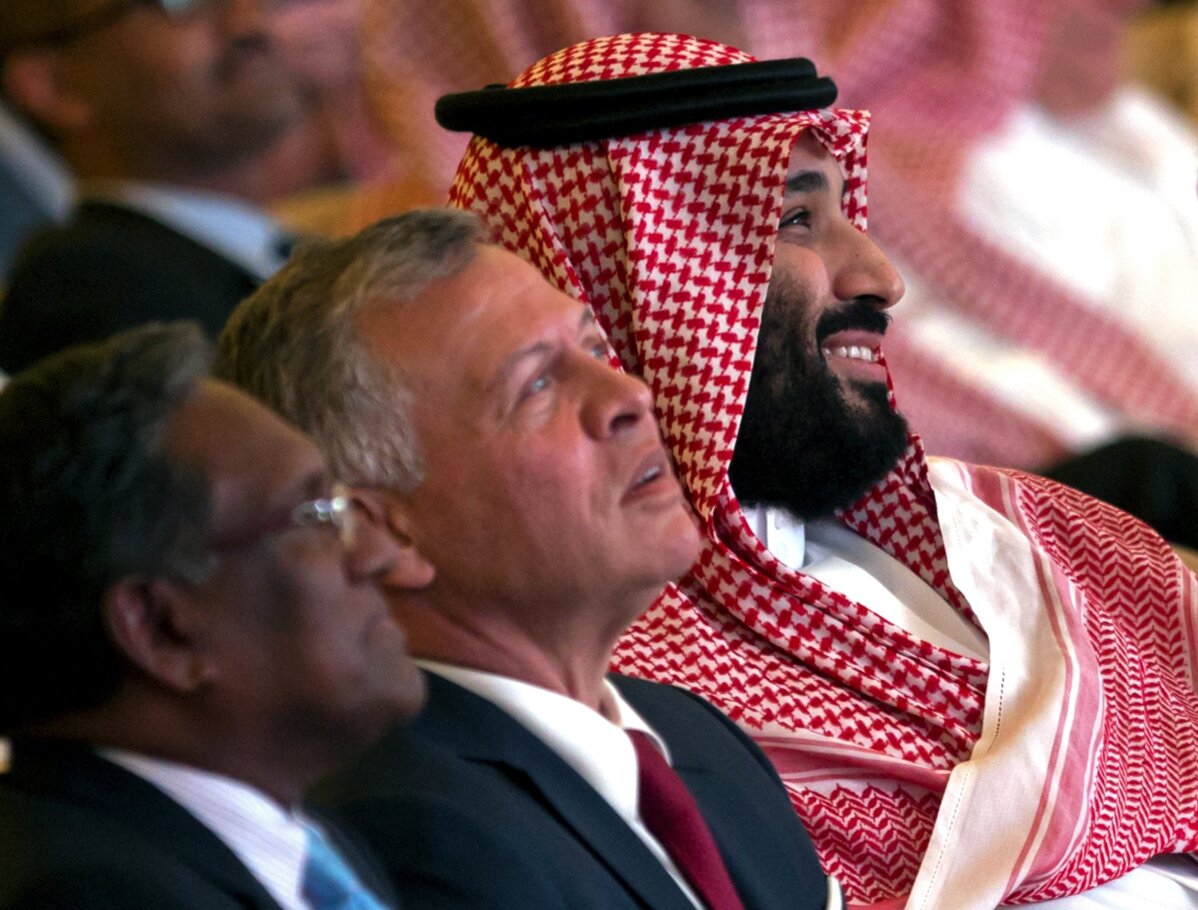 5 of 14

|
Saudi Crown Prince, Mohammed bin Salman, right, Jordan's King Abdullah II, center and former Maldives President Mohammed Waheed Hassan, attend the Future Investment Initiative conference, in Riyadh, Saudi Arabia, Tuesday, Oct. 23, 2018. The high-profile economic forum in Saudi Arabia is the kingdom's first major event on the world stage since the killing of writer Jamal Khashoggi at the Saudi Consulate in Istanbul earlier this month. (AP Photo/Amr Nabil)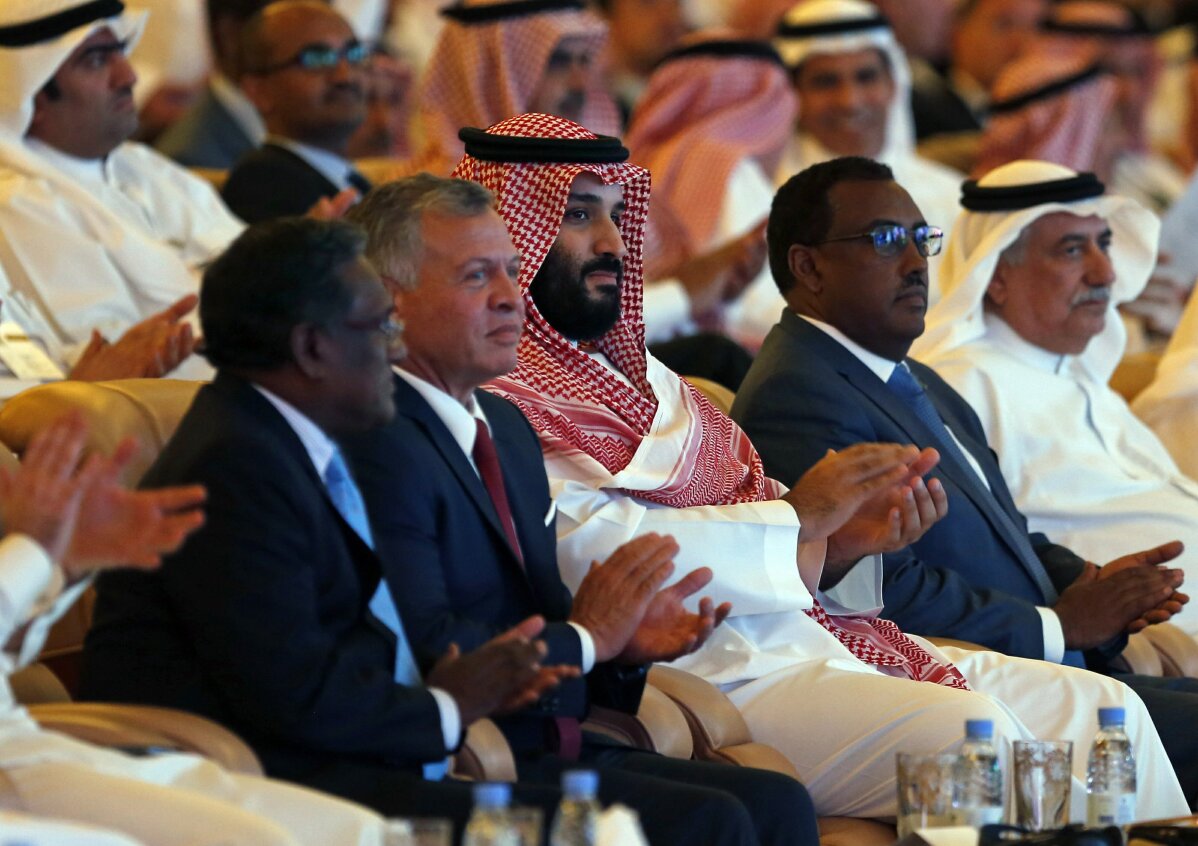 6 of 14

|
Saudi Crown Prince, Mohammed bin Salman, center, and Jordan's King Abdullah II second left, attend the Future Investment Initiative conference, in Riyadh, Saudi Arabia, Tuesday, Oct. 23, 2018. The high-profile economic forum in Saudi Arabia is the kingdom's first major event on the world stage since the killing of writer Jamal Khashoggi at the Saudi Consulate in Istanbul earlier this month. (AP Photo/Amr Nabil)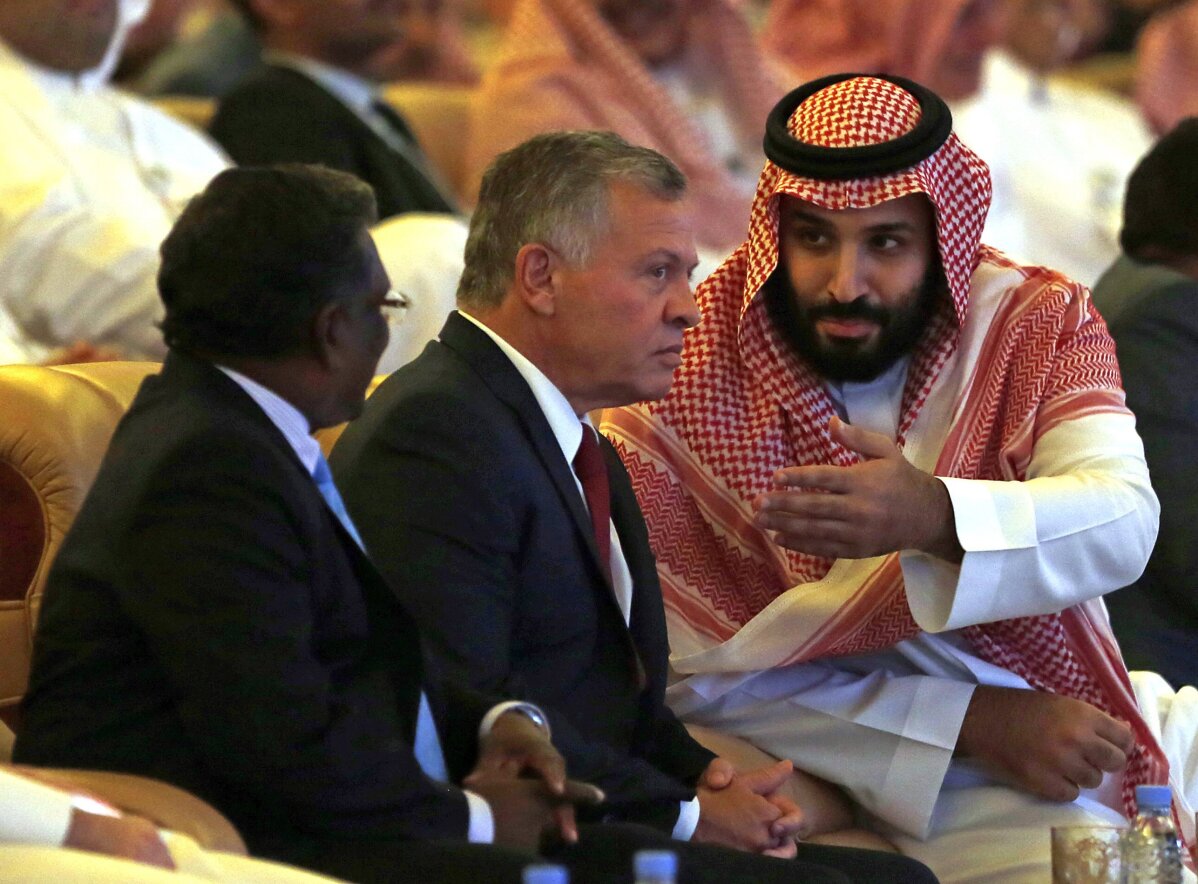 7 of 14

|
Saudi Crown Prince, Mohammed bin Salman, right, talks to Jordan's King Abdullah II, center, at the Future Investment Initiative conference, in Riyadh, Saudi Arabia, Tuesday, Oct. 23, 2018. The high-profile economic forum in Saudi Arabia is the kingdom's first major event on the world stage since the killing of writer Jamal Khashoggi at the Saudi Consulate in Istanbul earlier this month. (AP Photo/Amr Nabil)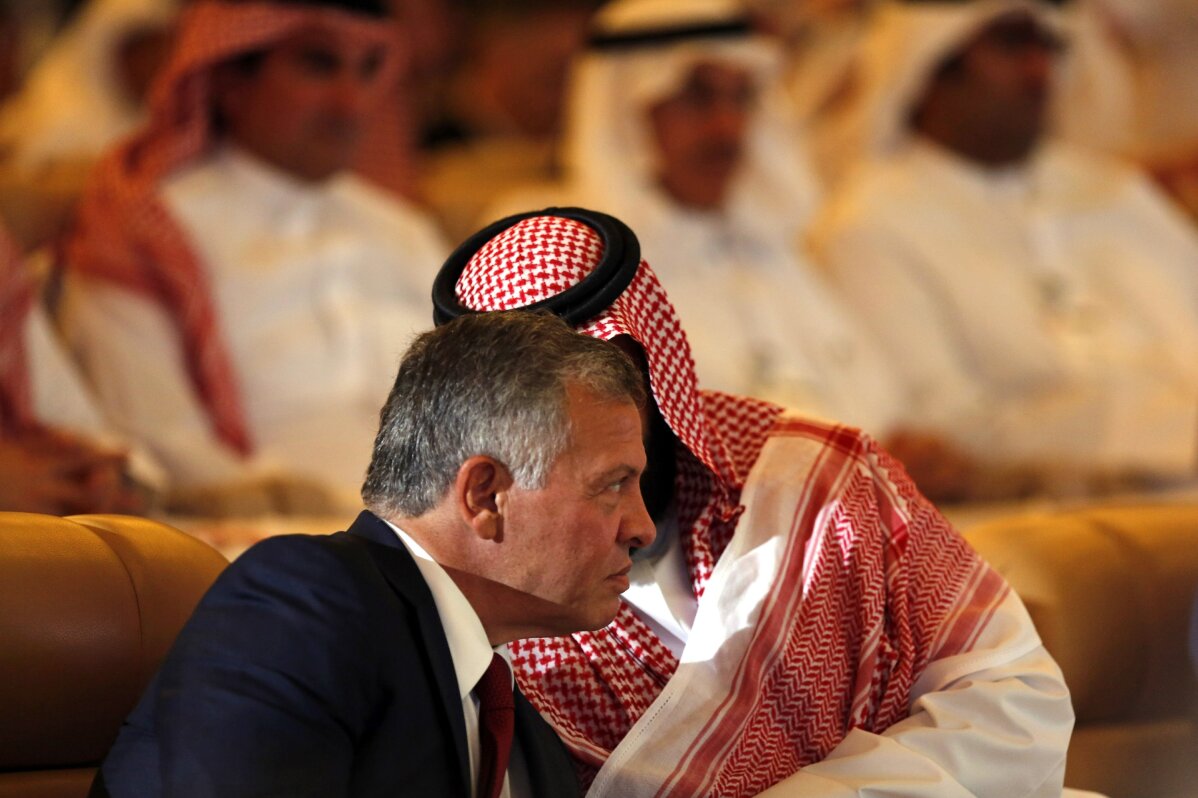 8 of 14

|
Jordan's King Abdullah II, left, listens to Saudi Crown Prince Mohammed bin Salman, at the Future Investment Initiative conference, in Riyadh, Saudi Arabia, Tuesday, Oct. 23, 2018. The high-profile economic forum in Saudi Arabia is the kingdom's first major event on the world stage since the killing of writer Jamal Khashoggi at the Saudi Consulate in Istanbul earlier this month. (AP Photo/Amr Nabil)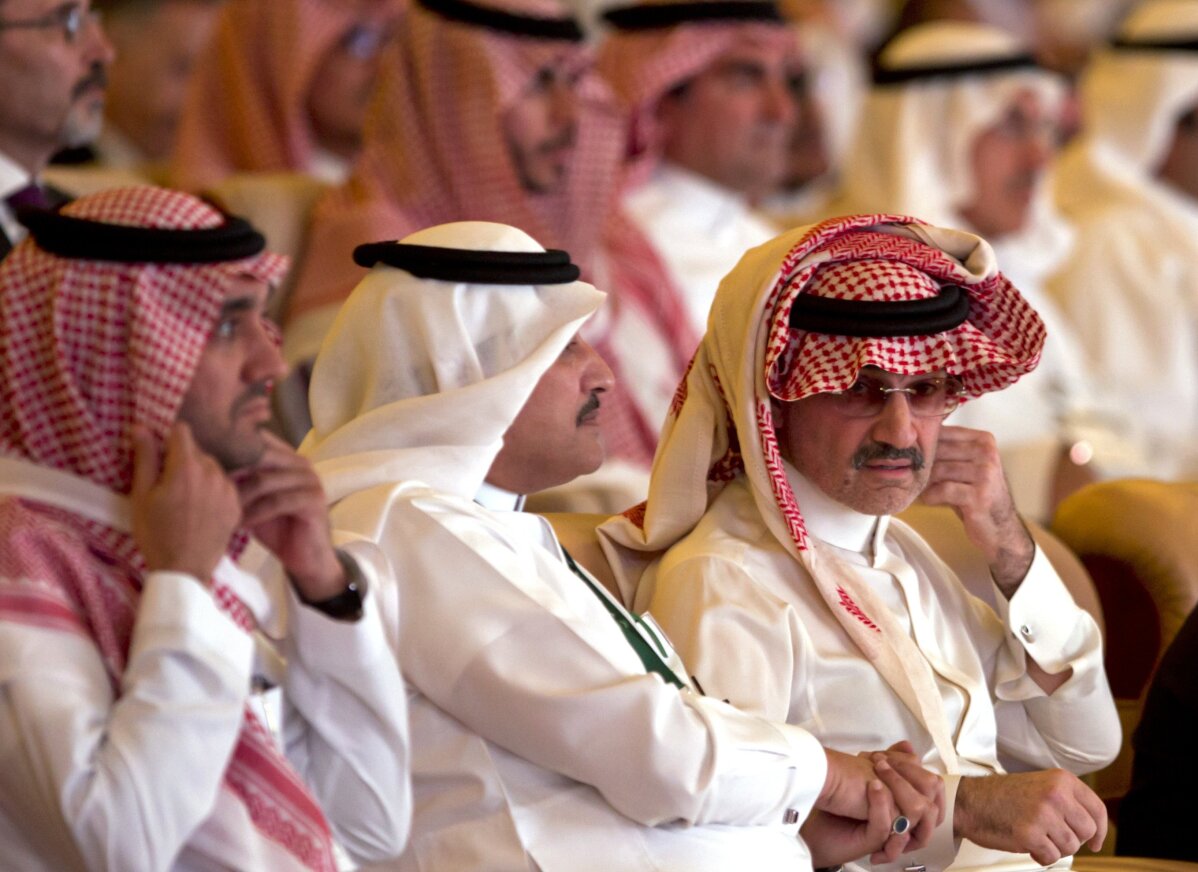 9 of 14

|
Saudi billionaire Prince Alwaleed bin Talal, right, attends the Future Investment Initiative conference, in Riyadh, Saudi Arabia, Tuesday, Oct. 23, 2018. The high-profile economic forum in Saudi Arabia is the kingdom's first major event on the world stage since the killing of writer Jamal Khashoggi at the Saudi Consulate in Istanbul earlier this month. (AP Photo/Amr Nabil)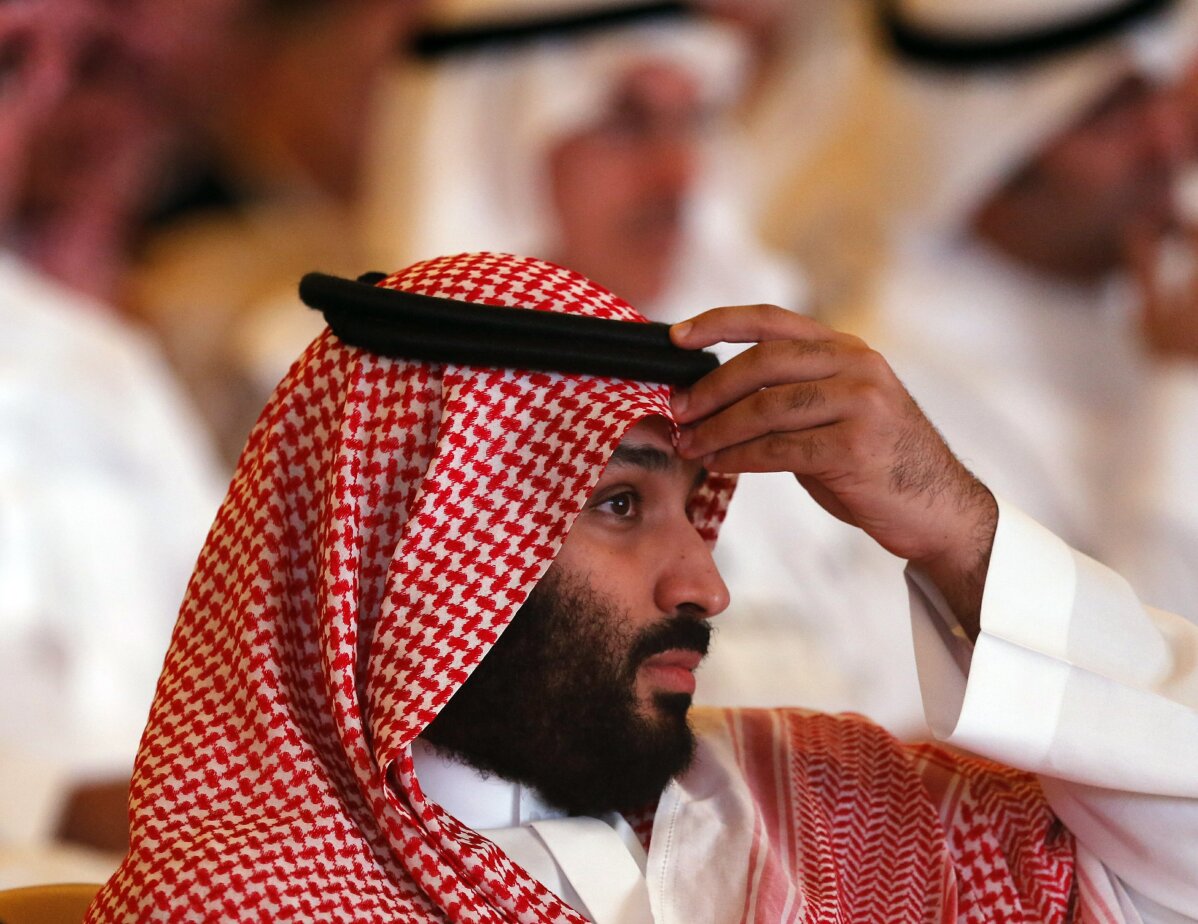 10 of 14

|
Saudi Crown Prince, Mohammed bin Salman, attends the Future Investment Initiative conference, in Riyadh, Saudi Arabia, Tuesday, Oct. 23, 2018. The high-profile economic forum in Saudi Arabia is the kingdom's first major event on the world stage since the killing of writer Jamal Khashoggi at the Saudi Consulate in Istanbul earlier this month. (AP Photo/Amr Nabil)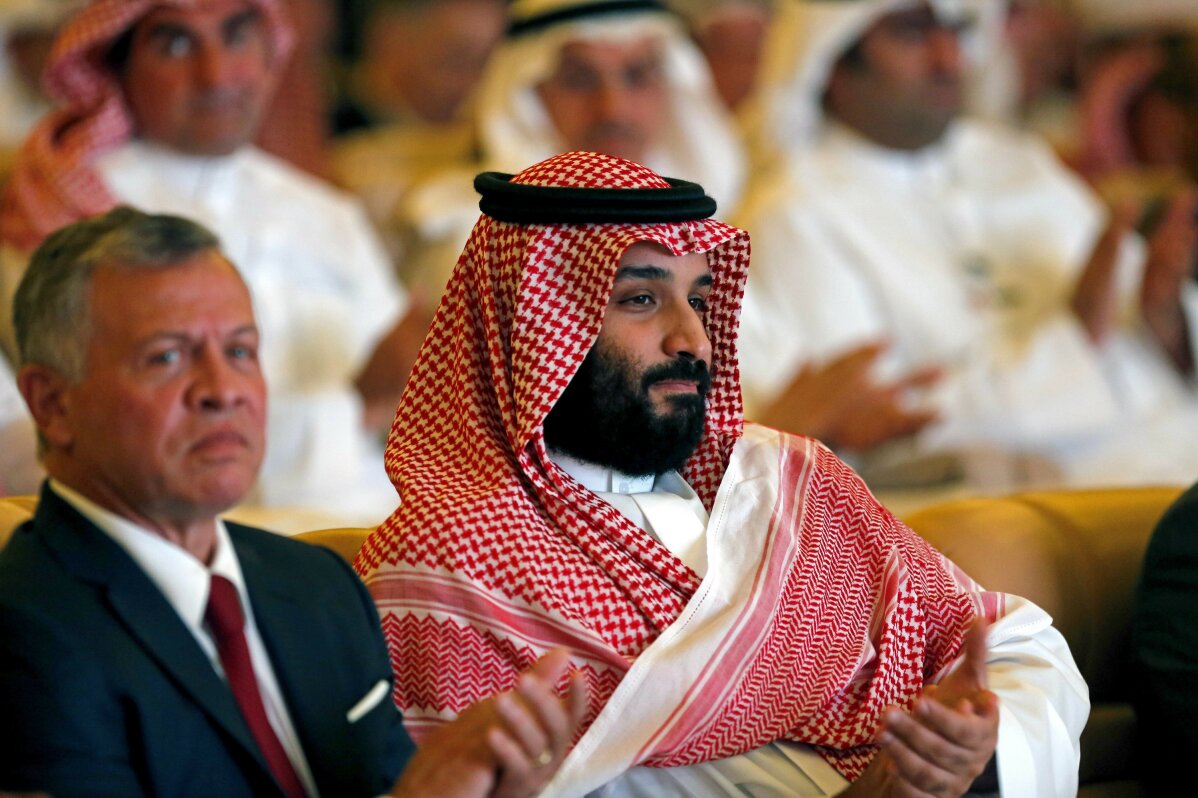 11 of 14

|
Saudi Crown Prince, Mohammed bin Salman, right, and Jordan's King Abdullah II, applaud at the Future Investment Initiative conference, in Riyadh, Saudi Arabia, Tuesday, Oct. 23, 2018.The high-profile economic forum in Saudi Arabia is the kingdom's first major event on the world stage since the killing of writer Jamal Khashoggi at the Saudi Consulate in Istanbul earlier this month. (AP Photo/Amr Nabil)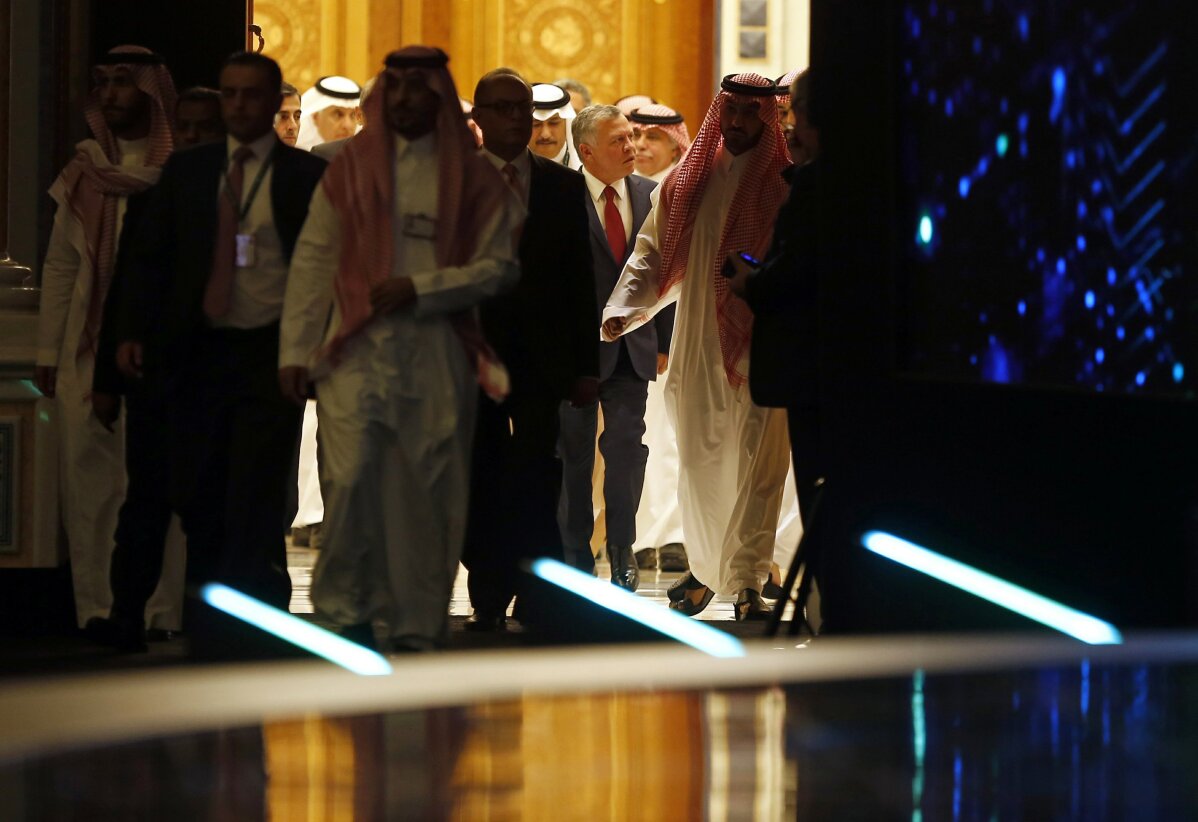 12 of 14

|
Jordan's King Abdullah II, center, enters the Future Investment Initiative conference hall, in Riyadh, Saudi Arabia, Tuesday, Oct. 23, 2018. The high-profile economic forum in Saudi Arabia is the kingdom's first major event on the world stage since the killing of writer Jamal Khashoggi at the Saudi Consulate in Istanbul earlier this month. (AP Photo/Amr Nabil)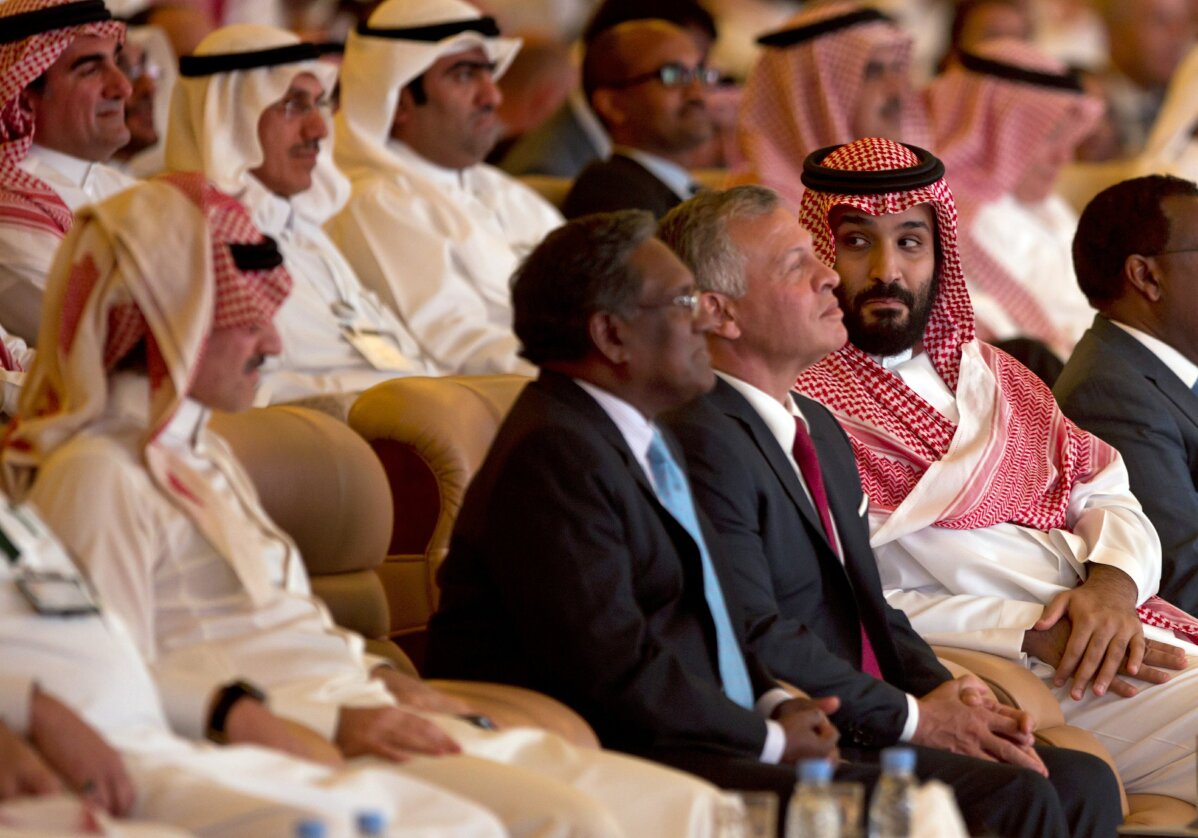 13 of 14

|
Saudi Crown Prince, Mohammed bin Salman, right, looks at Saudi billionaire Prince Alwaleed bin Talal, left, while seated next to Jordan's King Abdullah II, during the Future Investment Initiative conference, in Riyadh, Saudi Arabia, Tuesday, Oct. 23, 2018. The high-profile economic forum in Saudi Arabia is the kingdom's first major event on the world stage since the killing of writer Jamal Khashoggi at the Saudi Consulate in Istanbul earlier this month. (AP Photo/Amr Nabil)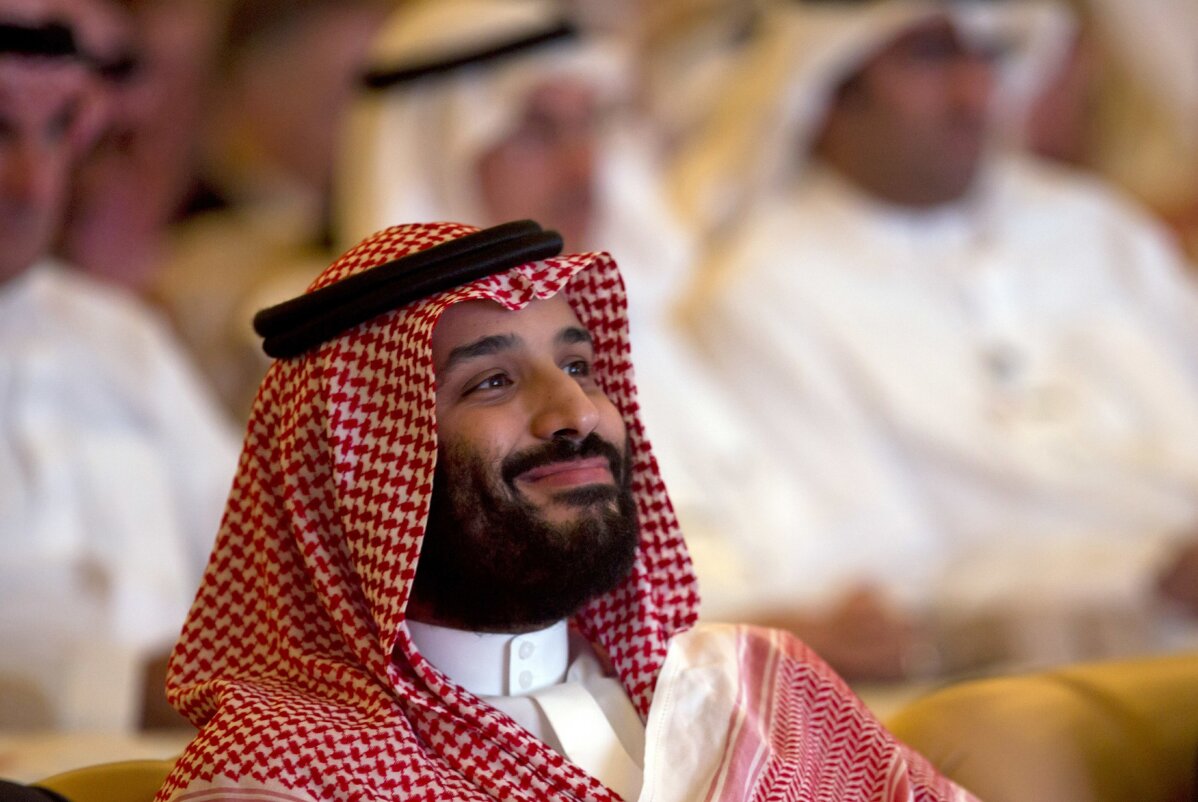 14 of 14

|
Saudi Crown Prince, Mohammed bin Salman, smiles as he attends the Future Investment Initiative conference, in Riyadh, Saudi Arabia, Tuesday, Oct. 23, 2018. The high-profile economic forum in Saudi Arabia is the kingdom's first major event on the world stage since the killing of writer Jamal Khashoggi at the Saudi Consulate in Istanbul earlier this month. (AP Photo/Amr Nabil)
Saudi forum highlights crown prince's shifting fortunes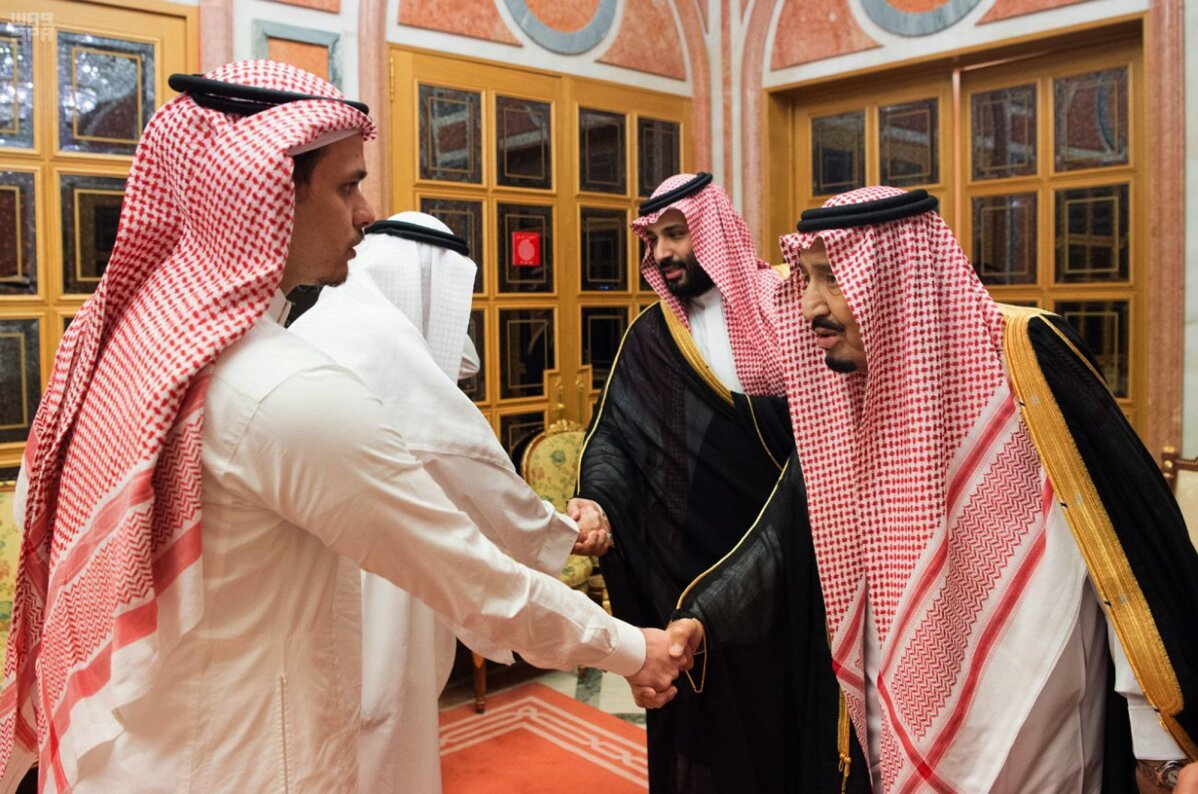 1 of 14

|
In this photo released by Saudi Press Agency, SPA, Saudi King Salman, right, and Crown Prince Mohammed bin Salman, second right, receive Sahel, a family member, and Salah, a son, of Jamal Khashoggi, in Riyadh, Saudi Arabia, Tuesday, Oct. 23, 2018. Saudi Arabia, which for weeks maintained that Jamal Khashoggi had left the Istanbul consulate, on Saturday acknowledged he was killed there in a "fistfight." (Saudi Press Agency via AP)
1 of 14
In this photo released by Saudi Press Agency, SPA, Saudi King Salman, right, and Crown Prince Mohammed bin Salman, second right, receive Sahel, a family member, and Salah, a son, of Jamal Khashoggi, in Riyadh, Saudi Arabia, Tuesday, Oct. 23, 2018. Saudi Arabia, which for weeks maintained that Jamal Khashoggi had left the Istanbul consulate, on Saturday acknowledged he was killed there in a "fistfight." (Saudi Press Agency via AP)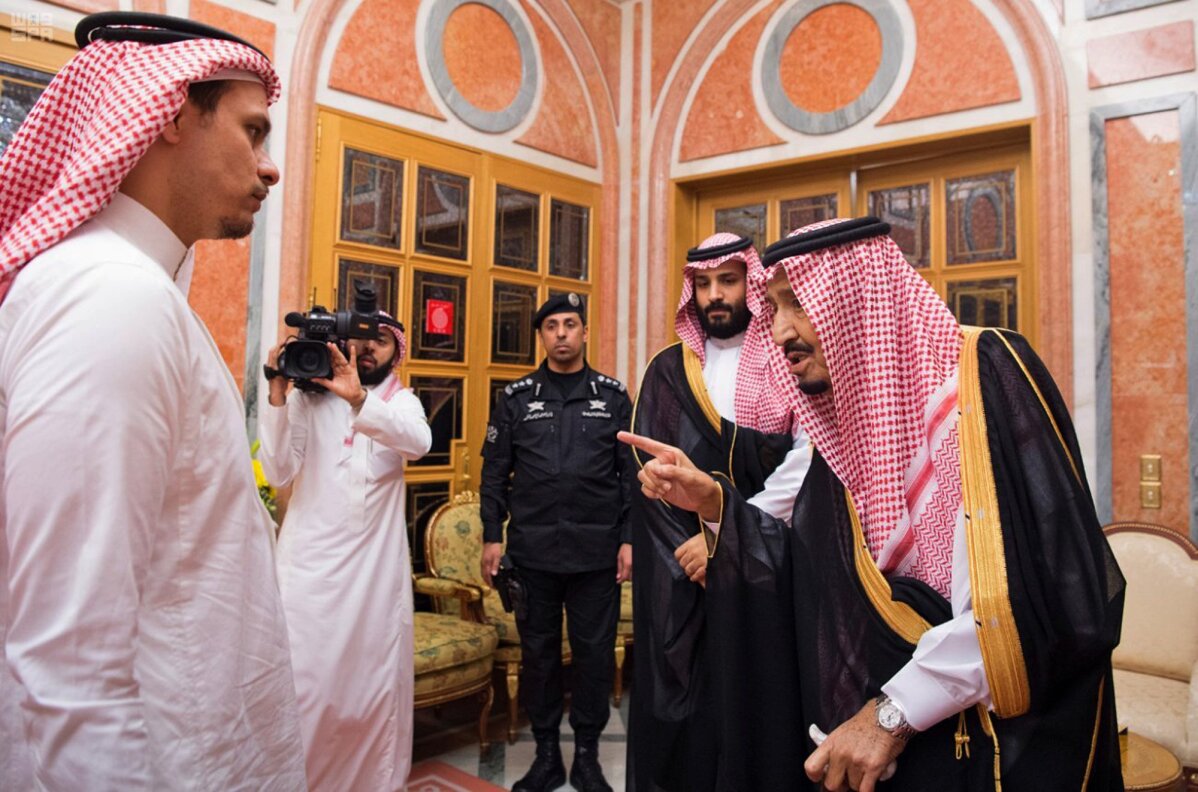 2 of 14

|
In this photo released by Saudi Press Agency, SPA, Saudi King Salman, right, points to Salah, a son, of Jamal Khashoggi as Crown Prince Mohammed bin Salman, second right, looks on, in Riyadh, Saudi Arabia, Tuesday, Oct. 23, 2018. Saudi Arabia, which for weeks maintained that Jamal Khashoggi had left the Istanbul consulate, on Saturday acknowledged he was killed there in a "fistfight." (Saudi Press Agency via AP)
2 of 14
In this photo released by Saudi Press Agency, SPA, Saudi King Salman, right, points to Salah, a son, of Jamal Khashoggi as Crown Prince Mohammed bin Salman, second right, looks on, in Riyadh, Saudi Arabia, Tuesday, Oct. 23, 2018. Saudi Arabia, which for weeks maintained that Jamal Khashoggi had left the Istanbul consulate, on Saturday acknowledged he was killed there in a "fistfight." (Saudi Press Agency via AP)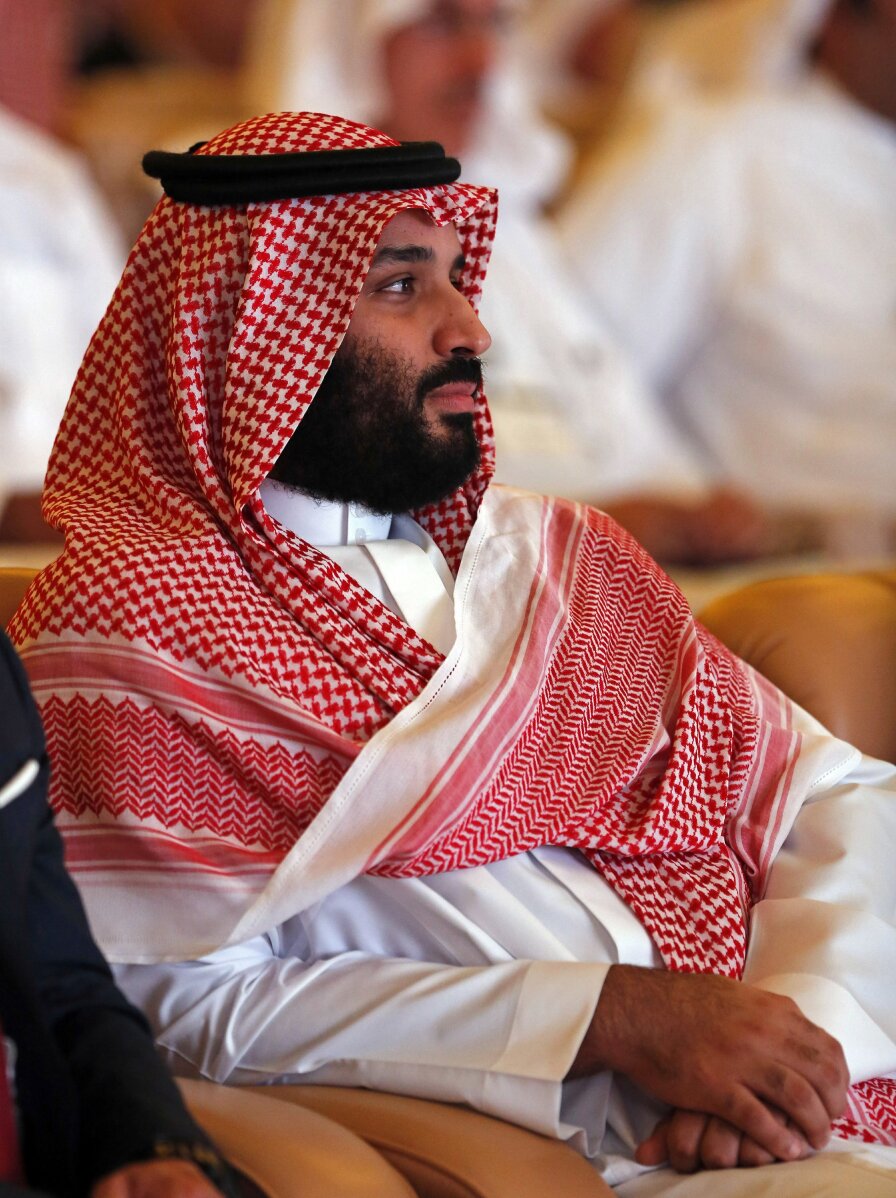 3 of 14

|
Saudi Crown Prince, Mohammed bin Salman attends the Future Investment Initiative conference, in Riyadh, Saudi Arabia, Tuesday, Oct. 23, 2018. The high-profile economic forum is the kingdom's first major event on the world stage since the killing of writer Jamal Khashoggi at the Saudi Consulate in Istanbul earlier this month. (AP Photo/Amr Nabil)
3 of 14
Saudi Crown Prince, Mohammed bin Salman attends the Future Investment Initiative conference, in Riyadh, Saudi Arabia, Tuesday, Oct. 23, 2018. The high-profile economic forum is the kingdom's first major event on the world stage since the killing of writer Jamal Khashoggi at the Saudi Consulate in Istanbul earlier this month. (AP Photo/Amr Nabil)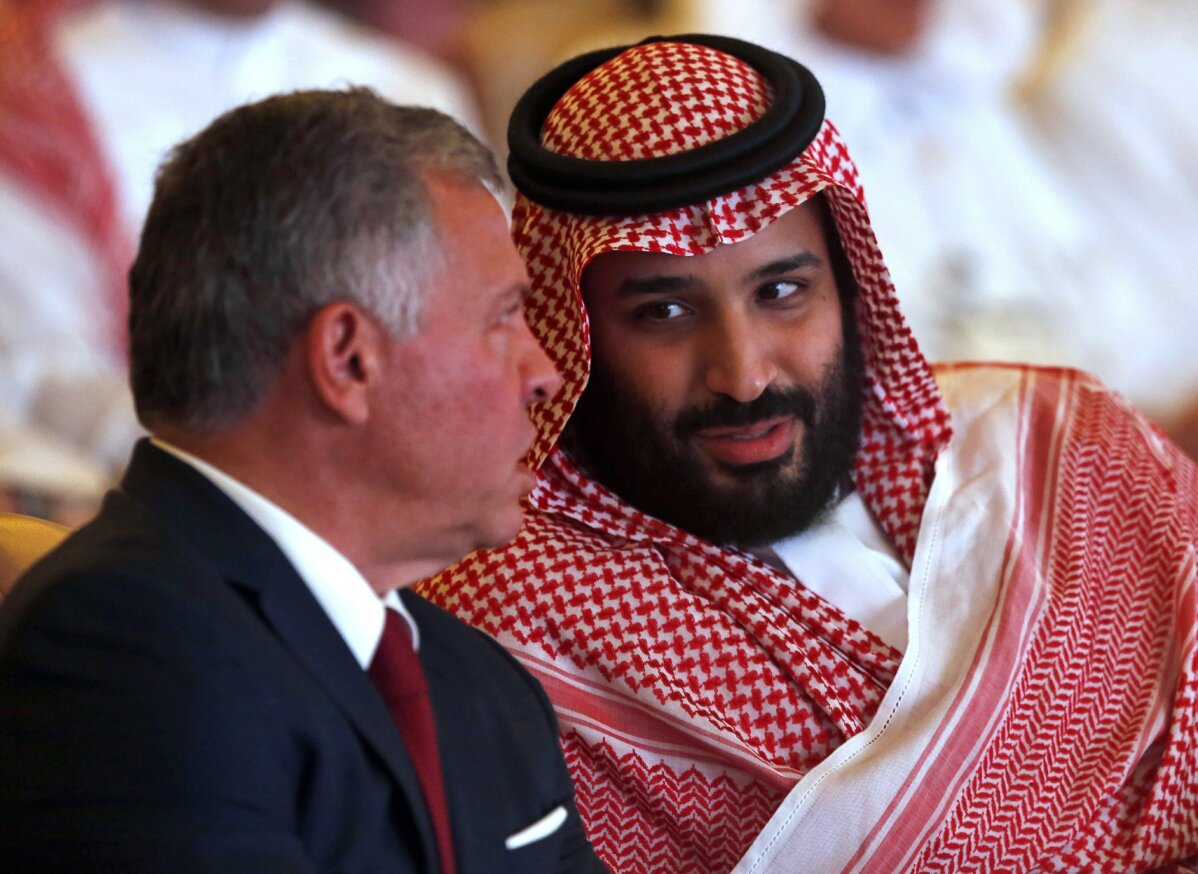 4 of 14

|
Jordan's King Abdullah II, left, listens to Saudi Crown Prince Mohammed bin Salman, at the Future Investment Initiative conference, in Riyadh, Saudi Arabia, Tuesday, Oct. 23, 2018. The high-profile economic forum in Saudi Arabia is the kingdom's first major event on the world stage since the killing of writer Jamal Khashoggi at the Saudi Consulate in Istanbul earlier this month. (AP Photo/Amr Nabil)
4 of 14
Jordan's King Abdullah II, left, listens to Saudi Crown Prince Mohammed bin Salman, at the Future Investment Initiative conference, in Riyadh, Saudi Arabia, Tuesday, Oct. 23, 2018. The high-profile economic forum in Saudi Arabia is the kingdom's first major event on the world stage since the killing of writer Jamal Khashoggi at the Saudi Consulate in Istanbul earlier this month. (AP Photo/Amr Nabil)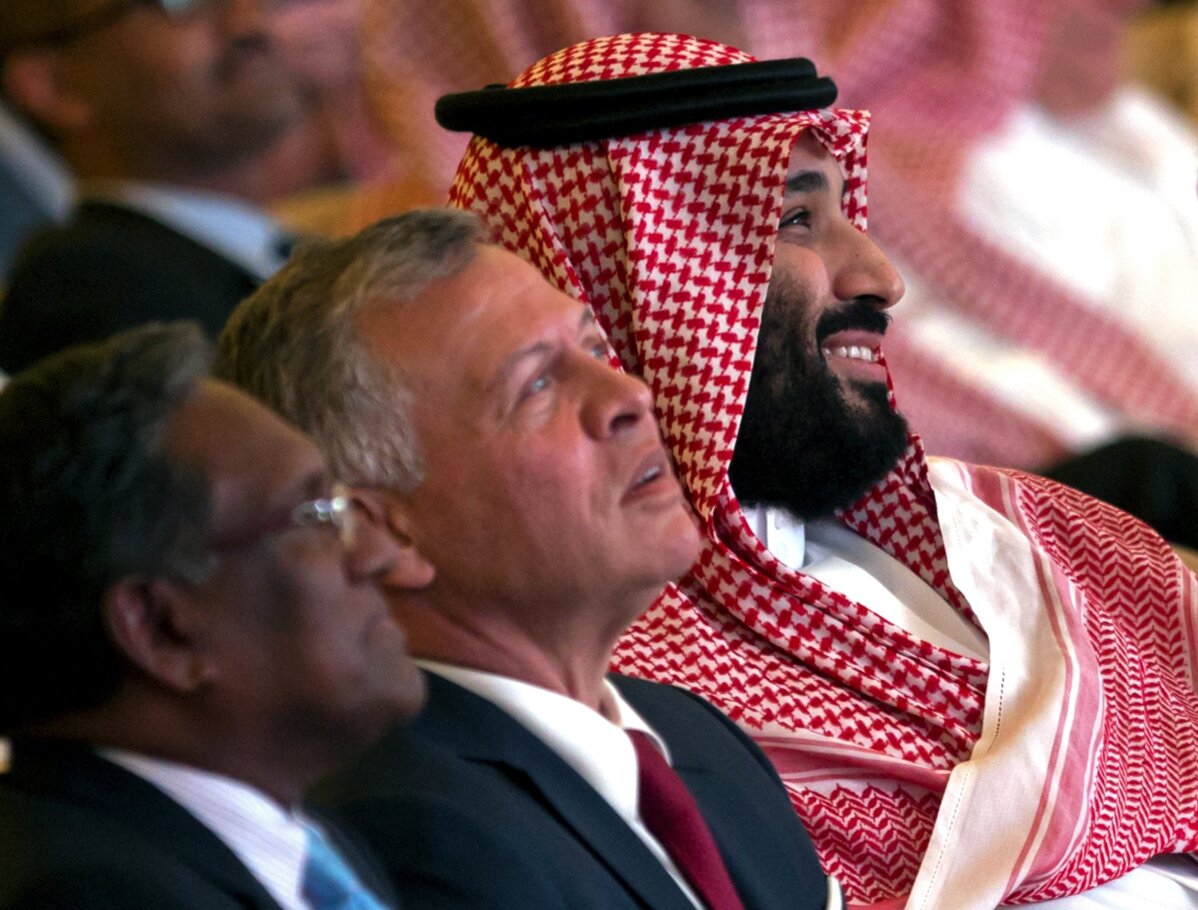 5 of 14

|
Saudi Crown Prince, Mohammed bin Salman, right, Jordan's King Abdullah II, center and former Maldives President Mohammed Waheed Hassan, attend the Future Investment Initiative conference, in Riyadh, Saudi Arabia, Tuesday, Oct. 23, 2018. The high-profile economic forum in Saudi Arabia is the kingdom's first major event on the world stage since the killing of writer Jamal Khashoggi at the Saudi Consulate in Istanbul earlier this month. (AP Photo/Amr Nabil)
5 of 14
Saudi Crown Prince, Mohammed bin Salman, right, Jordan's King Abdullah II, center and former Maldives President Mohammed Waheed Hassan, attend the Future Investment Initiative conference, in Riyadh, Saudi Arabia, Tuesday, Oct. 23, 2018. The high-profile economic forum in Saudi Arabia is the kingdom's first major event on the world stage since the killing of writer Jamal Khashoggi at the Saudi Consulate in Istanbul earlier this month. (AP Photo/Amr Nabil)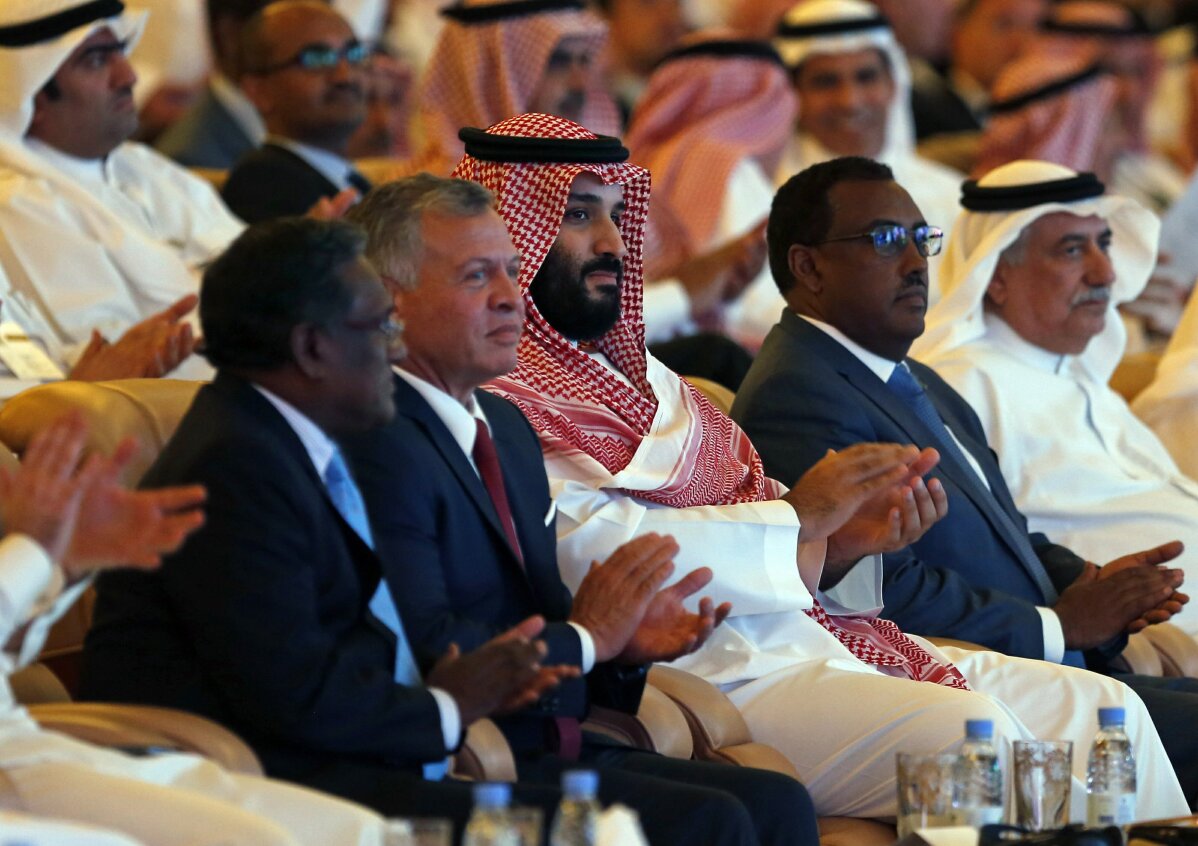 6 of 14

|
Saudi Crown Prince, Mohammed bin Salman, center, and Jordan's King Abdullah II second left, attend the Future Investment Initiative conference, in Riyadh, Saudi Arabia, Tuesday, Oct. 23, 2018. The high-profile economic forum in Saudi Arabia is the kingdom's first major event on the world stage since the killing of writer Jamal Khashoggi at the Saudi Consulate in Istanbul earlier this month. (AP Photo/Amr Nabil)
6 of 14
Saudi Crown Prince, Mohammed bin Salman, center, and Jordan's King Abdullah II second left, attend the Future Investment Initiative conference, in Riyadh, Saudi Arabia, Tuesday, Oct. 23, 2018. The high-profile economic forum in Saudi Arabia is the kingdom's first major event on the world stage since the killing of writer Jamal Khashoggi at the Saudi Consulate in Istanbul earlier this month. (AP Photo/Amr Nabil)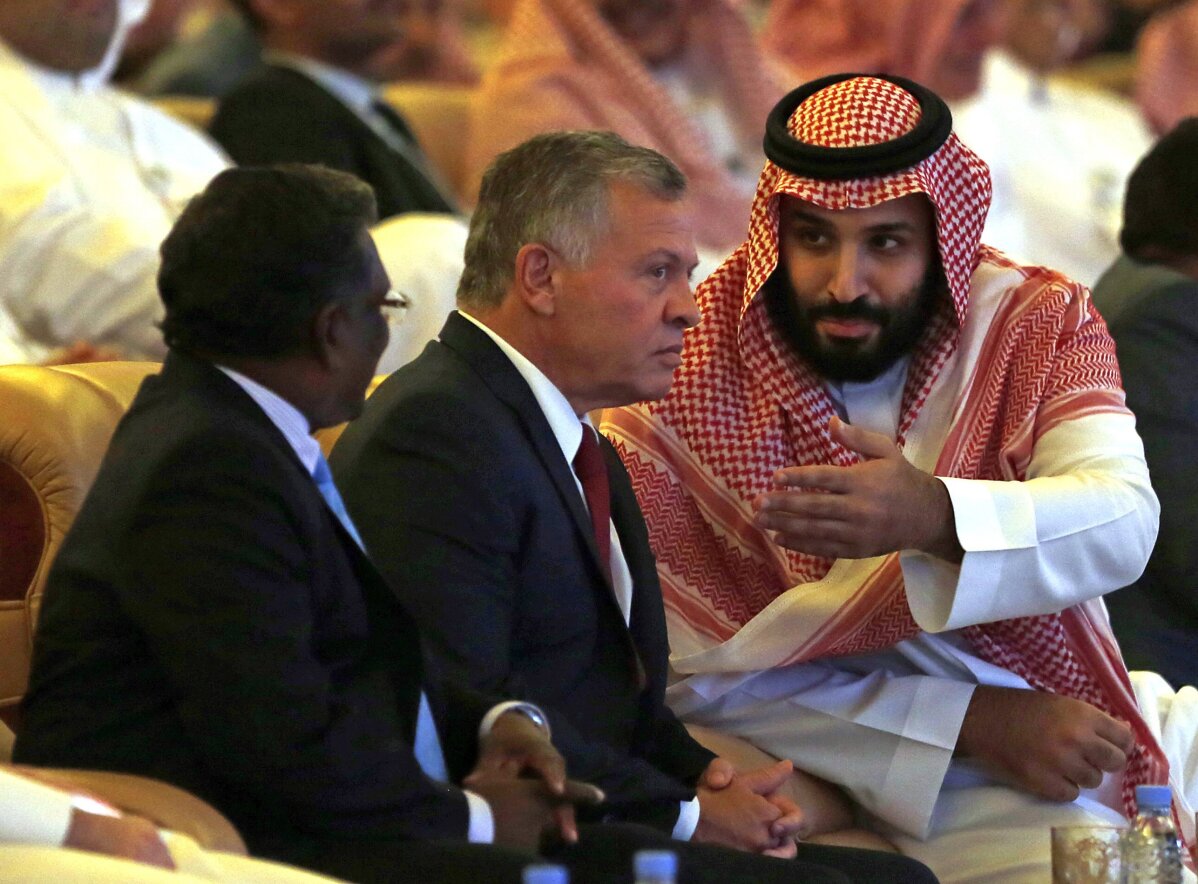 7 of 14

|
Saudi Crown Prince, Mohammed bin Salman, right, talks to Jordan's King Abdullah II, center, at the Future Investment Initiative conference, in Riyadh, Saudi Arabia, Tuesday, Oct. 23, 2018. The high-profile economic forum in Saudi Arabia is the kingdom's first major event on the world stage since the killing of writer Jamal Khashoggi at the Saudi Consulate in Istanbul earlier this month. (AP Photo/Amr Nabil)
7 of 14
Saudi Crown Prince, Mohammed bin Salman, right, talks to Jordan's King Abdullah II, center, at the Future Investment Initiative conference, in Riyadh, Saudi Arabia, Tuesday, Oct. 23, 2018. The high-profile economic forum in Saudi Arabia is the kingdom's first major event on the world stage since the killing of writer Jamal Khashoggi at the Saudi Consulate in Istanbul earlier this month. (AP Photo/Amr Nabil)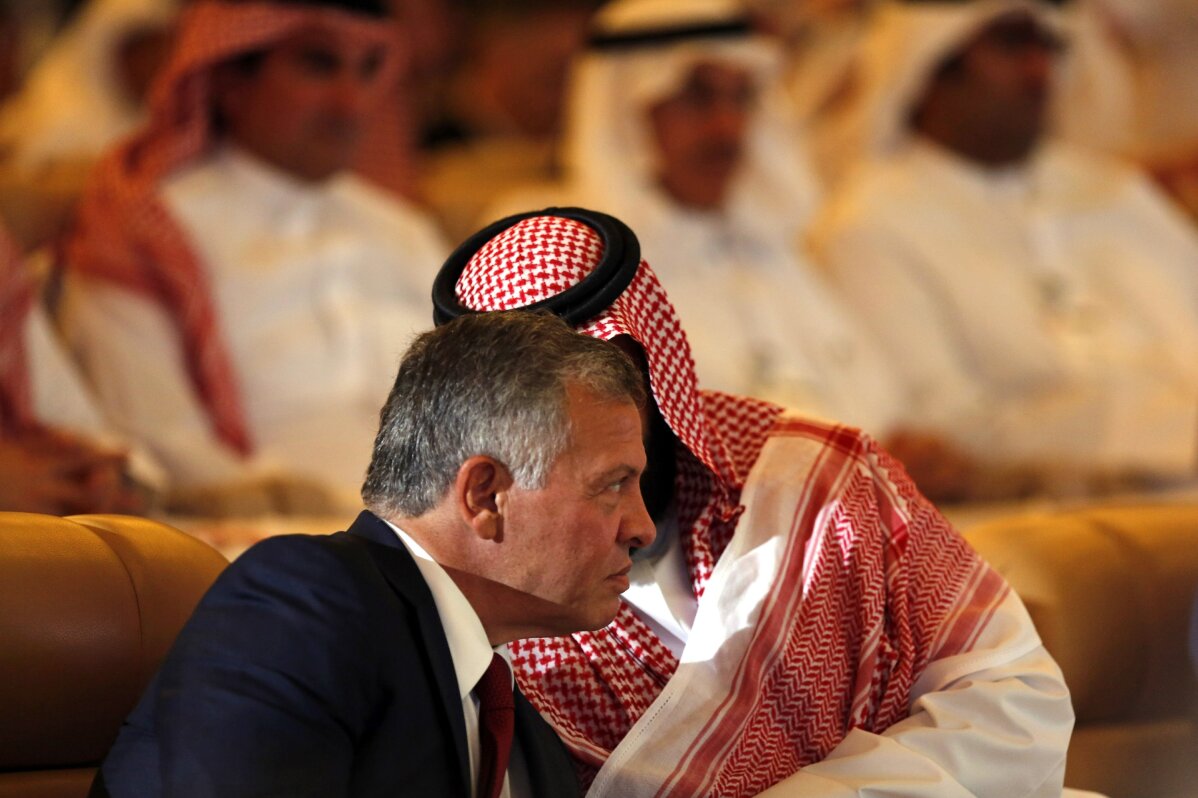 8 of 14

|
Jordan's King Abdullah II, left, listens to Saudi Crown Prince Mohammed bin Salman, at the Future Investment Initiative conference, in Riyadh, Saudi Arabia, Tuesday, Oct. 23, 2018. The high-profile economic forum in Saudi Arabia is the kingdom's first major event on the world stage since the killing of writer Jamal Khashoggi at the Saudi Consulate in Istanbul earlier this month. (AP Photo/Amr Nabil)
8 of 14
Jordan's King Abdullah II, left, listens to Saudi Crown Prince Mohammed bin Salman, at the Future Investment Initiative conference, in Riyadh, Saudi Arabia, Tuesday, Oct. 23, 2018. The high-profile economic forum in Saudi Arabia is the kingdom's first major event on the world stage since the killing of writer Jamal Khashoggi at the Saudi Consulate in Istanbul earlier this month. (AP Photo/Amr Nabil)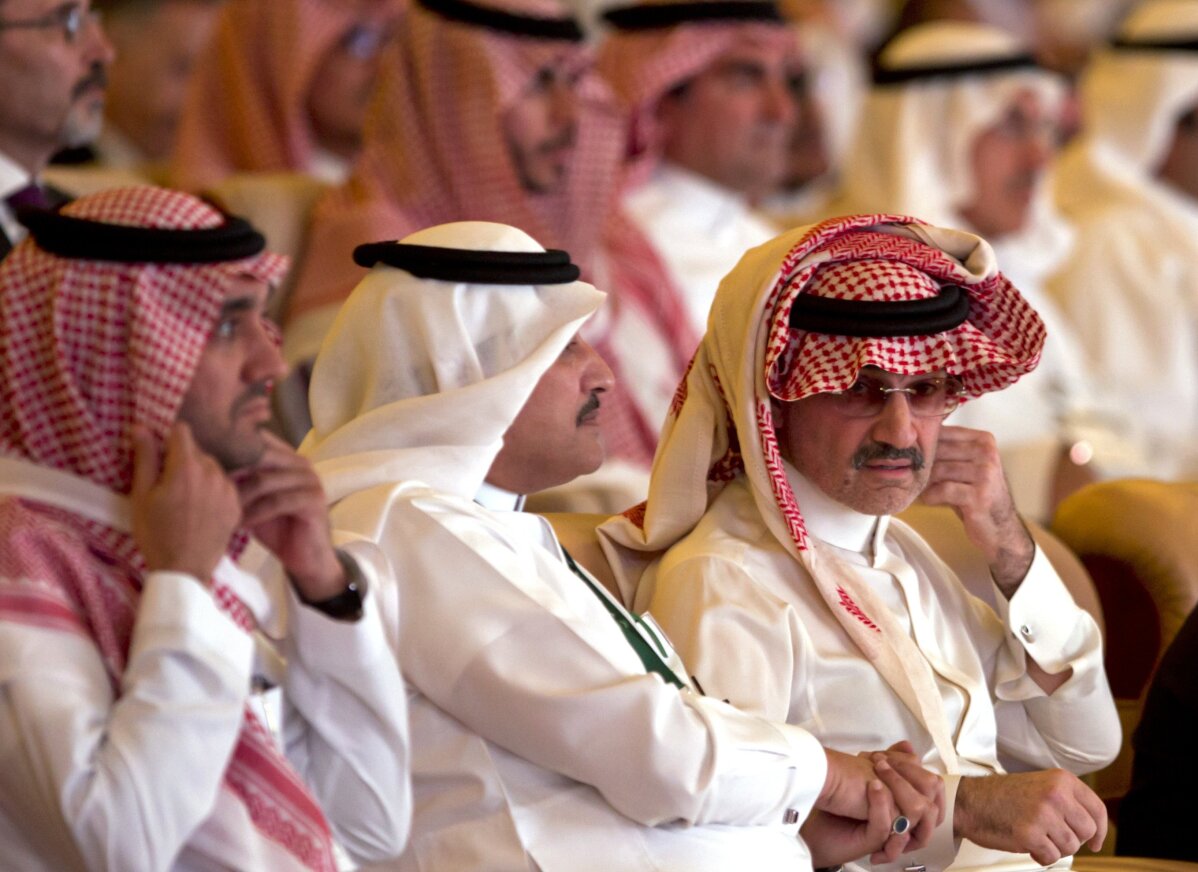 9 of 14

|
Saudi billionaire Prince Alwaleed bin Talal, right, attends the Future Investment Initiative conference, in Riyadh, Saudi Arabia, Tuesday, Oct. 23, 2018. The high-profile economic forum in Saudi Arabia is the kingdom's first major event on the world stage since the killing of writer Jamal Khashoggi at the Saudi Consulate in Istanbul earlier this month. (AP Photo/Amr Nabil)
9 of 14
Saudi billionaire Prince Alwaleed bin Talal, right, attends the Future Investment Initiative conference, in Riyadh, Saudi Arabia, Tuesday, Oct. 23, 2018. The high-profile economic forum in Saudi Arabia is the kingdom's first major event on the world stage since the killing of writer Jamal Khashoggi at the Saudi Consulate in Istanbul earlier this month. (AP Photo/Amr Nabil)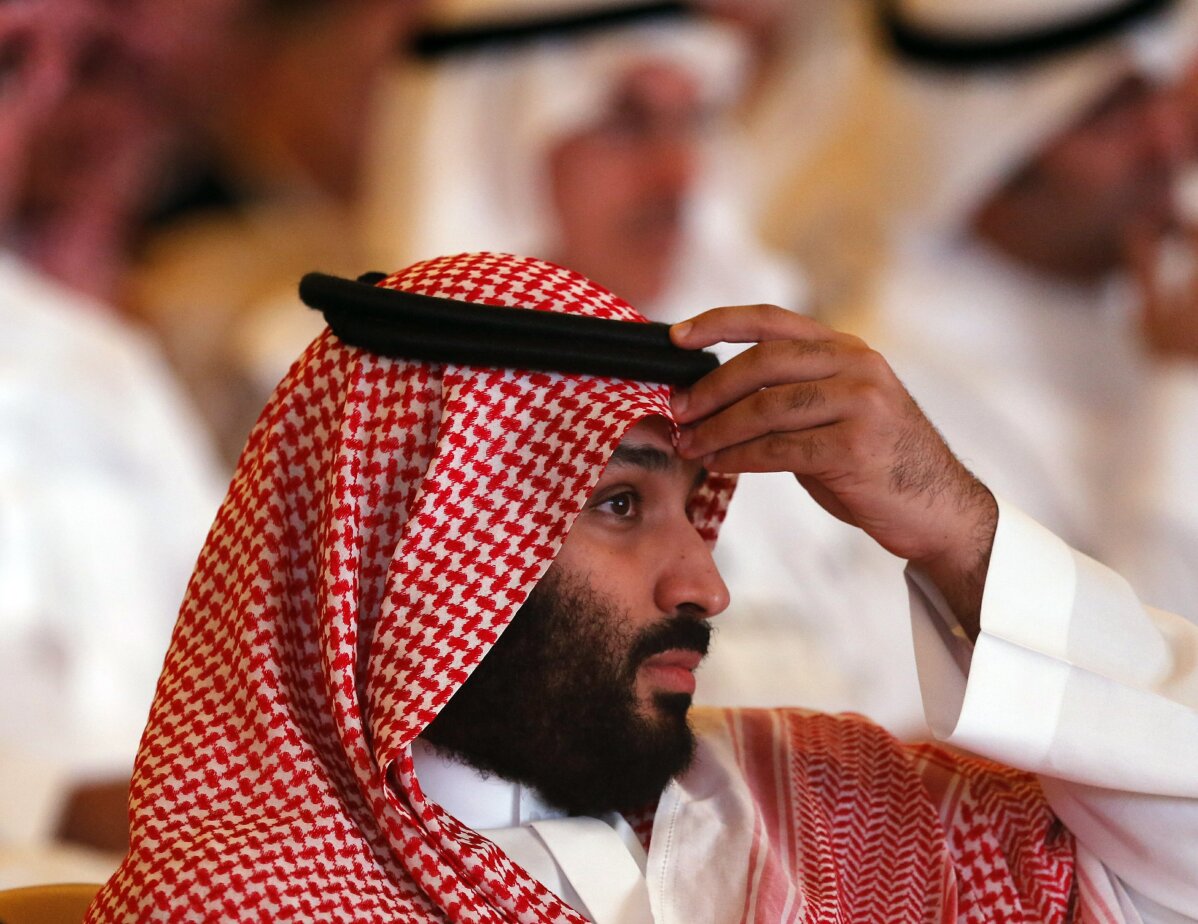 10 of 14

|
Saudi Crown Prince, Mohammed bin Salman, attends the Future Investment Initiative conference, in Riyadh, Saudi Arabia, Tuesday, Oct. 23, 2018. The high-profile economic forum in Saudi Arabia is the kingdom's first major event on the world stage since the killing of writer Jamal Khashoggi at the Saudi Consulate in Istanbul earlier this month. (AP Photo/Amr Nabil)
10 of 14
Saudi Crown Prince, Mohammed bin Salman, attends the Future Investment Initiative conference, in Riyadh, Saudi Arabia, Tuesday, Oct. 23, 2018. The high-profile economic forum in Saudi Arabia is the kingdom's first major event on the world stage since the killing of writer Jamal Khashoggi at the Saudi Consulate in Istanbul earlier this month. (AP Photo/Amr Nabil)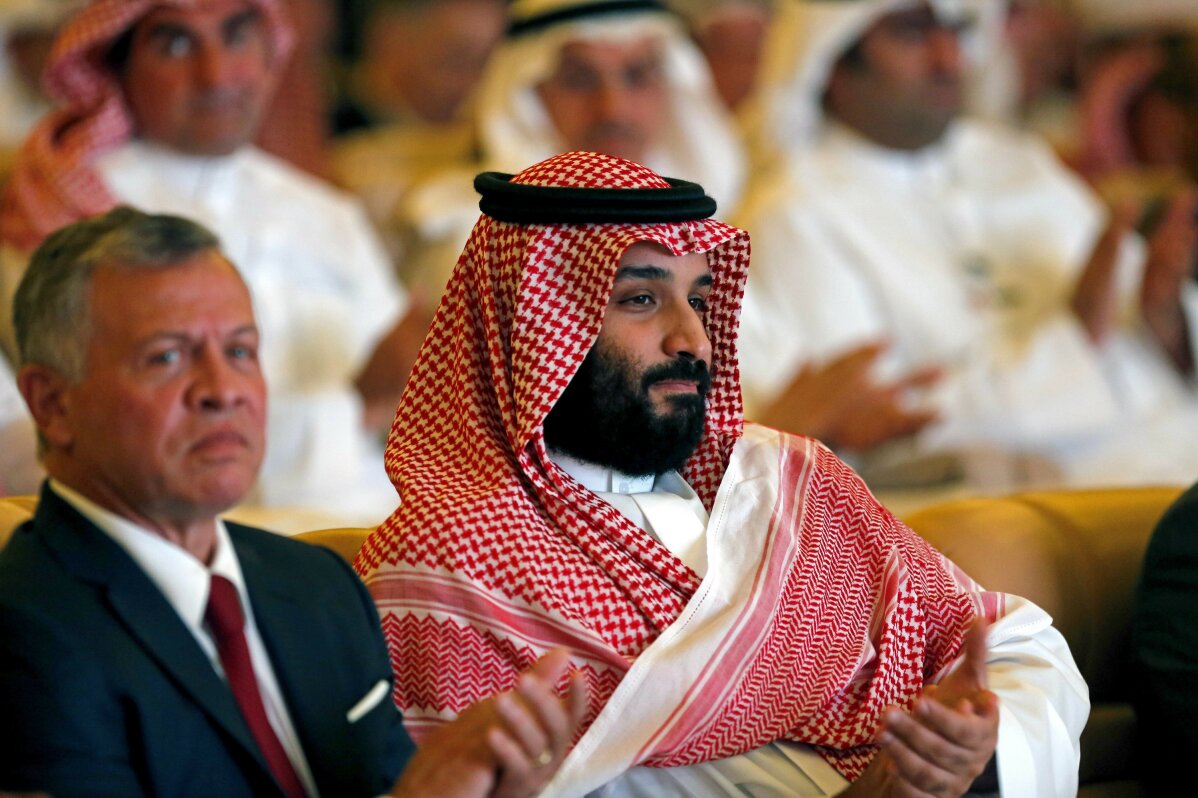 11 of 14

|
Saudi Crown Prince, Mohammed bin Salman, right, and Jordan's King Abdullah II, applaud at the Future Investment Initiative conference, in Riyadh, Saudi Arabia, Tuesday, Oct. 23, 2018.The high-profile economic forum in Saudi Arabia is the kingdom's first major event on the world stage since the killing of writer Jamal Khashoggi at the Saudi Consulate in Istanbul earlier this month. (AP Photo/Amr Nabil)
11 of 14
Saudi Crown Prince, Mohammed bin Salman, right, and Jordan's King Abdullah II, applaud at the Future Investment Initiative conference, in Riyadh, Saudi Arabia, Tuesday, Oct. 23, 2018.The high-profile economic forum in Saudi Arabia is the kingdom's first major event on the world stage since the killing of writer Jamal Khashoggi at the Saudi Consulate in Istanbul earlier this month. (AP Photo/Amr Nabil)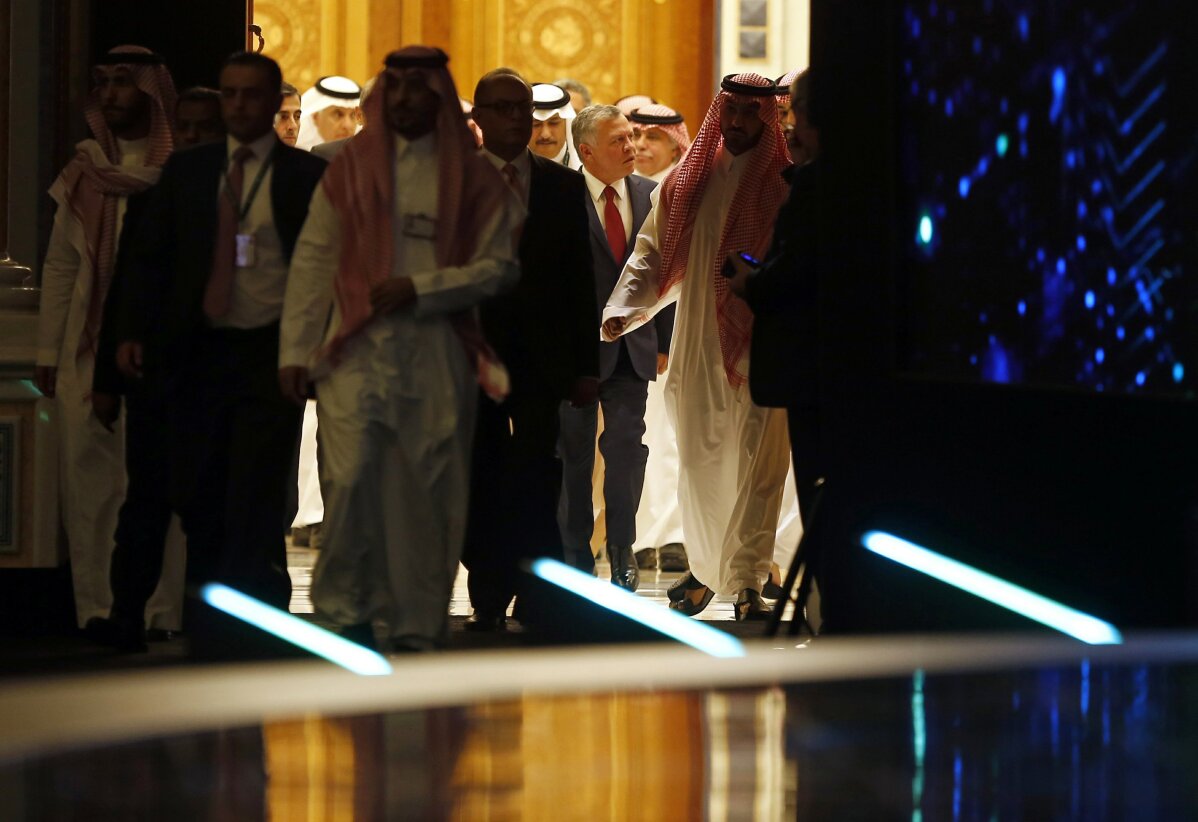 12 of 14

|
Jordan's King Abdullah II, center, enters the Future Investment Initiative conference hall, in Riyadh, Saudi Arabia, Tuesday, Oct. 23, 2018. The high-profile economic forum in Saudi Arabia is the kingdom's first major event on the world stage since the killing of writer Jamal Khashoggi at the Saudi Consulate in Istanbul earlier this month. (AP Photo/Amr Nabil)
12 of 14
Jordan's King Abdullah II, center, enters the Future Investment Initiative conference hall, in Riyadh, Saudi Arabia, Tuesday, Oct. 23, 2018. The high-profile economic forum in Saudi Arabia is the kingdom's first major event on the world stage since the killing of writer Jamal Khashoggi at the Saudi Consulate in Istanbul earlier this month. (AP Photo/Amr Nabil)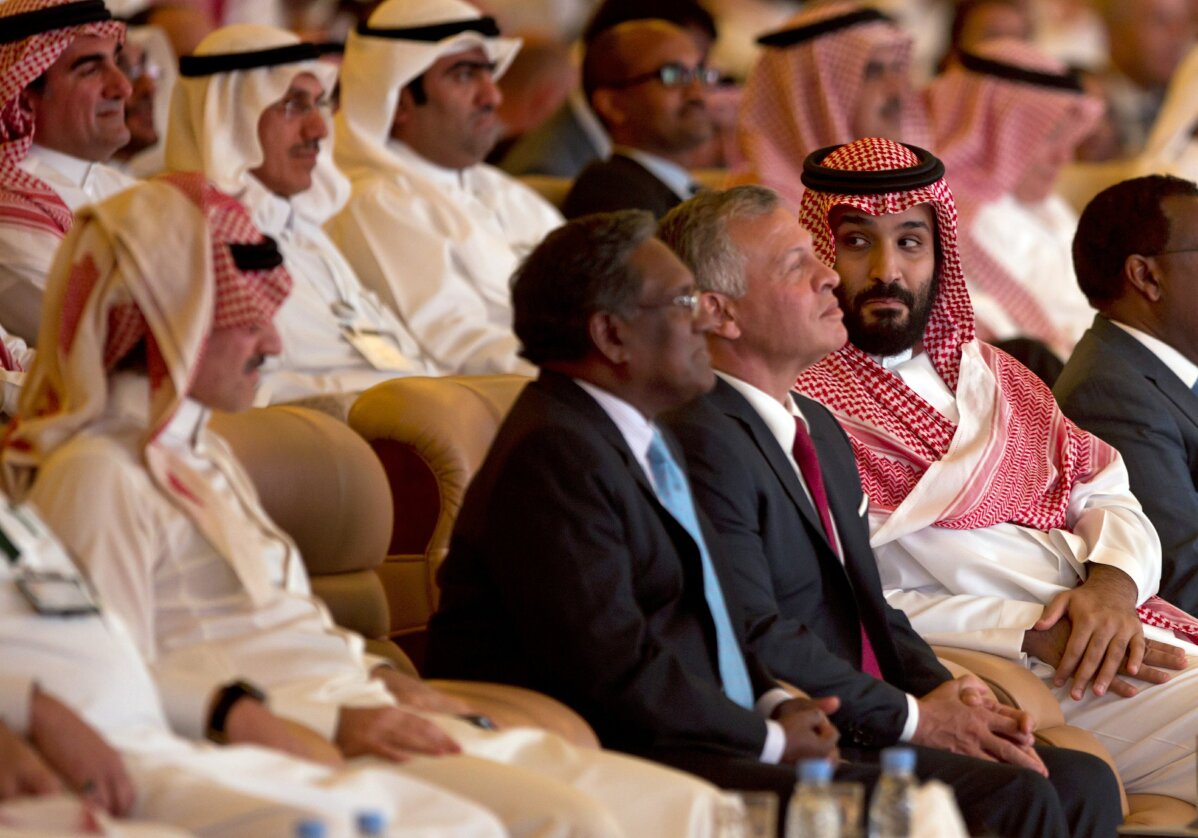 13 of 14

|
Saudi Crown Prince, Mohammed bin Salman, right, looks at Saudi billionaire Prince Alwaleed bin Talal, left, while seated next to Jordan's King Abdullah II, during the Future Investment Initiative conference, in Riyadh, Saudi Arabia, Tuesday, Oct. 23, 2018. The high-profile economic forum in Saudi Arabia is the kingdom's first major event on the world stage since the killing of writer Jamal Khashoggi at the Saudi Consulate in Istanbul earlier this month. (AP Photo/Amr Nabil)
13 of 14
Saudi Crown Prince, Mohammed bin Salman, right, looks at Saudi billionaire Prince Alwaleed bin Talal, left, while seated next to Jordan's King Abdullah II, during the Future Investment Initiative conference, in Riyadh, Saudi Arabia, Tuesday, Oct. 23, 2018. The high-profile economic forum in Saudi Arabia is the kingdom's first major event on the world stage since the killing of writer Jamal Khashoggi at the Saudi Consulate in Istanbul earlier this month. (AP Photo/Amr Nabil)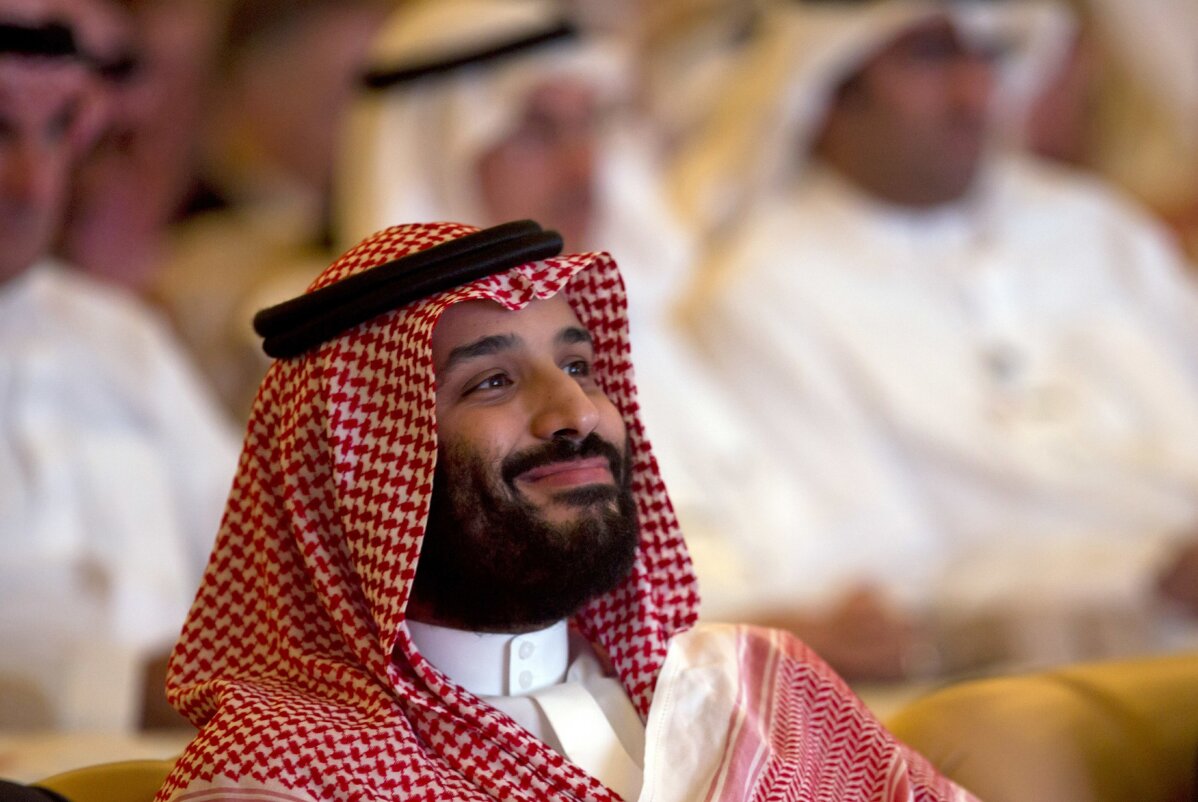 14 of 14

|
Saudi Crown Prince, Mohammed bin Salman, smiles as he attends the Future Investment Initiative conference, in Riyadh, Saudi Arabia, Tuesday, Oct. 23, 2018. The high-profile economic forum in Saudi Arabia is the kingdom's first major event on the world stage since the killing of writer Jamal Khashoggi at the Saudi Consulate in Istanbul earlier this month. (AP Photo/Amr Nabil)
14 of 14
Saudi Crown Prince, Mohammed bin Salman, smiles as he attends the Future Investment Initiative conference, in Riyadh, Saudi Arabia, Tuesday, Oct. 23, 2018. The high-profile economic forum in Saudi Arabia is the kingdom's first major event on the world stage since the killing of writer Jamal Khashoggi at the Saudi Consulate in Istanbul earlier this month. (AP Photo/Amr Nabil)
RIYADH, Saudi Arabia (AP) — A high-profile investment conference opened in Saudi Arabia on Tuesday, providing an early indication of Crown Prince Mohammed bin Salman's shifting fortunes after the killing of Saudi writer Jamal Khashoggi.
Top Western executives and officials withdrew from the conference after Saudi officials killed Khashoggi in their Istanbul consulate on Oct. 2, in circumstances that are still disputed. But Russian and Asian investors rushed in, pledging $50 billion in new deals.
The Future Investment Initiative is the brainchild of the 33-year-old prince, who received a standing ovation when he entered the hall for a brief appearance. He was followed by a crowd of mostly young Saudi men documenting the encounter with their cellphones, and the prince could be seen posing for selfies.
His appearance there came shortly after he and King Salman received Khashoggi's son, Salah, and his brother, Sahel, at the Yamama Palace in Riyadh, where the two royals expressed their condolences, according to the state-run Saudi Press Agency, which ran a photo of the crown prince shaking hands with Khashoggi's son.
A friend of the Khashoggi family told The Associated Press that Salah has been under a travel ban since his father began writing critically about the prince in columns for the Washington Post. The individual spoke on condition of anonymity, fearing reprisal.
After more than two weeks of insisting that Khashoggi had safely left the Istanbul consulate, Saudi authorities claimed last week that he was killed in a "fistfight" with a group of Saudi officials who had been sent to convince him to return to the kingdom.
That explanation has been met with widespread skepticism, with Turkish officials saying Khashoggi was targeted by a 15-member Saudi hit squad that killed and dismembered him.
On Tuesday, Turkish President Recep Tayyip Erdogan said Saudi officials murdered Khashoggi after plotting his death for days. He demanded the kingdom reveal the identities of all involved in the killing, regardless of rank.
Prince Mohammed has come under mounting pressure, with critics suspecting he ordered the high-profile operation or at least knew about it. Saudi authorities say they have arrested 18 suspects and dismissed senior officials, but the crown prince has thus far escaped blame.
In a speech at the opening of the conference, Saudi Energy Minister Khalid al-Falih described the killing as "abhorrent," saying "these are difficult days for us in the kingdom of Saudi Arabia."
"Nobody in the kingdom can justify it or explain it. From the leadership on down, we're very upset at what has happened," he said.
Several big names cancelled their attendance amid the international outrage over Khashoggi's death, including JPMorgan Chase CEO Jamie Dimon, Siemens CEO Joe Kaeser and the International Monetary Fund's managing director, Christine Lagarde. The New York Times, the Financial Times, CNN, Bloomberg and other Western media outlets withdrew as partners for the event.
Stephen Schwarzman, CEO of the Blackstone private equity firm, shared a stage with Prince Mohammed at last year's forum. But this year he too was a no-show, despite the fact that Saudi Arabia's sovereign wealth fund, which the crown prince oversees, has invested $20 billion in a U.S.-focused infrastructure fund with Blackstone.
The Public Investment Fund has also invested $3.5 billion in ride-sharing firm Uber, whose CEO Dara Khosrowshahi also backed out of attending this year's forum.
Despite billions of dollars in deals between Saudi Arabia's sovereign wealth fund and Japan's technology giant Softbank, its CEO Masayoshi Son appeared to be the latest executive to back out. He was no longer listed as a speaker at the forum as of Tuesday.
U.S. Treasury Secretary Steven Mnuchin also cancelled his appearance at the event, but met with Prince Mohammed separately on Tuesday in Riyadh to discuss efforts to counter terror financing.
A number of heads of state meanwhile attended the event, signaling their continued support for the kingdom. Jordan's King Abdullah II sat next to the Saudi crown prince at an afternoon panel, and Dubai ruler Sheikh Mohammed bin Rashid Al Maktoum and Pakistan's Prime Minister Imran Khan were also in attendance.
Lebanese Prime Minister Saad Hariri is scheduled to attend Wednesday, nearly a year after he abruptly resigned his post during a strange visit to Saudi Arabia in which many suspected he was held against his will. Hariri returned to Lebanon and to his post later that year after French mediation, and has visited Saudi Arabia and met with the crown prince since then.
Last year's forum generated headlines when Prince Mohammed wowed the crowd of global business titans with pledges to lead the ultraconservative kingdom toward "moderate Islam." He also announced plans to build a $500 billion futuristic city in the desert.
Ayham Kamel of Eurasia Group said expectations have been adjusted for this year's forum.
"I don't think it will be a failure and I don't think it will be a success either. I think it will be somewhere in the middle, and that will be good enough for the crown prince to float it as a success despite all the pressure that Saudi Arabia is under," he said.