Accusations of misconduct followed top gossip editor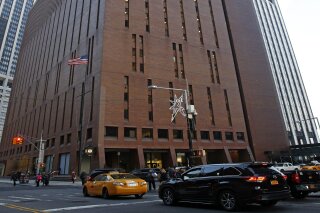 NEW YORK (AP) — Dylan Howard, the top editor at National Enquirer publisher American Media Inc., who previously faced allegations of sexual misconduct at the gossip news giant, was also accused of harassing behavior at another employer, according to interviews and documents obtained by The Associated Press.
Howard took over as the chief editor of the startup celebrity news site Celebuzz in early 2012, after a stint running American Media's Los Angeles office that was punctuated by allegations of sexual harassment.
Questions about Howard's behavior didn't stop at the new job.
At Celebuzz, Howard regularly asked female employees about their sex lives, talked in the office about which of his subordinates he'd like to sleep with and once threw what was described as a "c--- ring" sexual aid at an employee, according to confidential documents obtained by AP and interviews with former employees. In a letter obtained by AP, a human resources specialist said an investigation concluded that Howard had violated the company's sexual harassment policy.
After 15 months at Celebuzz, Howard left the smaller gossip publication and returned to American Media, where he is now chief content officer overseeing the National Enquirer, Us Weekly and other publications and web sites.
In a statement issued through his publicist Friday, Howard acknowledged that the top reason for his resignation from Celebuzz was the way the company handled what he called "unfounded" accusations against him.
"There is nothing here that has any truth to it," he said. "Period."
"There is a fundamental difference between words and the actions of people," he said. "We have clearly lost nuance and proportionality."
An attorney for Howard, Howard Weitzman, threatened to sue the AP for news coverage he described as "false, malicious and defamatory." He accused the AP of an effort to "defame and smear the people you are writing about."
AMI said it did not know about the harassment complaint against Howard during his time at Celebuzz.
The April 2013 letter from an HR investigator that said Howard violated Celebuzz's sexual harassment policy didn't specify what exactly Howard did but laid out eight allegations against him. The letter said a human resources investigator addressed the conduct with Celebuzz's parent company "and recommended actions to help improve the work environment." The letter did not say whether Howard was disciplined for his behavior.
Howard said he couldn't respond to the letter because he wasn't aware of the investigation's findings. He said he was never suspended from Celebuzz and wasn't terminated.
Howard's publicist provided the text of a March 21, 2013, email he said Howard sent to a Celebuzz executive announcing his resignation in which he cites the company's response to "the unfounded allegations against me" as his top reason for leaving the company.
He wrote in the email that the way the company handled the case "has done my standing irreparable damage and has caused me much pain, suffering, embarrassment and humiliation."
A former senior executive at the website's parent company, BuzzMedia, confirmed that Howard's behavior was of serious concern to management and contributed to his departure from the company in April 2013, when the investigation concluded.
A complaint to HR by one Celebuzz employee that was obtained by the AP said that "Dylan has repeatedly asked interns and employees...about their sex lives."
"He's made comments about women's suggestive clothing, how good employees look when they leave the room, how much he would like to have sex with hosts from the studio floor, which celebrities he's slept with, etc.," according to the employee's complaint.
The investigation of Howard's conduct at Celebuzz was conducted by San Leandro, California,-based human resources firm TriNet Group Inc. A TriNet spokeswoman, Fatima Afzal, confirmed to the AP that BuzzMedia was formerly a client but declined to acknowledge or discuss the 2013 investigation.
Some of the seven former Celebuzz employees interviewed by the AP spoke on condition of anonymity because they had signed nondisclosure agreements prohibiting them from publicly discussing their former employer. Others said they were concerned about Howard's influence in the entertainment industry.
The Celebuzz website still exists though its ownership has changed since Howard's stint as the top editor. A phone message left with the publicist for the current owner was not returned.
The AP reported this week that American Media launched its own investigation in 2012 into similar complaints of sexual misconduct against Howard, before he went to Celebuzz. Former AMI employees said Howard forced women reporters to watch pornography, discussed his and their sex lives in the newsroom and nicknamed himself "Dildo," a reference to a phallus-shaped sex toy.
Howard and the company told the AP the allegations about his time in the Los Angeles office of AMI were "baseless." A company lawyer said its investigation concluded that Howard committed no serious wrongdoing and described much of Howard's behavior as "horsing around." In a statement, the company said that since rehiring Howard in 2013, the editor "has continued to have the respect of his peers and colleagues" and "has the full support of AMI and its executives."
The scrutiny of Howard's behavior comes as the New Yorker and other news organizations have published emails showing Howard's interactions with movie producer Harvey Weinstein, who is at the center of a sex harassment scandal with far-reaching consequences. The emails showed that Howard dispatched a reporter to dig up information on an actress who accused Weinstein of rape.
Weinstein, who has denied allegations of non-consensual sex, has maintained he was passing along a news tip to Howard that was never published. Howard has said he pursued the information as part of due diligence before entering into a business relationship with Weinstein.
The investigation at Celebuzz began with a complaint filed by an employee Howard had sought to discipline for what he said was substandard work.
A publicist for Howard, Howard Bragman, said in response to questions from the AP that Celebuzz's HR department told Howard to "consider the source" of the complaint since it was filed after Howard placed the employee on a performance improvement plan.
Attorneys who focus on sexual harassment said that evidence of sexual misconduct by Howard in a past job could pose a risk to AMI.
AMI said it couldn't have known about the complaint at Celebuzz because it could not have obtained Howard's human resources file.
David Yamada, a law professor at Suffolk University, said employers are within their rights to ask job candidates if they've been the subject of harassment complaints at their previous employer.
"If Howard engages in sexual harassment during his second go-round at AMI, it may impact potential legal claims" in the future, said Yamada after AP filled him in on details of the case and AMI's response. An aggrieved employee could use that information to hold AMI responsible for Howard's behavior, seek punitive damages or file a negligent-hiring lawsuit, he said.
Many of the Celebuzz employees were in their early 20s during Howard's stint as top editor. One said Howard so frequently asked about her dating life and talked about others' sex lives in the office that she began to document incidents, jotting things in a journal she believed were inappropriate or unprofessional.
At a happy hour gathering at a local bar, Howard was heard "openly encouraging a male BuzzMedia worker to take a fellow co-worker home and have sex with her as she was too intoxicated to drive," according to a February 2013 email obtained by AP that an employee submitted as part of the HR investigation.
Howard's publicist said in a statement that Howard was only making sure an employee didn't drive home drunk and denied making any reference to sex.
Another employee recalled Howard saying he could see her bra under her shirt and pressing her about whether she had sex on a recent date.
"It was awkward and inappropriate, but you don't know if it is for sure because the vibe of the office is like that," she said. "It was a very millennial company. You don't know what's ok, what's not, and what's joking."
That employee was interviewed by the HR investigator about Howard's behavior but did not formally complain about his comments to her.
In another instance, Howard encouraged staffers to guess which celebrity a male employee had had sex with, according to two former employees who witnessed the incident and the letter from HR summarizing complaints about Howard's behavior.
The senior company executive recalled that when Howard made sexually inappropriate remarks to a group of interns in their 20s in the company's bullpen-style Los Angeles office space, he decided the company had to act.
"It was a legitimate HR issue," the senior company executive said. "I remember at the time that it was not an inconsequential thing."
Howard returned to American Media the following month, after being rehired, this time working out of its New York offices, and was given a promotion to oversee all the company's newsrooms.
___
Horwitz reported from Washington.
___
Send a confidential tip to The Associated Press at https://www.ap.org/tips