The Latest: Japan set to end Tokyo's state of emergency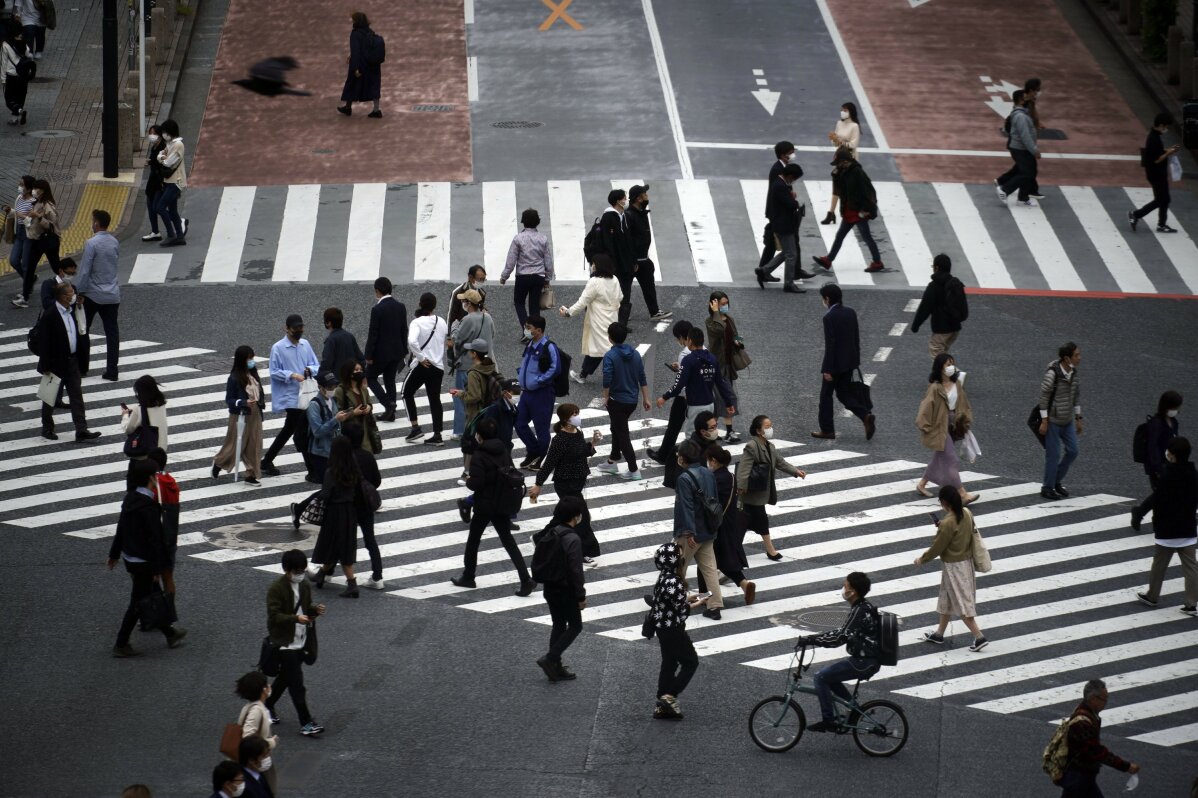 1 of 9

|
Pedestrians pass a street crossing Friday, May 22, 2020, in Tokyo. Tokyo is still under a coronavirus state of emergency until the end of May though there have been no hard lockdowns. (AP Photo/Eugene Hoshiko)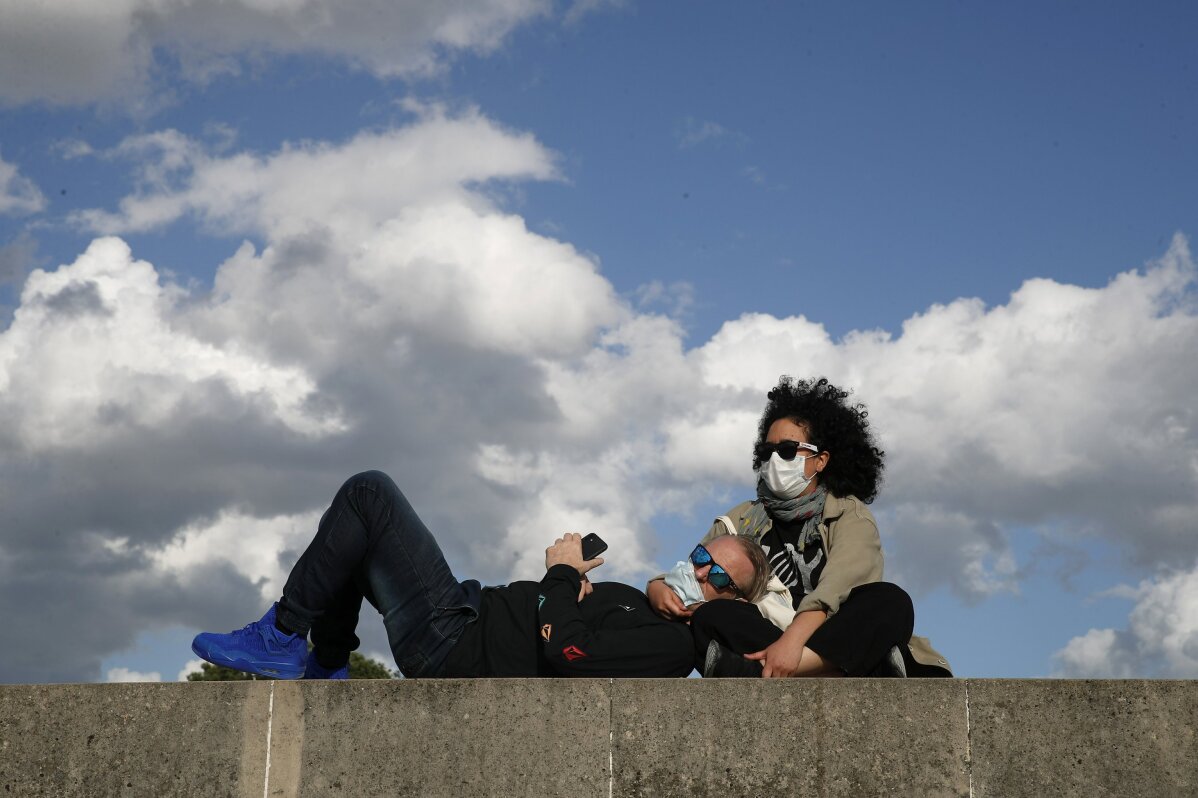 2 of 9

|
Parisians, wearing protective masks, sit in the sun along the closed Tuileries garden in Paris, Saturday, May 23, 2020 as France gradually lifts its COVID-19 lockdown. (AP Photo/Francois Mori)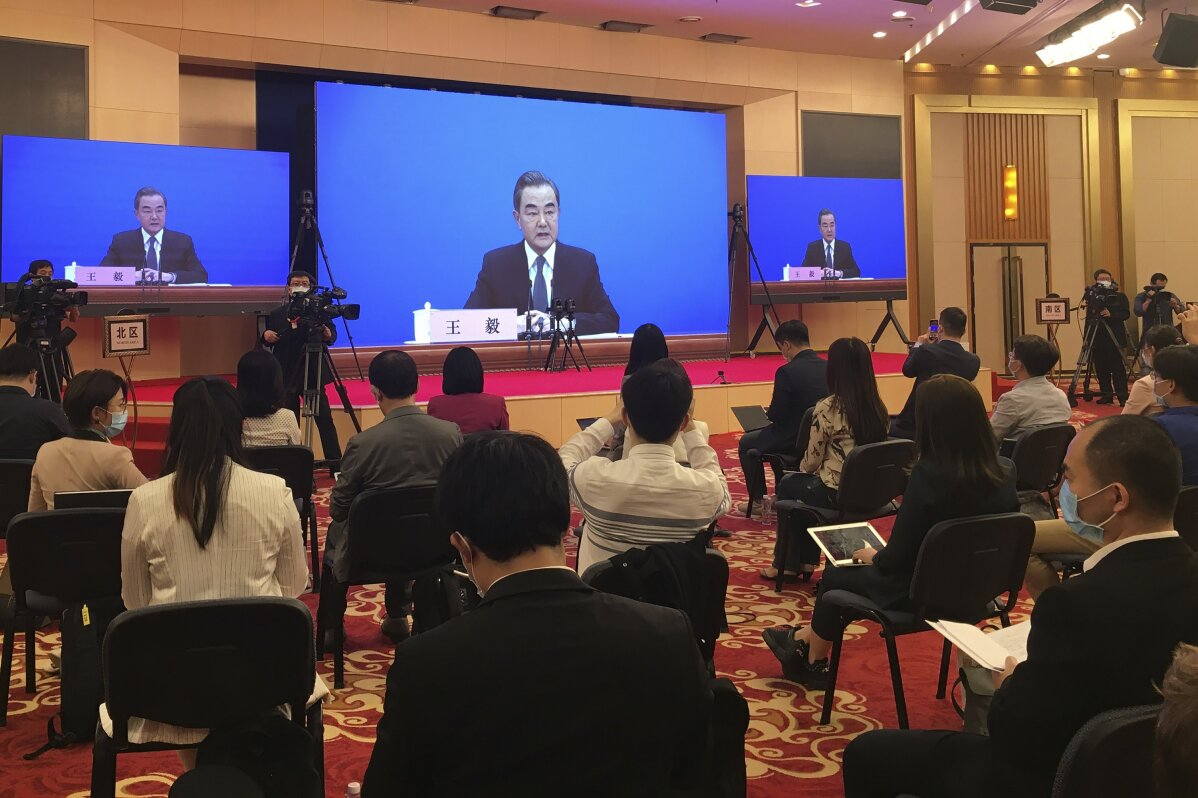 3 of 9

|
China's Foreign Minister Wang Yi is seen broadcasted remotely on big screens at the media center during a press conference held on the sideline of the National People's Congress in Beijing on Sunday, May 24, 2020. (AP Photo/Ken Moritsugu)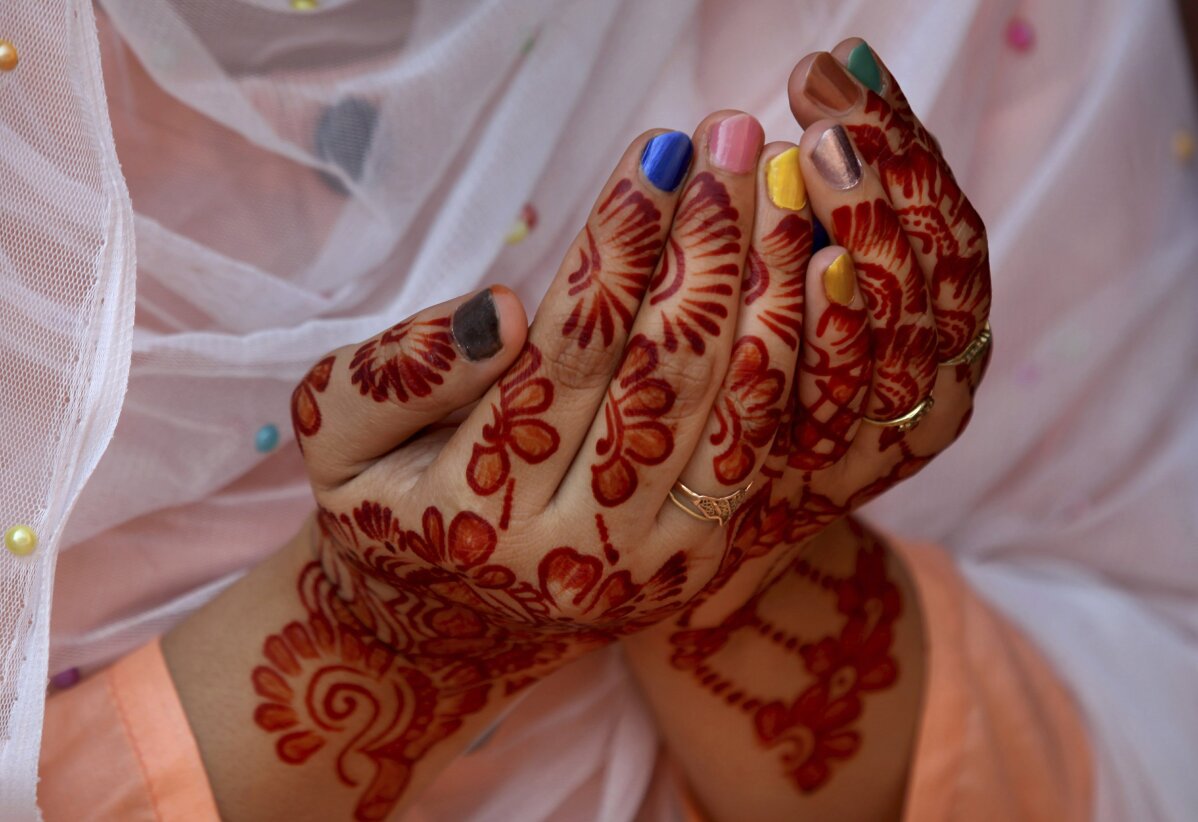 4 of 9

|
A woman, her hands decorated with traditional henna, prays during Eid al-Fitr prayer at historical Badshahi mosque in Lahore, Pakistan, Sunday, May 24, 2020. Millions of Muslims across the world are marking a muted and gloomy holiday of Eid al-Fitr, the end of the fasting month of Ramadan _a usually joyous three-day celebration that has been significantly toned down as coronavirus cases soar. (AP Photo/K.M. Chaudary)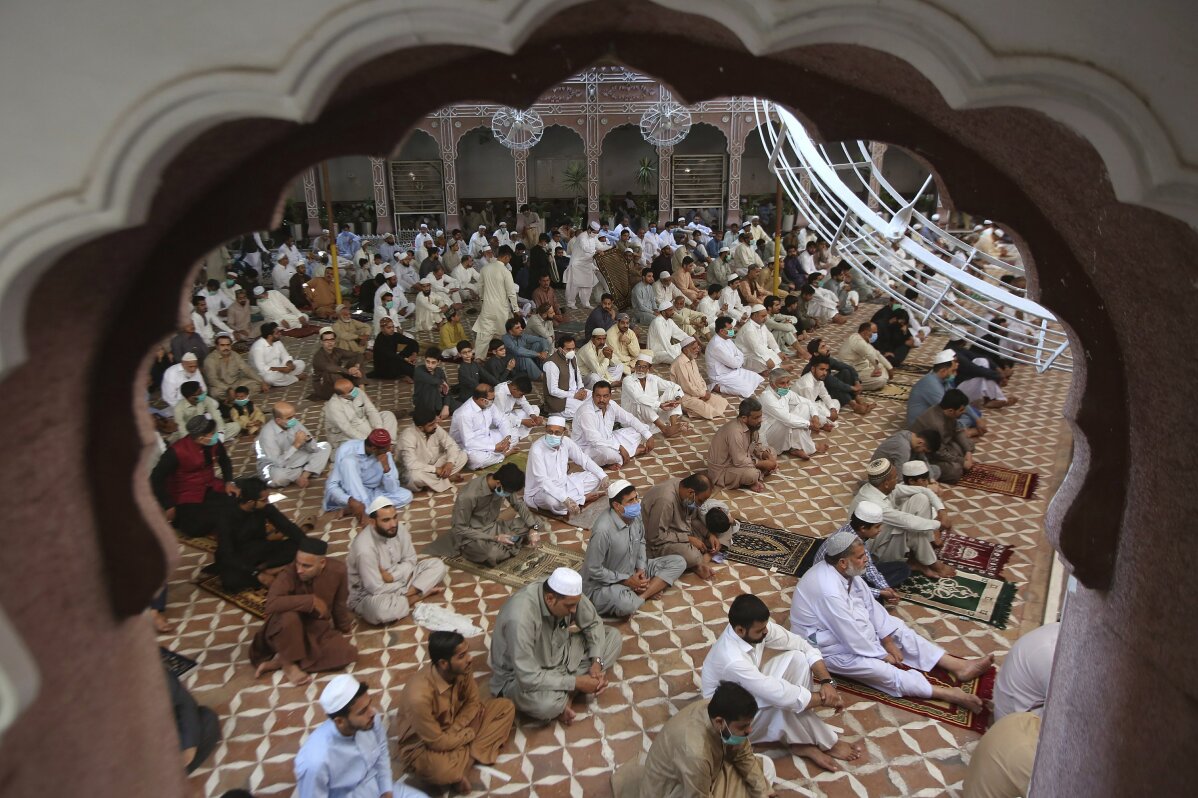 5 of 9

|
Muslims offer Eid al-Fitr prayers at a mosque in Peshawar, Pakistan, Sunday, May 24, 2020. Millions of Muslims across the world are marking a muted and gloomy holiday of Eid al-Fitr, the end of the fasting month of Ramadan - a usually joyous three-day celebration that has been significantly toned down as coronavirus cases soar. (AP Photo/Muhammad Sajjad)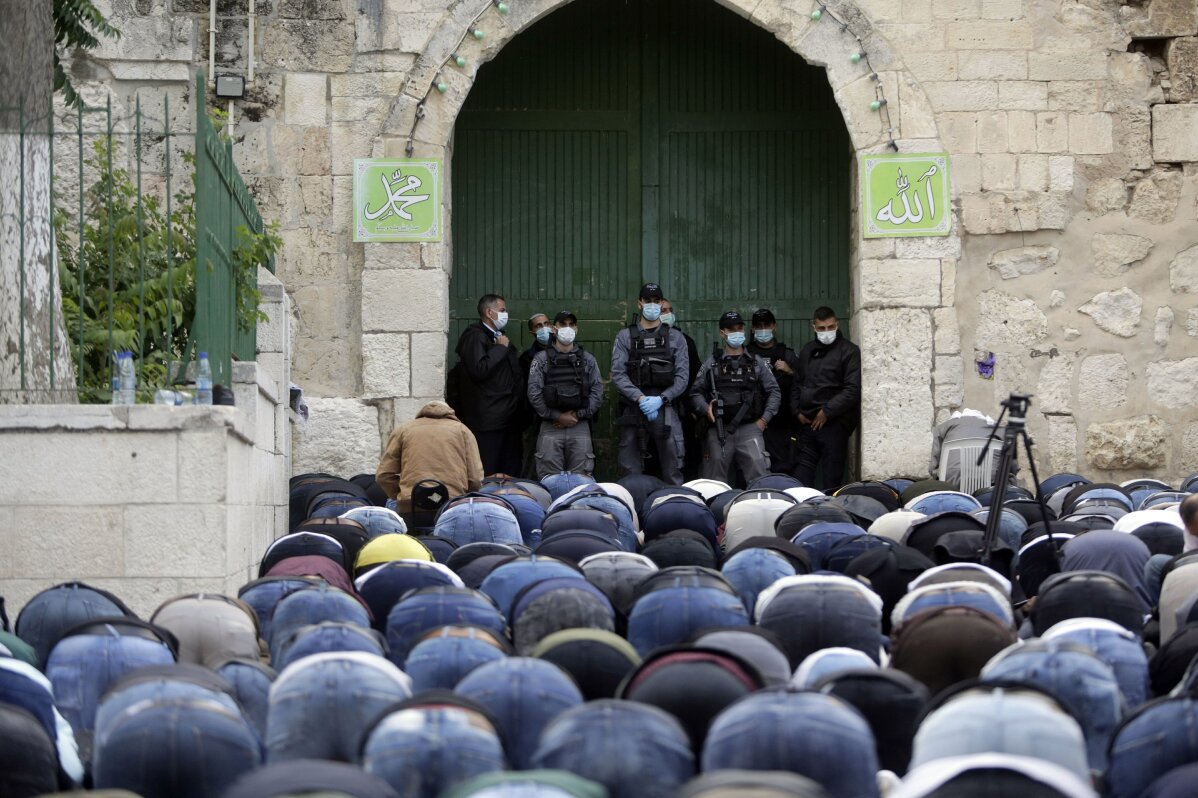 6 of 9

|
Israeli Police officers wear protective face masks as Muslim worshippers offer Eid al-Fitr prayers marking the end of the holy fasting month of Ramadan outside the al-Aqsa mosque compound, which remains shut to prevent the spread of coronavirus, in Jerusalem, Sunday, May 24, 2020. (AP Photo/Mahmoud Illean)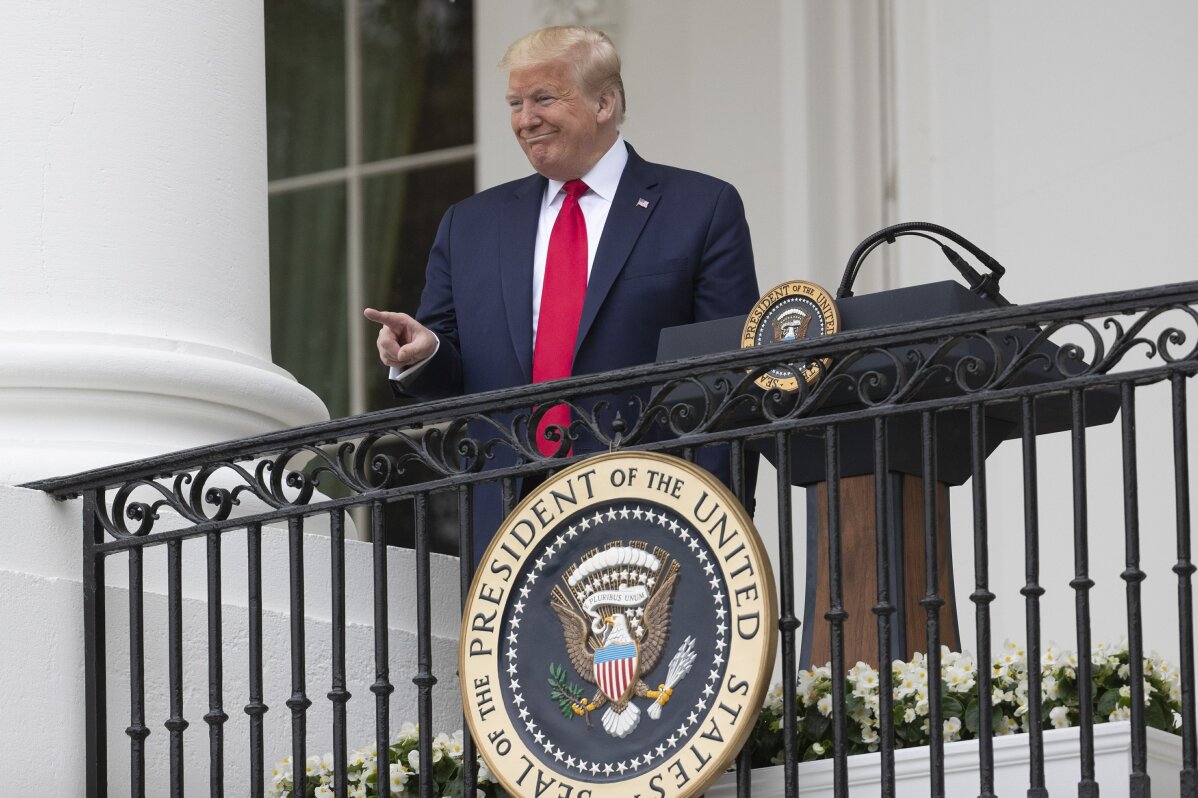 7 of 9

|
President Donald Trump points during a "Rolling to Remember Ceremony," to honor the nation's veterans and POW/MIA, from the Blue Room Balcony of the White House, Friday, May 22, 2020, in Washington. (AP Photo/Alex Brandon)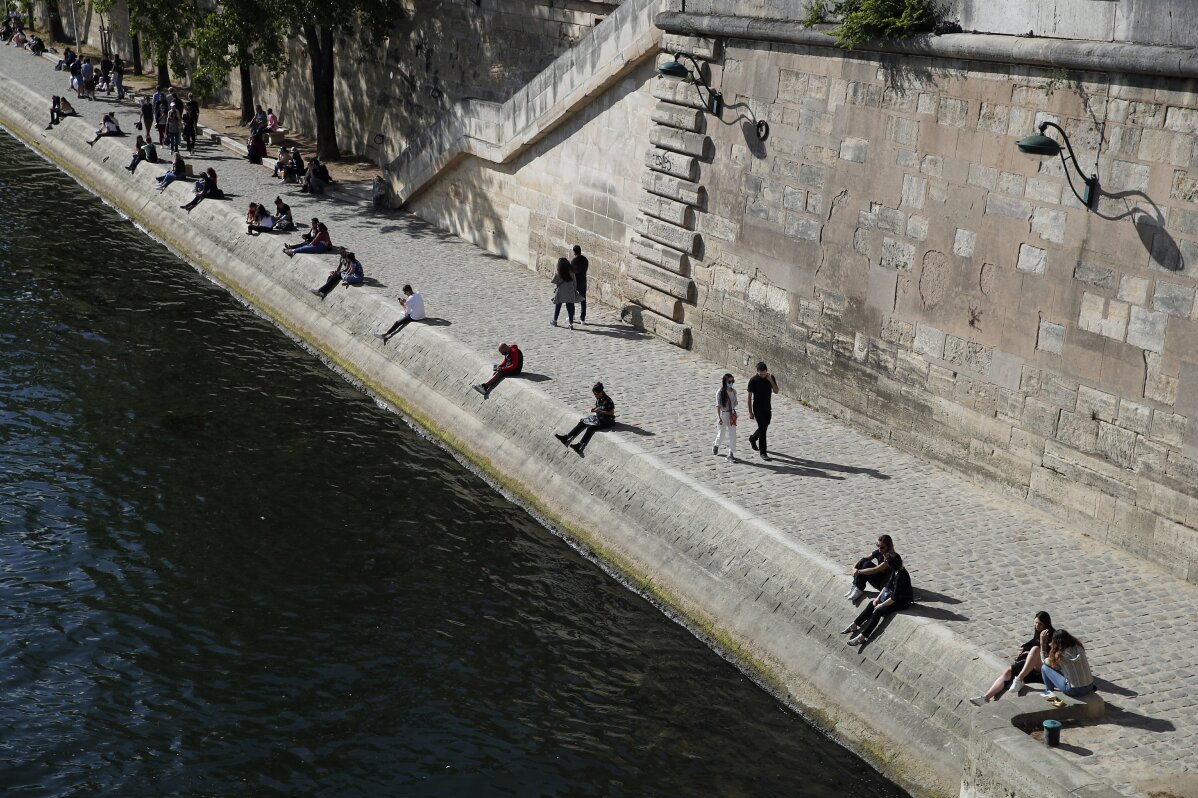 8 of 9

|
Parisians sit in the sun along the Seine river banks in Paris, Saturday, May 23, 2020 as France gradually lifts its COVID-19 lockdown. (AP Photo/Francois Mori)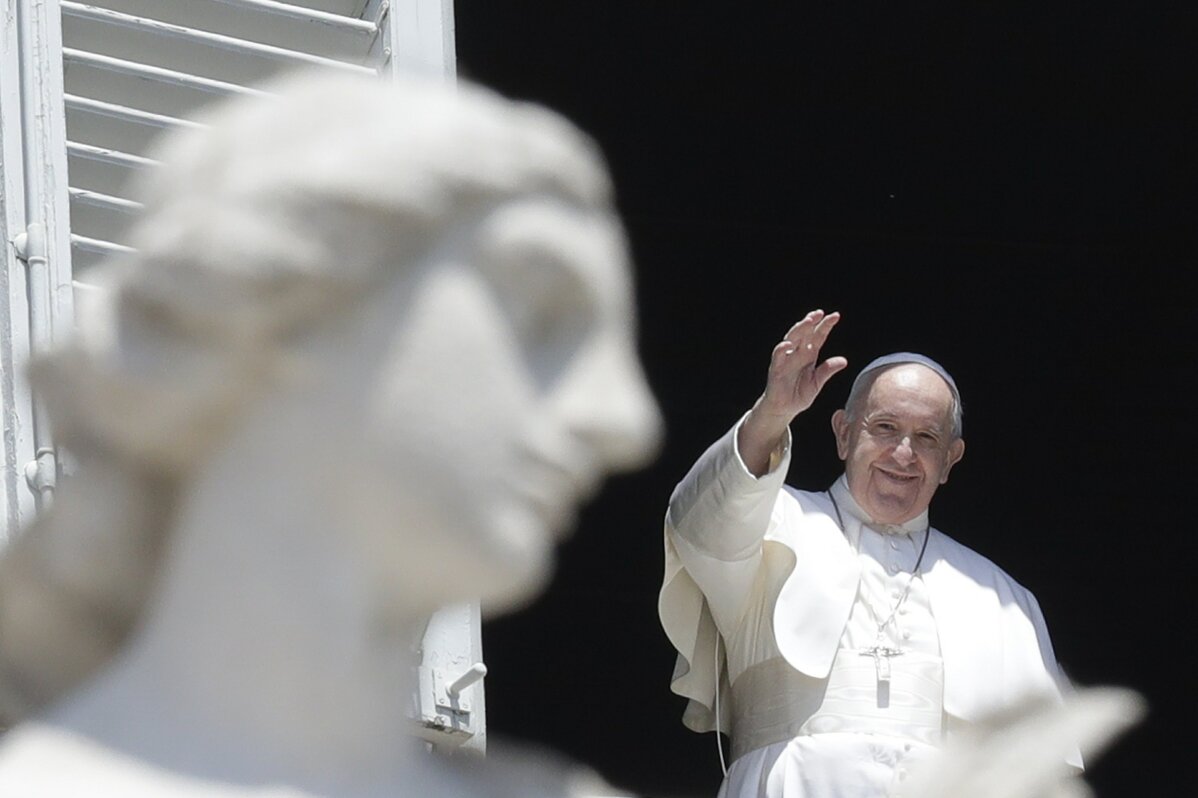 9 of 9

|
Pope Francis delivers his blessing from the window of his studio overlooking St. Peter's Square, at the Vatican, Sunday, May 24, 2020. For the first time in months, well-spaced faithful gathered in St. Peter's Square for the traditional Sunday papal blessing, casting their gaze at the window where the pope normally addresses the faithful, since the square had been closed due to anti-coronavirus lockdown measures. (AP Photo/Andrew Medichini)
The Latest: Japan set to end Tokyo's state of emergency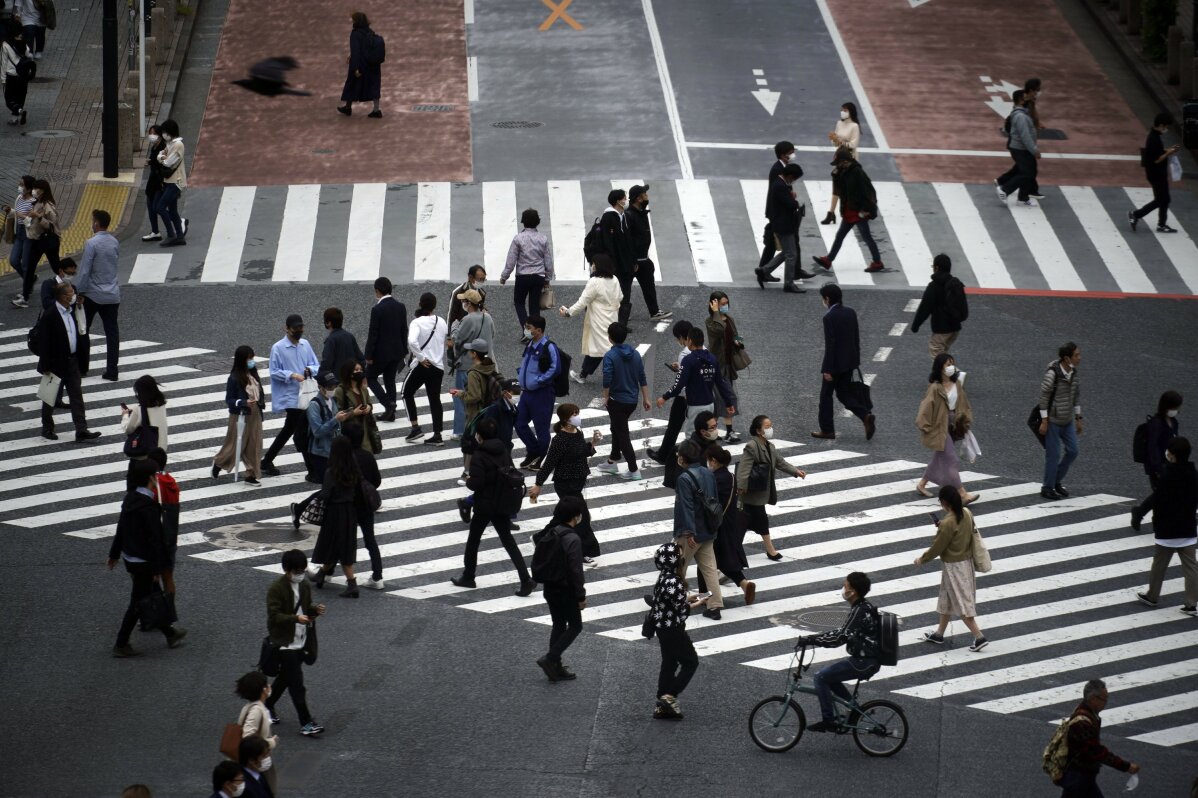 1 of 9

|
Pedestrians pass a street crossing Friday, May 22, 2020, in Tokyo. Tokyo is still under a coronavirus state of emergency until the end of May though there have been no hard lockdowns. (AP Photo/Eugene Hoshiko)
1 of 9
Pedestrians pass a street crossing Friday, May 22, 2020, in Tokyo. Tokyo is still under a coronavirus state of emergency until the end of May though there have been no hard lockdowns. (AP Photo/Eugene Hoshiko)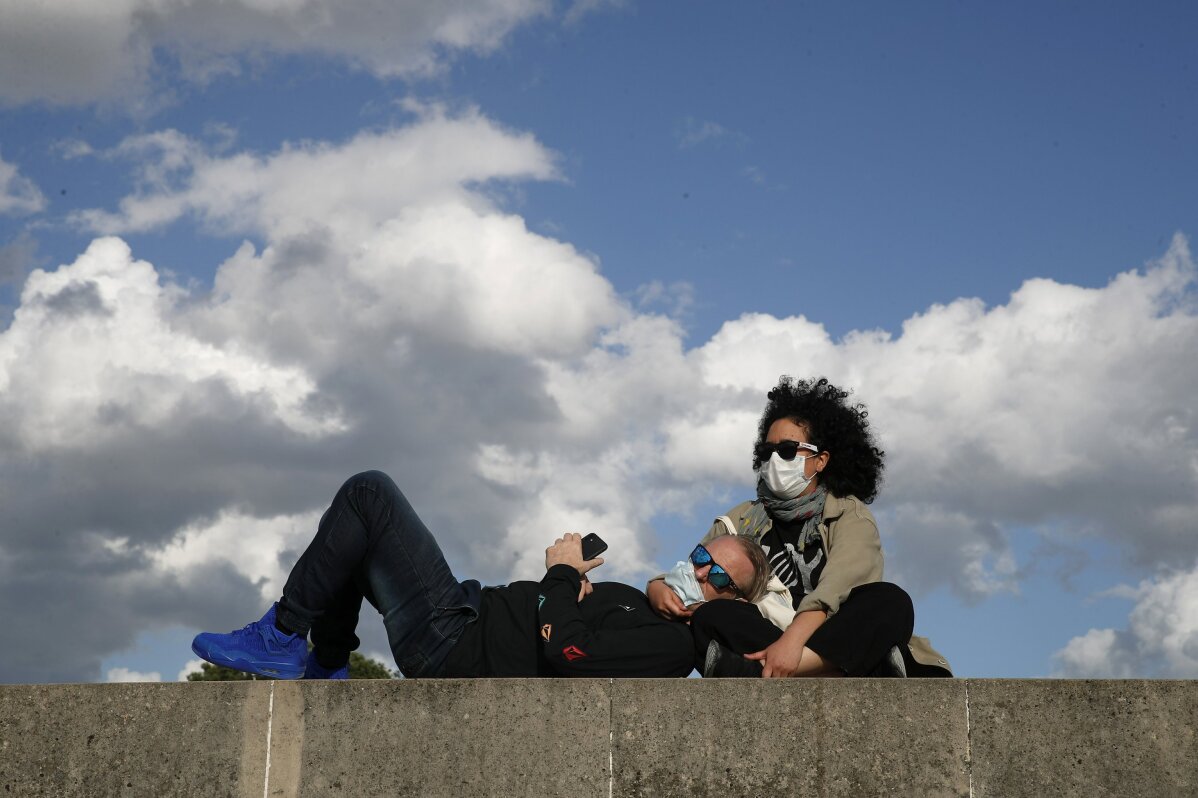 2 of 9

|
Parisians, wearing protective masks, sit in the sun along the closed Tuileries garden in Paris, Saturday, May 23, 2020 as France gradually lifts its COVID-19 lockdown. (AP Photo/Francois Mori)
2 of 9
Parisians, wearing protective masks, sit in the sun along the closed Tuileries garden in Paris, Saturday, May 23, 2020 as France gradually lifts its COVID-19 lockdown. (AP Photo/Francois Mori)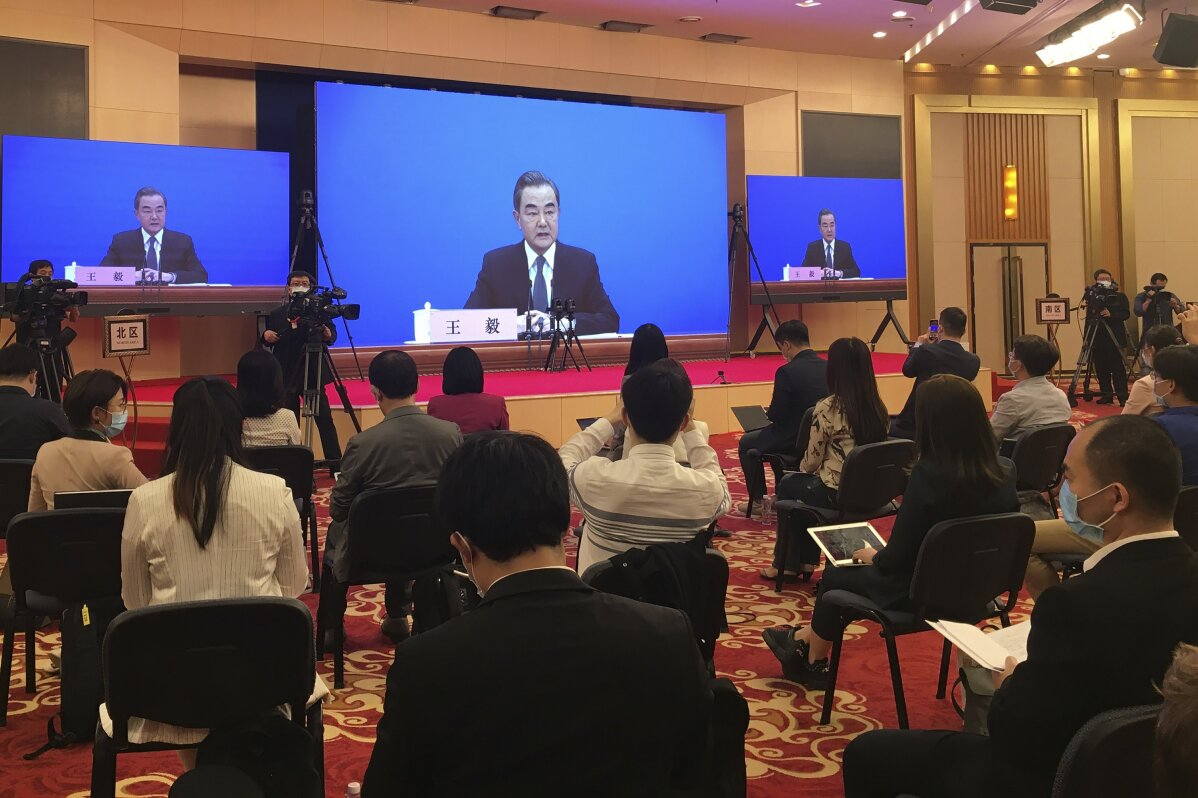 3 of 9

|
China's Foreign Minister Wang Yi is seen broadcasted remotely on big screens at the media center during a press conference held on the sideline of the National People's Congress in Beijing on Sunday, May 24, 2020. (AP Photo/Ken Moritsugu)
3 of 9
China's Foreign Minister Wang Yi is seen broadcasted remotely on big screens at the media center during a press conference held on the sideline of the National People's Congress in Beijing on Sunday, May 24, 2020. (AP Photo/Ken Moritsugu)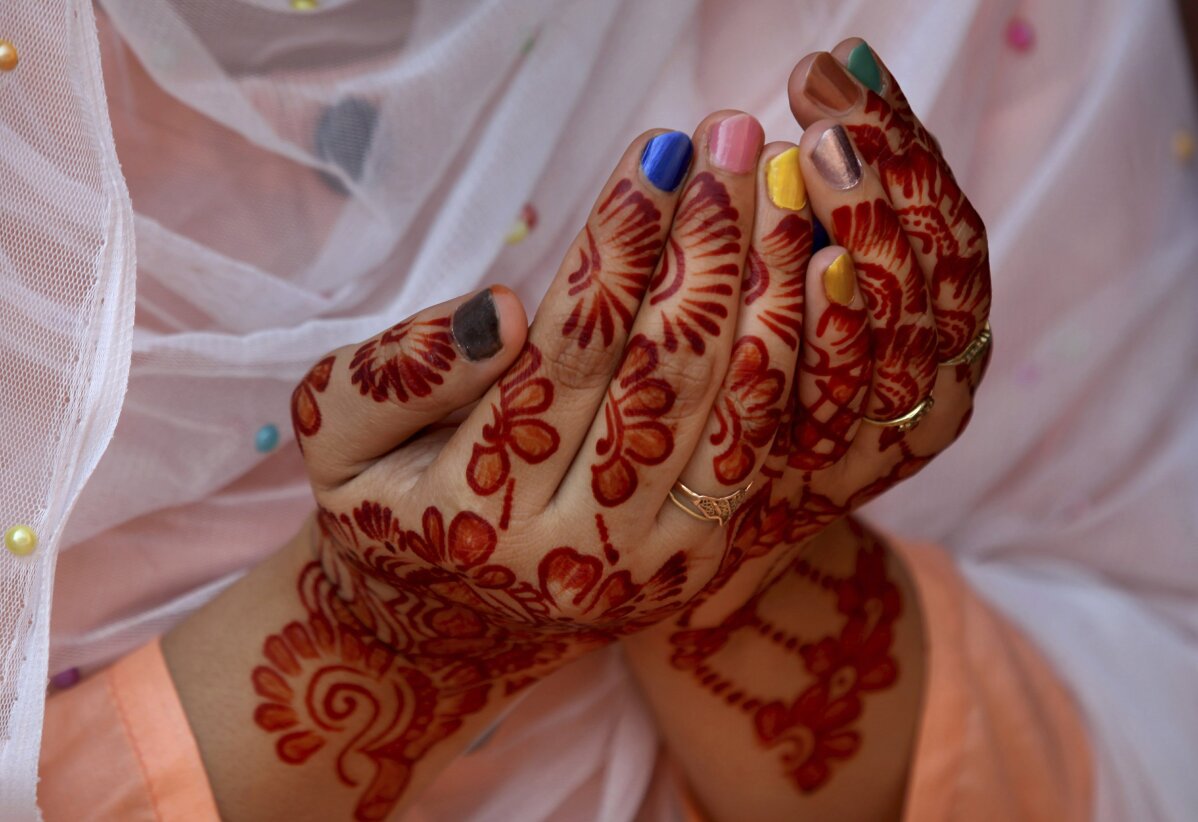 4 of 9

|
A woman, her hands decorated with traditional henna, prays during Eid al-Fitr prayer at historical Badshahi mosque in Lahore, Pakistan, Sunday, May 24, 2020. Millions of Muslims across the world are marking a muted and gloomy holiday of Eid al-Fitr, the end of the fasting month of Ramadan _a usually joyous three-day celebration that has been significantly toned down as coronavirus cases soar. (AP Photo/K.M. Chaudary)
4 of 9
A woman, her hands decorated with traditional henna, prays during Eid al-Fitr prayer at historical Badshahi mosque in Lahore, Pakistan, Sunday, May 24, 2020. Millions of Muslims across the world are marking a muted and gloomy holiday of Eid al-Fitr, the end of the fasting month of Ramadan _a usually joyous three-day celebration that has been significantly toned down as coronavirus cases soar. (AP Photo/K.M. Chaudary)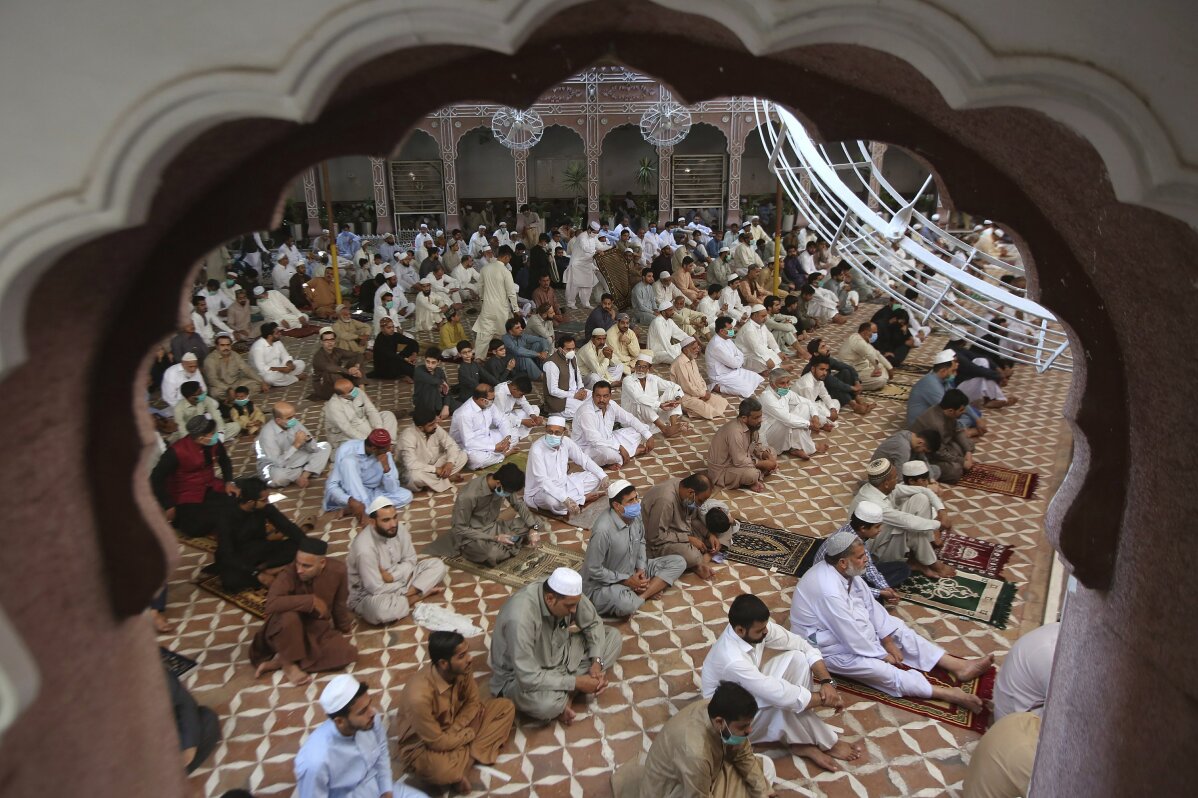 5 of 9

|
Muslims offer Eid al-Fitr prayers at a mosque in Peshawar, Pakistan, Sunday, May 24, 2020. Millions of Muslims across the world are marking a muted and gloomy holiday of Eid al-Fitr, the end of the fasting month of Ramadan - a usually joyous three-day celebration that has been significantly toned down as coronavirus cases soar. (AP Photo/Muhammad Sajjad)
5 of 9
Muslims offer Eid al-Fitr prayers at a mosque in Peshawar, Pakistan, Sunday, May 24, 2020. Millions of Muslims across the world are marking a muted and gloomy holiday of Eid al-Fitr, the end of the fasting month of Ramadan - a usually joyous three-day celebration that has been significantly toned down as coronavirus cases soar. (AP Photo/Muhammad Sajjad)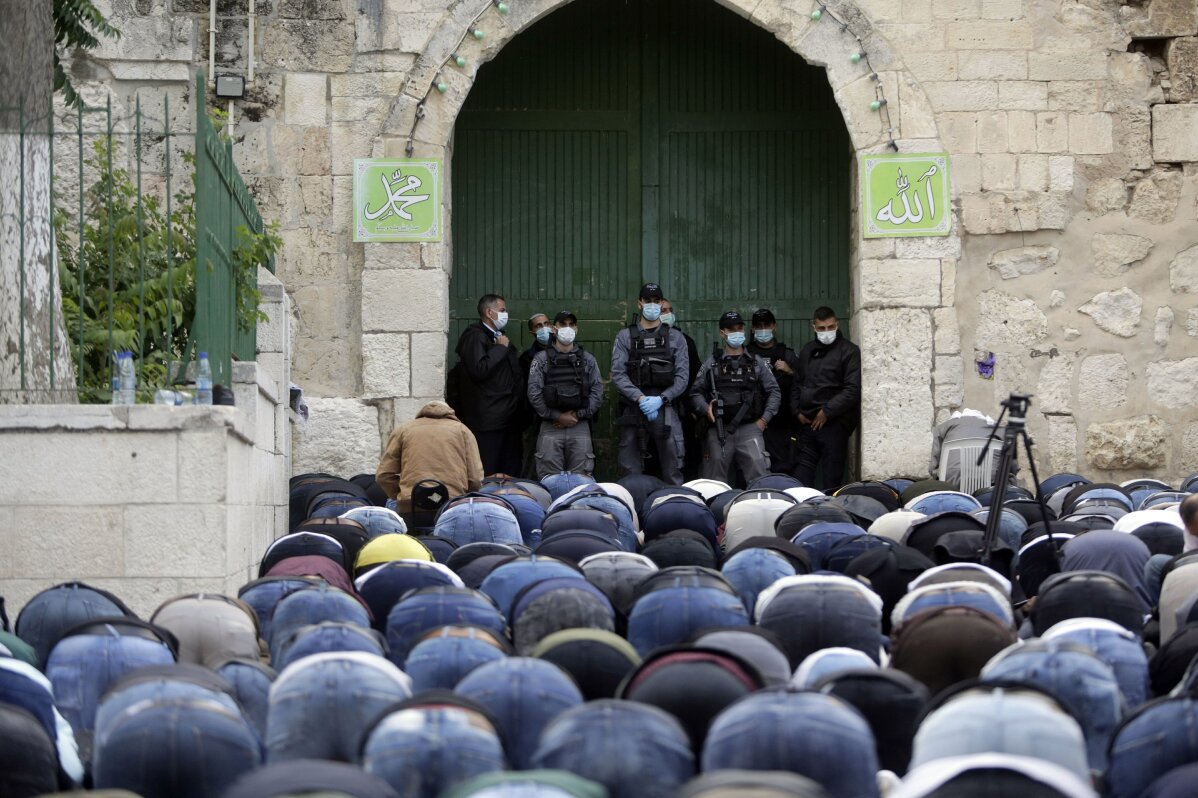 6 of 9

|
Israeli Police officers wear protective face masks as Muslim worshippers offer Eid al-Fitr prayers marking the end of the holy fasting month of Ramadan outside the al-Aqsa mosque compound, which remains shut to prevent the spread of coronavirus, in Jerusalem, Sunday, May 24, 2020. (AP Photo/Mahmoud Illean)
6 of 9
Israeli Police officers wear protective face masks as Muslim worshippers offer Eid al-Fitr prayers marking the end of the holy fasting month of Ramadan outside the al-Aqsa mosque compound, which remains shut to prevent the spread of coronavirus, in Jerusalem, Sunday, May 24, 2020. (AP Photo/Mahmoud Illean)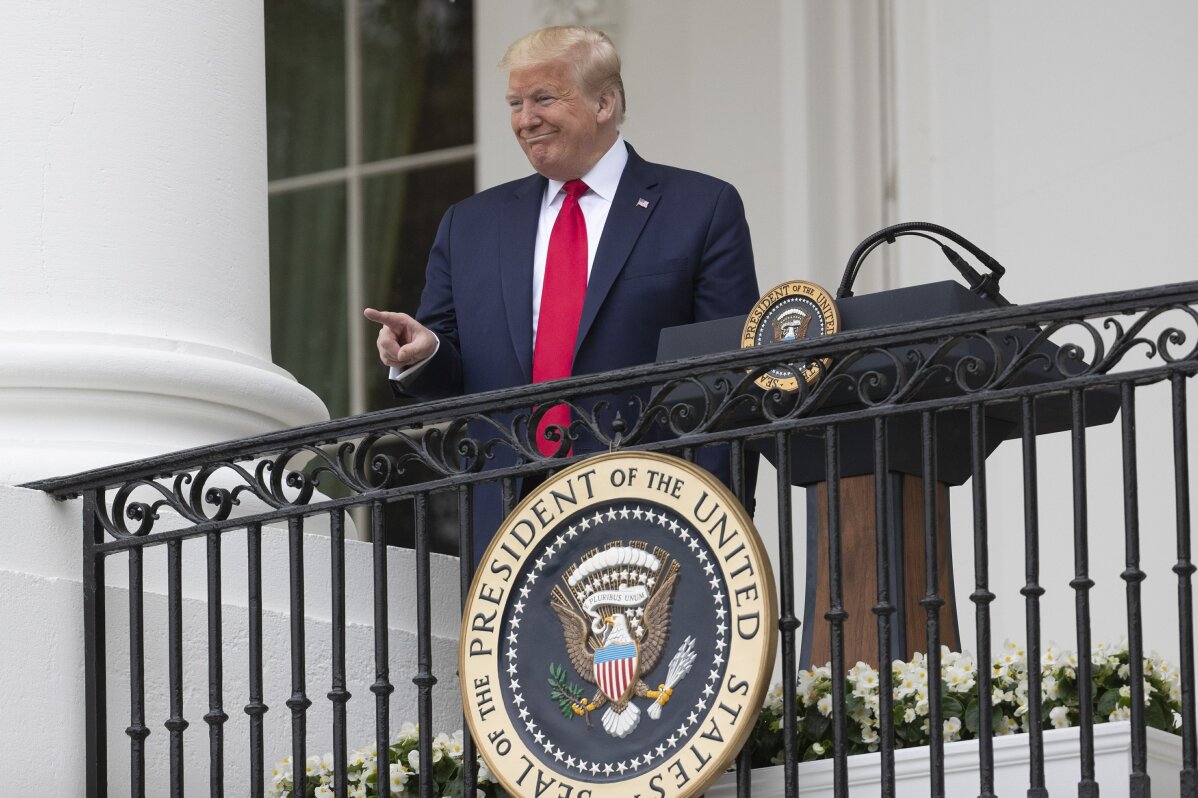 7 of 9

|
President Donald Trump points during a "Rolling to Remember Ceremony," to honor the nation's veterans and POW/MIA, from the Blue Room Balcony of the White House, Friday, May 22, 2020, in Washington. (AP Photo/Alex Brandon)
7 of 9
President Donald Trump points during a "Rolling to Remember Ceremony," to honor the nation's veterans and POW/MIA, from the Blue Room Balcony of the White House, Friday, May 22, 2020, in Washington. (AP Photo/Alex Brandon)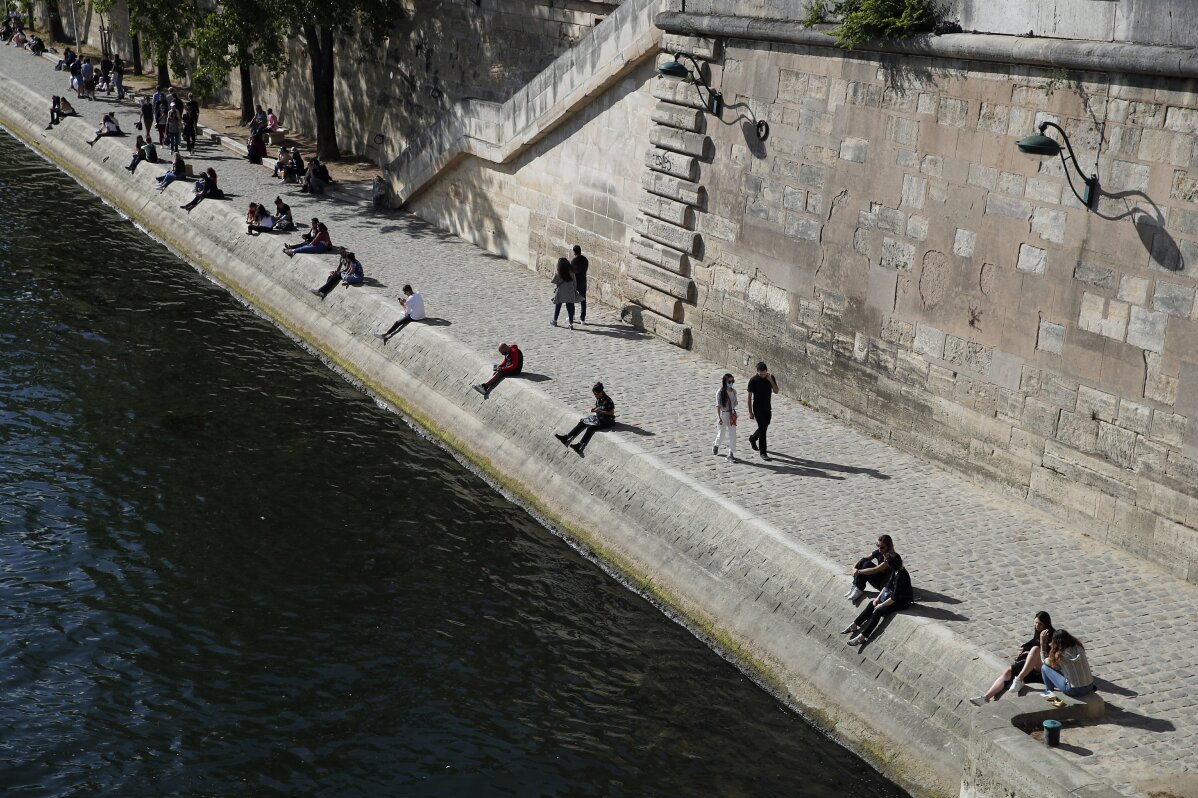 8 of 9

|
Parisians sit in the sun along the Seine river banks in Paris, Saturday, May 23, 2020 as France gradually lifts its COVID-19 lockdown. (AP Photo/Francois Mori)
8 of 9
Parisians sit in the sun along the Seine river banks in Paris, Saturday, May 23, 2020 as France gradually lifts its COVID-19 lockdown. (AP Photo/Francois Mori)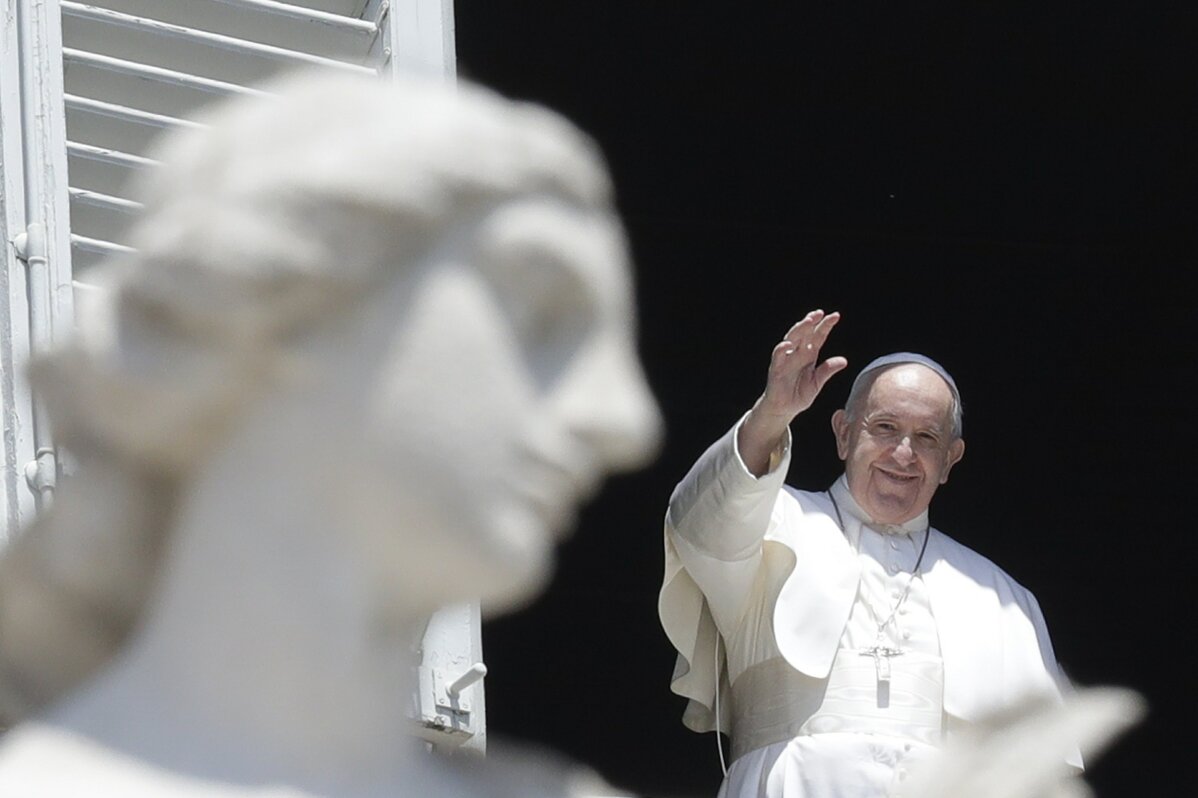 9 of 9

|
Pope Francis delivers his blessing from the window of his studio overlooking St. Peter's Square, at the Vatican, Sunday, May 24, 2020. For the first time in months, well-spaced faithful gathered in St. Peter's Square for the traditional Sunday papal blessing, casting their gaze at the window where the pope normally addresses the faithful, since the square had been closed due to anti-coronavirus lockdown measures. (AP Photo/Andrew Medichini)
9 of 9
Pope Francis delivers his blessing from the window of his studio overlooking St. Peter's Square, at the Vatican, Sunday, May 24, 2020. For the first time in months, well-spaced faithful gathered in St. Peter's Square for the traditional Sunday papal blessing, casting their gaze at the window where the pope normally addresses the faithful, since the square had been closed due to anti-coronavirus lockdown measures. (AP Photo/Andrew Medichini)
The Latest on the coronavirus pandemic. The new coronavirus causes mild or moderate symptoms for most people. For some, especially older adults and people with existing health problems, it can cause more severe illness or death.
TOP OF THE HOUR:
— Japan set to remove state of emergency from Tokyo, 4 other prefectures.
— South Koreans required to wear masks when using public transportation and taxis starting Tuesday.
— Fiji Airways laying off half its workforce in bid to outlast pandemic.
— White House announces a ban on travel to the U.S. from Brazil due to the spread of coronavirus.
___
TOKYO —Experts on a special government panel have approved a plan to remove a coronavirus state of emergency from Tokyo and four other remaining prefectures, paving the way for Prime Minister Shinzo Abe to declare entirely ending the measure to allow businesses to gradually resume.
Economy Minister Yasutoshi Nishimura told reporters that experts on a government-commissioned panel approved the plan to end the state of emergency that has lasted for more than a month and a half.
Abe is to officially declare the end of the state of emergency later Monday after endorsement from parliamentary committees.
Nishimura said lifting of the emergency does not mean the end of the pandemic. He said the goal is to minimize next possible recurrences of infections while balancing preventive measures and the economy.
Abe declared the state of emergency on April 7, first in parts of Japan including Tokyo, expanded it to the entire nation later in the month and extended it until the end of May. Unlike a European-style hard lockdown, Japan's state of emergency is soft and largely a request for people to stay at home and for non-essential businesses to close or operate shorter hours, a strategy aiming at minimizing the economic damage.
Tokyo and its three neighboring prefectures are to reopen schools, public facilities and businesses in phases in coming weeks while watching any signs of a resurgence of infections.
Nishimura said recent data suggest that the infections have slowed enough and the medical systems are under less pressure and that it's time to gradually resume social and economic activity. Tokyo and Hokkaido, where more than a dozen new cases have been reported Sunday, still need to remain extra-cautious, he said.
(asterisk)We cannot completely eliminate the coronavirus to zero," Nishimura said. "Even after the state of emergency is lifted, we must firmly take preventive measures based on our new lifestyles."
Japan has 16,580 confirmed cases and 830 deaths, according to the health ministry.
___
SEOUL, South Korea -- South Koreans will be required to wear masks when using public transportation and taxis beginning Tuesday, as health authorities look for more ways to slow coronavirus transmissions amid an increase in public activity.
Health Ministry official Yoon Taeho, during a virus briefing on Monday, said masks also will be enforced on all domestic and international flights starting Wednesday. Beginning in June, owners of "high-risk" facilities such as bars, clubs, gyms, karaoke rooms and concert halls will be required to use smartphone QR codes to register customers so that they could be tracked down more easily when infections occur.
South Korea was reporting 500 new cases per day in early March before it largely stabilized its outbreak with aggressive track and testing. But infections have been gradually rising again since early May, with more people going out amid warmer weathers and eased social distancing guidelines, causing concern in a country that has just started to reopen schools for children.
"Until treatments and vaccines are developed, we will never know when the COVID-19 crisis could end, and until then we will have to learn how to live with COVID-19," Yoon said.
It will be up to bus drivers and subway station workers to enforce masks on public transportation, while taxi drivers will be allowed to refuse passengers who aren't wearing masks. Customers who refuse downloading QR codes at entertainment venues will have to handwrite their personal information instead.
South Korea has so far reported 11,206 COVID-19 cases, including 267 fatalities. The recent increase in infections have centered around the densely populated Seoul metropolitan area, where more than 200 cases were linked to nightclubs and other entertainment venues.
___
WELLINGTON, New Zealand — Fiji's national airline says it is laying off more than 750 staff, representing about half of its total workforce, as it struggles for survival.
Among those being laid off are eight executives and 79 pilots, the company announced Monday. Remaining employees will have their pay reduced by 20% and only get paid for the days they work.
CEO Andre Viljoen said the company was negotiating with lenders and aircraft lessors for payment deferrals. He said Fiji Airways expected to receive almost zero revenue over the coming months due to the coronavirus pandemic causing international flights to be cancelled. He said all other options had been explored before staff was let go.
"The sad reality of prolonged flight suspensions means that we simply do not have work for a large segment of our workforce now, and for the foreseeable future," Viljoen said in a statement. He said the company had a responsibility to shareholders and to the people of Fiji to survive the crisis.
Fiji's economy relies on international tourism, which has ground to a halt in the wake of the pandemic.
___
WELLINGTON, New Zealand — New Zealand plans to further loosen its coronavirus restrictions by increasing the maximum size of gatherings from 10 people to 100.
Prime Minister Jacinda Ardern announced Monday the new rules would take effect from midday Friday.
The timing is designed, in part, to allow religious services to proceed that day and over the weekend. New Zealand has reported just one new case of coronavirus over the past week and has gradually been loosening restrictions as new infections dwindle.
___
CANBERRA, Australia — Millions of children in Australia have returned to schools in the states of New South Wales and Queensland as numbers of COVID-19 patients in hospitals across the country fall.
The two states on Monday joined the less populous Western Australia and South Australia states and the Northern Territory in resuming face-to-face learning, instead of studying from home online.
Queensland Premier Annastacia Palaszczuk said on Monday students and teachers had to observe one key message: Stay home if sick.
"We're not out of the woods yet. We have to take each day as it comes, each week as it comes and we keep our fingers crossed that Queenslanders will continue to flatten that curve," Palaszczuk said.
The remaining jurisdictions -- Victoria and Tasmania states and the Australian Capital Territory -- plan to send students back to school in stages through early June.
While New South Wales, Australia's most populous state, and Queensland, the third-most populous state, agree on reopening schools, they differ on reopening their common border.
New South Wales has recorded 50 of Australia's 102 COVID-19 deaths and wants all state borders reopened. Queensland has recorded only six deaths and has no plans to open its borders.
South Australia and the Northern Territory also have no active cases and have closed borders. The Australian Capital Territory has not had a case in three weeks and has left its borders open like the worst-effected states, New South Wales and Victoria.
___
WASHINGTON — The White House has announced a ban on travel to the U.S. from Brazil due to the spread of coronavirus in Latin America's hardest-hit country.
Press secretary Kayleigh McEnany says in a statement Sunday evening that the ban applies to foreign nationals who have been in Brazil in the 14 days before they sought to travel to the United States.
McEnany cast it as a move by President Donald Trump "to protect our country."
Trump has already banned travel from the United Kingdom, Europe and China, all of which have been hit hard by the virus. Trump had said last week that he was considering imposing similar restrictions on Brazil.
Brazil had reported more than 347,000 COVID-19 cases, second behind the U.S. in the number of infections, according to a Johns Hopkins University count.
Brazil also has recorded more than 22,000 deaths, fifth-most in the world. There have been more than 97,000 U.S. deaths.
___
WINDOW ROCK, Ariz. -- On the Navajo Nation, which sprawls across Arizona, New Mexico and Utah, the number of coronavirus cases rose by 56 Sunday to 4,689, the Navajo Department of Health said.
The total number of deaths on the reservation as of Sunday was 156. The Navajo Nation's current 57-hour weekend lockdown remains in effect. It includes the closure of all businesses to deter traveling and help prevent the further spread of the coronavirus.
___
SEOUL, South Korea -- South Korea reported 16 new cases of the coronavirus as official scramble to stem transmissions with 2 million more children returning to school this week.
The figures released by the Korea Centers for Disease Control and Prevention on Monday brought national totals to 11,206 cases and 267 deaths. Thirteen of the new cases came from the densely populated Seoul metropolitan area where more than 200 infections have been linked to nightclubs and other entertainment facilities that had seen increased crowds in early May before officials shut thousands of them over the past week.
The transmissions, which came amid relaxed attitudes on social distancing, have raised concern as officials proceed with a phased reopening of schools, which began with high-school seniors last week. This week it will be high school juniors, middle school seniors, elementary first- and second-graders and kindergartners. More reopenings are scheduled in early June.
"It's important that every member of our nation cooperates so that local transmissions don't reach schools, and infections of students don't spread to local communities," Health Minister Park Neung-hoo said in virus meeting on Monday.
___
BEIJING — China reported 11 new cases of coronavirus on Monday, all brought from outside the country.
Ten of those infected arrived on a flight arriving in the vast Inner Mongolia region north of Beijing, according to the National Health Commission.
No additional deaths were reported, while 83 people remain in treatment and another 402 people remain in isolation and under monitoring for being suspected cases or for having tested positive for COVID-19 without showing any symptoms.
China has recorded a total of 4,634 deaths among 82,985 cases of the virus that was first detected in the central Chinese industrial city of Wuhan late last year.
The latest figures come as China holds the annual session of its ceremonial parliament, part of efforts to show the country is returning to normal and shaking off the devastating economic efforts of having locked down tens of millions of citizens in order to contain the pandemic.
___
DAYTONA BEACH, Fla. — Hundreds of people gathered at a popular Florida beach boardwalk during Memorial Day weekend and were seen partying and dancing despite social distancing restrictions imposed by the state, authorities said Sunday.
Police responded, attempting to disperse the crowds along a beachside road in Daytona Beach that were there for an annual gathering not authorized by the local government this year.
Police said a shooting also was reported outside a nearby convenience store, with two people taken to the hospital with gunshot wounds and four injured by shrapnel. Officers were not involved.
The Volusia County Sheriff's Office released helicopter images showing the large crowds surrounding a car outside a beachfront mall as a man stood on the sunroof and other men hung out the windows throwing money around and blocking traffic.
Officials said they were criticized for not making use of force against the crowds and declining to make arrests for social distancing violations.
Coronavirus social distancing rules in the state state that people must be in groups of 10 or fewer.
Beaches elsewhere in Florida also saw large Memorial Day weekend crowds.
___
LOS ANGELES — As Californians ventured outdoors to take advantage of relaxed rules to control the spread of coronavirus, Memorial Day weekend crowds at beaches and parks have been manageable.
Officials say most people are wearing face coverings and practicing social distancing. Stay-at-home restrictions eased across much of the state, which has seen a decline in COVID-19 hospitalizations. Some 47 of 58 counties have received permission to reopen most stores — at least for curbside pickups — and many public spaces.
Many Southern California beaches were open only for swimming, running and other activities. Sunbathing and group activities such as volleyball were prohibited.
___
TYBEE ISLAND, Georgia — The beach at Tybee island was filled with families, bicyclists, beach chairs, games, swimmers and more late Sunday afternoon, as visitors from within the state and beyond took advantage of the warm weather and sun on the holiday weekend.
The beach near the pier was crowded, with hammocks hanging in shaded areas and people moving their chairs close to the surf at day's end. In a mile stretch, no beachgoers were seen with masks.
On a main drag, store fronts had doors open with signs encouraging visitors. Nearly all the bars and restaurants were open, both for dine-in and takeout. One had a sign advertising: "We have Corona (in a bottle.)"
People lined the sidewalk for Wet Willie's, a chain bar that sells frozen cocktails. Most people stood close together — not nearly six feet apart — and none wore masks.
But at a grocery store about half a mile away, staff members handed customers gloves and a number to keep track of how many people were inside at a time. Shoppers had their own masks.
___
PARIS — The number of people hospitalized with the virus in France rose slightly Sunday, the first daily increase since mid-April when France's infections peaked.
The rise — from 17,178 people hospitalized Saturday to 17,185 Sunday — comes almost two weeks after France started gradually relaxing its confinement measures.
The number of people in intensive care with the virus dropped again Sunday for the 46th consecutive day to 1,655, down from more than 7,000 in mid-April.
The figures were released by the national health agency DGS, which did not release an updated death toll Sunday.
France is one of the hardest-hit nations by the virus, with some 28,000 deaths in hospitals and nursing homes.
Protests are planned Monday at nursing homes accused of mishandling the virus crisis.
___
MILAN — The number of confirmed new infections in Italy rose by just 531 in the past 24 hours, with half in the populous northern region of Lombardy that has borne the brunt of Italy's epidemic.
The civil protection agency on Sunday reported just 50 deaths but officials said that Lombardy had not updated its toll.
More than half of Italy's regions reported new cases in the single digits — with the caveat that tests are being administered only to those who are hospitalized, have symptoms or have been in close contact with someone who is positive for the virus.
The number of people in intensive care dropped to 553.
Italy is in the first full week of loosened restrictions, with bars and restaurants open as well as beaches and parks.
Mayors in many cities have complained about nightlife spilling out into streets and piazzas with many showing a casual attitude toward physical distancing and lax mask habits.
___
LONDON — British Prime Minister Boris Johnson is standing by his top aide, who is accused of breaking lockdown rules by traveling 250 miles (400 km) to his parents' house while coming down with COVID-19.
Johnson told a news conference that Dominic Cummings acted "responsibly, legally and with integrity."
Cummings made the cross-country trip in late March, after the government imposed a lockdown to slow the spread of the coronavirus, telling people to stay home and not visit anyone outside their household. Cummings says he was seeking to ensure his 4-year-old son would be cared for if he and his wife both became ill.
Several lawmakers from Johnson's Conservative Party have joined opposition politicians in calling for his resignation.
But Johnson defended the aide who masterminded both Brexit and the prime minister's December election victory. He said Cummings "followed the instincts of every father and every parent and I do not mark him down for that."
___
MADRID — Spain is preparing to reopen some of its beaches for sunbathing on Monday, when restaurants and bars in Madrid and Barcelona will serve clients at outdoor seating as the country relaxes its virus lockdown.
On Monday, customers will be able to occupy 50% of the space assigned for outdoor seating at restaurants and bars in the Spanish capital and Barcelona.
The two cities are the hardest hit areas by the pandemic in Spain, accounting for more than 15,00 of the nation's 28,752 confirmed deaths from COVID-19.
Travel between provinces will remained prohibited until late June and international tourists won't be allowed to come until July.
Spain reported an eighth straight day with fewer than 100 confirmed deaths from the virus on Sunday, when health authorities said 70 people had died in the past 24 hours. At the height of the outbreak in early March more than 900 Spaniards died a day.
___
CAIRO — Egypt's health ministry Sunday reported 29 new deaths from COVID-19, taking the tally in the Arab world's most populous country to 764 fatalities since the first confirmed case of coronavirus detected in February.
The ministry said in a statement that there were 752 new infections in the past 24 hours. It said the total infections climbed to 17,265. Similar to other countries in the world, officials and experts believe that the true number of infections is much higher than reported.
The ministry said a total of 4,807 patients were recovered and discharged from quarantine.
The Egyptian government has tightened restrictions during the Eid al-Fitry, which is marking the end of the fasting month of Ramadan, traditionally a time of gathering and family visits.
It said that during the week-long holiday, which started Sunday, a nighttime curfew will be in place from 5 p.m. until 6 a.m. All public and private transportation will be also be halted until May 29. Schools, mosques, churches, parks and beaches are also closed.
___
ISTANBUL — Turkey's health minister announced 32 new deaths from COVID-19, bringing the total to 4,340.
Fahrettin Koca also tweeted Sunday there were 1,141 new infections confirmed in the past 24 hours. The total number of infections has reached 156,827. Turkey ranks ninth in a global tally by Johns Hopkins University but experts believe the number of infections could be much higher than reported.
More than 118,000 people have recovered, according to the health ministry statistics.
The Muslim holiday marking the end of the fasting month of Ramadan was marked by a nationwide lockdown, the first of its kind in Turkey to combat the novel coronavirus. Previous weekend and holiday lockdowns affected a maximum of 31 out of 81 provinces.
Senior citizens above 65 were allowed out for a few hours for a third Sunday. People under 20 and above 65 have been under full lockdown but days and times outside have been allotted according to age groups as part of easing efforts.
___
CHEYENNE, Wyo. — As Yellowstone and other national parks end a two-month shutdown because of the coronavirus, park officials want visitors to take precautions, such as washing their hands, keeping a safe distance from other people and wearing masks in public.
It's unclear whether tourists who often disobey park rules will comply. If not, popular national parks known for drawing shoulder-to-shoulder summer crowds could become the next U.S. hot spots.
Park officials say the plan is to let folks guard themselves against COVID-19, just as they do for the usual national park dangers that range from altitude sickness to grizzly bears.
Other national parks that have reopened include Great Smoky Mountains in Tennessee and North Carolina, where park officials urge visitors to arrive early at popular spots.
___
VATICAN CITY — Well-spaced faithful have gathered in St. Peter's Square for the first time in months for the traditional Sunday papal blessing.
They cast their gaze at the window where the pope normally addresses the faithful.
Pope Francis has been delivering the blessing from inside the Apostolic library during the epidemic.
Francis recalled his scheduled visit on Sunday to the Naples area to draw attention to environmental damage caused by toxic-waste dumping by the mob.
The visit — canceled during the pandemic — was timed to mark the fifth anniversary of his ecological manifesto, and the pope announced a year of reflection on his 2015 environmental encyclical, ''Praised Be.''
Francis came to the window and waved to the people in the piazza at the end of the blessing.
___
Follow AP news coverage of the coronavirus pandemic at https://apnews.com/VirusOutbreak and https://apnews.com/UnderstandingtheOutbreak