The Latest: Greece toughens restrictions at one border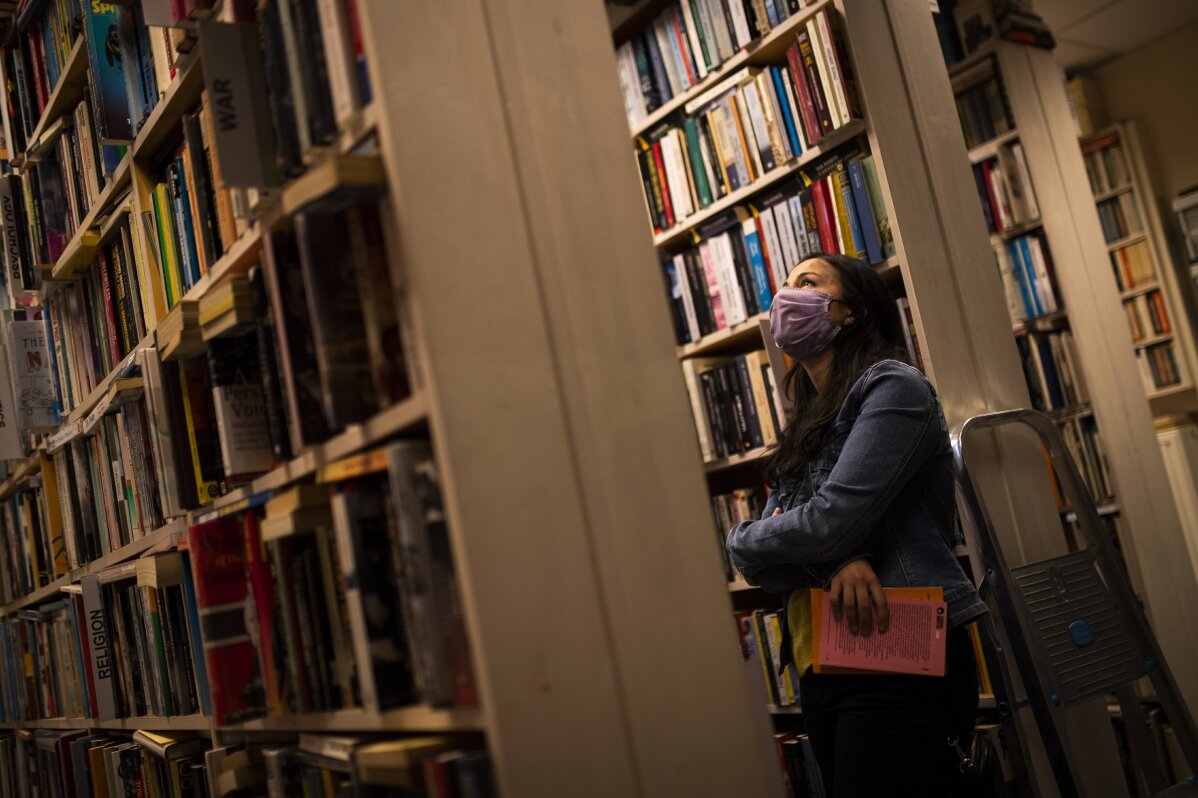 1 of 10

|
FILE - In this Thursday, June 11, 2020 file photo, a woman wears a face mask, to protect against the spread of coronavirus, as she browses for books in a second-hand bookshop in Brussels. Wearing a face mask will become mandatory from Saturday, July 11, 2020 in Belgian shops, cinemas, entertainment venues and other indoor spaces. The Belgian government said the decision was made following a meeting of politicians and experts in charge of the lockdown exit strategy who decided to follow recommendations issued by the health ministry's scientific advisory body. (AP Photo/Francisco Seco, File)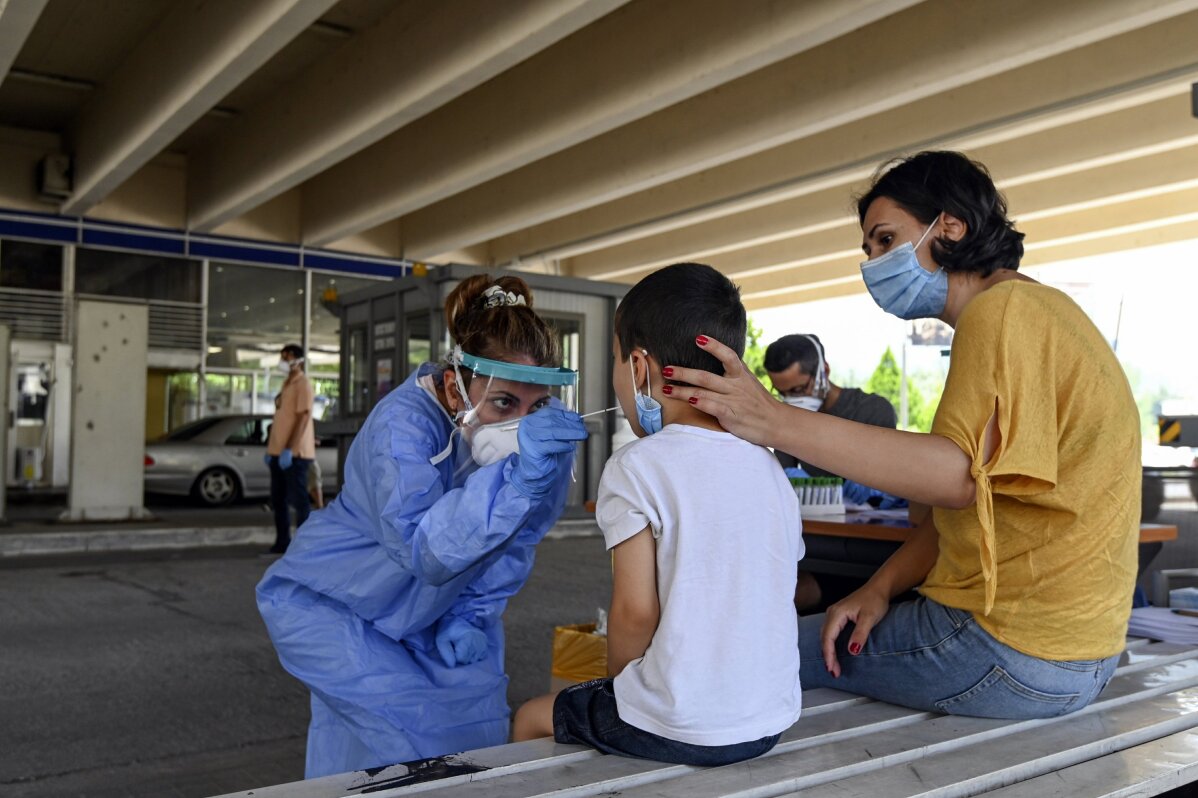 2 of 10

|
A health worker wearing protective gear takes swab samples from tourists to test for the coronavirus, at Promahonas border crossing with Bulgaria, which is the only land border into Greece that is open on Monday, July 6, 2020. Dozens of vehicles of Serb holidaymakers who were trapped at the Greek border overnight have been allowed to cross into Greece after a ban on the entry of people from Serbia came into effect due to a coronavirus flare-up in Serbia. (AP Photo/Giannis Papanikos)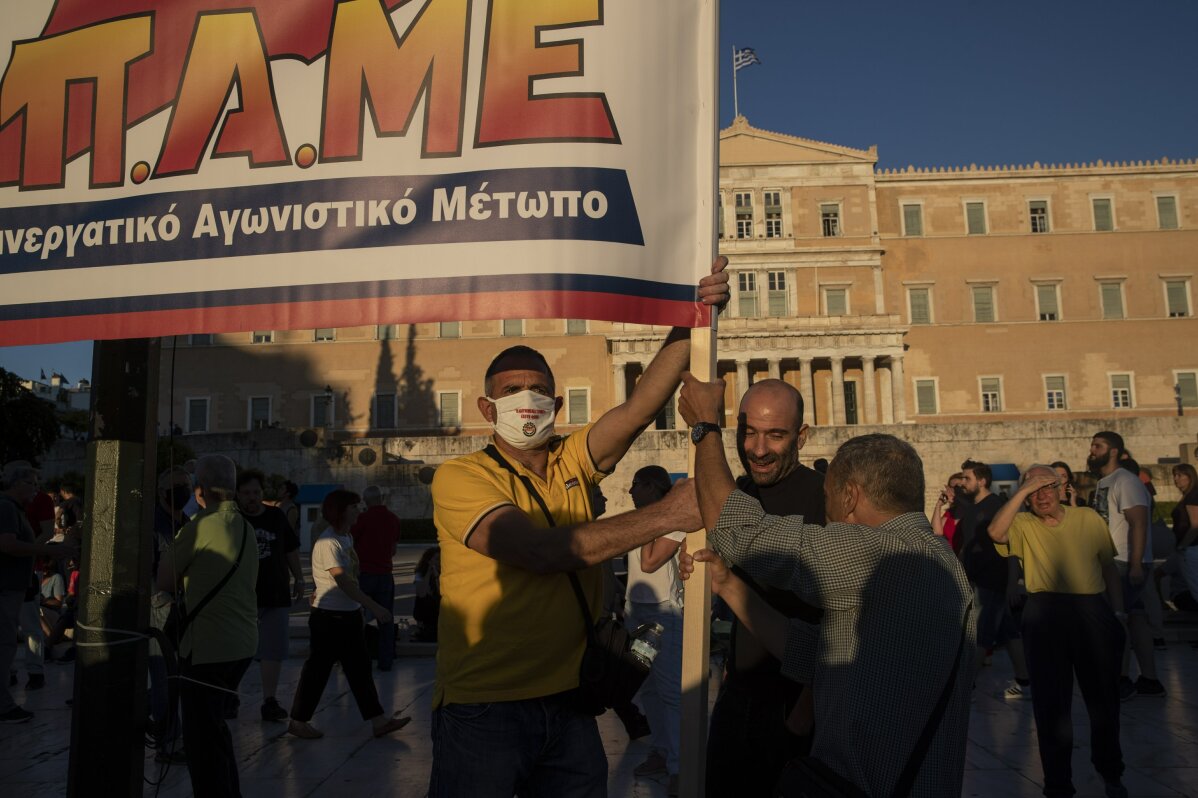 3 of 10

|
Protesters from the communist party-affiliated PAME union take part in a demonstration outside the Greek Parliament against new protest law in Athens, on Thursday, July 9, 2020. Violence has broken out in Athens during a mass demonstration against plans to curb public protests (AP Photo/Petros Giannakouris)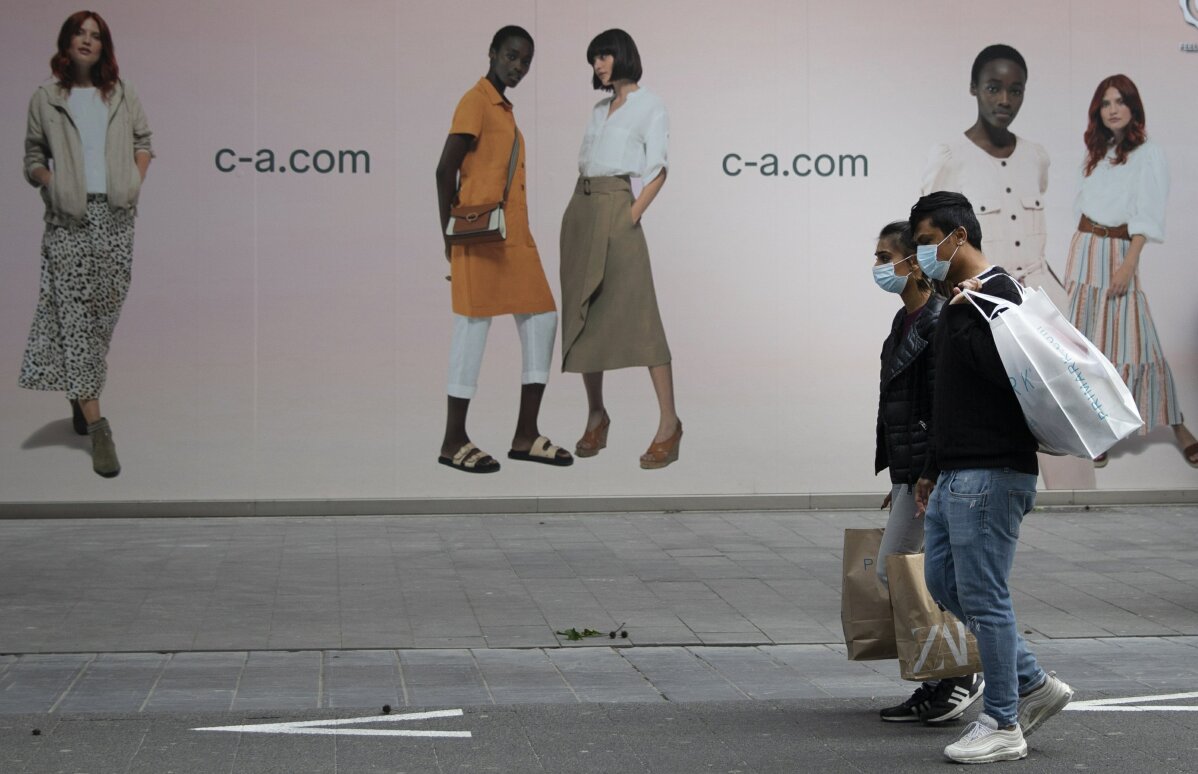 4 of 10

|
FILE - In this Monday, May 11, 2020 file photo, two people, wearings face masks, to prevent against the spread of coronavirus, carry shopping bags as they walk on a main shopping street in Antwerp, Belgium. Wearing a face mask will become mandatory from Saturday, July 11, 2020 in Belgian shops, cinemas, entertainment venues and other indoor spaces. The Belgian government said the decision was made following a meeting of politicians and experts in charge of the lockdown exit strategy who decided to follow recommendations issued by the health ministry's scientific advisory body. (AP Photo/Virginia Mayo, File)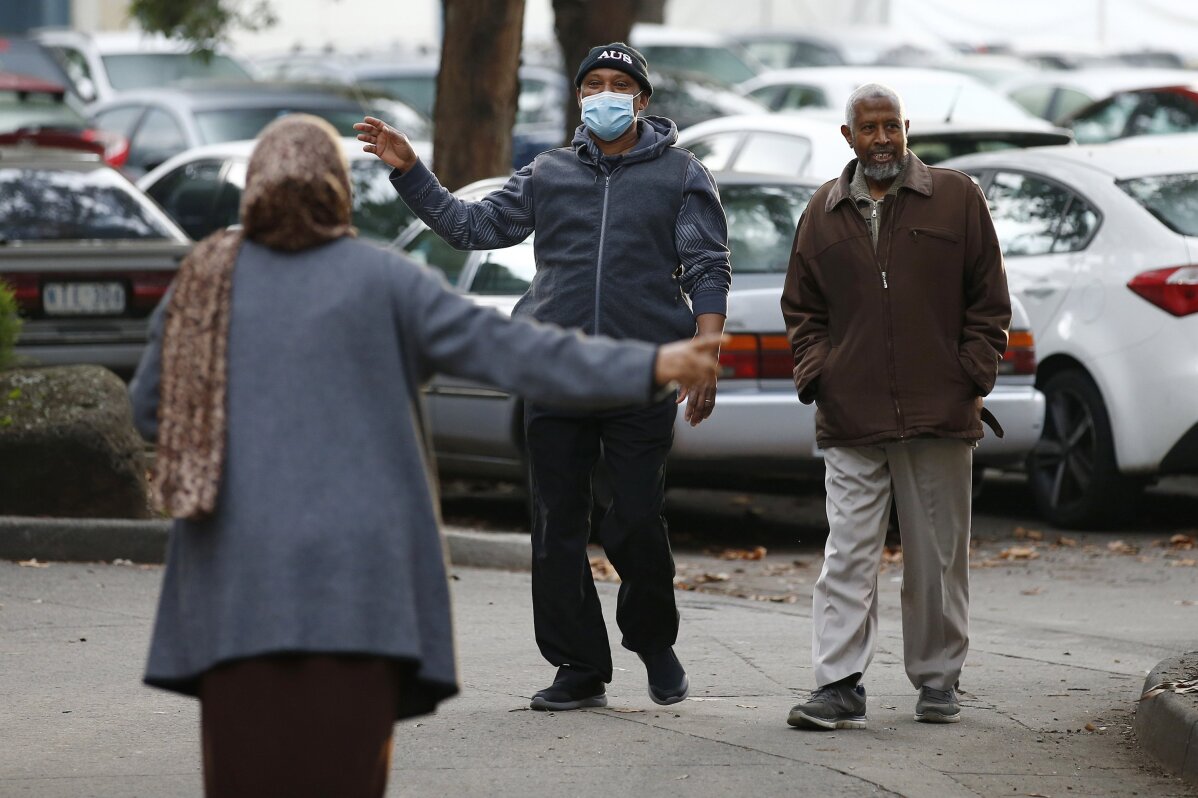 5 of 10

|
People gesture to each other as they walk outside public housing towers that are a hotspot for COVID-19 in Melbourne in Melbourne, Friday, July 10, 2020. Australia's Victoria state reported the new daily record of coronavirus cases. (Daniel Pockett/AAP Image via AP)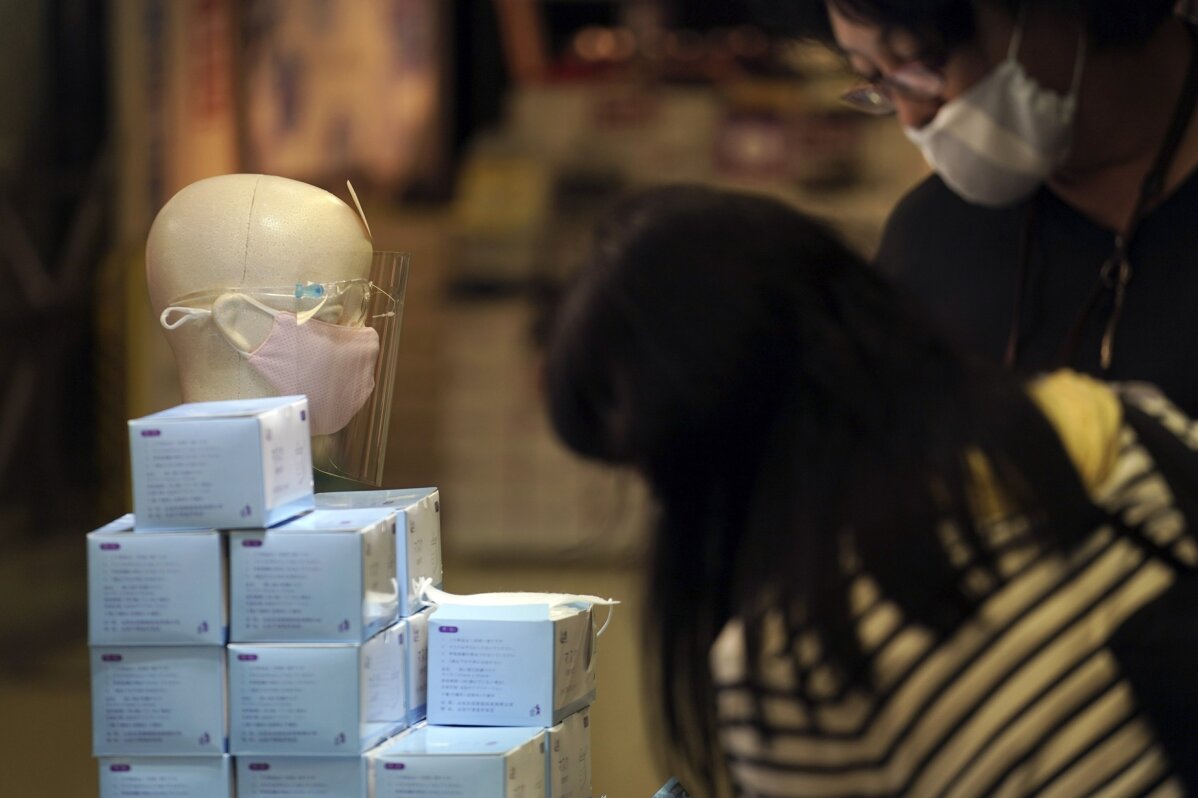 6 of 10

|
Protective face masks to help curb the spread of the coronavirus are sold at a shop Friday, July 10, 2020, in Tokyo. The Japanese capital has confirmed more than 240 new coronavirus infections on Friday, exceeding its previous record. (AP Photo/Eugene Hoshiko)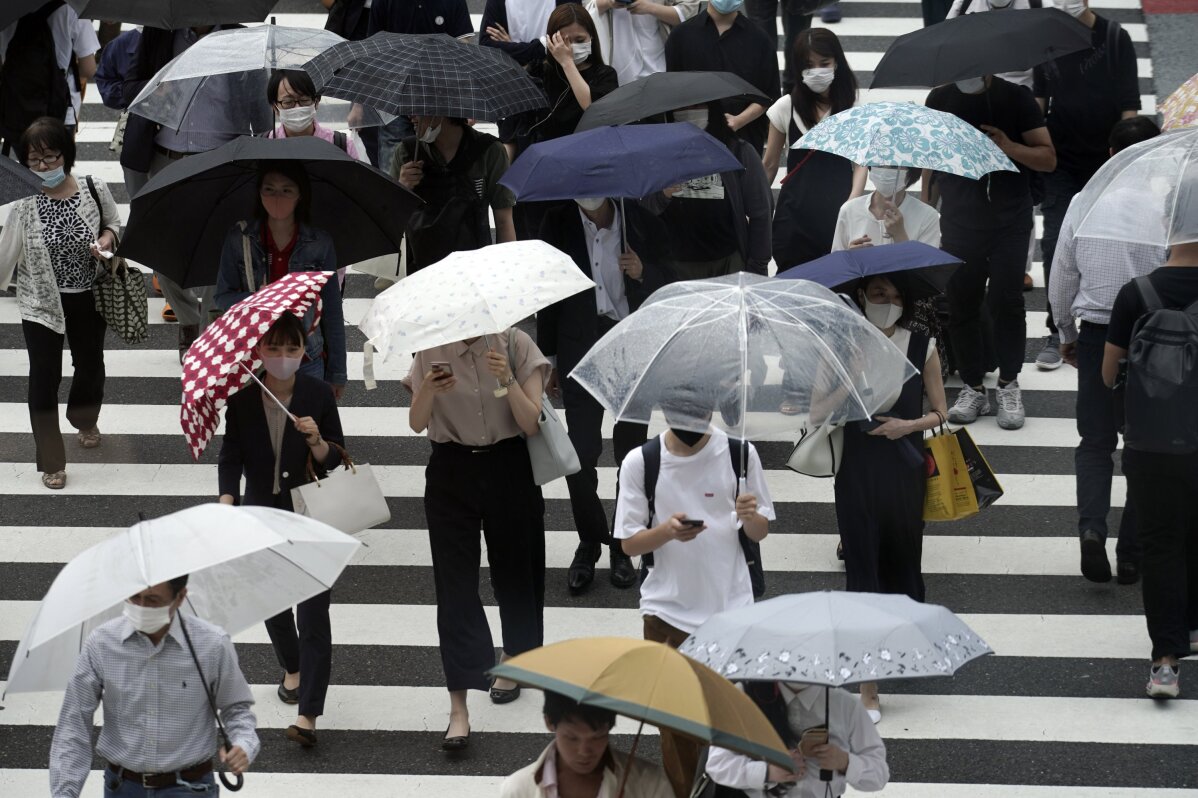 7 of 10

|
People wearing protective face masks to help curb the spread of the coronavirus walk at a pedestrian crossing Friday, July 10, 2020, in Tokyo. The Japanese capital has confirmed more than 240 new coronavirus infections on Friday, exceeding its previous record. (AP Photo/Eugene Hoshiko)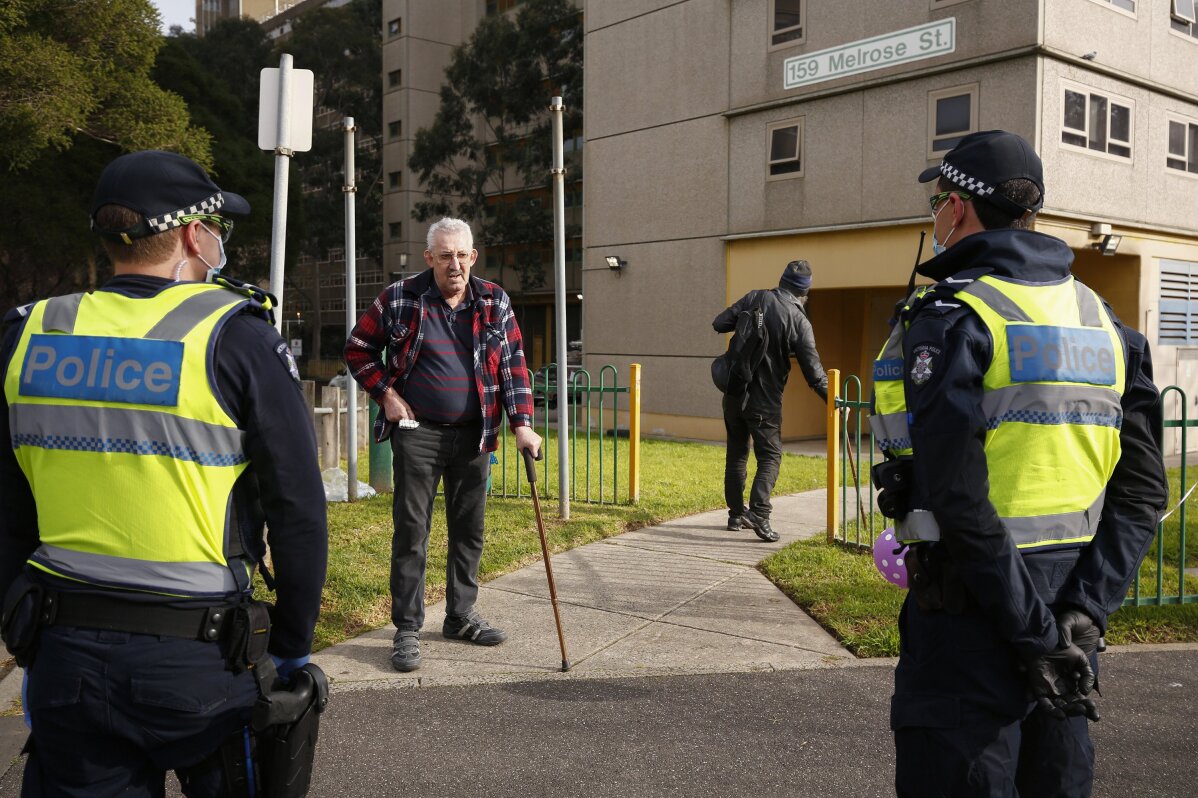 8 of 10

|
Police stand outside public housing towers that are a hotspot for COVID-19 in Melbourne Friday, July 10, 2020. Australia's Victoria state reported the new daily record of coronavirus cases. (Daniel Pockett/AAP Image via AP)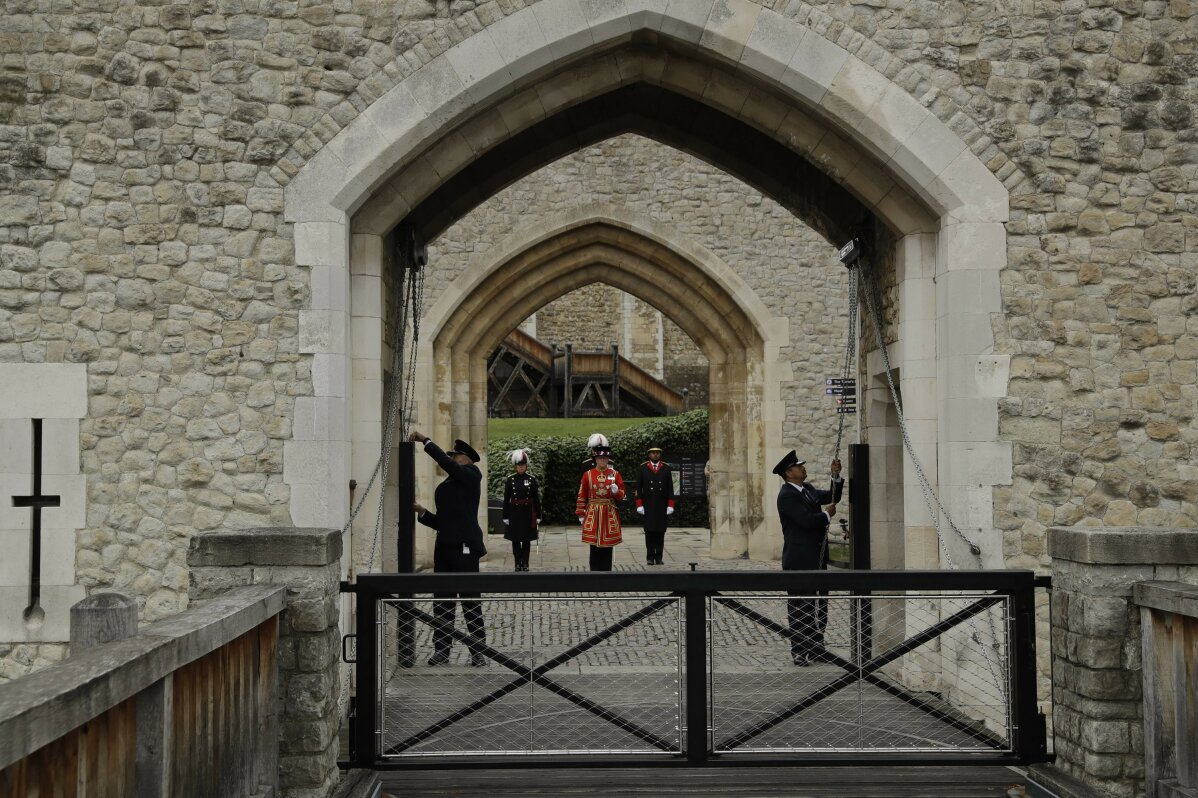 9 of 10

|
A drawbridge is lowered during a ceremony to mark the reopening of the Tower of London for visitors, in London, as the British government continues to relax its coronavirus restrictions, Friday, July 10, 2020. (AP Photo/Matt Dunham)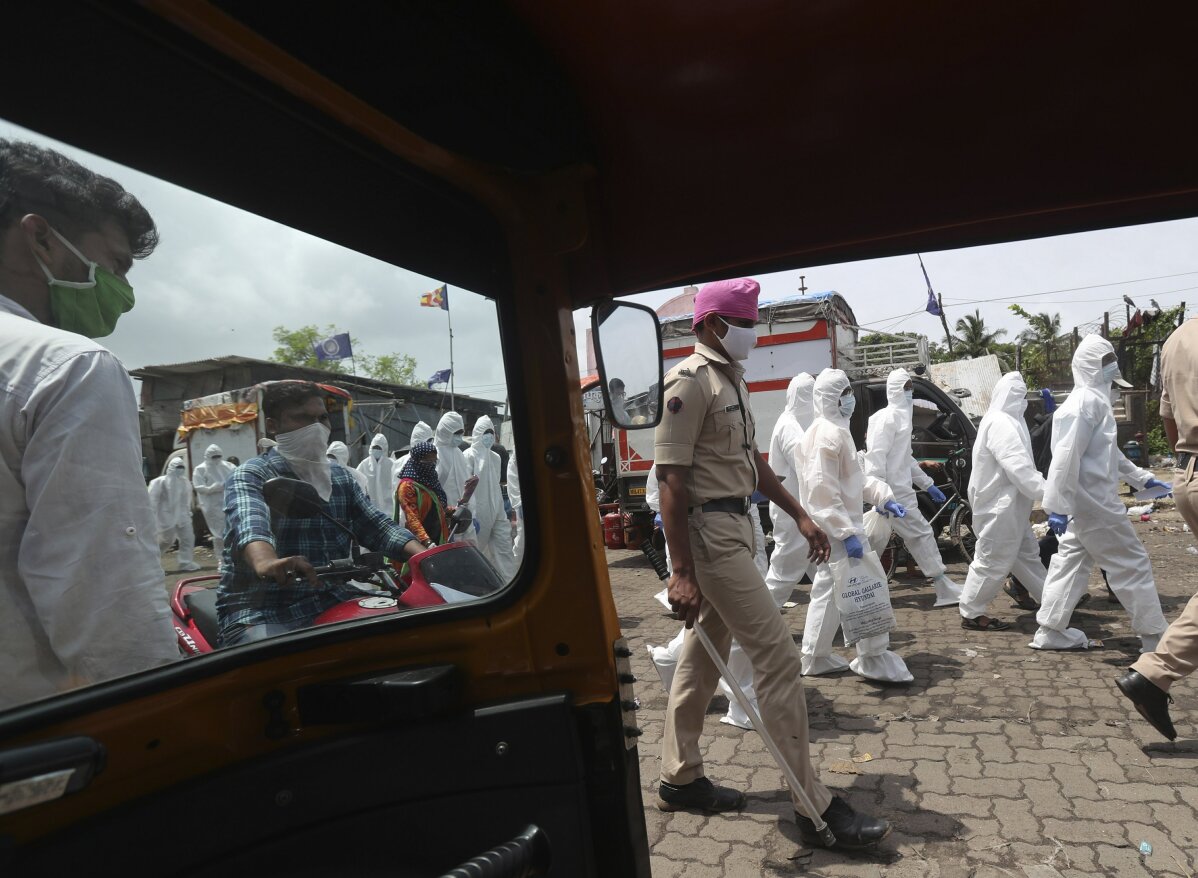 10 of 10

|
Health workers escorted by policemen arrive to screen people for COVID-19 symptoms at a slum in Mumbai, India, Friday, July 10, 2020. India has overtaken Russia to become the third worst-affected nation by the coronavirus pandemic. (AP Photo/Rafiq Maqbool)
The Latest: Greece toughens restrictions at one border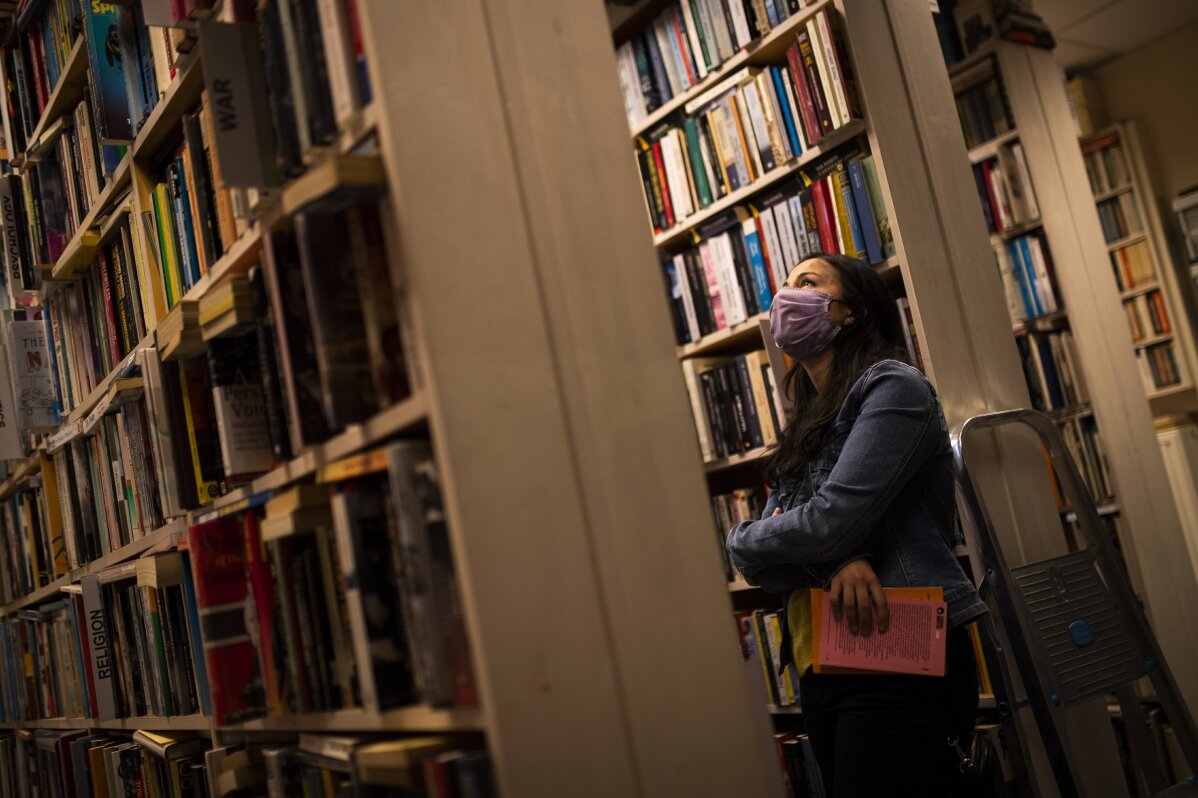 1 of 10

|
FILE - In this Thursday, June 11, 2020 file photo, a woman wears a face mask, to protect against the spread of coronavirus, as she browses for books in a second-hand bookshop in Brussels. Wearing a face mask will become mandatory from Saturday, July 11, 2020 in Belgian shops, cinemas, entertainment venues and other indoor spaces. The Belgian government said the decision was made following a meeting of politicians and experts in charge of the lockdown exit strategy who decided to follow recommendations issued by the health ministry's scientific advisory body. (AP Photo/Francisco Seco, File)
1 of 10
FILE - In this Thursday, June 11, 2020 file photo, a woman wears a face mask, to protect against the spread of coronavirus, as she browses for books in a second-hand bookshop in Brussels. Wearing a face mask will become mandatory from Saturday, July 11, 2020 in Belgian shops, cinemas, entertainment venues and other indoor spaces. The Belgian government said the decision was made following a meeting of politicians and experts in charge of the lockdown exit strategy who decided to follow recommendations issued by the health ministry's scientific advisory body. (AP Photo/Francisco Seco, File)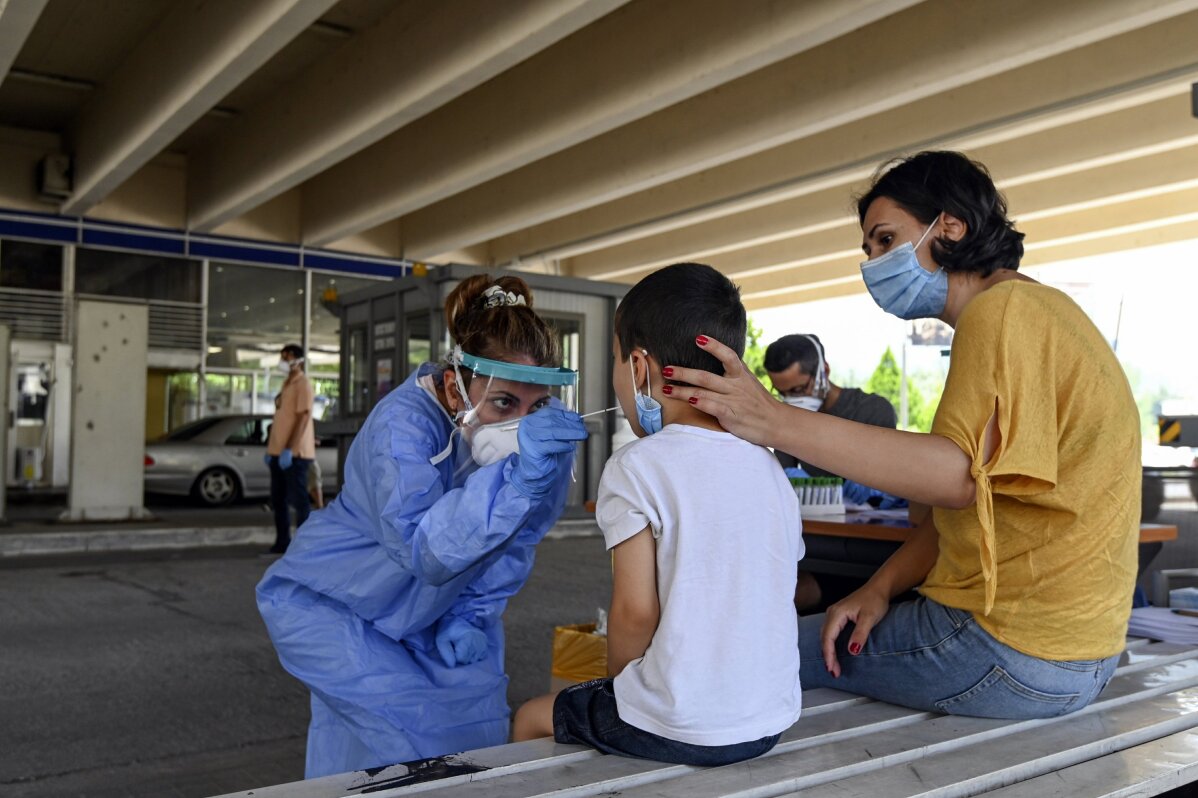 2 of 10

|
A health worker wearing protective gear takes swab samples from tourists to test for the coronavirus, at Promahonas border crossing with Bulgaria, which is the only land border into Greece that is open on Monday, July 6, 2020. Dozens of vehicles of Serb holidaymakers who were trapped at the Greek border overnight have been allowed to cross into Greece after a ban on the entry of people from Serbia came into effect due to a coronavirus flare-up in Serbia. (AP Photo/Giannis Papanikos)
2 of 10
A health worker wearing protective gear takes swab samples from tourists to test for the coronavirus, at Promahonas border crossing with Bulgaria, which is the only land border into Greece that is open on Monday, July 6, 2020. Dozens of vehicles of Serb holidaymakers who were trapped at the Greek border overnight have been allowed to cross into Greece after a ban on the entry of people from Serbia came into effect due to a coronavirus flare-up in Serbia. (AP Photo/Giannis Papanikos)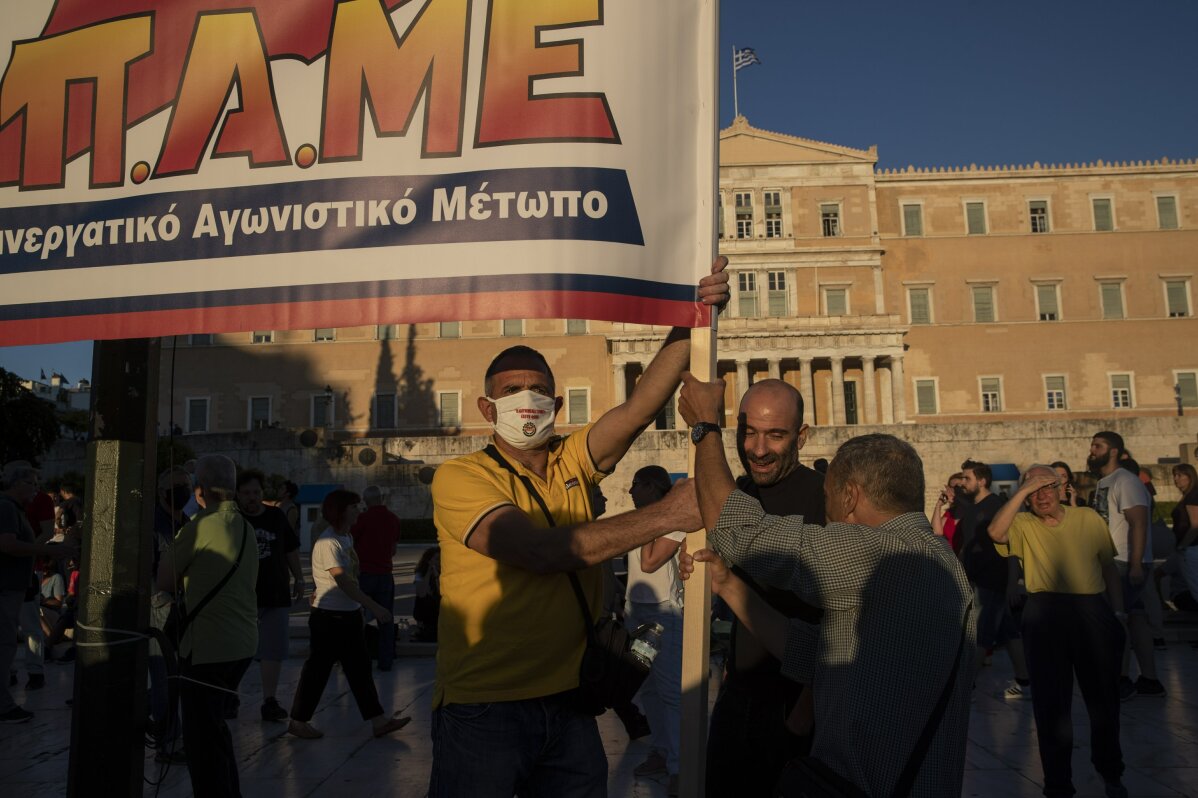 3 of 10

|
Protesters from the communist party-affiliated PAME union take part in a demonstration outside the Greek Parliament against new protest law in Athens, on Thursday, July 9, 2020. Violence has broken out in Athens during a mass demonstration against plans to curb public protests (AP Photo/Petros Giannakouris)
3 of 10
Protesters from the communist party-affiliated PAME union take part in a demonstration outside the Greek Parliament against new protest law in Athens, on Thursday, July 9, 2020. Violence has broken out in Athens during a mass demonstration against plans to curb public protests (AP Photo/Petros Giannakouris)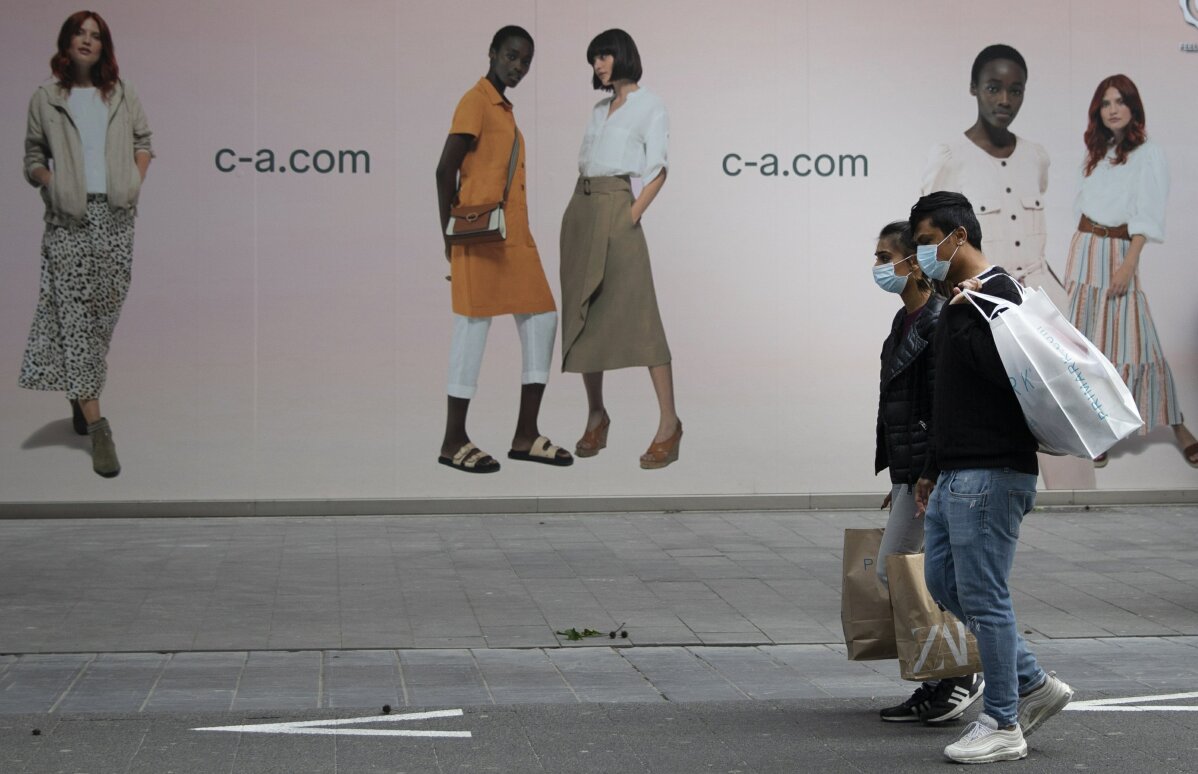 4 of 10

|
FILE - In this Monday, May 11, 2020 file photo, two people, wearings face masks, to prevent against the spread of coronavirus, carry shopping bags as they walk on a main shopping street in Antwerp, Belgium. Wearing a face mask will become mandatory from Saturday, July 11, 2020 in Belgian shops, cinemas, entertainment venues and other indoor spaces. The Belgian government said the decision was made following a meeting of politicians and experts in charge of the lockdown exit strategy who decided to follow recommendations issued by the health ministry's scientific advisory body. (AP Photo/Virginia Mayo, File)
4 of 10
FILE - In this Monday, May 11, 2020 file photo, two people, wearings face masks, to prevent against the spread of coronavirus, carry shopping bags as they walk on a main shopping street in Antwerp, Belgium. Wearing a face mask will become mandatory from Saturday, July 11, 2020 in Belgian shops, cinemas, entertainment venues and other indoor spaces. The Belgian government said the decision was made following a meeting of politicians and experts in charge of the lockdown exit strategy who decided to follow recommendations issued by the health ministry's scientific advisory body. (AP Photo/Virginia Mayo, File)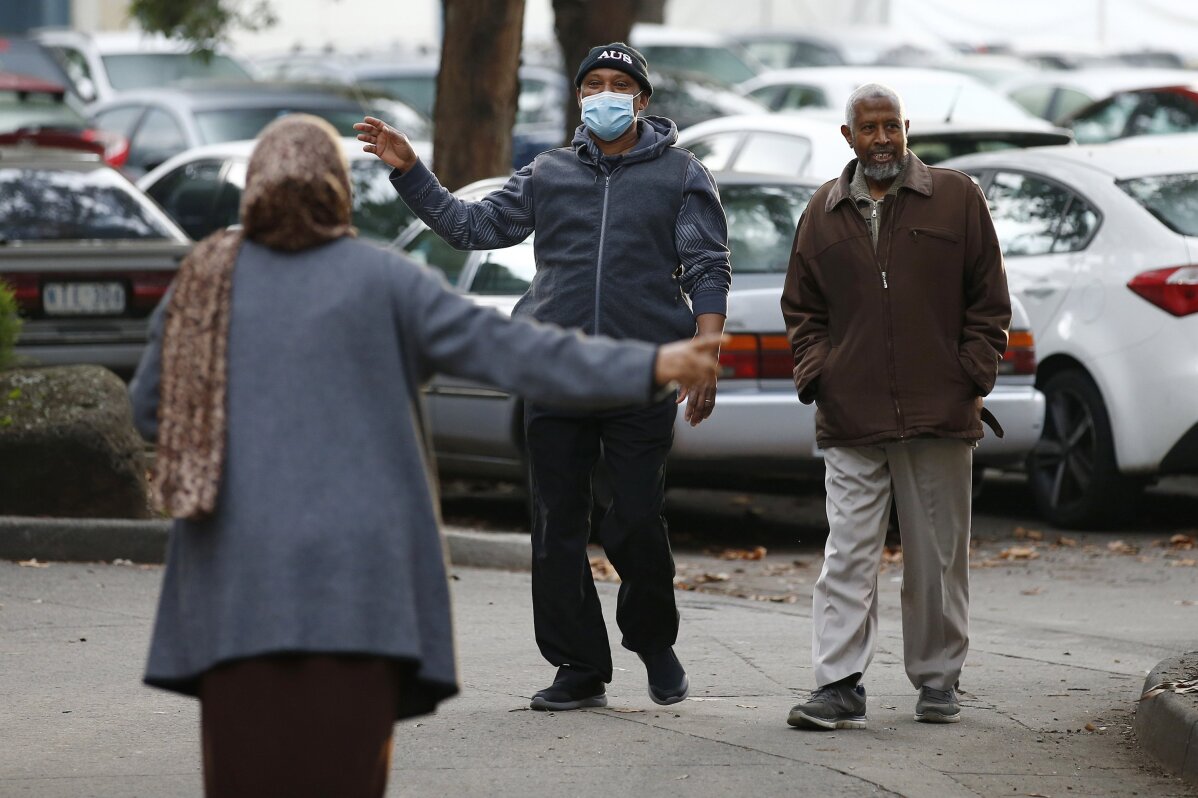 5 of 10

|
People gesture to each other as they walk outside public housing towers that are a hotspot for COVID-19 in Melbourne in Melbourne, Friday, July 10, 2020. Australia's Victoria state reported the new daily record of coronavirus cases. (Daniel Pockett/AAP Image via AP)
5 of 10
People gesture to each other as they walk outside public housing towers that are a hotspot for COVID-19 in Melbourne in Melbourne, Friday, July 10, 2020. Australia's Victoria state reported the new daily record of coronavirus cases. (Daniel Pockett/AAP Image via AP)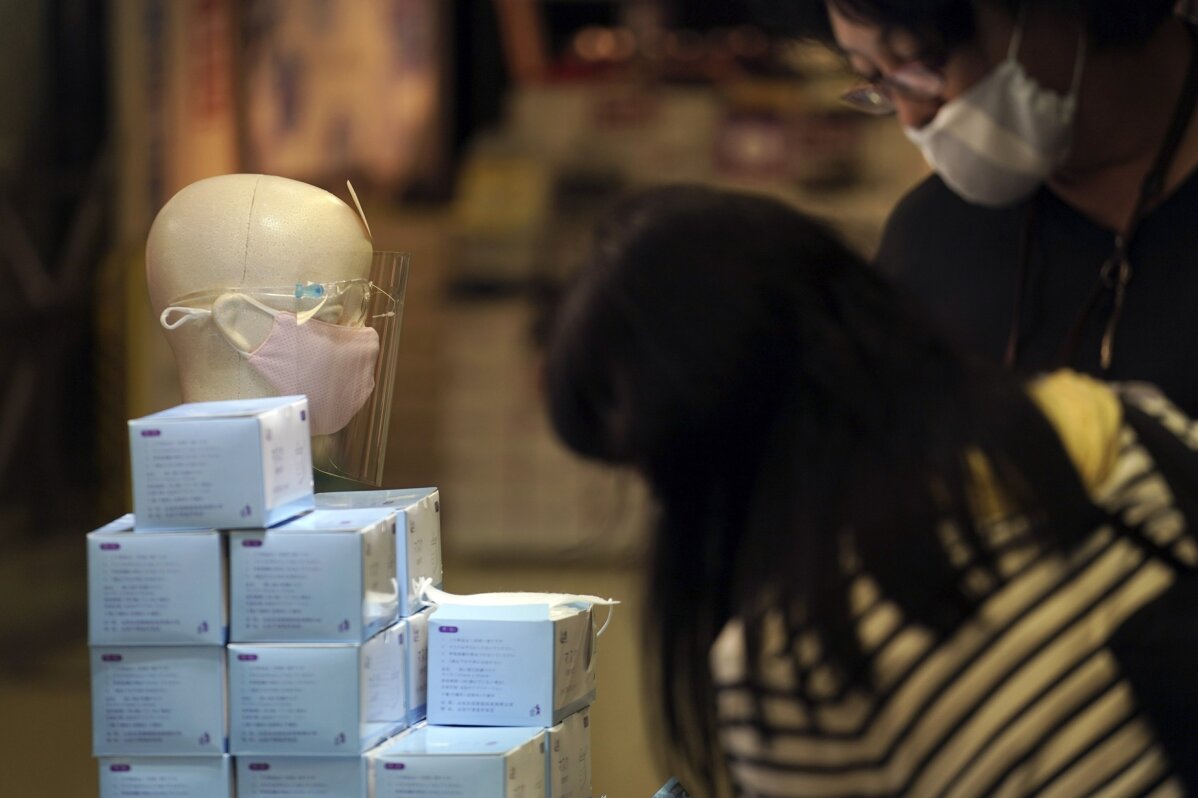 6 of 10

|
Protective face masks to help curb the spread of the coronavirus are sold at a shop Friday, July 10, 2020, in Tokyo. The Japanese capital has confirmed more than 240 new coronavirus infections on Friday, exceeding its previous record. (AP Photo/Eugene Hoshiko)
6 of 10
Protective face masks to help curb the spread of the coronavirus are sold at a shop Friday, July 10, 2020, in Tokyo. The Japanese capital has confirmed more than 240 new coronavirus infections on Friday, exceeding its previous record. (AP Photo/Eugene Hoshiko)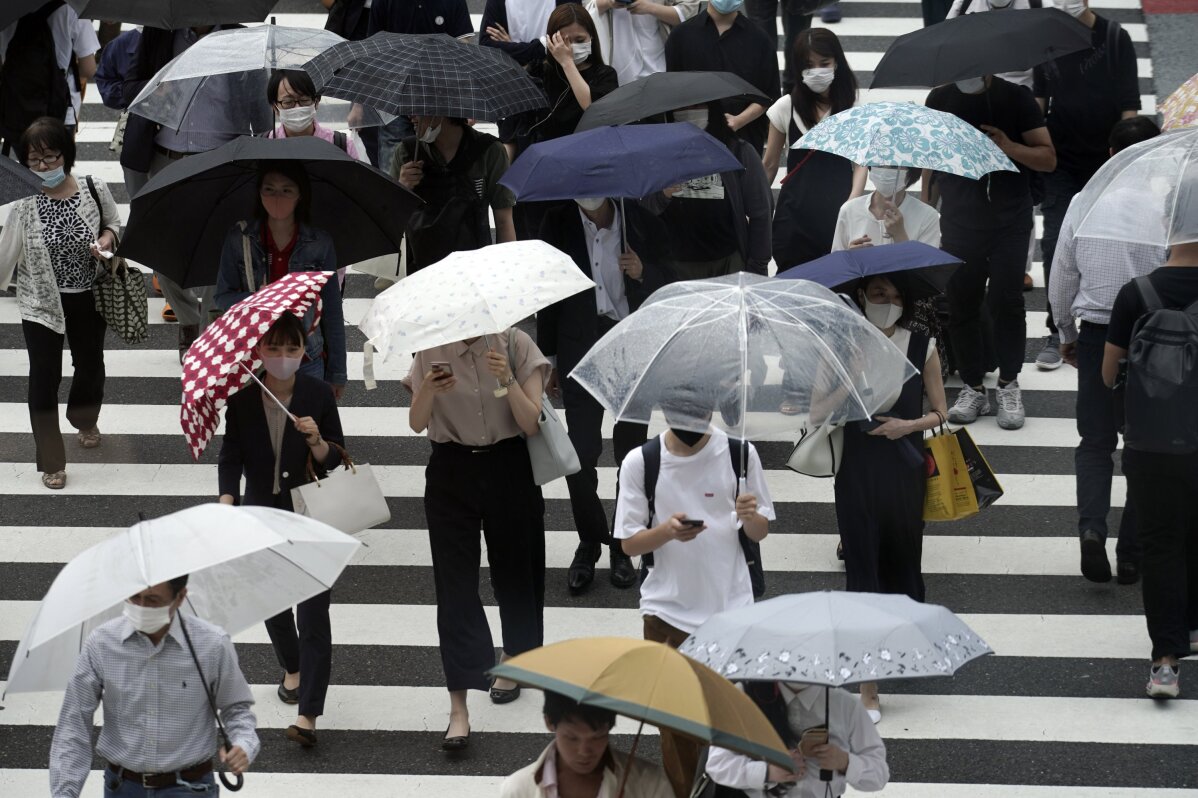 7 of 10

|
People wearing protective face masks to help curb the spread of the coronavirus walk at a pedestrian crossing Friday, July 10, 2020, in Tokyo. The Japanese capital has confirmed more than 240 new coronavirus infections on Friday, exceeding its previous record. (AP Photo/Eugene Hoshiko)
7 of 10
People wearing protective face masks to help curb the spread of the coronavirus walk at a pedestrian crossing Friday, July 10, 2020, in Tokyo. The Japanese capital has confirmed more than 240 new coronavirus infections on Friday, exceeding its previous record. (AP Photo/Eugene Hoshiko)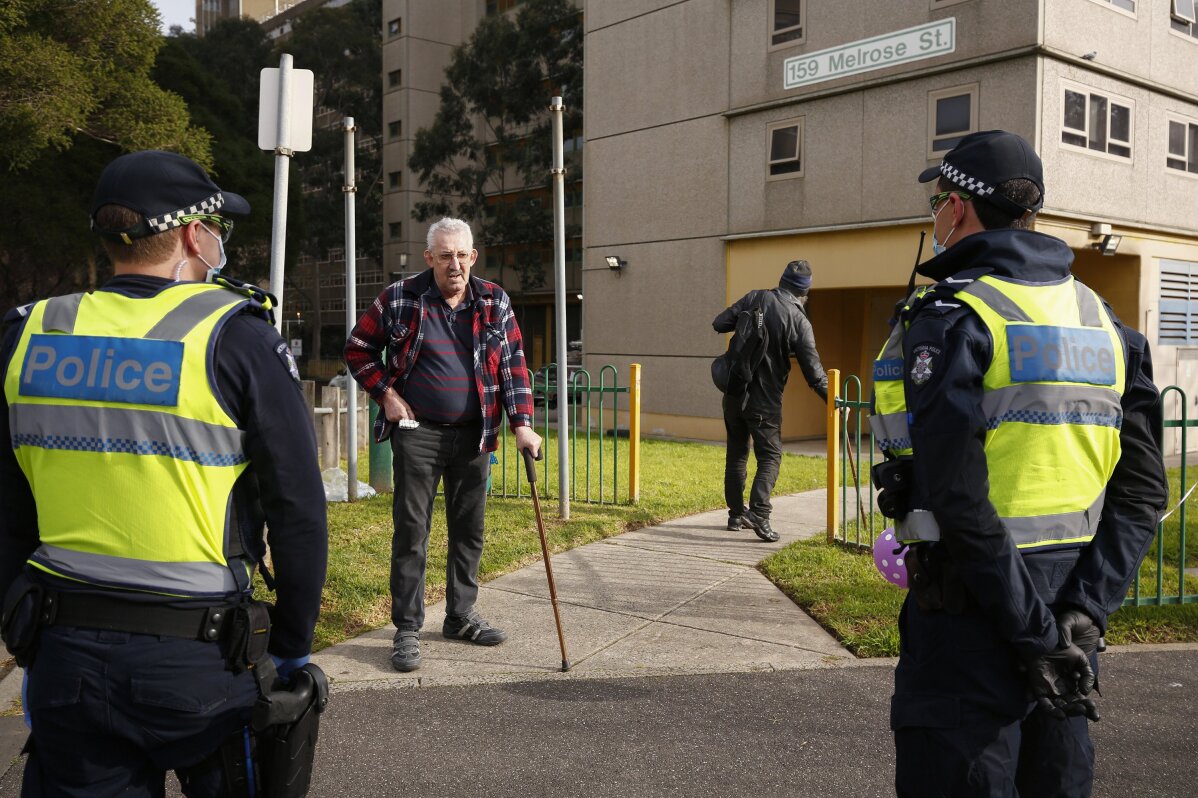 8 of 10

|
Police stand outside public housing towers that are a hotspot for COVID-19 in Melbourne Friday, July 10, 2020. Australia's Victoria state reported the new daily record of coronavirus cases. (Daniel Pockett/AAP Image via AP)
8 of 10
Police stand outside public housing towers that are a hotspot for COVID-19 in Melbourne Friday, July 10, 2020. Australia's Victoria state reported the new daily record of coronavirus cases. (Daniel Pockett/AAP Image via AP)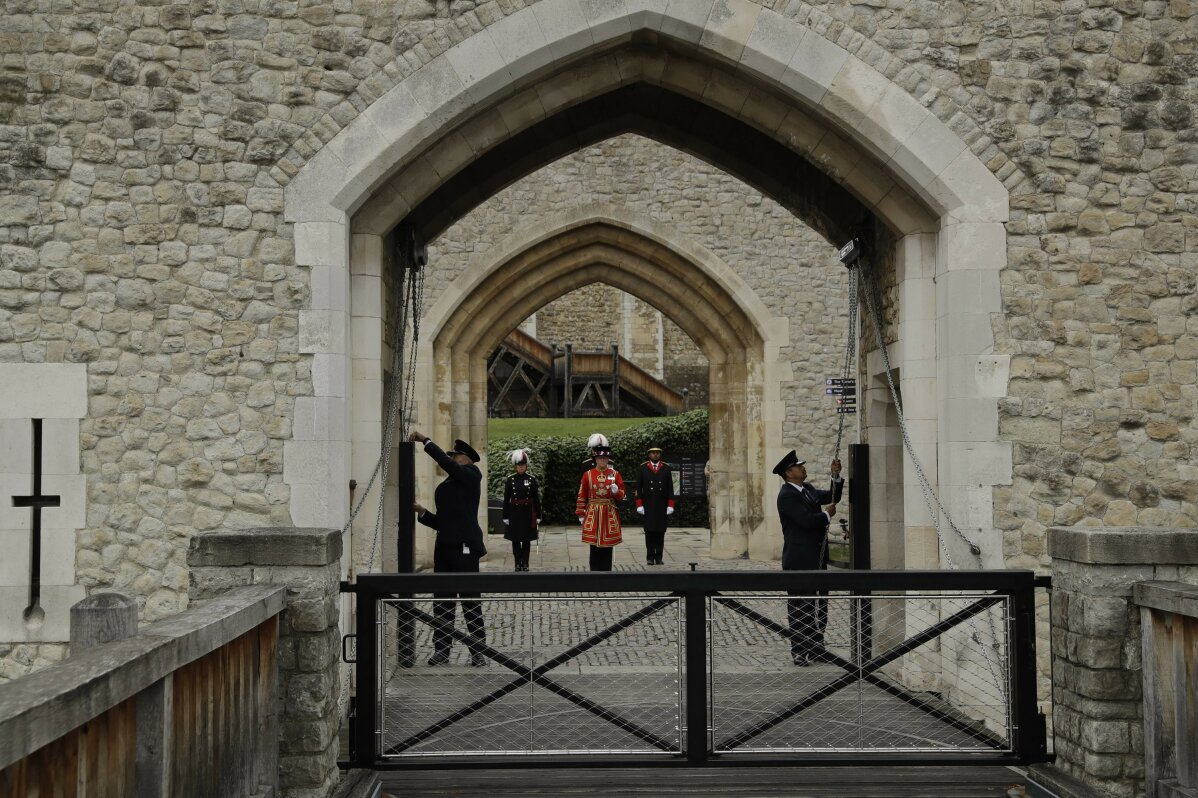 9 of 10

|
A drawbridge is lowered during a ceremony to mark the reopening of the Tower of London for visitors, in London, as the British government continues to relax its coronavirus restrictions, Friday, July 10, 2020. (AP Photo/Matt Dunham)
9 of 10
A drawbridge is lowered during a ceremony to mark the reopening of the Tower of London for visitors, in London, as the British government continues to relax its coronavirus restrictions, Friday, July 10, 2020. (AP Photo/Matt Dunham)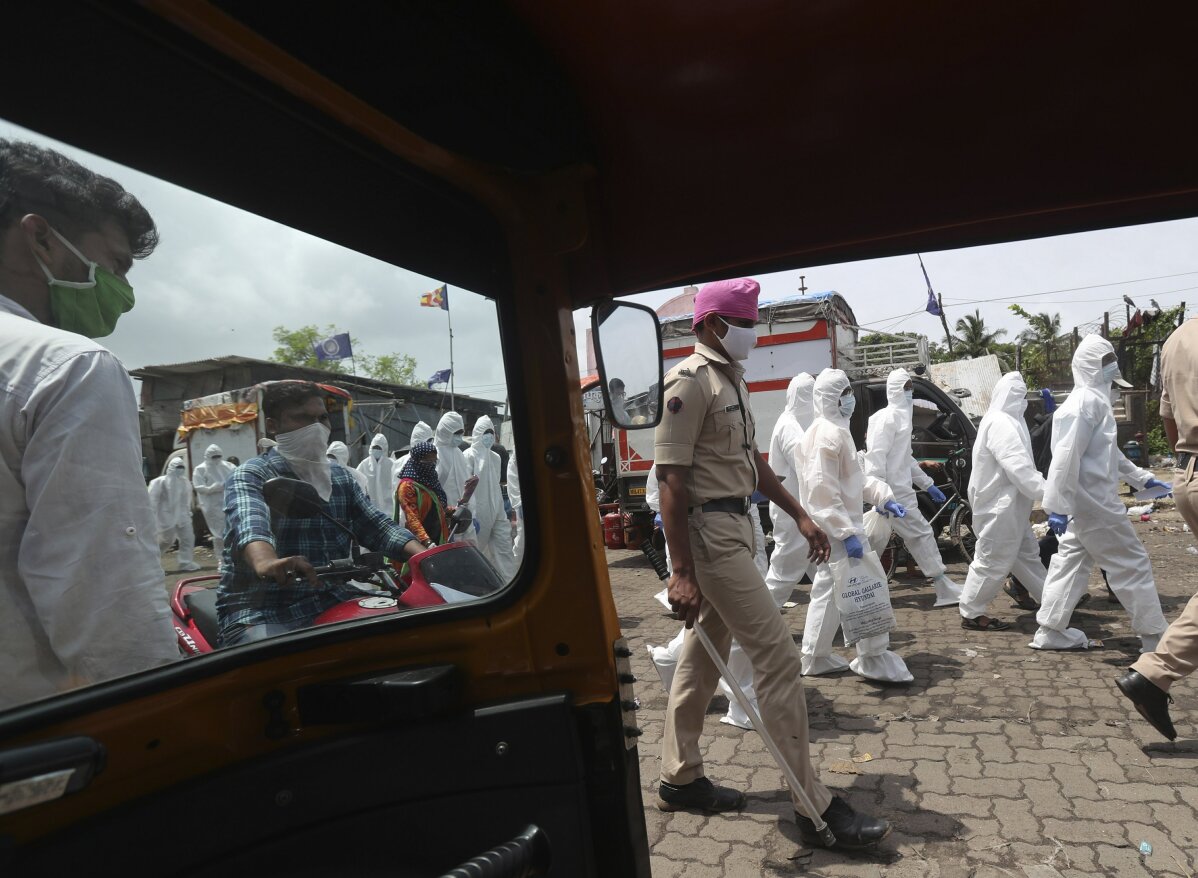 10 of 10

|
Health workers escorted by policemen arrive to screen people for COVID-19 symptoms at a slum in Mumbai, India, Friday, July 10, 2020. India has overtaken Russia to become the third worst-affected nation by the coronavirus pandemic. (AP Photo/Rafiq Maqbool)
10 of 10
Health workers escorted by policemen arrive to screen people for COVID-19 symptoms at a slum in Mumbai, India, Friday, July 10, 2020. India has overtaken Russia to become the third worst-affected nation by the coronavirus pandemic. (AP Photo/Rafiq Maqbool)
ATHENS, Greece — Greek authorities say incoming travelers arriving at the country's land border with Bulgaria will have to carry a negative COVID-19 test results issued within the previous 72 hours.
The measure will take effect on July 14 following an increase in cases involving tourists traveling by land to Greece from mostly Balkan countries.
Government spokesman Stelios Petsas says domestic inspections would be stepped up this weekend to enforce distancing rules.
Greece started its tourism season on June 15 and expanded international flights to its regional airports on July 1. The holiday industry is considered vital for Greece, which is expected to suffer a recession this year, losing 9% of its output, according to European Commission estimates.
Only one border crossing point, at Promahomas on the border with Bulgaria, has been opened so far for non-essential travel.
___
HERE'S WHAT YOU NEED TO KNOW ABOUT THE VIRUS OUTBREAK:
— Australia's Victoria state reports new daily record of 288 cases.
— The World Health Organization is acknowledging the possibility that COVID-19 might be spread in the air under certain conditions.
— Texas hits new record for virus deaths as hospitals scramble.
— United Nations says Latin America and Caribbean are COVID-19 `hot spot.'
___
Follow all of AP's pandemic coverage at http://apnews.com/VirusOutbreak and https://apnews.com/UnderstandingtheOutbreak
___
HERE'S WHAT ELSE IS HAPPENING:
MADRID — The Spanish region of Extremadura is following in the footsteps of Catalonia and the Balearic Islands by making the wearing of masks obligatory.
Spain's lockdown ended mid-June, but the number of new daily cases has been creeping higher in some areas.
Authorities in Extremadura, southwest of Madrid, announced Friday the region had 66 active cases. Everyone over 6 years old must from Saturday wear masks when outside or when in enclosed public spaces, even when complying with social distancing rules.
The introduction of mandatory mask-wearing in the Balearic island group in the Mediterranean Sea from Monday has angered business associations there. The islands, including Ibiza, Mallorca and Menorca, are a popular European vacation destination.
The Confederation of Balearic Business Associations says the regional government is imposing tighter restrictions than potential vacationers have in their home countries and that the step will discourage visitors.
___
BRUSSELS — Wearing a face mask will become mandatory from Saturday in Belgian shops, cinemas, entertainment venues and other indoor spaces.
The Belgian government said the decision was made following a meeting of politicians and experts in charge of the lockdown exit strategy who decided to follow recommendations issued by the Health Ministry's scientific advisory body.
The compulsory use of masks already implemented on public transportation will be extended to conference centers, places of worships, museums and libraries.
Masks remain optional for children under the age of 12 in all circumstances.
The government said places that won't respect the decision could be shut down, while Belgian residents who won't follow the new guidelines will face penalties.
Belgium has been hard hit by the pandemic, with 9,781 deaths recorded in the small country with 11 million inhabitants. The number of infections has however nosedived over the past two months, with about 85 new cases recorded every day over the past week.
___
TOKYO — Tokyo has found 243 new cases of the coronavirus, surpassing 200 for a second day in a row and setting a new record.
The numbers reported Friday are fueling concerns about the spread of infections in the Japanese capital, where people are encouraged to pursue social and economic activity while taking safety precautions.
Friday's record daily increase exceeds the 224 reported the day before, which was the highest since April 17 when Japan was under a state of emergency that ended in late May.
Businesses have largely returned to usual and people are now commuting on packed trains again. The number of daily cases in Tokyo started rising back in late June.
___
LONDON — The British government has removed Serbia from the list of countries from which people arriving back to England can avoid a 14-day quarantine.
The government said Serbia has been removed because of a recent spike in coronavirus infections that's seen the country reimpose a number of lockdown restrictions.
Serbia was originally on the list of 76 countries and territories exempted from quarantine. The list includes popular destinations such as France, Greece, Italy and Spain, but not the United States, which is still considered high-risk.
Scotland's list of countries is slightly different to that for England, Wales and Northern Ireland. It still requires people from Spain to quarantine for example.
The travel industry is hoping that the new rules will help them salvage part of the summer holiday booking season that has been battered by the pandemic.
___
COLOMBO, Sri Lanka — Sri Lanka has found 196 more coronavirus cases at a rehabilitation center for narcotics addicts.
The numbers announced by the government Friday take the total at the center to 252.
The number of infections found in the past two days are highest in months. Though all have been in known clusters, there are fears of a spillover into the borader community.
Sri Lanka has reported 2,350 coronavirus cases so far with 11 deaths.
___
NEW DELHI — India's is reporting another record one-day spike in coronavirus cases, prompting some states to reimpose lockdowns in high-risk areas.
The 26,506 cases reported Friday bring India's total to 793,802 infections. The Health Ministry also reported another 475 deaths in the past 24 hours, taking total fatalities up to 21,604.
The ministry said the recovery rate was continuing to improve at more than 60%
The eastern state of Bihar reimposed a full lockdown in the state capital Patna and four other districts for a week beginning Friday to curb a surge in cases.
India's most populous state Uttar Pradesh, with nearly 230 million people, announced a weekend lockdown beginning Friday night. All private shops and businesses across the state will remain closed except pharmacies and shops selling groceries, milk and produce.
___
WELLINGTON, New Zealand — A second man in New Zealand this week is facing charges for escaping from a hotel where he was being held in quarantine, this time allegedly to buy alcohol.
Air Commodore Darryn Webb, head of managed isolation and quarantine, said the man cut through fence ties at the Distinction Hotel in Hamilton on Thursday and was gone for about 30 minutes, visiting a nearby liquor store before returning.
The man made his first court appearance Friday and wasn't required to enter a plea.
Earlier this week, another man, who'd recently returned from India, escaped from his Auckland hotel and allegedly went shopping at a supermarket. He later tested positive for the virus.
New Zealand has eliminated community transmission of the virus and is trying to contain cases at the border by placing new arrivals into a 14-day quarantine at various hotels.
___
ISLAMABAD — Even as Pakistan crosses the 5,000 mark for the number of deaths due to COVID-19, it's daily infection rate continues to drop with 2,751 new cases during the last 24 hours.
The numbers reported Friday are down from a high just a few weeks earlier of nearly 9,000 a day.
Pakistan's testing rate has also dropped, with 23,255 tests carried out in the last 24 hours from a previous high last month of more than 32,000 daily tests.
Prime Minister Imran Khan warned Pakistanis on Thursday that infection numbers could soar if people ignore precautions like mask wearing and social distancing during the Eid-al Adha holy days beginning at the end of July.
___
MELBOURNE, Australia — Australia's coronavirus hotspot Victoria state has become the first to recommend its residents wear masks in some circumstances after posting a new record daily tally of 288 new cases.
Victoria Premier Daniel Andrews said the tally reported Friday reflected a new record of more than 37,500 tests in a day. The previous case record was 191 set on Tuesday.
Andrews recommended Victoria residents wear masks if they can't maintain 1.5 meters (5 feet) social distancing such as when they're on public transport or in supermarkets.
Australia will more than halve the rate at which its citizens and permanent residents can return home on international flights to reduce numbers in hotel quarantine.
Prime Minister Scott Morrison said Friday the number allowed to return to Australia each week would be reduced by more than 4,000 from next week.
___
SANTA FE, N.M. — New Mexico authorities will halt indoor restaurant service, close state parks to nonresidents and suspend autumn contact sports at schools in response to surging coronavirus infections in the state and in neighboring Texas and Arizona.
Gov. Michelle Lujan Grisham unveiled the sweeping orders Thursday. She says they take effect Monday, saying that "we are at war with COVID-19."
Cancelled autumn sports include football and soccer and affect not only public schools but recreational leagues for all ages. People exercising outdoors will be expected for the first time to wear a mask.
The governor says nonresidents who enter New Mexico with out-of-state plates should be prepared to answer questions about their compliance with the 14-day self-quarantine mandate.
___
PHOENIX — Arizona Gov. Doug Ducey is ordering restaurants to work at half of their capacity, but he has declined to shut them down entirely as authorities seek to control a strong coronavirus outbreak that has doubled the daily case count in two weeks.
The governor also said Thursday the state will increase testing with a focus on low-income areas of Phoenix as many people report it hard or impossible to find tests.
Arizona continues to report record highs for hospitalizations and use of ventilators. After a drop in the number of new cases in the early part of the week, they shot back above 4,000 on Thursday.
Officials reported 75 additional deaths, increasing the state's total to 2,038. The additional 4,057 confirmed cases reported Thursday brought the total to 112,671.
___
SEOUL, South Korea — South Korea has reported 45 new confirmed cases of the coronavirus as health authorities scramble to stem infections in major cities across the country.
The figures announced by the Korea Centers for Disease Control and Prevention on Friday brought the national caseload to 13,338, including 288 deaths.
Twenty-three of the new cases were in the populated Seoul metropolitan area, which has been at the center of a virus resurgence since late May. Infections were also reported in other major cities such as Gwangju and Daejeon.
Health authorities say they are stuck in a difficult game of "whack-a-mole," with new clusters popping up from various places — including churches, restaurants, nightspots and office buildings — as people increasingly venture out in the public.
___
BEIJING — China has reported four new confirmed coronavirus cases, and officials say all of them were brought from outside the country.
No new deaths were reported Friday and 342 people remain in treatment. An additional 121 people are in isolation and being monitored as being suspected cases or for testing positive for the virus without showing any symptoms.
China has reported 4,634 deaths from COVID-19 among 83,585 confirmed cases since the virus was first detected late last year in the central Chinese city of Wuhan.
___