Aretha Franklin's 'homegoing' celebrates black culture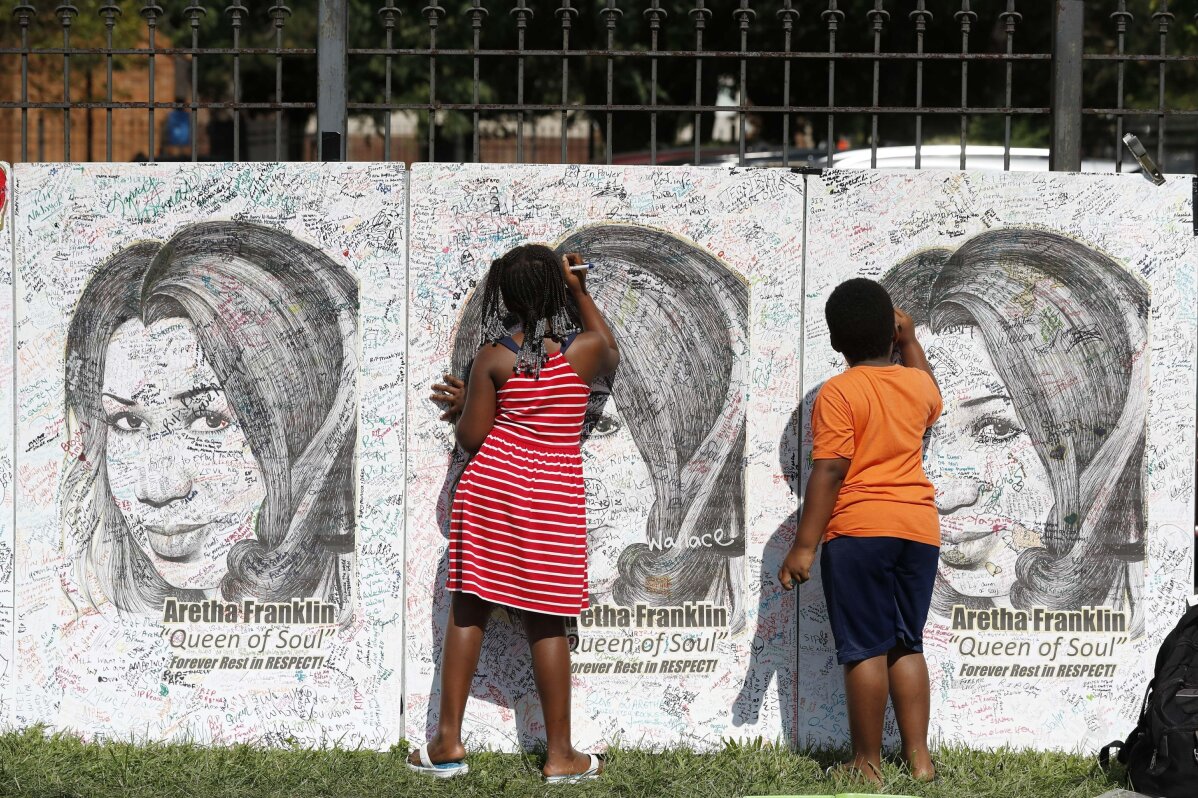 1 of 5

|
Kids sign poster boards with the image of Aretha Franklin at the Charles H. Wright Museum of African American History during a public visitation for Franklin, Wednesday, Aug. 29, 2018 in Detroit. Franklin died Aug. 16, of pancreatic cancer at the age of 76. (AP Photo/Carlos Osorio)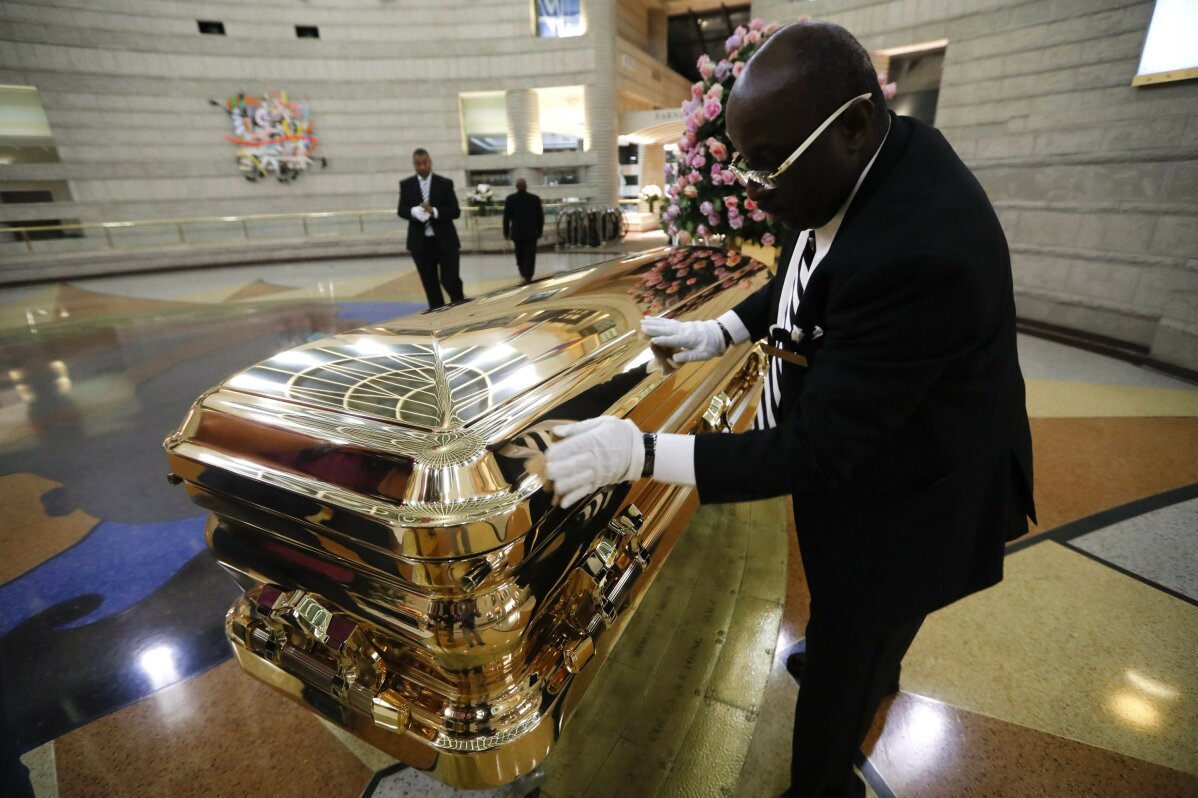 2 of 5

|
Vincent Street wipes down the casket of legendary singer Aretha Franklin at the Charles H. Wright Museum of African American History in Detroit, Wednesday, Aug. 29, 2018. Franklin died Aug. 16, 2018 of pancreatic cancer at the age of 76. (AP Photo/Paul Sancya)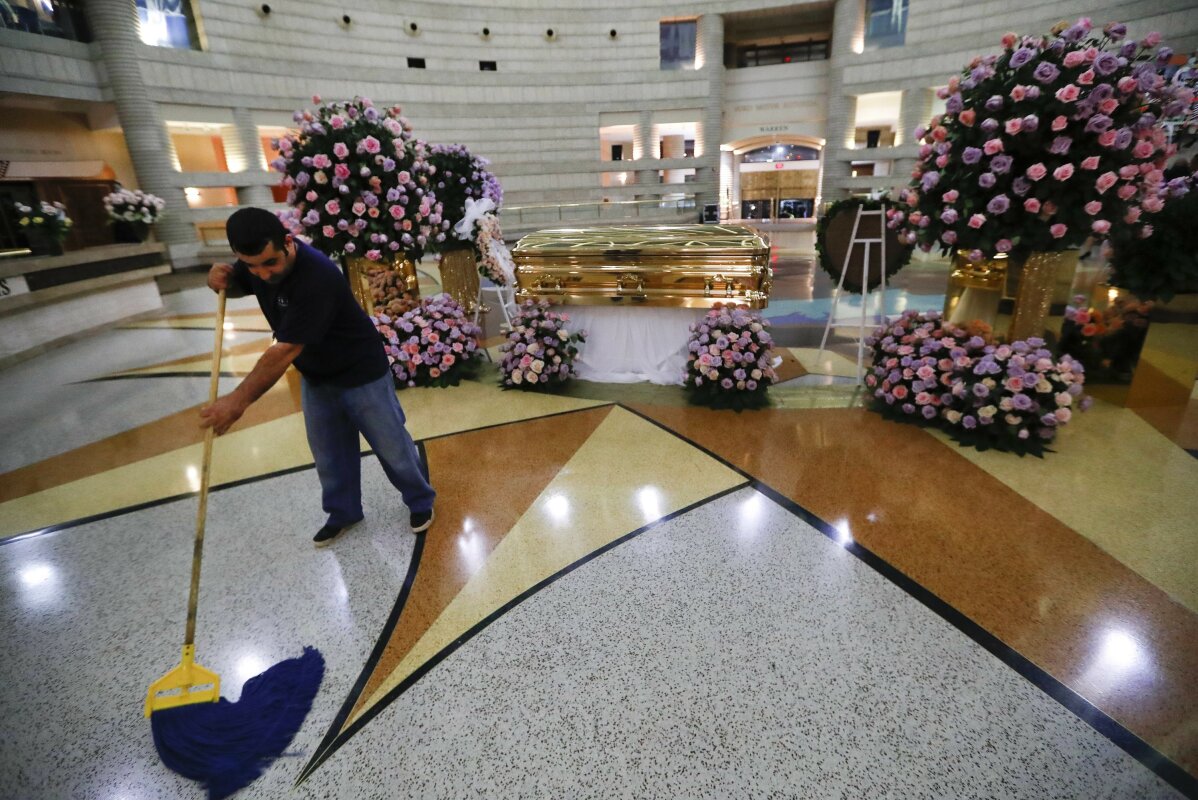 3 of 5

|
Robert Shamoun mops the floor of the rotunda near the casket of legendary singer Aretha Franklin at the Charles H. Wright Museum of African American History in Detroit, Wednesday, Aug. 29, 2018. Franklin died Aug. 16, 2018 of pancreatic cancer at the age of 76. (AP Photo/Paul Sancya)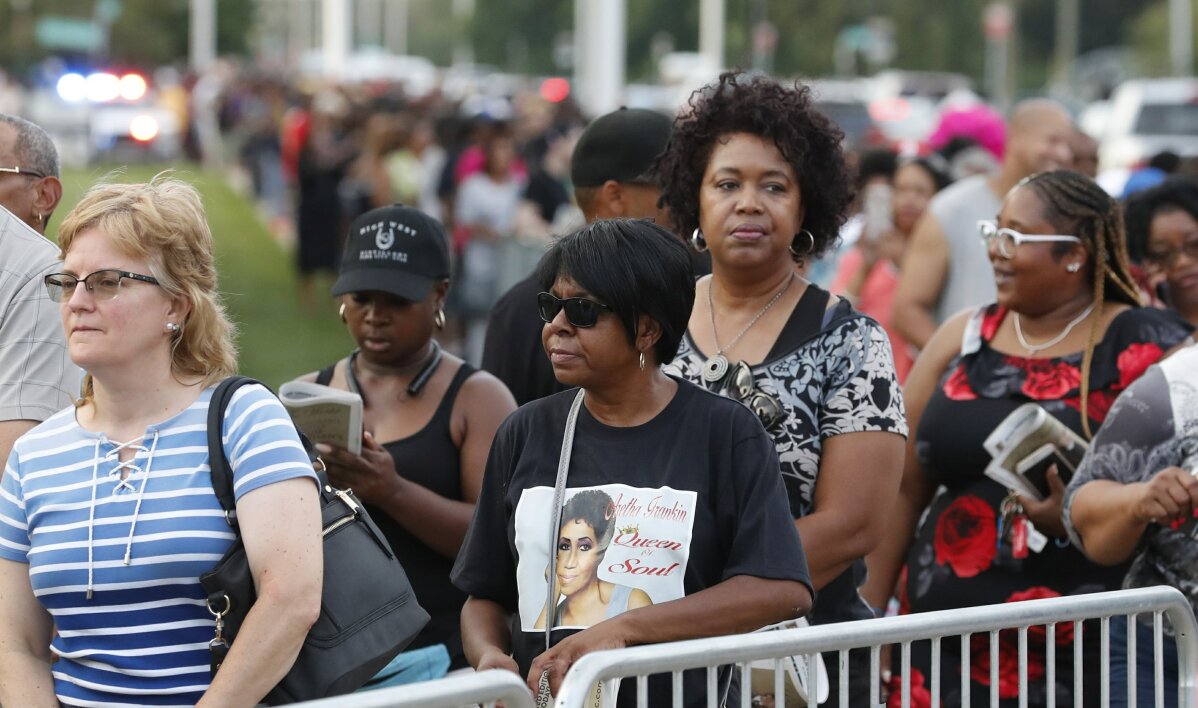 4 of 5

|
Fans wait in line at the Charles H. Wright Museum of African American History where Aretha Franklin is lying in state, Tuesday, Aug. 28, 2018, in Detroit. (AP Photo/Carlos Osorio)
5 of 5

|
Rich and Marta Balash, of Tucson, Ariz., take a selfie outside the Charles H. Wright Museum of African American History during a public visitation for Aretha Franklin, Wednesday, Aug. 29, 2018 in Detroit. Franklin died Aug. 16, of pancreatic cancer at the age of 76. (AP Photo/Carlos Osorio)
Aretha Franklin's 'homegoing' celebrates black culture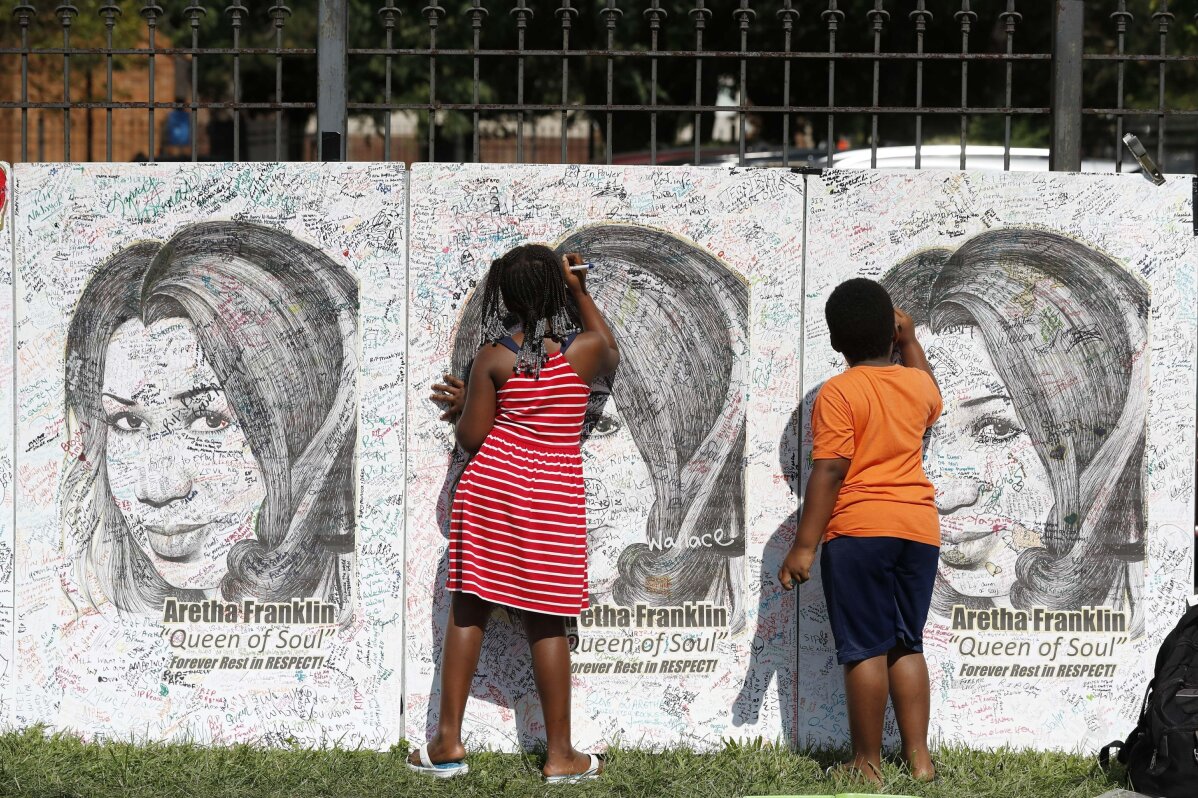 1 of 5

|
Kids sign poster boards with the image of Aretha Franklin at the Charles H. Wright Museum of African American History during a public visitation for Franklin, Wednesday, Aug. 29, 2018 in Detroit. Franklin died Aug. 16, of pancreatic cancer at the age of 76. (AP Photo/Carlos Osorio)
1 of 5
Kids sign poster boards with the image of Aretha Franklin at the Charles H. Wright Museum of African American History during a public visitation for Franklin, Wednesday, Aug. 29, 2018 in Detroit. Franklin died Aug. 16, of pancreatic cancer at the age of 76. (AP Photo/Carlos Osorio)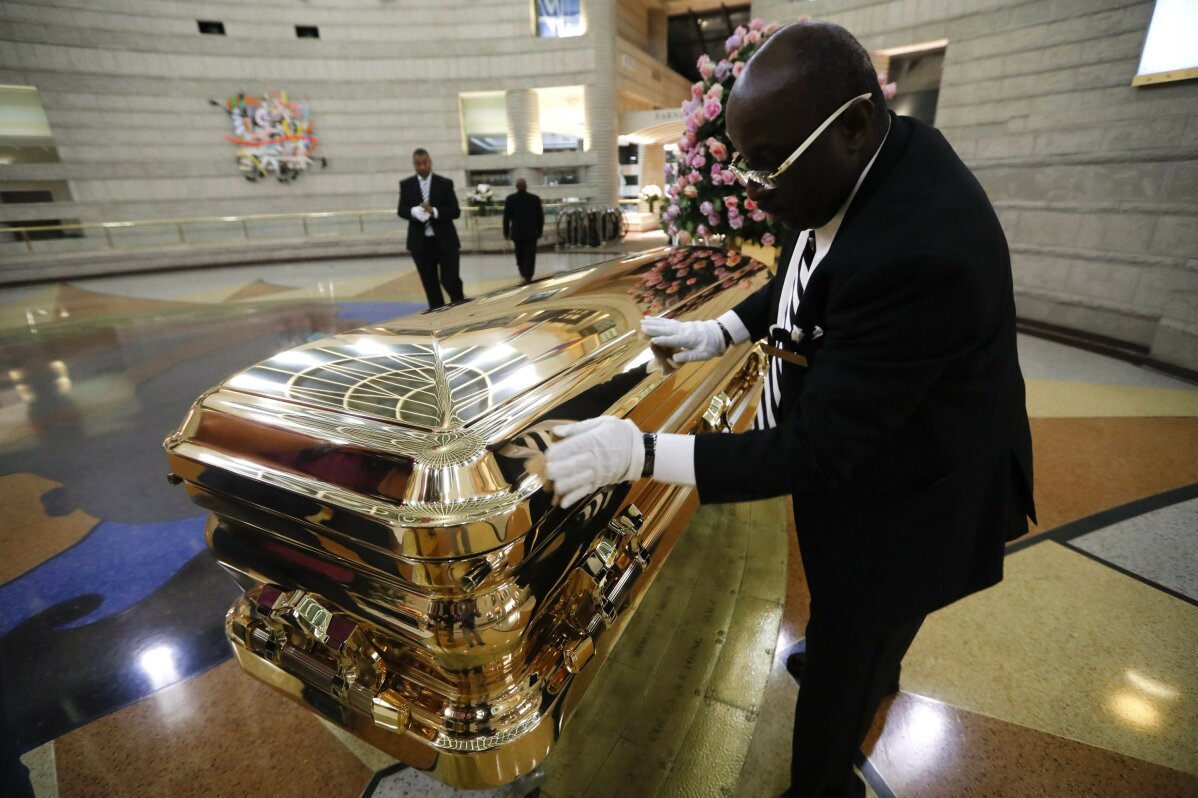 2 of 5

|
Vincent Street wipes down the casket of legendary singer Aretha Franklin at the Charles H. Wright Museum of African American History in Detroit, Wednesday, Aug. 29, 2018. Franklin died Aug. 16, 2018 of pancreatic cancer at the age of 76. (AP Photo/Paul Sancya)
2 of 5
Vincent Street wipes down the casket of legendary singer Aretha Franklin at the Charles H. Wright Museum of African American History in Detroit, Wednesday, Aug. 29, 2018. Franklin died Aug. 16, 2018 of pancreatic cancer at the age of 76. (AP Photo/Paul Sancya)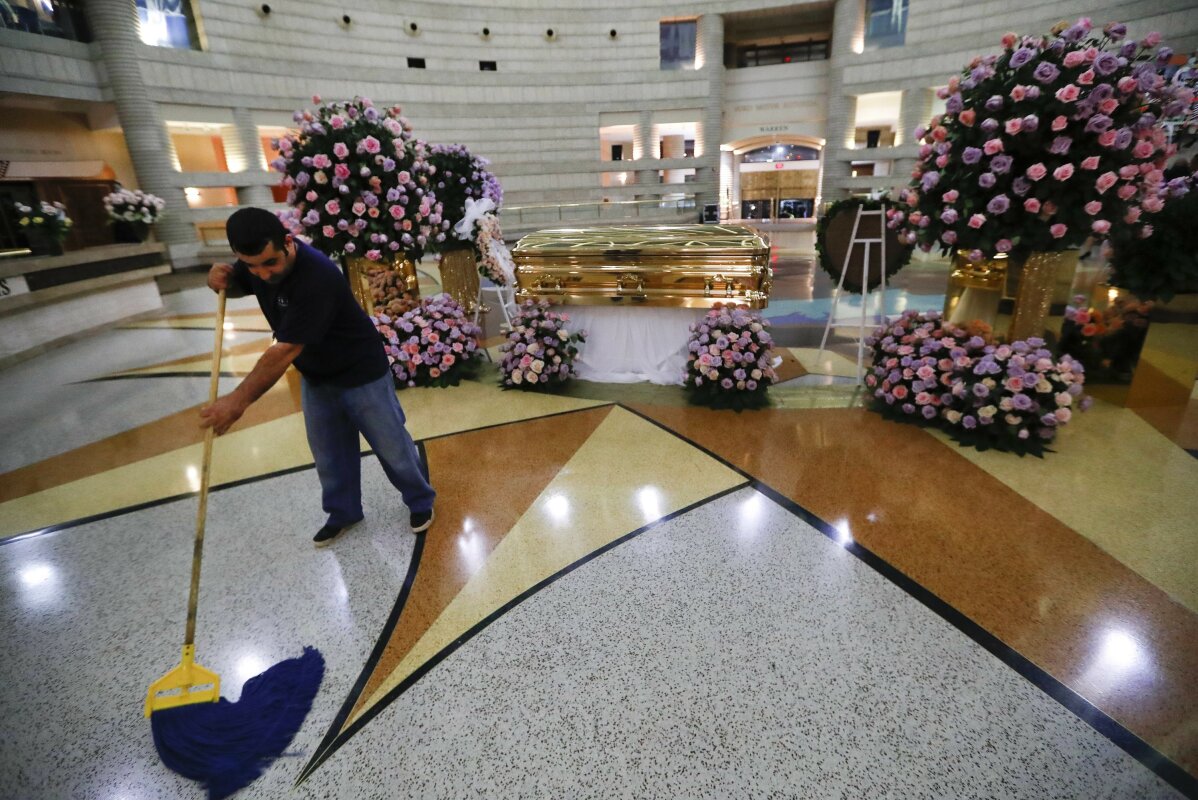 3 of 5

|
Robert Shamoun mops the floor of the rotunda near the casket of legendary singer Aretha Franklin at the Charles H. Wright Museum of African American History in Detroit, Wednesday, Aug. 29, 2018. Franklin died Aug. 16, 2018 of pancreatic cancer at the age of 76. (AP Photo/Paul Sancya)
3 of 5
Robert Shamoun mops the floor of the rotunda near the casket of legendary singer Aretha Franklin at the Charles H. Wright Museum of African American History in Detroit, Wednesday, Aug. 29, 2018. Franklin died Aug. 16, 2018 of pancreatic cancer at the age of 76. (AP Photo/Paul Sancya)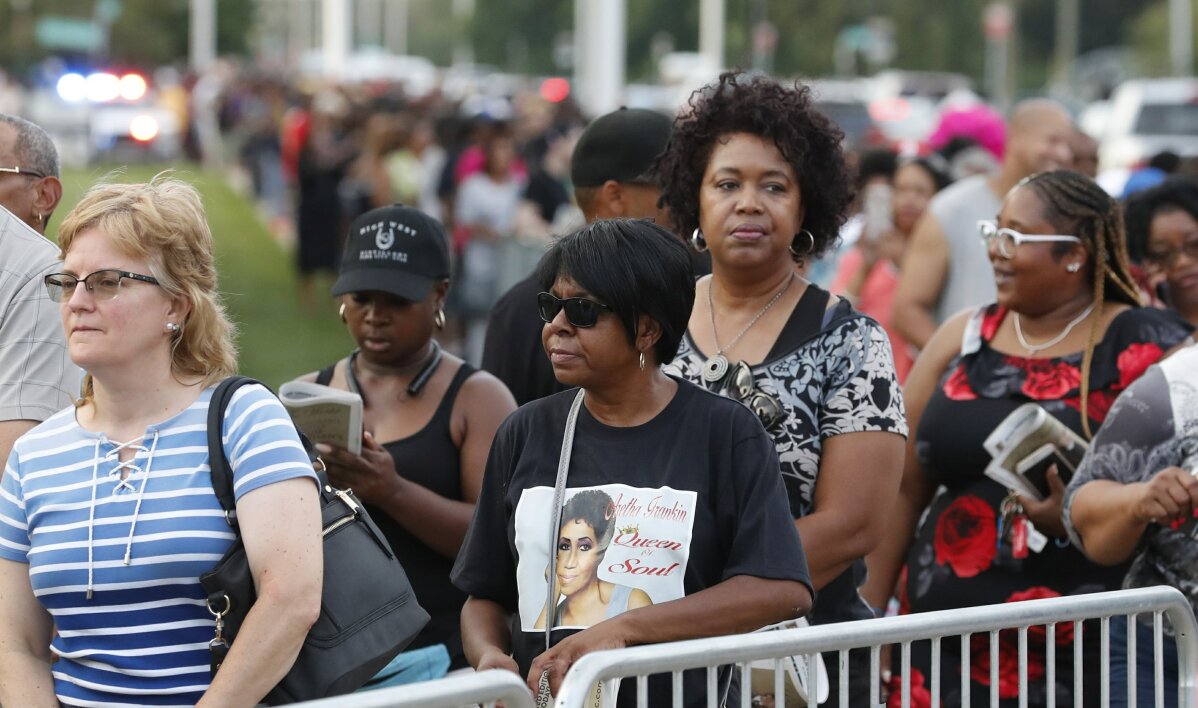 4 of 5

|
Fans wait in line at the Charles H. Wright Museum of African American History where Aretha Franklin is lying in state, Tuesday, Aug. 28, 2018, in Detroit. (AP Photo/Carlos Osorio)
4 of 5
Fans wait in line at the Charles H. Wright Museum of African American History where Aretha Franklin is lying in state, Tuesday, Aug. 28, 2018, in Detroit. (AP Photo/Carlos Osorio)
5 of 5

|
Rich and Marta Balash, of Tucson, Ariz., take a selfie outside the Charles H. Wright Museum of African American History during a public visitation for Aretha Franklin, Wednesday, Aug. 29, 2018 in Detroit. Franklin died Aug. 16, of pancreatic cancer at the age of 76. (AP Photo/Carlos Osorio)
5 of 5
Rich and Marta Balash, of Tucson, Ariz., take a selfie outside the Charles H. Wright Museum of African American History during a public visitation for Aretha Franklin, Wednesday, Aug. 29, 2018 in Detroit. Franklin died Aug. 16, of pancreatic cancer at the age of 76. (AP Photo/Carlos Osorio)
DETROIT (AP) — Like the Queen of Soul herself, the week of mourning for Aretha Franklin has been an open celebration of black culture, from the emotional send-off by a historic black sorority to the very venues where her public viewings were held.
That is expected to culminate Friday with her funeral featuring more than two dozen ministers, performers both secular and gospel, as well as athletes and civil rights activists who will make up a who's who list of black America. The all-star crowd will pay tribute to Franklin in a marathon service scheduled to last at least five hours.
The ceremony will be unapologetically black, said Detroit native and Georgetown University sociologist Michael Eric Dyson, who will speak at the service.
"She was our voice for half a century," Dyson said. "She gave expression to our desires" —spiritual, political and sexual. "She was a full-service queen. She was the people's diva."
Franklin, who was 76, died Aug. 16 of pancreatic cancer in Detroit, a city where she stayed long after many others had abandoned it.
The funeral, her final role, will offer a testament not only to her life and musical legacy, but to the triumph of black culture.
"Everybody don't do funerals like we do in the black church," said gospel artist Marvin Sapp, who will be among the performers. "We don't even call them funerals. We call them 'homegoing services,' and we know how to send people home."
The remembrances began Tuesday under the roof of The Charles H. Wright Museum of African American History, which long housed the world's largest permanent exhibit of African-American culture. Franklin lay in repose at the museum for two days as thousands of fans from all walks of life came to say goodbye.
She was brought to and from the museum in the same white 1940 Cadillac LaSalle hearse that carried her father, legendary minister C.L. Franklin, and civil rights icon Rosa Parks to their final resting places.
The black church and gospel music, both of which loomed large throughout Franklin's life, have been heavily represented in the farewells. Her funeral will be held at Greater Grace Temple, one of Detroit's largest and most famous churches.
"She would have had it no other way," said Bobby Jones, a pillar of the gospel community who currently hosts a radio show and was the longtime host of the popular "Bobby Jones Gospel" on Black Entertainment Television.
The services will have a jazz section including mainstream and gospel — appropriate because of her contribution to help popularize the genre, Jones said.
"Gospel was written when black people were striving," said Jones, who will lead a gospel section that includes genre powerhouses The Clark Sisters, Pastor Shirley Caesar and Tasha Cobbs-Leonard.
"They needed inspiration, joy and peace," Jones explained. "Elitists thought it was just for the downtrodden. Aretha and Mahalia Jackson and others who were able to break through to other type of audiences helped to erase that."
Franklin's faith was steeped in a proud tradition in the black community embodied by her father, considered one of America's great preachers. He preached at New Bethel Baptist Church, a cornerstone of the black church and the Detroit headquarters of the civil rights movement, from 1946 to 1979.
"He established a particular style of preaching that is connected to the local urban black church that is still being used today," Sapp said. "Her rearing in the church and having a father like her father is really the reason why she has had such a strong faith and why she stayed so close to church."
Franklin will be eulogized by the Rev. Jasper Williams, who also eulogized her father. Williams is known for his "whooping" preaching style — similar to C.L. Franklin's— that features a fiery delivery and combines scripture with social issues.
The church helped keep Franklin tethered to Detroit. She held annual revivals at New Bethel. Sapp said fans will see the impact of the black church on her life and career at Friday's service.
"We really celebrate because we really recognize that those we call the 'dearly departed,' they wouldn't want for us to cry and be sad and sorrowful. They would want us to celebrate their lives because they transitioned from this life to a better one."
Sapp wouldn't reveal what he will perform Friday, but said that every song was picked by Franklin.
Franklin's faith was wrapped up in the fight for civil rights, and she performed gospel and her other hit records to energize blacks living in segregation, and to raise money for the cause.
Her commitment to social justice was also born in the black church. Franklin's father was a major civil rights figure in the city and a supporter of the Detroit branch of the NAACP, the largest unit in the organization.
"That support was done in ways in which she didn't seek credit. She just wanted to get the job done," said NAACP President Derrick Johnson, a Detroit native who will attend Friday's funeral. "African-Americans feel disrespected now. When you think about her song 'Respect,' it's as much of an anthem today as it was when she made it."
Other speakers who will likely weigh in on Franklin include Cicely Tyson, a pioneering actress during segregation, former Attorney General Eric Holder and the Revs. Al Sharpton, Jesse Jackson and William Barber.
But it is Franklin — and what she represented for so long, for so many — who will be the balm to mourners. Her message of respect is reborn in the current political and social climate, Dyson said.
"Even when we have ... the vicious resurgence of bigotry in this country, Aretha Franklin stood and said, 'You will respect me as a human being, as a black person, as a woman, and as a member of this American community,'" Dyson said. "We had access to her because she loved blackness without hesitation or apology."
___
This story has been corrected to show that Franklin's funeral will be held at Greater Grace Temple, not New Bethel Baptist Church.
___
Associated Press Writer Kristin M. Hall contributed to this report.
___
Whack is The Associated Press' national writer on race and ethnicity. Follow her work on Twitter at http://www.twitter.com/emarvelous .
___
For more, visit https://apnews.com/tag/ArethaFranklin .