Argentina's President Fernández won't seek reelection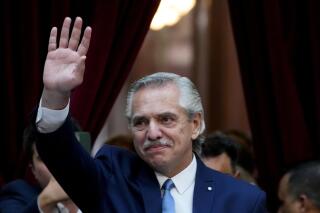 BUENOS AIRES, Argentina (AP) — Argentina's President Alberto Fernández announced Friday he won't seek reelection for a second term this year, a decision that follows months of infighting among the ruling coalition as it grapples with a fragile economy and galloping inflation.
The center-left president's unexpected announcement, which he made through a video posted on social media titled "my decision," came as he was faced increasing pressure from coalition members not to run and polls showing declining approval ratings.
The decision immediately shook up Argentina's political landscape months away from August primaries and the October presidential election.
During the seven-and-a-half-minute video, Fernández never actually said he won't be running for president, but he made that intention clear by saying that on Dec. 10 he would be handing over the presidential sash to whoever is elected, adding that he will "fervently work so that it is a partner from our political space."
Fernández acknowledged that "it is clear we did not achieve everything we set out to do" during his administration and said he now wants to "focus my effort, my commitment, and my heart on solving the problems of Argentines."
Internal disputes in the ruling coalition have burst out into the open, and for months now allies of Vice President Cristina Fernández de Kirchner have been calling on Fernández to not seek reelection so they can better design an electoral strategy ahead of the primaries.
Fernández has suffered a plunge in opinion ratings as Argentina has been stuck in economic doldrums for years, with more than 50 percent of children living in poverty and a galloping annual inflation rate of more than 100 percent.
Around seven-in-10 Argentines see Fernández in a negative light, according to a March poll by Giacobbe & Asociados, a local consultancy. Only 10% have a positive image of the president, according to the survey.
The president's decision not to seek reelection comes at the end of a week in which the local currency has suffered a sharp depreciation in the financial markets and sovereign bond prices have plunged.