Huge demand in Argentina to see World Cup champs at friendly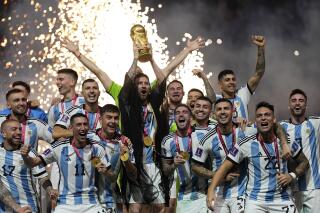 BUENOS AIRES (AP) — Argentina's upcoming friendly quickly sold out Thursday after more than 1 million people formed an online queue for tickets to see the World Cup champions play at home for the first time since Lionel Messi's team lifted the trophy in Qatar.
Argentina's soccer association put 63,000 tickets up for sale for the March 23 match against Panama at the Monumental de Nunez Stadium in Buenos Aires with prices ranging between $57 and $240.
The prices triggered a debate in the South American nation, which has suffered from high inflation and a long-standing economic crisis. Still, the match sold out in only two hours.
The frenzy among Argentinian fans was predictable. More than 5 million people took the streets of Buenos Aires to welcome the world champions in December after their penalty shootout win against France.
Members of the squad have been arriving at Argentina's capital since Monday.
Argentina will play another friendly on March 28 against Curacao in the province of Santiago del Estero. Tickets for that match are not yet available.
___
More AP soccer: https://apnews.com/hub/soccer and https://twitter.com/AP_Sports