Diamondbacks, Davies finalize $5 million, 1-year deal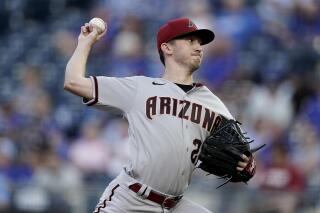 PHOENIX (AP) — The Arizona Diamondbacks and right-hander Zach Davies have finalized their $5 million, one-year contract that includes a mutual option for 2024.
The team announced the deal Wednesday.
The 29-year-old Davies signed with the Diamondbacks last season and went 2-5 with a 4.09 ERA over 27 starts. The eight-year veteran figures to remain at the back end of a rotation that includes Merrill Kelly, Zac Gallen and Madison Bumgarner.
Davies gets a $4.7 million salary this year, and the deal includes a $5.5 million mutual option for 2024 with a $300,000 buyout. The buyout would increase by $200,000 if he makes 16 starts this season.
The pitcher can earn $3.25 million in performance bonuses this year for starts: $400,000 for 10, $550,000 each for 15 and 20, $650,000 for 25, $450,000 for 27 and $650,000 for 30.
Davies, who went to high school in Arizona, is 58-53 with a 4.14 ERA in 182 major league starts with the Brewers, Padres, Cubs and Diamondbacks.
The Diamondbacks also designated right-hander J.B. Bukauskas for assignment. Right-hander Edwin Uceta, designated for assignment on Jan. 5, was claimed by the Detroit Tigers.
___
AP Baseball Writer Ronald Blum in New York contributed to this report.
___
AP MLB: https://apnews.com/hub/mlb and https://twitter.com/AP_Sports