Arizona governor frustrated with feds as Title 42 end looms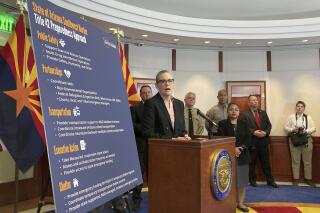 PHOENIX (AP) — With pandemic-related asylum restrictions set to end later this week, the federal government has failed to deliver a satisfactory plan to address an anticipated influx of migrants, Arizona Gov. Katie Hobbs said Monday as she called on the White House to deliver more funds for border communities.
Title 42, a set of emergency powers which have allowed authorities to quickly expel migrants during the pandemic, is set to end Thursday and could prompt more migrants to try to cross the southern border.
"We cannot manage this influx alone. Without much more robust action from the federal government, the current situation will only get worse. I've sent letters to President Biden and Secretary Mayorkas outlining specific actions that need to be taken," said Hobbs, referring to Homeland Secretary Alejandro Mayorkas. "As of today, we have not received an adequate response."
At a news conference from her Phoenix office, Hobbs announced a five-point "preparedness plan" where the state will use what resources it can to help with public safety, partnerships with non-governmental organizations, migrant transportation and more shelters. Her office will also establish a joint-information command to share updates across agencies and cities.
The state's Department of Emergency & Military Affairs will provide transportation for migrants within and outside of Arizona in coordination with humanitarian organizations. The agency will also harness funds for temporary emergency shelters.
The Democrat also promised not to bus migrants for "political stunts," a dig at Republican governors who transported migrants to progressive-leaning cities.
Despite trying to prepare, Hobbs said there was only so much the state can do. She vowed to keep pressuring the Biden administration to get the state the resources it needs. Among her hopes is for the Federal Emergency Management Agency to finalize a shelter program that would reimburse states.
Yuma Mayor Douglas Nicholls, who joined the news conference, also echoed the sentiment that national leadership has failed to help Arizona and other border states. The number of people crossing from Mexico into the Border Patrol's Yuma Sector has gone from 300 per day a month ago to 1,000 people Sunday, according to Nicholls.
"Time and time again, (border) communities like Yuma step up," Nicholls said. "This task is going to be too great. ... The influx has already begun."