ASEAN leaders to agree to cooperate in fighting cyber scams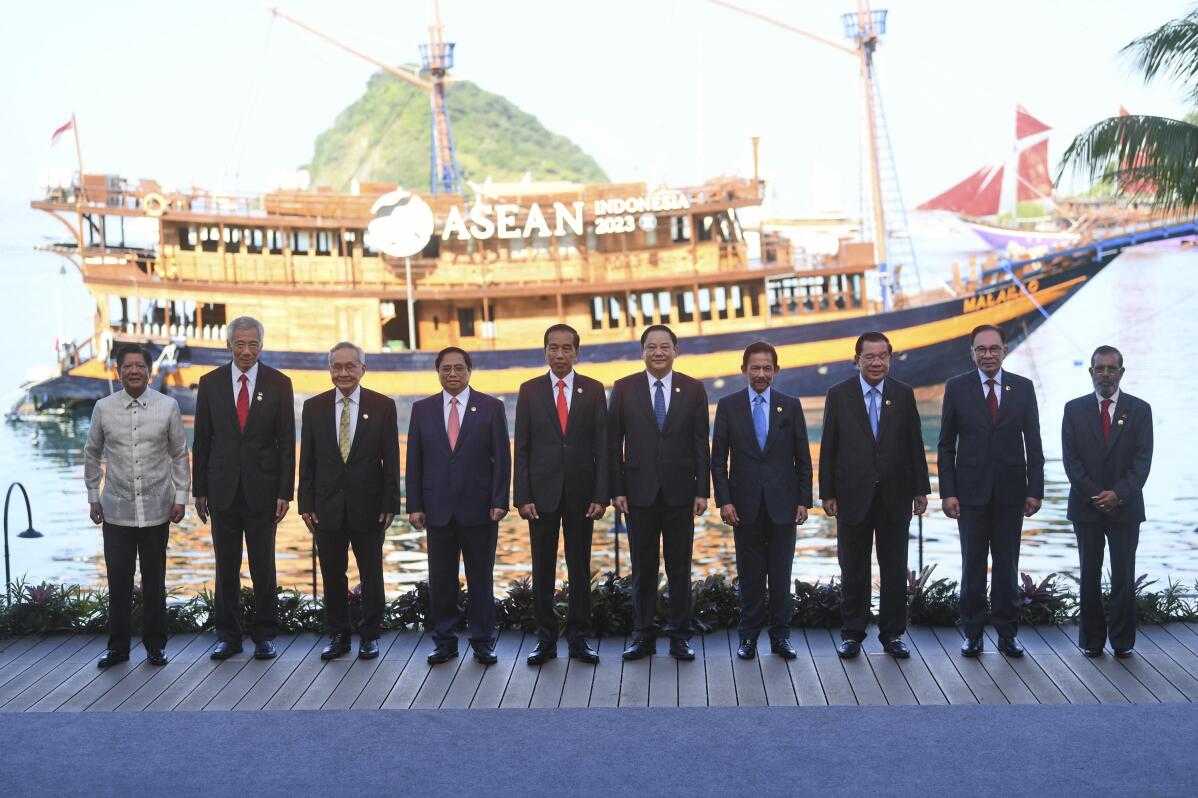 1 of 3

|
From left to right, Philippine President Ferdinand Marcos Jr., Singapore's Prime Minister Lee Hsien Loong, Thailand's Deputy Prime Minister and also Foreign Minister Don Pramudwinai, Vietnam's Prime Minister Pham Minh Chinh, Indonesian President Joko Widodo, Laotian Prime Minister Sonexay Siphandone, Brunei's Sultan Hassanal Bolkiah, Cambodia's Prime Minister Hun Sen, Malaysian Prime Minister Anwar Ibrahim and East Timorese Prime Minister Taur Matan Ruak pose for a family photo during the 42nd ASEAN Summit in Labuan Bajo, East Nusa Tenggara, Indonesia, Wednesday, May 10, 2023. (Akbar Nugroho Gumay/Pool Photo via AP)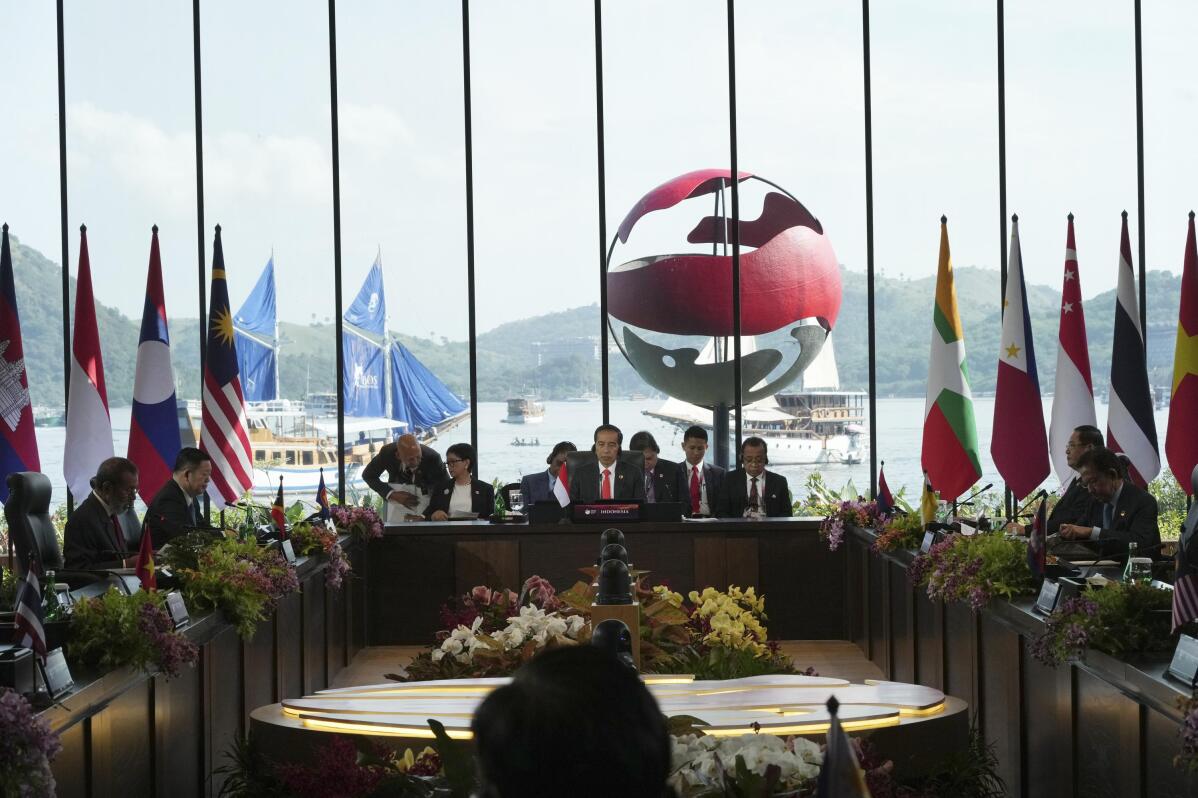 2 of 3

|
Indonesia President Joko Widodo, center, delivers his speech during the 42nd ASEAN Summit in Labuan Bajo, East Nusa Tenggara province, Indonesia, Wednesday, May 10, 2023. (AP Photo/Achmad Ibrahim, Pool)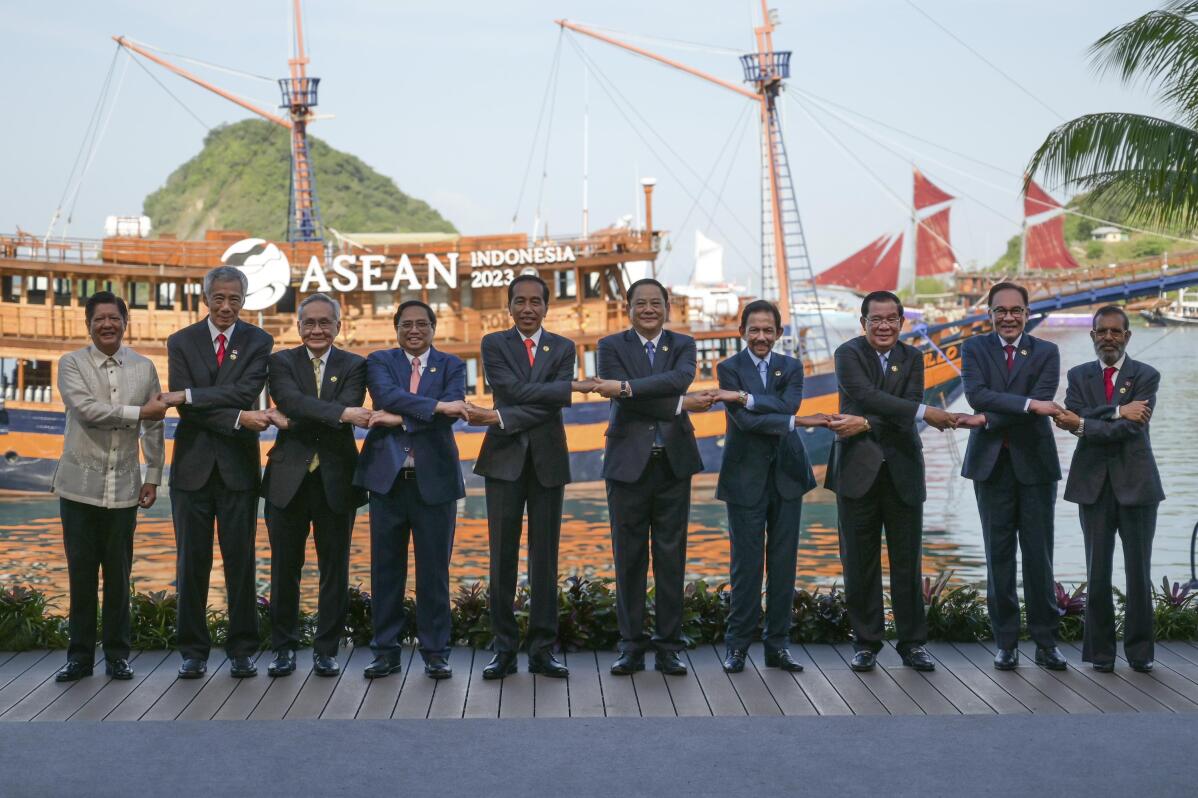 3 of 3

|
From left to right, Philippine President Ferdinand Marcos Jr., Singapore's Prime Minister Lee Hsien Loong, Thailand's Deputy Prime Minister and Foreign Minister Don Pramudwinai, Vietnam's Prime Minister Pham Minh Chinh, Indonesian President Joko Widodo, Laotian Prime Minister Sonexay Siphandone, Brunei's Sultan Hassanal Bolkiah, Cambodia's Prime Minister Hun Sen, Malaysian Prime Minister Anwar Ibrahim and East Timorese Prime Minister Taur Matan Ruak hold hands for a family photo during the 42nd ASEAN Summit in Labuan Bajo, East Nusa Tenggara, Indonesia, Wednesday, May 10, 2023. (Bay Ismoyo/Pool Photo via AP)
ASEAN leaders to agree to cooperate in fighting cyber scams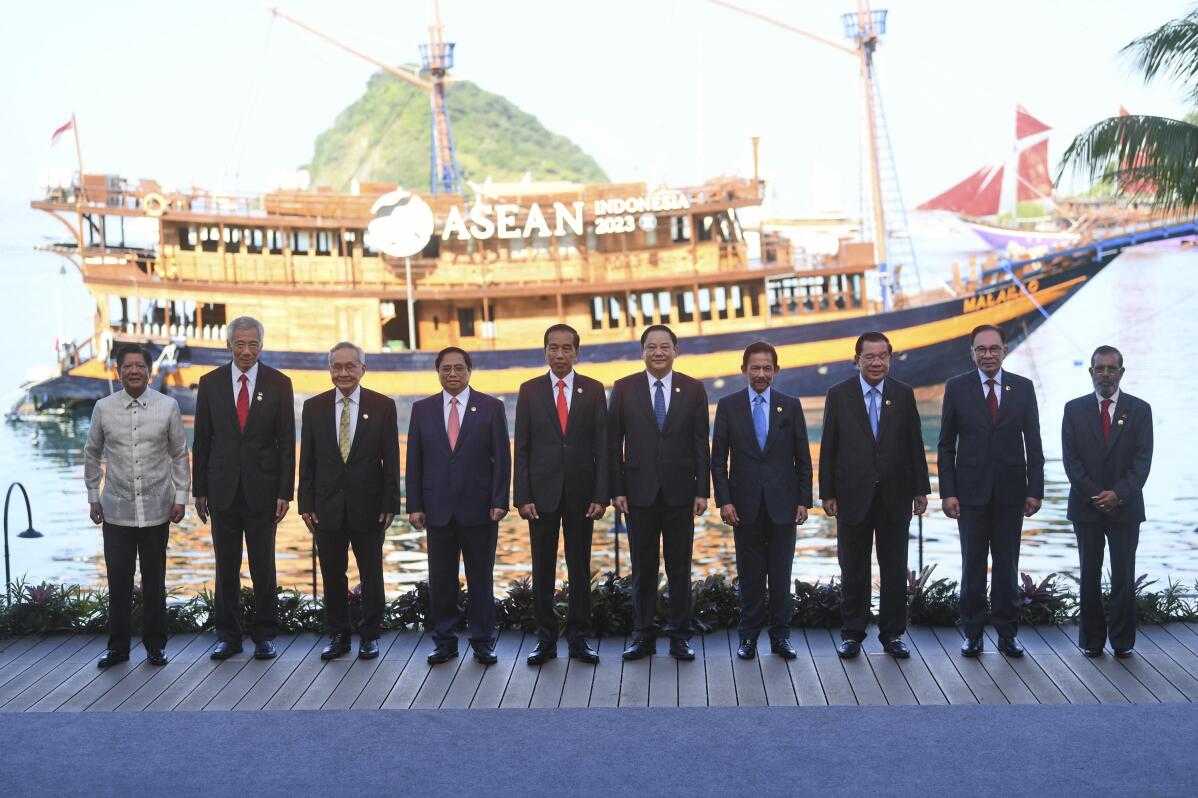 1 of 3

|
From left to right, Philippine President Ferdinand Marcos Jr., Singapore's Prime Minister Lee Hsien Loong, Thailand's Deputy Prime Minister and also Foreign Minister Don Pramudwinai, Vietnam's Prime Minister Pham Minh Chinh, Indonesian President Joko Widodo, Laotian Prime Minister Sonexay Siphandone, Brunei's Sultan Hassanal Bolkiah, Cambodia's Prime Minister Hun Sen, Malaysian Prime Minister Anwar Ibrahim and East Timorese Prime Minister Taur Matan Ruak pose for a family photo during the 42nd ASEAN Summit in Labuan Bajo, East Nusa Tenggara, Indonesia, Wednesday, May 10, 2023. (Akbar Nugroho Gumay/Pool Photo via AP)
1 of 3
From left to right, Philippine President Ferdinand Marcos Jr., Singapore's Prime Minister Lee Hsien Loong, Thailand's Deputy Prime Minister and also Foreign Minister Don Pramudwinai, Vietnam's Prime Minister Pham Minh Chinh, Indonesian President Joko Widodo, Laotian Prime Minister Sonexay Siphandone, Brunei's Sultan Hassanal Bolkiah, Cambodia's Prime Minister Hun Sen, Malaysian Prime Minister Anwar Ibrahim and East Timorese Prime Minister Taur Matan Ruak pose for a family photo during the 42nd ASEAN Summit in Labuan Bajo, East Nusa Tenggara, Indonesia, Wednesday, May 10, 2023. (Akbar Nugroho Gumay/Pool Photo via AP)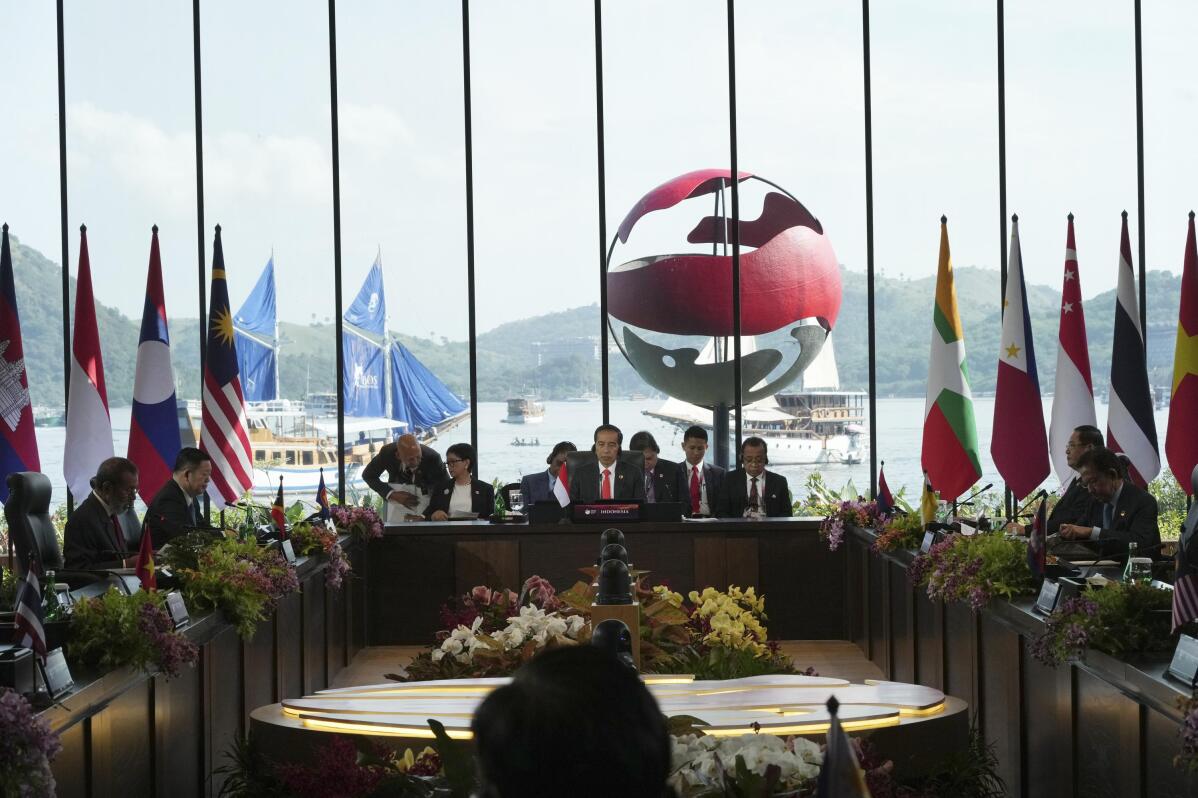 2 of 3

|
Indonesia President Joko Widodo, center, delivers his speech during the 42nd ASEAN Summit in Labuan Bajo, East Nusa Tenggara province, Indonesia, Wednesday, May 10, 2023. (AP Photo/Achmad Ibrahim, Pool)
2 of 3
Indonesia President Joko Widodo, center, delivers his speech during the 42nd ASEAN Summit in Labuan Bajo, East Nusa Tenggara province, Indonesia, Wednesday, May 10, 2023. (AP Photo/Achmad Ibrahim, Pool)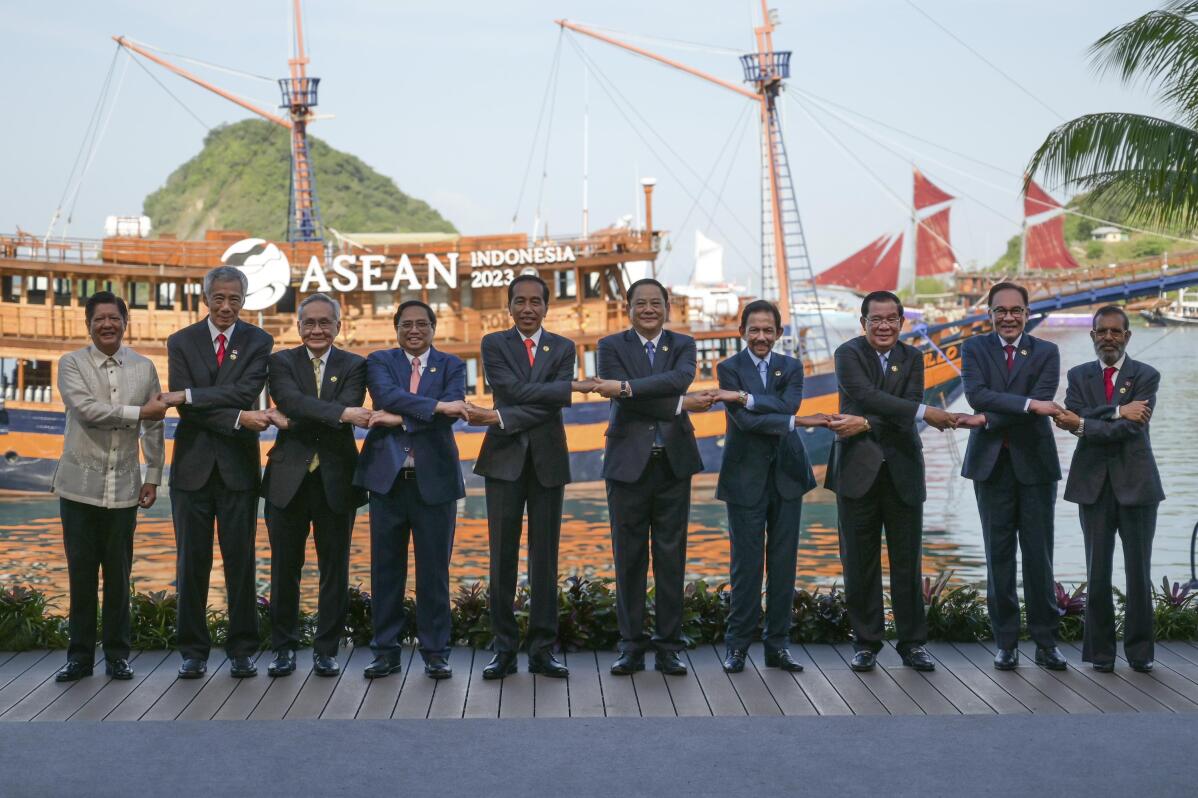 3 of 3

|
From left to right, Philippine President Ferdinand Marcos Jr., Singapore's Prime Minister Lee Hsien Loong, Thailand's Deputy Prime Minister and Foreign Minister Don Pramudwinai, Vietnam's Prime Minister Pham Minh Chinh, Indonesian President Joko Widodo, Laotian Prime Minister Sonexay Siphandone, Brunei's Sultan Hassanal Bolkiah, Cambodia's Prime Minister Hun Sen, Malaysian Prime Minister Anwar Ibrahim and East Timorese Prime Minister Taur Matan Ruak hold hands for a family photo during the 42nd ASEAN Summit in Labuan Bajo, East Nusa Tenggara, Indonesia, Wednesday, May 10, 2023. (Bay Ismoyo/Pool Photo via AP)
3 of 3
From left to right, Philippine President Ferdinand Marcos Jr., Singapore's Prime Minister Lee Hsien Loong, Thailand's Deputy Prime Minister and Foreign Minister Don Pramudwinai, Vietnam's Prime Minister Pham Minh Chinh, Indonesian President Joko Widodo, Laotian Prime Minister Sonexay Siphandone, Brunei's Sultan Hassanal Bolkiah, Cambodia's Prime Minister Hun Sen, Malaysian Prime Minister Anwar Ibrahim and East Timorese Prime Minister Taur Matan Ruak hold hands for a family photo during the 42nd ASEAN Summit in Labuan Bajo, East Nusa Tenggara, Indonesia, Wednesday, May 10, 2023. (Bay Ismoyo/Pool Photo via AP)
LABUAN BAJO, Indonesia (AP) — Southeast Asian leaders have agreed to tighten border controls and law enforcement and improve public education to fight criminal syndicates that are trafficking workers to other nations, where they are forced to participate in online fraud, according to a draft statement to be issued Thursday at the end of a regional summit.
The leaders of the Association of Southeast Asian Nations, who are meeting in the Indonesian town of Labuan Bajo, will express concern "about the increasing abuse of technology in facilitating trafficking in persons in Southeast Asia and globally, proliferated through the use and abuse of social media and other online platforms," according to a draft of their statement obtained by The Associated Press.
The use of social media and other platforms by cybercrime syndicates has "complicated anti-trafficking in persons efforts, as well as multiplied the number and scale of the cases," it says.
Cybercrime scams have become a major issue in the region, with numerous reports of people from Asia and further afield being lured into taking jobs in countries such as Myanmar and Cambodia. However, they often found themselves trapped in virtual slavery and forced to participate in scams targeting people over the internet.
The scam networks, which often have links to transnational organized crime, are set up in countries with weak law enforcement and attract educated young workers with promises of high earnings. The workers are then subject to isolation and the threat of violence unless they succeed in cheating victims reached by phone into transferring payments into overseas bank accounts.
The ASEAN leaders agreed to increase cooperation in border management, investigation, law enforcement and prosecution, and repatriation of victims, the draft statement says. It also urges that national prevention efforts be improved, including better public awareness campaigns and increased use of advanced technology.
On Sunday, Indonesian authorities said 20 of their citizens had been freed in Myanmar's Myawaddy township after being brought to the country and forced to perform cyberscams.
Other workers from Southeast Asia have also been victimized. Philippine authorities recently said a number of Filipino victims were also rescued from Myanmar and were to be flown back home.
Indonesian Minister Muhammad Mahfud, who deals with political, legal and security issues, told reporters on Tuesday it has been difficult for Indonesia and other countries in the region to work with Myanmar, which has been gripped by civil strife since the military seized power in 2021, in dealing with cybercrime and its victims.
He said ASEAN needs to make progress on a long-proposed regional extradition treaty that would help authorities prosecute offenders more rapidly and prevent a further escalation in cybercrime.
"Such a treaty has long been overdue," he said. "It would prevent our region from becoming a haven for criminals and solidify ASEAN as a rules-based community."
Last week, Indonesian Foreign Minister Retno Marsudi said her government is working to help Indonesian workers who have been duped into participating in online scams in Cambodia, Thailand, Vietnam, Laos and the Philippines.
Philippine authorities have recently rescued more than 1,000 human trafficking victims from 10 countries, including 143 Indonesians, who will be flown back to their countries, Marsudi said.
Aside from cybercrime, human trafficking and labor abuse still abounds in Southeast Asia, Mahfud said. He said Indonesians have been smuggled into countries such as Malaysia and forced to work on plantations under dismal conditions.
"Their salaries are not paid. People are tortured if they want to go home," Mahfud said.
___
Associated Press journalists Jim Gomez, Andi Jatmiko and Achmad Ibrahim contributed to this report.