Myanmar violence, sea feud are tough challenges for ASEAN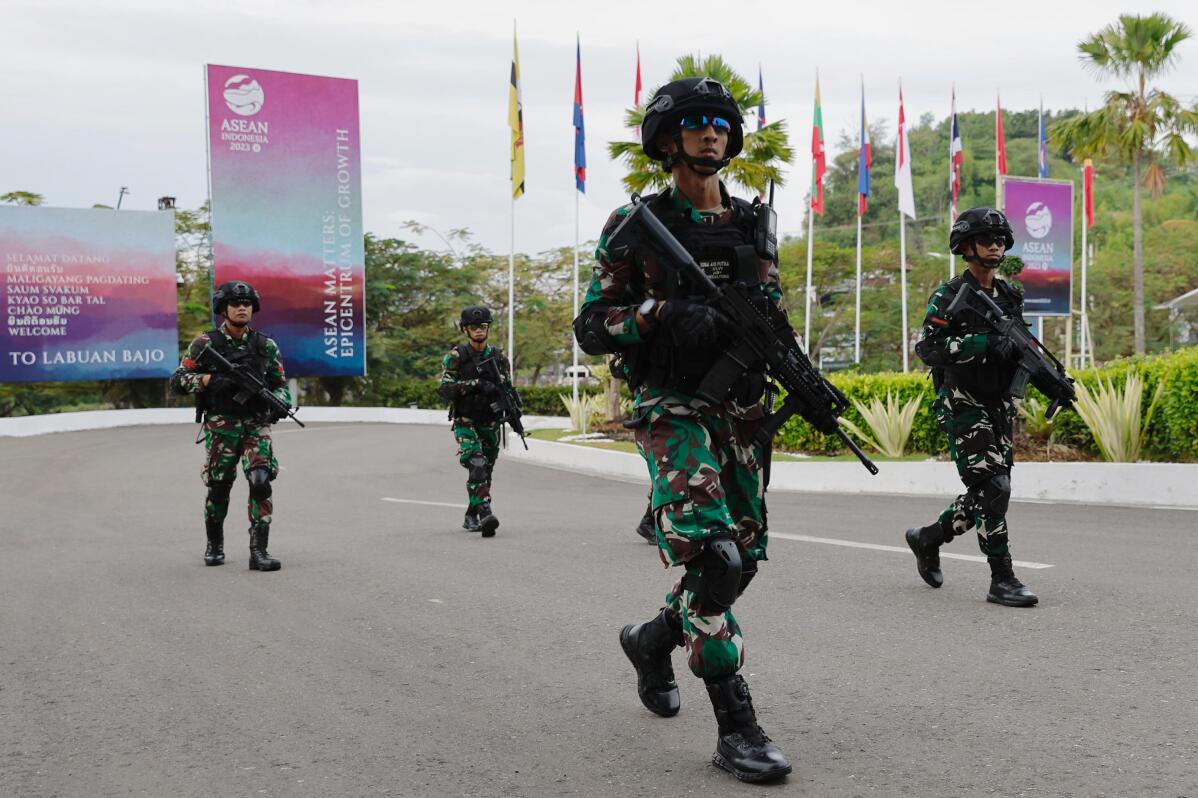 1 of 13

|
Indonesian Air Force commandos patrol Komodo Airport ahead of the 42nd Southeast the Association of Southeast Asian Nations meetings in Labuan Bajo, East Nusa Tenggara province, Indonesia, Tuesday, May 9, 2023. (Willy Kurniawan/Pool Photo via AP)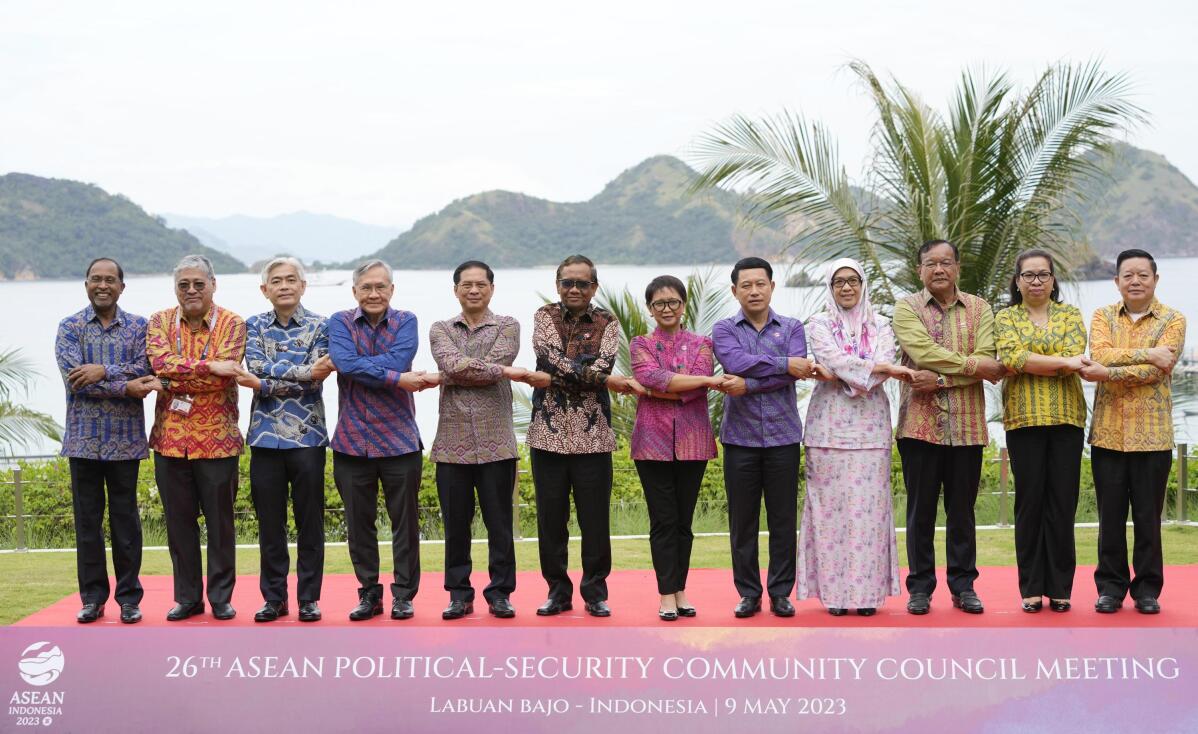 2 of 13

|
From left, Malaysia's Foreign Minister Zambry Abd Kadir, Philippines' Secretary of Foreign Affairs Enrique Manalo, Singapore's head of senior official delegate Albert Chua, Thailand's Foreign Minister Don Pramudwinai, Vietnam's Foreign Minister Bui Thanh Son, Indonesian Coordinating Political Legal and Security Affairs Minister Mahfud, Indonesia's Foreign Minister Retno Marsudi, Laos Foreign Minister Saleumxay Kommasith, Brunei's head of senior official delegate Johariah Wahab, Cambodia's Foreign Minister Prak Sokhonn, East Timor's Foreign Minister Adaljiza Magno and ASEAN Secretary-General Kao Kim Hourn hold hands as they pose for a photo during the Association of Southeast Asian Nations (ASEAN) political security community council meeting in Labuan Bajo, East Nusa Tenggara, Indonesia, Tuesday, May 9, 2023. (AP Photo/Achmad Ibrahim, Pool)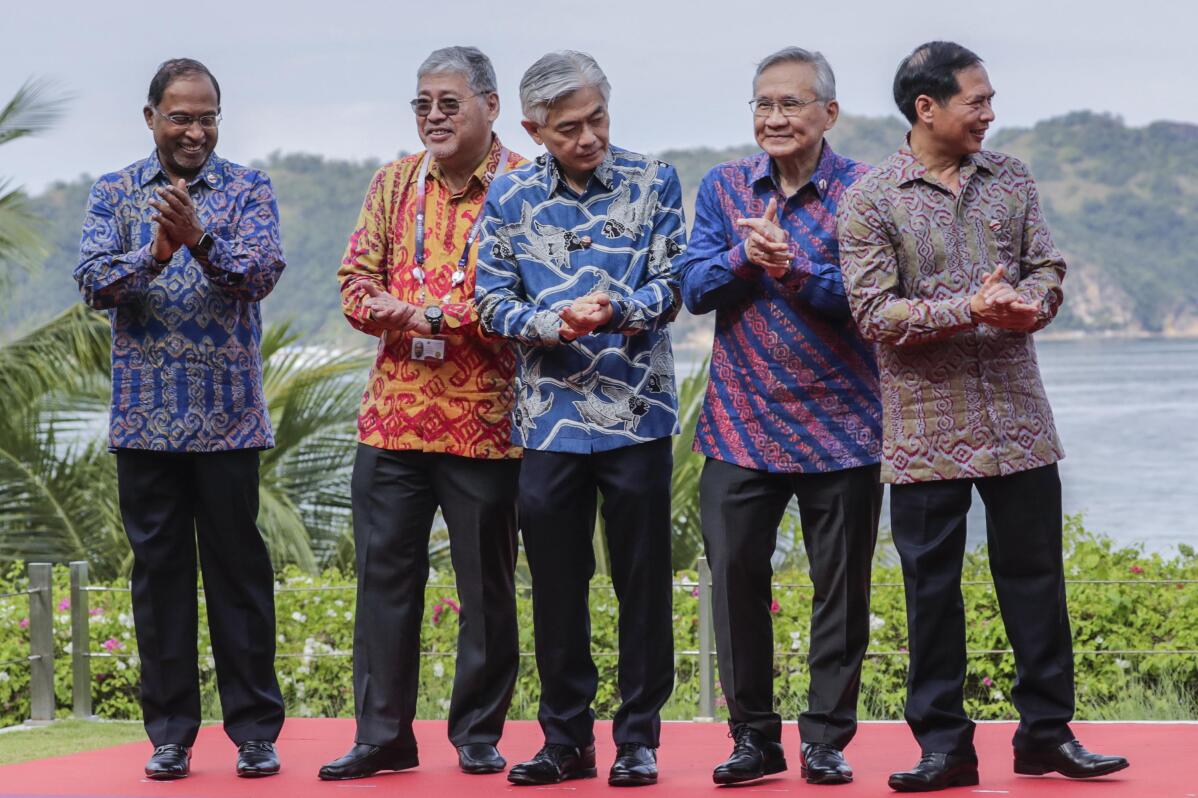 3 of 13

|
From left, Malaysia's Foreign Minister Zambry Abd Kadir, Philippines' Secretary of Foreign Affairs Enrique Manalo, Singapore's head of senior official delegate Albert Chua, Thailand's Foreign Minister Don Pramudwinai and Vietnam's Foreign Minister Bui Thanh Son applaude after a photo session during the Association of Southeast Asian Nations (ASEAN) Foreign Ministers' Meeting ahead of the 42nd ASEAN Summit in Labuan Bajo, East Nusa Tenggara, Indonesia, Tuesday, May 9, 2023. (Mast Irham/Pool Photo via AP)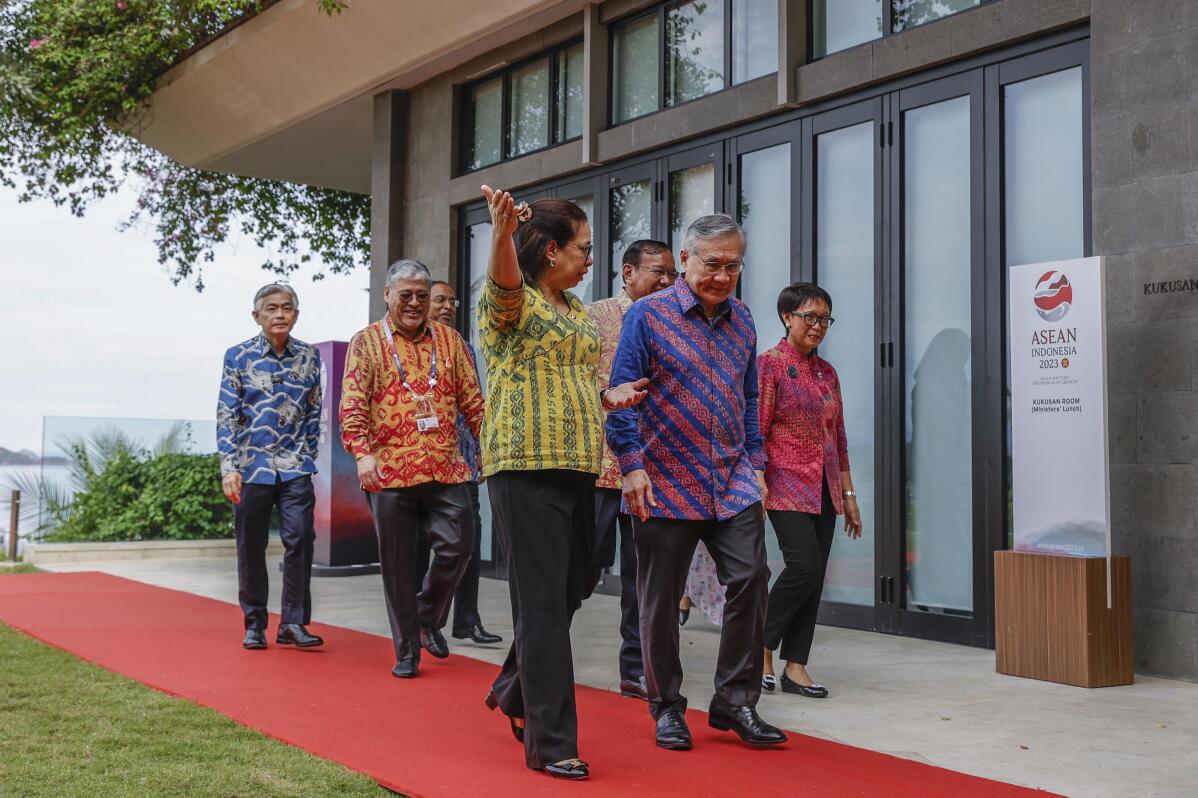 4 of 13

|
From left, Malaysia's Foreign senior official delegate Albert Chua, Philippines' Foreign Secretary Enrique Manalo, Malaysia's Foreign Minister Zambry Abd Kadir, East Timor's Foreign Minister Adaljiza Magno, Cambodia's Foreign Minister Prak Sokhonn, Thailand's Foreign Minister Don Pramudwinai and Indonesia's Foreign Minister Retno Marsudi walk after a photo session during the Association of Southeast Asian Nations (ASEAN) Foreign Ministers' Meeting ahead of the 42nd ASEAN Summit in Labuan Bajo, East Nusa Tenggara, Indonesia, Tuesday, May 9, 2023. (Mast Irham/Pool Photo via AP)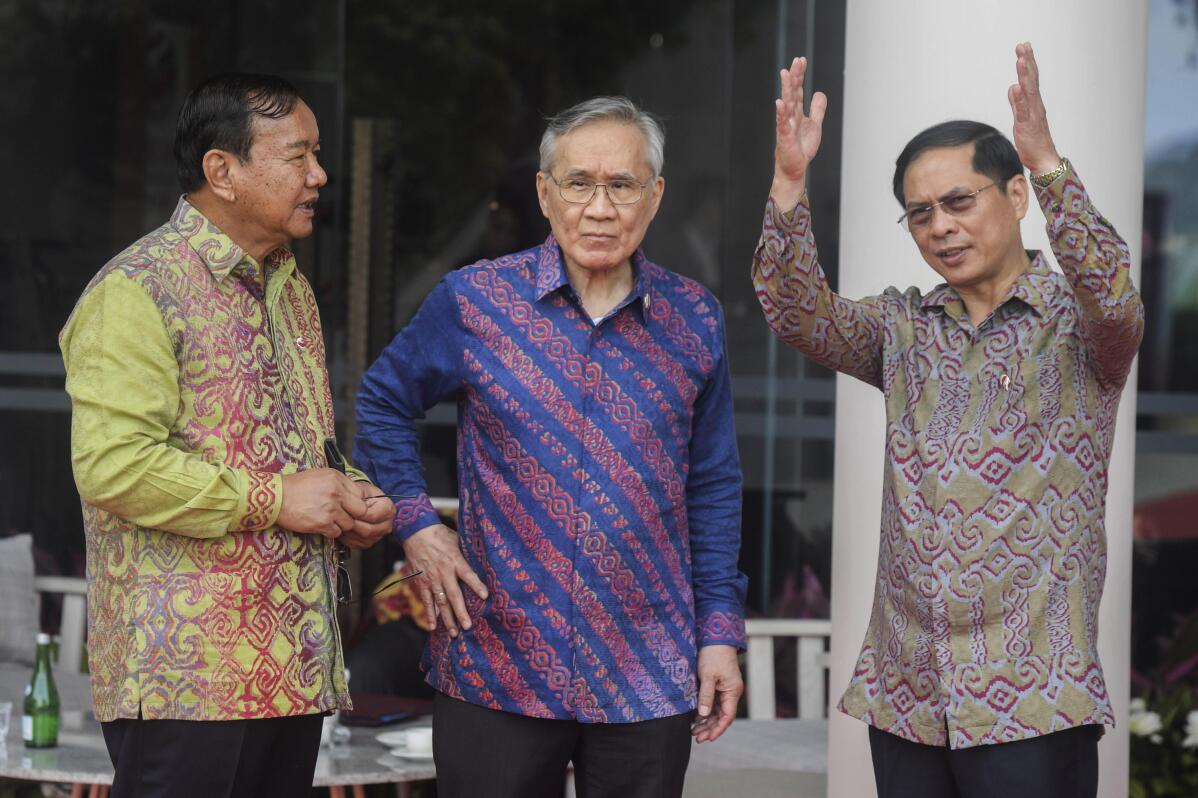 5 of 13

|
From left, Cambodia's Foreign Minister Prak Sokhonn, Thailand's Foreign Minister Don Pramudwinai and Lao's Foreign Minister Saleumxay Kommasith confer as they attend the Association of Southeast Asian Nations (ASEAN) Foreign Ministers' Meeting ahead of the 42nd ASEAN Summit in Labuan Bajo, East Nusa Tenggara, Indonesia, Tuesday, May 9, 2023. (Rivan Awal Lingga/Pool Photo via AP)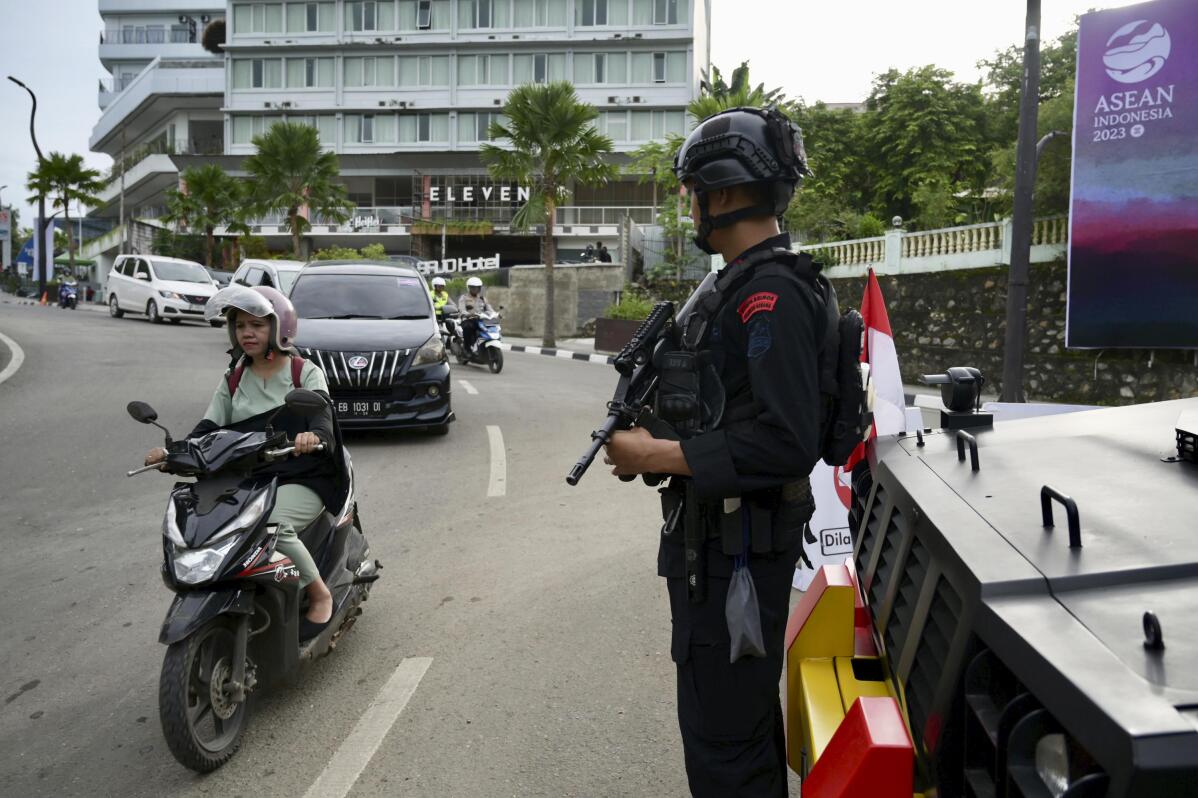 6 of 13

|
A police officer stands guard on roadside during the 42nd Southeast the Association of Southeast Asian Nations meetings in Labuan Bajo, Indonesia, Tuesday, May 9, 2023. (Bay Ismoyo/Pool Photo via AP)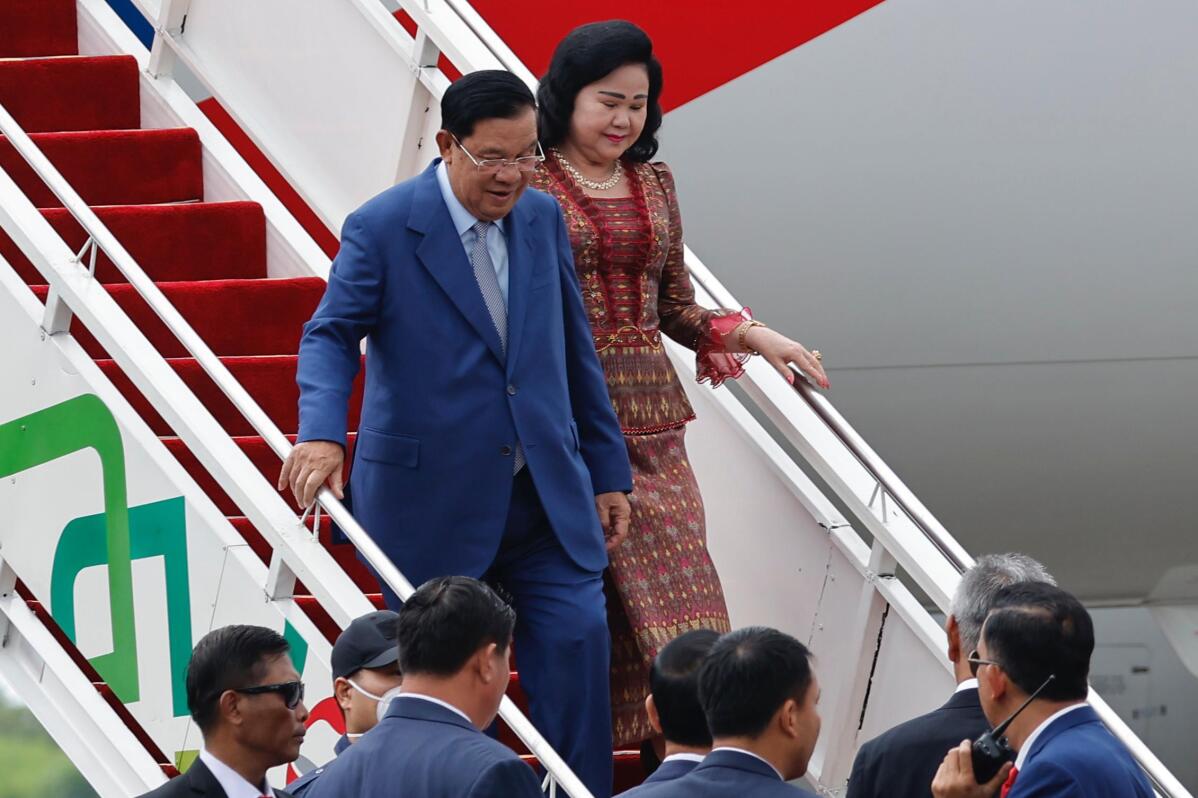 7 of 13

|
Cambodian Prime Minister Hun Sen, left, and his wife Bun Rany walk down the stairs of their plane upon arrival at Komodo International Airport ahead of the 42nd ASEAN Summit in Labuan Bajo, East Nusa Tenggara province, Indonesia, Tuesday, May 9, 2023. (Willy Kurniawan/Pool Photo via AP)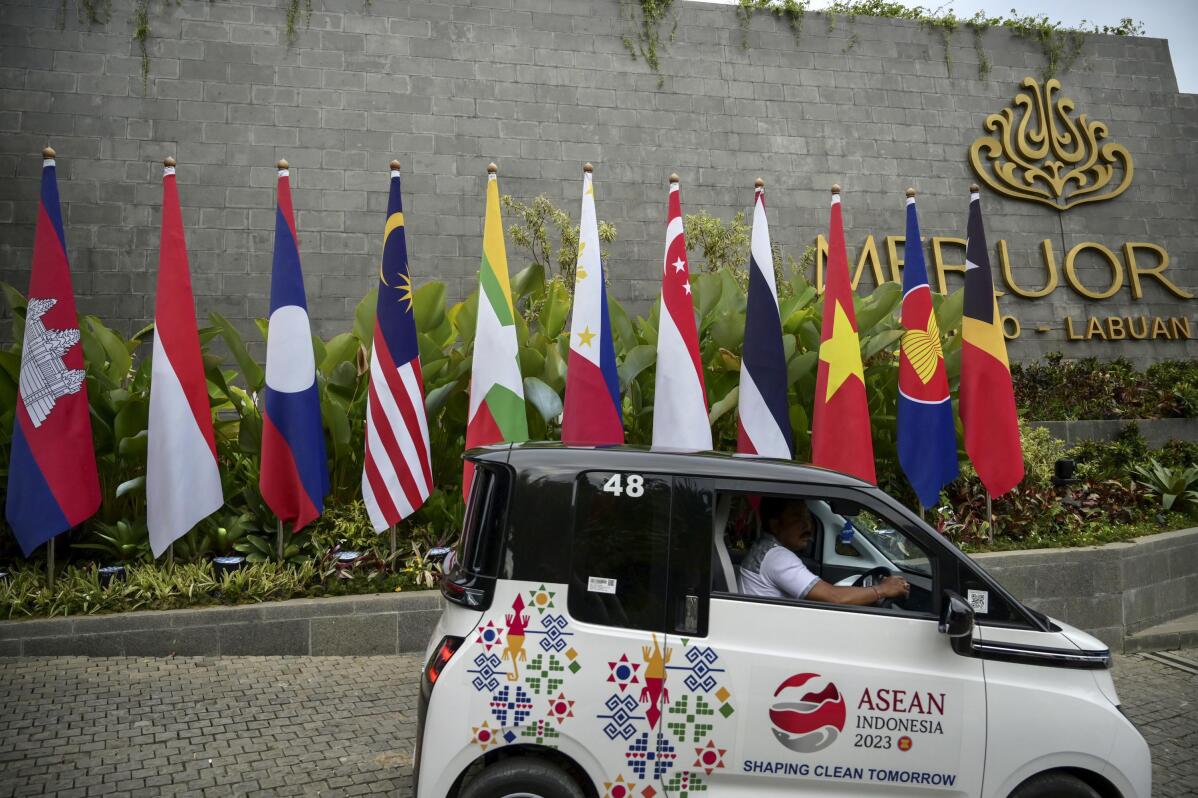 8 of 13

|
An electric vehicle moves past the flags of countries attending the Association of Southeast Asian Nations (ASEAN) meetings, displayed outside the main venue of the 42nd ASEAN Summit in Labuan Bajo, Indonesia, Tuesday, May 9, 2023. (Bay Ismoyo/Pool Photo via AP)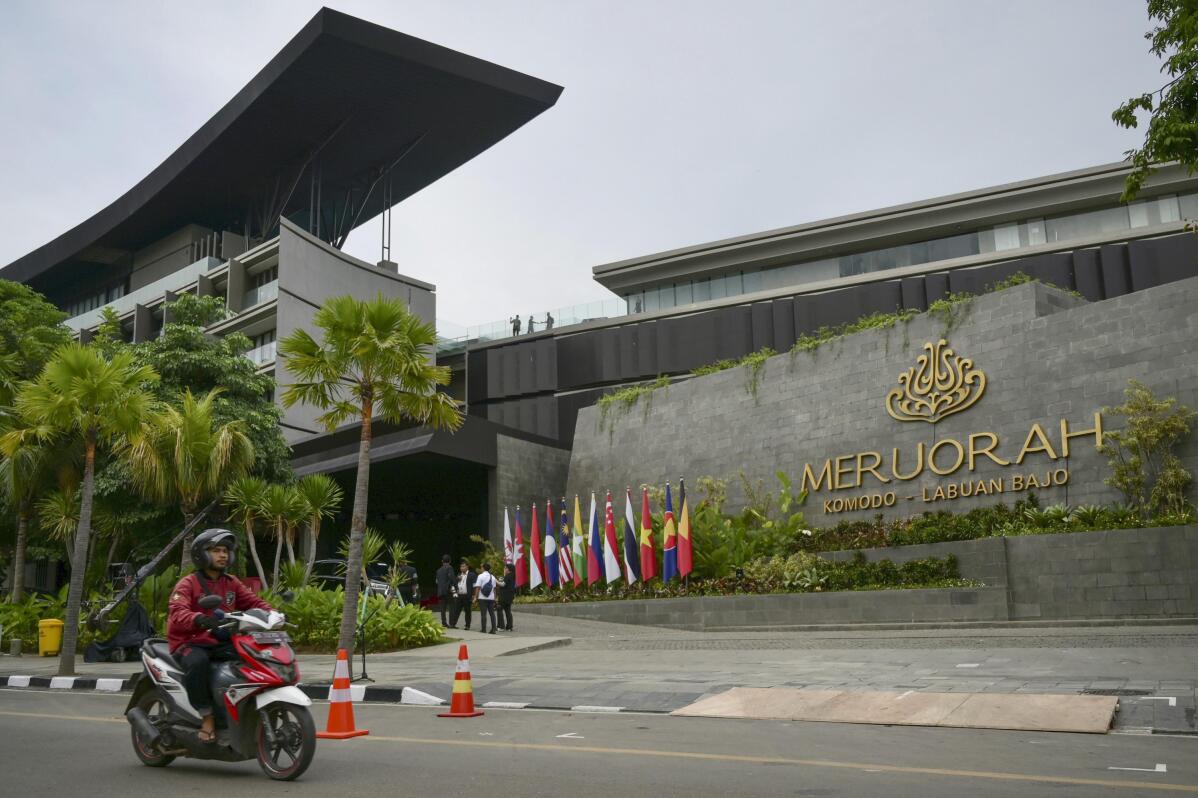 9 of 13

|
A motorist rides past the main venue of the 42nd Association of Southeast Asian Nations (ASEAN) meetings in Labuan Bajo, Indonesia, Tuesday, May 9, 2023. (Bay Ismoyo/Pool Photo via AP)
10 of 13

|
Soldiers observe a view from an elevated area near the venue of the 42nd Association of Southeast Asian Nations (ASEAN) meetings in Labuan Bajo, Indonesia, Tuesday, May 9, 2023. (Bay Ismoyo/Pool Photo via AP)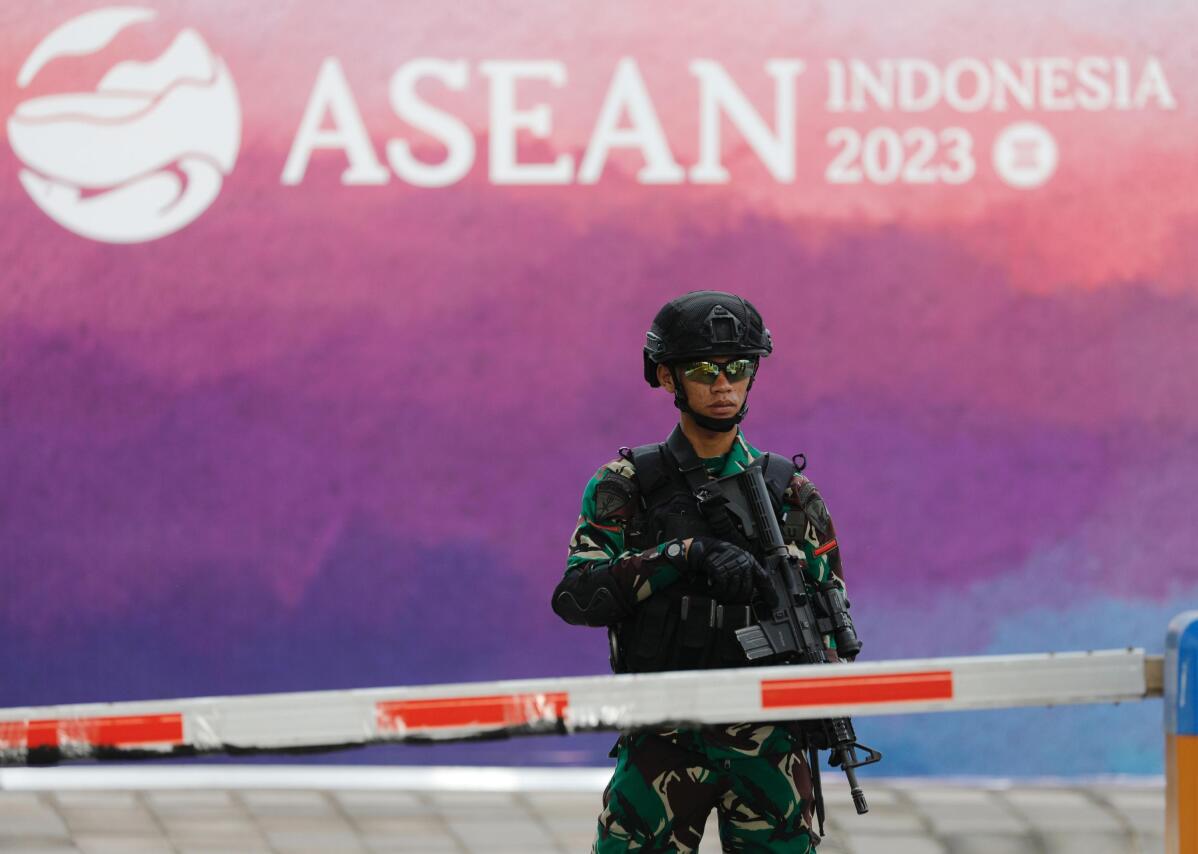 11 of 13

|
An Indonesian Air Force commando stands guard at Komodo Airport ahead of the 42nd Southeast the Association of Southeast Asian Nations meetings in Labuan Bajo, East Nusa Tenggara province, Indonesia, Tuesday, May 9, 2023. (Willy Kurniawan/Pool Photo via AP)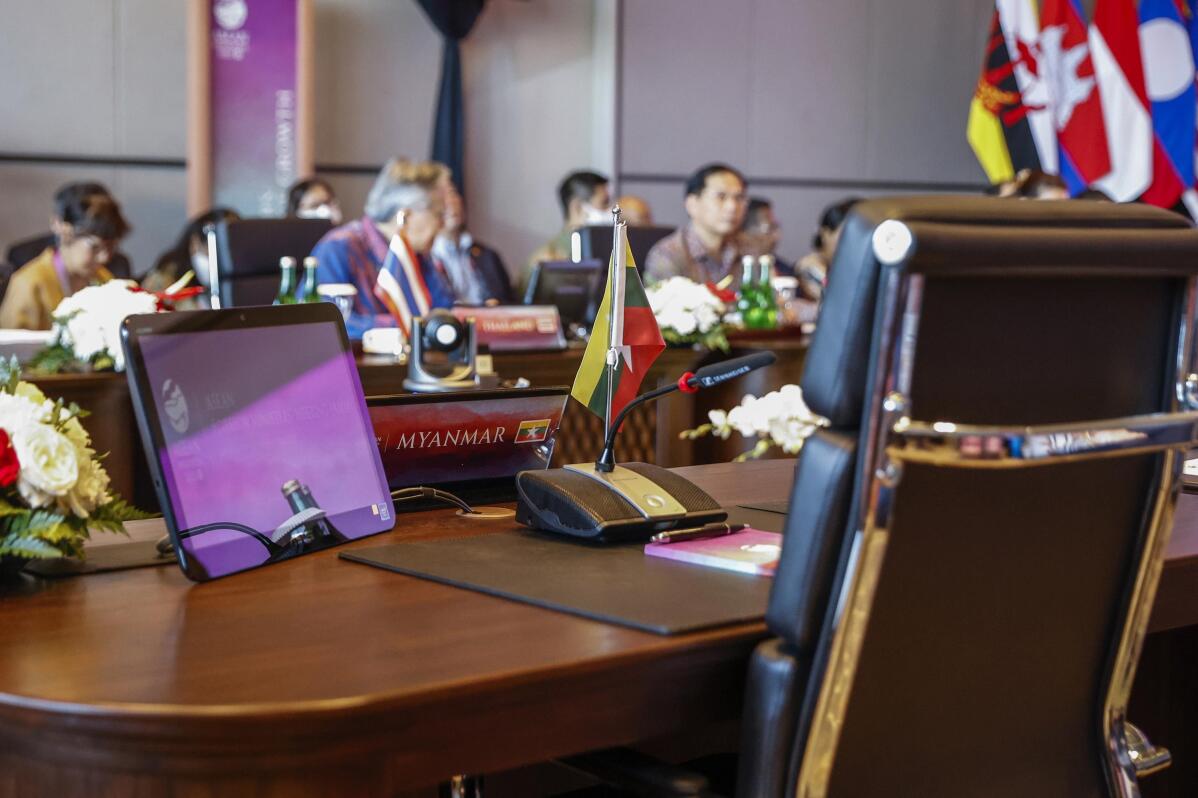 12 of 13

|
The desk reserved for a Myanmar delegate is left unoccupied during the Association of Southeast Asian Nations (ASEAN) Foreign Ministers' Meeting ahead of the 42nd ASEAN Summit in Labuan Bajo, East Nusa Tenggara, Indonesia, Tuesday, May 9, 2023. (Mast Irham/Pool Photo via AP)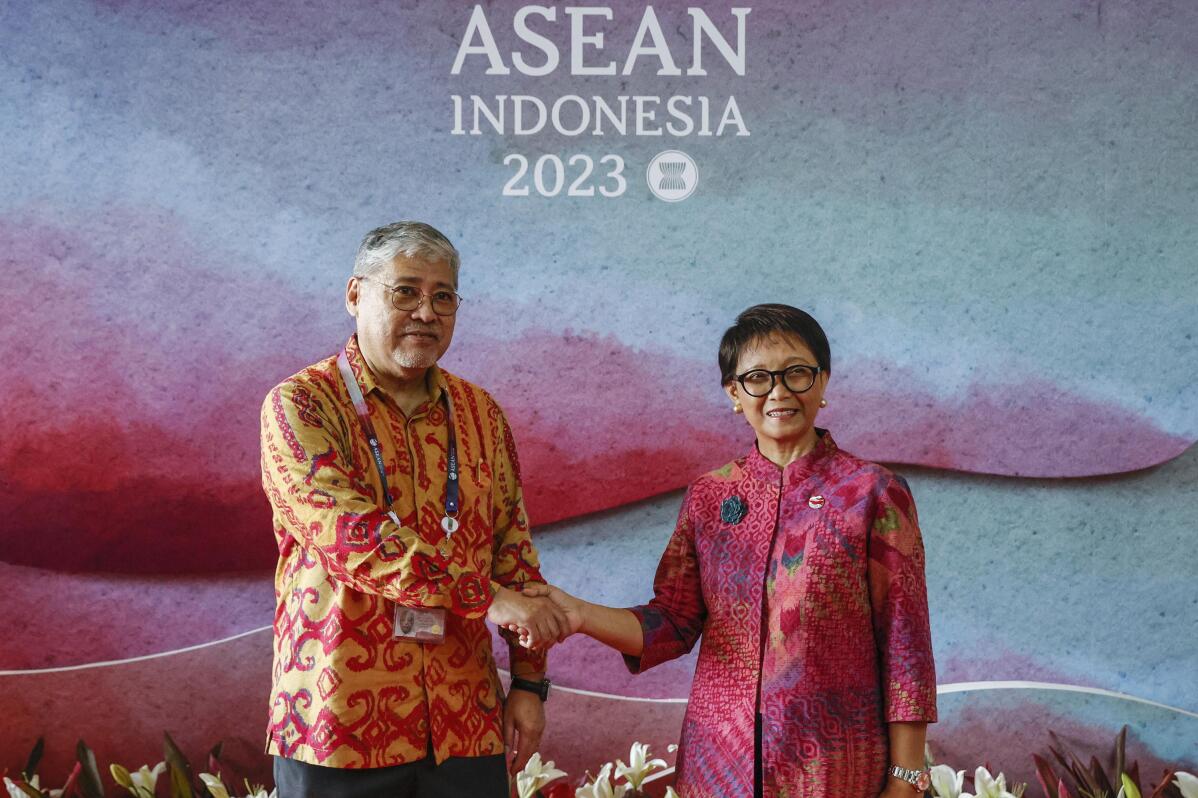 13 of 13

|
Indonesian Foreign Minister Retno Marsudi, right, greets Philippine's Foreign Secretary Enrique Manalo during the Association of Southeast Asian Nations (ASEAN) Foreign Ministers' Meeting ahead of the 42nd ASEAN Summit in Labuan Bajo, East Nusa Tenggara, Indonesia, Tuesday, May 9, 2023. (Mast Irham/Pool Photo via AP)
Myanmar violence, sea feud are tough challenges for ASEAN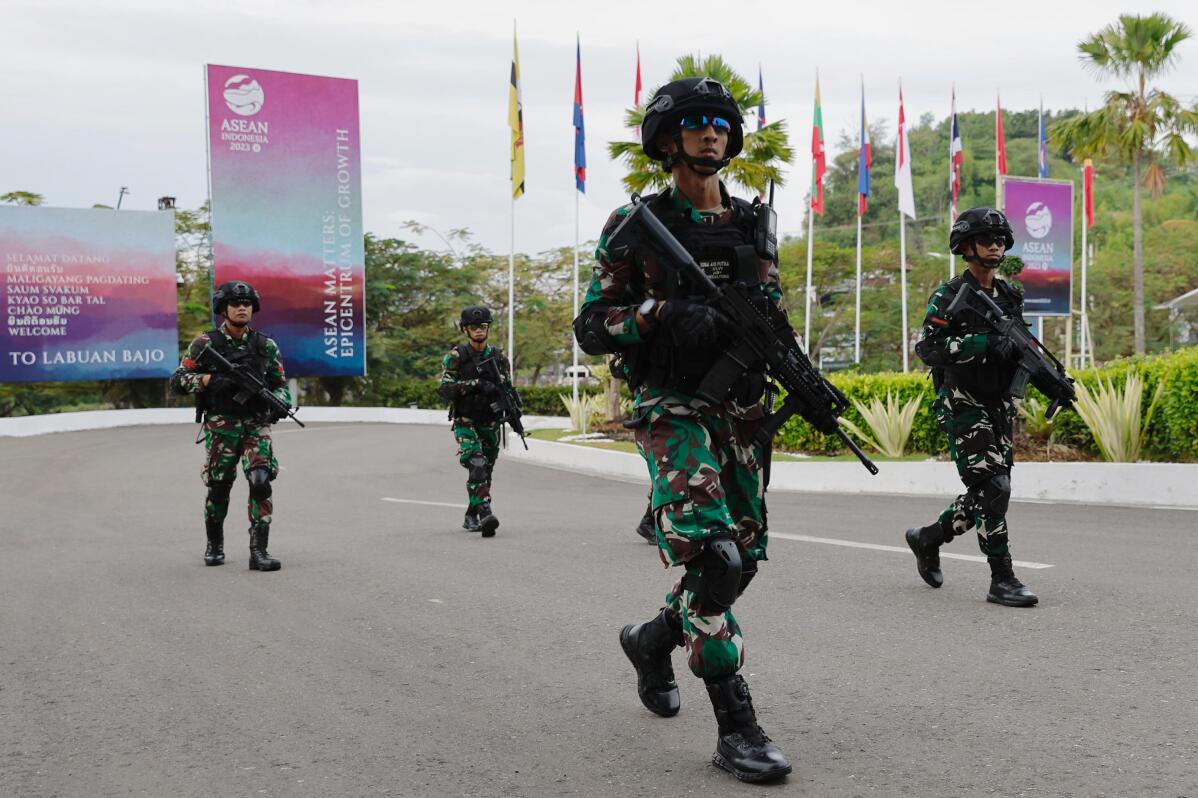 1 of 13

|
Indonesian Air Force commandos patrol Komodo Airport ahead of the 42nd Southeast the Association of Southeast Asian Nations meetings in Labuan Bajo, East Nusa Tenggara province, Indonesia, Tuesday, May 9, 2023. (Willy Kurniawan/Pool Photo via AP)
1 of 13
Indonesian Air Force commandos patrol Komodo Airport ahead of the 42nd Southeast the Association of Southeast Asian Nations meetings in Labuan Bajo, East Nusa Tenggara province, Indonesia, Tuesday, May 9, 2023. (Willy Kurniawan/Pool Photo via AP)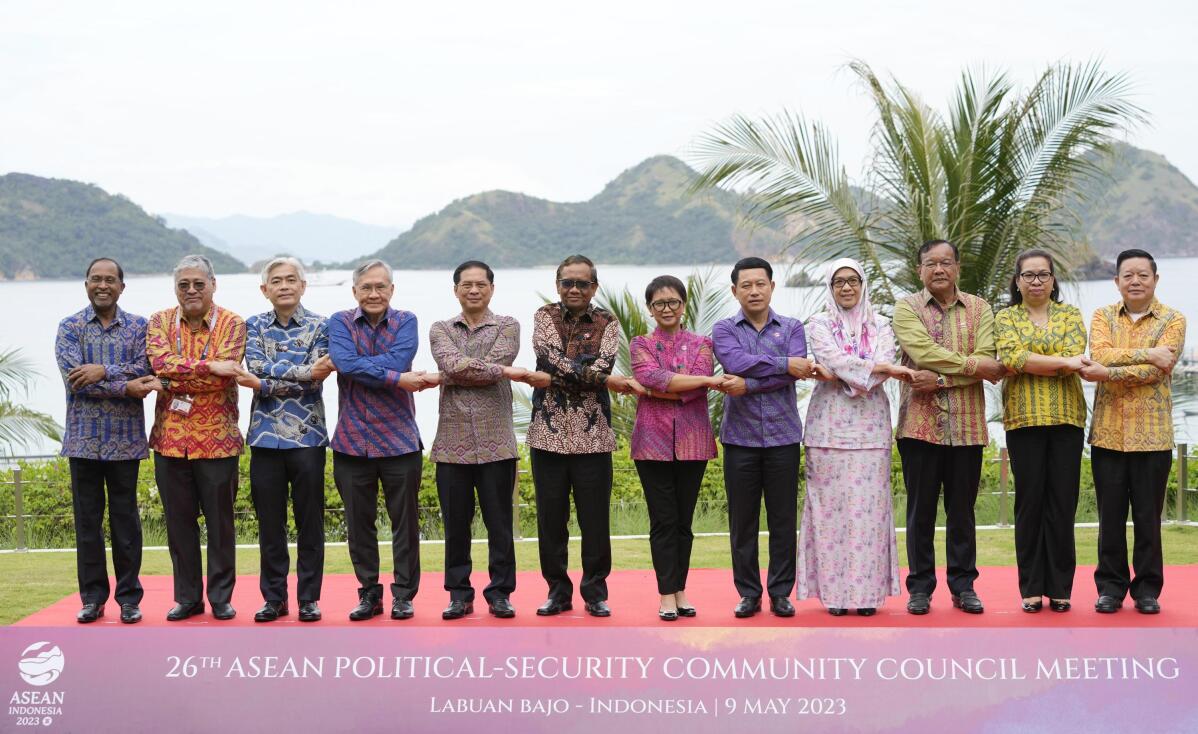 2 of 13

|
From left, Malaysia's Foreign Minister Zambry Abd Kadir, Philippines' Secretary of Foreign Affairs Enrique Manalo, Singapore's head of senior official delegate Albert Chua, Thailand's Foreign Minister Don Pramudwinai, Vietnam's Foreign Minister Bui Thanh Son, Indonesian Coordinating Political Legal and Security Affairs Minister Mahfud, Indonesia's Foreign Minister Retno Marsudi, Laos Foreign Minister Saleumxay Kommasith, Brunei's head of senior official delegate Johariah Wahab, Cambodia's Foreign Minister Prak Sokhonn, East Timor's Foreign Minister Adaljiza Magno and ASEAN Secretary-General Kao Kim Hourn hold hands as they pose for a photo during the Association of Southeast Asian Nations (ASEAN) political security community council meeting in Labuan Bajo, East Nusa Tenggara, Indonesia, Tuesday, May 9, 2023. (AP Photo/Achmad Ibrahim, Pool)
2 of 13
From left, Malaysia's Foreign Minister Zambry Abd Kadir, Philippines' Secretary of Foreign Affairs Enrique Manalo, Singapore's head of senior official delegate Albert Chua, Thailand's Foreign Minister Don Pramudwinai, Vietnam's Foreign Minister Bui Thanh Son, Indonesian Coordinating Political Legal and Security Affairs Minister Mahfud, Indonesia's Foreign Minister Retno Marsudi, Laos Foreign Minister Saleumxay Kommasith, Brunei's head of senior official delegate Johariah Wahab, Cambodia's Foreign Minister Prak Sokhonn, East Timor's Foreign Minister Adaljiza Magno and ASEAN Secretary-General Kao Kim Hourn hold hands as they pose for a photo during the Association of Southeast Asian Nations (ASEAN) political security community council meeting in Labuan Bajo, East Nusa Tenggara, Indonesia, Tuesday, May 9, 2023. (AP Photo/Achmad Ibrahim, Pool)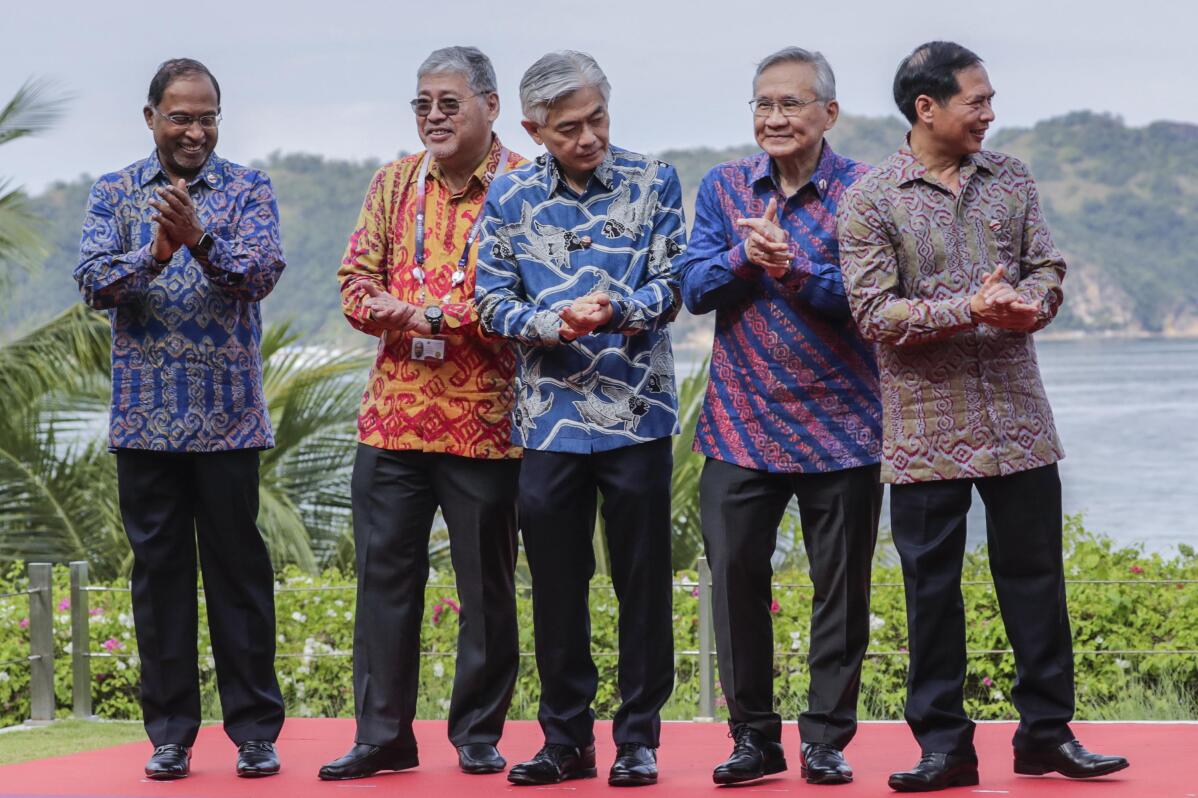 3 of 13

|
From left, Malaysia's Foreign Minister Zambry Abd Kadir, Philippines' Secretary of Foreign Affairs Enrique Manalo, Singapore's head of senior official delegate Albert Chua, Thailand's Foreign Minister Don Pramudwinai and Vietnam's Foreign Minister Bui Thanh Son applaude after a photo session during the Association of Southeast Asian Nations (ASEAN) Foreign Ministers' Meeting ahead of the 42nd ASEAN Summit in Labuan Bajo, East Nusa Tenggara, Indonesia, Tuesday, May 9, 2023. (Mast Irham/Pool Photo via AP)
3 of 13
From left, Malaysia's Foreign Minister Zambry Abd Kadir, Philippines' Secretary of Foreign Affairs Enrique Manalo, Singapore's head of senior official delegate Albert Chua, Thailand's Foreign Minister Don Pramudwinai and Vietnam's Foreign Minister Bui Thanh Son applaude after a photo session during the Association of Southeast Asian Nations (ASEAN) Foreign Ministers' Meeting ahead of the 42nd ASEAN Summit in Labuan Bajo, East Nusa Tenggara, Indonesia, Tuesday, May 9, 2023. (Mast Irham/Pool Photo via AP)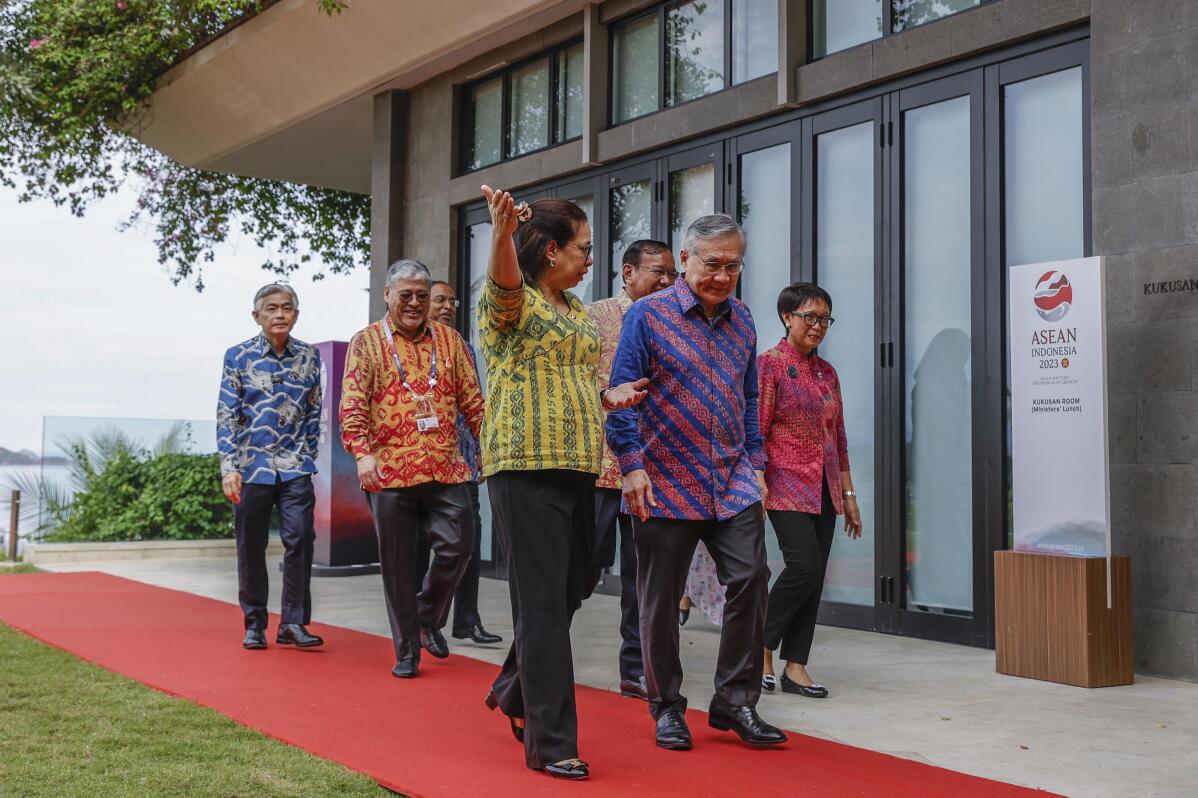 4 of 13

|
From left, Malaysia's Foreign senior official delegate Albert Chua, Philippines' Foreign Secretary Enrique Manalo, Malaysia's Foreign Minister Zambry Abd Kadir, East Timor's Foreign Minister Adaljiza Magno, Cambodia's Foreign Minister Prak Sokhonn, Thailand's Foreign Minister Don Pramudwinai and Indonesia's Foreign Minister Retno Marsudi walk after a photo session during the Association of Southeast Asian Nations (ASEAN) Foreign Ministers' Meeting ahead of the 42nd ASEAN Summit in Labuan Bajo, East Nusa Tenggara, Indonesia, Tuesday, May 9, 2023. (Mast Irham/Pool Photo via AP)
4 of 13
From left, Malaysia's Foreign senior official delegate Albert Chua, Philippines' Foreign Secretary Enrique Manalo, Malaysia's Foreign Minister Zambry Abd Kadir, East Timor's Foreign Minister Adaljiza Magno, Cambodia's Foreign Minister Prak Sokhonn, Thailand's Foreign Minister Don Pramudwinai and Indonesia's Foreign Minister Retno Marsudi walk after a photo session during the Association of Southeast Asian Nations (ASEAN) Foreign Ministers' Meeting ahead of the 42nd ASEAN Summit in Labuan Bajo, East Nusa Tenggara, Indonesia, Tuesday, May 9, 2023. (Mast Irham/Pool Photo via AP)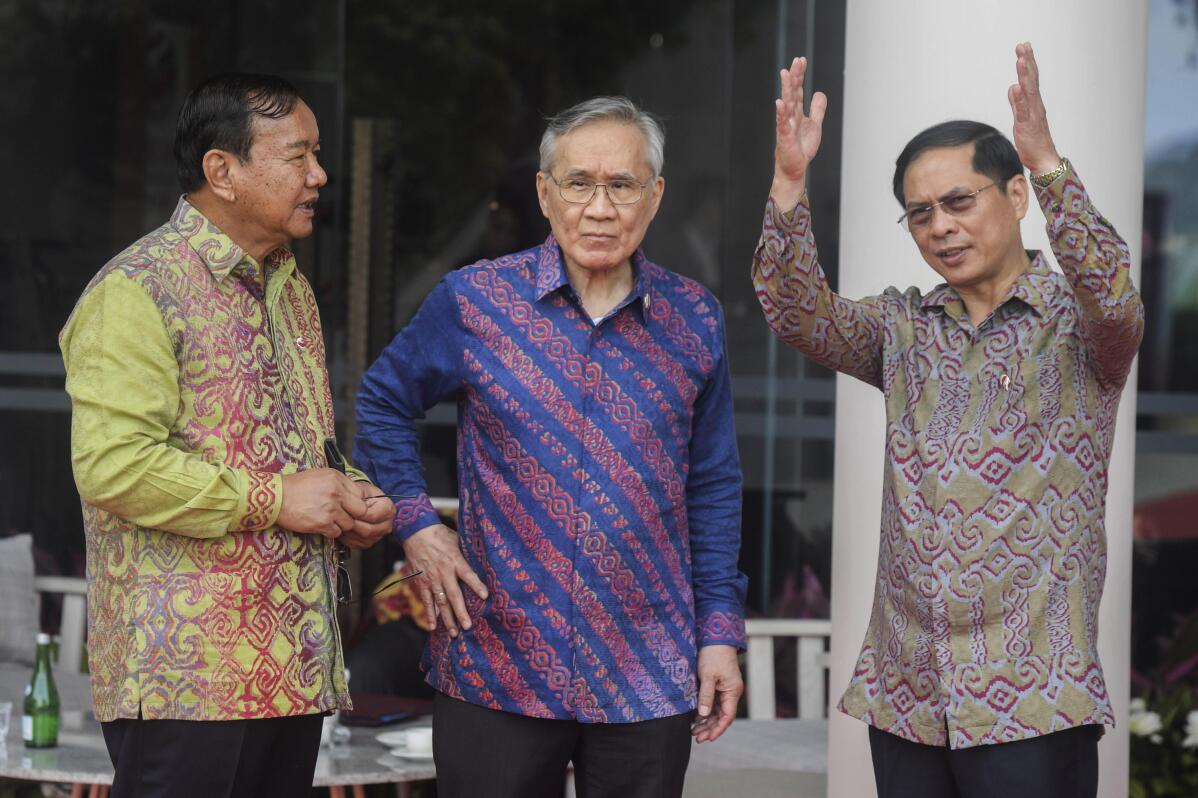 5 of 13

|
From left, Cambodia's Foreign Minister Prak Sokhonn, Thailand's Foreign Minister Don Pramudwinai and Lao's Foreign Minister Saleumxay Kommasith confer as they attend the Association of Southeast Asian Nations (ASEAN) Foreign Ministers' Meeting ahead of the 42nd ASEAN Summit in Labuan Bajo, East Nusa Tenggara, Indonesia, Tuesday, May 9, 2023. (Rivan Awal Lingga/Pool Photo via AP)
5 of 13
From left, Cambodia's Foreign Minister Prak Sokhonn, Thailand's Foreign Minister Don Pramudwinai and Lao's Foreign Minister Saleumxay Kommasith confer as they attend the Association of Southeast Asian Nations (ASEAN) Foreign Ministers' Meeting ahead of the 42nd ASEAN Summit in Labuan Bajo, East Nusa Tenggara, Indonesia, Tuesday, May 9, 2023. (Rivan Awal Lingga/Pool Photo via AP)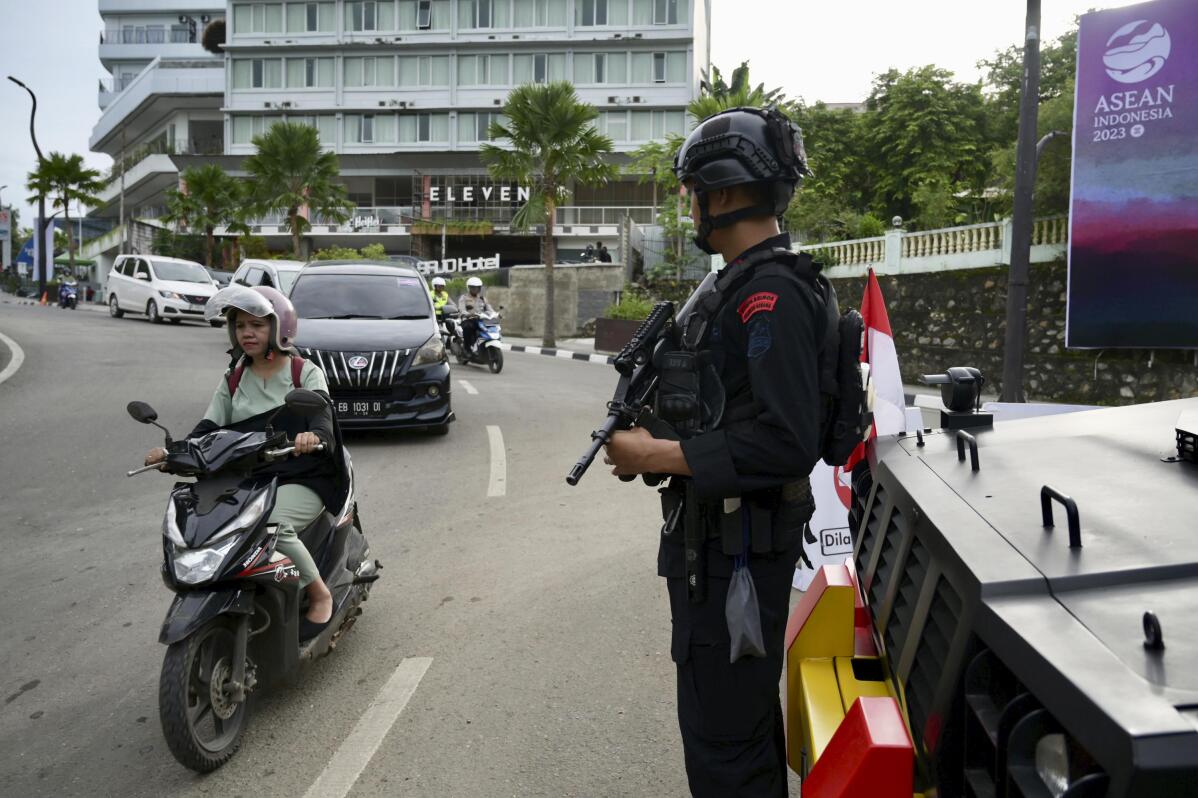 6 of 13

|
A police officer stands guard on roadside during the 42nd Southeast the Association of Southeast Asian Nations meetings in Labuan Bajo, Indonesia, Tuesday, May 9, 2023. (Bay Ismoyo/Pool Photo via AP)
6 of 13
A police officer stands guard on roadside during the 42nd Southeast the Association of Southeast Asian Nations meetings in Labuan Bajo, Indonesia, Tuesday, May 9, 2023. (Bay Ismoyo/Pool Photo via AP)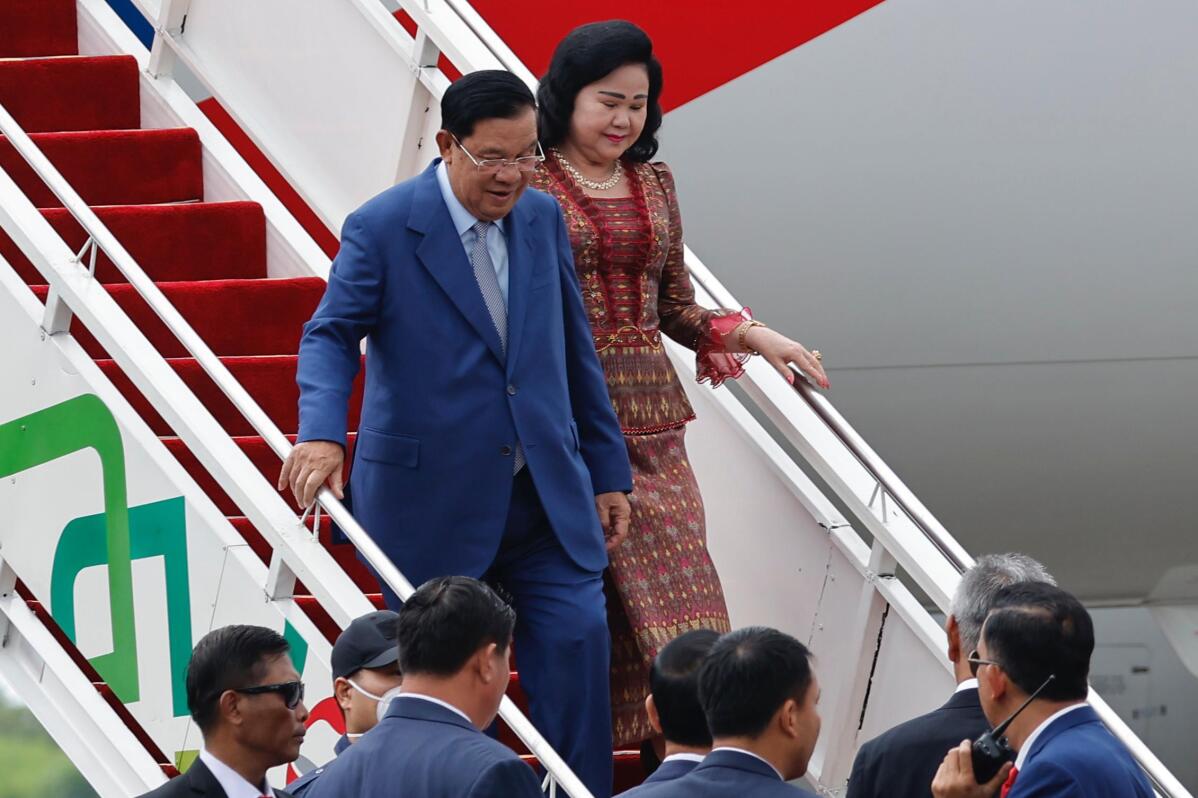 7 of 13

|
Cambodian Prime Minister Hun Sen, left, and his wife Bun Rany walk down the stairs of their plane upon arrival at Komodo International Airport ahead of the 42nd ASEAN Summit in Labuan Bajo, East Nusa Tenggara province, Indonesia, Tuesday, May 9, 2023. (Willy Kurniawan/Pool Photo via AP)
7 of 13
Cambodian Prime Minister Hun Sen, left, and his wife Bun Rany walk down the stairs of their plane upon arrival at Komodo International Airport ahead of the 42nd ASEAN Summit in Labuan Bajo, East Nusa Tenggara province, Indonesia, Tuesday, May 9, 2023. (Willy Kurniawan/Pool Photo via AP)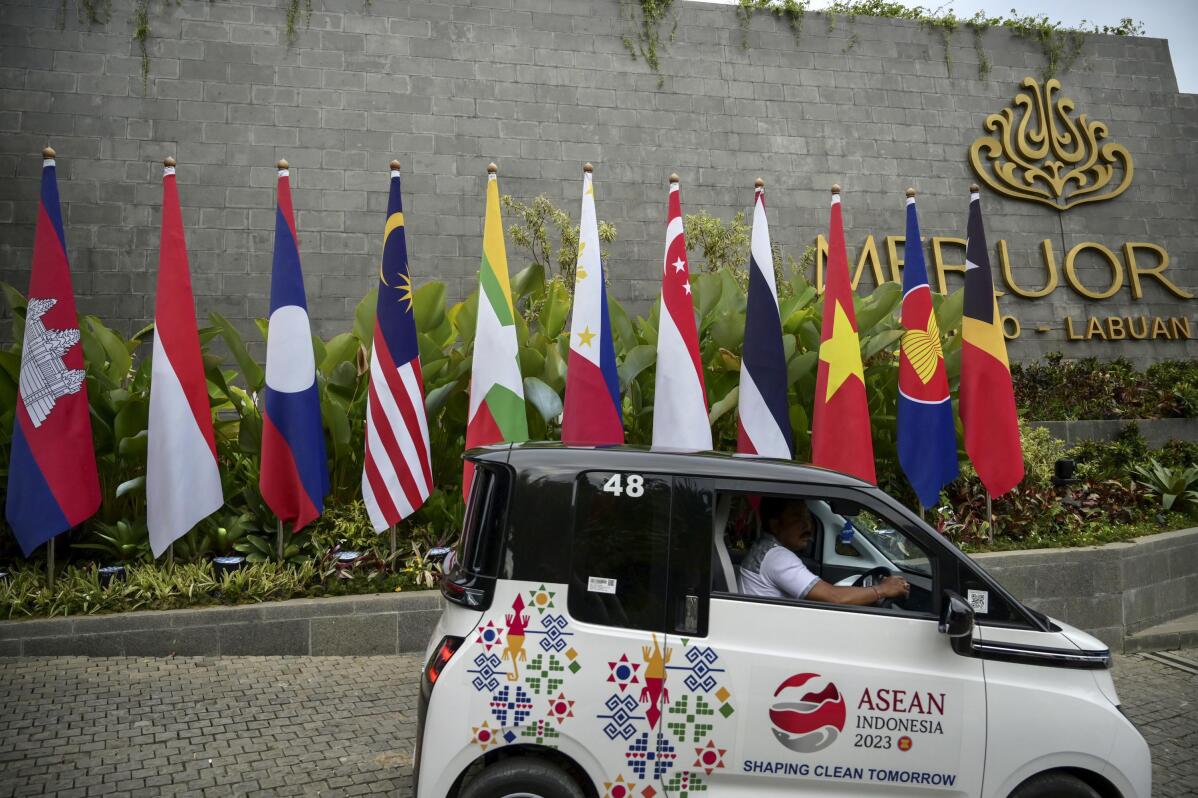 8 of 13

|
An electric vehicle moves past the flags of countries attending the Association of Southeast Asian Nations (ASEAN) meetings, displayed outside the main venue of the 42nd ASEAN Summit in Labuan Bajo, Indonesia, Tuesday, May 9, 2023. (Bay Ismoyo/Pool Photo via AP)
8 of 13
An electric vehicle moves past the flags of countries attending the Association of Southeast Asian Nations (ASEAN) meetings, displayed outside the main venue of the 42nd ASEAN Summit in Labuan Bajo, Indonesia, Tuesday, May 9, 2023. (Bay Ismoyo/Pool Photo via AP)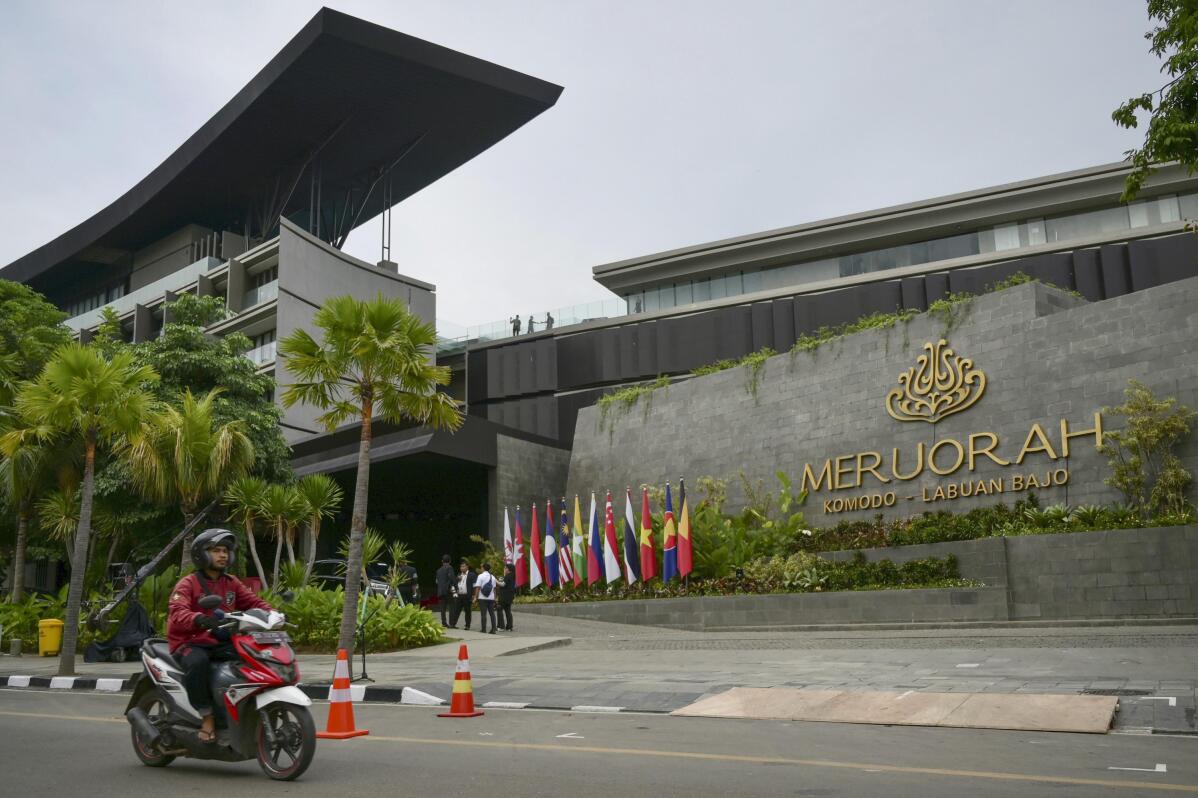 9 of 13

|
A motorist rides past the main venue of the 42nd Association of Southeast Asian Nations (ASEAN) meetings in Labuan Bajo, Indonesia, Tuesday, May 9, 2023. (Bay Ismoyo/Pool Photo via AP)
9 of 13
A motorist rides past the main venue of the 42nd Association of Southeast Asian Nations (ASEAN) meetings in Labuan Bajo, Indonesia, Tuesday, May 9, 2023. (Bay Ismoyo/Pool Photo via AP)
10 of 13

|
Soldiers observe a view from an elevated area near the venue of the 42nd Association of Southeast Asian Nations (ASEAN) meetings in Labuan Bajo, Indonesia, Tuesday, May 9, 2023. (Bay Ismoyo/Pool Photo via AP)
10 of 13
Soldiers observe a view from an elevated area near the venue of the 42nd Association of Southeast Asian Nations (ASEAN) meetings in Labuan Bajo, Indonesia, Tuesday, May 9, 2023. (Bay Ismoyo/Pool Photo via AP)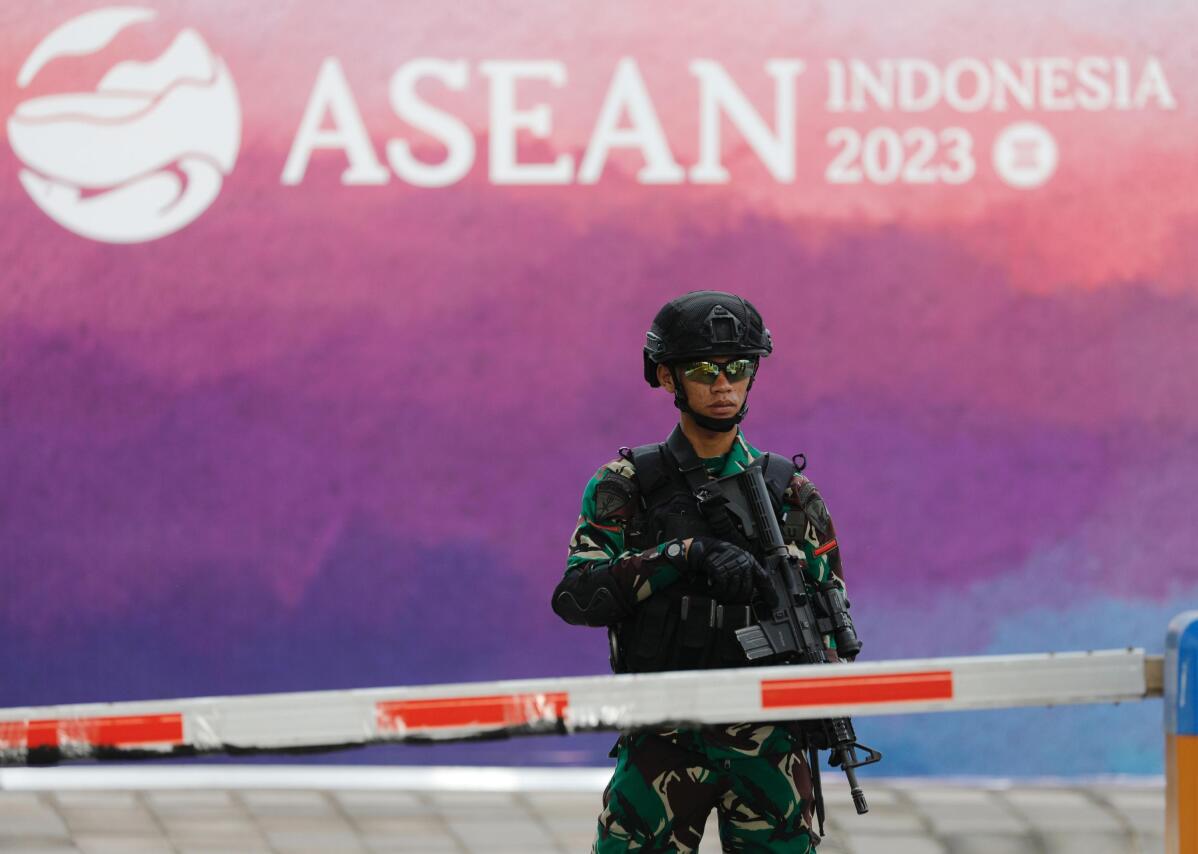 11 of 13

|
An Indonesian Air Force commando stands guard at Komodo Airport ahead of the 42nd Southeast the Association of Southeast Asian Nations meetings in Labuan Bajo, East Nusa Tenggara province, Indonesia, Tuesday, May 9, 2023. (Willy Kurniawan/Pool Photo via AP)
11 of 13
An Indonesian Air Force commando stands guard at Komodo Airport ahead of the 42nd Southeast the Association of Southeast Asian Nations meetings in Labuan Bajo, East Nusa Tenggara province, Indonesia, Tuesday, May 9, 2023. (Willy Kurniawan/Pool Photo via AP)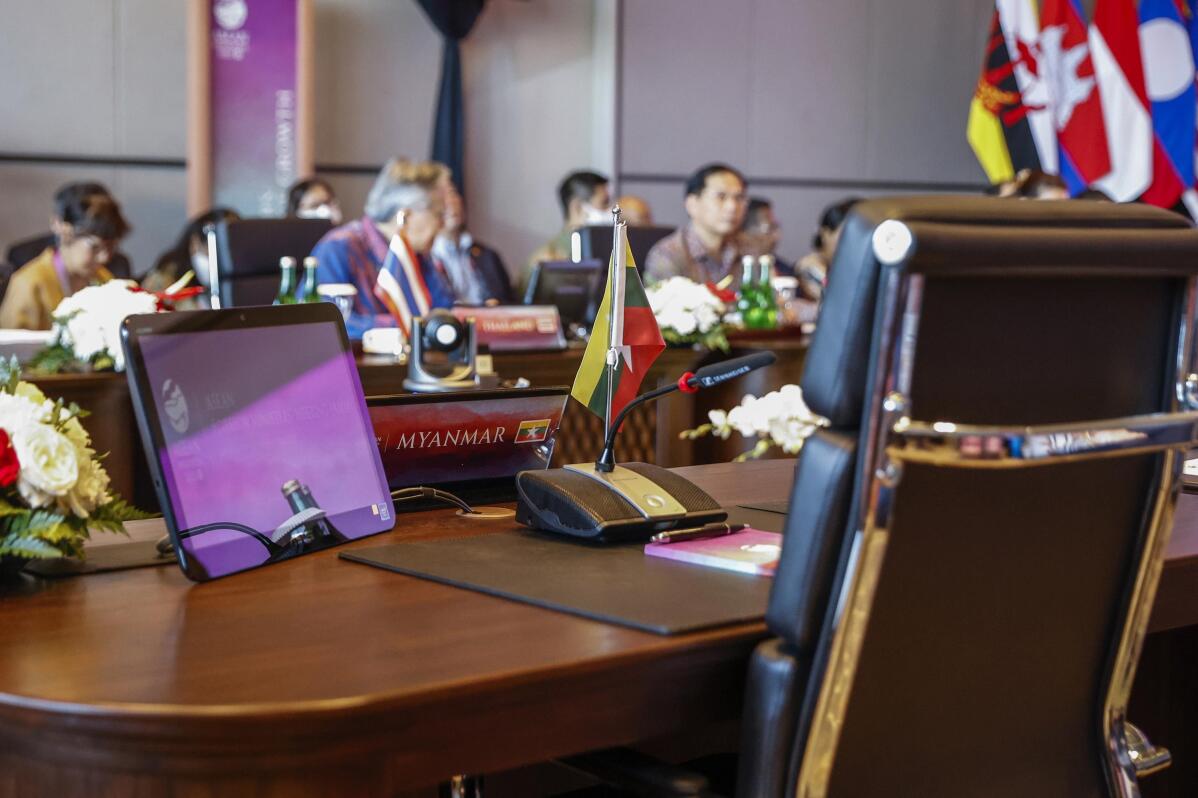 12 of 13

|
The desk reserved for a Myanmar delegate is left unoccupied during the Association of Southeast Asian Nations (ASEAN) Foreign Ministers' Meeting ahead of the 42nd ASEAN Summit in Labuan Bajo, East Nusa Tenggara, Indonesia, Tuesday, May 9, 2023. (Mast Irham/Pool Photo via AP)
12 of 13
The desk reserved for a Myanmar delegate is left unoccupied during the Association of Southeast Asian Nations (ASEAN) Foreign Ministers' Meeting ahead of the 42nd ASEAN Summit in Labuan Bajo, East Nusa Tenggara, Indonesia, Tuesday, May 9, 2023. (Mast Irham/Pool Photo via AP)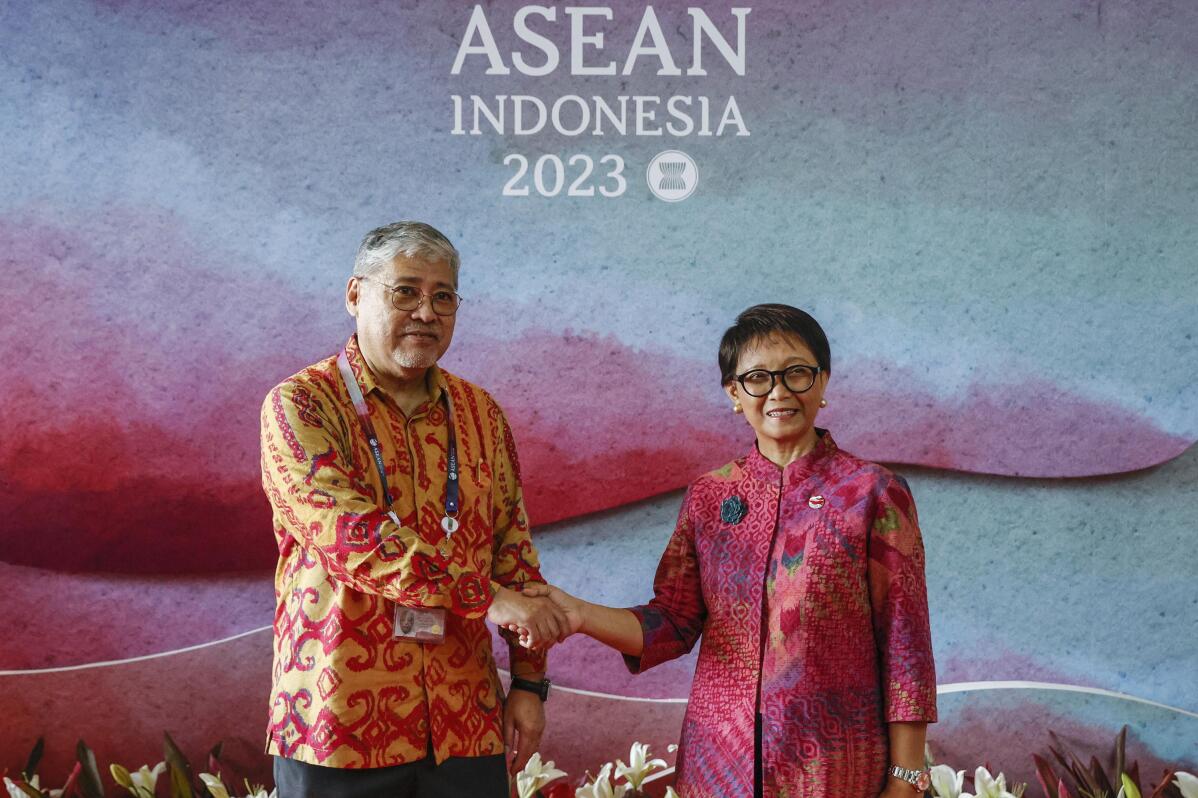 13 of 13

|
Indonesian Foreign Minister Retno Marsudi, right, greets Philippine's Foreign Secretary Enrique Manalo during the Association of Southeast Asian Nations (ASEAN) Foreign Ministers' Meeting ahead of the 42nd ASEAN Summit in Labuan Bajo, East Nusa Tenggara, Indonesia, Tuesday, May 9, 2023. (Mast Irham/Pool Photo via AP)
13 of 13
Indonesian Foreign Minister Retno Marsudi, right, greets Philippine's Foreign Secretary Enrique Manalo during the Association of Southeast Asian Nations (ASEAN) Foreign Ministers' Meeting ahead of the 42nd ASEAN Summit in Labuan Bajo, East Nusa Tenggara, Indonesia, Tuesday, May 9, 2023. (Mast Irham/Pool Photo via AP)
LABUAN BAJO, Indonesia (AP) — Alarm over Myanmar's still-unfolding deadly civil strife, including an armed attack on an aid convoy, and China's aggressive actions in the disputed South China Sea are expected to challenge Southeast Asian leaders' commitments to non-interference and consensus decision-making as they meet in Indonesia this week.
Top diplomats of the Association of Southeast Asian Nations convened Tuesday in the resort town of Labuan Bajo to finalize the agenda ahead of the two-day summit of the 10-nation bloc's heads of state.
The United States and China are not part of the twice-yearly summit, but their escalating rivalry looms large over the high-profile Asian gathering. Beijing has warned that U.S. efforts to strengthen security alliances and intensify combat-readiness drills with Asian allies would endanger regional stability.
Founded during the Cold War in 1967, ASEAN has avoided getting entangled in major-power competition as a bloc. But its diverse members are often involved in partnerships and disputes with superpowers. They range from authoritarian Cambodia, Laos and Myanmar, which are closely aligned with Beijing, to liberal democracies like the Philippines, which is Washington's oldest treaty ally in Asia and recently allowed an expansion of American military presence in the country, to China's outrage.
The other members — Brunei, Indonesia, Malaysia, Singapore, Thailand and Vietnam — have heavy economic and security engagements with both the U.S. and China.
"ASEAN wants to remain open, to cooperate with anyone," said Indonesian President Joko Widodo, this year's ASEAN chair. "We also don't want ASEAN to be anyone's proxy."
Bedrock principles of non-interference in each other's domestic affairs and deciding by consensus have held the unwieldy club of autocrats, monarchs and democracies together for decades. But that approach has also prevented it from dealing swiftly with crises that spill across borders.
ASEAN's principles have been tested since Myanmar's army seized power from the elected government of Aung San Suu Kyi in February 2021 and plunged the country into deadly chaos. It's become one of the bloc's gravest crises since its establishment.
Military airstrikes in April killed as many as 100 people, including many children, who were attending a ceremony by opponents of army rule, according to witnesses. Human Rights Watch on Tuesday described the strike as an "apparent war crime."
Lina Alexandra of the Centre for Strategic and International Studies in Jakarta said ASEAN's inability to persuasively and rapidly address a potential political conflagration like the Myanmar crisis should prompt it to take a second look at its founding principles.
"ASEAN can no longer hide under the principles of non-interference and consensus," she told the AP. "All of that can work in a non-urgent situation that does not require speed and immediate decision-making to control a crisis."
Over the weekend, a convoy delivering aid to displaced villagers and carrying Indonesian and Singaporean diplomats came under fire by unidentified men armed with pistols in Myanmar's eastern Shan state. A security team with the convoy returned fire and a vehicle was damaged, but no one in the convoy was injured, state-run television MRTV reported.
Indonesia had arranged for the delivery of the aid after a long-delayed assessment "but it was very unfortunate that in the middle of the trip there was a shootout," Widodo said Monday.
"This will not deter ASEAN and Indonesia from calling for an end to the violence," Widodo told reporters Monday, renewing his call for dialogue among contending parties in Myanmar. "Nobody wins in this situation."
More than 3,450 civilians have been killed by security forces since Myanmar's military forcibly took power, and thousands more remain imprisoned, said the Assistance Association for Political Prisoners, which keeps tallies of casualties and arrests linked to repression by the military government.
Indonesia has considerably eased its fierce criticism of Myanmar's military since assuming the rotating role as ASEAN's leader. Foreign Minister Retno Marsudi said the country is taking "a non-megaphone diplomacy approach" to encourage dialogue and end violence, which are goals of a five-point peace plan Southeast Asian leaders negotiated with Myanmar's top general in 2021.
Under international pressure to do more to address the violence, ASEAN leaders stopped inviting Myanmar's top general to their summits after 2020, allowing only non-political representatives. Myanmar's military rulers have protested the move as a violation of the bloc's non-interference policy.
"To put it mildly, the organization is now facing nothing short of an existential crisis," said Richard Heydarian, a lecturer on international affairs at the state-run University of the Philippines.
Even regional diplomats who were involved in ASEAN work before have been either guardedly optimistic about the bloc or harshly critical. When asked by The Associated Press to give one word that best describes the bloc's current status, one Southeast Asian diplomat replied, "Progressing." Another said, "Opprobrium."
They spoke on condition of anonymity because of a lack of clearance to comment publicly on the issue.
In a post-summit communique to be issued by Widodo on behalf of the ASEAN leaders at the summit, they plan to condemn the reported deadly airstrike by the Myanmar military and add that "all forms of violence must end immediately, particularly the use of force against civilians."
They plan to reissue a call for self-restraint in the disputed South China Sea, repeating language used in previous ASEAN statements that does not name China.
"Concerns were expressed by some ASEAN member states on the land reclamations, activities, and serious incidents in the area, including damage to the marine environment, which has eroded trust and confidence, increased tensions, and may undermine peace, security, and stability in the region," said a draft of the communique, which was obtained by the AP.
At a closed-door session of the summit, Philippine President Ferdinand Marcos Jr. plans to raise a Feb. 6 encounter in which a Chinese coast guard ship used a military-grade laser that temporarily blinded at least two crewmembers on a Philippine patrol vessel off a disputed shoal, a Filipino official told the AP on condition of anonymity because of a lack of authorization to discuss the matter publicly.
Early this year, Marcos granted American forces access to four more Philippine military camps under a 2014 defense pact. Beijing was infuriated by that agreement, which it feared would provide American forces staging grounds to intervene in territorial disputes in the South China Sea and Taiwan. Beijing claims Taiwan as its own territory to be brought under its control by force if necessary.
___
Associated Press journalists Andi Jatmiko and Achmad Ibrahim contributed to this report.