Nevada lawmakers await details of A's land buy in Las Vegas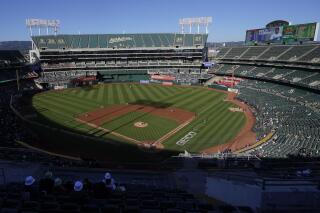 CARSON CITY, Nev. (AP) — Nevada legislative leaders said Thursday that they had little information about the Oakland Athletics' plans to move to Las Vegas, beyond that a land purchase deal is in place, a funding bill is coming and there is no timeline for action.
The Major League Baseball team announced late Wednesday it signed a binding agreement to purchase vacant property just off the Las Vegas Strip owned by Red Rock Resorts for a new retractable roof ballpark, ending discussion about the team staying in the Bay Area.
The purchase now sets up a patchwork of public-private funding mechanisms that needs approval from state lawmakers as well as local officials.
The stadium and other developments are projected to cost about $1.5 billion, per The Nevada Independent, while the A's are asking for $500 million in public assistance, said Clark County Commissioner Michael Naft, who has been in talks with A's leadership and whose district includes the potential stadium site.
"That's something that they've come up with," said Naft of the A's funding ask. "You don't always get what you want. And I think that's probably going to be the case with the $500 million."
Naft said the NFL's Raiders moving from Oakland, California, to Las Vegas in 2020 helped revolutionize Las Vegas as a major sports city. But even with the land purchase, he has unanswered questions about how the new stadium will affect year-round Las Vegas residents.
"I think the fact that Oakland is no longer an option as of last night means that we can have a more serious conversation about what would be involved with the relocation to our community," he said.
The Nevada Independent and the Las Vegas Review-Journal first reported the agreement Wednesday night.
How much say the county's Board of Commissioners will have depends on how much leeway the state Legislature gives them in negotiations. The Legislature could prescribe a narrow mandate that the county has to follow, or come up with a plan that gives commissioners more negotiating power, Naft said.
As of now, several officials in state leadership expressed optimism, but would not comment further until more details come out.
The state Senate majority leader, Democrat Nicole Cannizzaro, was "briefed on the outline of a proposal, and she appreciates the interest the A's have shown in Las Vegas," spokesperson Greg Lademann said.
"However, (Cannizzaro) has not committed to supporting any deal, nor would she without seeing detailed legislative language and discussing it with her caucus," Lademann said.
The Legislature is entering the last six weeks of a session that is held every two years. A funding bill of this nature would be exempt from a deadline that has passed for bills to be introduced and passed out of their first committees.
Nevada Republican Gov. Joe Lombardo remains committed to a campaign promise not to raise taxes, spokesperson Elizabeth Ray said in a statement.
"The prospect of bringing new jobs, more economic development, and an exceptional MLB team to Las Vegas is exciting on many levels," Lombardo said in a statement. "As we continue to navigate this opportunity, I'm in regular communication with the A's, Major League Baseball, legislative leadership, and local and state stakeholders."
Others were generally supportive while speaking in broad terms.
Democratic Assembly Speaker Steve Yeager noted the city's recent success in hosting sports teams.
"It's important we consider both the benefits and impacts to Las Vegas and the state," Yeager added.
Republican Senate Minority Leader Heidi Seevers Gansert made a similar remark in a statement that also said she looks forward to reviewing the proposal.
Republican Assemblywoman Danielle Gallant said her caucus will "continue to support our governor as he navigates potential ways to diversify our economy and bolster the existing industries that make Nevada unique."
___
Stern is a corps member for the Associated Press/Report for America Statehouse News Initiative. Report for America is a nonprofit national service program that places journalists in local newsrooms. Follow him on Twitter: @gabestern326.