Braves Wright to go on IL with right shoulder soreness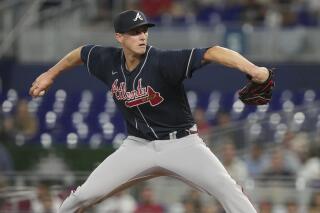 MIAMI (AP) — The Atlanta Braves are placing right-hander Kyle Wright on the injured list after he left in the third inning of Wednesday's 14-6 win over the Miami Marlins with right shoulder soreness.
"It sucks," Wright said after the game, fighting back tears.
He opened the season on the injured list with right shoulder inflammation and had a cortisone shot in January, though he wasn't sure Wednesday if it was the same issue that caused his early exit.
Wright said he started feeling discomfort in the second inning but felt good enough to stay in the game until three batters into the third.
"I didn't feel good enough to keep going," Wright said. "At that point, I wasn't being smart. I give Kranny (pitching coach Rick Kranitz) a lot of credit for protecting me from myself."
Manager Brian Snitker said he and Kranitz suspected something was off when they noticed a dip in Wright's velocity. His fastball velocity hit 94.8 to start the game, dipped to 92.6 in the second and 93.6 when he faced his last batter in the third. He walked off the field with Snitker and Kranitz after a lengthy mound visit.
"When I got there I said, 'Why am I out here?'" Snitker said. "He said 'My shoulder.'" He wanted to stay, and I said 'Nope, we're not doing that.'"
Wright, the only 20-game winner in the majors last season, allowed six hits, four runs (three earned), walked one and struck out three Wednesday night.
___
AP MLB: https://apnews.com/hub/mlb and https://twitter.com/AP_Sports