Hawks look to brighter future after another middling year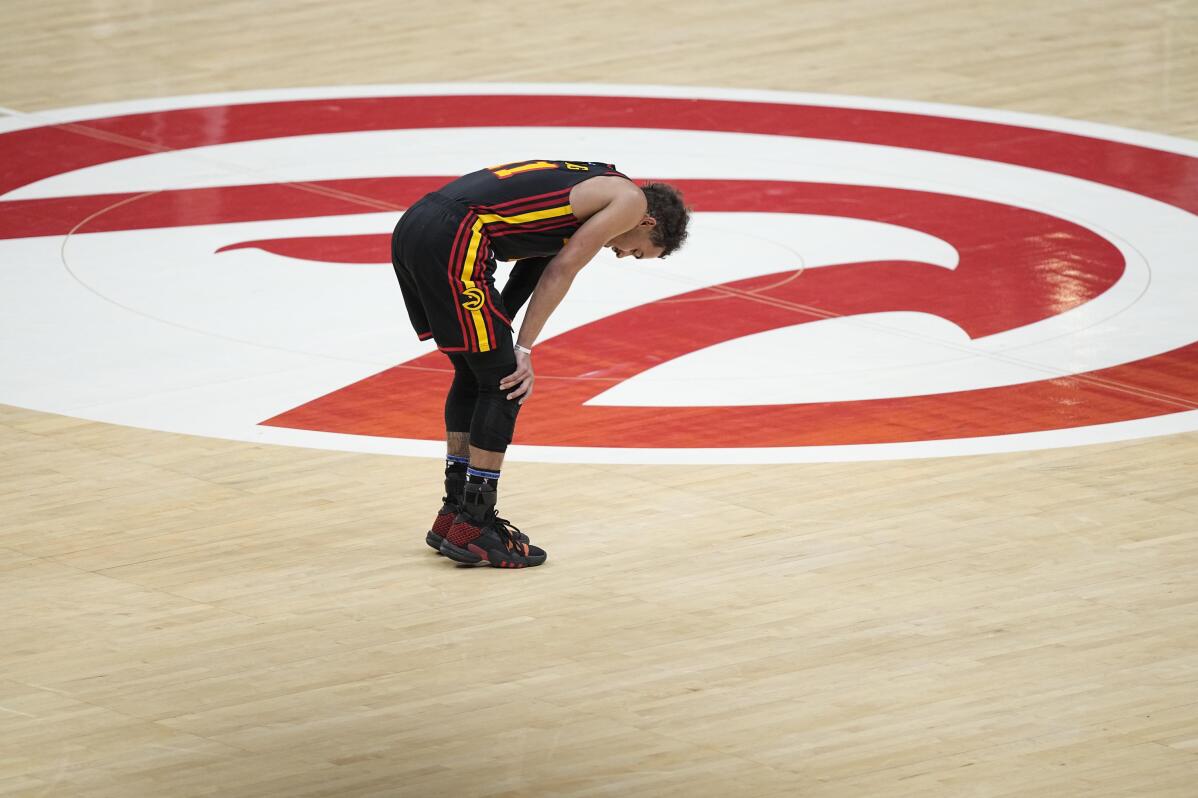 1 of 6

|
Atlanta Hawks guard Trae Young (11) kneels over near the end of the second half of Game 6 of a first-round NBA basketball playoff series against Boston Celtics, Thursday, April 27, 2023, in Atlanta. (AP Photo/Brynn Anderson)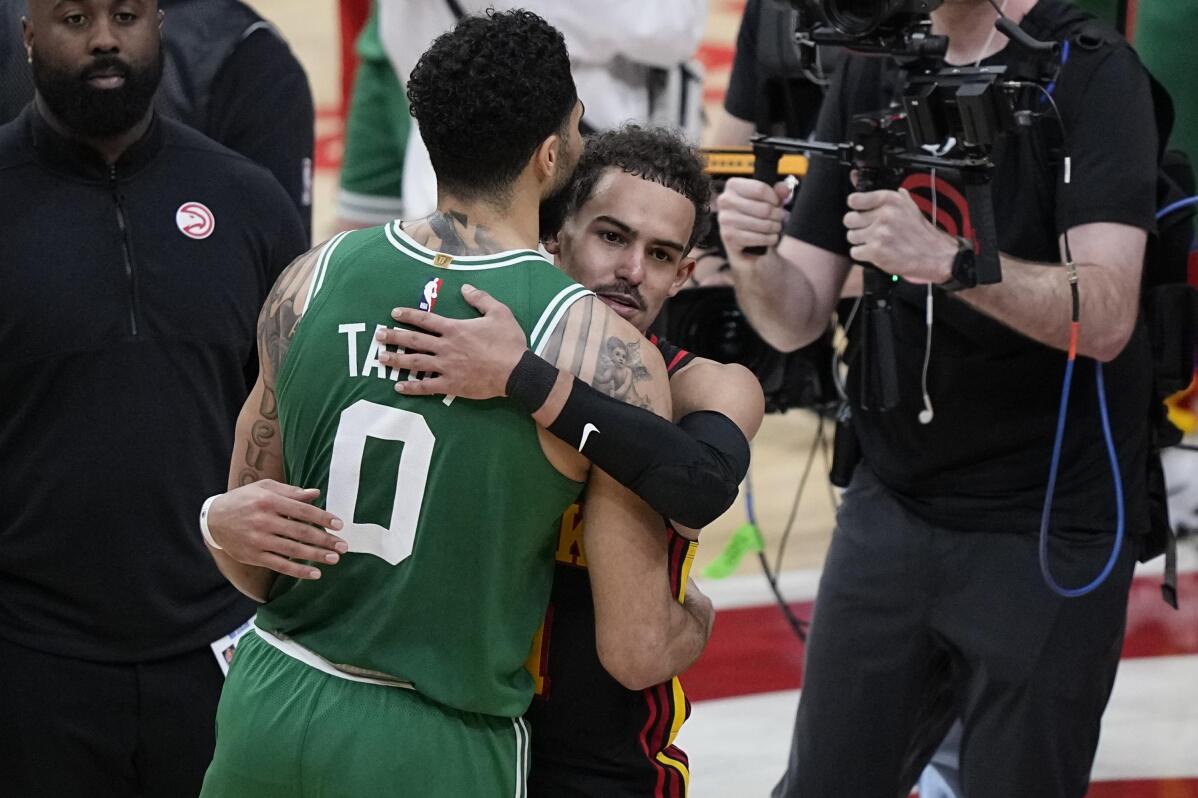 2 of 6

|
Atlanta Hawks guard Trae Young (11) hugs Boston Celtics forward Jayson Tatum (0) after Game 6 of a first-round NBA basketball playoff series, Thursday, April 27, 2023, in Atlanta. (AP Photo/Brynn Anderson)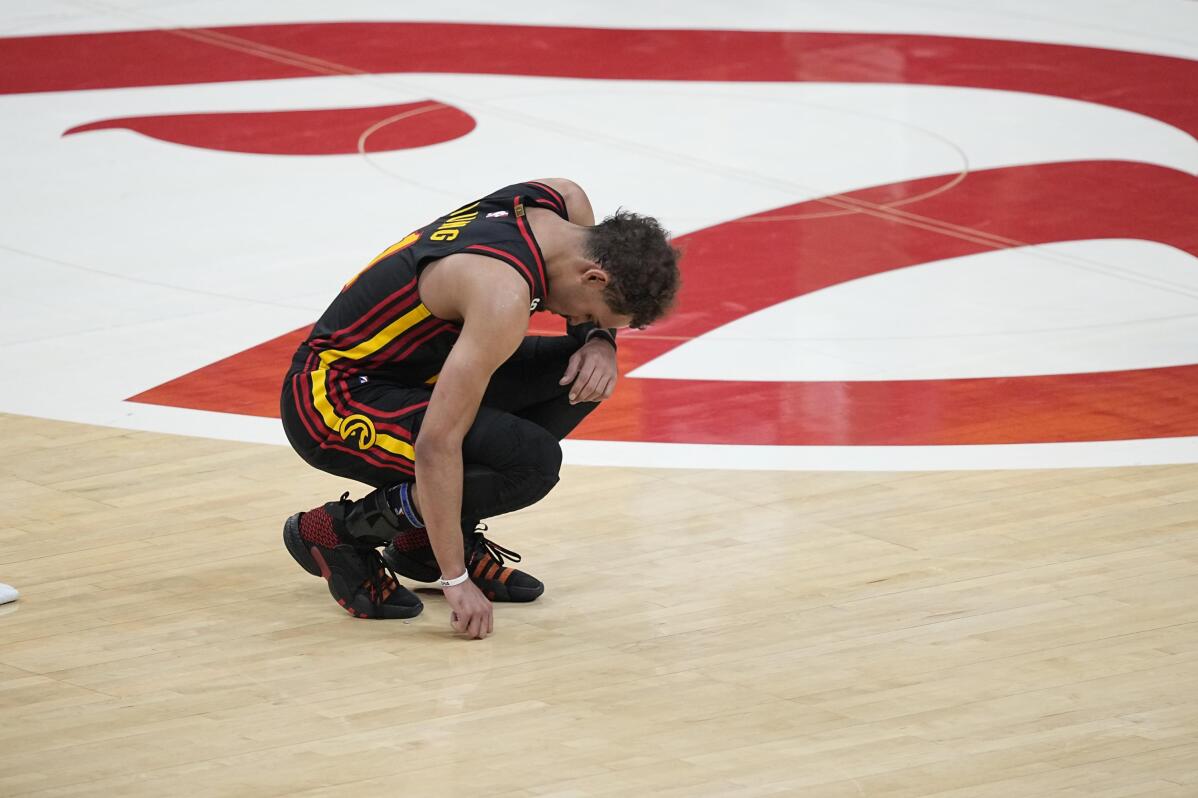 3 of 6

|
Atlanta Hawks guard Trae Young (11) kneels near the end of the second half of Game 6 of a first-round NBA basketball playoff series against Boston Celtics, Thursday, April 27, 2023, in Atlanta. (AP Photo/Brynn Anderson)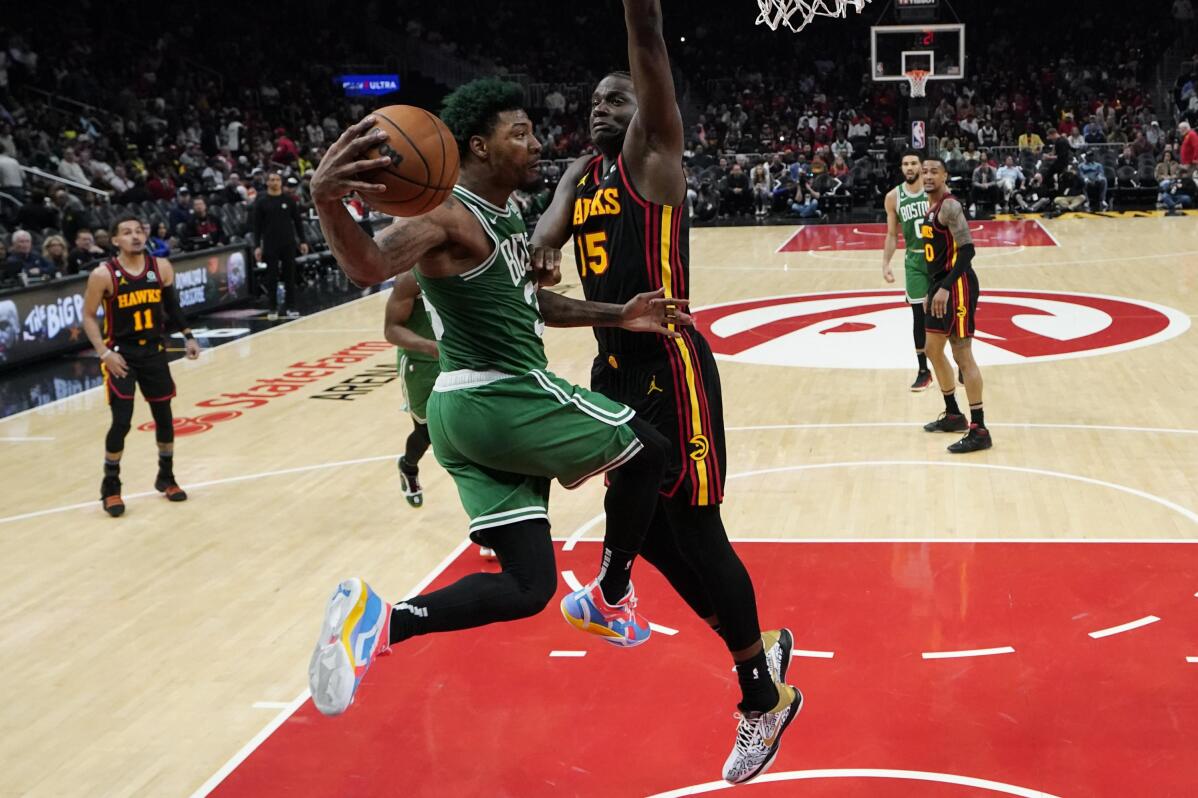 4 of 6

|
Boston Celtics' Marcus Smart (36) passes the ball against Atlanta Hawks' Clint Capela (15) during the second half of Game 6 of a first-round NBA basketball playoff series, Thursday, April 27, 2023, in Atlanta. (AP Photo/Brynn Anderson)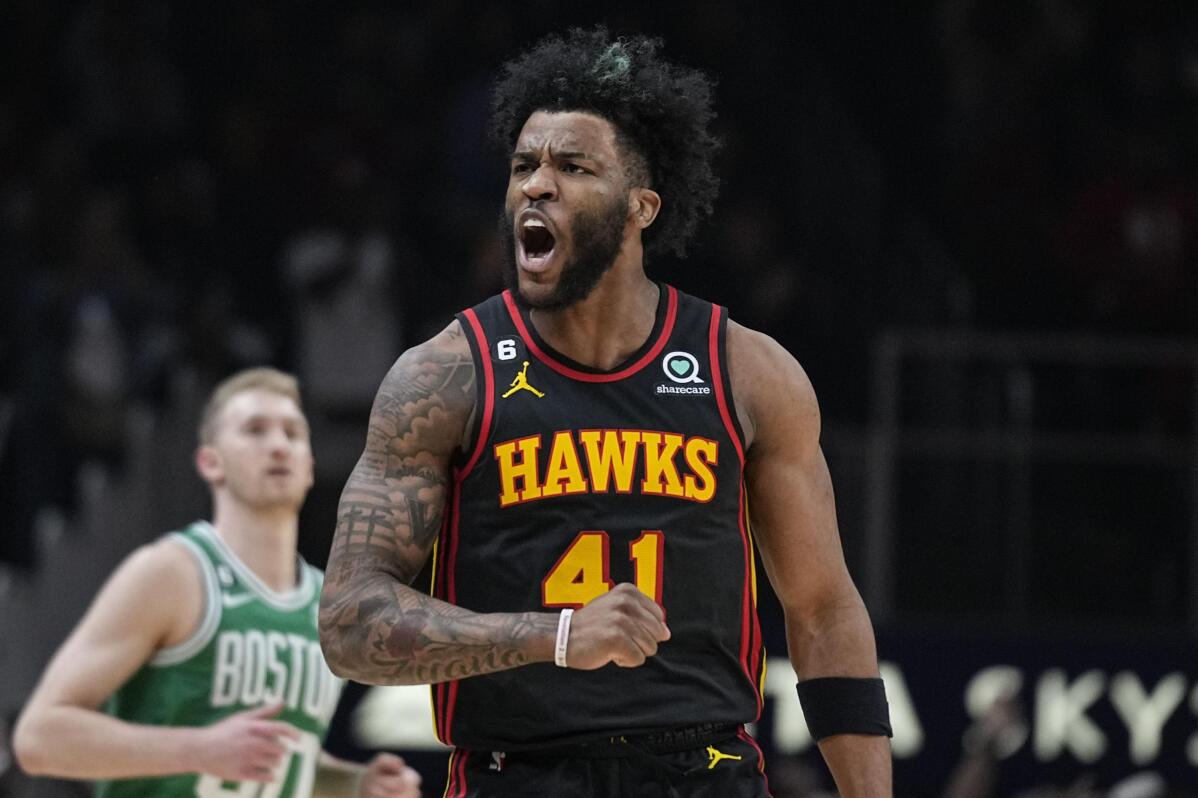 5 of 6

|
Atlanta Hawks forward Saddiq Bey (41) celebrates after scoring during the first half of Game 6 of a first-round NBA basketball playoff series against the Boston Celtics, Thursday, April 27, 2023, in Atlanta. (AP Photo/Brynn Anderson)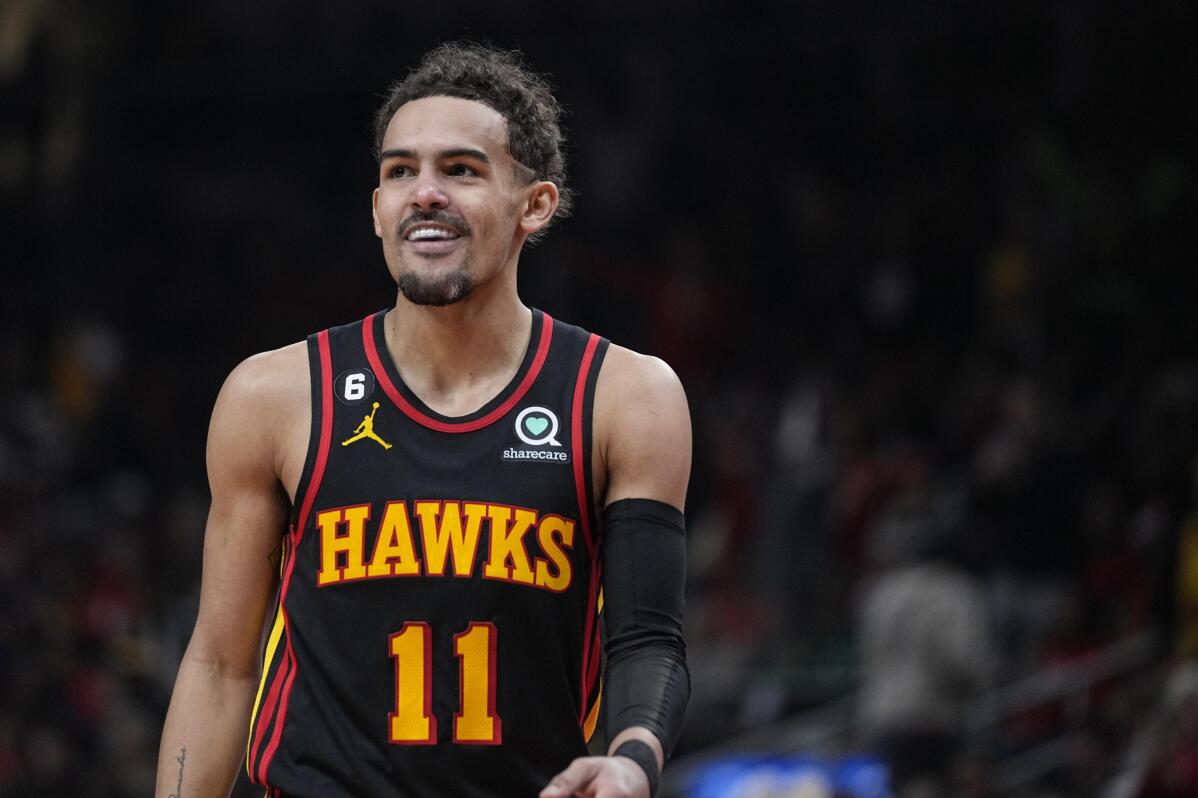 6 of 6

|
Atlanta Hawks guard Trae Young (11) smiles to the fans after scoring against the Boston Celtics during the first half of Game 6 of a first-round NBA basketball playoff series, Thursday, April 27, 2023, in Atlanta. (AP Photo/Brynn Anderson)
Hawks look to brighter future after another middling year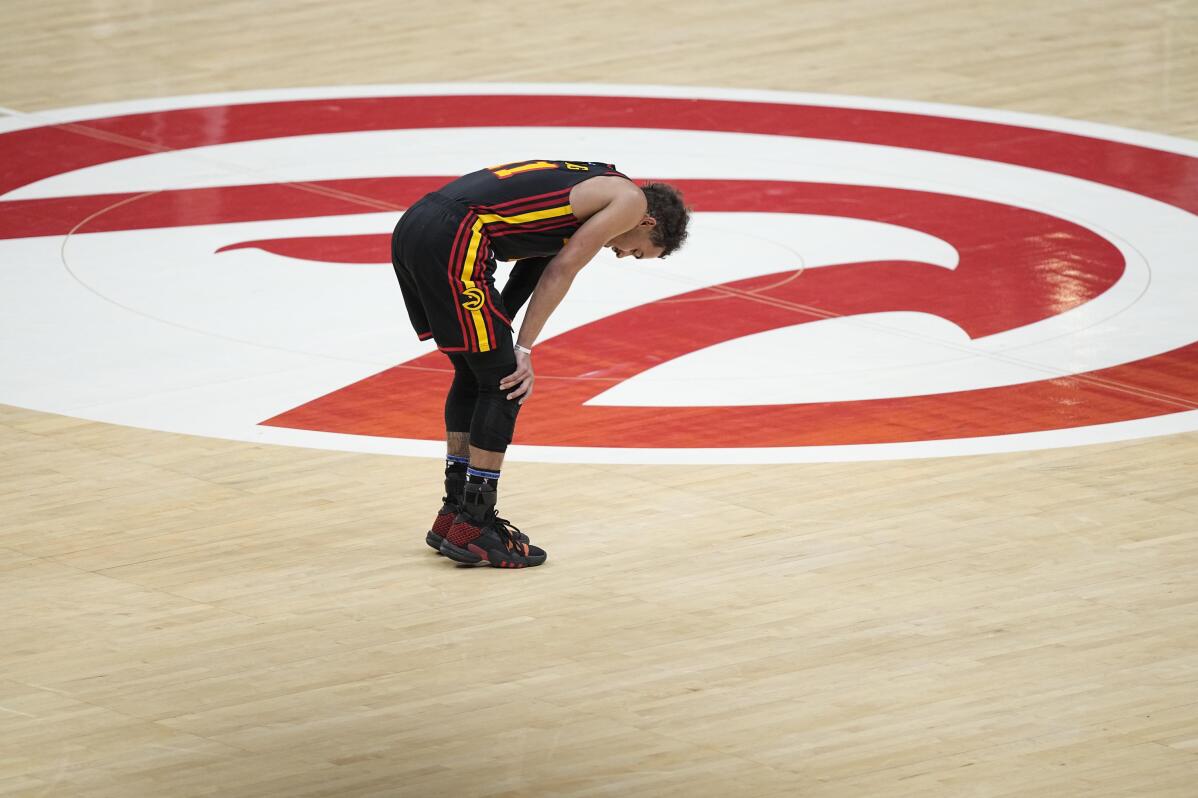 1 of 6

|
Atlanta Hawks guard Trae Young (11) kneels over near the end of the second half of Game 6 of a first-round NBA basketball playoff series against Boston Celtics, Thursday, April 27, 2023, in Atlanta. (AP Photo/Brynn Anderson)
1 of 6
Atlanta Hawks guard Trae Young (11) kneels over near the end of the second half of Game 6 of a first-round NBA basketball playoff series against Boston Celtics, Thursday, April 27, 2023, in Atlanta. (AP Photo/Brynn Anderson)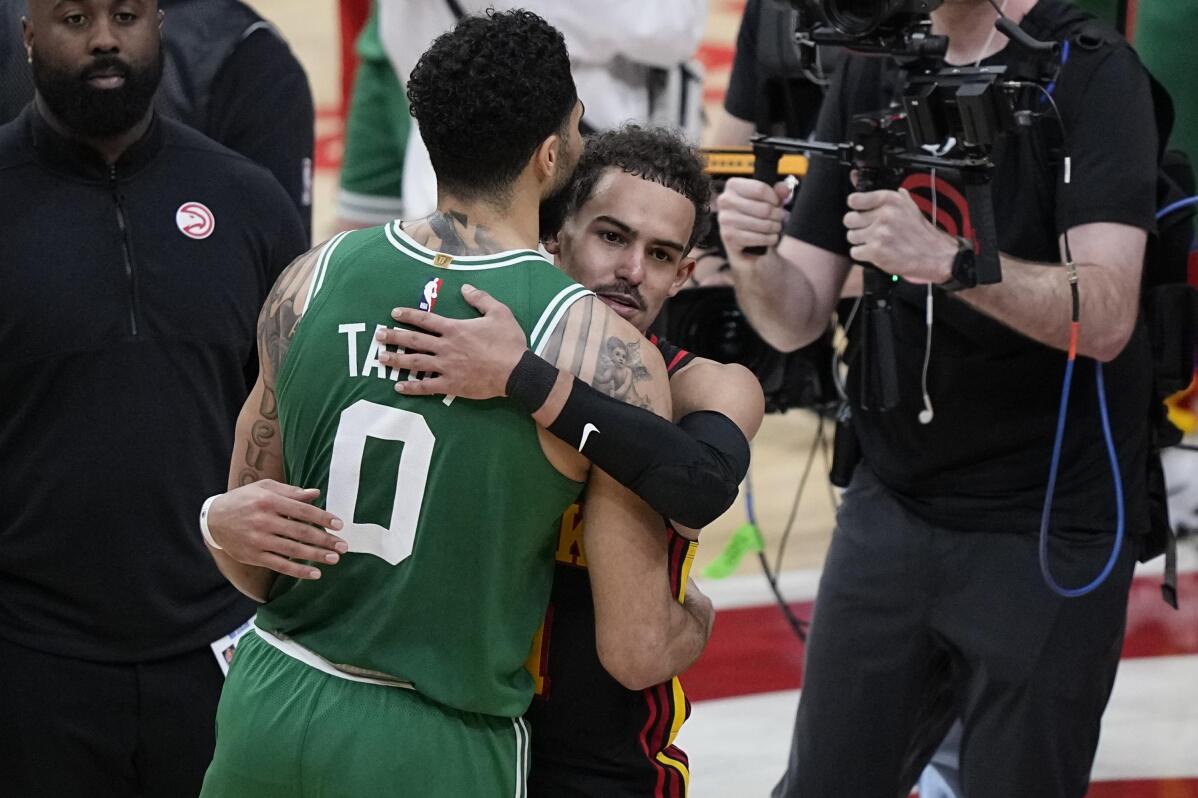 2 of 6

|
Atlanta Hawks guard Trae Young (11) hugs Boston Celtics forward Jayson Tatum (0) after Game 6 of a first-round NBA basketball playoff series, Thursday, April 27, 2023, in Atlanta. (AP Photo/Brynn Anderson)
2 of 6
Atlanta Hawks guard Trae Young (11) hugs Boston Celtics forward Jayson Tatum (0) after Game 6 of a first-round NBA basketball playoff series, Thursday, April 27, 2023, in Atlanta. (AP Photo/Brynn Anderson)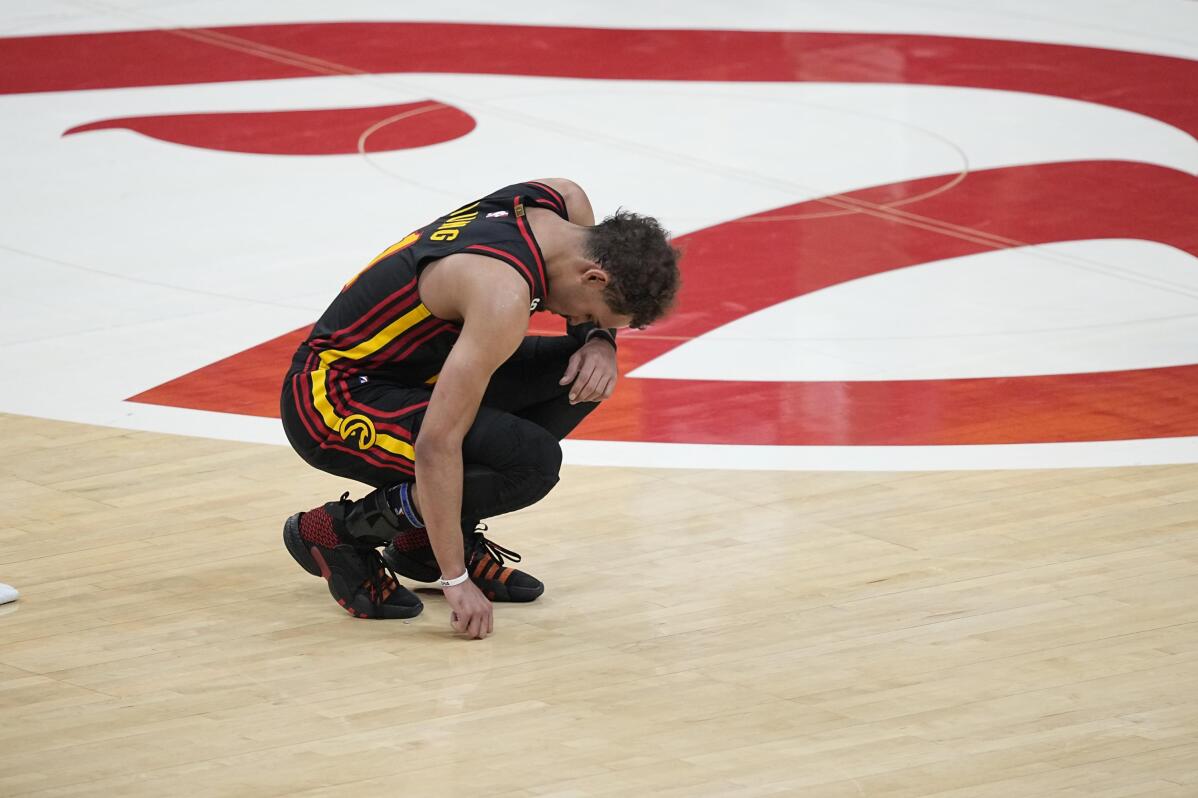 3 of 6

|
Atlanta Hawks guard Trae Young (11) kneels near the end of the second half of Game 6 of a first-round NBA basketball playoff series against Boston Celtics, Thursday, April 27, 2023, in Atlanta. (AP Photo/Brynn Anderson)
3 of 6
Atlanta Hawks guard Trae Young (11) kneels near the end of the second half of Game 6 of a first-round NBA basketball playoff series against Boston Celtics, Thursday, April 27, 2023, in Atlanta. (AP Photo/Brynn Anderson)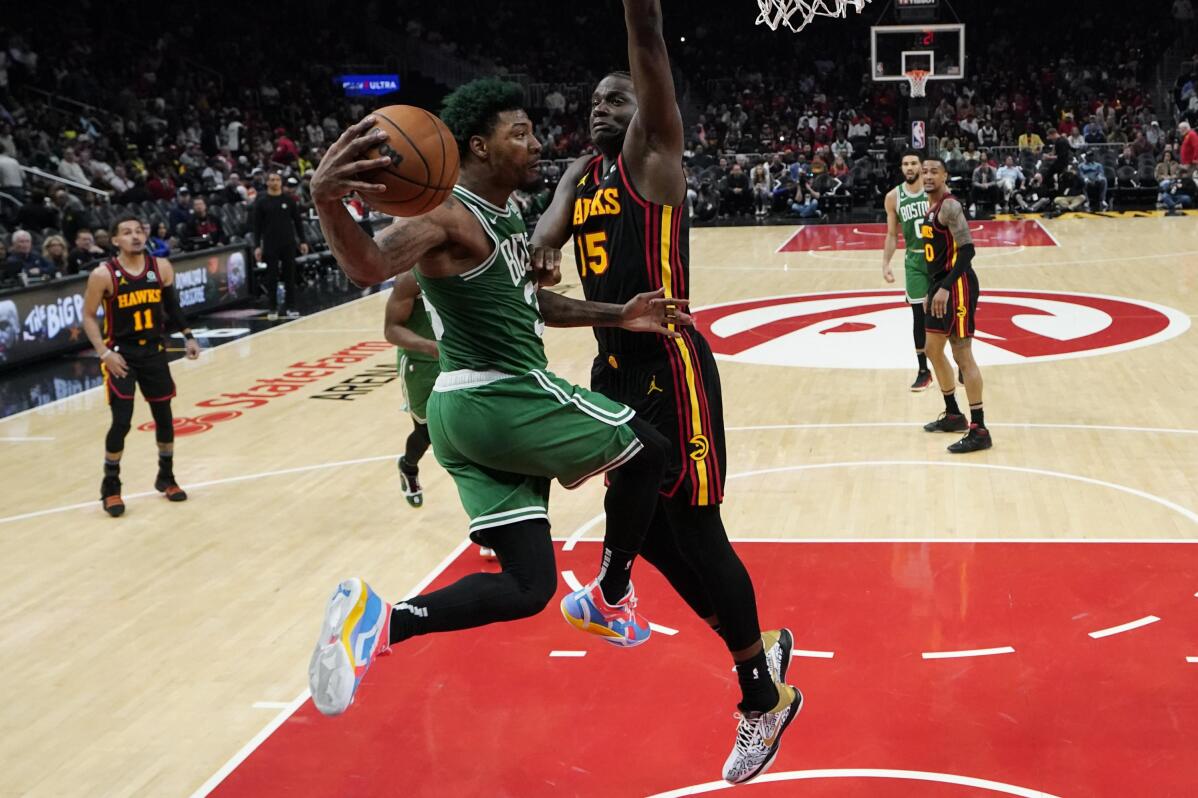 4 of 6

|
Boston Celtics' Marcus Smart (36) passes the ball against Atlanta Hawks' Clint Capela (15) during the second half of Game 6 of a first-round NBA basketball playoff series, Thursday, April 27, 2023, in Atlanta. (AP Photo/Brynn Anderson)
4 of 6
Boston Celtics' Marcus Smart (36) passes the ball against Atlanta Hawks' Clint Capela (15) during the second half of Game 6 of a first-round NBA basketball playoff series, Thursday, April 27, 2023, in Atlanta. (AP Photo/Brynn Anderson)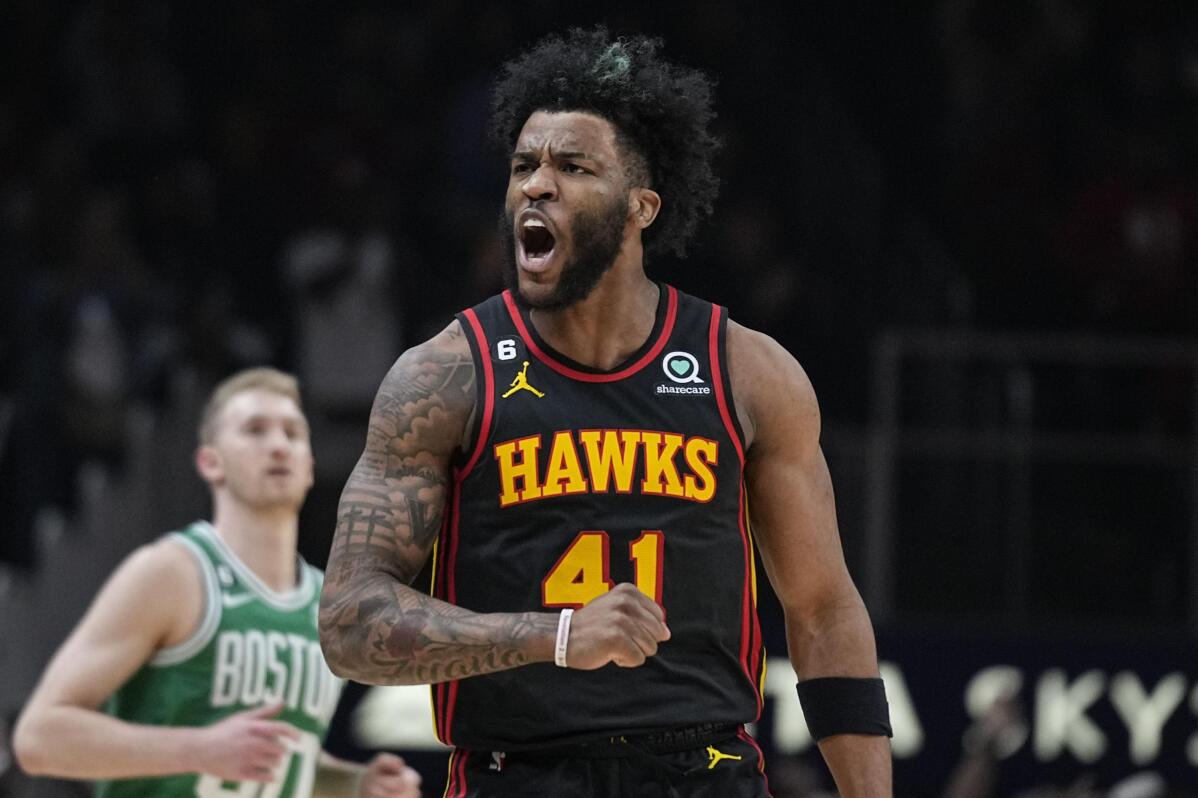 5 of 6

|
Atlanta Hawks forward Saddiq Bey (41) celebrates after scoring during the first half of Game 6 of a first-round NBA basketball playoff series against the Boston Celtics, Thursday, April 27, 2023, in Atlanta. (AP Photo/Brynn Anderson)
5 of 6
Atlanta Hawks forward Saddiq Bey (41) celebrates after scoring during the first half of Game 6 of a first-round NBA basketball playoff series against the Boston Celtics, Thursday, April 27, 2023, in Atlanta. (AP Photo/Brynn Anderson)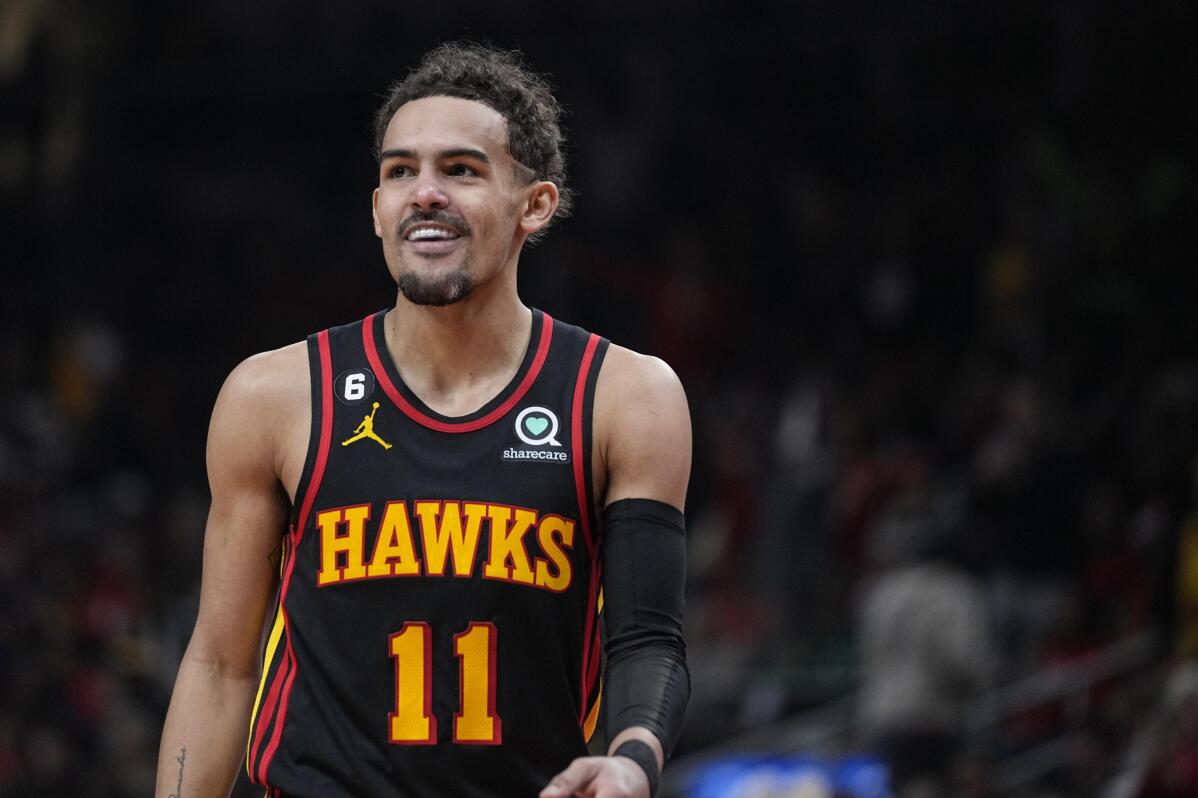 6 of 6

|
Atlanta Hawks guard Trae Young (11) smiles to the fans after scoring against the Boston Celtics during the first half of Game 6 of a first-round NBA basketball playoff series, Thursday, April 27, 2023, in Atlanta. (AP Photo/Brynn Anderson)
6 of 6
Atlanta Hawks guard Trae Young (11) smiles to the fans after scoring against the Boston Celtics during the first half of Game 6 of a first-round NBA basketball playoff series, Thursday, April 27, 2023, in Atlanta. (AP Photo/Brynn Anderson)
ATLANTA (AP) — After a surprising run to the conference final two years ago, the Atlanta Hawks had their sights set on being a championship contender.
Instead, they sank back to the middle of the NBA.
Not a good spot.
"The middle is the toughest place to be," Hawks forward John Collins said. "When you're up superhigh or down superlow, you have a clearer vision of what you want to accomplish. When you're just maintaining in that middle, it takes a little bit more self-reflection to just keep going."
Atlanta's season is done, ending Thursday night with a 128-120 loss to the Celtics that gave Boston a 4-2 victory in the opening-round playoff series.
Now, the Hawks face some major questions. Will Collins return after his worst season since he was a rookie? Does center Clint Capela fit into Atlanta's long-term plans? Will Trae Young and Dejounte Murray develop into the truly dynamic backcourt that the team envisioned?
One thing is certain: Quin Snyder, who took over as coach in late February after the firing of Nate McMillan, will have wide latitude and authority to remake the roster to fit his vision.
The Hawks — most notably Young, who already is gaining the reputation as a coach killer — seem eager to follow Snyder's lead.
"Quin is the future," Young said. "I believe as we're sitting here, this city is going to win a championship. It's just about bringing in the right pieces for him."
The Hawks showed no real improvement after Snyder took over, going 10-11 over the final 21 games of the regular season to complete a maddening year at 41-41. They claimed the No. 7 seed with a play-in victory at Miami, only to fall to the second-seeded Celtics — their second straight one round-and-done showing in the playoffs.
Atlanta under Snyder looked pretty much like the team that lingered around .500 nearly the entire season, never gaining any real momentum.
"Win a game, lose a game, win a game, lose a game, up, down, up, down," Collins said, describing the frustrating season perfectly.
The Hawks were certainly competitive in the playoffs against a talented team with championship aspirations. They rallied to win Game 5 in Boston and went toe-to-toe with the Celtics in a thrilling, back-and-forth series finale.
Yet, in the end, Atlanta headed into the summer in roughly the same spot as a year earlier: a middle-of-the-pack team that is good enough to make the playoffs but not really a serious contender for a title.
Young is desperate to take the next step — especially in a city that suddenly has shown an affection for its local NBA team.
After years of struggling to fill the seats, the Hawks averaged a team-record 17,555 per game and sold out State Farm Arena for nearly every game. But the team rarely gave its fans a lot to cheer about.
"I want to be looked at as a team that should come in and win a championship, not just be in the picture, not just be in the running," Young said. "I want to come into the season as a team that people look at it and say they can win, they've got a chance. That's my whole focus and my whole mindset."
Throughout the season, the Hawks were plagued by plenty of behind-the-scenes drama that certainly didn't help their on-court performance.
Former general manager Travis Schlenk appeared to be forced out, Young clearly had a rocky relationship with former coach McMillan and there were plenty of questions about owner Tony Ressler's 27-year-old son, Nick, having far greater influence on basketball operations than his experience should allow.
"It could've been worse," Young said. "But we've got to focus on the future now. We can't worry about the past, what all went on all throughout the season, all that, all the nonsense and stuff. We've got to focus on the future and what we've got going."
With Snyder firmly in control and heading toward his full first season, Young is confident that the Hawks can recapture the form they demonstrated during that magical playoff run in 2021.
"I think we showed strides," he said. "I think we showed moments of what we could do with Quin as our coach. So I'm excited for the future."
___
AP NBA: https://apnews.com/hub/nba and https://twitter.com/AP_Sports