Australia concerned by journalist's delayed verdict in China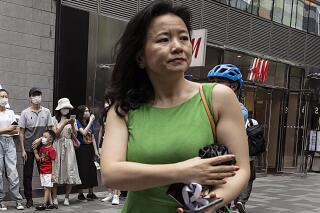 SYDNEY (AP) — Australia remains deeply concerned that Australian journalist Cheng Lei has not learned of a verdict a year after standing trial in China on national security charges, the foreign minister said Friday.
Foreign Minister Penny Wong marked the first anniversary of the closed trial in Beijing with a statement saying her government had "advocated at every opportunity for Ms. Cheng to be reunited with her family."
"She is still waiting to learn the outcome of the trial," Wong said. "We share the deep concerns of Ms. Cheng's family and friends about the ongoing delays in her case."
"Our thoughts today are with Ms. Cheng and her loved ones, particularly her two children," she added. The children live with family in the Australian city of Melbourne.
Asked about Cheng's case, Chinese Foreign Ministry spokesperson Mao Ning offered no new information Friday.
"China has a clear and consistent position on the case. China's judicial departments examined the case in accordance with law and fully protected the lawful rights and interests of the person involved," Mao said at a daily briefing in Beijing.
The anniversary comes as troubled relations between China and Australia show signs of improvement since Wong's center-left Labor Party came to power in elections last year.
Cheng, 47, was born in China and was a journalist for CGTN, the English-language channel of China Central Television. She was detained in August 2019 and accused by China of sharing state secrets.
In January, Wong also marked the anniversary of China's detention of Chinese-Australian writer and blogger Yang Hengjun, who has been held since arriving in 2019 in southern China's Guangzhou from New York with his wife and 14-year-old stepdaughter.
Her statement then said Australia's government was "deeply troubled" by China's delays in resolving espionage allegations. Yang, 57, faced a closed trial on an espionage charge in Beijing in May 2021 and is still waiting for a verdict.
Wong raised the cases of Yang and Cheng with her Chinese counterpart, Wang Yi, in December when she became to first Australian foreign minister to visit China in four years.
Prime Minister Anthony Albanese also raised their cases in November when he took part in the first formal bilateral meeting with Chinese President Xi Jinping by an Australian government leader since 2016.
China has begun accepting shipments of Australian coal in recent weeks for the first time since late 2020 in a sign of thawing relations since Australia's former conservative administration was ousted after nine years in power.
___
Find more of AP's Asia-Pacific coverage at https://apnews.com/hub/asia-pacific