Australian lawmaker breaks ranks to support Indigenous Voice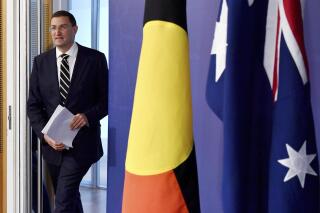 CANBERRA, Australia (AP) — A senior lawmaker split from Australia's opposition party leadership Tuesday by supporting the government's proposal to create a so-called Indigenous Voice to Parliament.
Australians are expected to vote sometime between October and December on whether to create the Voice, an elected group that would be charged with advocating Indigenous interests to Parliament but would not have a vote on laws.
Julian Leeser resigned as the conservative Liberal Party's Shadow Attorney-General and Shadow Minister for Indigenous Australians so he could advocate for creating the Voice. As a member of the Shadow Cabinet, Leeser had been obliged to oppose constitutional change.
"I believe the time for the Voice has come," Leeser told reporters. "I believe in a national voice, drawn from local and regional bodies, and l will support the referendum being put this year."
Opposition leader Peter Dutton had been criticized for his insistence that senior lawmakers follow the party line on the Voice.
Former Minister for Indigenous Australians Ken Wyatt, the first Indigenous lawmaker to fill the role, resigned his membership in the Liberal Party last week over its stance on the Voice. Wyatt lost his seat in parliamentary elections last year.
Leeser said he remains a supporter of Dutton as leader.
"I resign without rancor or bitterness, and I remain a loyal Liberal, fully committed to the leadership of Peter Dutton," Leeser said.
"My resignation today as a frontbencher is not about personality. It's about trying to keep faith with the very cords of belief and belonging that are part of who I am," Leeser added.
Dutton said Leeser held a minority view among Liberal Party lawmakers. "He's a person that has our country's best interests at heart," Dutton told reporters.
Foreign Minister Penny Wong, who is acting prime minister while Anthony Albanese is on annual leave, predicted more high-profile Liberal Party lawmakers would publicly support the Voice.
"Julian Leeser has shown real strength today," Wong told reporters. "He's put his principles ahead of partisan politics and we welcome that."
The Voice was originally proposed by a group of Aboriginal and Torres Strait Islander advocates in 2017.
Indigenous Australians from the Torres Strait archipelago, off the northeast coast, are culturally distinct from the mainland Aboriginal population. The two Indigenous peoples account for 3.2% of the Australian population and are the nation's most disadvantaged ethnic group.
___
Find more AP coverage of the Asia-Pacific region at https://apnews.com/hub/asia-pacific