Reality bites for Wallabies coach Jones after Fiji nightmare at the Rugby World Cup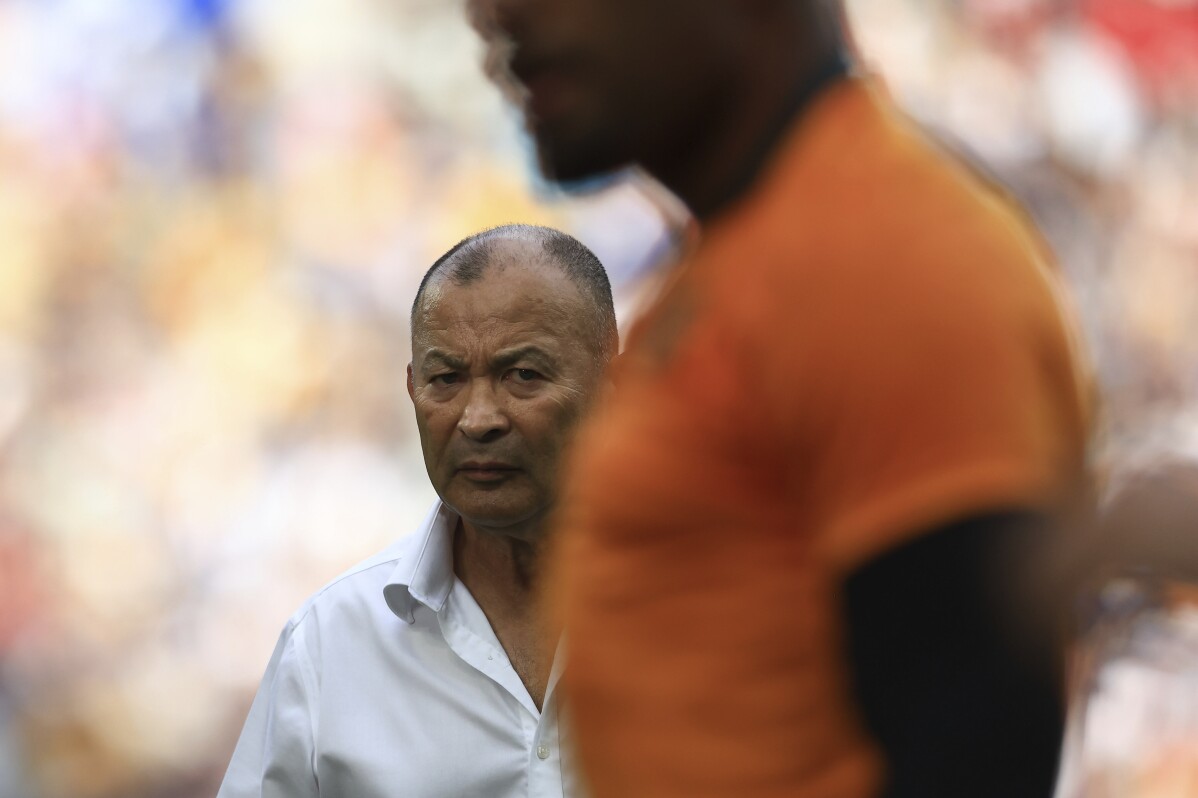 1 of 2

|
Australia's head coach Eddie Jones waits for the start of the Rugby World Cup Pool C match between Australia and Fiji at the Stade Geoffroy Guichard in Saint-Etienne, France, Sunday, Sept. 17, 2023. (AP Photo/Aurelien Morissard)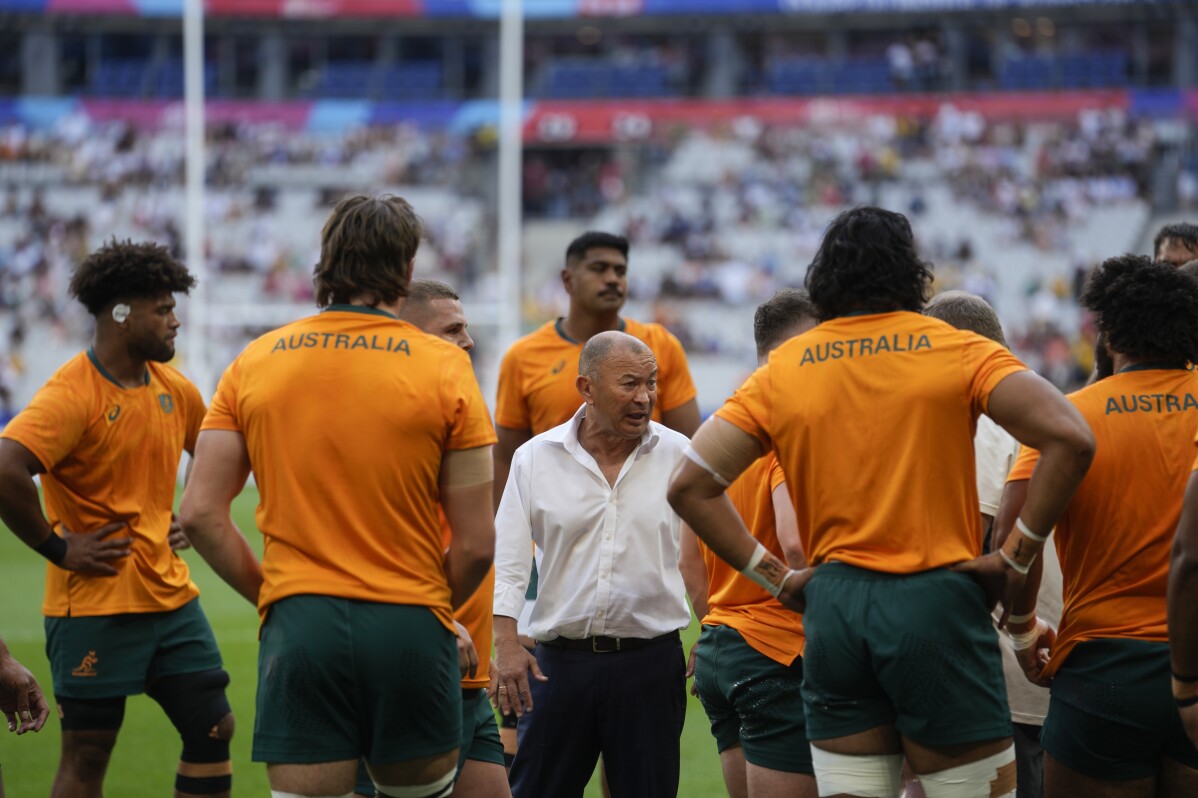 2 of 2

|
CORRECTS COACH NAME Australia's head coach Eddie Jones speaks to his squad prior to the Rugby World Cup Pool C match between Australia and Georgia at the Stade de France in Saint-Denis, north of Paris, Saturday, Sept. 9, 2023. (AP Photo/Thibault Camus)
Reality bites for Wallabies coach Jones after Fiji nightmare at the Rugby World Cup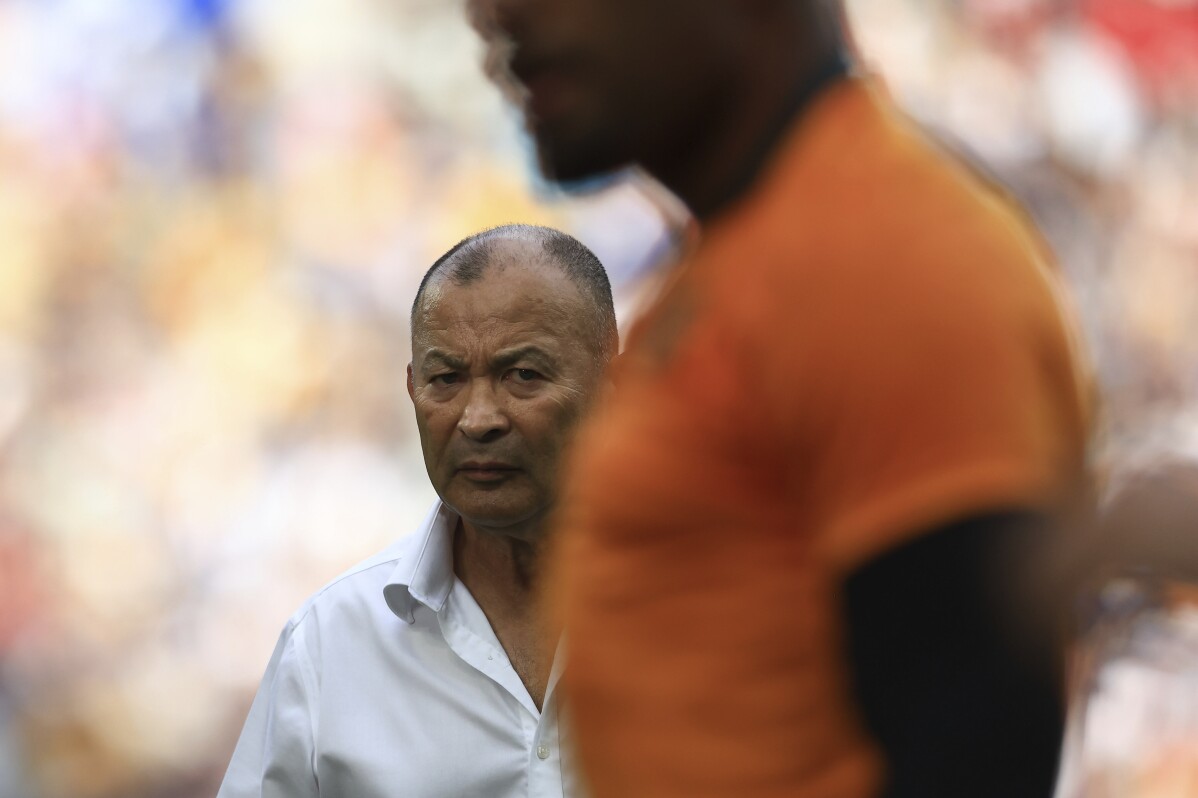 1 of 2

|
Australia's head coach Eddie Jones waits for the start of the Rugby World Cup Pool C match between Australia and Fiji at the Stade Geoffroy Guichard in Saint-Etienne, France, Sunday, Sept. 17, 2023. (AP Photo/Aurelien Morissard)
1 of 2
Australia's head coach Eddie Jones waits for the start of the Rugby World Cup Pool C match between Australia and Fiji at the Stade Geoffroy Guichard in Saint-Etienne, France, Sunday, Sept. 17, 2023. (AP Photo/Aurelien Morissard)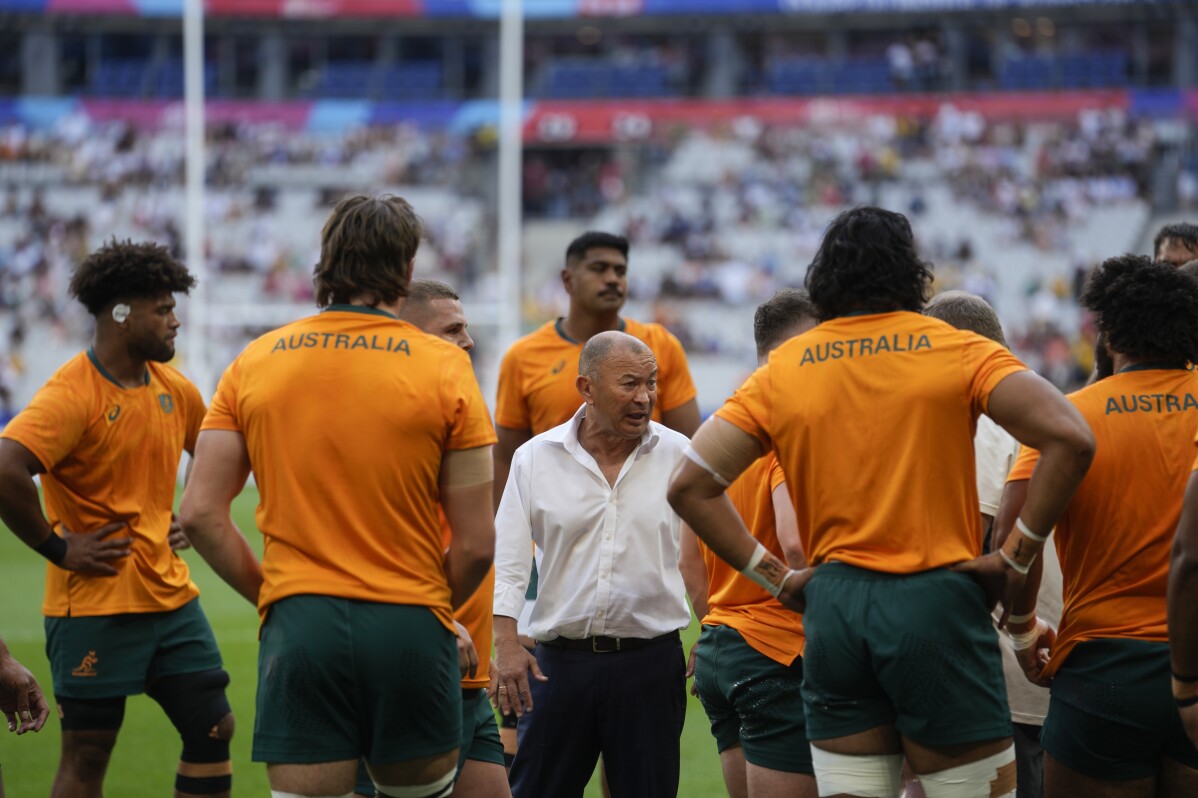 2 of 2

|
CORRECTS COACH NAME Australia's head coach Eddie Jones speaks to his squad prior to the Rugby World Cup Pool C match between Australia and Georgia at the Stade de France in Saint-Denis, north of Paris, Saturday, Sept. 9, 2023. (AP Photo/Thibault Camus)
2 of 2
CORRECTS COACH NAME Australia's head coach Eddie Jones speaks to his squad prior to the Rugby World Cup Pool C match between Australia and Georgia at the Stade de France in Saint-Denis, north of Paris, Saturday, Sept. 9, 2023. (AP Photo/Thibault Camus)
SAINT-ETIENNE, France (AP) — Monday rolled around and Australia coach Eddie Jones joked that he hoped Sunday had just been a mere nightmare.
A nightmare in which Fijians kept pickpocketing his Wallabies and souvenired a Rugby World Cup win from them for the first time.
"I woke up in the morning hoping the result was different but it was still the same," Jones said.
Another reality bite was confirmation that captain Will Skelton and tighthead prop Taniela Tupou will also miss their suddenly must-win pool game against Wales on Sunday in Lyon. Hooker Jordan Uelese was also stood down for 12 days because of a head injury after coming off the bench against Fiji.
Skelton and Tupou were injured in training last week, and their absence was a blow to a young Wallabies side which was outhustled by Fiji 22-15 in Saint-Etienne. Fiji last beat Australia in 1954, before Elvis Presley had a hit record.
The Wallabies must beat Wales next or they face not advancing from a Rugby World Cup pool for the first time. The magnitude of that wasn't lost on Jones, who was given the Wallabies job in December and has overseen six losses in seven tests.
"The only thing we are worried about is Wales this week," he said. "This is one of the biggest challenges for this team and, personally, for the coaching staff. We know how we want to play against Wales and we are going to work really hard to get the players back on track.
"When you have a loss like this it knocks you around a bit. It knocks you emotionally and team ethics wise. You start seeing shadows in every corner of the room," Jones said. "There is noise from outside which you have to handle. That's the challenge for the coaching staff this week, to make sure they have got the right noise."
Jones has had time to review the Fiji loss and saw some positives.
"Physically, we got a little bit struck by them and that put us on the back foot and we never found our rhythm until maybe the last 20 minutes when we played with a bit more fluency and a bit more like ourselves," Jones said. "I thought our young finishing bench did really well and put us in a position to win the game and we weren't quite good enough. It's a harsh learning experience.
"Sometimes you play a team that's a little bit better than you and if they're better at the start of the game that puts you off. But Wales are a completely different team. They grind away at you whereas Fiji is power."
Not much was expected of these Wallabies because of their inexperience and track record this year. But they were on the weakest side of the draw with a chance to go deep. Now their backs are to the wall, which has Jones' coaching juices flowing.
"This is the best coaching week, best playing week," he said. "These are the weeks you remember when you are under the pump quite a lot and you have got to produce a good performance."
___
AP Rugby World Cup: https://apnews.com/hub/rugby