Malgin helps Avalanche keep rolling in 4-3 win over Kings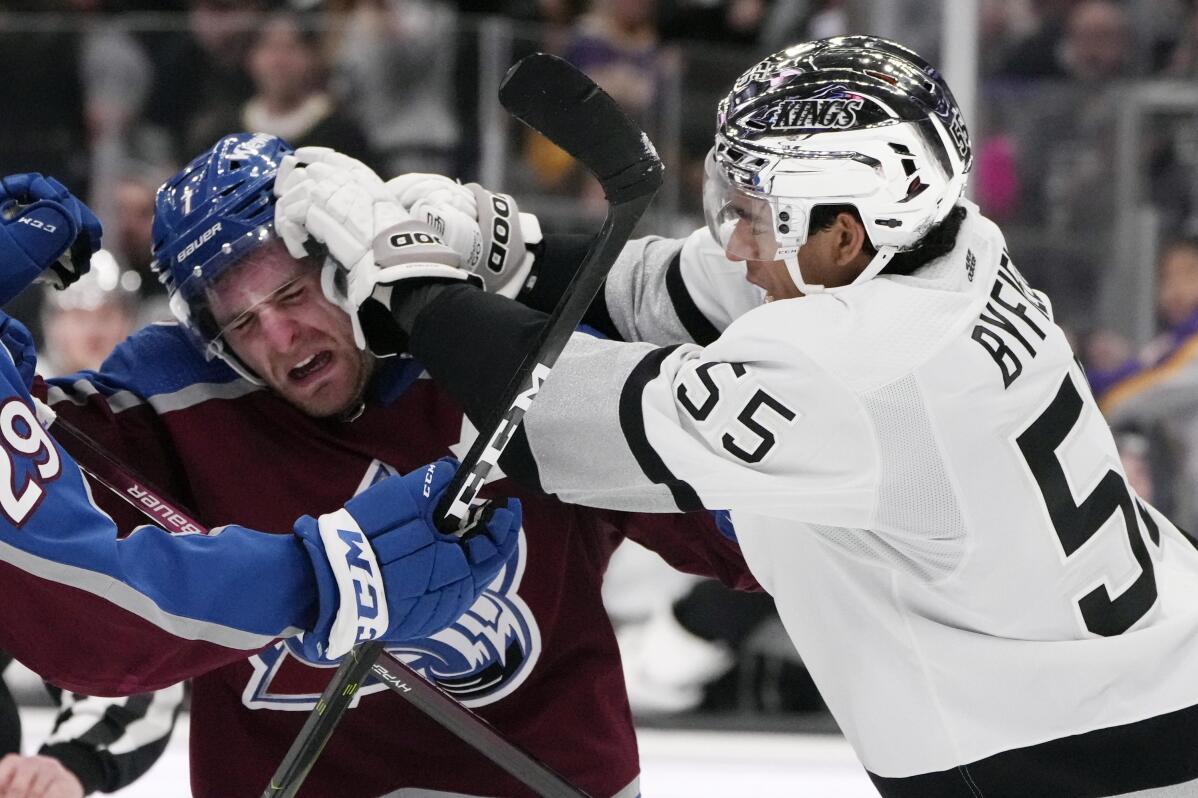 1 of 5

|
Los Angeles Kings center Quinton Byfield (55) fights with Colorado Avalanche defenseman Devon Toews during the second period of an NHL hockey game Saturday, April 8, 2023, in Los Angeles. (AP Photo/Marcio Jose Sanchez)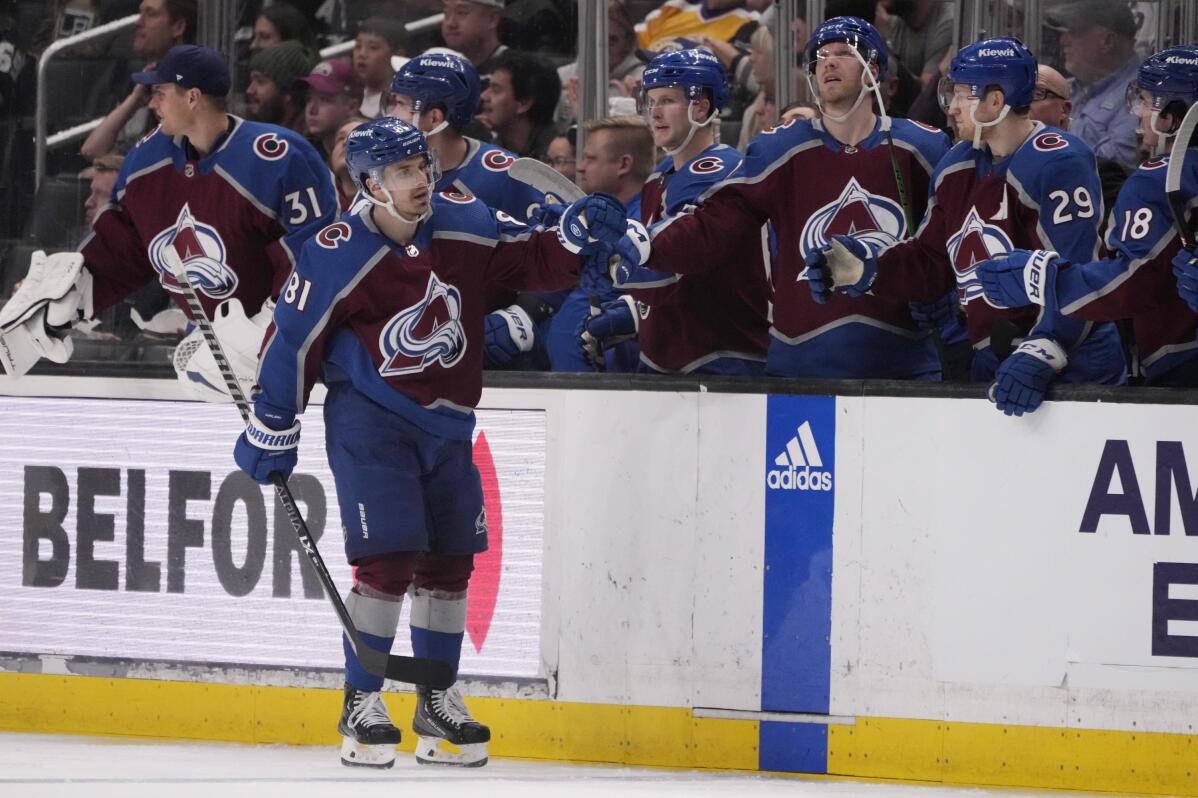 2 of 5

|
Colorado Avalanche center Denis Malgin (81) is congratulated for his goal against the Los Angeles Kings during the second period of an NHL hockey game Saturday, April 8, 2023, in Los Angeles. (AP Photo/Marcio Jose Sanchez)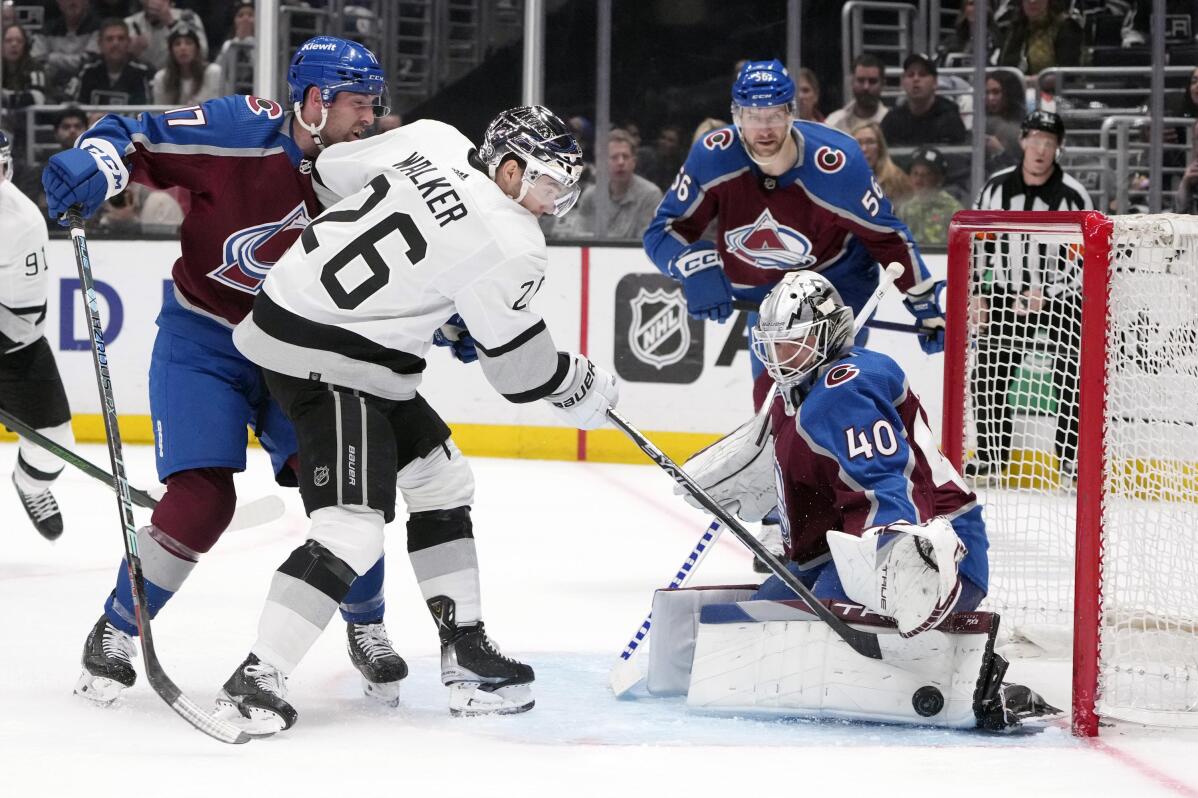 3 of 5

|
Colorado Avalanche goaltender Alexandar Georgiev (40) stops a shot from Los Angeles Kings defenseman Sean Walker (26) during the second period of an NHL hockey game Saturday, April 8, 2023, in Los Angeles. (AP Photo/Marcio Jose Sanchez)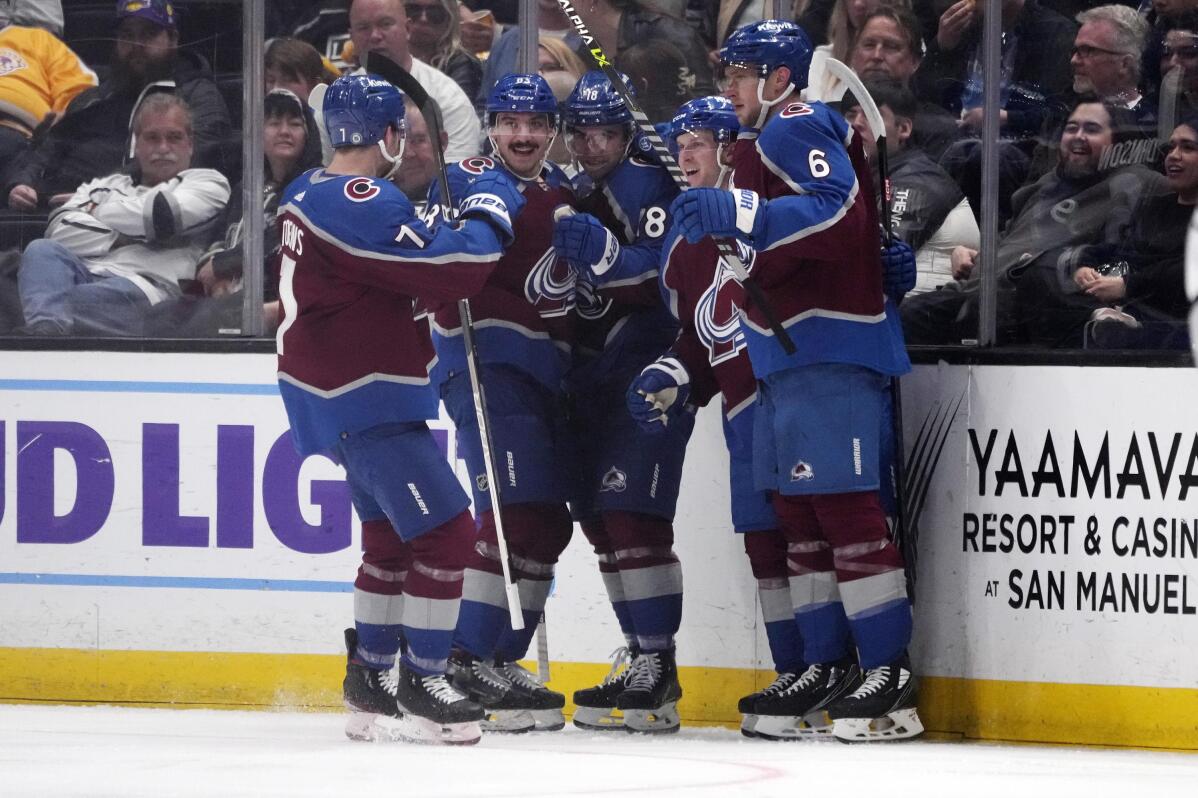 4 of 5

|
The Colorado Avalanche celebrate a goal by center Alex Newhook (18) during the second period of an NHL hockey game against the Los Angeles Kings on Saturday, April 8, 2023, in Los Angeles. (AP Photo/Marcio Jose Sanchez)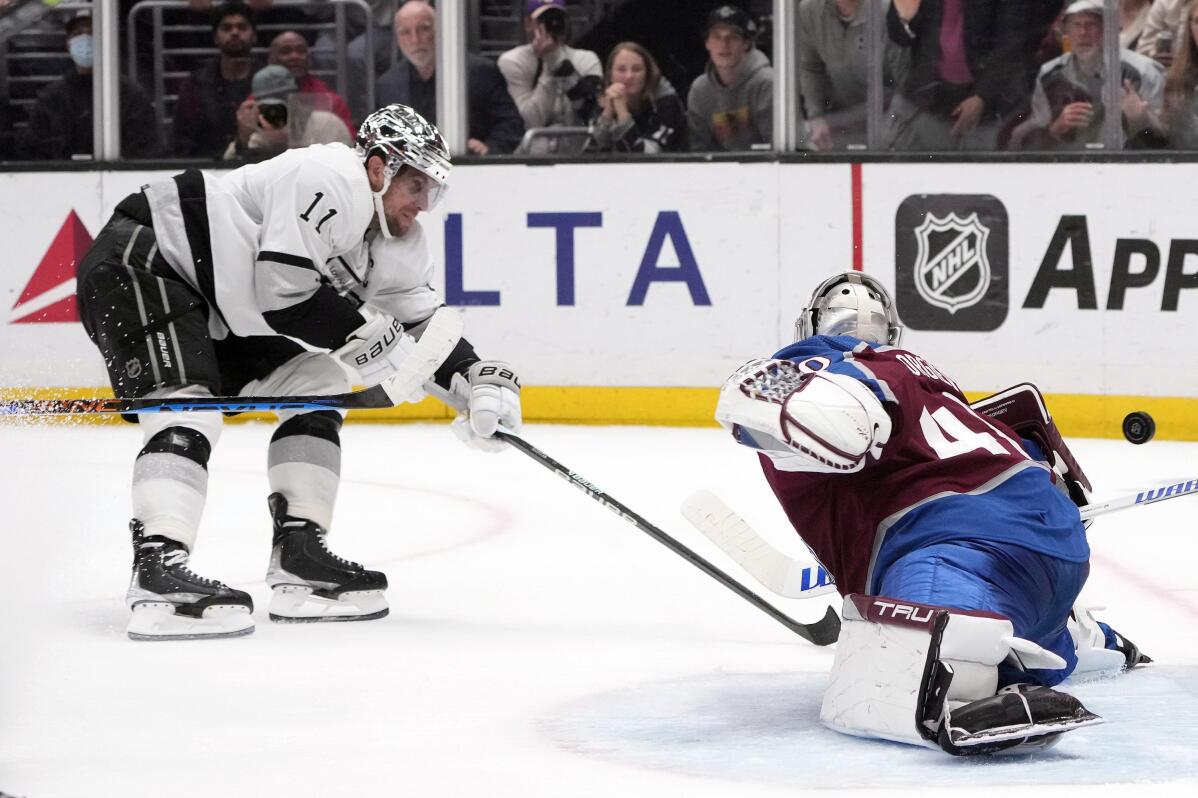 5 of 5

|
Colorado Avalanche goaltender Alexandar Georgiev, right, stops a shot from Los Angeles Kings center Anze Kopitar (11) during the second period of an NHL hockey game Saturday, April 8, 2023, in Los Angeles. (AP Photo/Marcio Jose Sanchez)
Malgin helps Avalanche keep rolling in 4-3 win over Kings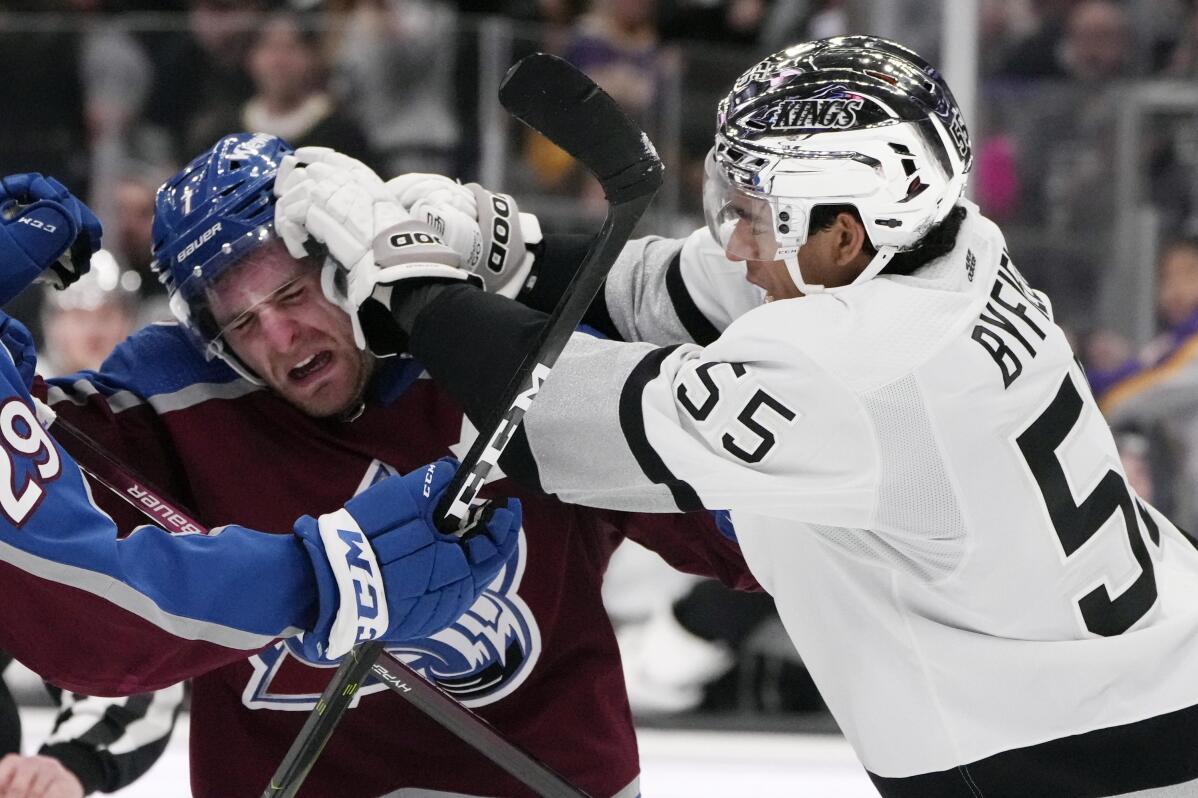 1 of 5

|
Los Angeles Kings center Quinton Byfield (55) fights with Colorado Avalanche defenseman Devon Toews during the second period of an NHL hockey game Saturday, April 8, 2023, in Los Angeles. (AP Photo/Marcio Jose Sanchez)
1 of 5
Los Angeles Kings center Quinton Byfield (55) fights with Colorado Avalanche defenseman Devon Toews during the second period of an NHL hockey game Saturday, April 8, 2023, in Los Angeles. (AP Photo/Marcio Jose Sanchez)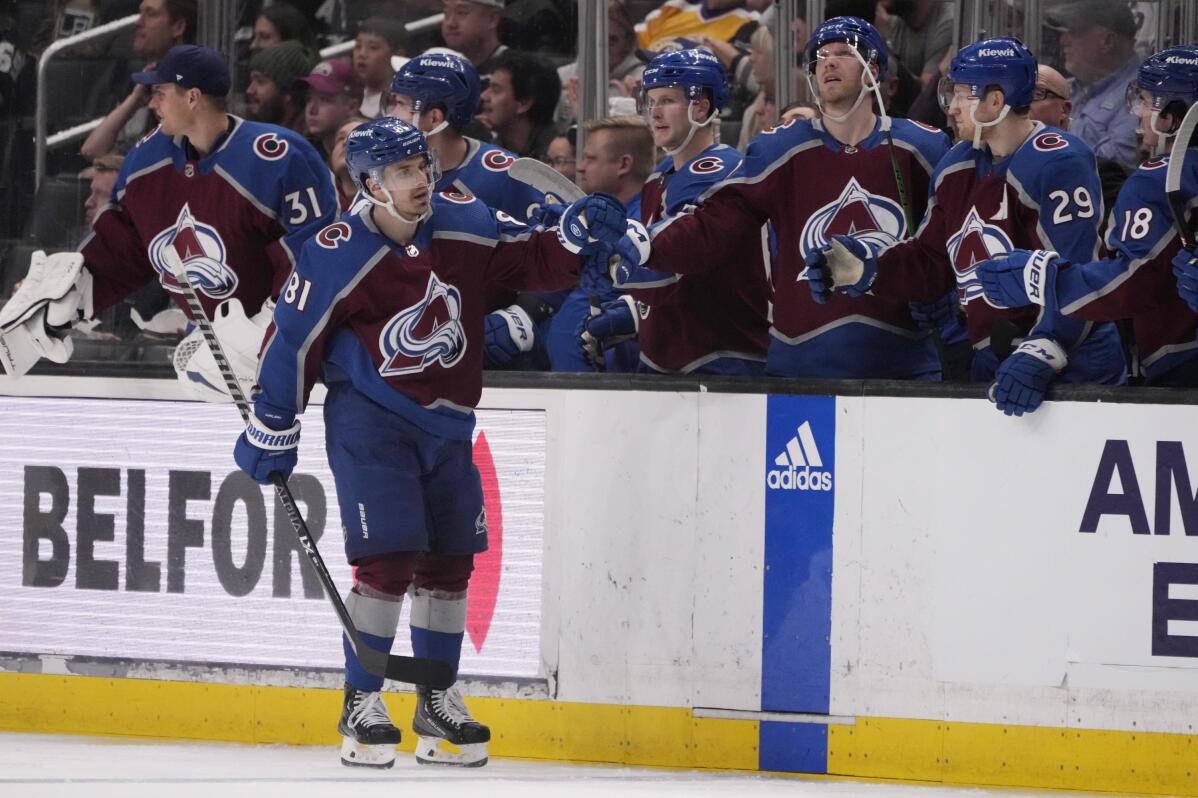 2 of 5

|
Colorado Avalanche center Denis Malgin (81) is congratulated for his goal against the Los Angeles Kings during the second period of an NHL hockey game Saturday, April 8, 2023, in Los Angeles. (AP Photo/Marcio Jose Sanchez)
2 of 5
Colorado Avalanche center Denis Malgin (81) is congratulated for his goal against the Los Angeles Kings during the second period of an NHL hockey game Saturday, April 8, 2023, in Los Angeles. (AP Photo/Marcio Jose Sanchez)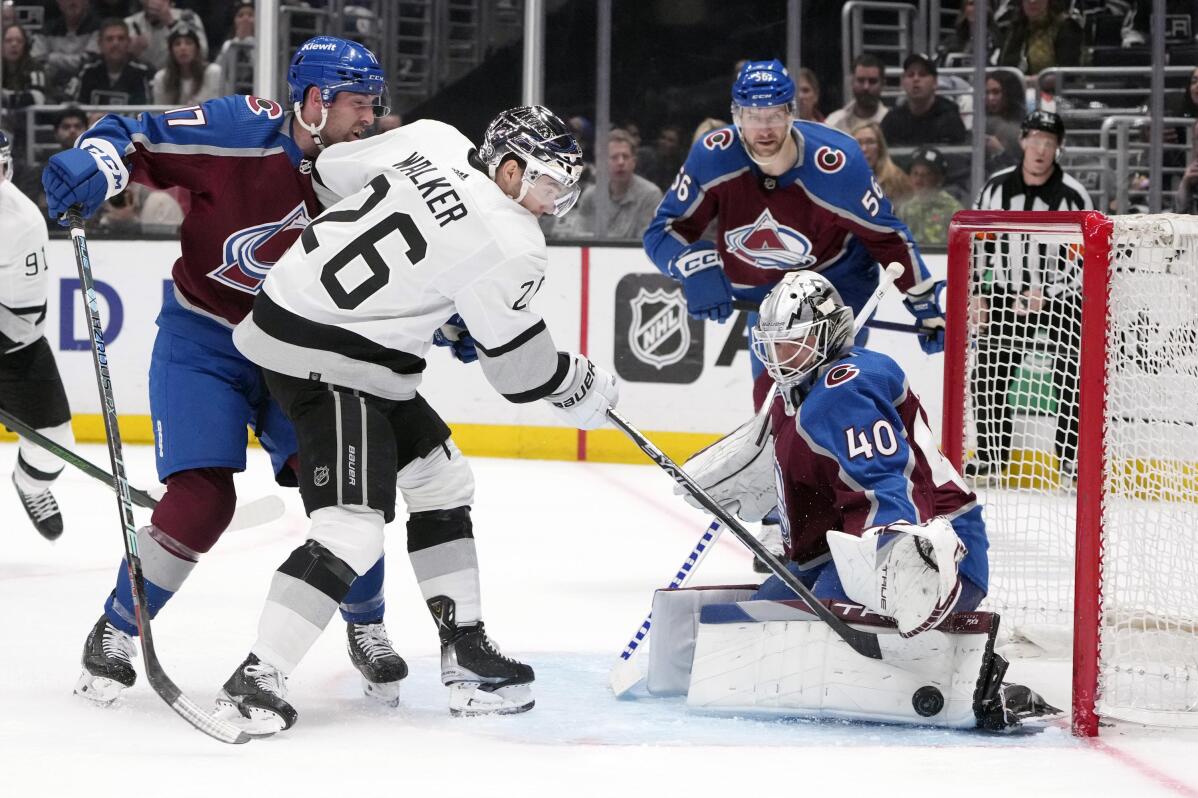 3 of 5

|
Colorado Avalanche goaltender Alexandar Georgiev (40) stops a shot from Los Angeles Kings defenseman Sean Walker (26) during the second period of an NHL hockey game Saturday, April 8, 2023, in Los Angeles. (AP Photo/Marcio Jose Sanchez)
3 of 5
Colorado Avalanche goaltender Alexandar Georgiev (40) stops a shot from Los Angeles Kings defenseman Sean Walker (26) during the second period of an NHL hockey game Saturday, April 8, 2023, in Los Angeles. (AP Photo/Marcio Jose Sanchez)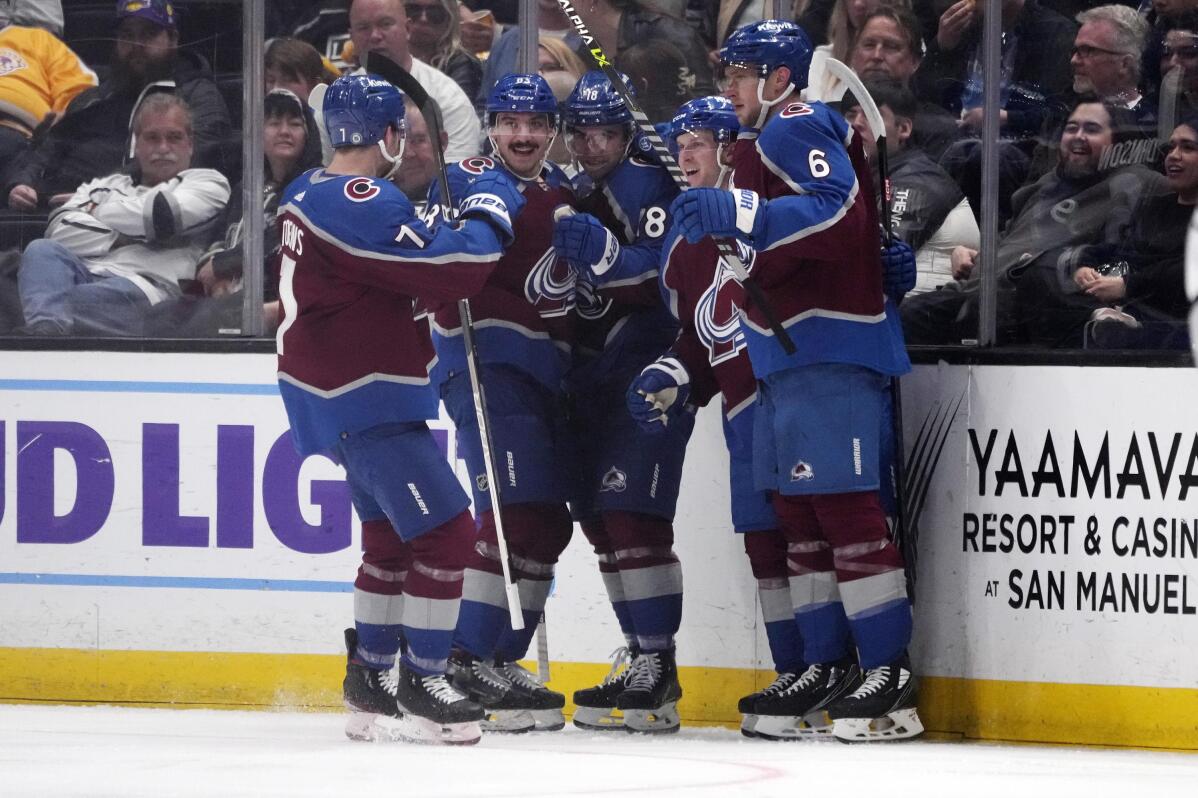 4 of 5

|
The Colorado Avalanche celebrate a goal by center Alex Newhook (18) during the second period of an NHL hockey game against the Los Angeles Kings on Saturday, April 8, 2023, in Los Angeles. (AP Photo/Marcio Jose Sanchez)
4 of 5
The Colorado Avalanche celebrate a goal by center Alex Newhook (18) during the second period of an NHL hockey game against the Los Angeles Kings on Saturday, April 8, 2023, in Los Angeles. (AP Photo/Marcio Jose Sanchez)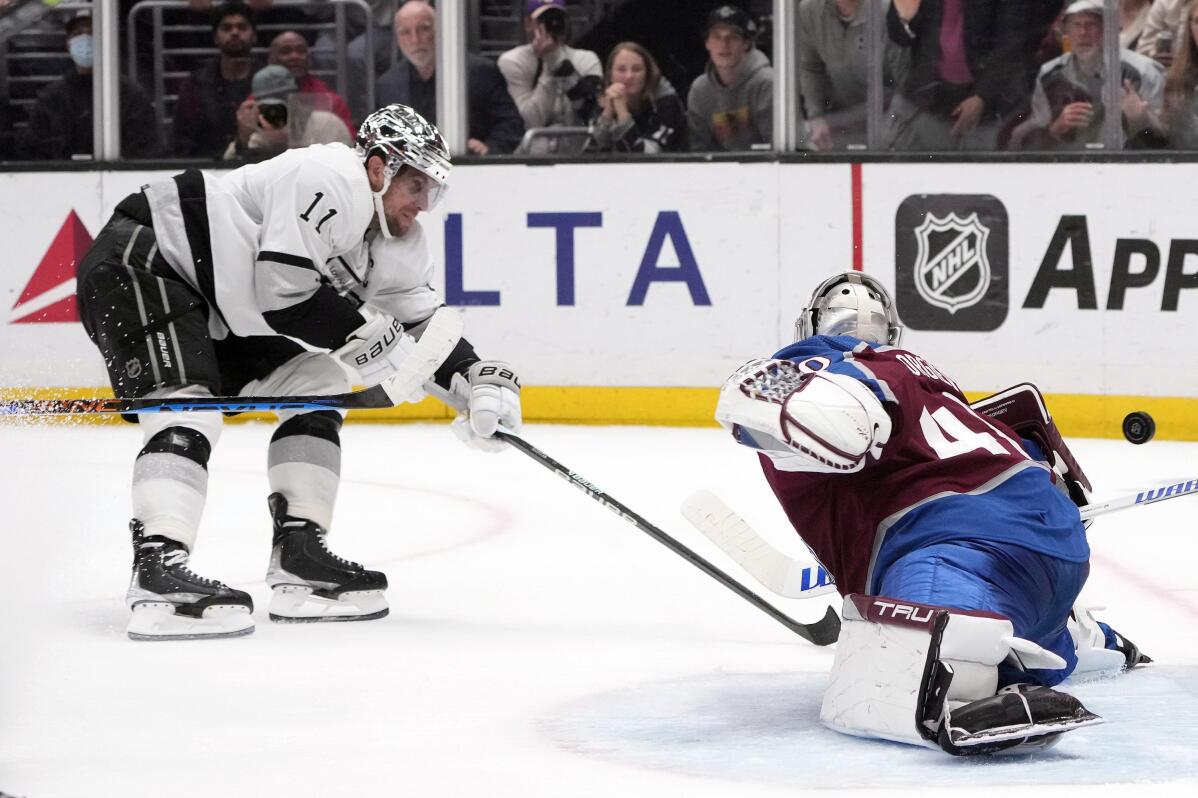 5 of 5

|
Colorado Avalanche goaltender Alexandar Georgiev, right, stops a shot from Los Angeles Kings center Anze Kopitar (11) during the second period of an NHL hockey game Saturday, April 8, 2023, in Los Angeles. (AP Photo/Marcio Jose Sanchez)
5 of 5
Colorado Avalanche goaltender Alexandar Georgiev, right, stops a shot from Los Angeles Kings center Anze Kopitar (11) during the second period of an NHL hockey game Saturday, April 8, 2023, in Los Angeles. (AP Photo/Marcio Jose Sanchez)
LOS ANGELES (AP) — Denis Malgin scored twice and the Colorado Avalanche beat the Los Angeles Kings 4-3 on Saturday night for their fourth straight victory.
Brad Hunt and Alex Newhook also scored, Alexandar Georgiev made 37 saves and the Avalanche kept pace with Dallas for first place in the Central Division and still have a game in hand.
It was the Avalanche's ninth straight road victory, matching the longest streak since the team moved to Colorado. Georgiev has won seven straight road starts, equaling Patrick Roy in 1996-97 for the best run by a goaltender.
"Ugly, but a win's a win," Colorado coach Jared Bednar said. "Our goalie was really good. We needed him to be really good on a night like that. And we were opportunistic. Made the most of those opportunities and were able to hang on, so we'll take it and move on."
Adrian Kempe had two goals, Viktor Arvidsson scored on the power play, and the Kings dropped their third straight game since wrapping up a playoff spot. Pheonix Copley made 19 saves.
"Couple unlucky bounces in the beginning got 'em two goals. Not much we can do about that, but I think we battled back and played a pretty good game," Kempe said.
Colorado has managed to thrive this season in spite of myriad injures, and that trend continued when Hunt — taking the place of an ill Bowen Byram — scored off Lars Eller's faceoff win early in the third period to go up 3-2.
Malgin got his second goal on a back post tap in set up by Valeri Nichushkin for a 4-2 lead, helping out on a rare night when the top line of center Nathan MacKinnon and wingers Mikko Rantanen and Evan Rodrigues had no points and a combined minus-6 rating.
"Those guys have been carrying us here heavy for many games, and when they don't have their stuff or they run into a matchup, other guys got to step up," Bednar said. "I felt like we had a couple of guys that played well and were to chip in a couple of goals, get some depth scoring."
Kempe, who notched his second goal to cut it to 4-3 26 seconds after what would be the winner, was mostly pleased with how the Kings played after a miserable start in a 5-2 loss at Vegas on Thursday.
"As long as we feel like we were there as a group and playing well, I think that's a good thing," Kempe said. "Special teams has been not as good last couple of games, and I think that took a step in the right direction as well tonight, so that's a good confidence booster for us."
MAKE YOUR BREAKS
The Avalanche didn't muster much in the first period, getting outshot 18-4, but took advantage of an unexpected bounce to get on the board first when Malgin's shot sailed off the glass and off the top netting to go in off Copley 1:28 into the second.
Newhook then scored on a breakaway one minute and two seconds later for a 2-0 advantage, but the Kings responded with Kempe's 37th goal of the season and a power-play tally by Arvidsson that deflected in off Devon Toews' skate.
"We were lucky to be tied after one. We were lucky to be tied after two," Bednar said. "We just needed to create an opportunity or two the way Georgi was playing and keeping us in it."
DAY AND NIGHT
The Kings hosted the back end of the 250th doubleheader at Crypto.com Arena following the Los Angeles Clippers' 136-125 win over the Portland Trail Blazers. It was the 65th transition from basketball to hockey.
NOTES: The Kings will start the postseason on the road as they can no longer catch Vegas or Edmonton for the top two spots in the Pacific. … Los Angeles C Anze Kopitar had three assists for his eighth 70-point season, third-most in team history trailing Marcel Dionne's 12 such campaigns and Luc Robitaille's 11.
UP NEXT
Avalanche: At Anaheim on Sunday night.
Kings: Host Vancouver on Monday night. ___ AP NHL: https://apnews.com/hub/nhl and https://twitter.com/AP_Sports