Avs lose Cogliano for playoffs with neck fracture from hit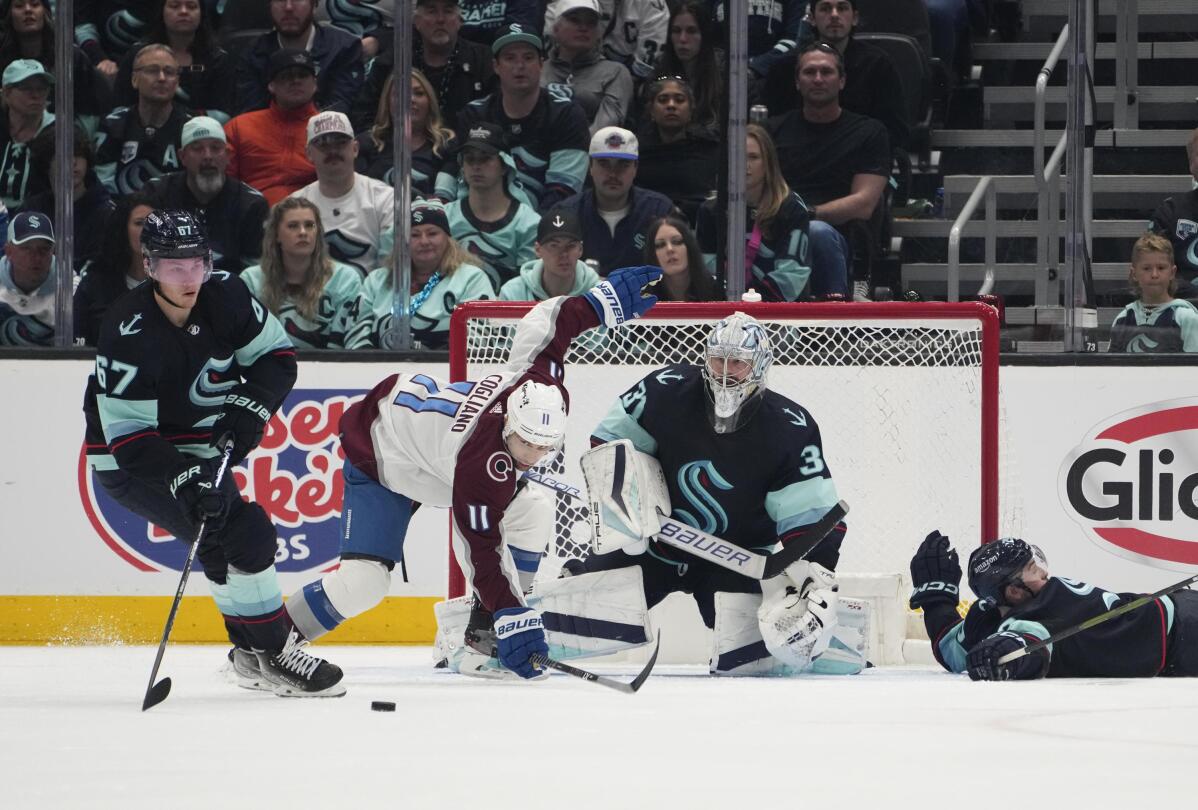 1 of 3

|
Seattle Kraken center Morgan Geekie (67) clears the puck as Colorado Avalanche center Andrew Cogliano (11) trips near the goal and Kraken goaltender Philipp Grubauer (31) watches during the third period of Game 6 of an NHL hockey Stanley Cup first-round playoff series Friday, April 28, 2023, in Seattle. The Avalanche won 4-1. (AP Photo/Lindsey Wasson)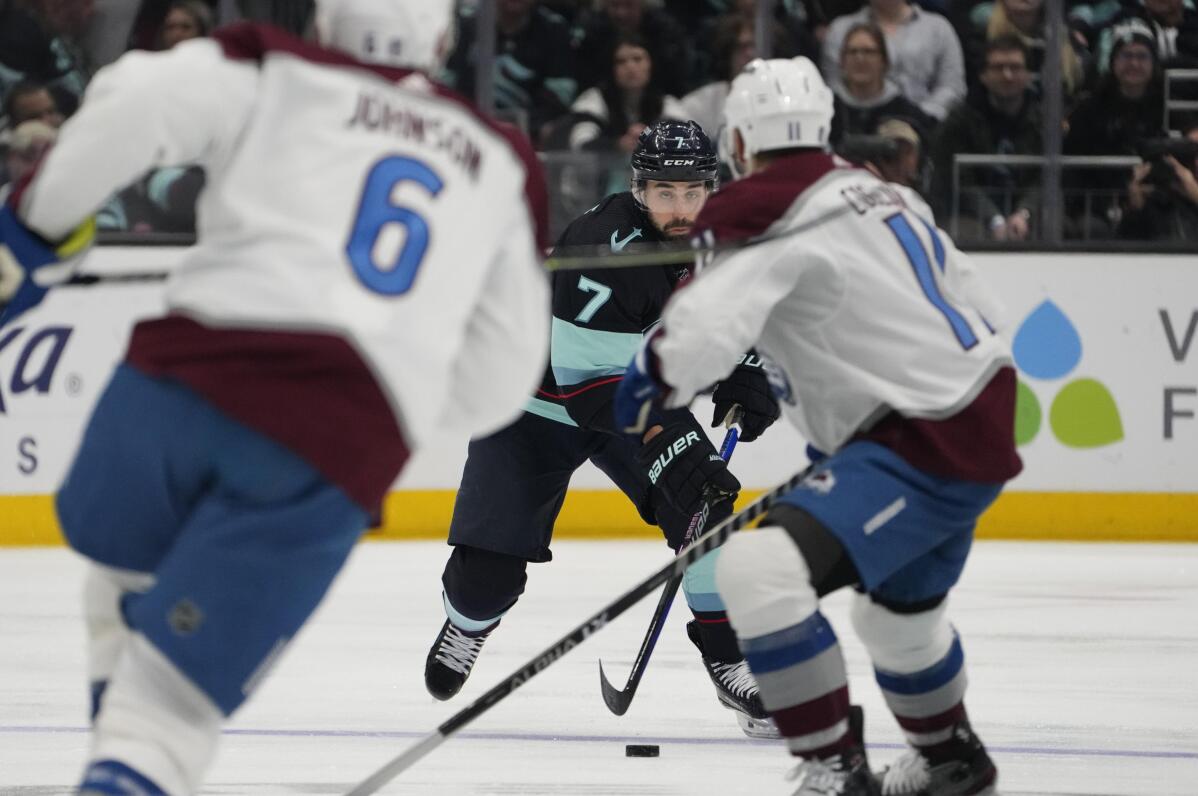 2 of 3

|
Seattle Kraken right wing Jordan Eberle (7) moves the puck against Colorado Avalanche defenseman Erik Johnson (6) and center Andrew Cogliano (11) during the first period of Game 4 of an NHL hockey Stanley Cup first-round playoff series Monday, April 24, 2023, in Seattle. (AP Photo/Lindsey Wasson)
3 of 3

|
Colorado Avalanche center Andrew Cogliano (11) shoots past Seattle Kraken center Yanni Gourde (37) during the third period of Game 4 of an NHL hockey Stanley Cup first-round playoff series Monday, April 24, 2023, in Seattle. (AP Photo/Lindsey Wasson)
Avs lose Cogliano for playoffs with neck fracture from hit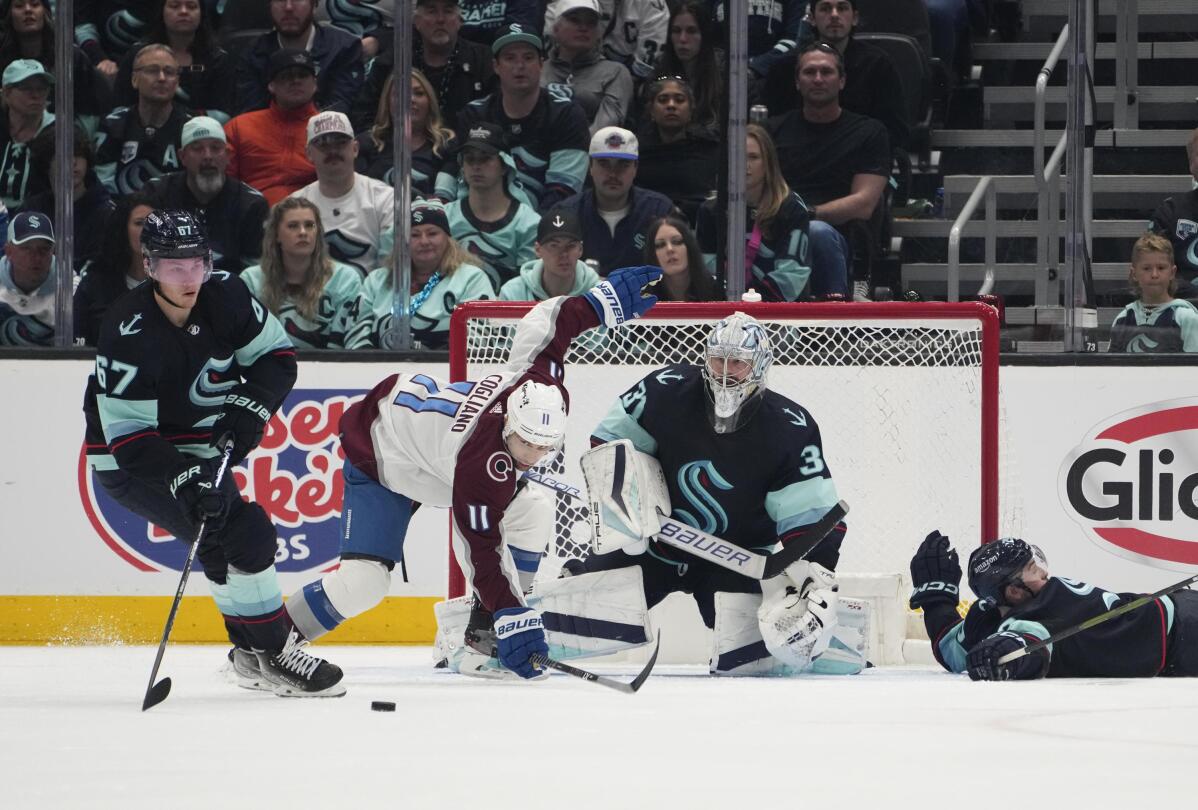 1 of 3

|
Seattle Kraken center Morgan Geekie (67) clears the puck as Colorado Avalanche center Andrew Cogliano (11) trips near the goal and Kraken goaltender Philipp Grubauer (31) watches during the third period of Game 6 of an NHL hockey Stanley Cup first-round playoff series Friday, April 28, 2023, in Seattle. The Avalanche won 4-1. (AP Photo/Lindsey Wasson)
1 of 3
Seattle Kraken center Morgan Geekie (67) clears the puck as Colorado Avalanche center Andrew Cogliano (11) trips near the goal and Kraken goaltender Philipp Grubauer (31) watches during the third period of Game 6 of an NHL hockey Stanley Cup first-round playoff series Friday, April 28, 2023, in Seattle. The Avalanche won 4-1. (AP Photo/Lindsey Wasson)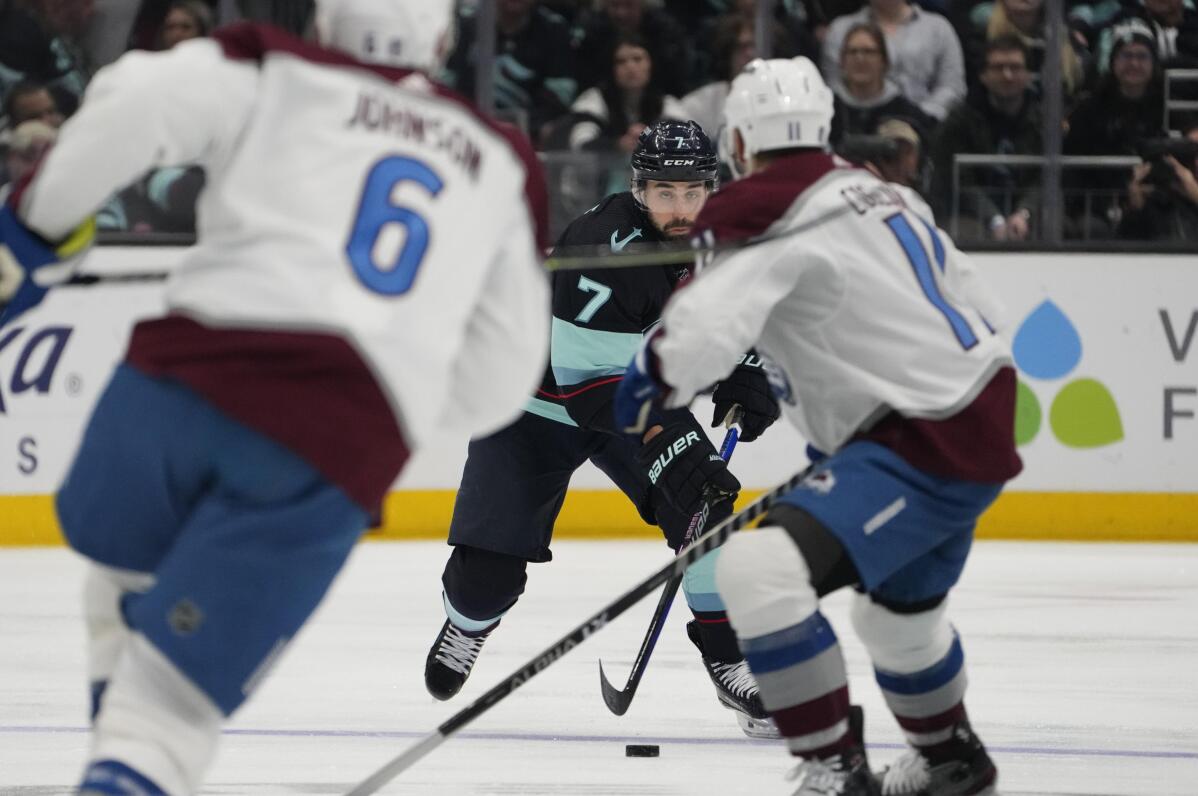 2 of 3

|
Seattle Kraken right wing Jordan Eberle (7) moves the puck against Colorado Avalanche defenseman Erik Johnson (6) and center Andrew Cogliano (11) during the first period of Game 4 of an NHL hockey Stanley Cup first-round playoff series Monday, April 24, 2023, in Seattle. (AP Photo/Lindsey Wasson)
2 of 3
Seattle Kraken right wing Jordan Eberle (7) moves the puck against Colorado Avalanche defenseman Erik Johnson (6) and center Andrew Cogliano (11) during the first period of Game 4 of an NHL hockey Stanley Cup first-round playoff series Monday, April 24, 2023, in Seattle. (AP Photo/Lindsey Wasson)
3 of 3

|
Colorado Avalanche center Andrew Cogliano (11) shoots past Seattle Kraken center Yanni Gourde (37) during the third period of Game 4 of an NHL hockey Stanley Cup first-round playoff series Monday, April 24, 2023, in Seattle. (AP Photo/Lindsey Wasson)
3 of 3
Colorado Avalanche center Andrew Cogliano (11) shoots past Seattle Kraken center Yanni Gourde (37) during the third period of Game 4 of an NHL hockey Stanley Cup first-round playoff series Monday, April 24, 2023, in Seattle. (AP Photo/Lindsey Wasson)
DENVER (AP) — Andrew Cogliano of the Colorado Avalanche will be out for the rest of the postseason with a fracture in his neck, coach Jared Bednar confirmed Sunday and reiterated his disappointment in the hit that sidelined the gritty forward.
Bednar's sentiment reverberated throughout the Avalanche locker room on the eve of Game 7 of their first-round series against Seattle.
"It was a bad decision," Bednar said of the hit.
Cogliano suffered a C5 lamina fracture when he was knocked into the boards from behind in the second period by Kraken forward Jordan Eberle in Game 6 on Friday. Cogliano returned for the third period following an examination but reported that his neck wasn't feeling great after the reigning Stanley Cup champions returned home from Seattle.
A CT scan revealed the fracture. Cogliano was scheduled for a follow-up MRI later Sunday. His injury may involve rehab or "whatever he has to do in order to be get himself healthy again," Bednar said.
Eberle was assessed a minor penalty for boarding. He wasn't subject to a hearing for supplemental discipline by the league. That didn't sit well with Bednar, especially after defenseman Cale Makar was suspended a game for his hit on Jared McCann earlier in the series.
"From 5 years old, you're wearing stop signs on your back on every jersey (to prevent hits from behind)," Bednar said. "It's numbers the whole way and he doesn't really ease off him."
Eberle said it was just a fast hockey play. He expressed his remorse for hurting a player he once was a teammate with in Edmonton.
"You don't ever want to injure a guy, especially a guy you played with, respect," Eberle said. "It's unfortunate the way it ended. ... I was happy to see him back in third and obviously you hear that he's hurt the next day, it's tough."
Kraken coach Dave Hakstol echoed Eberle.
"It's a fast play on the wall. To sit here and debate it in front of everybody turns into a side show. I don't want it to be that," Hakstol said. "I hate to see that Andrew's injured. It's a fast play in tight spaces on the wall and he went in awkwardly. I hate to see the end result of that."
Bednar said the hit that Makar delivered on McCann warranted a suspension. But he also thought the league should've taken another look at Eberle's play. He said he thought there were more hits that deserved closer scrutiny than those that may be deemed dirty or predatory.
"If we're going to protect the players, there's also bad decisions," Bednar said. "Sometimes they're split-second, sometimes they take a little bit longer. Cale Makar for one, I don't think he's trying to take a run at McCann or hurt McCann. But the reality of it is he made a decision to finish him and there's no puck there. So it's a suspension. It is.
"I think this one is the same way. His back is turned. He might be thinking he's going to turn so he can hit him clean, but he doesn't turn."
Makar didn't want to weigh in on whether Eberle deserved a suspension. But he did discuss how tough it is to lose a veteran leader in Cogliano.
"It's a dagger, man," Makar said. "Cogs is the heart and soul of this group, so it's just such a hard one. Obviously, it's such a scary injury, too. Any lower and he probably could have been paralyzed. It's a really unfortunate one and tough."
Losing Cogliano is the latest blow for a Colorado team that already is without captain Gabriel Landeskog (knee) and Valeri Nichushkin (personal reasons).
"He played a playoff game with a broken neck. I mean, crazy. Scary, for sure," forward Nathan MacKinnon said. "It's scary that he had to do that and did that. It's just a testament to how amazing of a person, teammate he is. We're going to miss him."
___
AP NHL: https://apnews.com/hub/nhl and https://twitter.com/AP_Sports