Oscar ratings plunge to a record low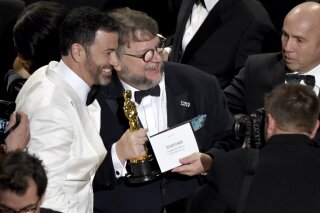 NEW YORK (AP) — Television viewers could barely stifle a yawn for Hollywood's biggest night, with the Academy Awards plunging to a record-low viewership of 26.5 million people.
The Nielsen company said that's a 20 percent drop from the 33 million who watched the 2017 show, which was also hosted by Jimmy Kimmel. Oscar viewership is often tied to the box office muscle of the big nominees, and best picture winner "The Shape of Water" only grossed $57.4 million in the United States.
It's the first time the Oscars have drawn fewer than 30 million people, in Nielsen records that go back to 1974. The Academy Awards are often the most-watched television program of the year after the Super Bowl, but this year's Winter Olympics opening ceremony from Pyeongchang reached 27.8 million.
The previous low-water mark for the Oscars came in 2008, when "No Country For Old Men" won best picture.
Only four years ago the Oscar reached nearly 44 million viewers. The biggest Academy Awards audience on record came in 1998, when the blockbuster "Titanic" was named best picture.
The Academy Awards can keep bragging rights over other awards shows. The Golden Globes reached 19 million viewers in January and the Grammys had an audience of 19.8 million, Nielsen said.