Behind the bar, 'the only Oscar at the Golden Globes'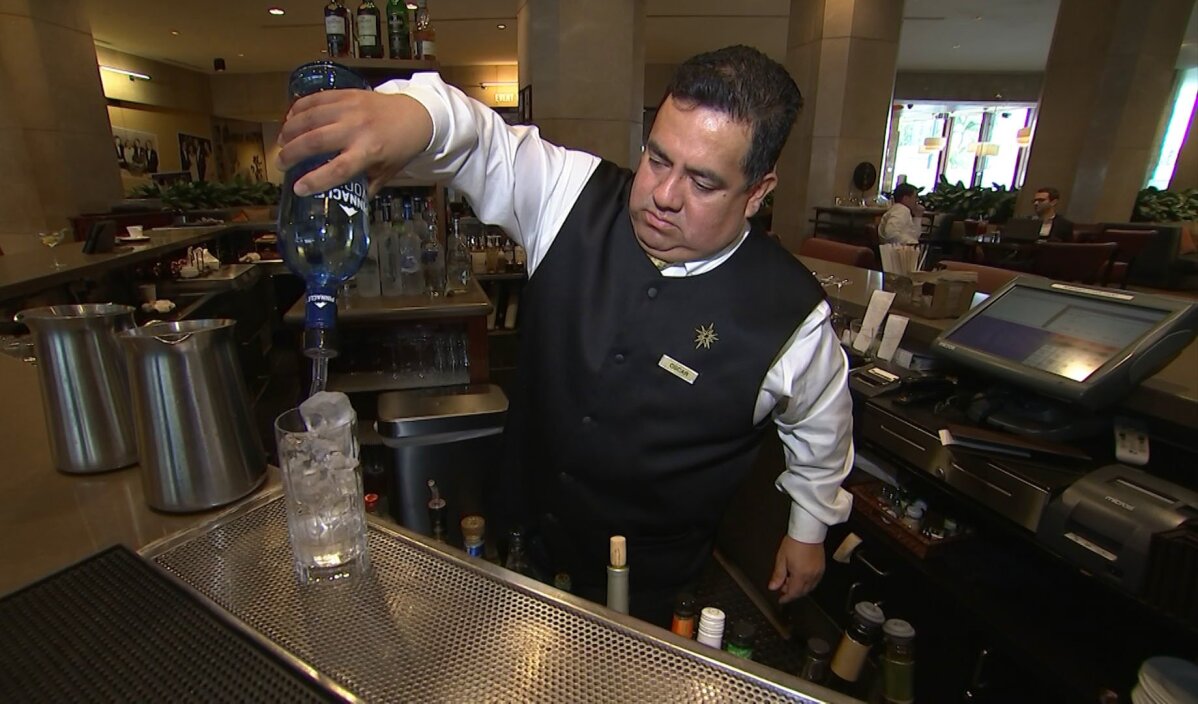 1 of 2

|
This Jan. 3, 2017 image taken from video shows Beverly Hilton hotel bartender Oscar Zuleta mixing drinks at the hotel in Beverly Hills, Calif. Zuleta has toasted with Sean Connery, gotten a head rub from Tom Hanks, shared a selfie with Jessica Alba while working previous Golden Globe Awards. The 48-year-old hotel staffer keeps the drinks flowing at the awards circuit's booziest gathering. (AP Photo/Rick Taber)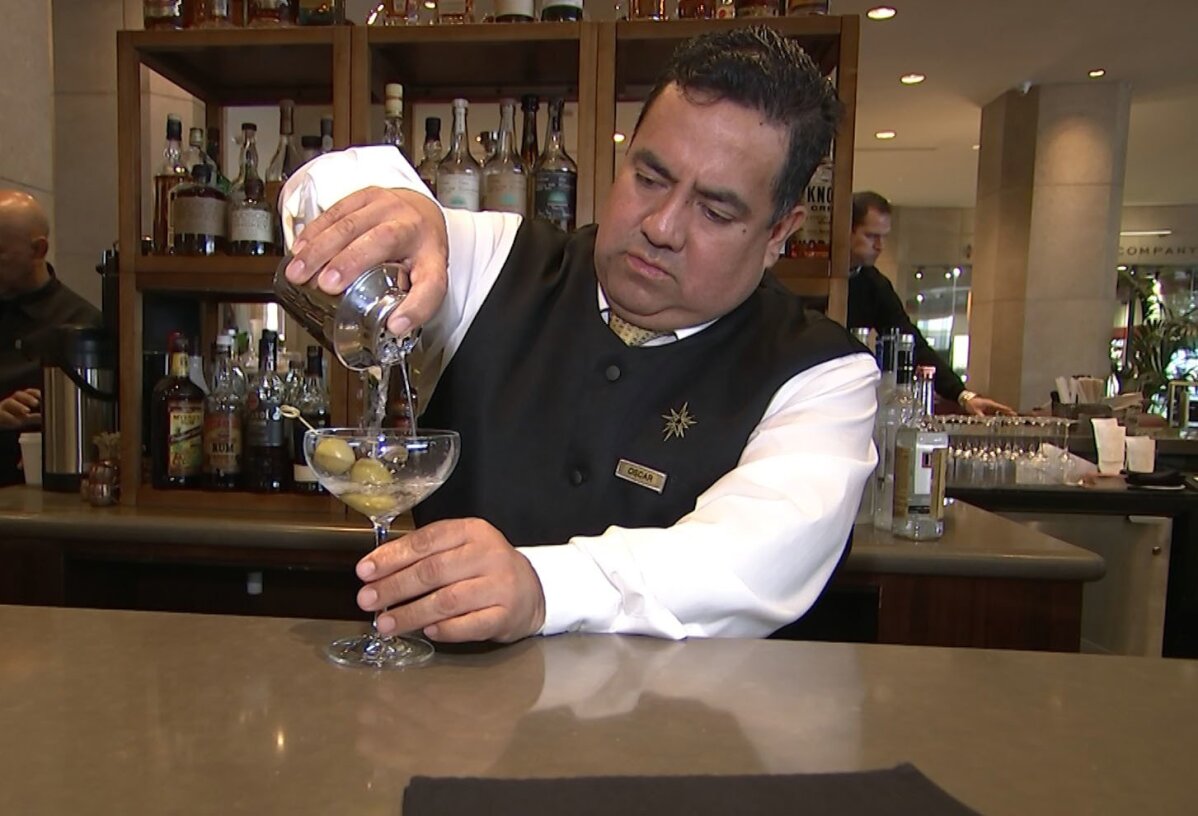 2 of 2

|
This Jan. 3, 2017 image taken from video shows Beverly Hilton hotel bartender Oscar Zuleta mixing drinks at the hotel in Beverly Hills, Calif. Zuleta has toasted with Sean Connery, gotten a head rub from Tom Hanks, shared a selfie with Jessica Alba while working previous Golden Globe Awards. The 48-year-old hotel staffer keeps the drinks flowing at the awards circuit's booziest gathering. (AP Photo/Rick Taber)
Behind the bar, 'the only Oscar at the Golden Globes'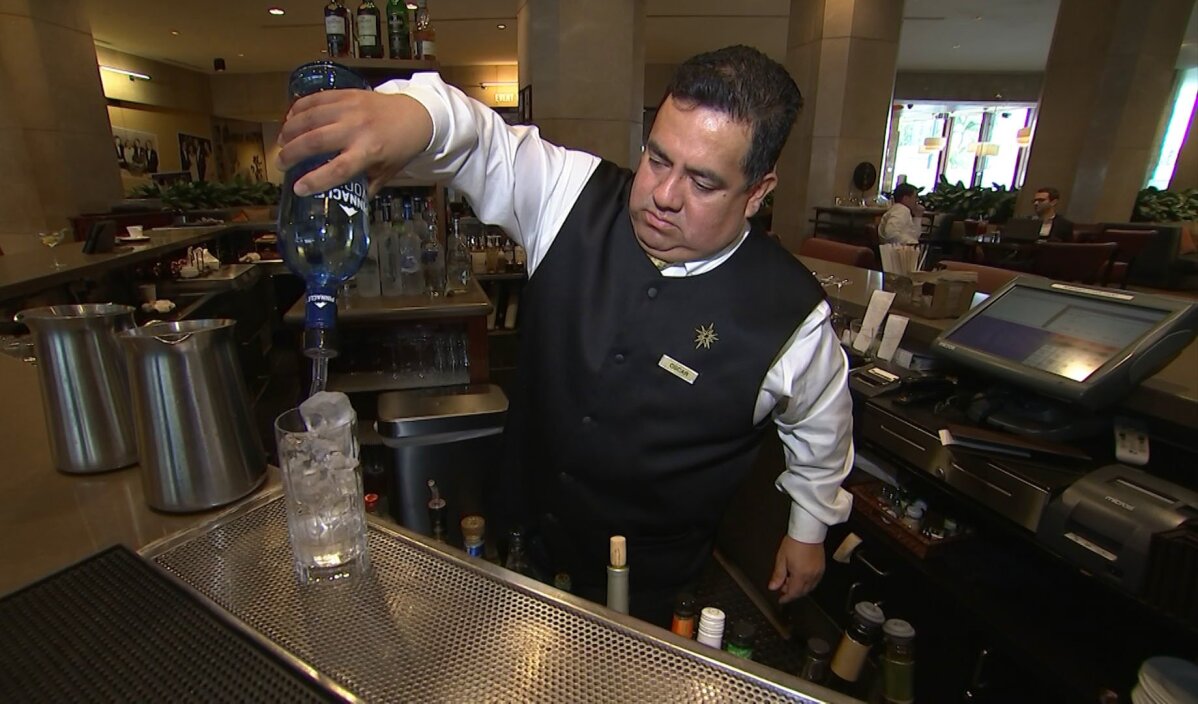 1 of 2

|
This Jan. 3, 2017 image taken from video shows Beverly Hilton hotel bartender Oscar Zuleta mixing drinks at the hotel in Beverly Hills, Calif. Zuleta has toasted with Sean Connery, gotten a head rub from Tom Hanks, shared a selfie with Jessica Alba while working previous Golden Globe Awards. The 48-year-old hotel staffer keeps the drinks flowing at the awards circuit's booziest gathering. (AP Photo/Rick Taber)
1 of 2
This Jan. 3, 2017 image taken from video shows Beverly Hilton hotel bartender Oscar Zuleta mixing drinks at the hotel in Beverly Hills, Calif. Zuleta has toasted with Sean Connery, gotten a head rub from Tom Hanks, shared a selfie with Jessica Alba while working previous Golden Globe Awards. The 48-year-old hotel staffer keeps the drinks flowing at the awards circuit's booziest gathering. (AP Photo/Rick Taber)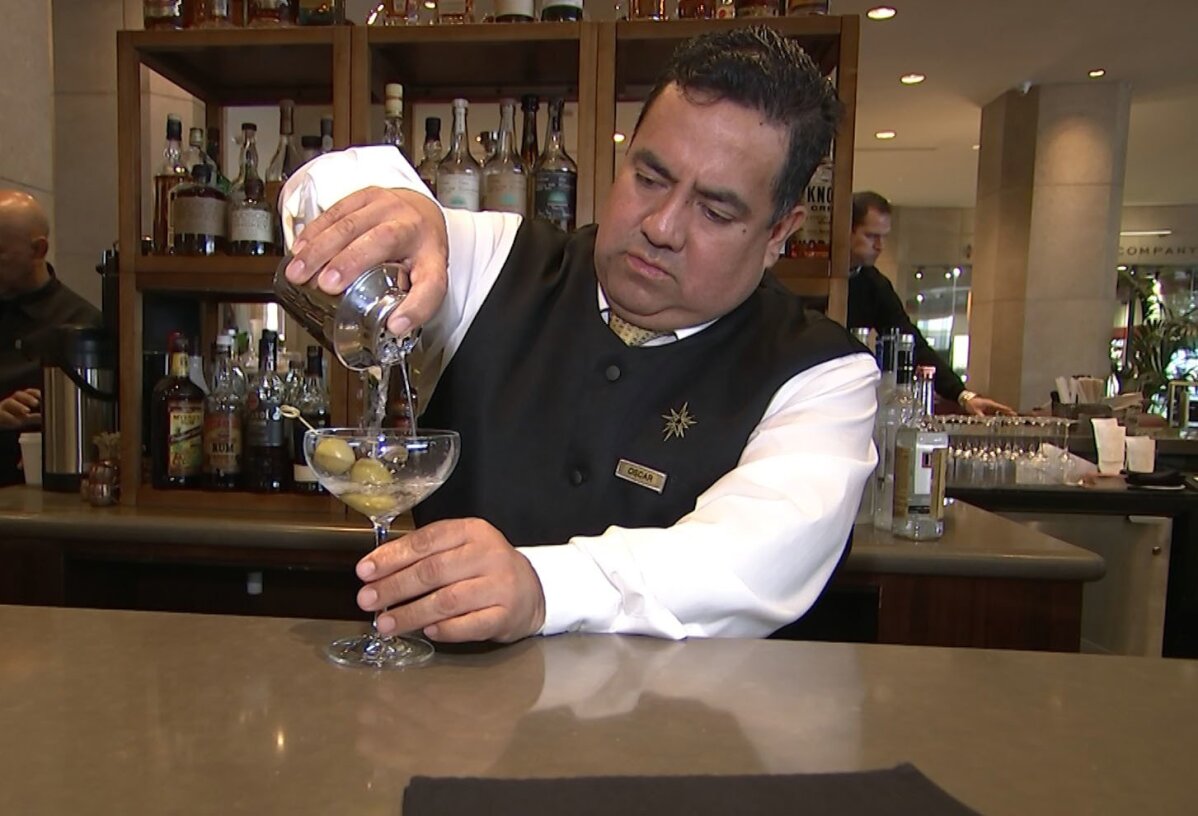 2 of 2

|
This Jan. 3, 2017 image taken from video shows Beverly Hilton hotel bartender Oscar Zuleta mixing drinks at the hotel in Beverly Hills, Calif. Zuleta has toasted with Sean Connery, gotten a head rub from Tom Hanks, shared a selfie with Jessica Alba while working previous Golden Globe Awards. The 48-year-old hotel staffer keeps the drinks flowing at the awards circuit's booziest gathering. (AP Photo/Rick Taber)
2 of 2
This Jan. 3, 2017 image taken from video shows Beverly Hilton hotel bartender Oscar Zuleta mixing drinks at the hotel in Beverly Hills, Calif. Zuleta has toasted with Sean Connery, gotten a head rub from Tom Hanks, shared a selfie with Jessica Alba while working previous Golden Globe Awards. The 48-year-old hotel staffer keeps the drinks flowing at the awards circuit's booziest gathering. (AP Photo/Rick Taber)
BEVERLY HILLS, California (AP) — Win or lose, Hollywood's biggest stars will be looking forward to Oscar once again at Sunday's Golden Globe Awards. But not necessarily THAT Oscar.
As longtime bartender in the show's off-camera green room, Oscar Zuleta has toasted with Sean Connery, gotten a head rub from Tom Hanks and shared a selfie with Jessica Alba. The 48-year-old Beverly Hilton Hotel staffer keeps the drinks flowing at the awards circuit's booziest gathering.
"A lot of people know me for that - 'you are the only Oscar at the Golden Globes,'" Zuleta says. "I know many of the presenters for years now - wonderful people and I get to see them every year and they happen to remember me, luckily."
Zuleta immigrated to Los Angeles from Guatemala as a teenager. He started working for the Hilton in 1986, at first just pouring cups of coffee. Eventually, he landed on the hotel's banquet staff, commuting daily from the working-class Mid-City area to the mecca of affluence that is Beverly Hills. He would dish out meals at business conventions or clean up after the hotel's many charity galas.
His first brush with Globes glamour was in an eighth-floor suite after-party in 1995. Tom Hanks was celebrating his win for "Forrest Gump" and noticed Zuleta's "Oscar" name tag. "He says, 'Come here. Let me rub your head. I need some luck,'" Zuleta recalled, laughing. Hanks went on to win at the Oscars.
One year, Zuleta delivered extra food to a Globes guest mid-show and found himself crawling between tables as the televised ceremony continued — and while an amused Angelina Jolie looked on. Then there's the time he held an extended conversation with Mike Tyson — in Spanish. And Zuleta is ready with a ginger ale as soon as he spots Robert Downey Jr.
"Frankly, it wouldn't be a Golden Globes without Oscar. Everybody looks for him," said Globes executive producer Barry Adelman. "Everybody who is anybody has been served a drink by Oscar."
Meryl Streep, an Affleck brother or two, and dozens of other actors will be packed into Cabana Room 138 on Sunday as they wait their turns onstage in the hotel's International Ballroom. But Zuleta says he won't have time to chat much as he pours out martinis and Champagne. It's the stars' loss; this bartender has stories of his own to tell.
He raised three children alone for years after his first wife, Cecilia, died of a brain aneurysm. He saved enough money from his unionized job to help pay tuition for his two older daughters at East Coast colleges.
After remarrying, his current wife, Zonia, also suffered a brain aneurysm. She's doing OK, though, and Zuleta took her on vacation last month to visit California's Monterey Bay Aquarium, the place that inspired his favorite movie of 2016, "Finding Dory."
Moments of kindness stand out for Zuleta in the yearly whirlwind of fame and glitz. "Everybody is nice to me, but there are people that show you that you matter," he said.
Jessica Alba posted a selfie with the heavyset bartender on her Instagram feed. One man tipped him an envelope stuffed with $300. But it was a red wine toast with James Bond actor Connery that's become Zuleta's favorite Globes moment.
"He did a wonderful thing. He told me with his heavy accent that his custom is not to have a drink of wine - only if the person that is serving it to him has it with him. But you know, being a worker, I'm not allowed to do that. But he insisted," Zuleta said.
After getting permission from the banquet manager and Globes host Dick Clark himself, Zuleta took a sip. "And he says, 'Cheers, my son,'" Zuleta recalled. "I'll never forget that."
___
www.goldenglobes.com
___
Follow AP Entertainment Writer Ryan Pearson at twitter.com/ryanwrd