IOC's Bach defends Russia stance amid pro-Ukraine protest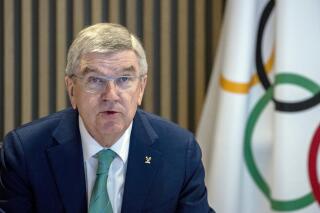 ESSEN, Germany (AP) — International Olympic Committee president Thomas Bach defended his organization's efforts to create a pathway for Russian and Belarusian athletes to return to competition in a speech in his home country of Germany which took place amid a pro-Ukraine protest Wednesday.
Bach reiterated the IOC's position that it would be discriminatory to exclude Russians and Belarusians based on citizenship alone and argued the Olympics can help promote dialogue at a tense time. Public broadcaster WDR reported nearly 200 pro-Ukraine protesters gathered outside the venue calling for Russia to be excluded entirely from the Olympics.
The IOC recommended excluding Russia and Belarus on safety grounds soon after the invasion last year but now argues for letting the two countries' athletes compete as neutrals without national symbols ahead of a packed calendar of qualification events for the 2024 Paris Olympics.
Bach said he opposed political influence on sports and any suggestion that Russians should be treated as if they have "collective guilt." The Olympics, he added, need to remain neutral to be a unifying force.
The IOC previously said it wants to keep out athletes deemed to be "actively supporting the war," with a final decision lying with the international federations running individual sports, but it has given few details of how that would work.
Bach refined that approach Wednesday, indicating the IOC could recommend barring athletes who pose with a "Z" symbol, a marking used on Russian military vehicles which has become a symbol of support for the war.
"Our principles say clearly and distinctly that any active support for the war, and that includes wearing this 'Z', that includes posts and much else besides (is prohibited). Anyone who supports the war in this way cannot, or in relation to the international federations, since we are issuing this only as a recommendation, should not take part in these competitions," Bach said.
Asked about what to do with the many Russian athletes who are part of the military or have ties to military organizations, Bach indicated the IOC could decide on its approach at a board meeting next week.
"Wait until the middle of next week. I am confident that we will come up with appropriate guidelines then," he said.
___
More AP coverage of the Paris Olympics: https://apnews.com/hub/2024-paris-olympic-games and https://twitter.com/AP_Sports