Bahrain sentences 3 for questioning Islamic teachings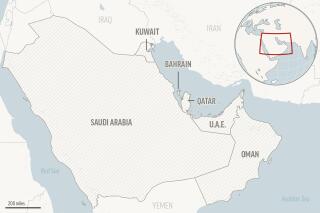 DUBAI, United Arab Emirates (AP) — Prosecutors in the Arab Gulf nation of Bahrain on Thursday have handed down yearlong prison sentences to three people for debating Islamic theology in a series of blog posts and online videos.
The three are part of a local cultural society called Tajdeed, Arabic for Renewal, that says it questions traditional Islamic scholarship and jurisprudence but not the religion itself. Critics, including prominent Shiite clerics in the kingdom, have accused the group of attacking the foundations of Islam and have waged a campaign of incitement against them.
The case has divided the majority Shiite community in Bahrain, which is ruled by a Sunni monarchy.
The public prosecutor's office said the three defendants were guilty of "infringing on the foundations of the Islamic faith" and insulting its prophets, in part by dismissing purported miracles as popular myths.
It did not name the defendants, but activists have identified them as Jalal al-Qassab and Redha Rajab, who were summoned to court, and Mohammed Rajab, who lives in Britain. They are free on bail pending appeal.
Islam, like other world religions, has a rich tradition of theological debate going back to its earliest days. But in modern Muslim-majority countries both political and religious authorities often enforce a conservative orthodoxy, and reformers are censured and in some cases targeted with violence.
Prosecutors specializing in cybercrimes referred the three defendants to a criminal court last month, accusing them of "deliberately undermining the basics of the Islamic religion on which all Muslims and sects agree," the state-run Bahrain News Agency reported.
Human Rights Watch has called on authorities to drop the charges.
"Despite putting on an appearance of religious and political tolerance in the country, Bahraini authorities continue to target and suppress speech that does not conform to their own views," Niku Jafarnia, a Bahrain researcher for the New York-based rights group, said in a statement last month.
The members of Tajdeed are "being persecuted for doing nothing other than researching and questioning religious texts and speaking openly about their beliefs," HRW said.
Prominent Shiite clerics in Bahrain have inveighed against Tajdeed in Friday sermons, accusing them of undermining Islam and calling on the faithful to ostracize them.
Tajdeed says it does not question the Quran, Islam's holy book, or the teachings of the Prophet Muhammad, which are at the heart of the faith, but rather the opinions of religious scholars and others who came later, including modern-day clerics.
Bahrain was rocked by pro-democracy protests led by the Shiite majority against the Sunni monarchy in 2011. Authorities quashed the protests by force with aid from Saudi Arabia and the United Arab Emirates, but Bahrain has continued to see low-level unrest over the years.
The small island nation off Saudi Arabia is also home to the U.S. Navy's 5th Fleet.