Baldelli ejected, German stays in game after ump check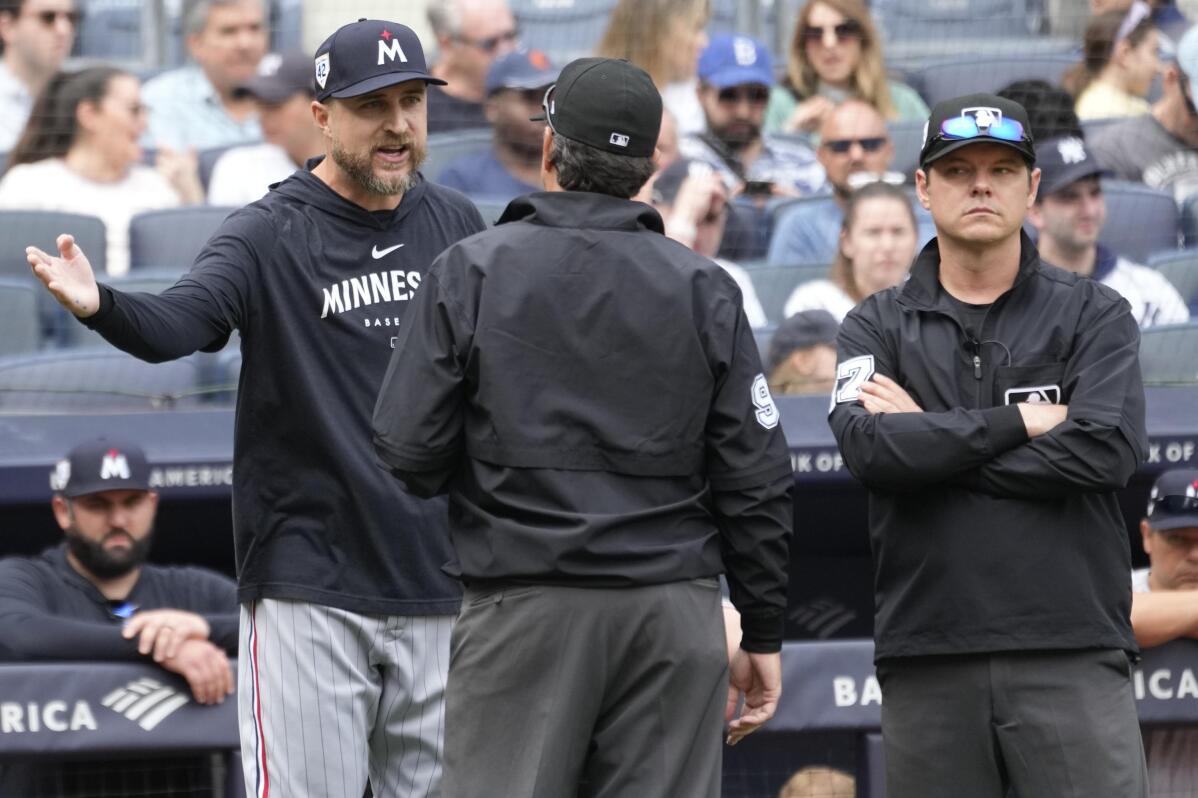 1 of 3

|
Minnesota Twins manager Rocco Baldelli, left, argues with umpire James Hoye (92) during the top of the fourth inning of a baseball game against the New York Yankees, Saturday, April 15, 2023, in New York. (AP Photo/Mary Altaffer)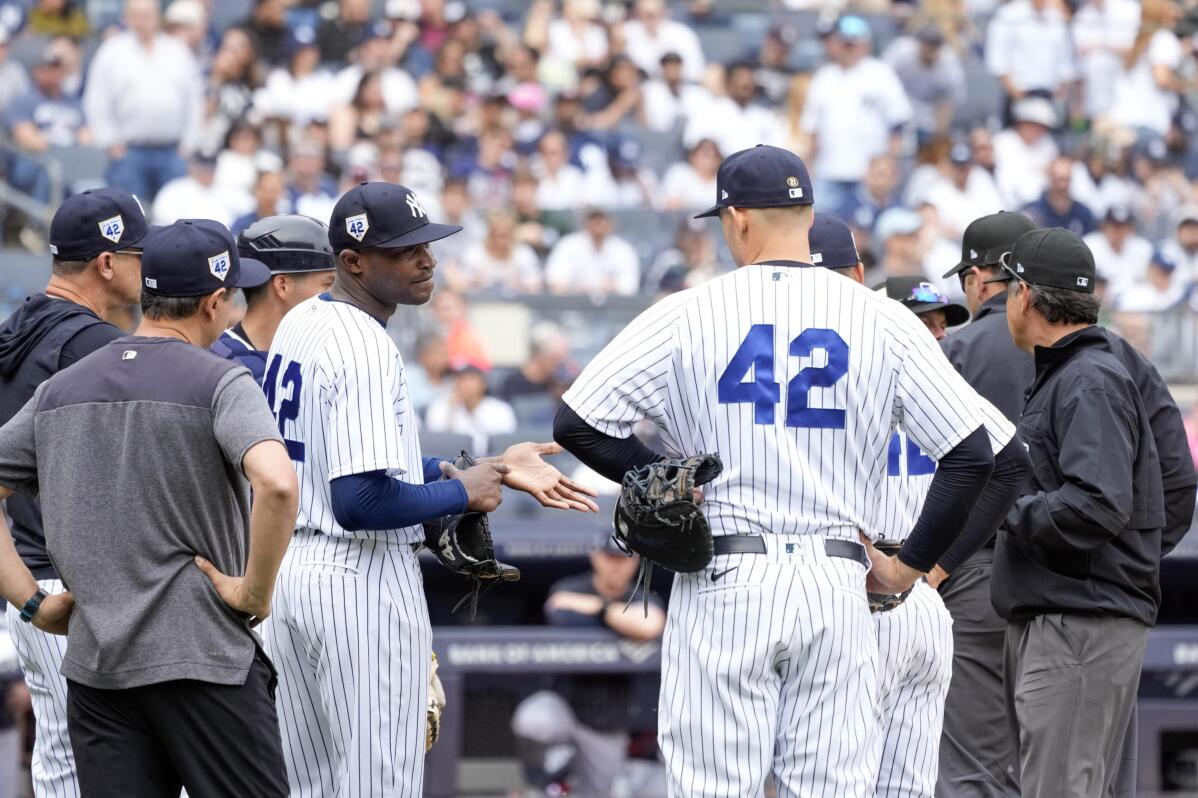 2 of 3

|
New York Yankees pitcher Domingo German, third from left, shows his hand to the umpires during the top of the fourth inning of a baseball game against the Minnesota Twins, Saturday, April 15, 2023, in New York. (AP Photo/Mary Altaffer)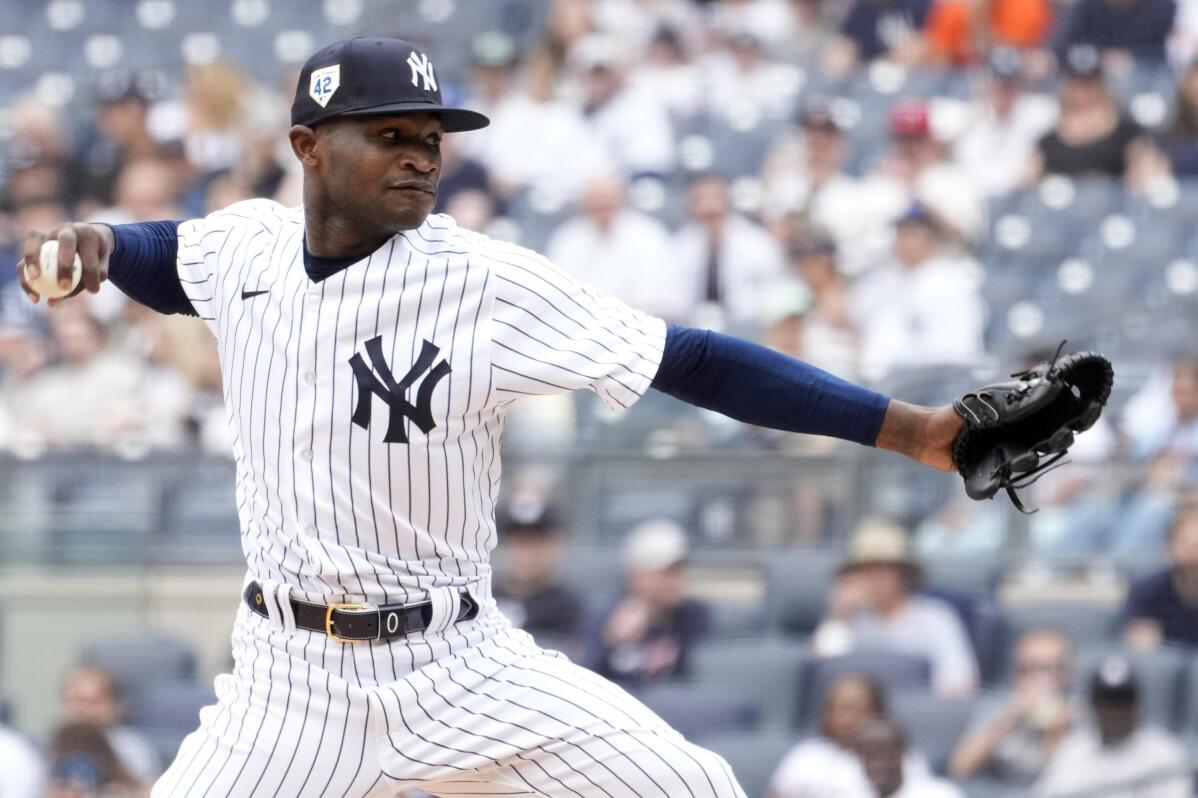 3 of 3

|
New York Yankees pitcher Domingo German delivers against the Minnesota Twins in the first inning of a baseball game, Saturday, April 15, 2023, in New York. (AP Photo/Mary Altaffer)
Baldelli ejected, German stays in game after ump check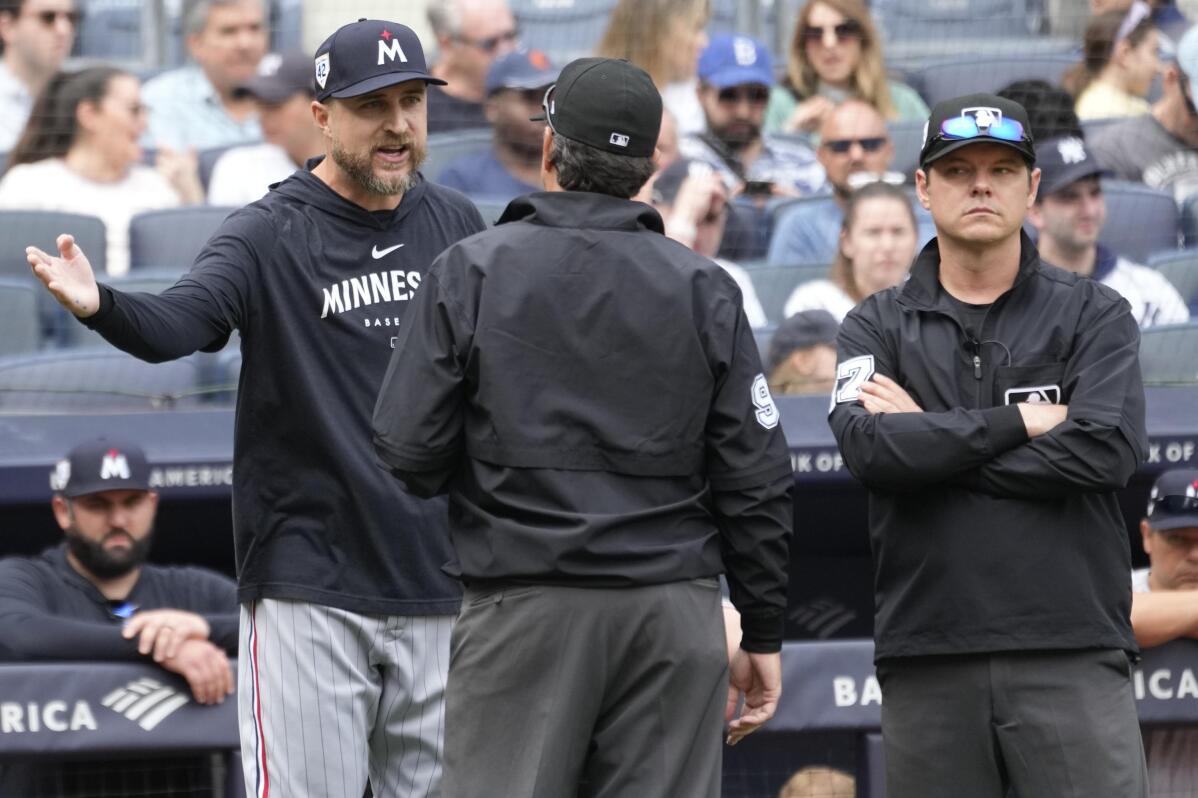 1 of 3

|
Minnesota Twins manager Rocco Baldelli, left, argues with umpire James Hoye (92) during the top of the fourth inning of a baseball game against the New York Yankees, Saturday, April 15, 2023, in New York. (AP Photo/Mary Altaffer)
1 of 3
Minnesota Twins manager Rocco Baldelli, left, argues with umpire James Hoye (92) during the top of the fourth inning of a baseball game against the New York Yankees, Saturday, April 15, 2023, in New York. (AP Photo/Mary Altaffer)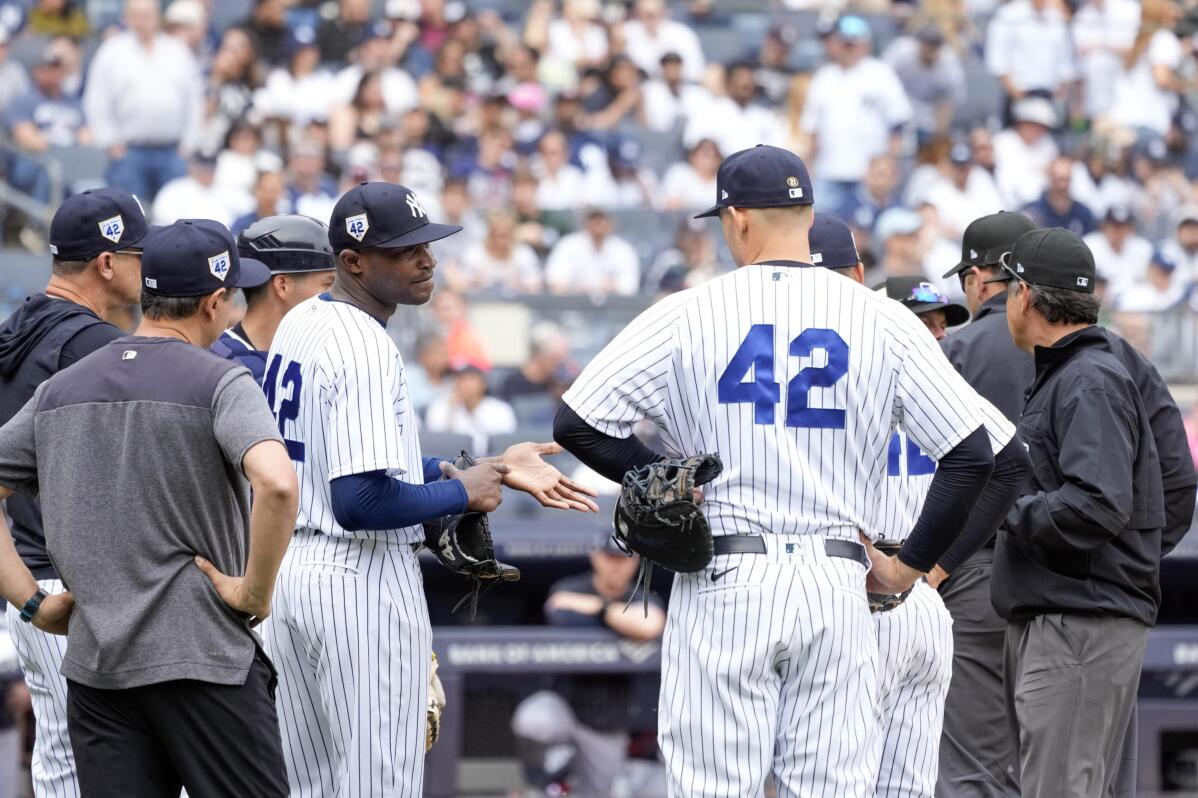 2 of 3

|
New York Yankees pitcher Domingo German, third from left, shows his hand to the umpires during the top of the fourth inning of a baseball game against the Minnesota Twins, Saturday, April 15, 2023, in New York. (AP Photo/Mary Altaffer)
2 of 3
New York Yankees pitcher Domingo German, third from left, shows his hand to the umpires during the top of the fourth inning of a baseball game against the Minnesota Twins, Saturday, April 15, 2023, in New York. (AP Photo/Mary Altaffer)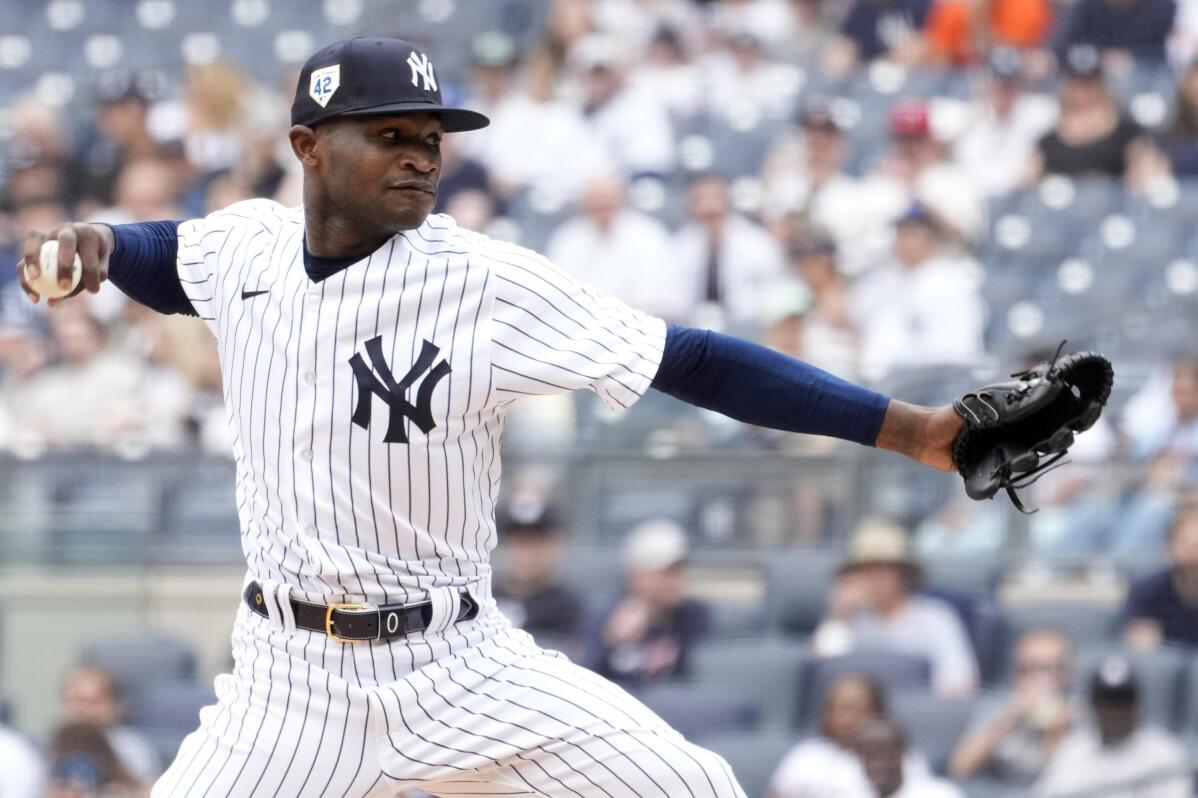 3 of 3

|
New York Yankees pitcher Domingo German delivers against the Minnesota Twins in the first inning of a baseball game, Saturday, April 15, 2023, in New York. (AP Photo/Mary Altaffer)
3 of 3
New York Yankees pitcher Domingo German delivers against the Minnesota Twins in the first inning of a baseball game, Saturday, April 15, 2023, in New York. (AP Photo/Mary Altaffer)
NEW YORK (AP) — Minnesota Twins manager Rocco Baldelli was ejected after an umpire checked Domingo Germán extensively following three perfect innings Saturday and allowed the New York Yankees pitcher to remain in the game.
Germán was checked after the top of the third by crew chief James Hoye and again when he came onto the field during the top of the fourth. Yankees manager Aaron Boone and team translator Marlon Abreu joined the discussion, which led to a 5 1/2-minute gap between the end of the third and the start of the fourth.
When Germán was allowed to go back to the mound, Baldelli came out of the dugout and pointed repeatedly as Hoye tossed the manager from the game.
Twins bench coach Jayce Tingler took over as manager.
Germán retired his first 15 batters, striking out 10. New York led 3-0 on home runs by Kyle Higashioka and Anthony Rizzo.
___
AP MLB: https://apnews.com/hub/MLB and https://twitter.com/AP_Sports