'Rust' weapons supervisor wants charges dropped in Alec Baldwin shooting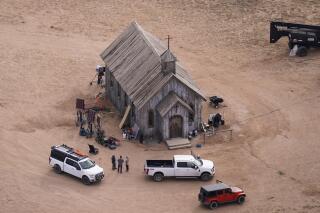 SANTA FE, N.M. (AP) — Attorneys for the weapons supervisor on the New Mexico film set where Alec Baldwin shot and killed a cinematographer asked a judge Thursday to dismiss her involuntary manslaughter charge, as Baldwin's was last month.
The motion filed in Santa Fe County court from lawyers for Hannah Gutierrez-Reed, the armorer on the set of the Western "Rust," says that the prosecutors who brought the charge did not have the authority to file it, that the investigation was sloppy and improper, and that Gutierrez-Reed's due process rights were violated.
Baldwin was pointing a gun at cinematographer Halyna Hutchins during a rehearsal on the New Mexico film set in October 2021 when it went off, killing her and wounding the film's director Joel Souza.
In January of this year, Baldwin and Gutierrez-Reed were each charged with involuntary manslaughter. Baldwin's charge was dropped on April 21 by new special prosecutors who had taken over the case. They cited new evidence and the need for more time to investigate, and warned he could be charged anew.
Thursday's filing alleges that Gutierrez-Reed's prosecution was "tainted by improper political motives" and says that Santa Fe District Attorney Mary Carmack-Altwies and the initial special prosecutor she appointed, Andrea Reeb, "both used the tragic film set accident that resulted in the death of Halyna Hutchins as an opportunity to advance their personal interests."
The motion asserts that the two did not have the authority to bring the charges because New Mexico law prohibits a district attorney from remaining on a case after a special prosecutor is assigned. It also says the appointment of Reeb, a state legislator, was a violation of separation of powers law.
Reeb and Carmack-Altwies could not be reached immediately for comment.
Conflict allegations against Reeb were first raised by Baldwin before she stepped down from the shooting investigation. A district court judge ruled in March that Carmack-Altwies should either lead the case on her own or turn it over entirely to another prosecutor — which she did.
The defense lawyers also contend that the permanent damage done to the gun by FBI testing before the defense could examine it amounted to destruction of evidence and a violation of the court's rules of discovery.
"They directed a sloppy investigation in which key evidence was destroyed," the motion says, and "made overly aggressive charging decisions."
The filing alleges that the "selective prosecution" of Gutierrez-Reed is a violation of the equal protection clause of the U.S. Constitution's 14th Amendment.
New special prosecutor Kari Morrissey declined through a receptionist to comment on the motion, and indicated that a response will be filed with the court.
In March, "Rust" safety coordinator and assistant director David Halls pleaded no contest to a conviction for unsafe handling of a firearm and received a suspended sentence of six months of probation. He agreed to cooperate in the investigation of the fatal shooting.
"Rust" resumed shooting last month, and has been looking for international buyers at the Cannes Film Festival.
___
Dalton reported from Los Angeles.