Maryland police: Driver veered into a work zone, killing 6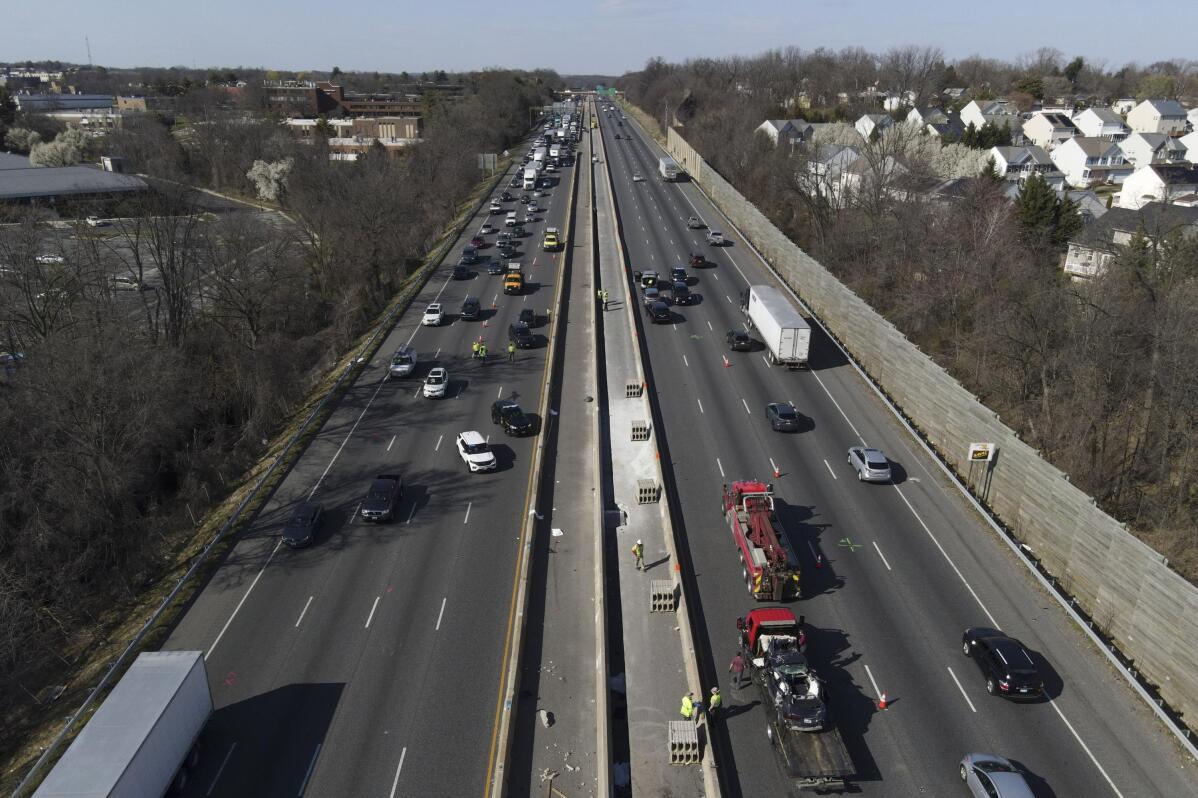 1 of 3

|
Emergency personnel work at the scene of a fatal crash along Interstate 695 on Wednesday, March 22, 2023, near Woodlawn, Md. Multiple people were killed when a passenger vehicle pulled into a work zone along the Baltimore beltway and struck construction workers there, Maryland State Police said Wednesday. (AP Photo/Julio Cortez)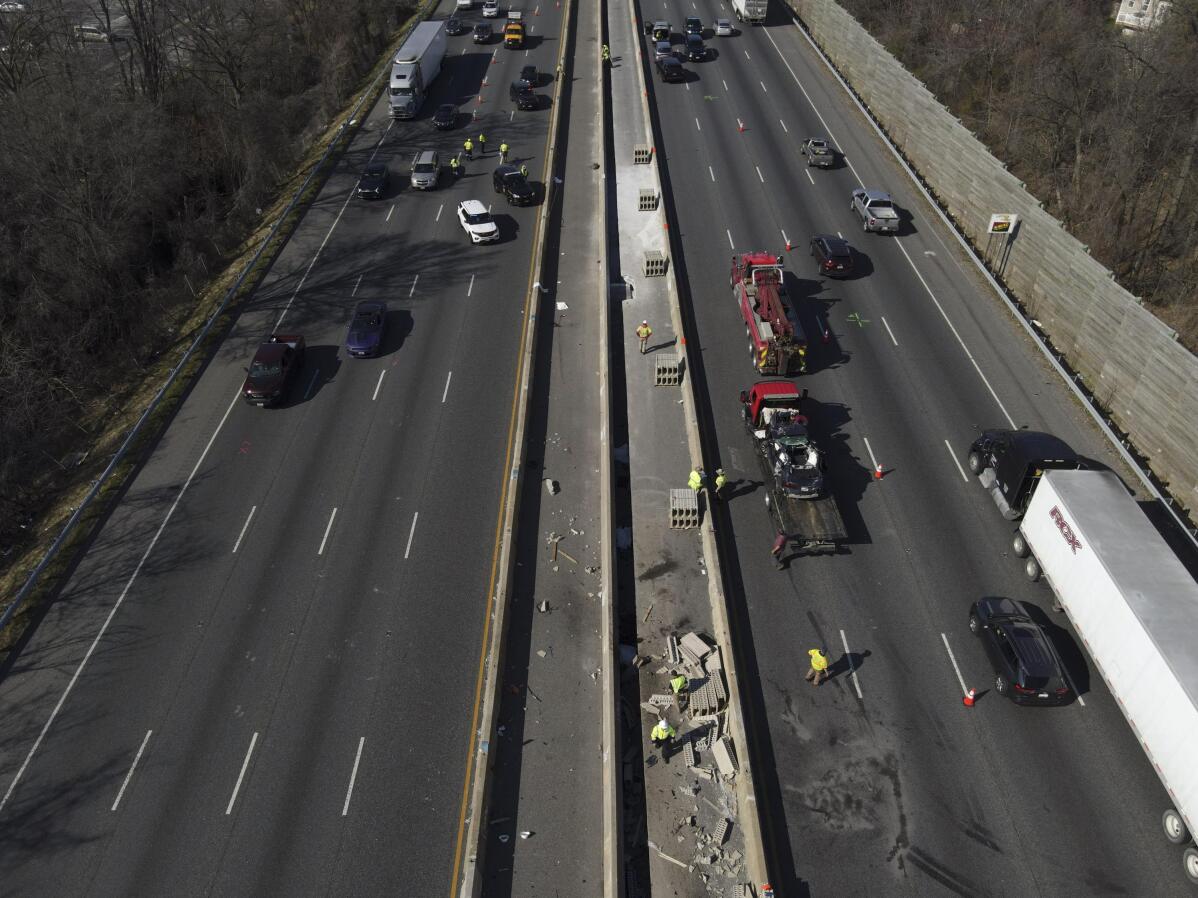 2 of 3

|
Emergency personnel work at the scene of a fatal crash along Interstate 695 on Wednesday, March 22, 2023, near Woodlawn, Md. Multiple people were killed when a passenger vehicle pulled into a work zone along the Baltimore beltway and struck construction workers there, Maryland State Police said Wednesday. (AP Photo/Julio Cortez)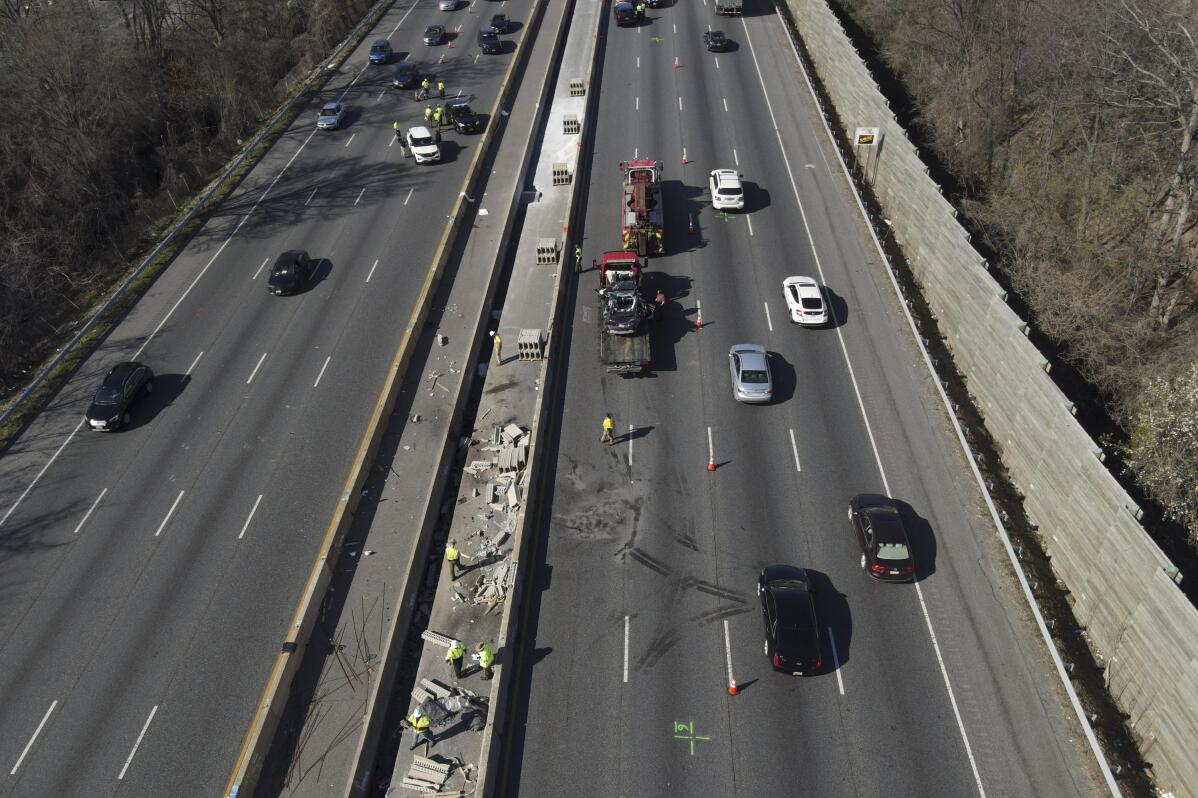 3 of 3

|
Emergency personnel work at the scene of a fatal crash along Interstate 695 on Wednesday, March 22, 2023, near Woodlawn, Md. Multiple people were killed when a passenger vehicle pulled into a work zone along the Baltimore beltway and struck construction workers there, Maryland State Police said Wednesday. (AP Photo/Julio Cortez)
Maryland police: Driver veered into a work zone, killing 6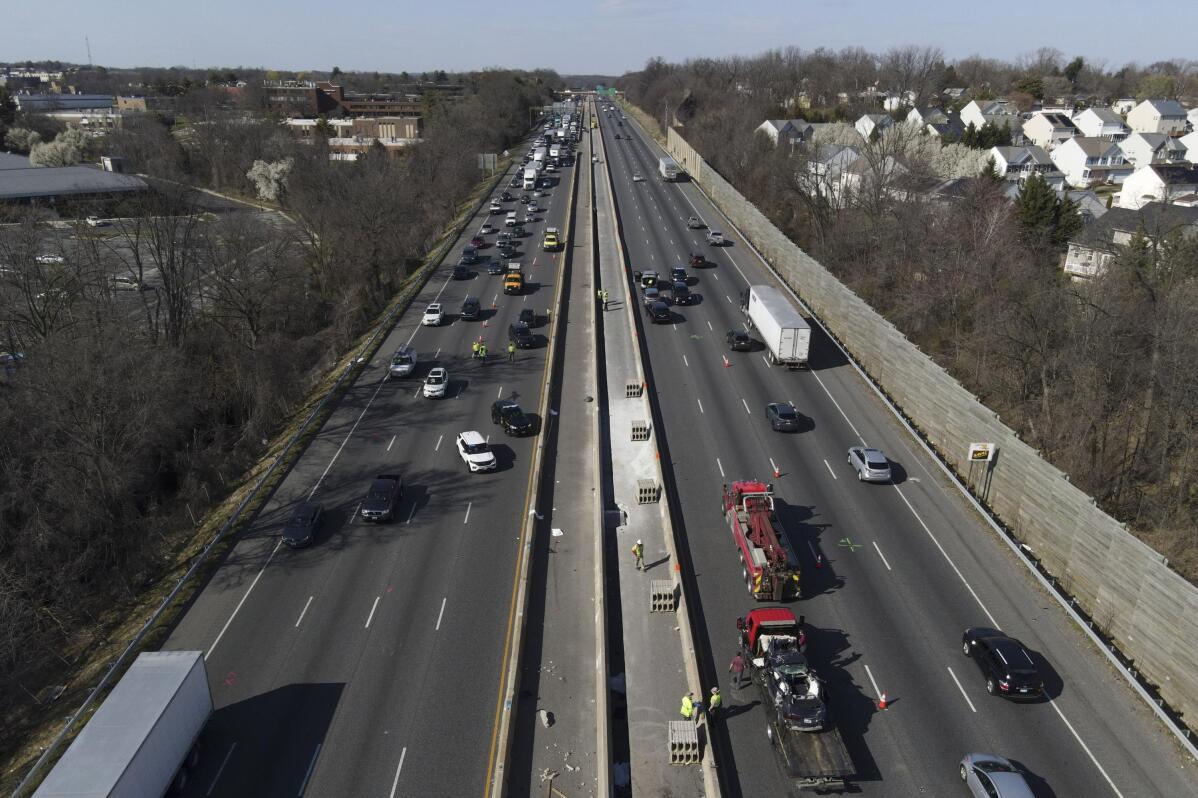 1 of 3

|
Emergency personnel work at the scene of a fatal crash along Interstate 695 on Wednesday, March 22, 2023, near Woodlawn, Md. Multiple people were killed when a passenger vehicle pulled into a work zone along the Baltimore beltway and struck construction workers there, Maryland State Police said Wednesday. (AP Photo/Julio Cortez)
1 of 3
Emergency personnel work at the scene of a fatal crash along Interstate 695 on Wednesday, March 22, 2023, near Woodlawn, Md. Multiple people were killed when a passenger vehicle pulled into a work zone along the Baltimore beltway and struck construction workers there, Maryland State Police said Wednesday. (AP Photo/Julio Cortez)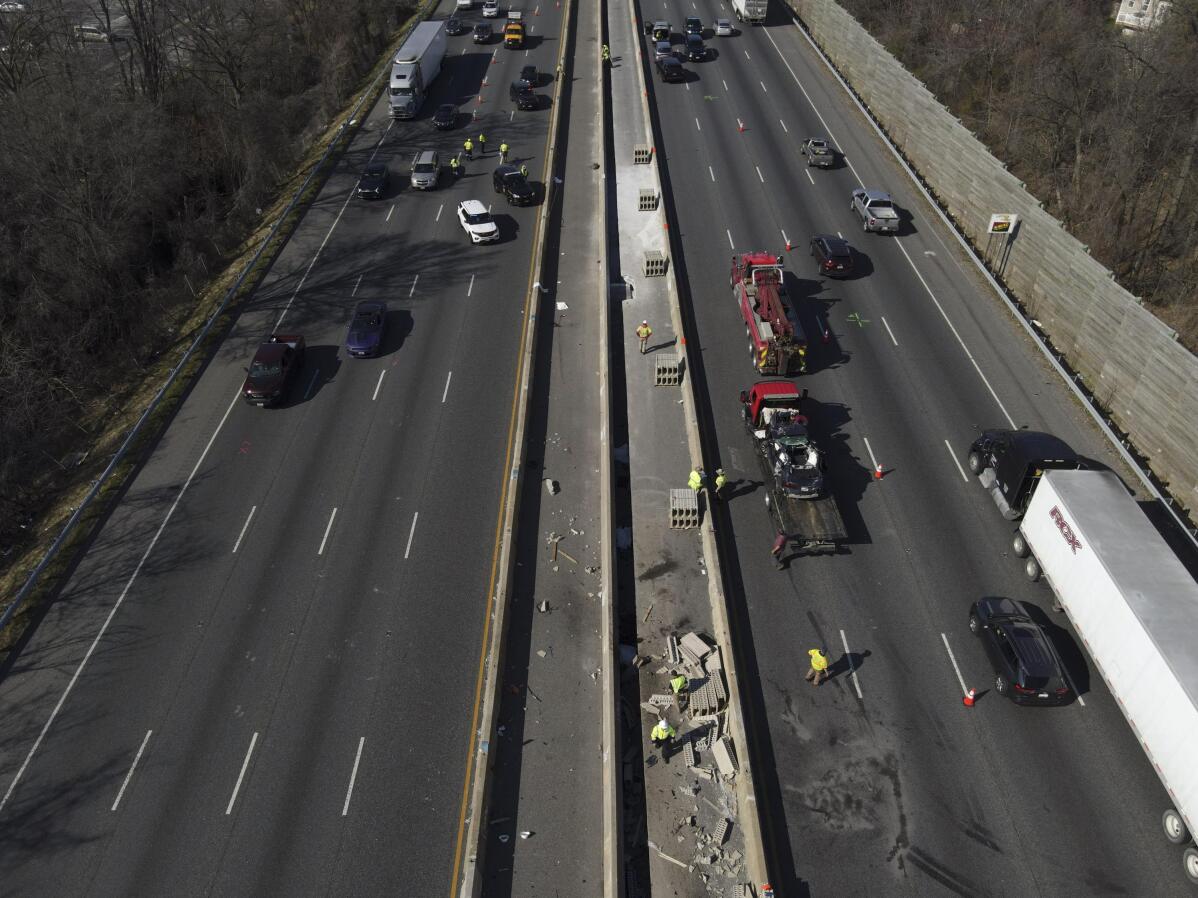 2 of 3

|
Emergency personnel work at the scene of a fatal crash along Interstate 695 on Wednesday, March 22, 2023, near Woodlawn, Md. Multiple people were killed when a passenger vehicle pulled into a work zone along the Baltimore beltway and struck construction workers there, Maryland State Police said Wednesday. (AP Photo/Julio Cortez)
2 of 3
Emergency personnel work at the scene of a fatal crash along Interstate 695 on Wednesday, March 22, 2023, near Woodlawn, Md. Multiple people were killed when a passenger vehicle pulled into a work zone along the Baltimore beltway and struck construction workers there, Maryland State Police said Wednesday. (AP Photo/Julio Cortez)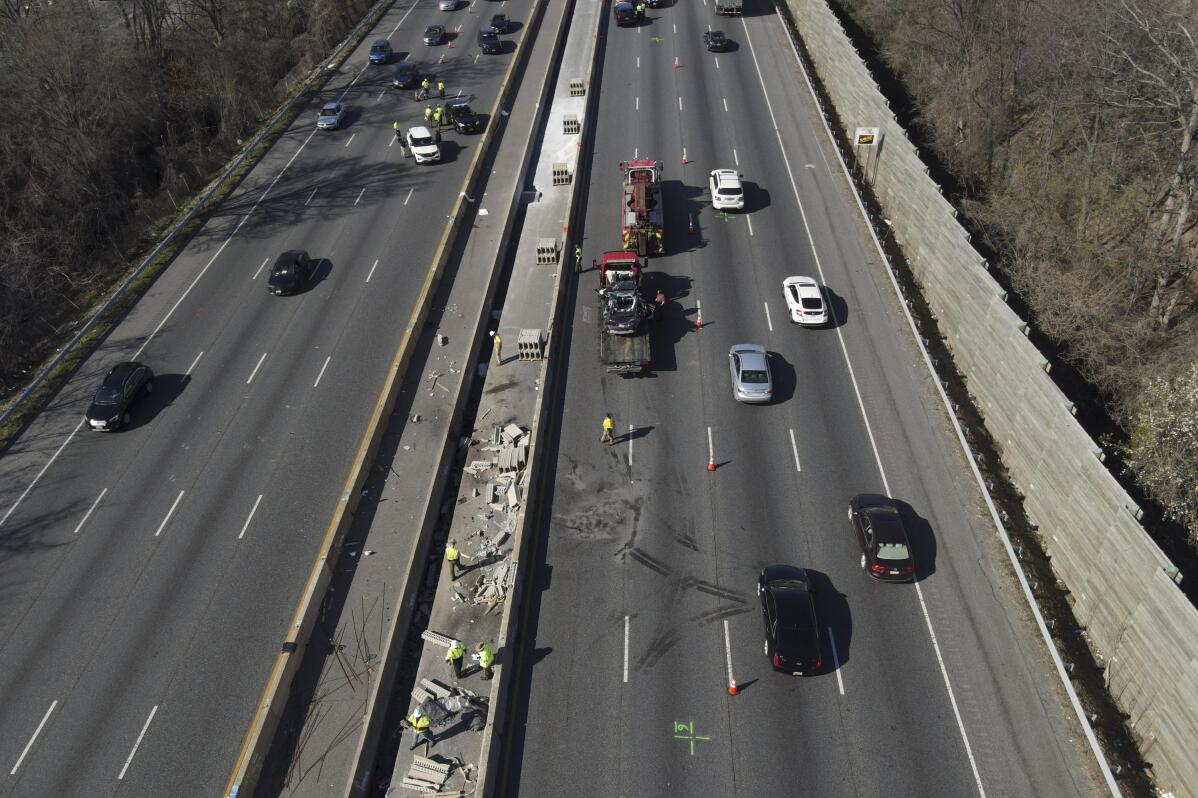 3 of 3

|
Emergency personnel work at the scene of a fatal crash along Interstate 695 on Wednesday, March 22, 2023, near Woodlawn, Md. Multiple people were killed when a passenger vehicle pulled into a work zone along the Baltimore beltway and struck construction workers there, Maryland State Police said Wednesday. (AP Photo/Julio Cortez)
3 of 3
Emergency personnel work at the scene of a fatal crash along Interstate 695 on Wednesday, March 22, 2023, near Woodlawn, Md. Multiple people were killed when a passenger vehicle pulled into a work zone along the Baltimore beltway and struck construction workers there, Maryland State Police said Wednesday. (AP Photo/Julio Cortez)
BALTIMORE (AP) — New details are emerging about a midweek crash along the Baltimore beltway that left six construction workers dead after a driver lost control of her car and it careened into a work zone, according to Maryland State Police.
Lisa Adrienna Lea, 54, was alone in an Acura sedan driving north on Interstate 695 when she went to change lanes and struck the front passenger side of a Volkswagen early Wednesday afternoon, state police said.
The impact caused her to lose control, and her car entered the work zone through an opening in temporary concrete barriers separating the construction area from interstate traffic. The crew was actively working on the highway's left shoulder.
After the crash, Lea was taken to the University of Maryland Medical Center's Shock Trauma Center for injuries she received. She remained hospitalized Thursday afternoon, police said.
The stretch of highway was closed for hours Wednesday in both directions, snarling traffic along the west side of the beltway, which circles Baltimore.
Police said the findings of their investigation will be turned over to the Baltimore County State's Attorney to determine whether anyone will face criminal charges.
The driver of the Volkswagen didn't report any injuries. He stopped his vehicle north of the scene, according to police.
Police issued a statement Thursday naming the six workers killed: Rolando Ruiz, 46, of Laurel; Carlos Orlando Villatoro Escobar, 43, of Frederick; Jose Armando Escobar, 52, of Frederick; Mahlon Simmons III, 31, of Union Bridge; Mahlon Simmons II, 52, of Union Bridge; and Sybil Lee Dimaggio, 46, of Glen Burnie.
The National Transportation Safety Board, a federal agency that investigates transportation accidents, sent investigators to the scene Thursday. Their investigation will focus on "issues relating to speeding, work zone protection for construction workers, and collision avoidance technology," an NTSB news release said Thursday afternoon.
Baltimore County Executive Johnny Olszewski called the crash horrific.
"We offer our sincere condolences to the families, friends, and loved ones of those who have lost their lives in today's tragic crash," he wrote in a tweet Wednesday afternoon.
Maryland Gov. Wes Moore also tweeted condolences, saying his "heart goes out to the victims and the families affected by the tragic crash on the 695 beltway this afternoon."