Review: Mark Bowden writes gripping story of Baltimore gang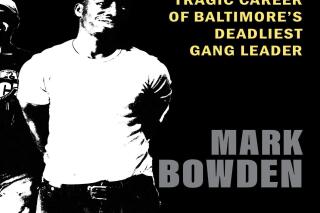 "Life Sentence: The Brief and Tragic Career of Baltimore's Deadliest Gang Leader," by Mark Bowden (Atlantic Monthly Press).
Mark Bowden transported us to Mogadishu, Somalia, for a brutal 1993 battle targeting elite American forces in "Black Hawk Down" and to Teheran for an inside look at the 1979 Iran hostage crisis in "Guests of the Ayatollah."
In his latest book, "Life Sentence: The Brief and Tragic Career of Baltimore's Deadliest Gang Leader," Bowden offers a ground level view of a different kind of battle in the city nicknamed Bodymore, Murderland, for its pervasive violence.
The masterful yarn is a riveting true narrative about an FBI investigation that landed eight criminal bosses behind bars in the city profiled in the popular American television crime drama "The Wire."
The most notorious of all the gangsters was Montana Barronette, head of the group known as "Trained to Go," or TTG, that spread terror across the 72 blocks of decrepit row houses in the deadly West Baltimore community known as Sandtown.
Using his exclusive access to FBI files and his knowledge of the city, Bowden paints a vivid picture of life in Baltimore's oldest Black neighborhood just 10 miles (6 kilometers) but otherwise a world away from the white suburbs where he grew up.
In Sandtown, residents live under the weight of the past — slavery, segregation, redlining and other discrimination blocking them from moving into more affluent areas with better homes and schools and a path to a better life. Bowden thus argues the neighborhood's teenagers are largely normal kids who have been thrust into an abnormal, hyperviolent environment — but he doesn't forgive them for the violence they commit.
Barronette grew up little better than an orphan, his father deported back to his native Jamaica and his mother immersed in the local drug business known as "The Game."
His grandmother tried to use strict rules and weekly church services to prevent the young boy known as Tana and his siblings from ending up "on the corner," but to no avail.
Tana was 9 years old, just 65 pounds (29.4 kilograms) and barely able to see over the top of a steering wheel, when he was arrested the first time, for stealing a car.
As he and his contemporaries grew into adolescence, the opportunities The Game offered for new sneakers, gold chains and hot women were tempting in a neighborhood where fatalism came naturally and the sight of a body on the street was as common as an ice cream truck driving by.
Barronette rose to astonishing influence over his patch of the city. State and federal authorities investigating him and his gang soon realized they weren't just looking at a massive drug business, but also a killing operation in which rivals and snitches were shot dead for a price.
Gang members celebrated their violent exploits on social media. Popular gangster rap songs mirrored the killings they carried out.
By the time he was sentenced to life imprisonment in 2019, Barronette had been nicknamed "Baltimore's Number One Trigger Puller" for participating in a violent racketeering enterprise that committed eight murders — including six he personally participated in — as well as drug trafficking and witness intimidation.
Barronette is now serving his sentence in Louisiana, unlikely to ever see his conviction or sentence overturned, Bowden writes.
But it's still business as usual in the hardscrabble pockets of Baltimore as new gangsters set up shop on the corners, struggling like Maryland blue crabs in a bucket, pulled back down by the others when they reach the rim.