Ravens say Stephens fell ill, went to hospital last weekend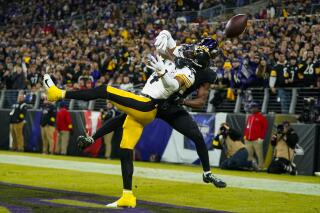 OWINGS MILLS, Md. (AP) — The Baltimore Ravens say cornerback Brandon Stephens became "acutely ill" at the team hotel before their game at Cincinnati on Sunday and was taken to a hospital for evaluation.
Stephens remained in Cincinnati for treatment but is now back in Baltimore and feeling better, according to the team's statement Wednesday.
"It's a health issue, illness-type issue," coach John Harbaugh said later Wednesday. "I don't think anybody had a real scare in terms of anything really bad happening, but it was surprising, because he was ready to play, and then all of a sudden that popped up in the morning."
The 25-year-old Stephens has started four games for Baltimore this season, including the two before last weekend. The Ravens play at Cincinnati again Sunday night in their playoff opener.
With Stephens and Marcus Peters both inactive last weekend, cornerback Daryl Worley made his first start of the season in the Baltimore secondary.
___
AP NFL: https://apnews.com/hub/nfl and https://twitter.com/AP_NFL