Ravens sign LB Roquan Smith to 5-year contract extension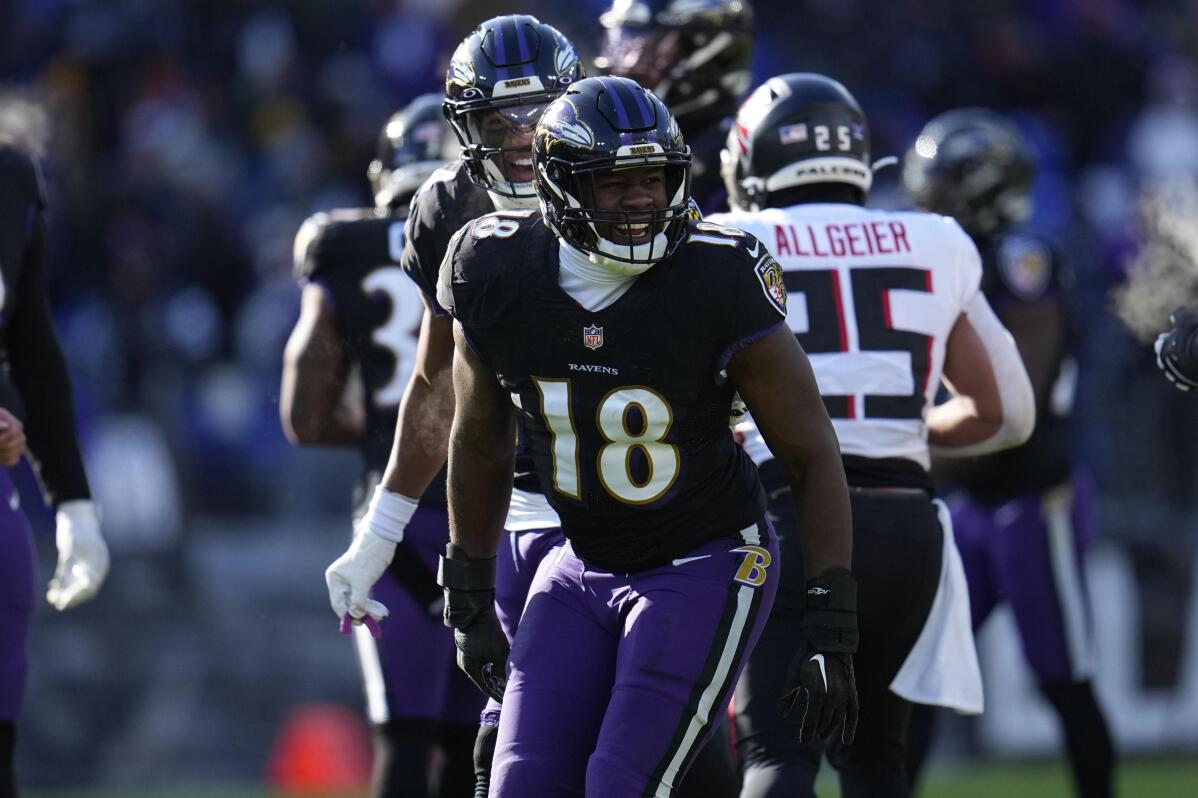 1 of 3

|
Baltimore Ravens linebacker Roquan Smith (18) reacts after a defensive stop during the first half of an NFL football game against the Atlanta Falcons, Saturday, Dec. 24, 2022, in Baltimore. (AP Photo/Julio Cortez)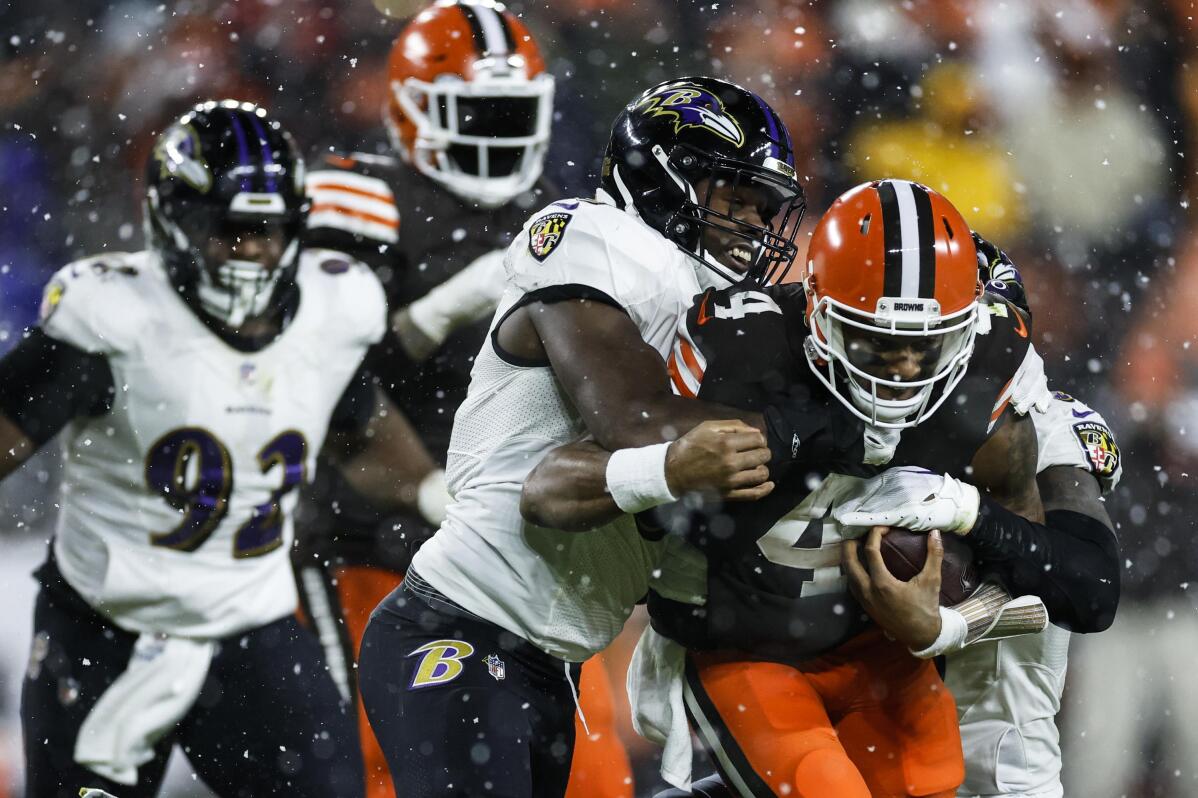 2 of 3

|
Baltimore Ravens linebacker Roquan Smith, center, tackles Cleveland Browns quarterback Deshaun Watson (4) during the second half of an NFL football game, Saturday, Dec. 17, 2022, in Cleveland. (AP Photo/Ron Schwane)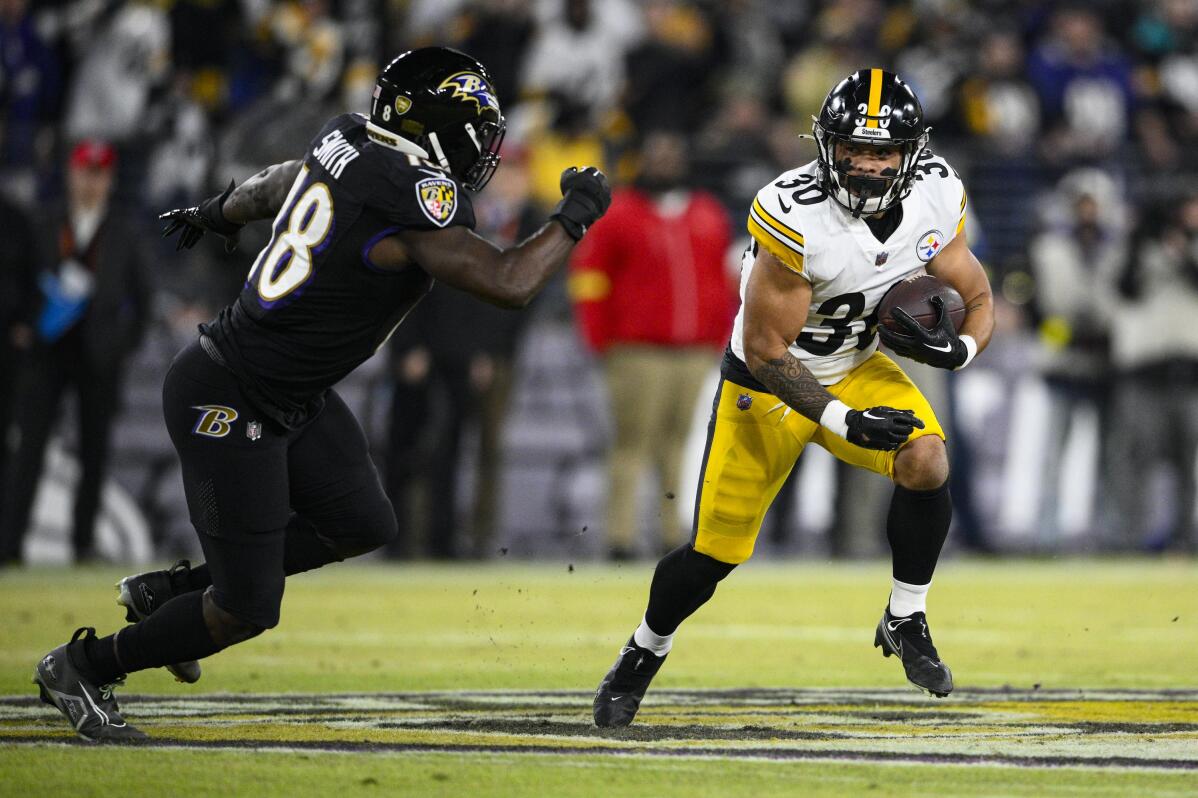 3 of 3

|
Pittsburgh Steelers running back Jaylen Warren (30) tries to get past Baltimore Ravens linebacker Roquan Smith (18) in the first half of an NFL football game in Baltimore, Sunday, Jan. 1, 2023. (AP Photo/Nick Wass)
Ravens sign LB Roquan Smith to 5-year contract extension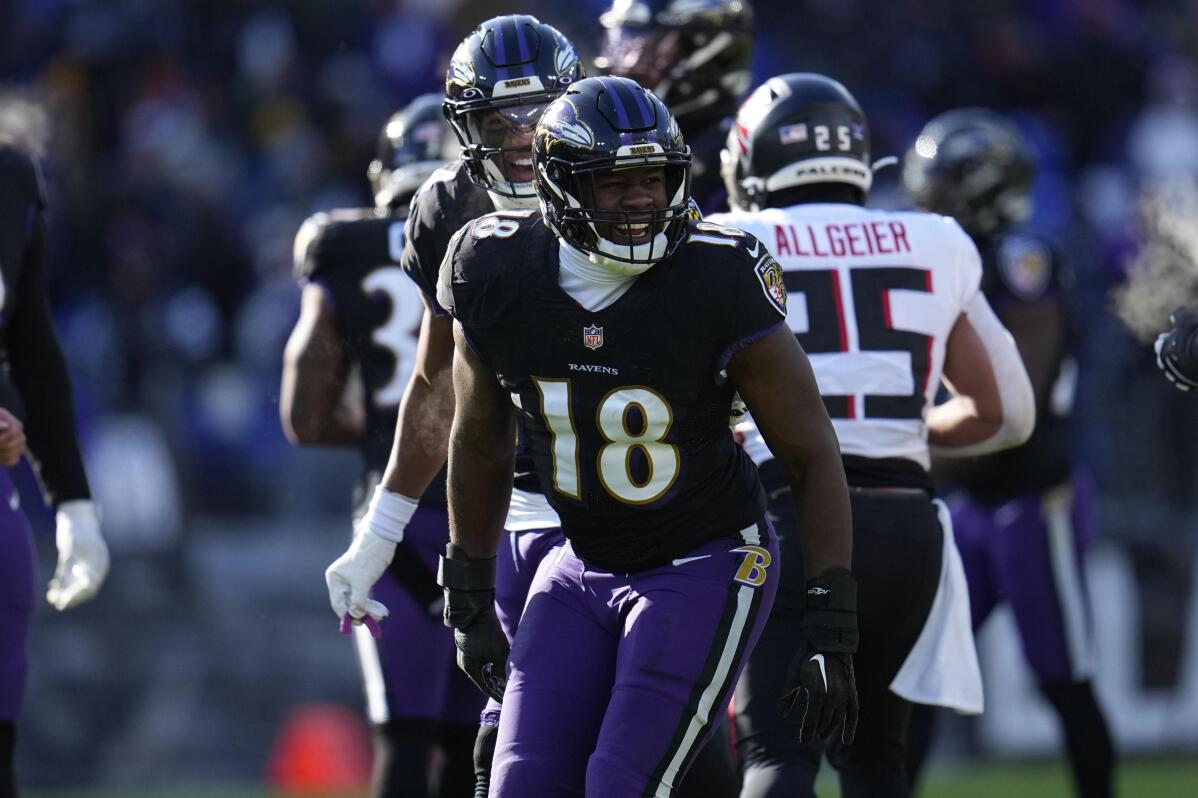 1 of 3

|
Baltimore Ravens linebacker Roquan Smith (18) reacts after a defensive stop during the first half of an NFL football game against the Atlanta Falcons, Saturday, Dec. 24, 2022, in Baltimore. (AP Photo/Julio Cortez)
1 of 3
Baltimore Ravens linebacker Roquan Smith (18) reacts after a defensive stop during the first half of an NFL football game against the Atlanta Falcons, Saturday, Dec. 24, 2022, in Baltimore. (AP Photo/Julio Cortez)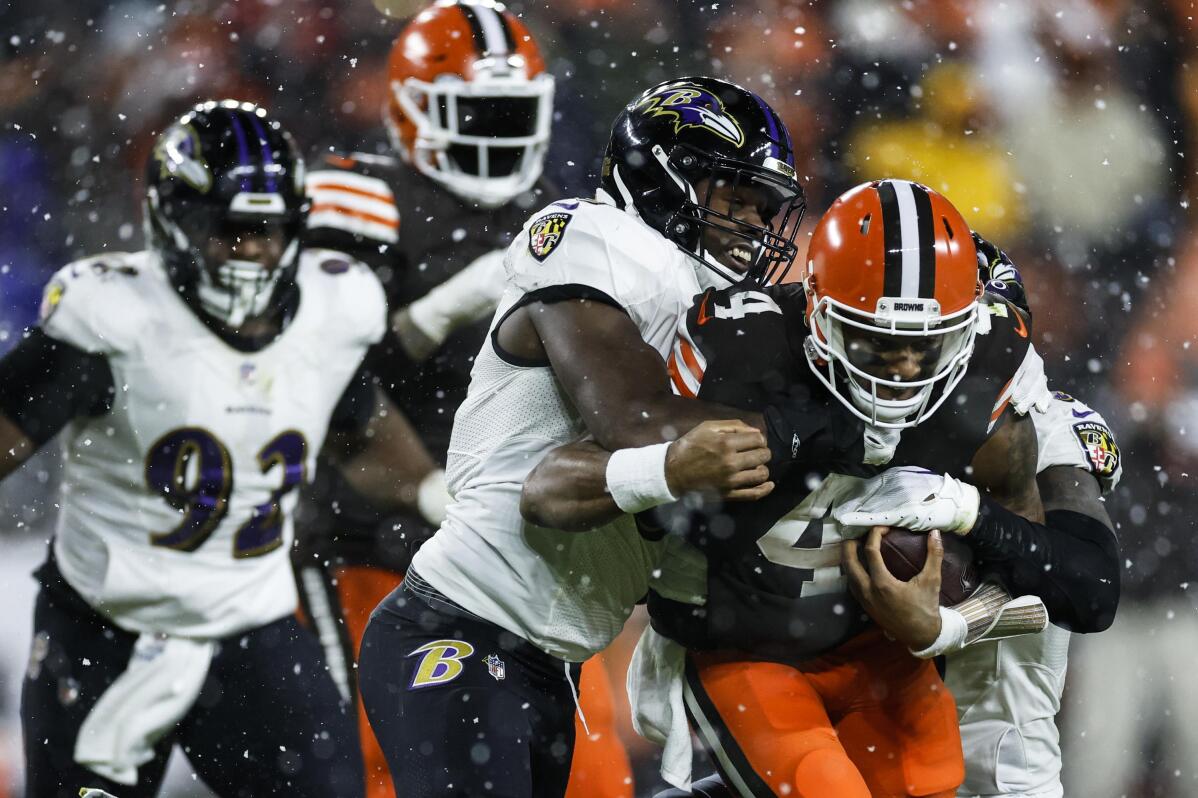 2 of 3

|
Baltimore Ravens linebacker Roquan Smith, center, tackles Cleveland Browns quarterback Deshaun Watson (4) during the second half of an NFL football game, Saturday, Dec. 17, 2022, in Cleveland. (AP Photo/Ron Schwane)
2 of 3
Baltimore Ravens linebacker Roquan Smith, center, tackles Cleveland Browns quarterback Deshaun Watson (4) during the second half of an NFL football game, Saturday, Dec. 17, 2022, in Cleveland. (AP Photo/Ron Schwane)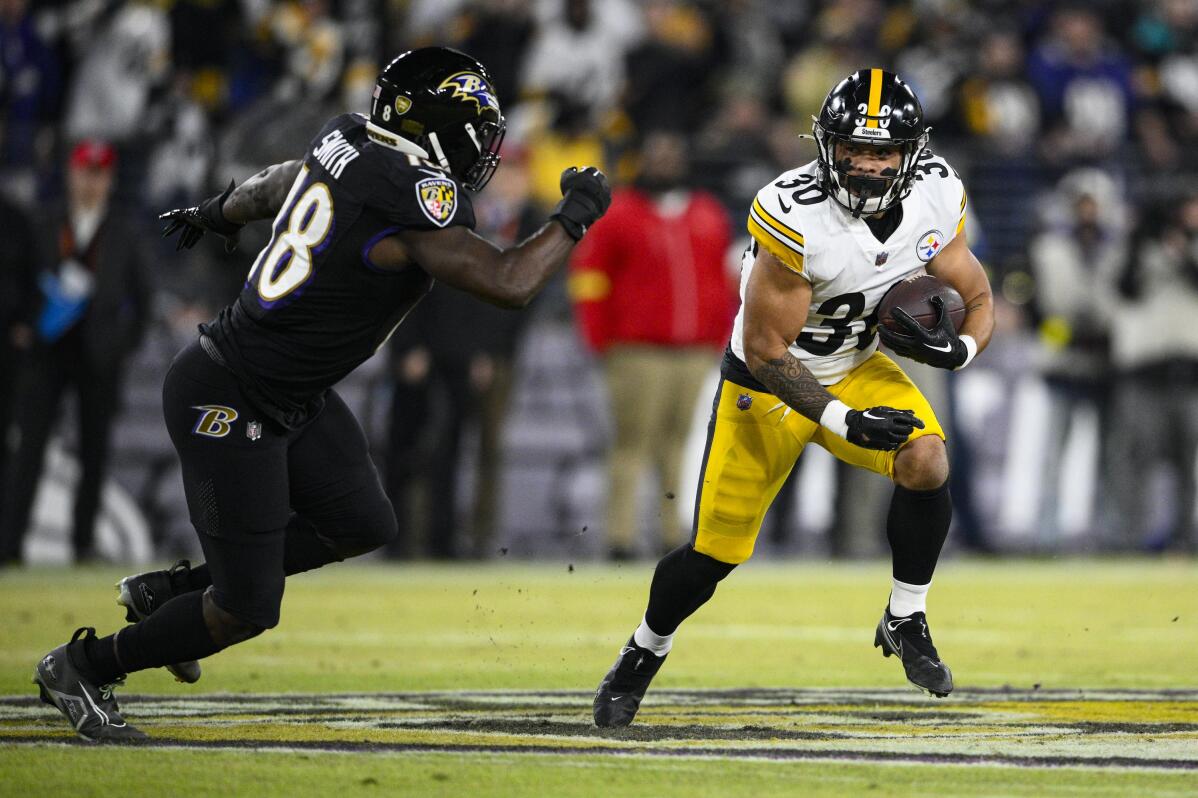 3 of 3

|
Pittsburgh Steelers running back Jaylen Warren (30) tries to get past Baltimore Ravens linebacker Roquan Smith (18) in the first half of an NFL football game in Baltimore, Sunday, Jan. 1, 2023. (AP Photo/Nick Wass)
3 of 3
Pittsburgh Steelers running back Jaylen Warren (30) tries to get past Baltimore Ravens linebacker Roquan Smith (18) in the first half of an NFL football game in Baltimore, Sunday, Jan. 1, 2023. (AP Photo/Nick Wass)
OWINGS MILLS, Md. (AP) — Roquan Smith made quite an impression in just a half-season with Baltimore.
The Ravens signed Smith to a contract extension, agreeing to a five-year deal with the star linebacker who arrived in a midseason trade from Chicago and helped his new team secure a playoff spot with a stout defensive effort down the stretch.
"Felt like home right away," Smith said. "When you feel like that, it's like, man, I want to be here for the long haul and make a positive impact."
The team announced the extension Wednesday — the same day local media announced that Smith had been voted team MVP despite playing in only nine games for the Ravens.
The 25-year-old Smith was the NFL's third-leading tackler this season. He came to Baltimore after his tenure with Chicago ended somewhat acrimoniously. With his rookie contract set to expire, Smith participated in voluntary and mandatory offseason workouts, but when training camp started, he attended meetings and practices without participating in drills. He also went public with a trade request and accused general manager Ryan Poles of negotiating in bad faith.
Smith eventually started practicing and played the first eight games for Chicago before being dealt to the Ravens. Since the trade, Baltimore has allowed just 14.7 points per game.
"Since he's been here, Roquan has been a leader on and off the field, impressing us with his attitude and desire," general manager Eric DeCosta said in a statement. "There is certainly a standard of defense in Baltimore, and Roquan has proven that he can surpass that lofty mark."
Smith's deal with Baltimore is for $100 million, with $60 million in total guarantees, according to a person with knowledge of the agreement. The person spoke on condition of anonymity because the team didn't release the details.
The Ravens reached the postseason despite a knee injury to quarterback Lamar Jackson that kept him out for the last five games. Baltimore opens the playoffs at Cincinnati this weekend.
Jackson, of course, has his own expiring contract, and with Smith now returning, the question is whether Baltimore can reach a long-term deal with its star quarterback. The franchise tag is also an option for the Ravens.
Like Jackson, Smith represented himself in negotiations.
"I think nowadays, players want to be at the table for a hundred percent transparency," Smith said. "I have the utmost respect for Eric, again, for working with me throughout this process, and it turned out great."
Smith said the contract talks began in the middle of last month.
"We sat down a couple times, as well as with emails and things of that nature," Smith said. "And just, being able when I'm in my off time — like Mondays, those are our off days, Tuesday, there's like a half a day there, so you can find time for those things. That's all part of the business. That's something that I took upon myself."
Smith was a Pro Bowl selection this season after being a second-team All-Pro the previous two years. This season he became the first defensive player since at least 2000 to reach 75 tackles with multiple teams.
"I just feel like you kind of know a player from afar, and then you have a chance — just a really unusual opportunity — to have him on your team and to see what he's really like," coach John Harbaugh said. "Every positive thing you heard I would say is magnified. He's even better than we thought — hard worker, effort, study, leadership, how good of a player he is."
___
AP Pro Football Writer Rob Maaddi contributed to this report.
___
AP NFL: https://apnews.com/hub/nfl and https://twitter.com/AP_NFL