Astros' World Series run lifts Houston amid Harvey recovery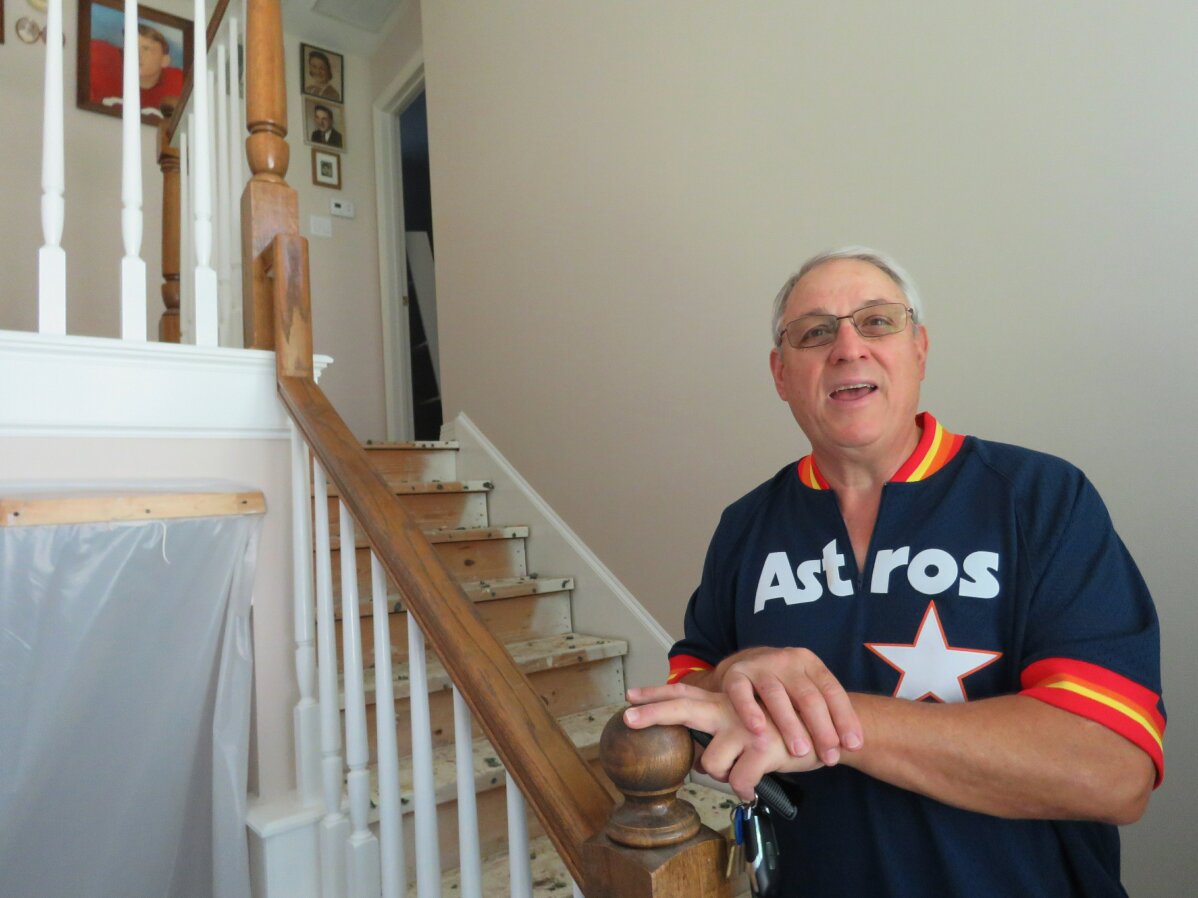 1 of 3

|
In this Oct. 25, 2017 photo, Paul Daulong talks about how the Astros' trip to the World Series has helped him and his family focus on something positive as they continue rebuilding their Houston home after it was flooded during Hurricane Harvey. Daulong says he believes he and others who are recovering after Harvey will follow the example of the Astros, who went through their own recent rebuilding process after several losing seasons, and "be back on top too." (AP Photo/Juan Lozano)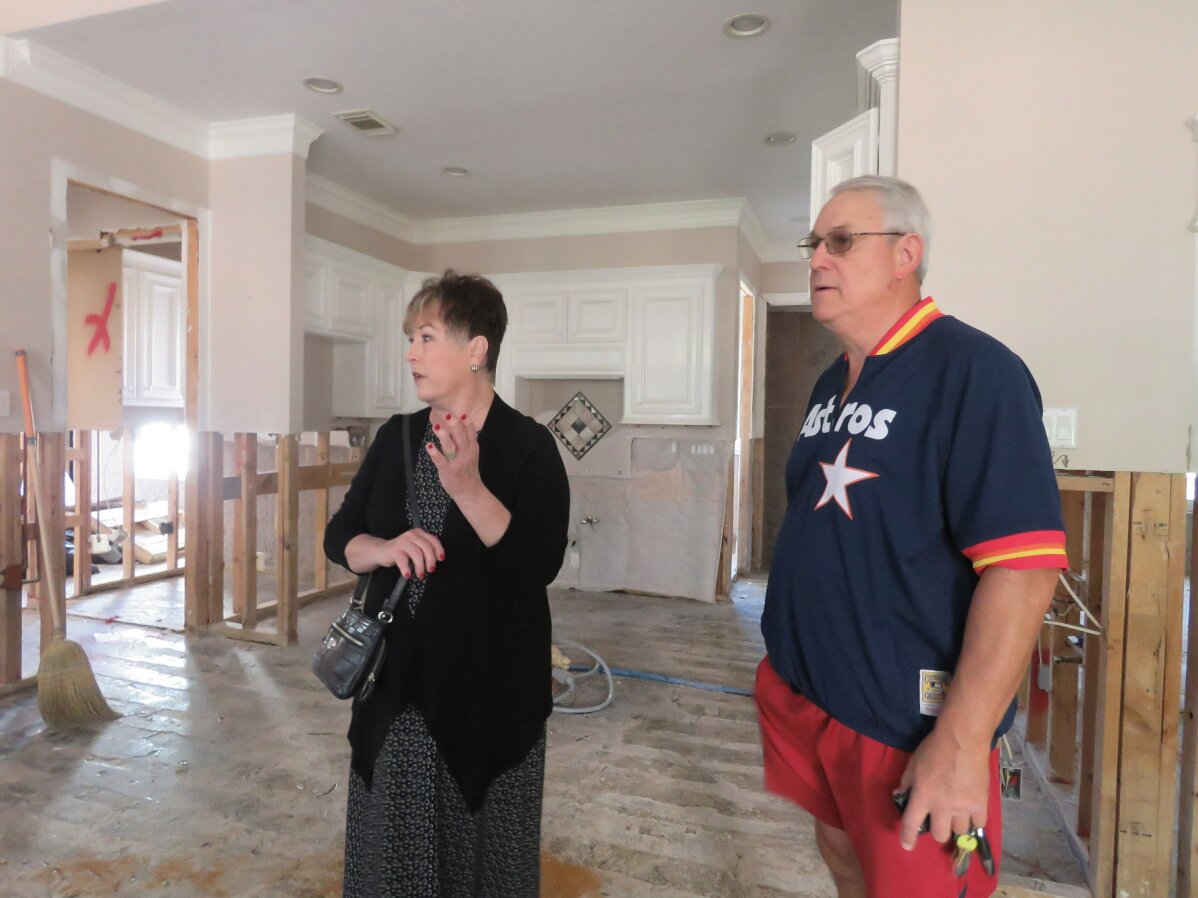 2 of 3

|
In this Oct. 25, 2017 photo, Mary and Paul Daulong stand near what used to be the kitchen of their Houston home, which was one of the many thousands of houses that were flooded during Hurricane Harvey. The couple along with other Houston residents have used the Astros' run to the World Series as a source of inspiration to get through difficult days after the storm. (AP Photo/Juan Lozano)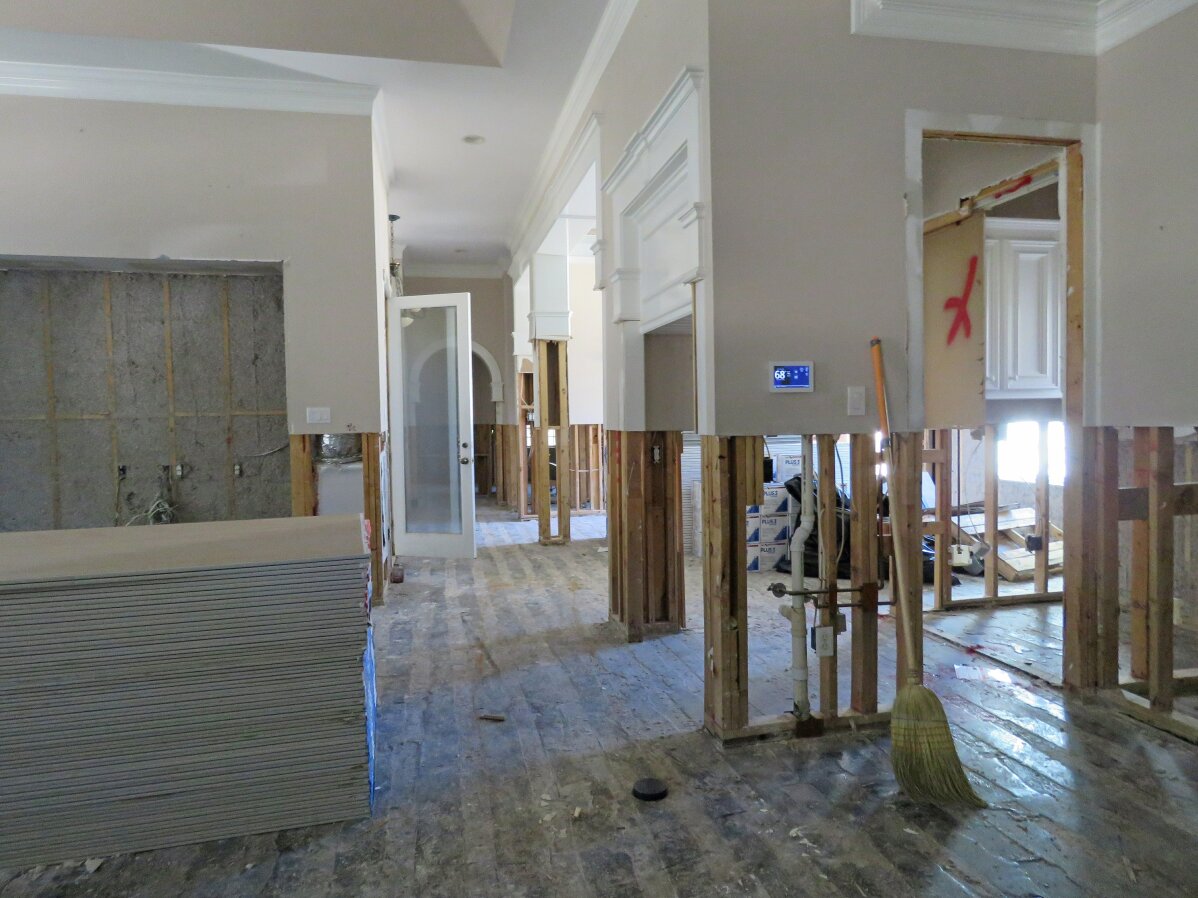 3 of 3

|
In this Oct. 25, 2017 photo, a stack of sheetrock sits in the living room of Mary and Paul Daulong's home in Houston as they continue rebuilding after it was flooded during Hurricane Harvey. The couple along with other Houston residents have used the Astros' run to the World Series as a source of inspiration to get through difficult days after the storm. (AP Photo/Juan Lozano)
Astros' World Series run lifts Houston amid Harvey recovery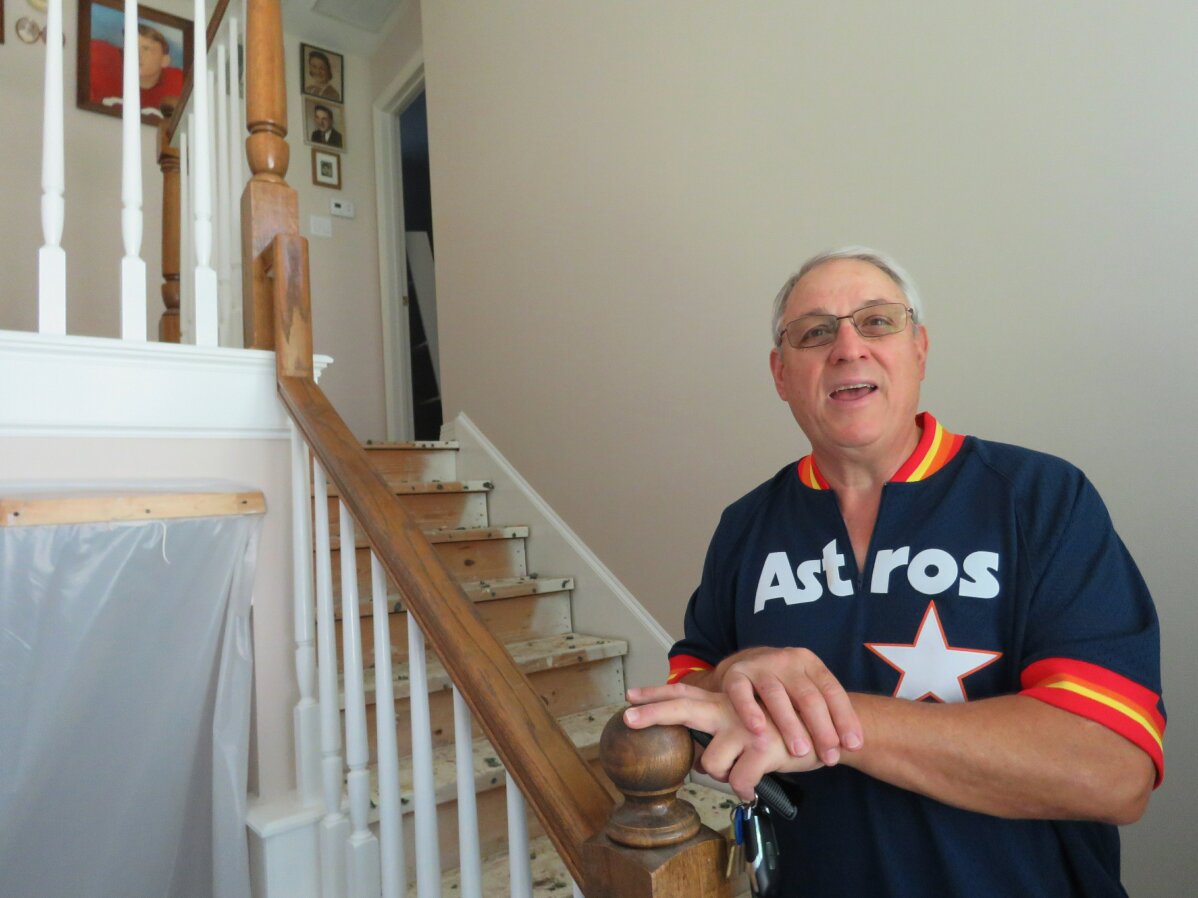 1 of 3

|
In this Oct. 25, 2017 photo, Paul Daulong talks about how the Astros' trip to the World Series has helped him and his family focus on something positive as they continue rebuilding their Houston home after it was flooded during Hurricane Harvey. Daulong says he believes he and others who are recovering after Harvey will follow the example of the Astros, who went through their own recent rebuilding process after several losing seasons, and "be back on top too." (AP Photo/Juan Lozano)
1 of 3
In this Oct. 25, 2017 photo, Paul Daulong talks about how the Astros' trip to the World Series has helped him and his family focus on something positive as they continue rebuilding their Houston home after it was flooded during Hurricane Harvey. Daulong says he believes he and others who are recovering after Harvey will follow the example of the Astros, who went through their own recent rebuilding process after several losing seasons, and "be back on top too." (AP Photo/Juan Lozano)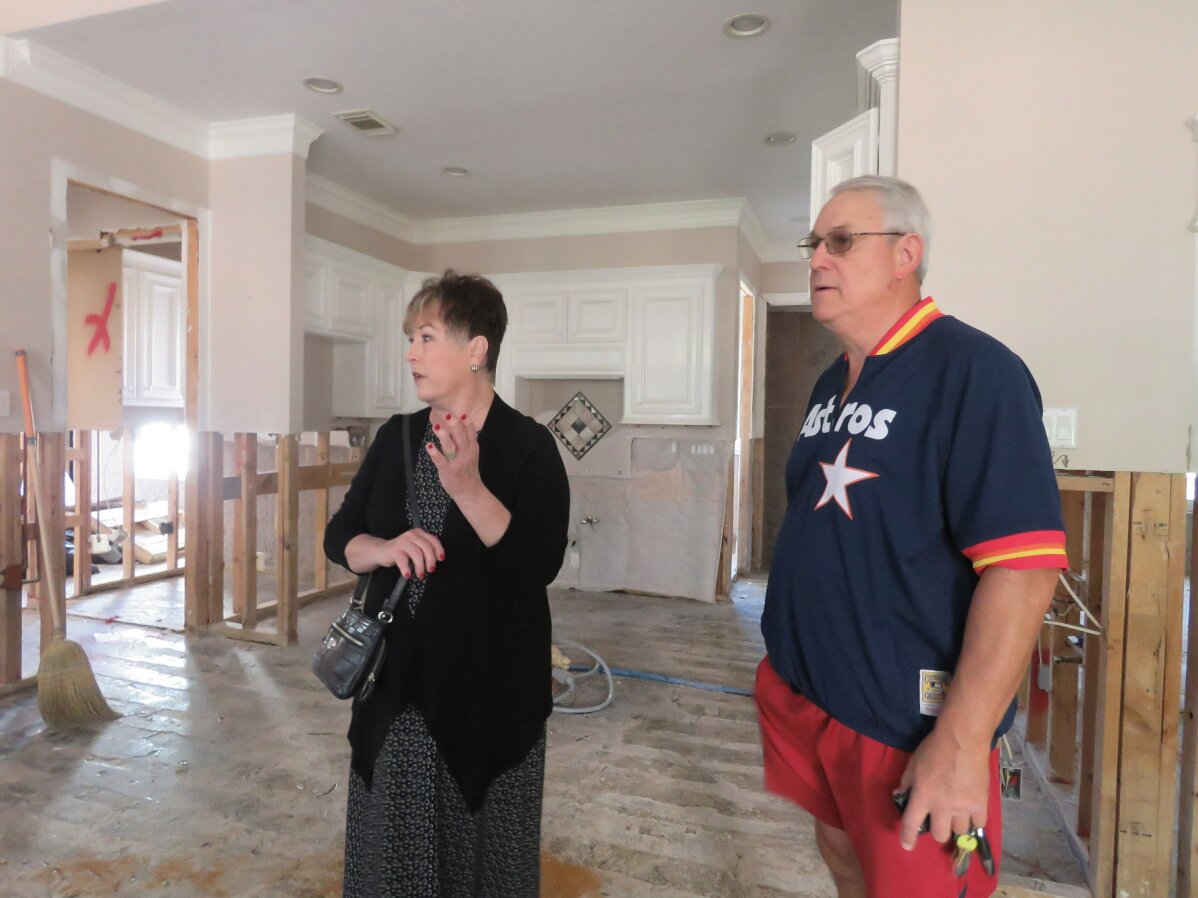 2 of 3

|
In this Oct. 25, 2017 photo, Mary and Paul Daulong stand near what used to be the kitchen of their Houston home, which was one of the many thousands of houses that were flooded during Hurricane Harvey. The couple along with other Houston residents have used the Astros' run to the World Series as a source of inspiration to get through difficult days after the storm. (AP Photo/Juan Lozano)
2 of 3
In this Oct. 25, 2017 photo, Mary and Paul Daulong stand near what used to be the kitchen of their Houston home, which was one of the many thousands of houses that were flooded during Hurricane Harvey. The couple along with other Houston residents have used the Astros' run to the World Series as a source of inspiration to get through difficult days after the storm. (AP Photo/Juan Lozano)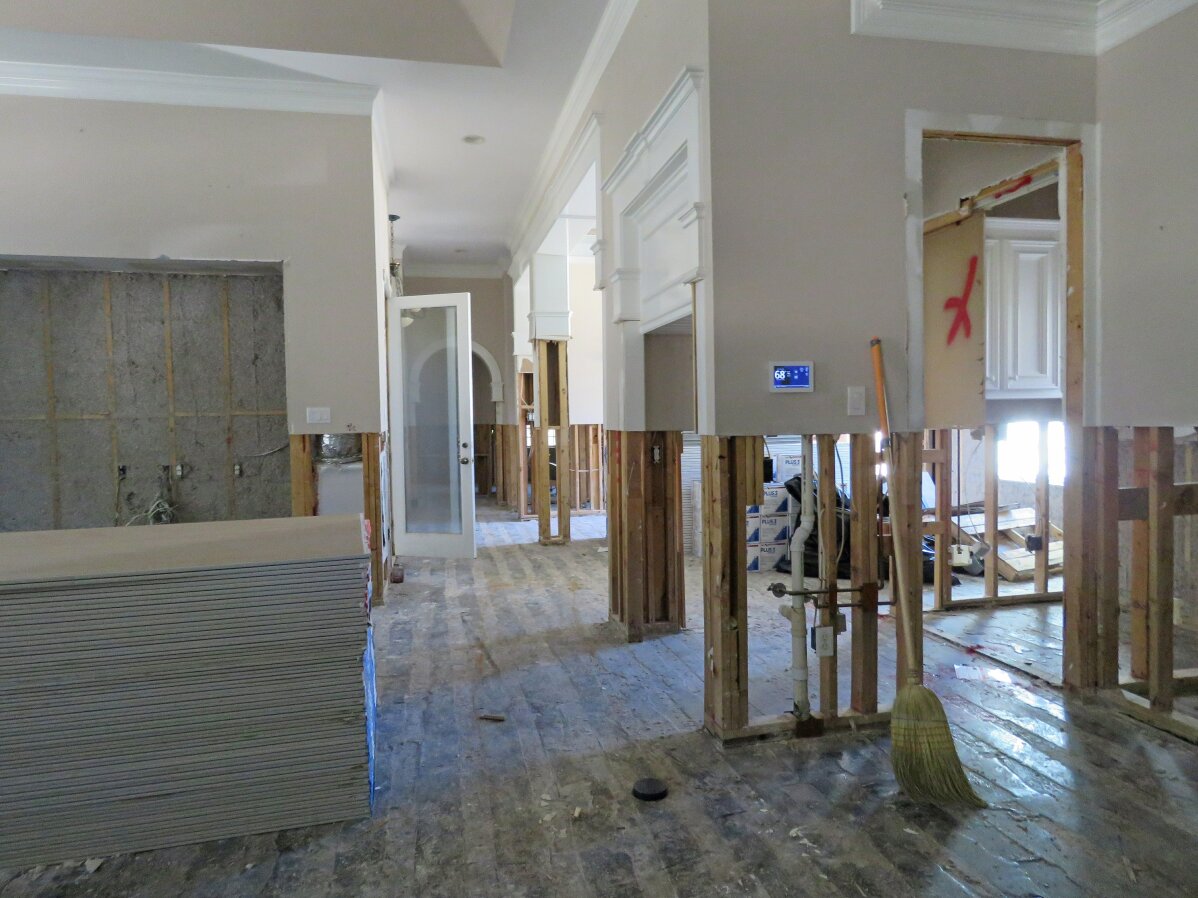 3 of 3

|
In this Oct. 25, 2017 photo, a stack of sheetrock sits in the living room of Mary and Paul Daulong's home in Houston as they continue rebuilding after it was flooded during Hurricane Harvey. The couple along with other Houston residents have used the Astros' run to the World Series as a source of inspiration to get through difficult days after the storm. (AP Photo/Juan Lozano)
3 of 3
In this Oct. 25, 2017 photo, a stack of sheetrock sits in the living room of Mary and Paul Daulong's home in Houston as they continue rebuilding after it was flooded during Hurricane Harvey. The couple along with other Houston residents have used the Astros' run to the World Series as a source of inspiration to get through difficult days after the storm. (AP Photo/Juan Lozano)
HOUSTON (AP) — Paul Daulong hopes the Houston Astros jersey his daughter gave him after Hurricane Harvey's flooding devastated the family's home will be a good luck charm as his beloved baseball team tries to win its first World Series.
So far, it seems to be working.
Daulong started wearing the jersey after the Astros trailed the New York Yankees three games to two in the American League Championship Series. They won the next two games in Houston to advance to the fall classic against the Los Angeles Dodgers. He forgot to wear it during Game 1 of the World Series, which the Astros lost, but remembered to put it on for Wednesday's Game 2, which they won in extra innings.
"Normally I'm not real superstitious," he said this week from his dust-covered home, a gutted structure held up by exposed wooden beams but devoid of furniture and appliances. "But I'm wearing it now and I'm not taking it off."
The Daulongs and others in the Houston area impacted by Harvey have used the Astros' championship run as a source of inspiration to slog through difficult days filled with tiring repairs, bureaucratic red tape and uncertainty about the future.
"It gives you a positive note to start thinking about," said Paul Daulong, 70. "It's been nothing, other than the last week they fixed the fireplace. So it's frustrating. With the Astros winning, it makes you feel good."
Amid the Astros' quest, the city has continued rebuilding from Harvey's devastating flooding, which inundated some areas with more than 50 inches of rain in late August. Officials have estimated that more than 136,000 homes and structures were damaged during Harvey in Harris County, which includes Houston.
Officials say it will be months before all of the debris covering many front lawns is removed. Nearly 100 people still remain in an American Red Cross shelter in Houston and nearly 9,000 families in Harris County who were displaced by Harvey are still living in hotels.
Mary Daulong, 69, said she and her husband — who are temporarily living in an apartment — have scheduled their rebuilding activities at their home around Astros' games.
"We would work here until it was dark. Now we cannot. Whatever time the Astros come on, is when we stop working here," she said.
Houston Mayor Sylvester Turner said in the aftermath of Harvey, the Worlds Series isn't just about the Astros.
"Quite frankly, they are carrying the city on their shoulders and on their backs and in their mitts," said Turner. "The storm may have come, but it hasn't dampened our spirit, our enthusiasm."
Astros manager A.J. Hinch said the team understands its responsibility to represent Houston and bring awareness "to the things that are needed to rebuild our great city."
"It gives the city something to rally around and gives people something to cheer for that otherwise may not have a lot to be hopeful for," said Astros pitcher Justin Verlander.
Houston resident Tom Flores, 70, said while cheering on the Astros in the World Series won't make up for people losing their homes, it still gives people some hope.
"I got friends of mine who lost their home and everything but they are still Astros fans and this does take a little bit of the sadness off," he said.
Dodgers pitcher Yu Darvish, who wore a "Houston Strong" T-shirt in the days after the storm and made a donation to help those affected by it. He joked that he hopes it gains him some favor when he starts Game 3 on Friday night.
"I made a donation to help, to support Houston and I want people to get recovered and feel more energized," he said in Japanese through a translator. "And since I made that donation, maybe I can use a ball that doesn't have much pop in it."
Houston pitcher Lance McCullers said helping boost the city after the storm became a rallying point for the team.
"We still have pictures hanging in our lockers," he said. "It's still something we think about, because people here are hard-working people, and they went through something that a lot of people can't understand. A lot of people lost everything.
"So for us to be able to just play baseball for a couple of hours and for those people to be able to have a little bit of joy, to get away from what they were having to go through is pretty special."
An event like the World Series can be a powerful source of motivation for a community dealing with adversity, said Tim Bono, a lecturer in the Psychological and Brain Sciences Department at Washington University in St. Louis.
"It'll be important for people in Houston to continue to direct attention toward that and say, 'Hey, look how we all came together to cheer on our sports team. Let's continue to do that to support each other and to especially direct resources ... for those areas that still need our help in recovering from the aftermath of the hurricane," Bono said.
Paul Daulong said the Astros provided a good example for the community by going through their own rebuilding process after several losing seasons.
"We have totally put the Astros ahead of the problems that are occurring right now," he said. "We just gotta keep our heads up and make sure that just like the Astros are going to come through against the Dodgers, we'll make it back as well as we can."
___
AP Sports Writer Kristie Rieken in Houston contributed to this report.
___
Follow Juan A. Lozano on Twitter at www.twitter.com/juanlozano70