Large challenges loom for Brazil's president-elect Bolsonaro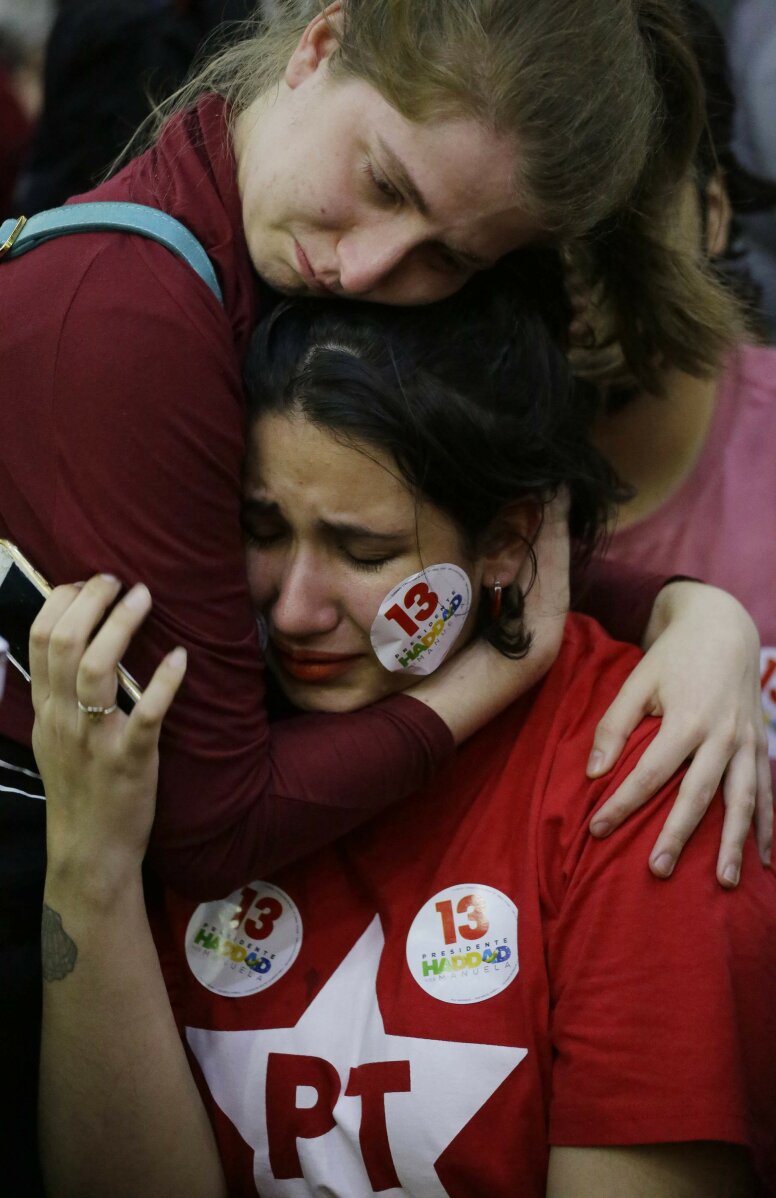 1 of 9

|
A supporter of Workers' Party presidential candidate Fernando Haddad embraces a fellow distraught supporter, after learning that rival Jair Bolsonaro was declared the winner in the presidential runoff election, in Sao Paulo, Brazil, Sunday, Oct. 28, 2018. Addressing supporters in Sao Paulo, Haddad did not concede or even mention Bolsonaro by name. Instead, his speech was a promise to resist. (AP Photo/Nelson Antoine)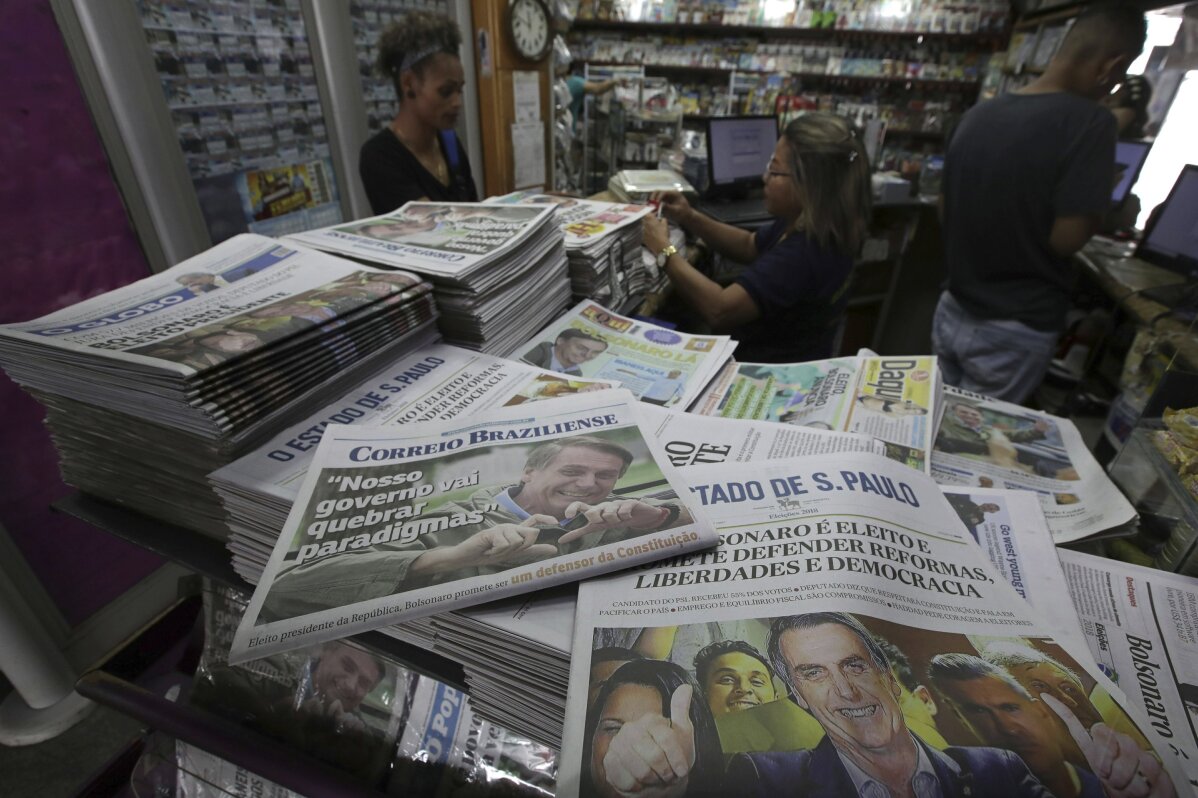 2 of 9

|
Newspaper headlines lead with the presidential victory of far-right congressman Jair Bolsonaro, in Brasilia, Brazil, Monday, Oct. 29, 2018. Bolsonaro's victory moved Brazil, the world's fourth-largest democracy, sharply to the right after four consecutive elections in which candidates from the left-leaning Workers' Party won. (AP Photo/Eraldo Peres)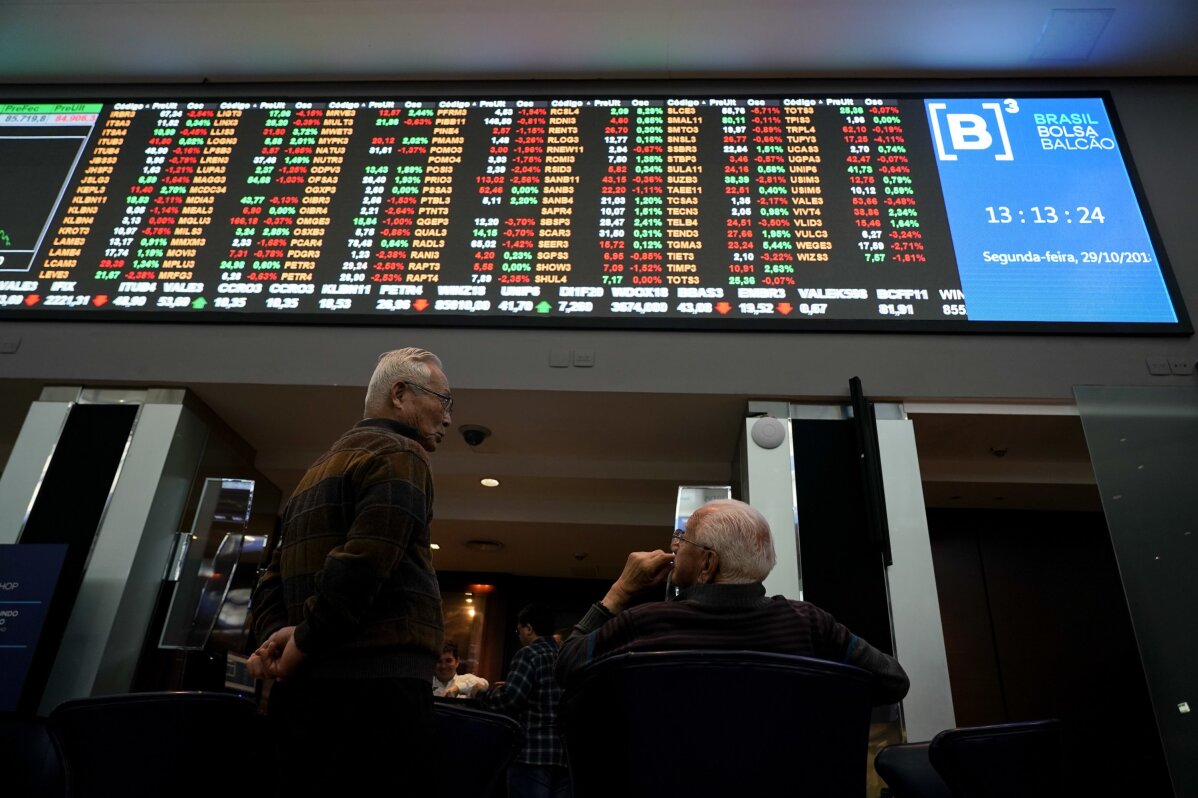 3 of 9

|
Two men talk underneath a display of Brazil's Bovespa index at Sao Paulo's Stock Exchange, Monday, Oct. 29, 2018. The Bovespa index rose in morning trading after far-right politician Jair Bolsonaro was elected president, but it later turned lower and fell 2,24 percent. Stocks climbed earlier this month after Bolsonaro led the previous round of voting, as investors preferred him to leftist parties. (AP Photo/Victor R. Caivano)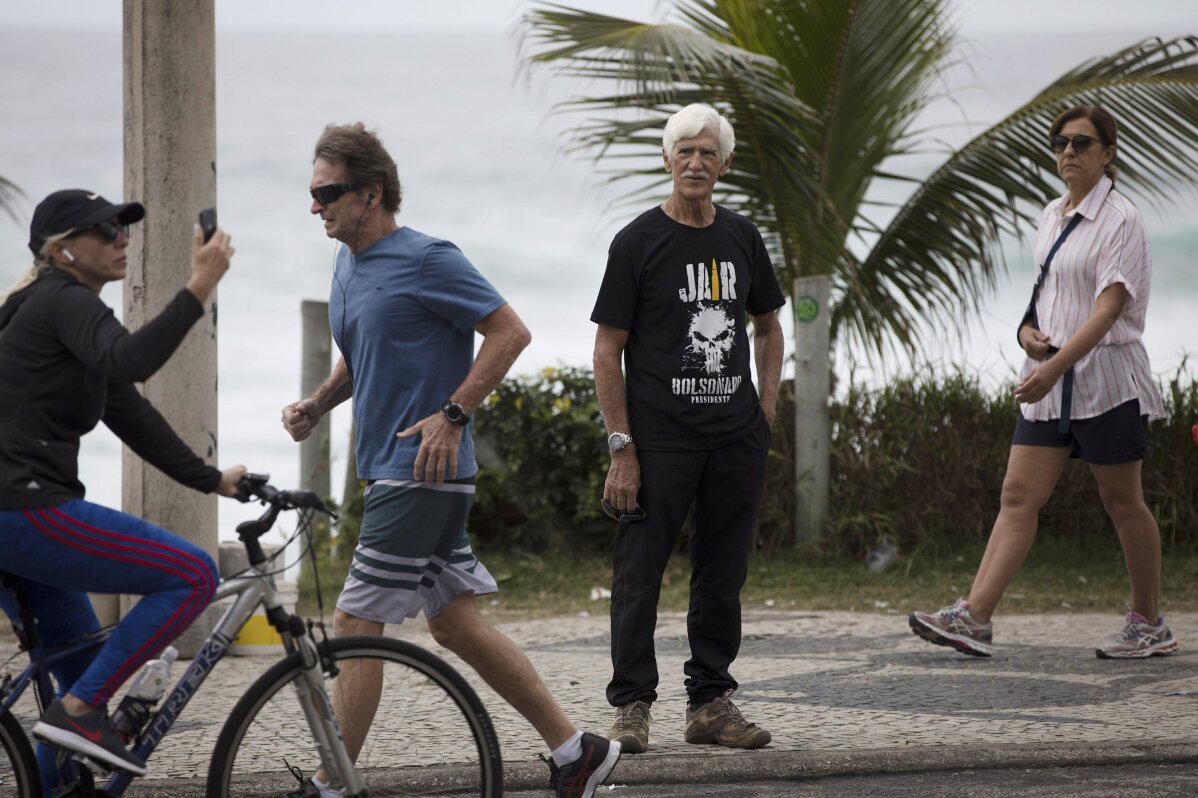 4 of 9

|
A man wears a T-shirt in support of Jair Bolsonaro as he stands in front of his residence in Rio de Janeiro, Brazil, Monday, Oct. 29, 2018. Far-right congressman Bolsonaro won Brazil's presidency Sunday on promises to overhaul several aspects of Latin America's largest nation. (AP Photo/Leo Correa)
5 of 9

|
A supporter holds a balloon with the image of presidential candidate Jair Bolsonaro, during celebration in front of the National Congress, in Brasilia, Brazil, Sunday, Oct. 28, 2018. Brazil's Supreme Electoral Tribunal declared the far-right congressman the next president of Latin America's biggest country. (AP Photo/Eraldo Peres)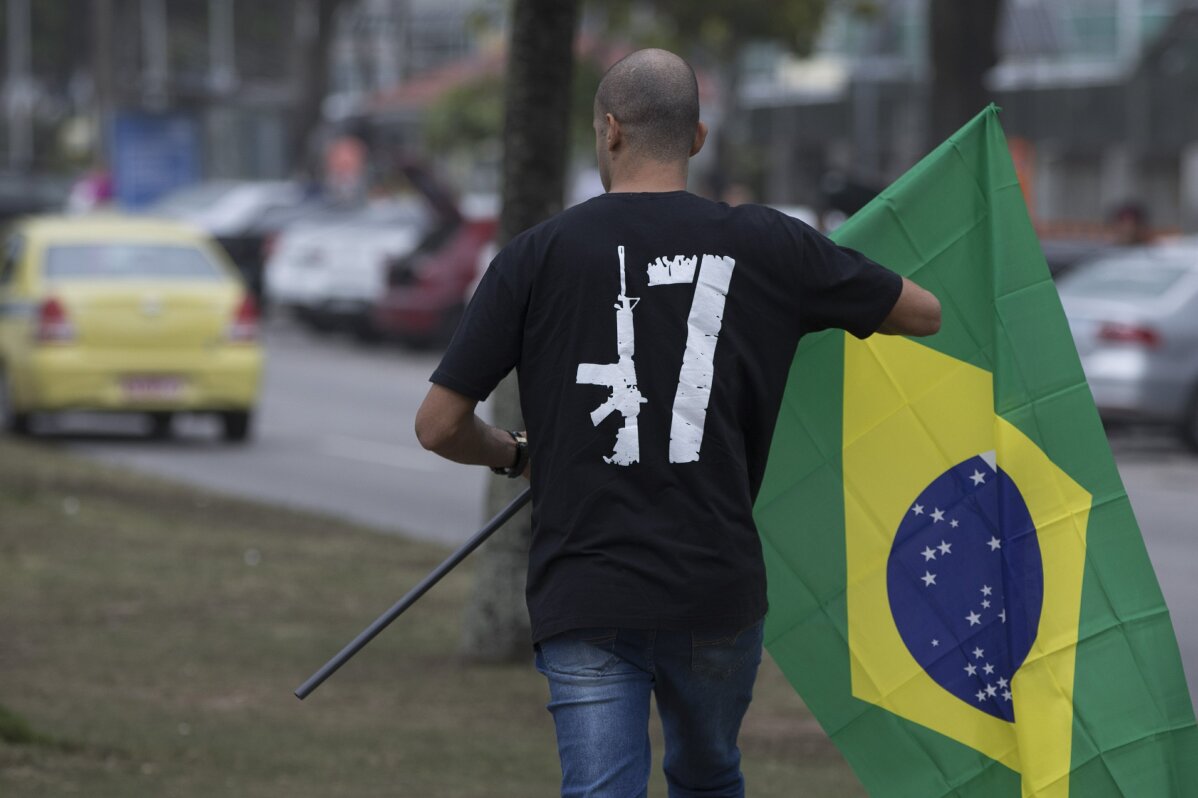 6 of 9

|
A man, wearing a T-shirt with the voting number 17 associated with President-elect Jair Bolsonaro, walks with a Brazilian national flag in Rio de Janeiro, Brazil, Monday, Oct. 29, 2018. In some of his first words to the nation as president-elect, Bolsonaro has promised to defend the constitution and unite a bitterly divided populace. (AP Photo/Leo Correa)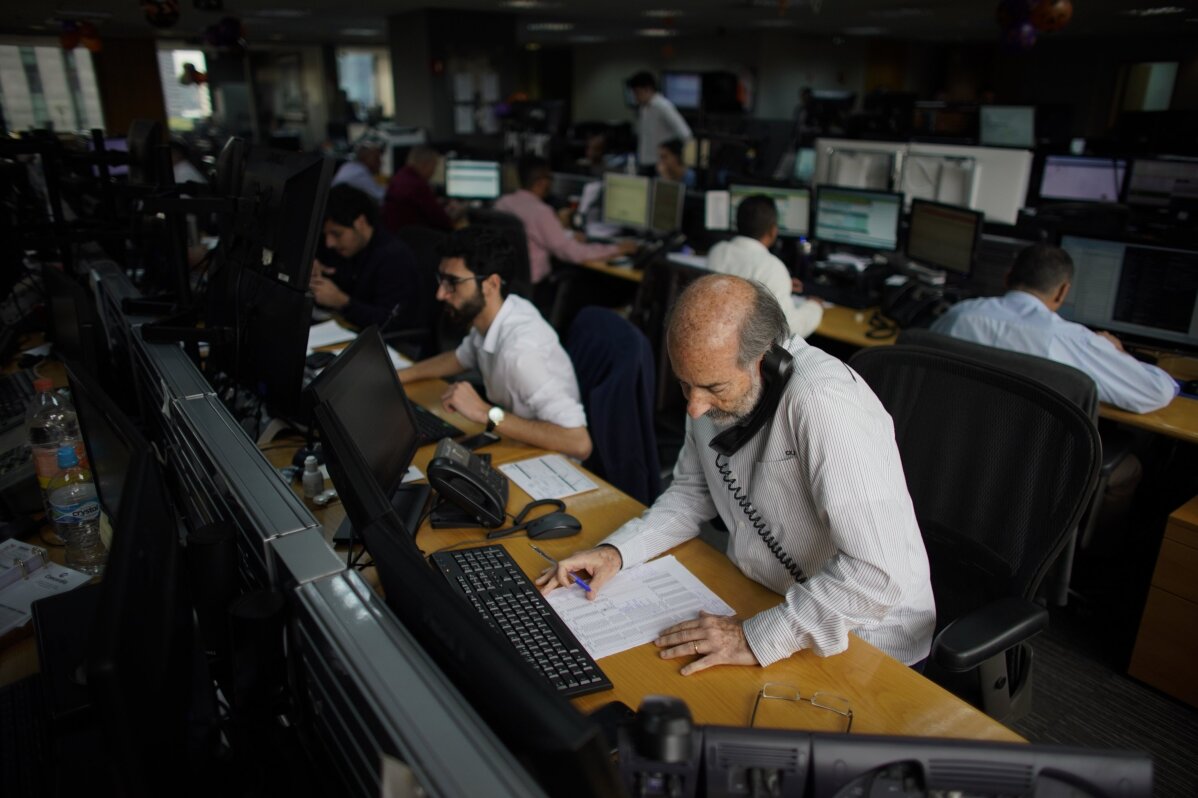 7 of 9

|
A trader talks on the phone at a brokerage firm in Sao Paulo, Brazil, Monday, Oct. 29, 2018. Brazil's Bovespa index rose in morning trading after far-right politician Jair Bolsonaro was elected president, but it later turned lower and fell 2,24 percent. Stocks climbed earlier this month after Bolsonaro led the previous round of voting, as investors preferred him to leftist parties. (AP Photo/Victor R. Caivano)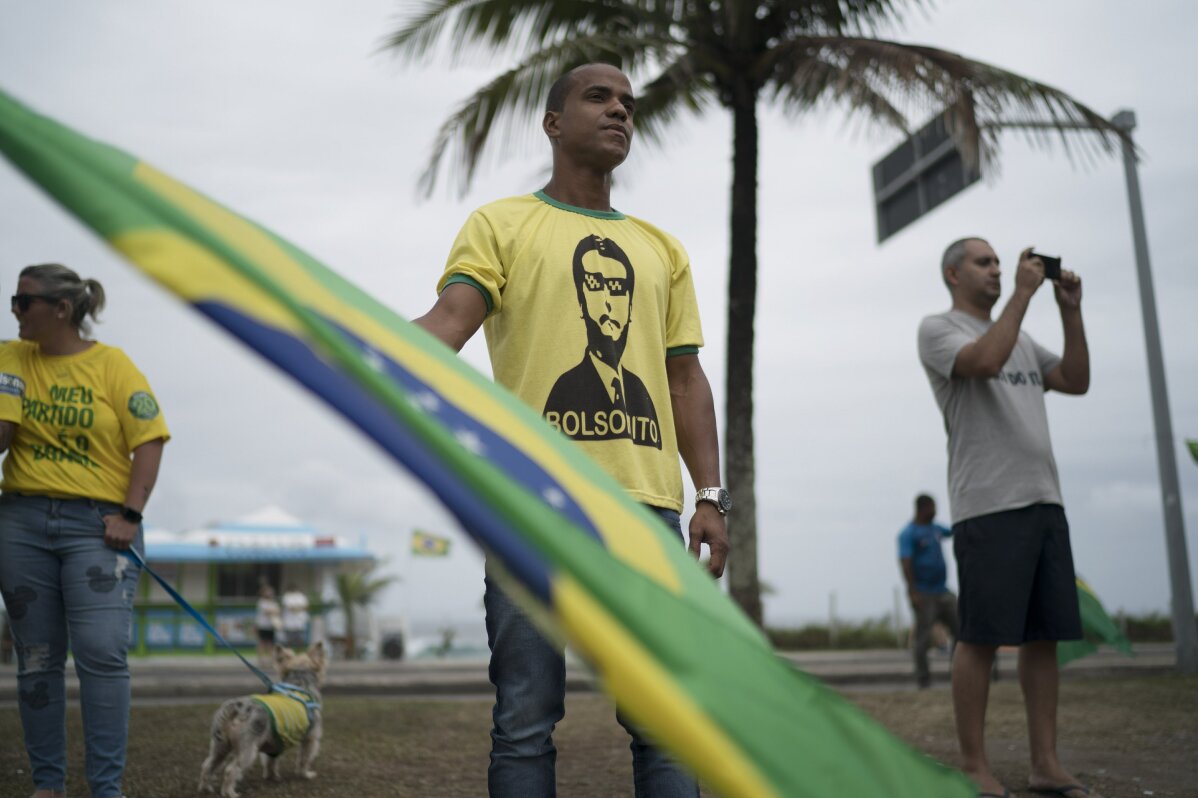 8 of 9

|
Supporters of President-elect Jair Bolsonaro gather in front of his residence in Rio de Janeiro, Brazil, Monday, Oct. 29, 2018. Bolsonaro's victory moved Brazil, the world's fourth-largest democracy, sharply to the right after four consecutive elections in which candidates from the left-leaning Workers' Party won. (AP Photo/Leo Correa)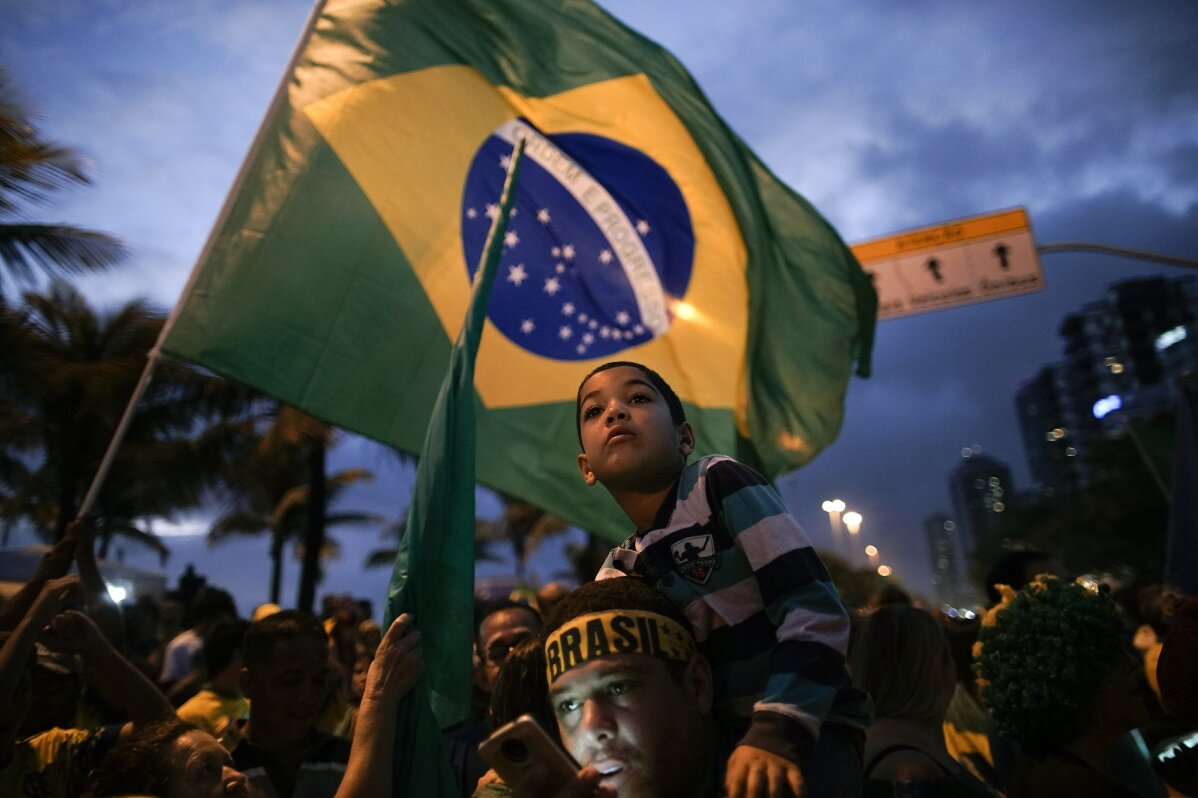 9 of 9

|
Supporters gather outside the residence of presidential candidate Jair Bolsonaro in anticipation of his victory speech, in Rio de Janeiro, Brazil, Sunday, Oct. 28, 2018. Brazil's Supreme Electoral Tribunal declared the far-right congressman the next president of Latin America's biggest country. (AP Photo/Leo Correa)
Large challenges loom for Brazil's president-elect Bolsonaro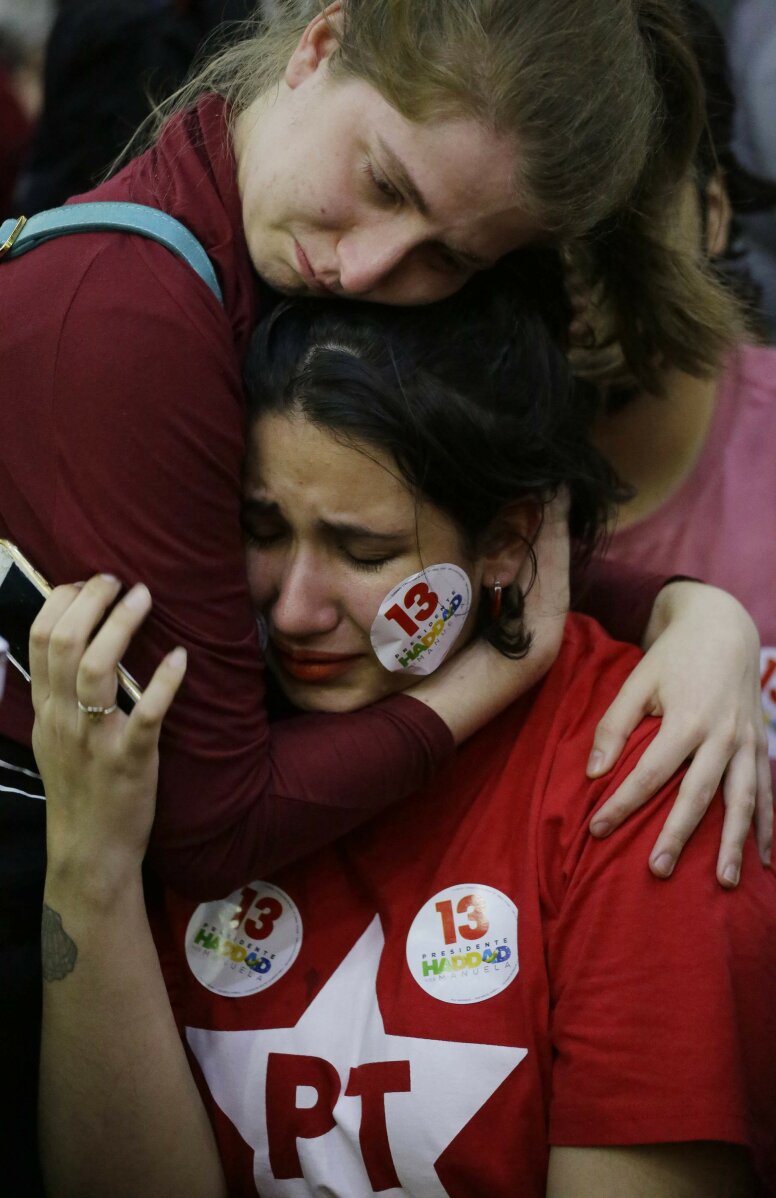 1 of 9

|
A supporter of Workers' Party presidential candidate Fernando Haddad embraces a fellow distraught supporter, after learning that rival Jair Bolsonaro was declared the winner in the presidential runoff election, in Sao Paulo, Brazil, Sunday, Oct. 28, 2018. Addressing supporters in Sao Paulo, Haddad did not concede or even mention Bolsonaro by name. Instead, his speech was a promise to resist. (AP Photo/Nelson Antoine)
1 of 9
A supporter of Workers' Party presidential candidate Fernando Haddad embraces a fellow distraught supporter, after learning that rival Jair Bolsonaro was declared the winner in the presidential runoff election, in Sao Paulo, Brazil, Sunday, Oct. 28, 2018. Addressing supporters in Sao Paulo, Haddad did not concede or even mention Bolsonaro by name. Instead, his speech was a promise to resist. (AP Photo/Nelson Antoine)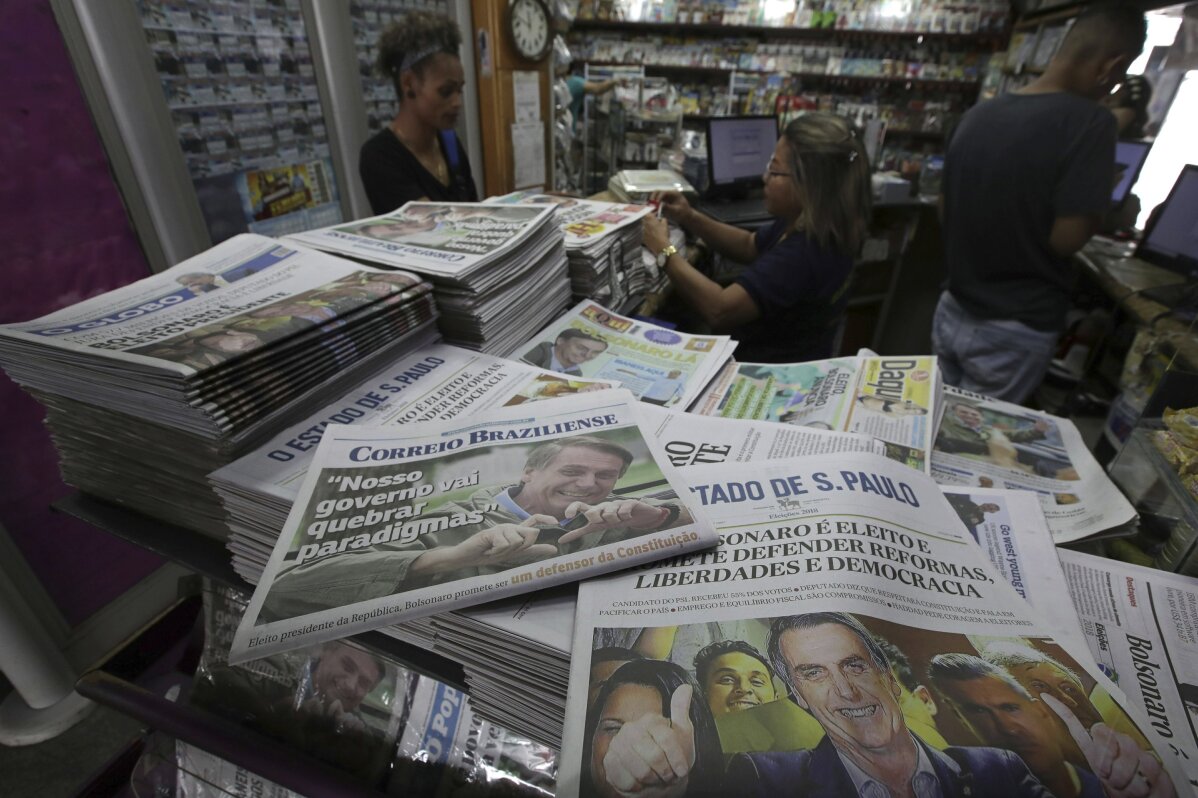 2 of 9

|
Newspaper headlines lead with the presidential victory of far-right congressman Jair Bolsonaro, in Brasilia, Brazil, Monday, Oct. 29, 2018. Bolsonaro's victory moved Brazil, the world's fourth-largest democracy, sharply to the right after four consecutive elections in which candidates from the left-leaning Workers' Party won. (AP Photo/Eraldo Peres)
2 of 9
Newspaper headlines lead with the presidential victory of far-right congressman Jair Bolsonaro, in Brasilia, Brazil, Monday, Oct. 29, 2018. Bolsonaro's victory moved Brazil, the world's fourth-largest democracy, sharply to the right after four consecutive elections in which candidates from the left-leaning Workers' Party won. (AP Photo/Eraldo Peres)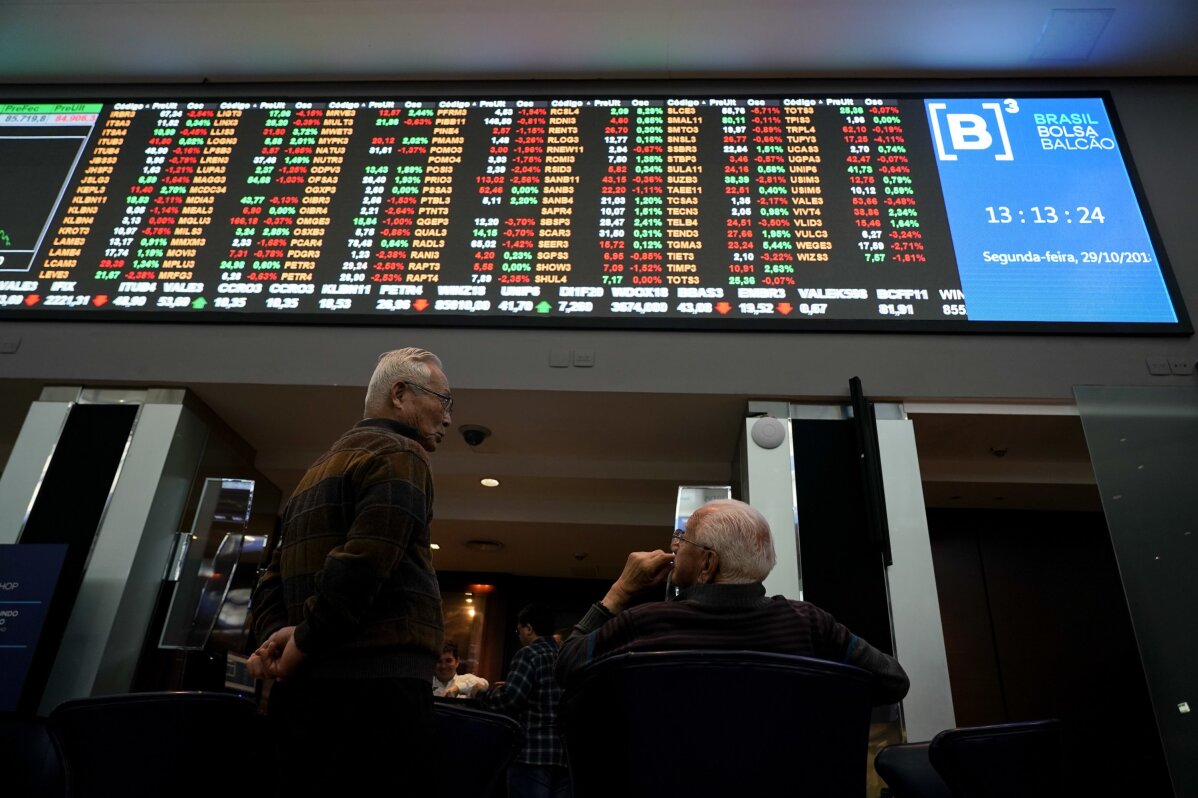 3 of 9

|
Two men talk underneath a display of Brazil's Bovespa index at Sao Paulo's Stock Exchange, Monday, Oct. 29, 2018. The Bovespa index rose in morning trading after far-right politician Jair Bolsonaro was elected president, but it later turned lower and fell 2,24 percent. Stocks climbed earlier this month after Bolsonaro led the previous round of voting, as investors preferred him to leftist parties. (AP Photo/Victor R. Caivano)
3 of 9
Two men talk underneath a display of Brazil's Bovespa index at Sao Paulo's Stock Exchange, Monday, Oct. 29, 2018. The Bovespa index rose in morning trading after far-right politician Jair Bolsonaro was elected president, but it later turned lower and fell 2,24 percent. Stocks climbed earlier this month after Bolsonaro led the previous round of voting, as investors preferred him to leftist parties. (AP Photo/Victor R. Caivano)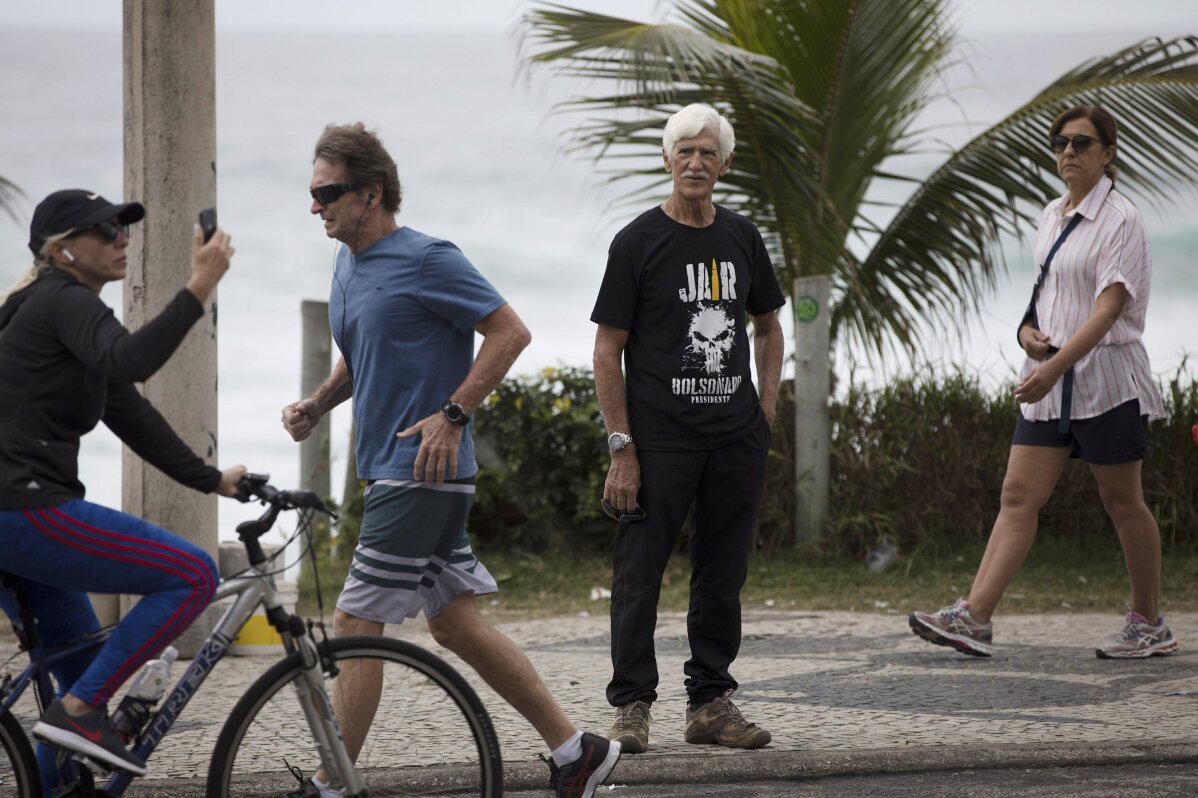 4 of 9

|
A man wears a T-shirt in support of Jair Bolsonaro as he stands in front of his residence in Rio de Janeiro, Brazil, Monday, Oct. 29, 2018. Far-right congressman Bolsonaro won Brazil's presidency Sunday on promises to overhaul several aspects of Latin America's largest nation. (AP Photo/Leo Correa)
4 of 9
A man wears a T-shirt in support of Jair Bolsonaro as he stands in front of his residence in Rio de Janeiro, Brazil, Monday, Oct. 29, 2018. Far-right congressman Bolsonaro won Brazil's presidency Sunday on promises to overhaul several aspects of Latin America's largest nation. (AP Photo/Leo Correa)
5 of 9

|
A supporter holds a balloon with the image of presidential candidate Jair Bolsonaro, during celebration in front of the National Congress, in Brasilia, Brazil, Sunday, Oct. 28, 2018. Brazil's Supreme Electoral Tribunal declared the far-right congressman the next president of Latin America's biggest country. (AP Photo/Eraldo Peres)
5 of 9
A supporter holds a balloon with the image of presidential candidate Jair Bolsonaro, during celebration in front of the National Congress, in Brasilia, Brazil, Sunday, Oct. 28, 2018. Brazil's Supreme Electoral Tribunal declared the far-right congressman the next president of Latin America's biggest country. (AP Photo/Eraldo Peres)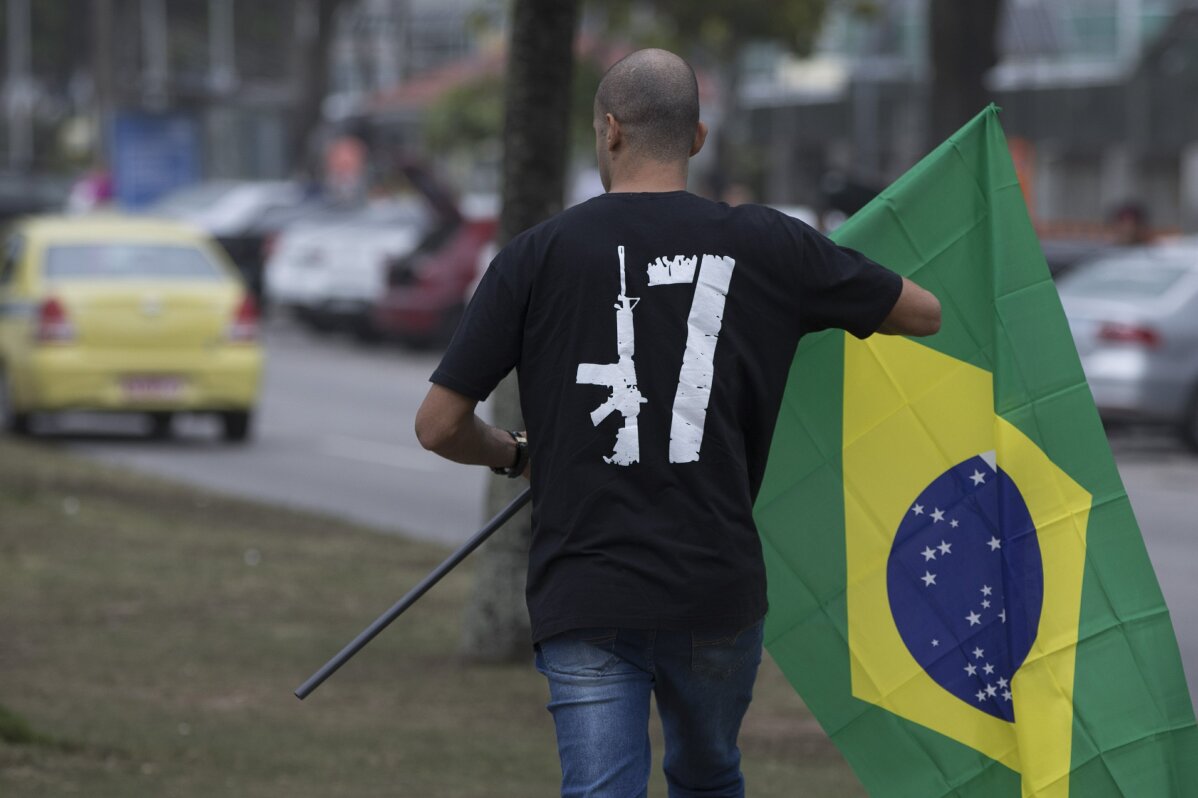 6 of 9

|
A man, wearing a T-shirt with the voting number 17 associated with President-elect Jair Bolsonaro, walks with a Brazilian national flag in Rio de Janeiro, Brazil, Monday, Oct. 29, 2018. In some of his first words to the nation as president-elect, Bolsonaro has promised to defend the constitution and unite a bitterly divided populace. (AP Photo/Leo Correa)
6 of 9
A man, wearing a T-shirt with the voting number 17 associated with President-elect Jair Bolsonaro, walks with a Brazilian national flag in Rio de Janeiro, Brazil, Monday, Oct. 29, 2018. In some of his first words to the nation as president-elect, Bolsonaro has promised to defend the constitution and unite a bitterly divided populace. (AP Photo/Leo Correa)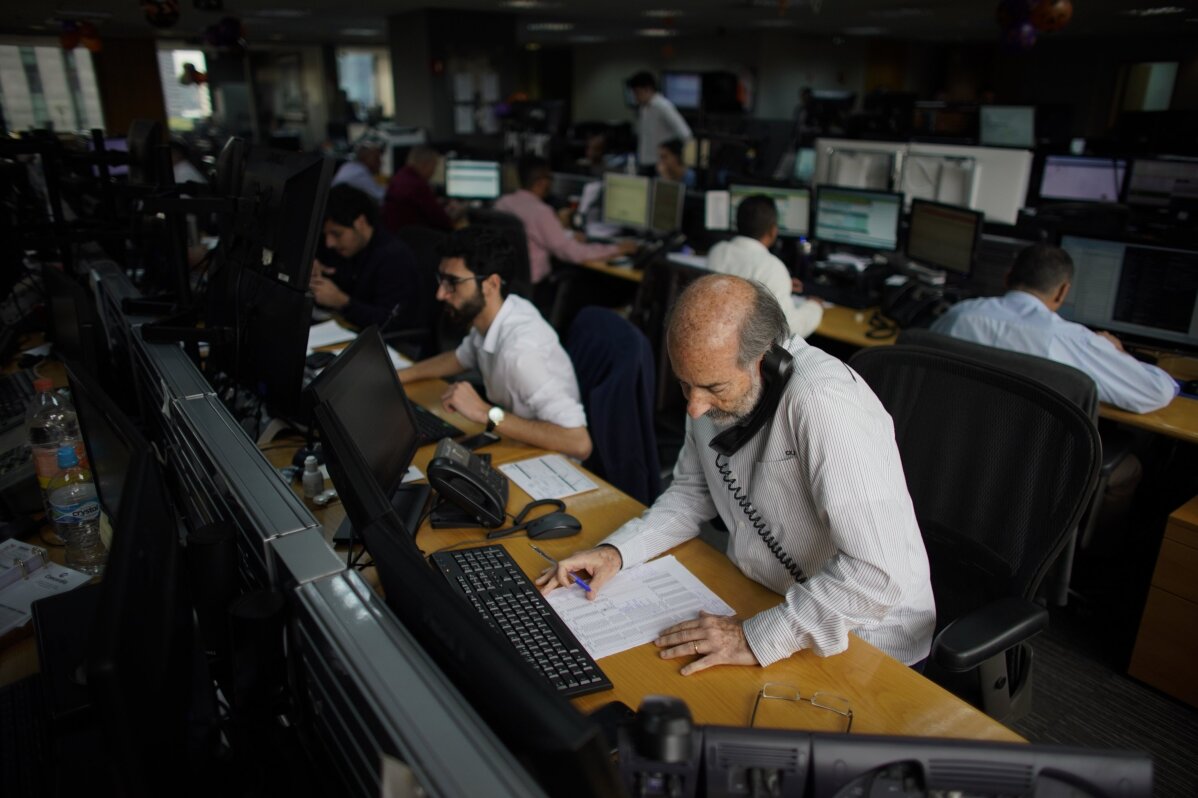 7 of 9

|
A trader talks on the phone at a brokerage firm in Sao Paulo, Brazil, Monday, Oct. 29, 2018. Brazil's Bovespa index rose in morning trading after far-right politician Jair Bolsonaro was elected president, but it later turned lower and fell 2,24 percent. Stocks climbed earlier this month after Bolsonaro led the previous round of voting, as investors preferred him to leftist parties. (AP Photo/Victor R. Caivano)
7 of 9
A trader talks on the phone at a brokerage firm in Sao Paulo, Brazil, Monday, Oct. 29, 2018. Brazil's Bovespa index rose in morning trading after far-right politician Jair Bolsonaro was elected president, but it later turned lower and fell 2,24 percent. Stocks climbed earlier this month after Bolsonaro led the previous round of voting, as investors preferred him to leftist parties. (AP Photo/Victor R. Caivano)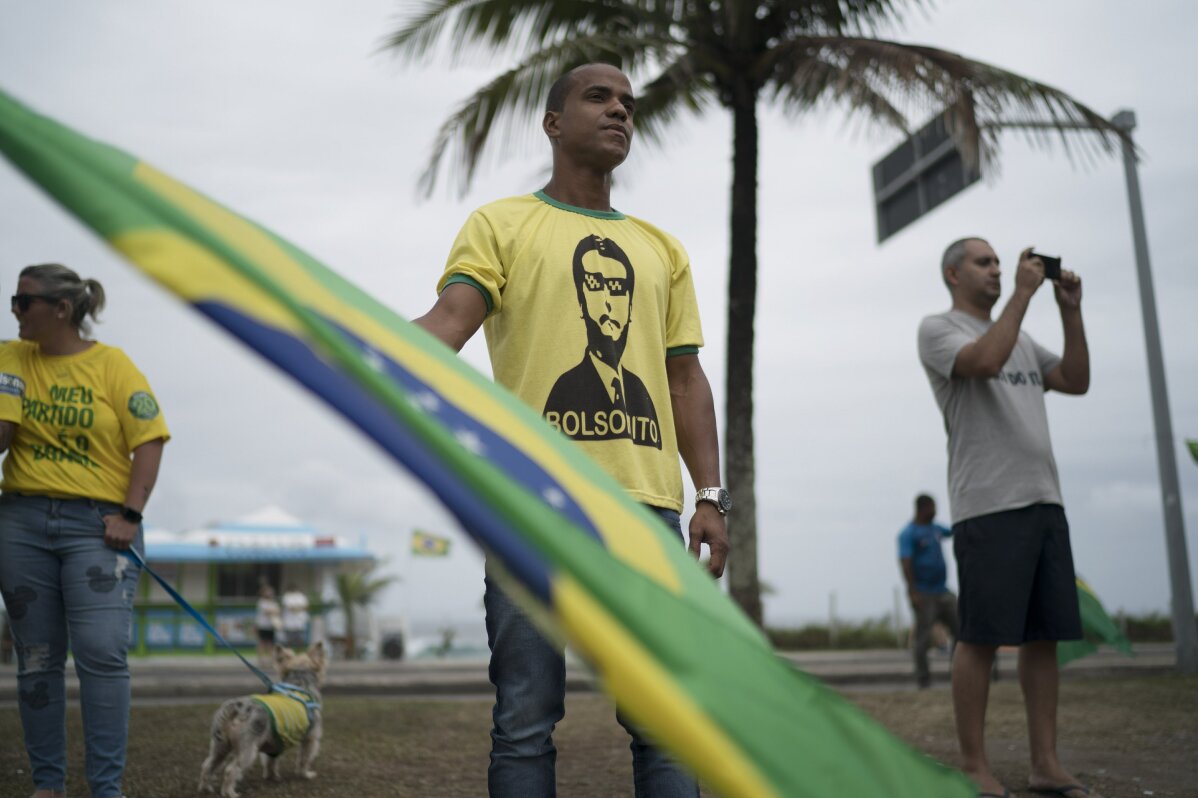 8 of 9

|
Supporters of President-elect Jair Bolsonaro gather in front of his residence in Rio de Janeiro, Brazil, Monday, Oct. 29, 2018. Bolsonaro's victory moved Brazil, the world's fourth-largest democracy, sharply to the right after four consecutive elections in which candidates from the left-leaning Workers' Party won. (AP Photo/Leo Correa)
8 of 9
Supporters of President-elect Jair Bolsonaro gather in front of his residence in Rio de Janeiro, Brazil, Monday, Oct. 29, 2018. Bolsonaro's victory moved Brazil, the world's fourth-largest democracy, sharply to the right after four consecutive elections in which candidates from the left-leaning Workers' Party won. (AP Photo/Leo Correa)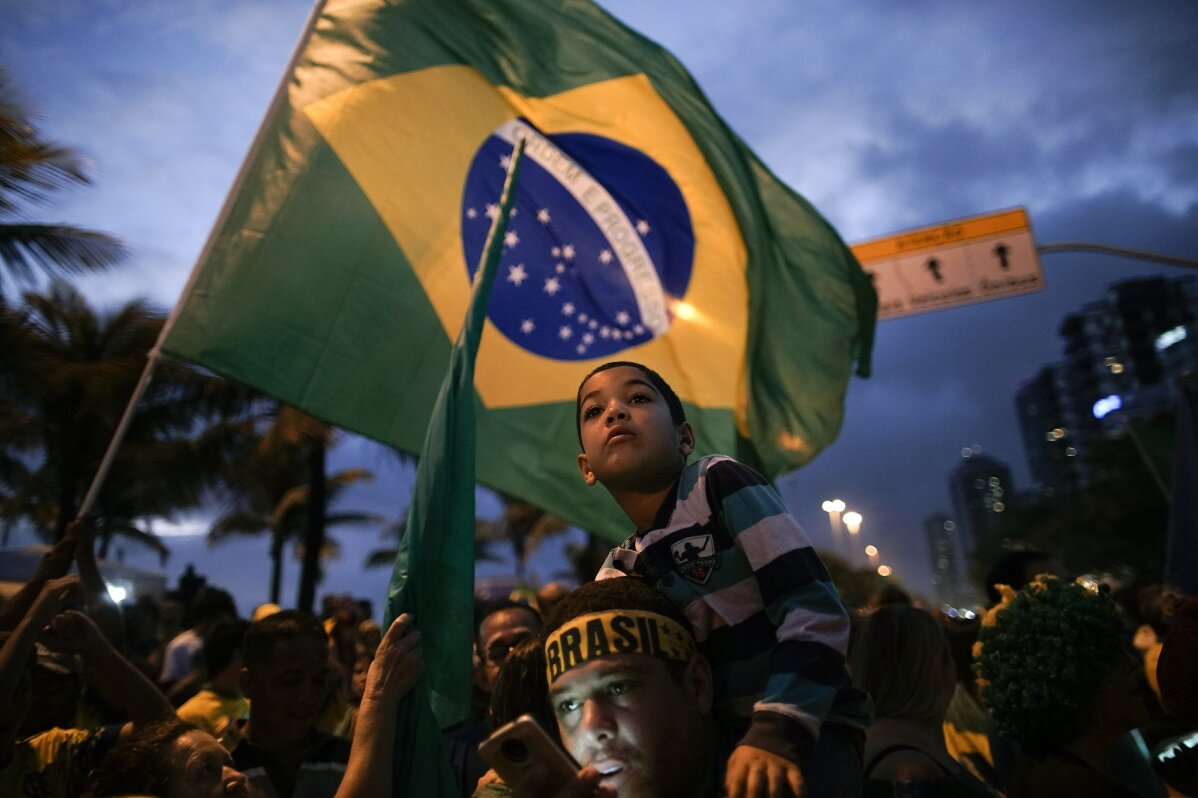 9 of 9

|
Supporters gather outside the residence of presidential candidate Jair Bolsonaro in anticipation of his victory speech, in Rio de Janeiro, Brazil, Sunday, Oct. 28, 2018. Brazil's Supreme Electoral Tribunal declared the far-right congressman the next president of Latin America's biggest country. (AP Photo/Leo Correa)
9 of 9
Supporters gather outside the residence of presidential candidate Jair Bolsonaro in anticipation of his victory speech, in Rio de Janeiro, Brazil, Sunday, Oct. 28, 2018. Brazil's Supreme Electoral Tribunal declared the far-right congressman the next president of Latin America's biggest country. (AP Photo/Leo Correa)
RIO DE JANEIRO (AP) — Brazil's President-elect Jair Bolsonaro signaled Monday his administration would make tackling the country's budget-crushing pension system a top priority, doubling down on a campaign promise that made him the choice of the business community despite frequently saying he doesn't understand the economy.
The tough-talking former army captain cruised to a 10-point victory Sunday by capitalizing on widespread frustration in Latin America's largest economy, which has fallen on hard times less than a decade after being a darling of investors among emerging markets.
Bolsonaro's victory moved Brazil, the world's fourth-largest democracy, sharply to the right after four consecutive elections in which candidates from the left-leaning Workers' Party won.
Perhaps more than belief in Bolsonaro himself, his victory represents a widespread rejection of the Workers' Party, which was at the center of a massive corruption investigation and oversaw both Brazil's boom and its bust.
Like other right-leaning leaders who have risen to power around the globe, Bolsonaro, who takes office Jan. 1, built his popularity on a mixture of often outrageous comments and hard-line positions, but he consolidated his lead by promising to enact market-friendly reforms.
In the end, many outside his base in Brazil accepted the bargain he offered: Swallow his more extreme views and his crude way of expressing them in exchange for economic policies they hoped would put Brazil on the path to recovery.
But many warned that his policies on crime, his expected reliance on military officers as advisers and his frequent disparaging of blacks, minority groups such as gays and Brazil's institutions could undermine the country's young democracy.
In a sign of the challenges ahead, the hashtag EleNaoEMeuPresidente — HeIsNotMyPresident in Portuguese — was the top trending topic on Twitter in Brazil on Monday morning.
In the face of what's expected to be stiff resistance, Bolsonaro will have to move quickly to reassure international investors that he's up to the job of righting Brazil's finances.
A looming $34 billion deficit in 2019 has economists warning that without drastic spending cuts or substantial tax increases the country is only a year or two away from a full-blown crisis, which could include run-away inflation and soaring borrowing costs.
"The fiscal situation is so dire that the market needs some kind of signal," said Matthew Taylor, an associate professor at American University's School of International Service. "I think there's a very short window of opportunity for Boslonaro to put into effect measures that build market confidence."
Reducing the deficit will be especially hard because Brazil has only slowly begun to grow again after a punishing recession in 2015 and 2016, and unemployment remains high.
In the face of this, Bolsonaro has said adviser Paulo Guedes, a University of Chicago-educated economist, would oversee the privatization of many industries and a reform of the pension system.
"The first big item: pensions. We need a pension reform," Guedes said late Sunday after Bolsonaro's victory, adding that the next item would be selling off state companies to reduce Brazil's debt and associated interest payments.
"It is not reasonable that Brazil spends $100 billion every year on debt interest payments," he said.
Congressman Onyx Lorenzoni, tapped to be Bolsonaro's chief-of-staff, said Monday the administration would submit a pension reform proposal early next year.
Attempts to reform the bloated pension system have failed repeatedly and will again be met with opposition over everything from the retirement age — currently many retire in their early 50s— to who gets excluded from reforms. Bolsonaro has said he wants to exclude military personnel and police from any reduction in benefits.
Bolsonaro must also address many other issues with no easy solutions: high unemployment, increasing crime in a nation that is already the world leader in total homicides, and deep divisions after years of political turmoil and a punishing election campaign marred by violence. Bolsonaro himself was stabbed and almost died while campaigning in early September.
The rise of Bolsonaro, who cast himself as a political outsider despite a 27-year career in Congress, parallels the resurgence of the far-right in Europe and elsewhere. But his extreme messages were rendered more palatable by a perfect storm in Brazil: widespread anger at the political class after years of corruption, a sluggish economic recovery and a surge in violence that has many Brazilians worried about their future.
Many are furious with the Workers' Party for its role in a graft scheme involving billions of dollars in bribes paid to politicians via inflated construction contracts.
Bolsonaro's challenger, Fernando Haddad of the Workers' Party, struggled to build momentum with his promise of a return to the boom times by investing in health and education and reducing poverty. It didn't help that Haddad's mentor, former President Luiz Inacio da Silva, is serving a 12-year prison sentence for a corruption conviction.
In his first address as president-elect, Bolsonaro promised to defend the constitution and unite a bitterly divided populace. At the same time, Haddad vowed to mount a vigorous opposition and civil rights groups warned against a rollback of civil liberties.
That juxtaposition underscores that the political acrimony is far from over.
In a blistering op-ed Monday in the Washington Post, former Brazilian President Fernando Henrique Cardoso said democracy was at risk and called on his countrymen to reflect on "How did the unthinkable happen?"
"This political crisis does not end with yesterday's election," he wrote. "Without rebuilding trust, how can the economy recover, employment rebound and social policies expand? This must be the agenda for the immediate future."
Bolsonaro's candidacy raised serious concerns that he would roll back civil rights and weaken institutions. Many have pointed to his sometimes extreme rhetoric as a sign that he may marginalize women, gays, blacks and other minority groups that have only recently begun to achieve some measure of inclusion in Brazilian society.
He has praised police who kill criminals during operations and argued they should be decorated, not criminally tried. He has repeatedly said he would pull Brazil from the Paris agreement on climate change, though he backed off that slightly this week, and promised to cut environmental regulations to make Brazil friendlier to international investors.
He often took to Twitter to lambast the rival Workers' Party, going so far as to say its members should be shot and "leftist reds" run out of Brazil, speech many said made the candidate "extreme right."
Within minutes of his victory, international rights groups began expressing concerns.
The International Women's Health Coalition warned that Bolsonaro's "hateful rhetoric ... will further erode women's rights in Brazil." Steve Schwartzman of the Environmental Defense Fund warned his environment policies would be "dangerous to the planet."
Still, some Brazilians expressed hope for a future with Bolsonaro at the helm of government.
"We have endured so many crises, so many robberies in this country and finally the PT (Workers Party) was defeated, and we expect with Bolsonaro in power, that Brazil can go in a new direction and to start to prosper," said Leonardo de Sousa, a 35-year-old receptionist in Rio de Janeiro.
____
DiLorenzo reported from Sao Paulo. Associated Press reporter Beatrice Christofaro and AP video journalist Yesica Fisch in Rio de Janeiro contributed to this report.