Security forces deploy in Iraq's Basra following violence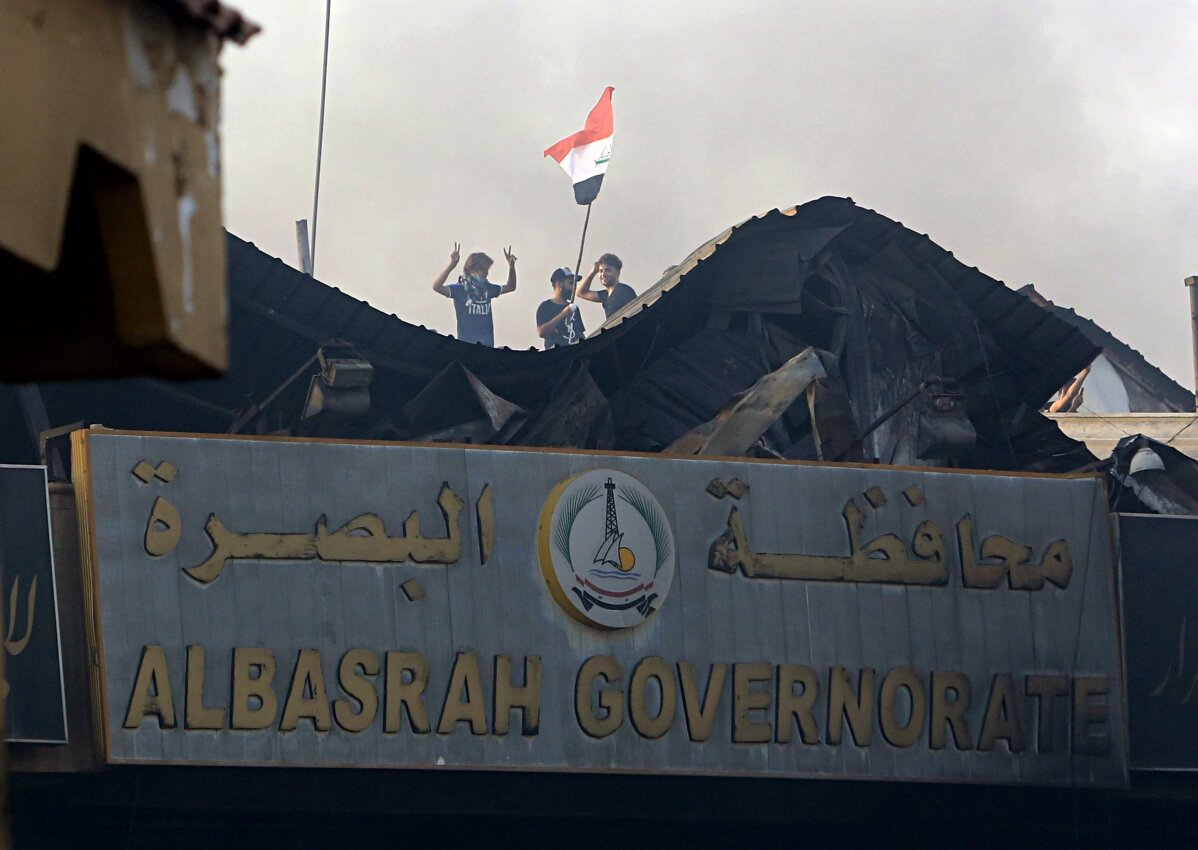 1 of 9

|
Protesters raise the Iraqi flag over Basra Government building during a demonstration demanding better public services and jobs in Basra, 340 miles (550 km) southeast of Baghdad, Iraq, Friday, Sept. 7, 2018. Hundreds of angry protesters in Basra took to the streets on Thursday night. Some clashed with security forces, lobbing Molotov cocktails and setting fire to a government building as well as the offices of Shiite militias. At least three people were shot dead in confrontations with security forces. (AP Photo/Nabil al-Jurani)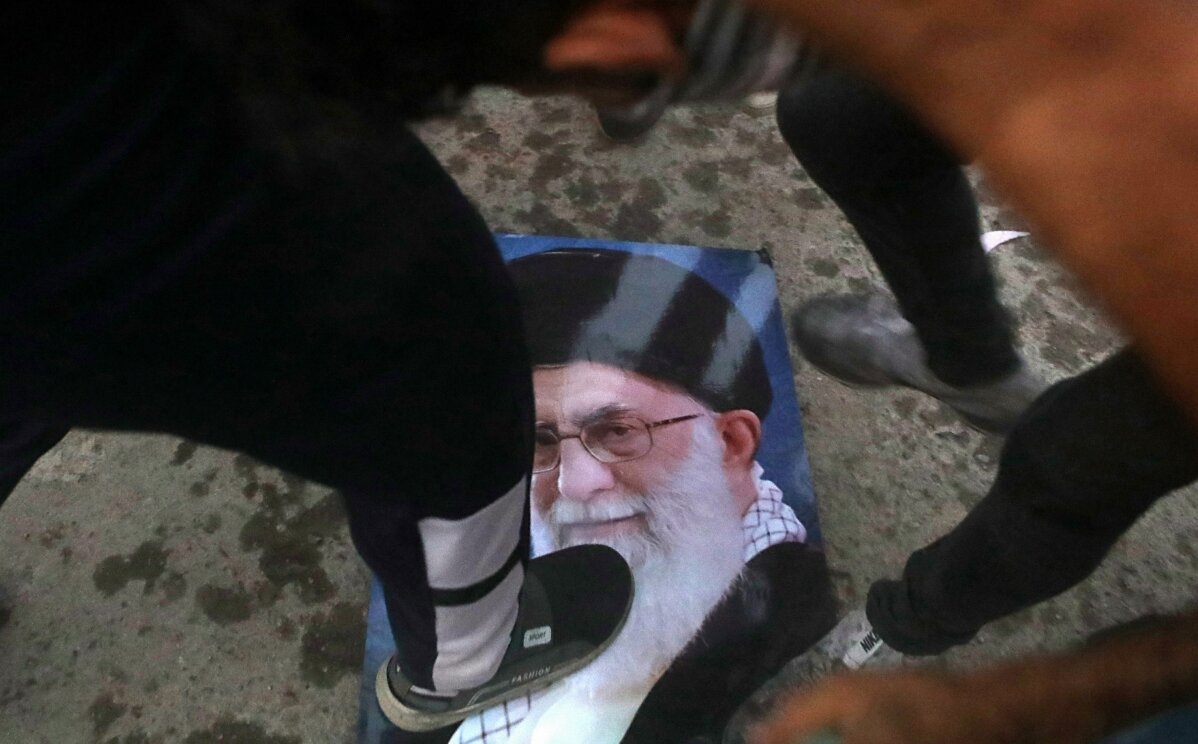 2 of 9

|
Protesters trample a portrait of Iran's supreme Leader Ayatollah Ali Khamenei, during the storming and burning the Iranian consulate in Basra, 340 miles (550 km) southeast of Baghdad, Iraq, Friday, Sept. 7, 2018. Hundreds of angry protesters in Basra took to the streets on Thursday night. Some clashed with security forces, lobbing Molotov cocktails and setting fire to a government building as well as the offices of Shiite militias. At least three people were shot dead in confrontations with security forces. (AP Photo/Nabil al-Jurani)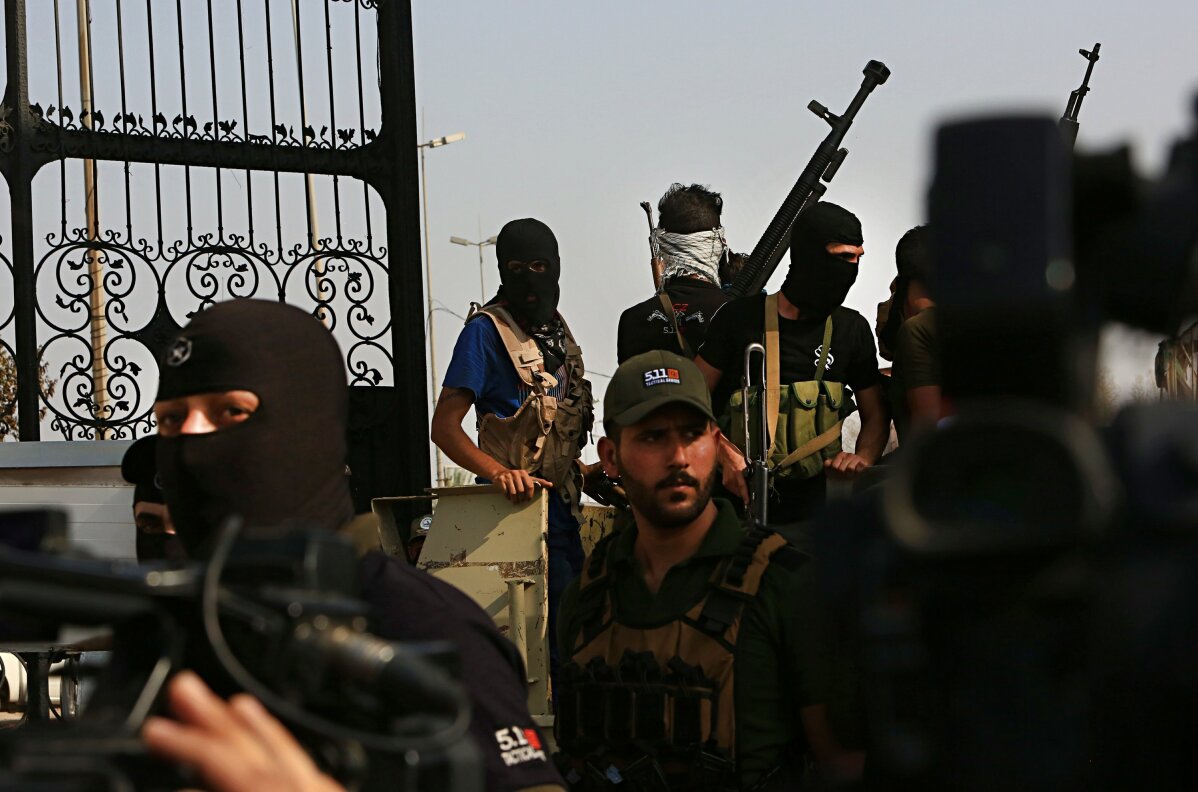 3 of 9

|
Popular Mobilization Forces parade in Basra, 340 miles (550 km) southeast of Baghdad, Iraq, Saturday, Sept. 8, 2018. A local military commander for an alliance of powerful Shiite militias, many of them backed by Iran, vowed a response Saturday to weeklong protests that have turned violent in the southern city of Basra, raising the specter for more escalation in the oil-rich southern region. (AP Photo/Nabil al-Jurani)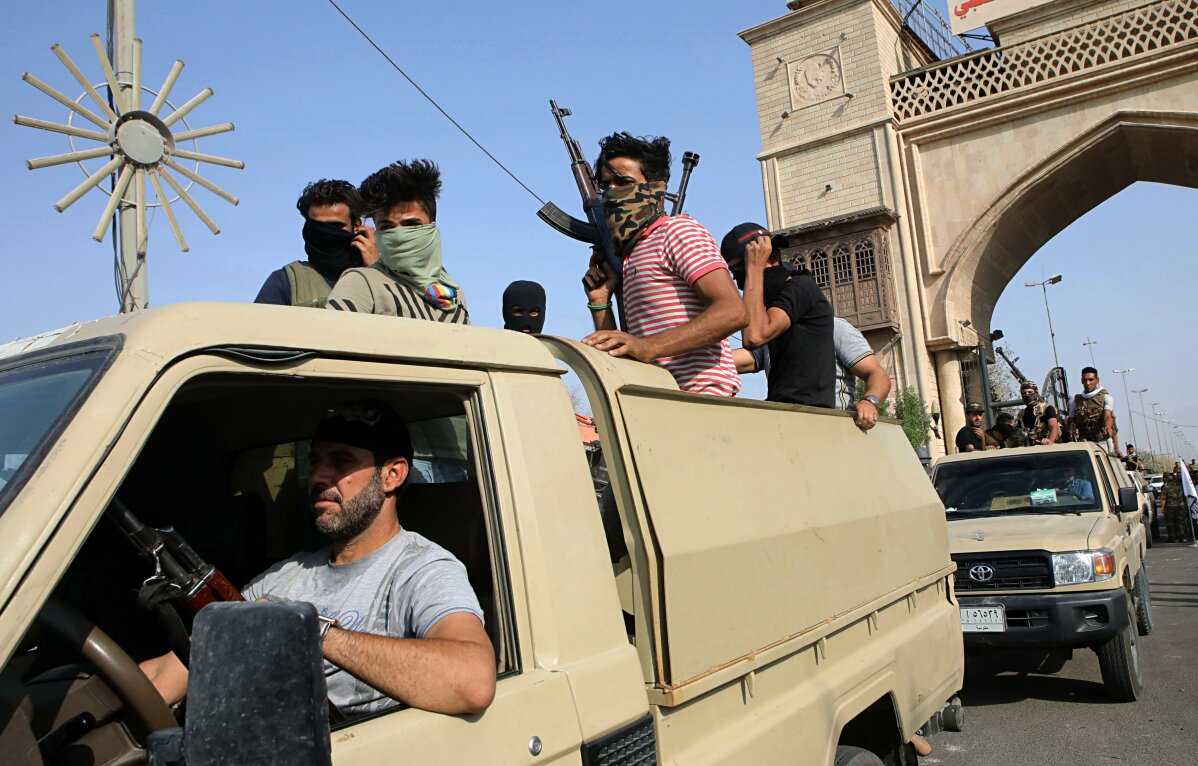 4 of 9

|
Popular Mobilization Forces parade in Basra, 340 miles (550 km) southeast of Baghdad, Iraq, Saturday, Sept. 8, 2018. A local military commander for an alliance of powerful Shiite militias, many of them backed by Iran, vowed a response Saturday to weeklong protests that have turned violent in the southern city of Basra, raising the specter for more escalation in the oil-rich southern region. (AP Photo/Nabil al-Jurani)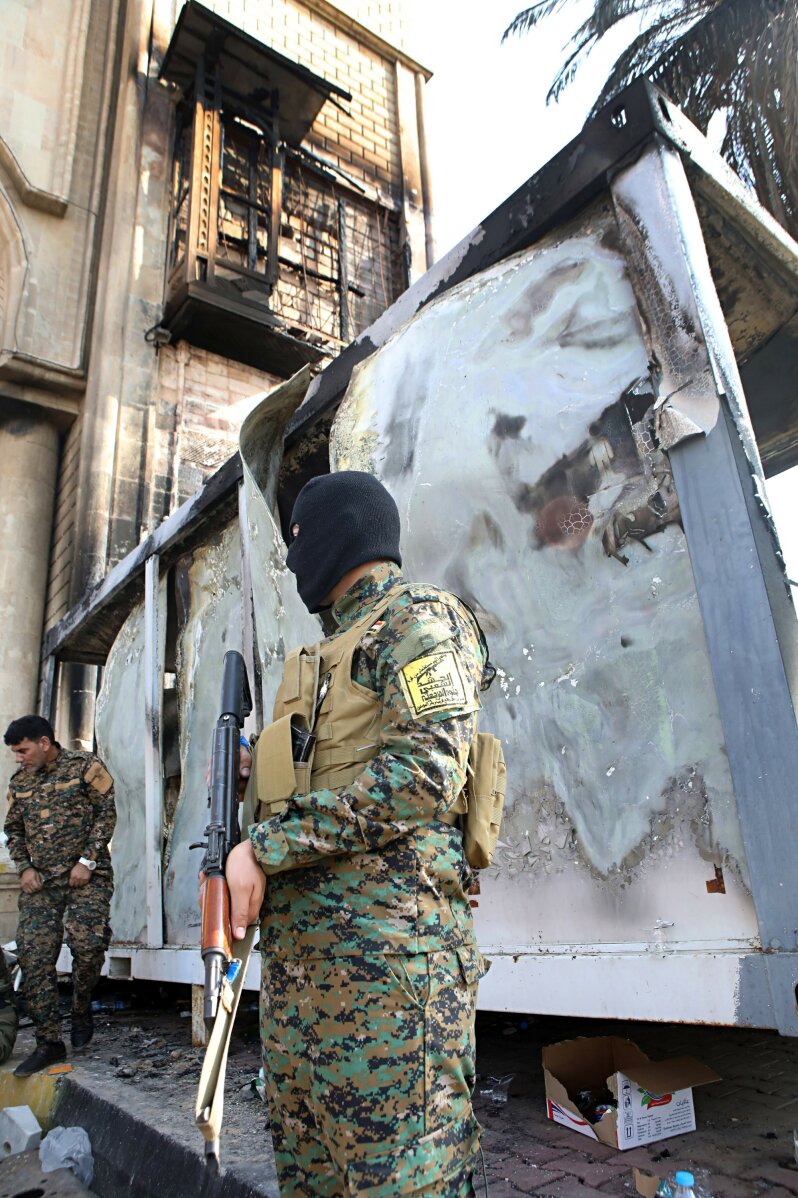 5 of 9

|
Popular Mobilization Forces fighters stand guard in their burned headquarters in Basra, 340 miles (550 km) southeast of Baghdad, Iraq, Saturday, Sept. 8, 2018. A local military commander for an alliance of powerful Shiite militias, many of them backed by Iran, vowed a response Saturday to weeklong protests that have turned violent in the southern city of Basra, raising the specter for more escalation in the oil-rich southern region. (AP Photo/Nabil al-Jurani)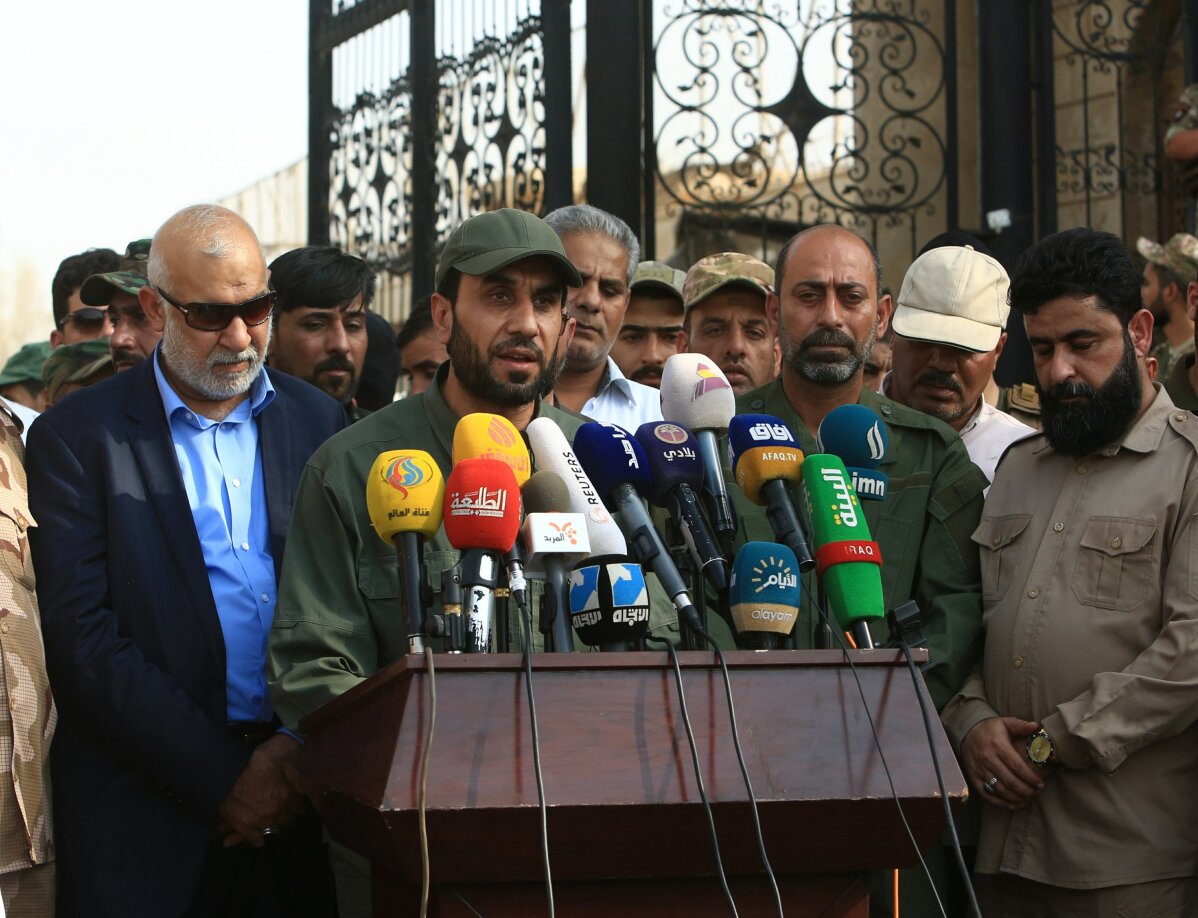 6 of 9

|
Abu Yasser al-Jaafari, center, a local military commander for an alliance of powerful Shiite militias, many of them backed by Iran, speaks to reporters inside the burned Popular Mobilization Forces building in Basra, 340 miles (550 km) southeast of Baghdad, Iraq, Saturday, Sept. 8, 2018. A local military commander for an alliance of powerful Shiite militias, many of them backed by Iran, vowed a response Saturday to weeklong protests that have turned violent in the southern city of Basra, raising the specter for more escalation in the oil-rich southern region. (AP Photo/Nabil al-Jurani)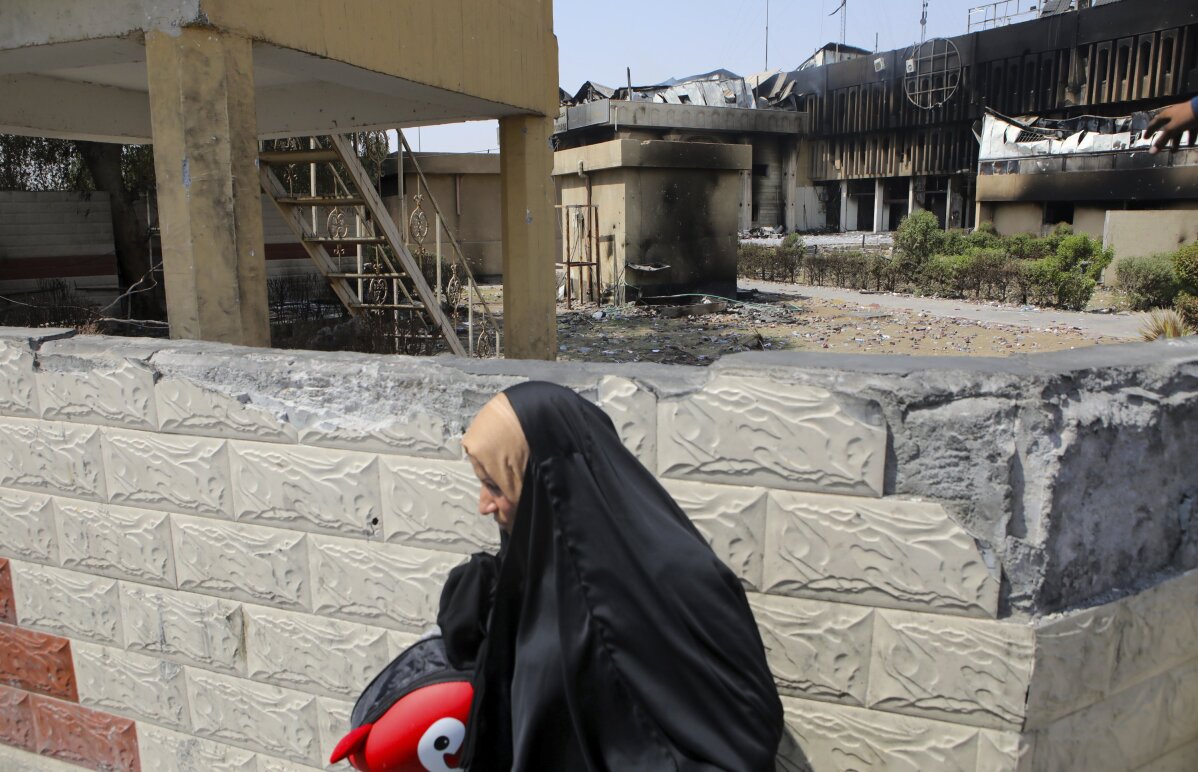 7 of 9

|
A woman passes by the burned Basra Government building in Basra, 340 miles (550 km) southeast of Baghdad, Iraq, Saturday, Sept. 8, 2018. A local military commander for an alliance of powerful Shiite militias, many of them backed by Iran, vowed a response Saturday to weeklong protests that have turned violent in the southern city of Basra, raising the specter for more escalation in the oil-rich southern region. (AP Photo/Nabil al-Jurani)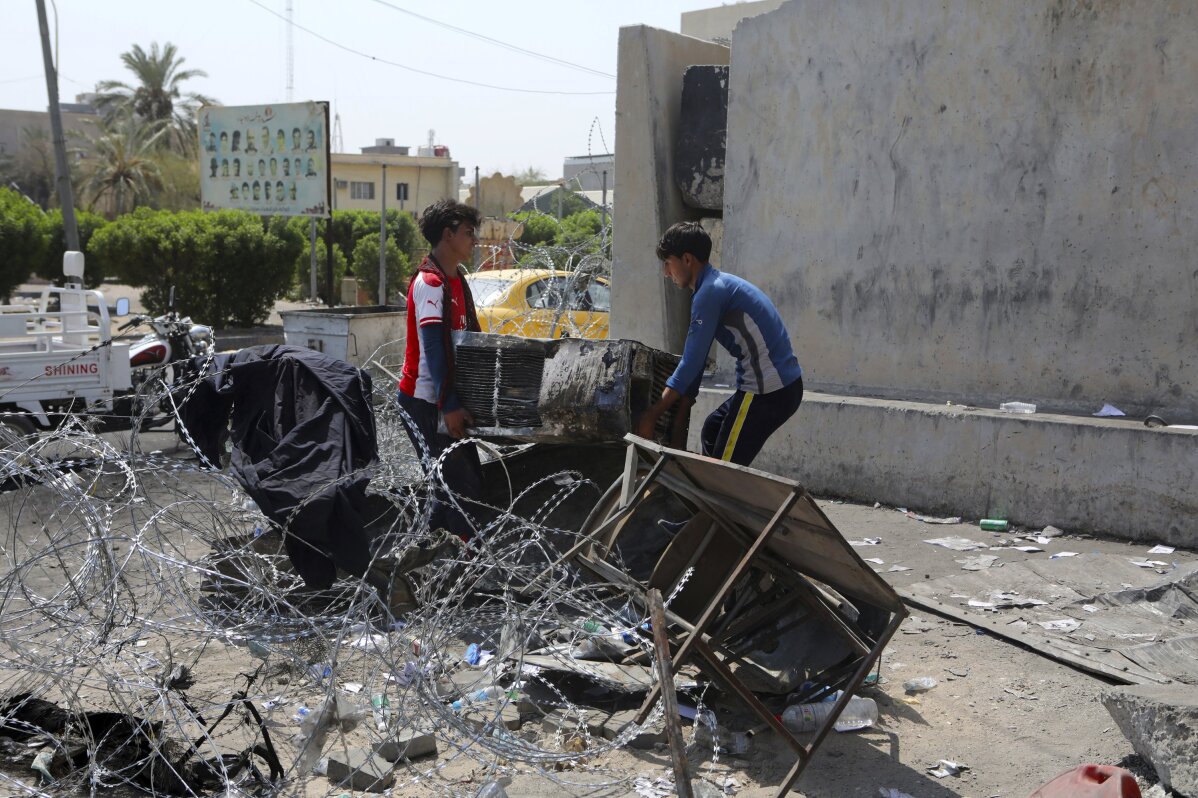 8 of 9

|
Workers throw burned furniture from burned Basra Government building in Basra, 340 miles (550 km) southeast of Baghdad, Iraq, Saturday, Sept. 8, 2018. A local military commander for an alliance of powerful Shiite militias, many of them backed by Iran, vowed a response Saturday to weeklong protests that have turned violent in the southern city of Basra, raising the specter for more escalation in the oil-rich southern region. (AP Photo/Nabil al-Jurani)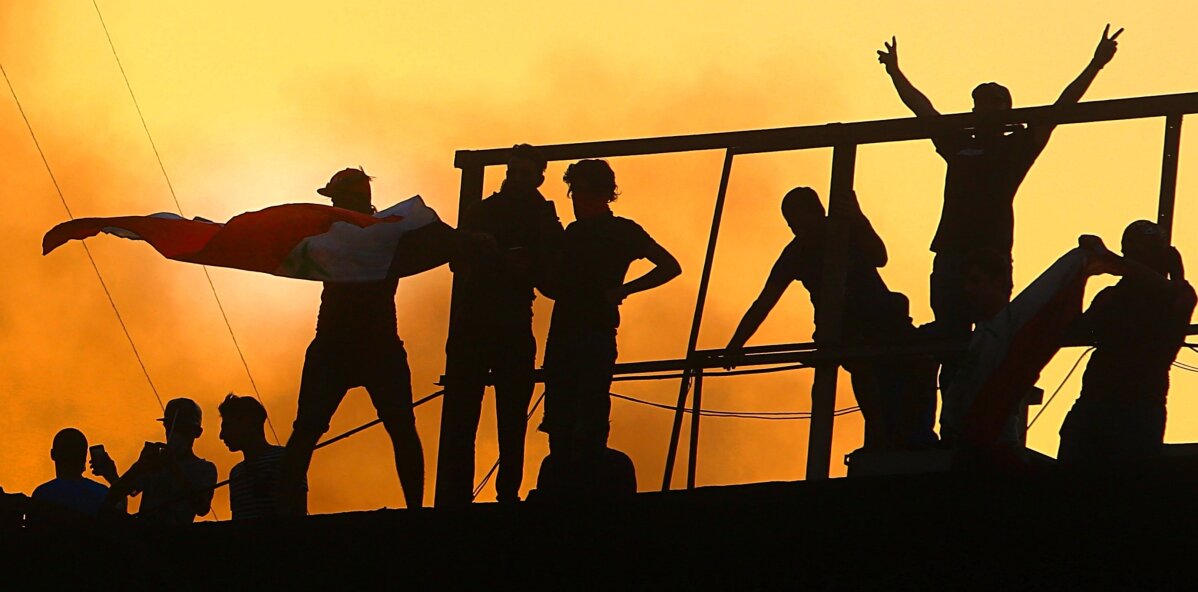 9 of 9

|
Protesters storm and burn the Basra Government building during a demonstration demanding better public services and jobs in Basra, 340 miles (550 km) southeast of Baghdad, Iraq, Friday, Sept. 7, 2018. Hundreds of angry protesters in Basra took to the streets on Thursday night. Some clashed with security forces, lobbing Molotov cocktails and setting fire to a government building as well as the offices of Shiite militias. At least three people were shot dead in confrontations with security forces. (AP Photo/Nabil al-Jurani)
Security forces deploy in Iraq's Basra following violence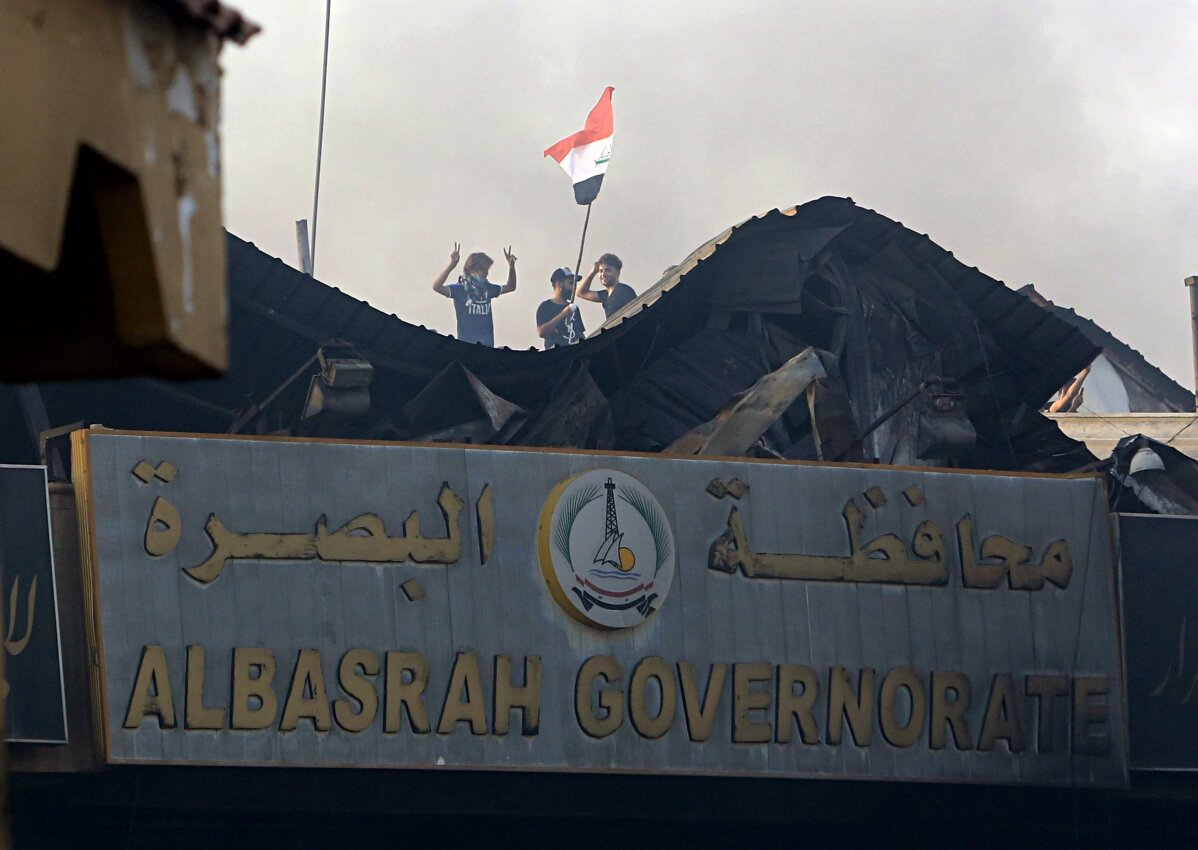 1 of 9

|
Protesters raise the Iraqi flag over Basra Government building during a demonstration demanding better public services and jobs in Basra, 340 miles (550 km) southeast of Baghdad, Iraq, Friday, Sept. 7, 2018. Hundreds of angry protesters in Basra took to the streets on Thursday night. Some clashed with security forces, lobbing Molotov cocktails and setting fire to a government building as well as the offices of Shiite militias. At least three people were shot dead in confrontations with security forces. (AP Photo/Nabil al-Jurani)
1 of 9
Protesters raise the Iraqi flag over Basra Government building during a demonstration demanding better public services and jobs in Basra, 340 miles (550 km) southeast of Baghdad, Iraq, Friday, Sept. 7, 2018. Hundreds of angry protesters in Basra took to the streets on Thursday night. Some clashed with security forces, lobbing Molotov cocktails and setting fire to a government building as well as the offices of Shiite militias. At least three people were shot dead in confrontations with security forces. (AP Photo/Nabil al-Jurani)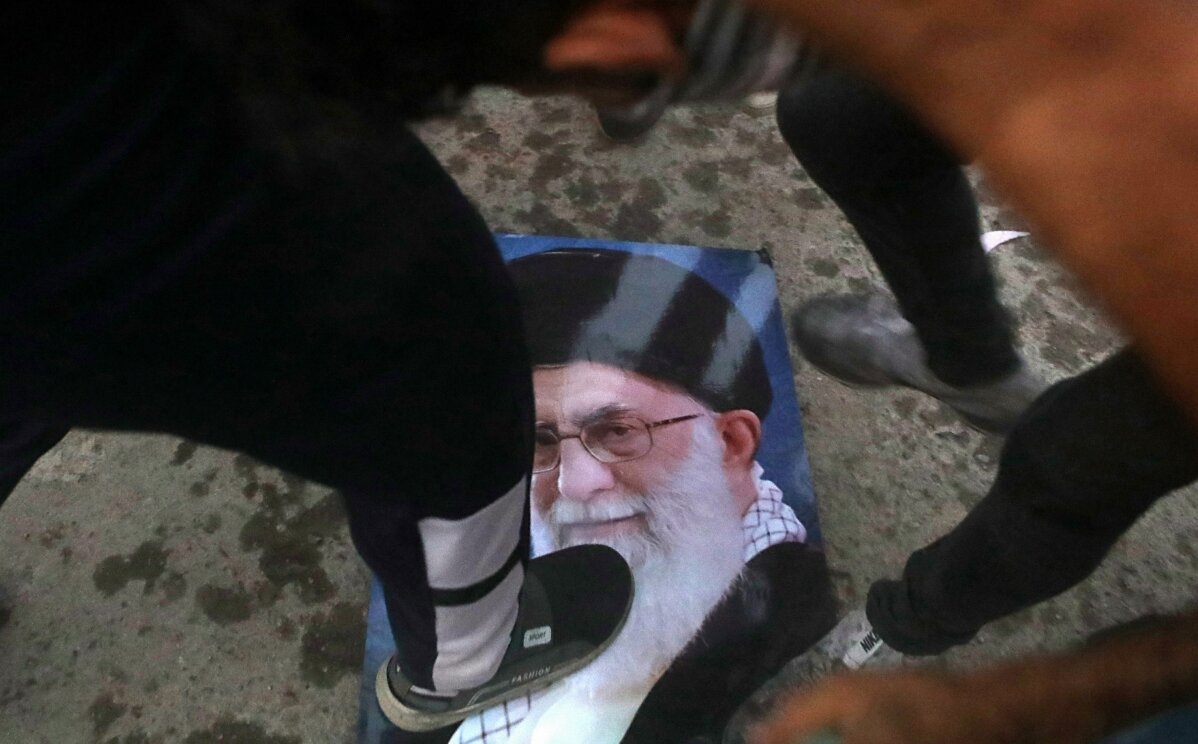 2 of 9

|
Protesters trample a portrait of Iran's supreme Leader Ayatollah Ali Khamenei, during the storming and burning the Iranian consulate in Basra, 340 miles (550 km) southeast of Baghdad, Iraq, Friday, Sept. 7, 2018. Hundreds of angry protesters in Basra took to the streets on Thursday night. Some clashed with security forces, lobbing Molotov cocktails and setting fire to a government building as well as the offices of Shiite militias. At least three people were shot dead in confrontations with security forces. (AP Photo/Nabil al-Jurani)
2 of 9
Protesters trample a portrait of Iran's supreme Leader Ayatollah Ali Khamenei, during the storming and burning the Iranian consulate in Basra, 340 miles (550 km) southeast of Baghdad, Iraq, Friday, Sept. 7, 2018. Hundreds of angry protesters in Basra took to the streets on Thursday night. Some clashed with security forces, lobbing Molotov cocktails and setting fire to a government building as well as the offices of Shiite militias. At least three people were shot dead in confrontations with security forces. (AP Photo/Nabil al-Jurani)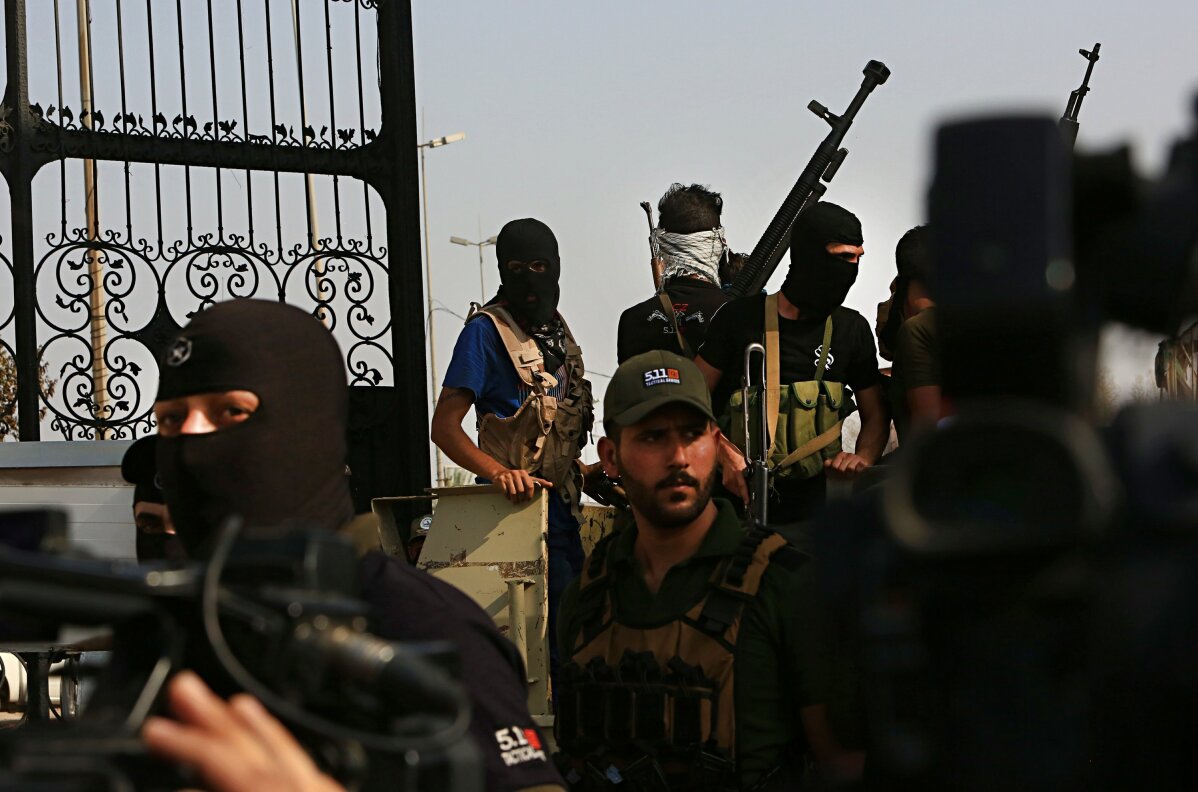 3 of 9

|
Popular Mobilization Forces parade in Basra, 340 miles (550 km) southeast of Baghdad, Iraq, Saturday, Sept. 8, 2018. A local military commander for an alliance of powerful Shiite militias, many of them backed by Iran, vowed a response Saturday to weeklong protests that have turned violent in the southern city of Basra, raising the specter for more escalation in the oil-rich southern region. (AP Photo/Nabil al-Jurani)
3 of 9
Popular Mobilization Forces parade in Basra, 340 miles (550 km) southeast of Baghdad, Iraq, Saturday, Sept. 8, 2018. A local military commander for an alliance of powerful Shiite militias, many of them backed by Iran, vowed a response Saturday to weeklong protests that have turned violent in the southern city of Basra, raising the specter for more escalation in the oil-rich southern region. (AP Photo/Nabil al-Jurani)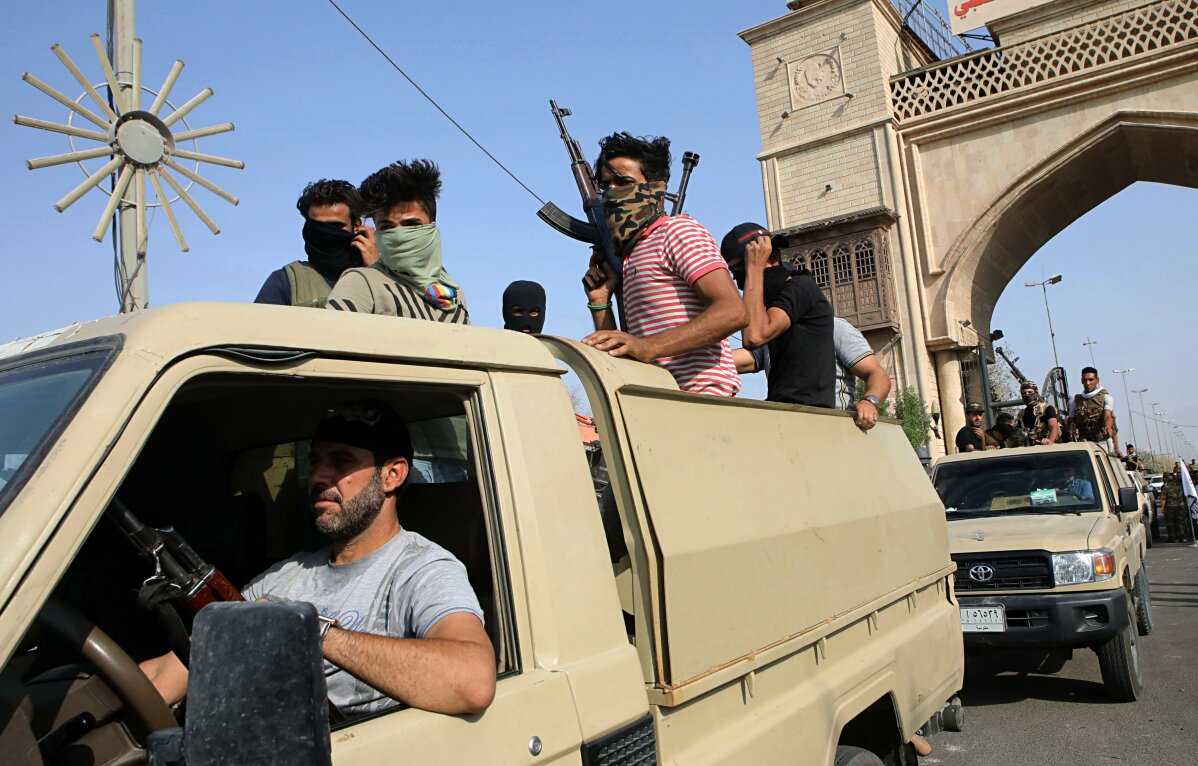 4 of 9

|
Popular Mobilization Forces parade in Basra, 340 miles (550 km) southeast of Baghdad, Iraq, Saturday, Sept. 8, 2018. A local military commander for an alliance of powerful Shiite militias, many of them backed by Iran, vowed a response Saturday to weeklong protests that have turned violent in the southern city of Basra, raising the specter for more escalation in the oil-rich southern region. (AP Photo/Nabil al-Jurani)
4 of 9
Popular Mobilization Forces parade in Basra, 340 miles (550 km) southeast of Baghdad, Iraq, Saturday, Sept. 8, 2018. A local military commander for an alliance of powerful Shiite militias, many of them backed by Iran, vowed a response Saturday to weeklong protests that have turned violent in the southern city of Basra, raising the specter for more escalation in the oil-rich southern region. (AP Photo/Nabil al-Jurani)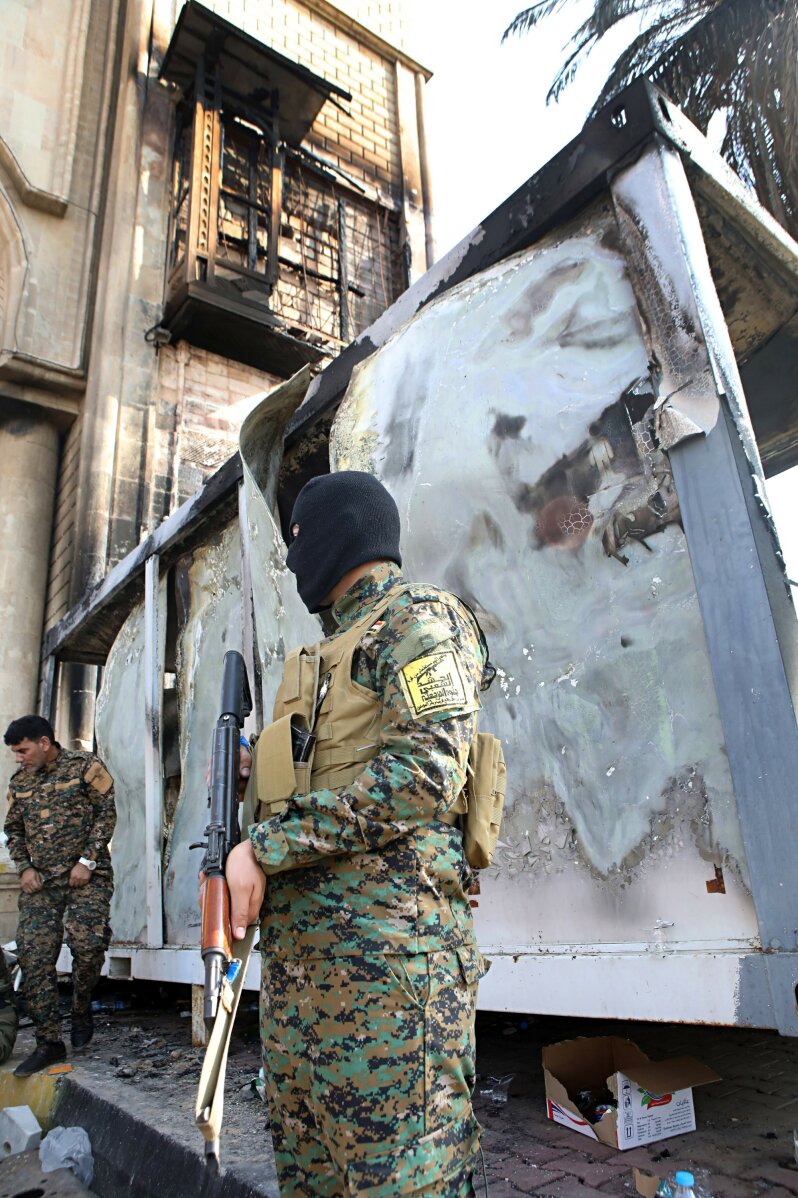 5 of 9

|
Popular Mobilization Forces fighters stand guard in their burned headquarters in Basra, 340 miles (550 km) southeast of Baghdad, Iraq, Saturday, Sept. 8, 2018. A local military commander for an alliance of powerful Shiite militias, many of them backed by Iran, vowed a response Saturday to weeklong protests that have turned violent in the southern city of Basra, raising the specter for more escalation in the oil-rich southern region. (AP Photo/Nabil al-Jurani)
5 of 9
Popular Mobilization Forces fighters stand guard in their burned headquarters in Basra, 340 miles (550 km) southeast of Baghdad, Iraq, Saturday, Sept. 8, 2018. A local military commander for an alliance of powerful Shiite militias, many of them backed by Iran, vowed a response Saturday to weeklong protests that have turned violent in the southern city of Basra, raising the specter for more escalation in the oil-rich southern region. (AP Photo/Nabil al-Jurani)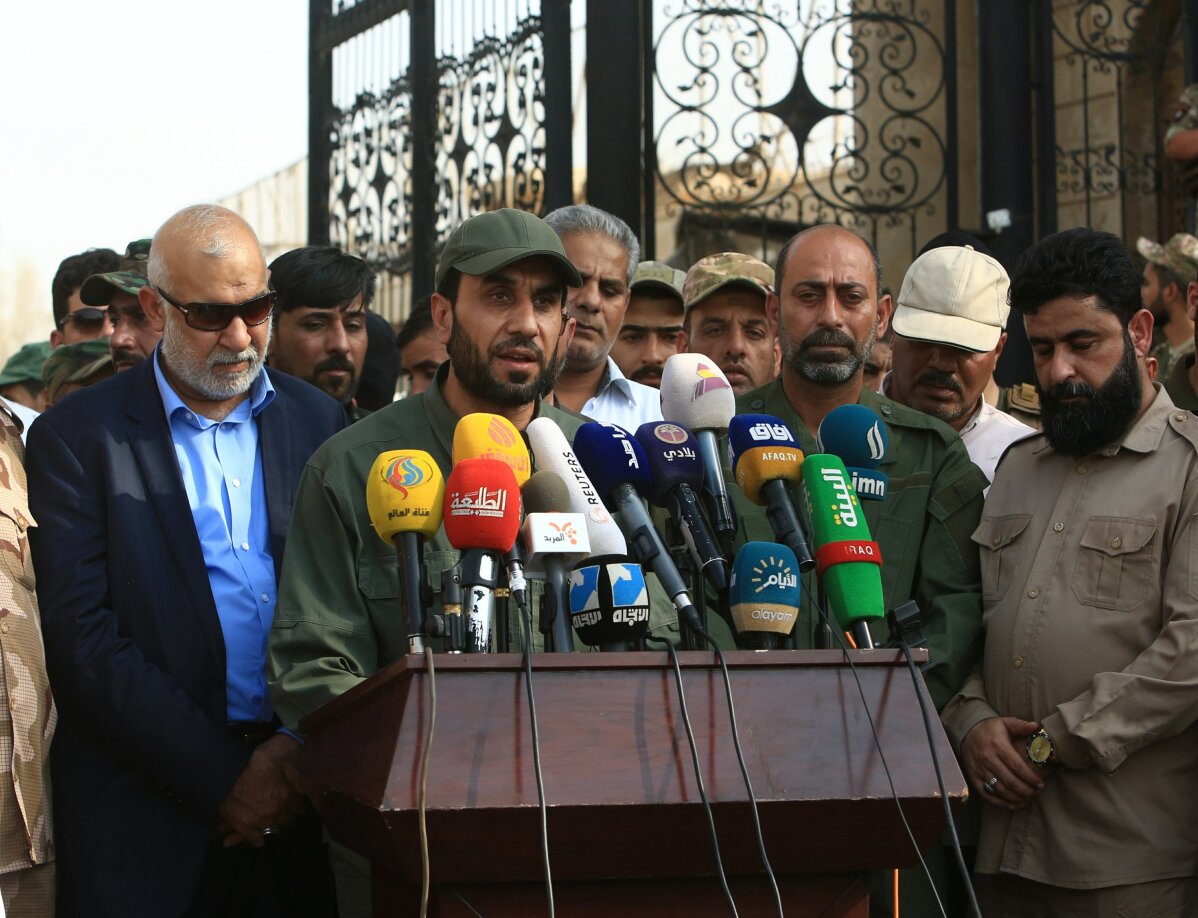 6 of 9

|
Abu Yasser al-Jaafari, center, a local military commander for an alliance of powerful Shiite militias, many of them backed by Iran, speaks to reporters inside the burned Popular Mobilization Forces building in Basra, 340 miles (550 km) southeast of Baghdad, Iraq, Saturday, Sept. 8, 2018. A local military commander for an alliance of powerful Shiite militias, many of them backed by Iran, vowed a response Saturday to weeklong protests that have turned violent in the southern city of Basra, raising the specter for more escalation in the oil-rich southern region. (AP Photo/Nabil al-Jurani)
6 of 9
Abu Yasser al-Jaafari, center, a local military commander for an alliance of powerful Shiite militias, many of them backed by Iran, speaks to reporters inside the burned Popular Mobilization Forces building in Basra, 340 miles (550 km) southeast of Baghdad, Iraq, Saturday, Sept. 8, 2018. A local military commander for an alliance of powerful Shiite militias, many of them backed by Iran, vowed a response Saturday to weeklong protests that have turned violent in the southern city of Basra, raising the specter for more escalation in the oil-rich southern region. (AP Photo/Nabil al-Jurani)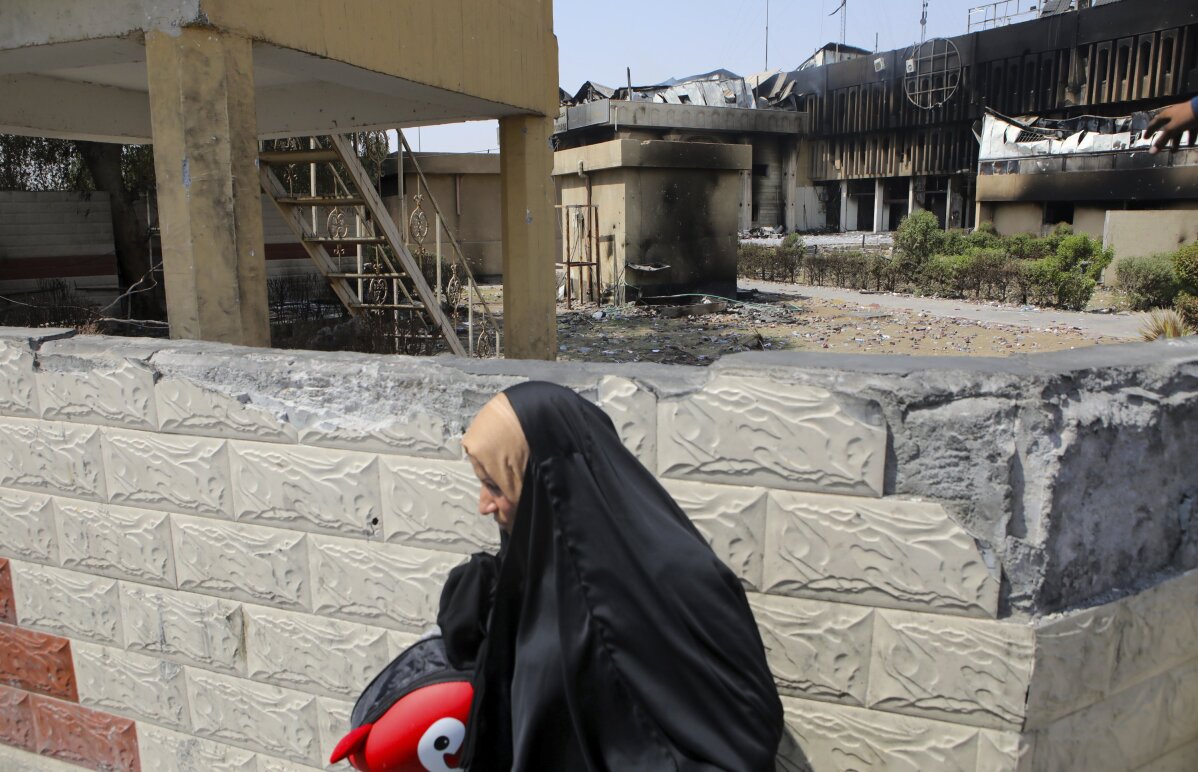 7 of 9

|
A woman passes by the burned Basra Government building in Basra, 340 miles (550 km) southeast of Baghdad, Iraq, Saturday, Sept. 8, 2018. A local military commander for an alliance of powerful Shiite militias, many of them backed by Iran, vowed a response Saturday to weeklong protests that have turned violent in the southern city of Basra, raising the specter for more escalation in the oil-rich southern region. (AP Photo/Nabil al-Jurani)
7 of 9
A woman passes by the burned Basra Government building in Basra, 340 miles (550 km) southeast of Baghdad, Iraq, Saturday, Sept. 8, 2018. A local military commander for an alliance of powerful Shiite militias, many of them backed by Iran, vowed a response Saturday to weeklong protests that have turned violent in the southern city of Basra, raising the specter for more escalation in the oil-rich southern region. (AP Photo/Nabil al-Jurani)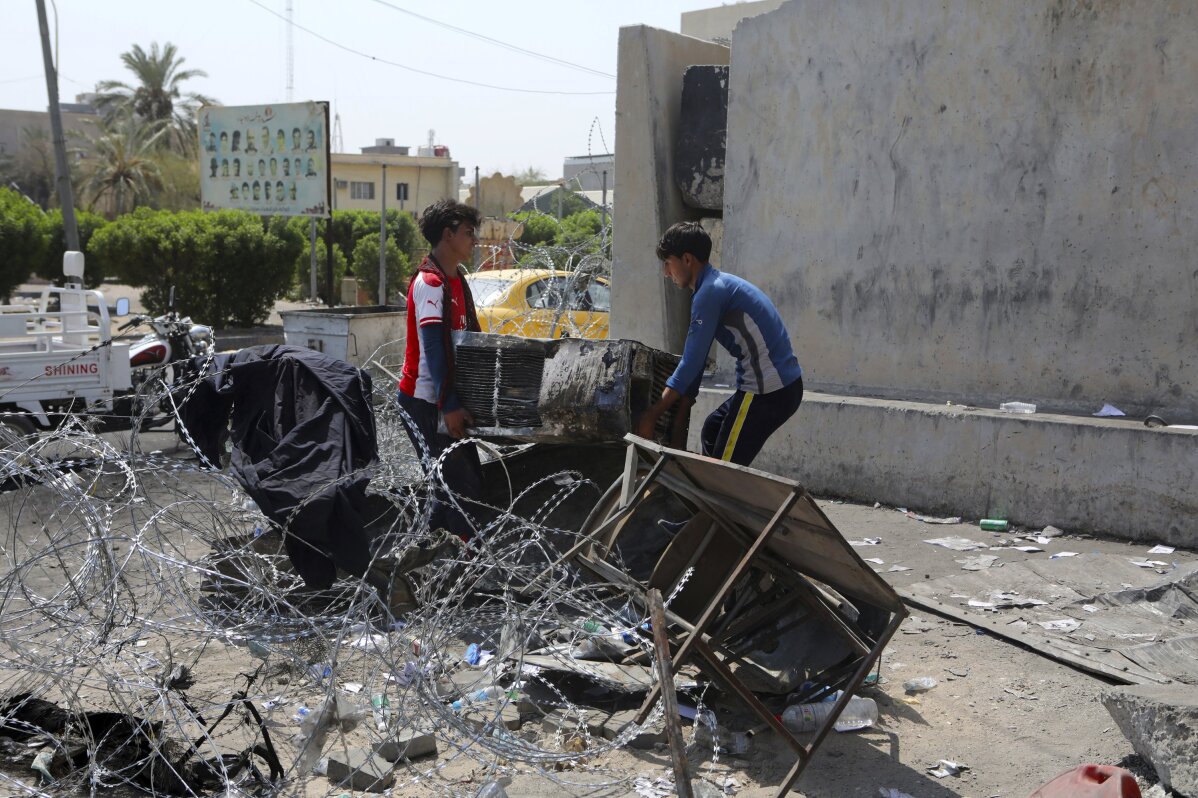 8 of 9

|
Workers throw burned furniture from burned Basra Government building in Basra, 340 miles (550 km) southeast of Baghdad, Iraq, Saturday, Sept. 8, 2018. A local military commander for an alliance of powerful Shiite militias, many of them backed by Iran, vowed a response Saturday to weeklong protests that have turned violent in the southern city of Basra, raising the specter for more escalation in the oil-rich southern region. (AP Photo/Nabil al-Jurani)
8 of 9
Workers throw burned furniture from burned Basra Government building in Basra, 340 miles (550 km) southeast of Baghdad, Iraq, Saturday, Sept. 8, 2018. A local military commander for an alliance of powerful Shiite militias, many of them backed by Iran, vowed a response Saturday to weeklong protests that have turned violent in the southern city of Basra, raising the specter for more escalation in the oil-rich southern region. (AP Photo/Nabil al-Jurani)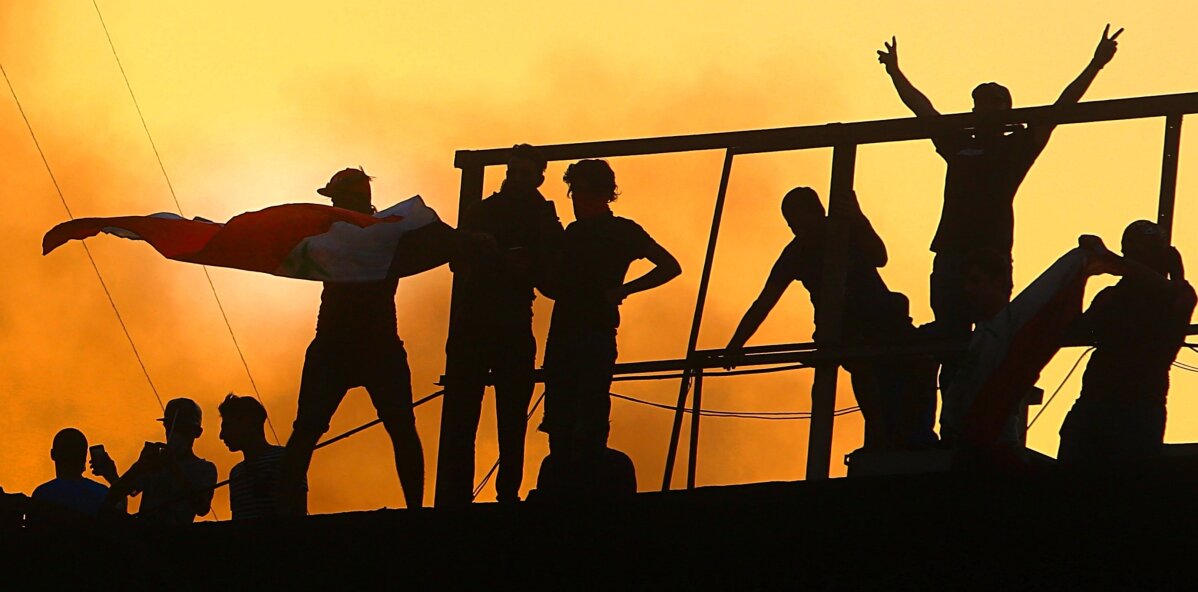 9 of 9

|
Protesters storm and burn the Basra Government building during a demonstration demanding better public services and jobs in Basra, 340 miles (550 km) southeast of Baghdad, Iraq, Friday, Sept. 7, 2018. Hundreds of angry protesters in Basra took to the streets on Thursday night. Some clashed with security forces, lobbing Molotov cocktails and setting fire to a government building as well as the offices of Shiite militias. At least three people were shot dead in confrontations with security forces. (AP Photo/Nabil al-Jurani)
9 of 9
Protesters storm and burn the Basra Government building during a demonstration demanding better public services and jobs in Basra, 340 miles (550 km) southeast of Baghdad, Iraq, Friday, Sept. 7, 2018. Hundreds of angry protesters in Basra took to the streets on Thursday night. Some clashed with security forces, lobbing Molotov cocktails and setting fire to a government building as well as the offices of Shiite militias. At least three people were shot dead in confrontations with security forces. (AP Photo/Nabil al-Jurani)
BASRA, Iraq (AP) — Iraqi security forces deployed on the streets of Basra on Saturday, a day after protesters in the southern city stormed the Iranian consulate and torched government buildings in violence that rocked the oil-exporting Shiite heartland and sparked alarm across a conflict-weary country.
Masked troops in combat fatigues set up checkpoints and rode through the city center in black pickup trucks with heavy weapons mounted in the back. Security forces in Humvees deployed at intersections.
The deployment came after an alliance of powerful Shiite militias, many of them backed by Iran, vowed to respond to the violent protests that have gripped the city for the past week, raising the threat of further violence.
At least 15 people were killed and 249 injured in clashes between protesters and security forces this week, health officials say.
Since June, Basra has been shaken by the most serious protests in the oil-rich southern region in years, with angry residents complaining of poor public services. In recent days, protests escalated, as crowds turned their rage on neighboring Iran, blaming its outsized influence in Iraq's political affairs for their misery and calling for radical change. Iran controls powerful Shiite militias in Basra, home to some of the largest oil fields in Iraq.
Raad Abdelhamid, a Basra firefighter, said he fears for Iraq.
"The militias are responsible for this corruption," he said as he stood outside the still-smoldering provincial government building on Saturday, his second day of working to put out a fire there.
"I fear Basra is headed for more blood," he said, in tears.
A banner on one side of the building read in Arabic: "No to the militias, your militias under our feet."
Despite the oil wealth, the city has long suffered from government neglect, soaring unemployment and a crumbling infrastructure. Over the past month, thousands of people were hospitalized after drinking polluted water.
Angry protesters have torched government buildings and offices belonging to the Iranian-backed militias in the weeklong protests demanding improved services and an end to corruption. On Friday night, protesters chanting anti-Iranian slogans including "Iran, out, out!" stormed the Iranian consulate and set it on fire.
They also burned an Iranian flag and trampled on a portrait of Iran's Supreme Leader Ayatollah Ali Khamenei.
Iran's Foreign Ministry spokesman, Bahram Ghasemi, condemned the attack on the consulate, which he said caused significant damage to the building. He called for maximum punishment for the assailants. The ministry also summoned the Iraqi ambassador to relay Tehran's "strong protest."
On Saturday, an Iraqi flag was placed at the entrance to the consulate after the Iranian one was torn down and set ablaze. Sprayed in red on the concrete wall of the consulate were the words: "Down with Iran, down with the militias, the revolution will continue."
The U.S. State Department criticized the attack, without explicitly mentioning Iran. "The United States condemns violence against diplomats, including that which occurred today in Basra," it said in a statement Friday.
The consulate, which handles visas for four southern governorates and issued between five to eight thousand tourism and medical visas a day through a travel agency located next to the embassy, stopped issuing visas.
The government-sanctioned Shiite militias known as the Popular Mobilization Forces — Hashed in Arabic — threatened retaliation Saturday, raising the specter of further escalation.
"We will have a response to those who are carrying out acts of arson and sabotage," the militias' commander, known as Abu Yasser al-Jaafari, told reporters in Basra.
Al-Jaafari said the lack of response thus far should not be taken as a sign of weakness. He spoke at the city's presidential palaces compound, where Shiite paramilitary troops are stationed.
On Thursday night, protesters had marched to the compound and tried to breach it. At least three cars driven by the troops ploughed into the protesters, killing one and wounding four others, according to a health official who spoke on condition of anonymity because he was not authorized to speak to media.
Several burned cars were seen in the compound.
On Saturday morning, assailants fired three Katyusha rockets at Iraq's Basra airport, which houses the U.S. consulate, adding to the tensions. An airport official said the attack did not cause casualties or disrupt flights in or out of the city. He spoke on condition of anonymity, citing security concerns.
There was no immediate claim of responsibility.
Security officials said they reopened partially the vital Umm Qasr port on the Persian Gulf on Saturday, after shutting down operations for several days amid concerns that protesters might try to storm it.
An Iraqi military spokesman, Brig. Gen. Yahya Rasool, said the military commander for Basra operations, Jamil al-Shumari, was replaced.
Young men in Basra said Saturday that they would continue protesting.
"We have no work, no money. Something needs to change," said 18-year-old Mustafa Diaa, a jobless construction worker who said he has been taking part in the protests every day.
Diaa took part in torching the provincial government building two days earlier and returned to the scene on Saturday. He said he does not regret it and would do so again until something gives.
"They should change the government, provide job opportunities and fix the water. I'm not scared," he said.
Basra, once known as the "Venice of the East" because of its freshwater canals, has been hit by an acute water crisis, including rising pollution and salt water levels. The city, where temperatures often approach 50 degrees Celsius (122 degrees Fahrenheit) during the summer, has also been crippled by electricity shortages.
Two hospital officials told The Associated Press that around 35,000 residents have been treated at hospitals as a result of water pollution in the past month. The water is so contaminated it cannot even be used for cooking or washing.
The protests began in June, tapered off, then restarted Monday after a surge in water poisoning cases.
Iraq's government has scrambled to meet the growing demand for public services and jobs, but has been hindered by years of endemic corruption and a financial crisis fueled by diminished oil revenues and the costly war against the Islamic State group.
Basra's streets are filled with pictures of young men from Shiite militias who were killed fighting against the Islamic State group in the past few years — a war that allowed the militias space to flourish and gain strength.
Many residents of the predominantly Shiite city now accuse Iranian-backed political parties of interfering in Iraqi politics. They blame the Shiite militias in their city for mismanagement and profiteering at their expense.
Prime Minister Haider al-Abadi has ordered an investigation into the violence.
Iraq's parliament held an emergency session Saturday to discuss the unrest in Basra which comes amid a political crisis in Baghdad, adding to overall tensions in the country.
The newly elected parliament earlier this week held its first session since the national elections in May, but the session was adjourned amid disagreements as two blocs, both claiming to hold the most seats, vied for the right to form a new government.
___
Associated Press writers Nasser Karimi in Tehran and Zeina Karam in Beirut contributed to this report.