The Latest: Islamic State group claims deadly Belgium attack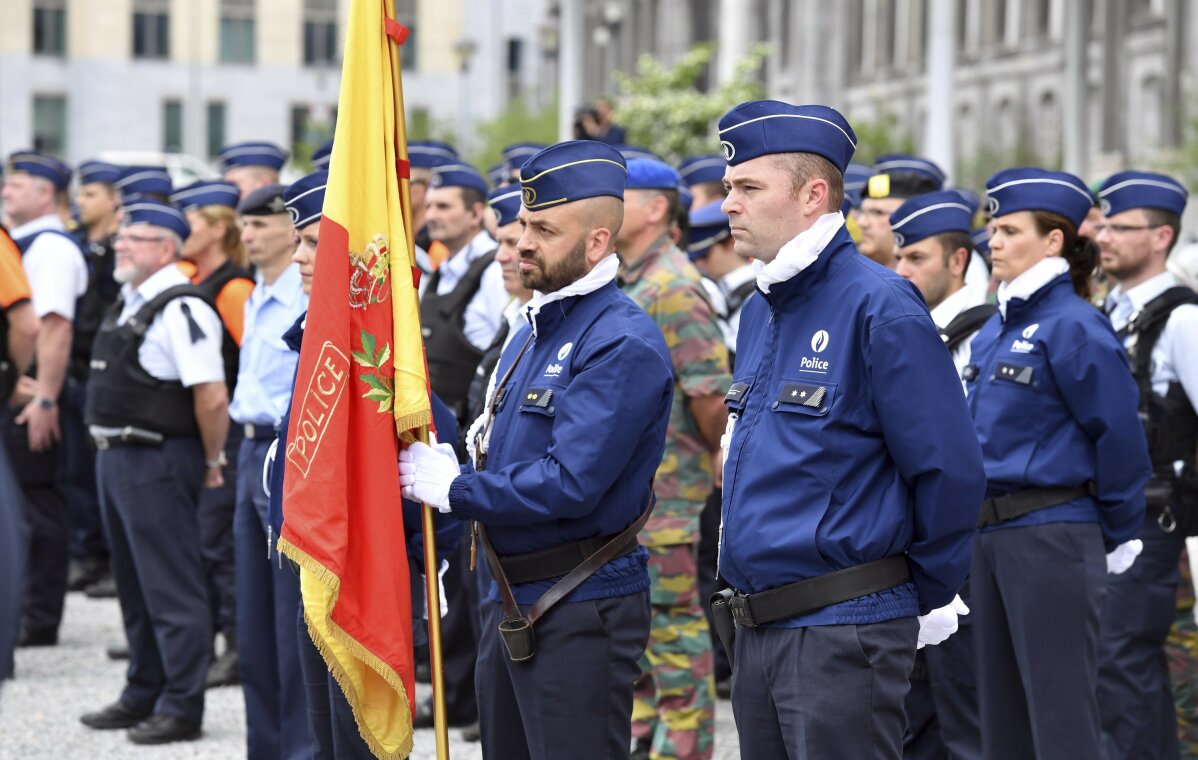 1 of 5

|
Police officers stand for a moment of silence for shooting victims near the City Hall in Liege, Belgium, Wednesday, May 30, 2018. A gunman killed three people, including two police officers, in the Belgian city of Liege on Tuesday. Police later killed the attacker, and other officers were wounded in the shooting.(AP Photo/Geert Vanden Wijngaert)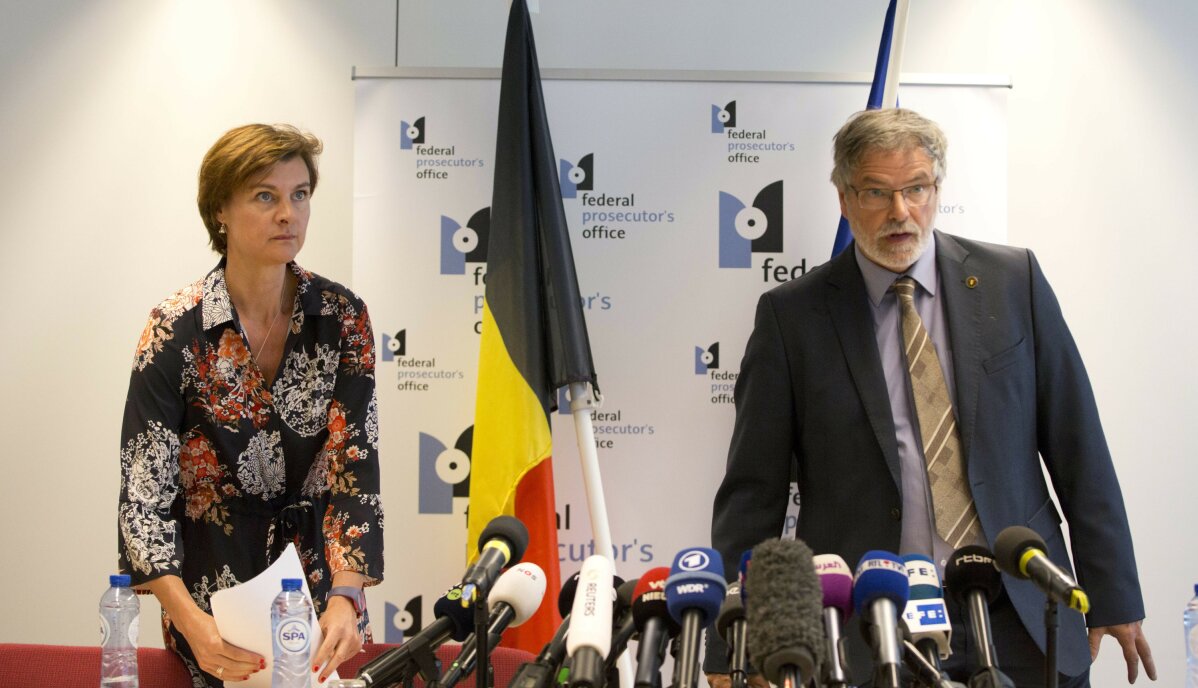 2 of 5

|
Belgian Federal Prosecutor Eric Van Der Sypt, right, and Federal Prosecutor Wenke Roggen prepare to address a media conference in Brussels, Wednesday, May 30, 2018. A gunman killed three people, including two police officers, in the Belgian city of Liege on Tuesday. Police later killed the attacker, and other officers were wounded in the shooting. (AP Photo/Virginia Mayo)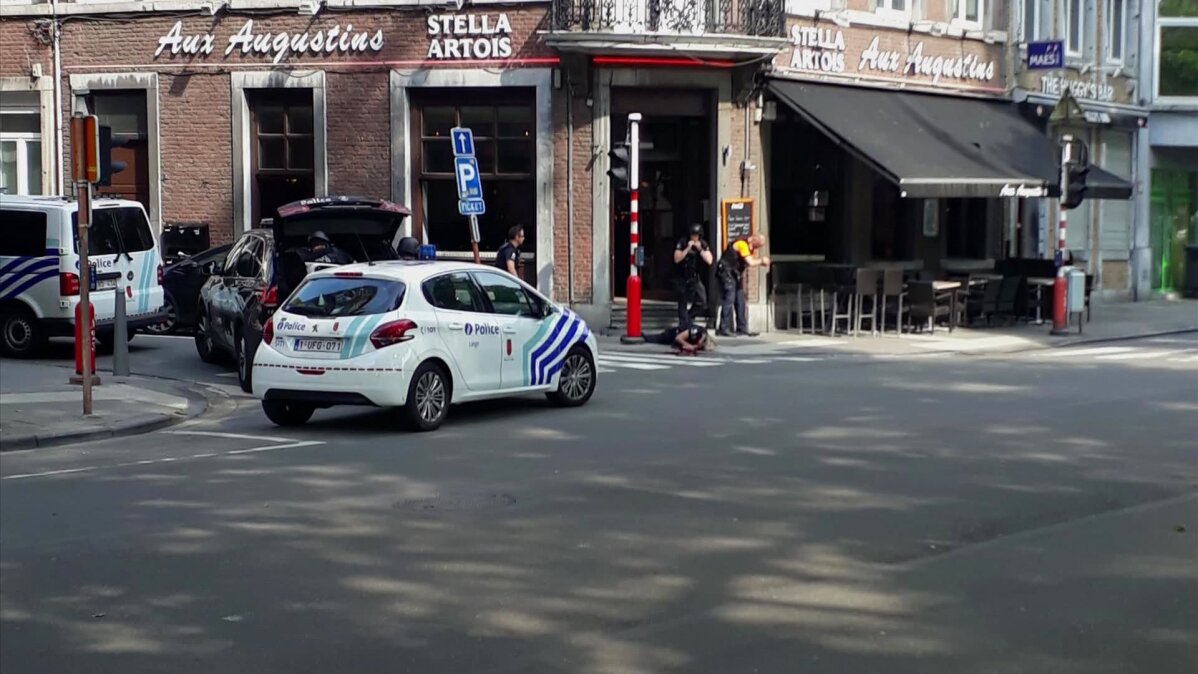 3 of 5

|
In this frame grab taken from video, police at the scene near the body of a police officer on the ground after a shooting incident, in Liege, Belgium, Tuesday, May 29, 2018. The police chief in the Belgian city of Liege says that a knife-wielding man stabbed two female officers before taking their handguns and shooting them both dead. (AP)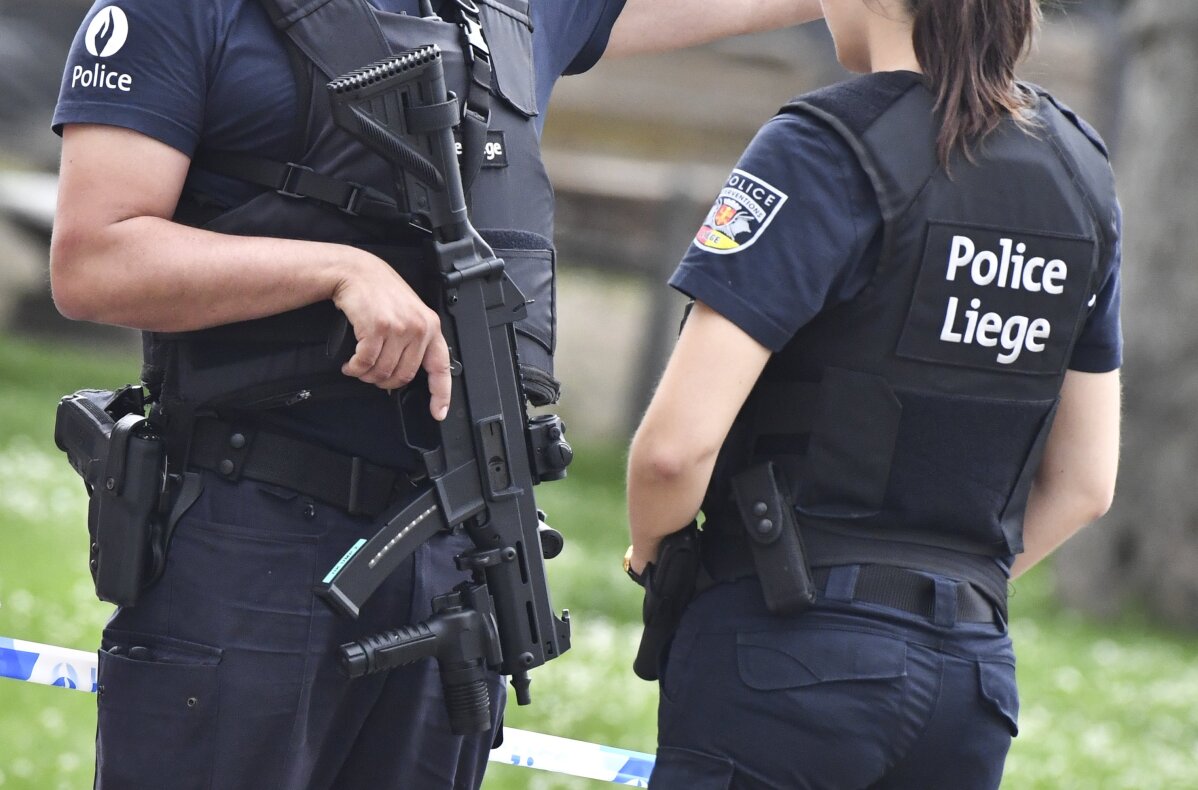 4 of 5

|
Belgian police guard the scene of a shooting in Liege, Belgium, Tuesday, May 29, 2018. A gunman killed three people, including two police officers, in the Belgian city of Liege on Tuesday, a city official said. Police later killed the attacker, and other officers were wounded in the shooting.(AP Photo/Geert Vanden Wijngaert)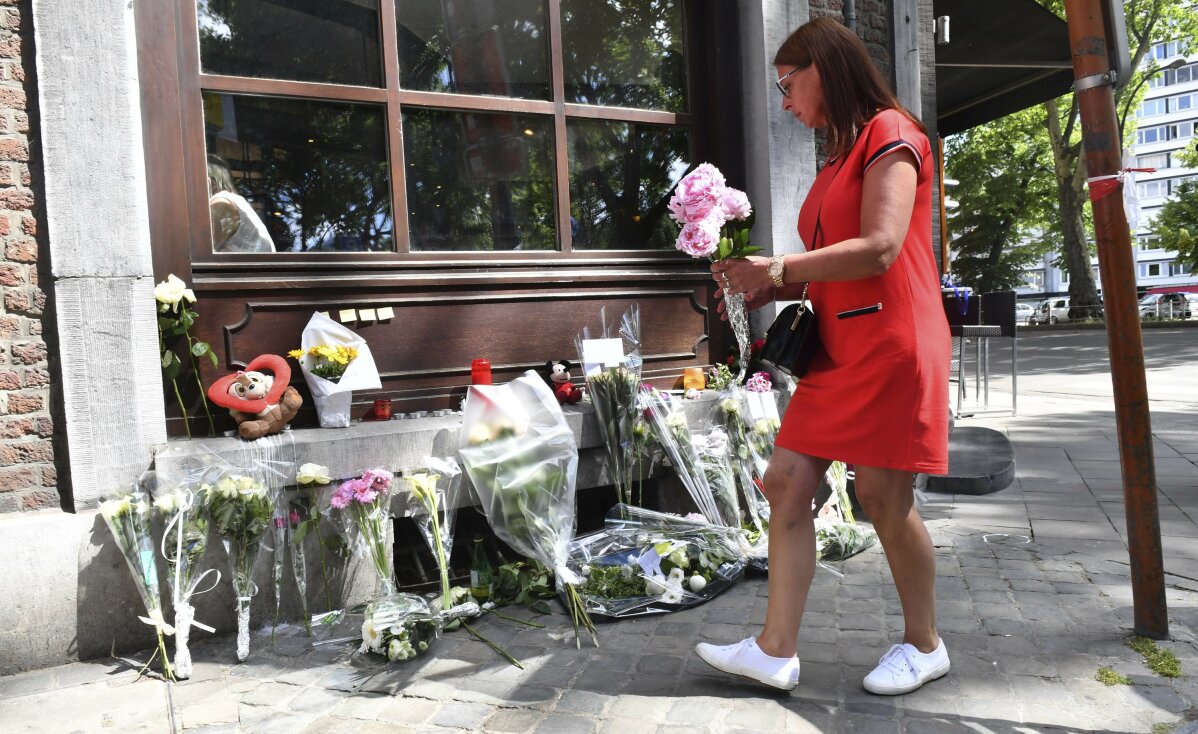 5 of 5

|
A woman lays flowers on a memorial at the scene of a shooting in Liege, Belgium, Wednesday, May 30, 2018. A gunman killed three people, including two police officers, in the Belgian city of Liege on Tuesday. Police later killed the attacker, and other officers were wounded in the shooting.(AP Photo/Geert Vanden Wijngaert)
The Latest: Islamic State group claims deadly Belgium attack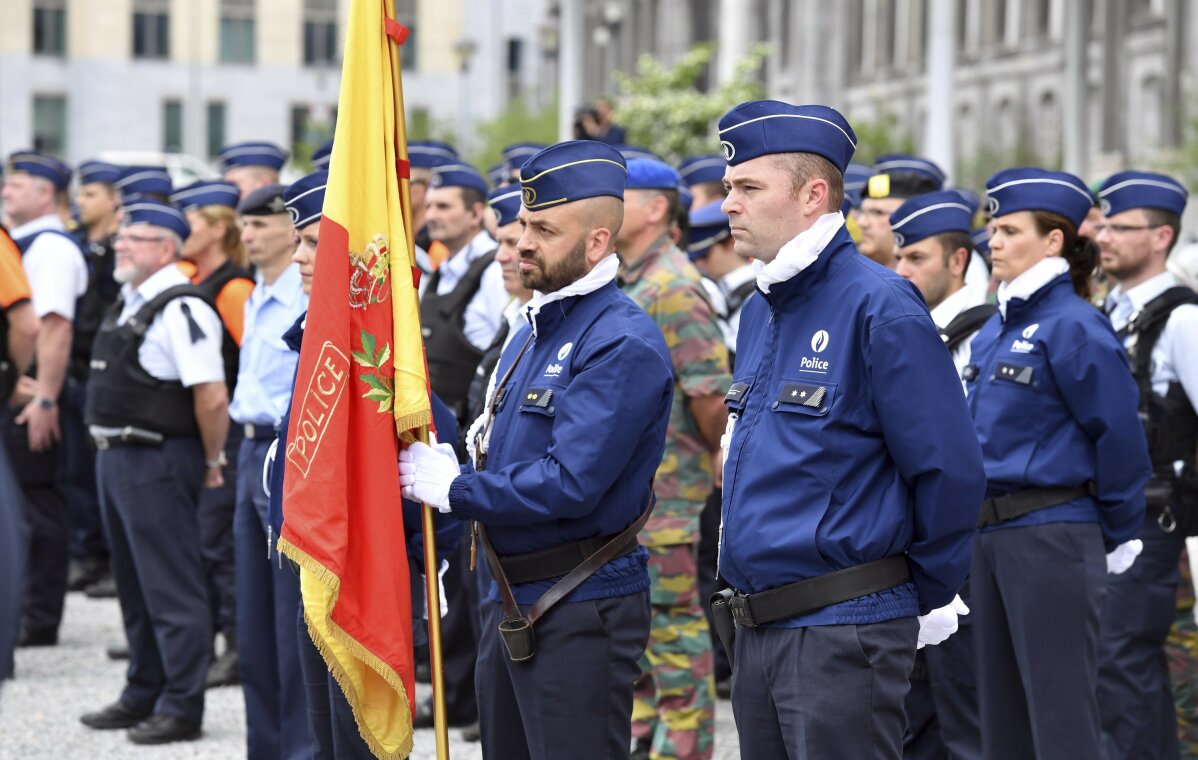 1 of 5

|
Police officers stand for a moment of silence for shooting victims near the City Hall in Liege, Belgium, Wednesday, May 30, 2018. A gunman killed three people, including two police officers, in the Belgian city of Liege on Tuesday. Police later killed the attacker, and other officers were wounded in the shooting.(AP Photo/Geert Vanden Wijngaert)
1 of 5
Police officers stand for a moment of silence for shooting victims near the City Hall in Liege, Belgium, Wednesday, May 30, 2018. A gunman killed three people, including two police officers, in the Belgian city of Liege on Tuesday. Police later killed the attacker, and other officers were wounded in the shooting.(AP Photo/Geert Vanden Wijngaert)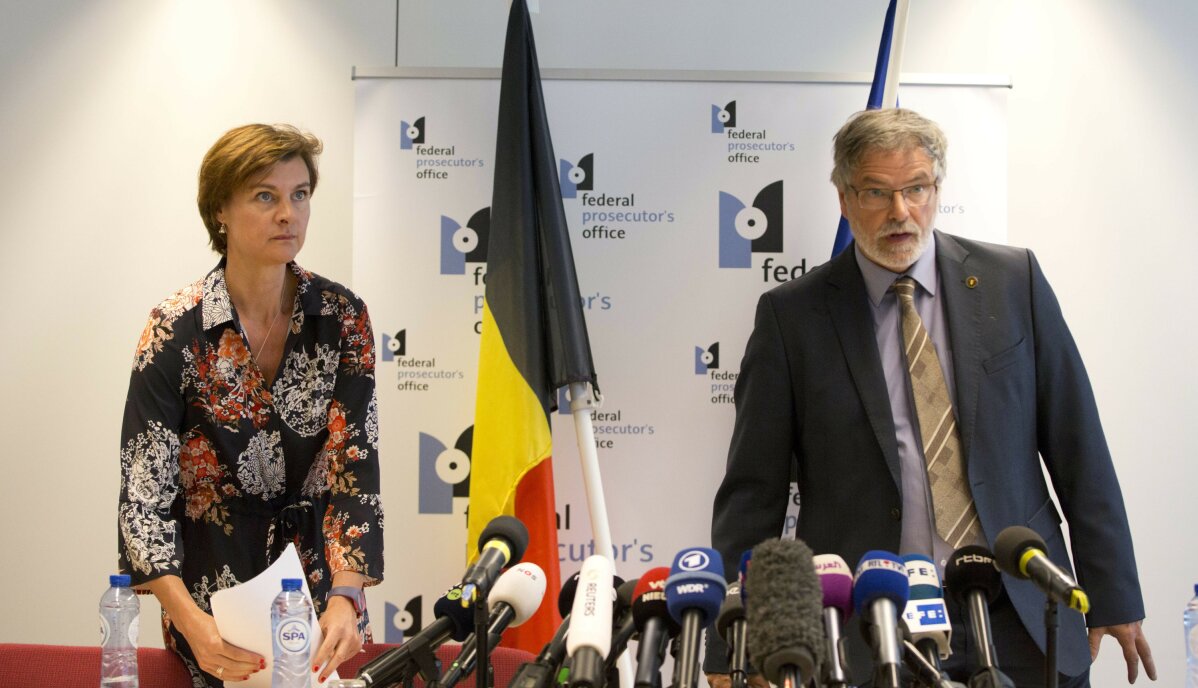 2 of 5

|
Belgian Federal Prosecutor Eric Van Der Sypt, right, and Federal Prosecutor Wenke Roggen prepare to address a media conference in Brussels, Wednesday, May 30, 2018. A gunman killed three people, including two police officers, in the Belgian city of Liege on Tuesday. Police later killed the attacker, and other officers were wounded in the shooting. (AP Photo/Virginia Mayo)
2 of 5
Belgian Federal Prosecutor Eric Van Der Sypt, right, and Federal Prosecutor Wenke Roggen prepare to address a media conference in Brussels, Wednesday, May 30, 2018. A gunman killed three people, including two police officers, in the Belgian city of Liege on Tuesday. Police later killed the attacker, and other officers were wounded in the shooting. (AP Photo/Virginia Mayo)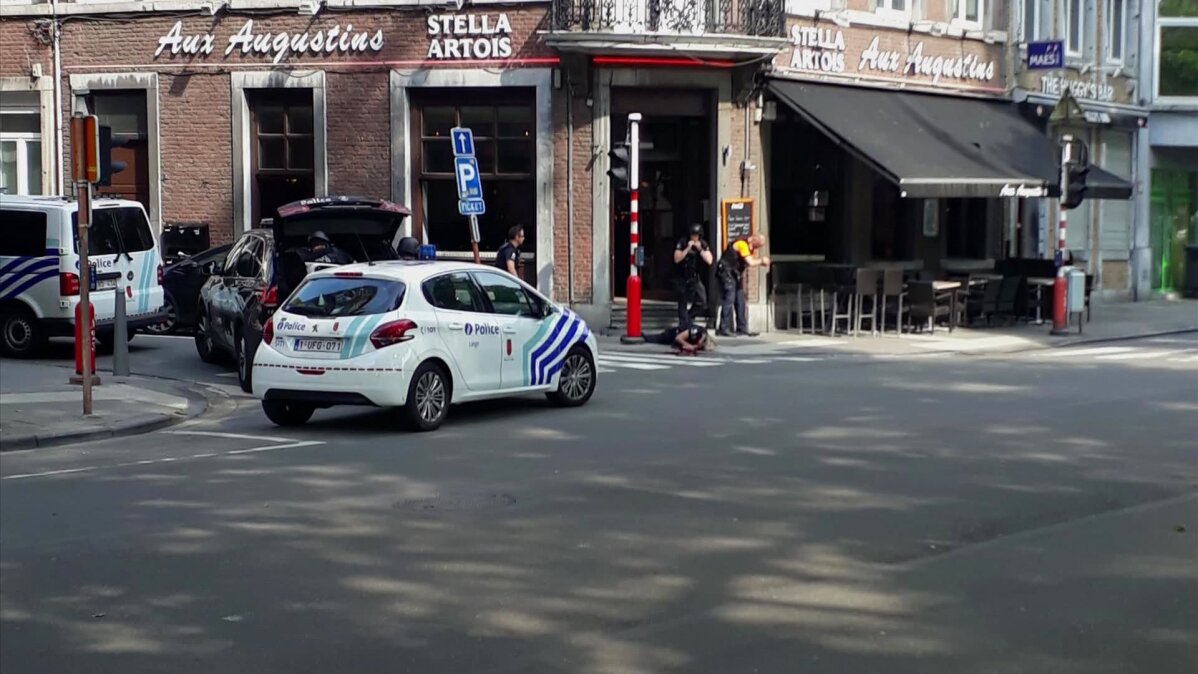 3 of 5

|
In this frame grab taken from video, police at the scene near the body of a police officer on the ground after a shooting incident, in Liege, Belgium, Tuesday, May 29, 2018. The police chief in the Belgian city of Liege says that a knife-wielding man stabbed two female officers before taking their handguns and shooting them both dead. (AP)
3 of 5
In this frame grab taken from video, police at the scene near the body of a police officer on the ground after a shooting incident, in Liege, Belgium, Tuesday, May 29, 2018. The police chief in the Belgian city of Liege says that a knife-wielding man stabbed two female officers before taking their handguns and shooting them both dead. (AP)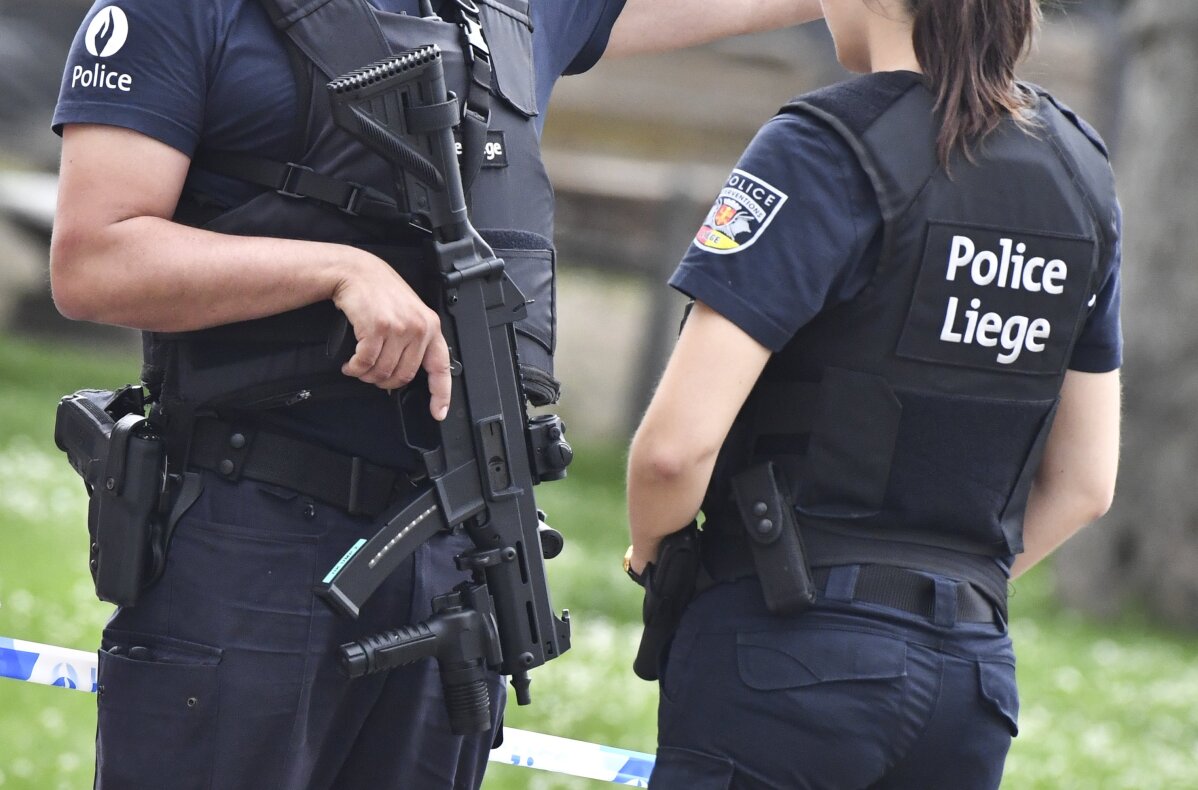 4 of 5

|
Belgian police guard the scene of a shooting in Liege, Belgium, Tuesday, May 29, 2018. A gunman killed three people, including two police officers, in the Belgian city of Liege on Tuesday, a city official said. Police later killed the attacker, and other officers were wounded in the shooting.(AP Photo/Geert Vanden Wijngaert)
4 of 5
Belgian police guard the scene of a shooting in Liege, Belgium, Tuesday, May 29, 2018. A gunman killed three people, including two police officers, in the Belgian city of Liege on Tuesday, a city official said. Police later killed the attacker, and other officers were wounded in the shooting.(AP Photo/Geert Vanden Wijngaert)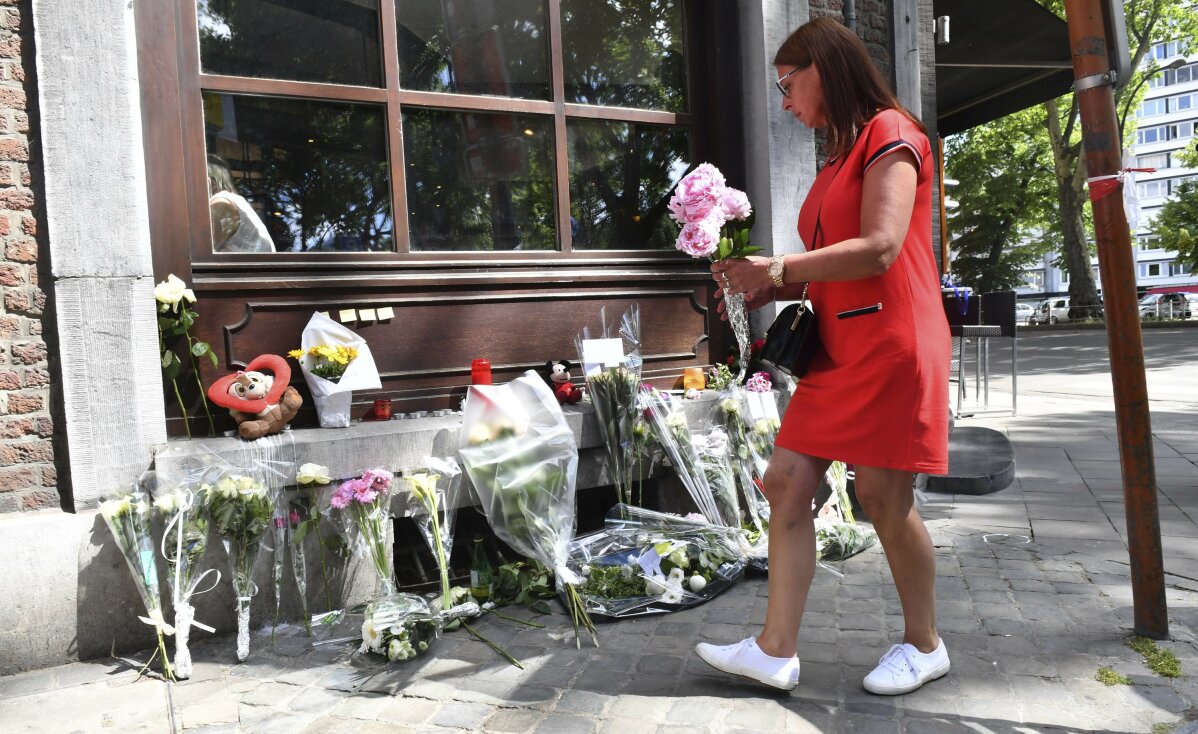 5 of 5

|
A woman lays flowers on a memorial at the scene of a shooting in Liege, Belgium, Wednesday, May 30, 2018. A gunman killed three people, including two police officers, in the Belgian city of Liege on Tuesday. Police later killed the attacker, and other officers were wounded in the shooting.(AP Photo/Geert Vanden Wijngaert)
5 of 5
A woman lays flowers on a memorial at the scene of a shooting in Liege, Belgium, Wednesday, May 30, 2018. A gunman killed three people, including two police officers, in the Belgian city of Liege on Tuesday. Police later killed the attacker, and other officers were wounded in the shooting.(AP Photo/Geert Vanden Wijngaert)
BRUSSELS (AP) — The Latest on Belgium shooting (all times local):
9 p.m.
The Islamic State group claims the man behind the attack in the Belgian city of Liege was a "soldier of the caliphate" — a wording typical of IS' opportunistic claims even when perpetrators have not been directly linked to the terror group.
The claim came Wednesday night in a brief statement on IS' media arm, the Aamaq news agency.
It says the attack in Liege was carried out in response to calls by the militant group to target countries that are members of an international coalition fighting the Islamic State group.
The attacker has been identified as Benjamin Herman, an inmate on a two-day prison furlough. He yelled "Allahu akbar," or God is great in Arabic, during Tuesday's rampage, including when he ran out to face police the last time.
___
2 p.m.
Belgians have taken pause to remember the three victims of the Liege attacks, honoring them with solemn moments of silence or laying flowers at memorials.
The main ceremony was in Liege itself where Prime Minister Charles Michel and Interior Minister Jan Jambon joined local dignitaries and police to honor the two policewomen who were stabbed and shot to death and the aspiring teacher who was killed in his car.
In Brussels and Antwerp too, policemen and security officials gathered to mourn the loss of their two colleagues.
In Liege, resident Melissa Lamny attached a flower to a post close to the shooting scene.
Lamny said "that's touched me really bad, because that is where I live and every morning I am scared that something like this will happen and every day it happens a little bit closer to home."
___
11:15 a.m.
A Belgian federal magistrate says the Liege attack which left three dead are considered "terrorist murder" and the investigation now centers on whether the attacker acted alone.
Wenke Roggen said that the attacker shouted "Allahu akbar," the Arabic phrase for God is great, several times during the shooting rampage before he was shot down by a group of police officers.
Roggen said the rampage is being treated as terrorism given the way the attacker acted, which she says resembled Islamic State calls via video to attack police with knives and steal their weapons, the fact that he yelled Allahu Akbar and was in contact with radicalized people.
The attacker, identified as Benjamin Herman, killed two female police officers by stabbing them from behind, stealing their service weapons and shooting them. He also killed a passer-by in a car before being shot dead by police in a shootout.
___
10 a.m.
Belgium's interior minister says the woman taken hostage inside a school in Tuesday's shooting in Liege may have talked the gunman down and helped to avoid more deaths.
Jan Jambon, Prime Minister Charles Michel and King Philippe visited the woman in hospital, where she was being treated for shock.
Jambon told broadcaster RTL that the woman "was very courageous and perhaps, but this we will have to verify, she helped avoid more victims in the school."
___
9 a.m.
Belgian Interior Minister Jan Jambon says that a man who shot dead two police officers and a bystander in Liege on Tuesday had already killed another person the day before the attack.
Jambon told broadcaster RTL Wednesday that the shooter, identified as Benjamin Herman, "also committed a murder the night before."
Jambon confirmed that the person was a former inmate who did prison time with Herman. Herman is alleged to have killed the man on Monday evening by hitting him over the head with a blunt object.
Herman was killed in a shootout with police on Tuesday after stabbing two female police officers, stealing their handguns and shooting them. He also shot dead a man sitting in a nearby car.